The Best Places in Greece for Solo Travel
Greece is one of the best countries for solo travel. It's a popular tourist destination, allowing you to meet other travellers wherever you go. The locals are friendly and welcoming to visitors, and most speak good English, so you won't have difficulty going around because you can always ask for help from anyone.
Best of all, there are hundreds of different islands to choose from, and each has a unique charm. Each island appeals to all kinds of travellers, regardless of your interests.
If you need help deciding where to go, here are some of the best places in Greece for solo travel.
The Best Places in Greece for Solo Travel
Mykonos
Dubbed the "queen of the Cyclades," Mykonos is one of the most alluring destinations for solo travellers in Greece. It will delight you with its natural charms, giving you plenty of beautiful places to explore, from the powdery white sands and crystal-clear waters to the rocky landscapes and majestic mountains.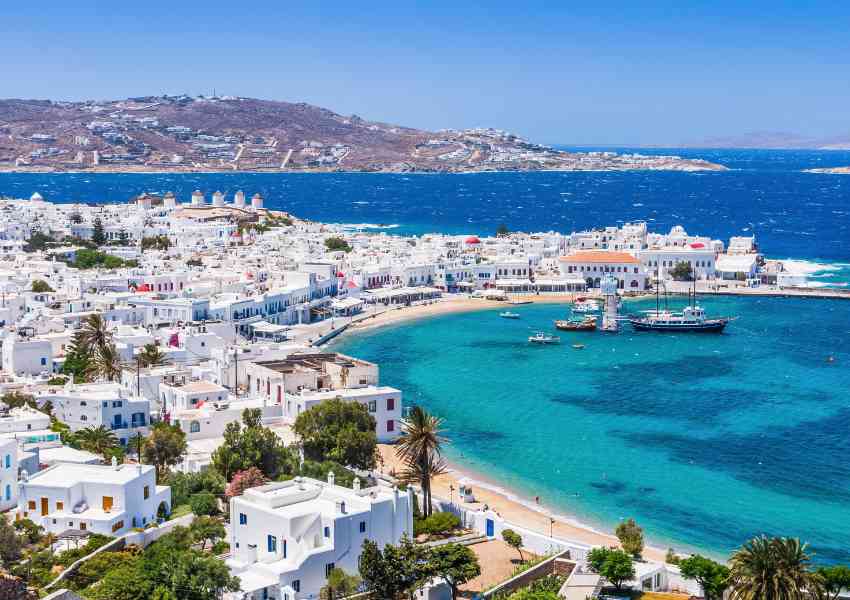 Whether you want to enjoy water sports, party with other travellers, or enjoy peace and tranquillity, there will always be a spot in the Mykonos perfect for you.
Mykonos offers a wide range of attractions to delight solitary wanderers. To experience the local culture, wander around Little Venice and hike up to the famous windmills while passing along charming villages.
If you're not up for a serious hike, enjoy a scenic stroll through the cobbled streets of Mykonos Town, where you'll find Cycladic-style shops, cozy cafes, and stylish Mykonos hotels to relax as you enjoy the incredible sunset views.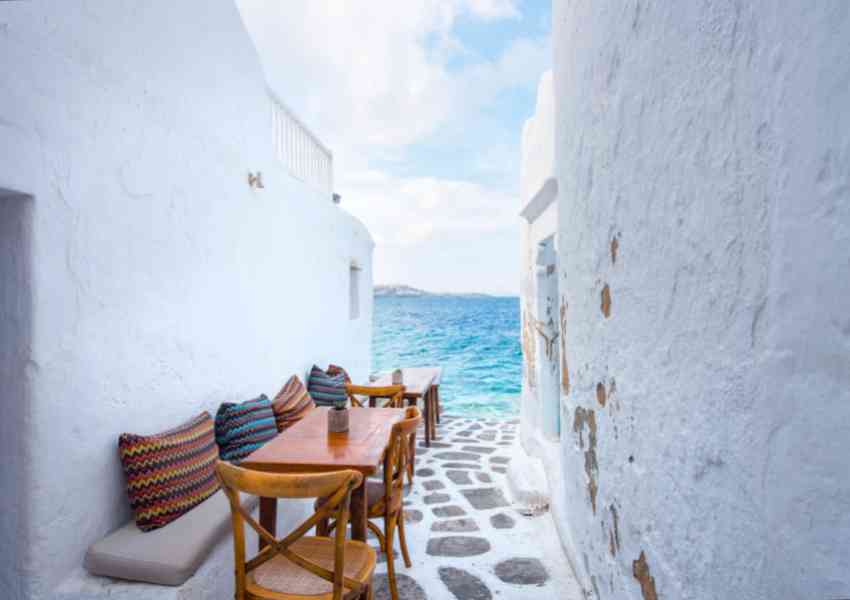 Mykonos is famous worldwide for its parties. Besides, it's known as the party capital of Greece. If you want to meet new friends and party with like-minded travellers, visit the stylish beachside bars and nightclubs. Paradise Beach is the most popular party beach on the island. You'll find bars blasting loud music all day long, attracting partygoers of all kinds!
Kefalonia
You will certainly not get bored on your solo trip to Kefalonia. The gorgeous island is the largest in the Ionian and the only Greek island with a national park. It also has its share of stunning white sand beaches, where you can spend the entire day swimming and relaxing. Best of all, you will find many beautiful villas in Kefalonia geared towards solo travellers.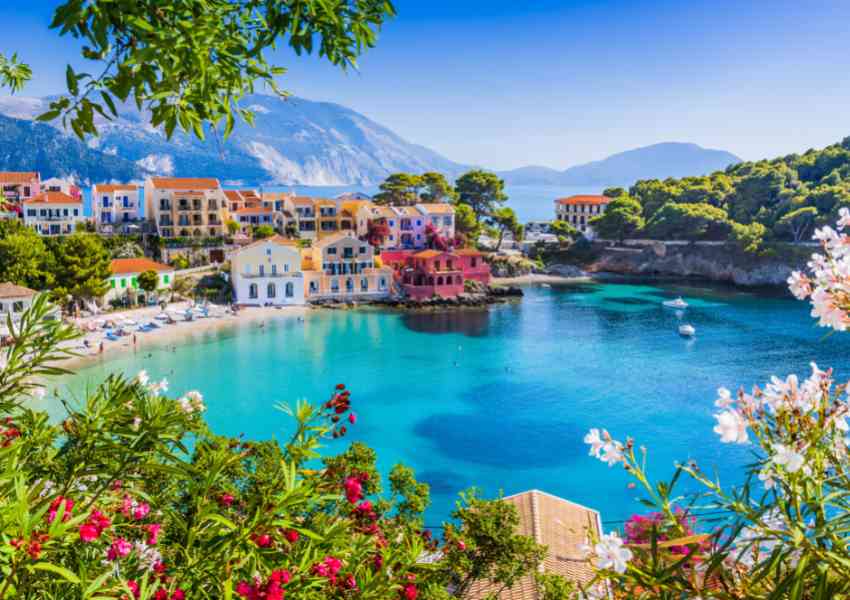 While you might prefer to lounge around at Kefalonia's beautiful beach, you should check out the island's stunning attractions, especially the Melissani Cave Lake, a spectacular underground lake and cave with an open ceiling where lights shine through its crystal-clear blue water.
To get a feel of the local life, wander around the pretty seaside village of Assos, which lies on a peninsula in northern Kefalonia. It's also home to a nice little beach with beachside restaurants and shops.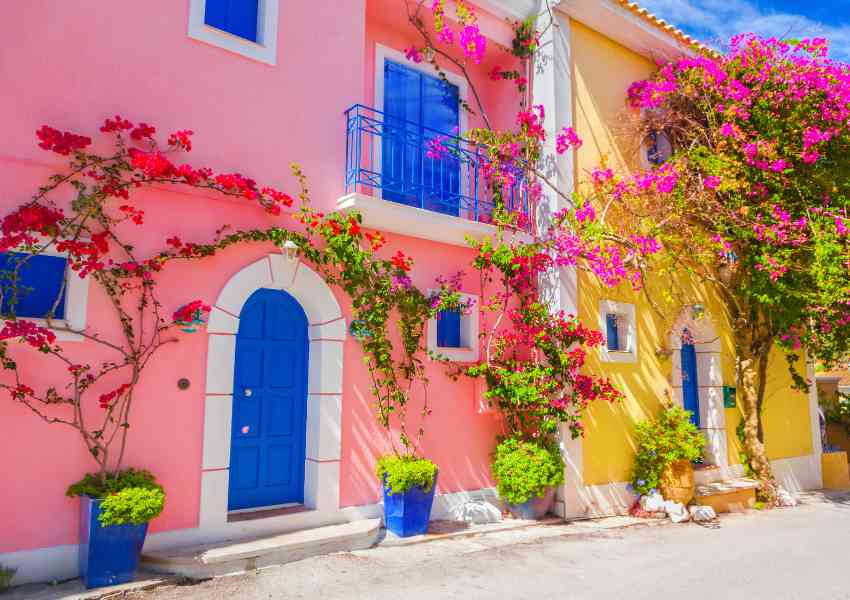 If you only have time to visit one beach in Kefalonia, choose Myrtos Beach. It's a pebble beach with steep cliffs and a viewpoint for admiring the breathtaking coastline of Kefalonia.
Santorini
While many would assume that Santorini is only for couples on a honeymoon, the lovely island also appeals to those who want to travel solo. You don't need a partner to enjoy what this picturesque island has to offer.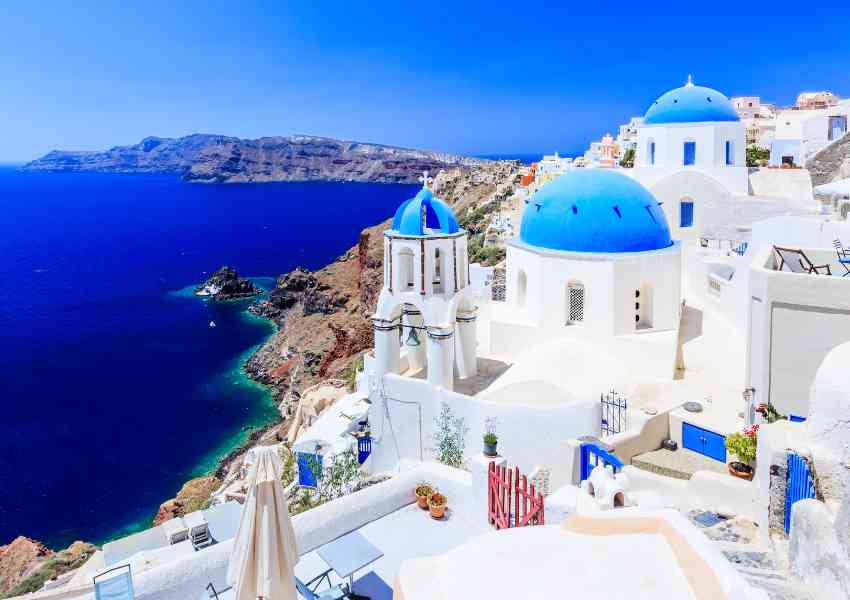 Here, you can spend your days strolling through the lovely villages of Fira and Oia, hiking towards a volcanic crater, going for ATV rides, hanging out at the beach, and so much more!
Santorini is famous for its trademark white-washed villages perched on hillsides overlooking the stunning views of the Aegean Sea. The most popular of these villages is Oia, a lovely place where you can admire the famous Santorini sunsets. Come early to find a perfect spot to admire the iconic views. Then wander around Oia's cobblestone alleys and dine at one of the cliffside restaurants overlooking the ocean.
Make sure to also visit Santorini's unique beaches like Red Beach, White Beach, Perissa, Pori Beach, and Black Beach.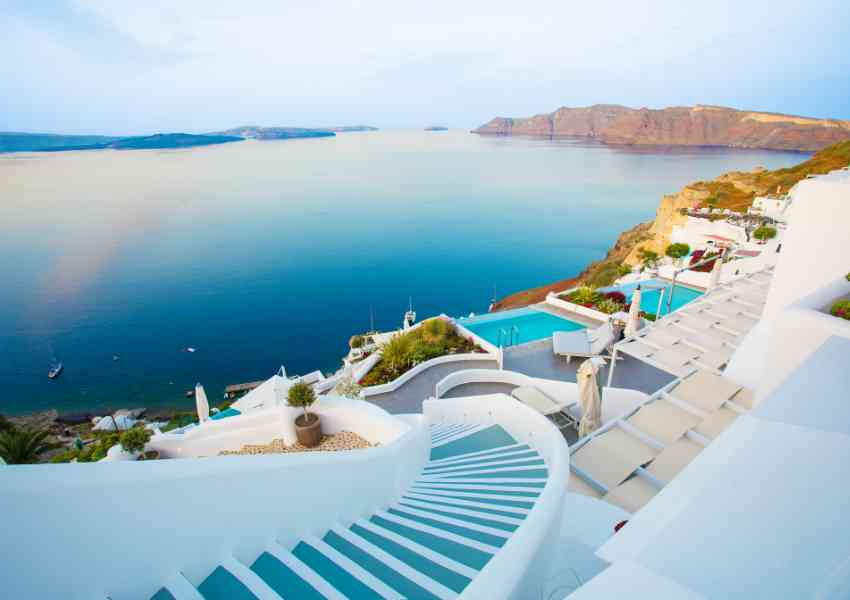 For solo travellers who want to get active on their trip, hike from Fira to Oia while passing through lovely towns and into the rim of a volcanic crater. It should take around five hours to conquer the entire trail, depending on your pace and how often you make stops. After your hike, the best way to unwind is to relax at Red Beach, one of the island's most beautiful beaches.
Crete
The island of Crete is a family-oriented spot in Greece, so it's a safe destination for those travelling alone. In addition, Crete is also one of the best options if you're looking for cheap islands in Greece to visit and it offers the perfect setting to enjoy some privacy as you make the most of your time alone.
Whether you want to explore nature, hang out at the beach, or indulge in delectable Greek delicacies, Crete can meet all your needs.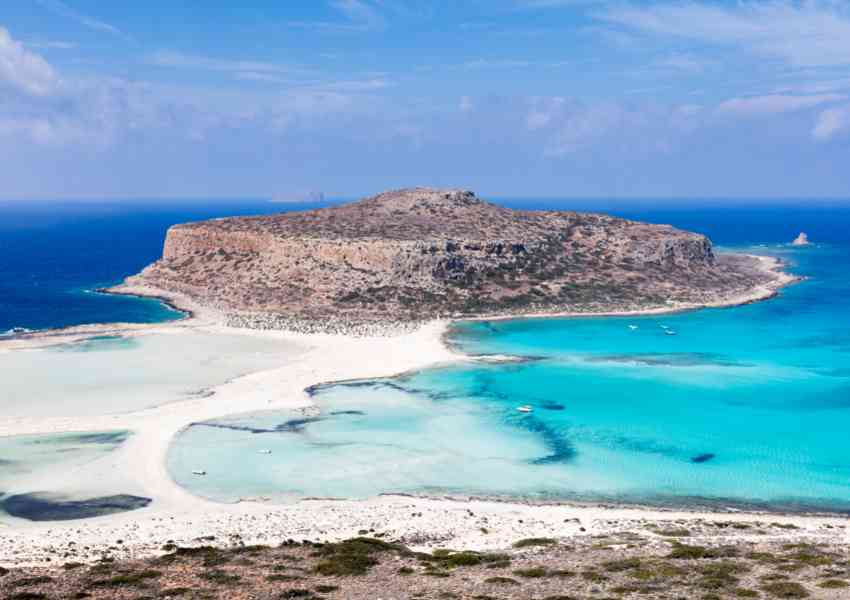 For the beach lover, head to Seitan Limania Beach, which is relatively close to Chania, the island's capital city. It's a lovely spot to chill out and relax as you enjoy the stunning views of the Aegean Sea.
The beach is small and can get crowded during the peak season, so come for an early morning dip to avoid the crowds. Another great option is to visit Samaria Gorge by car if an experience in nature is what you're after.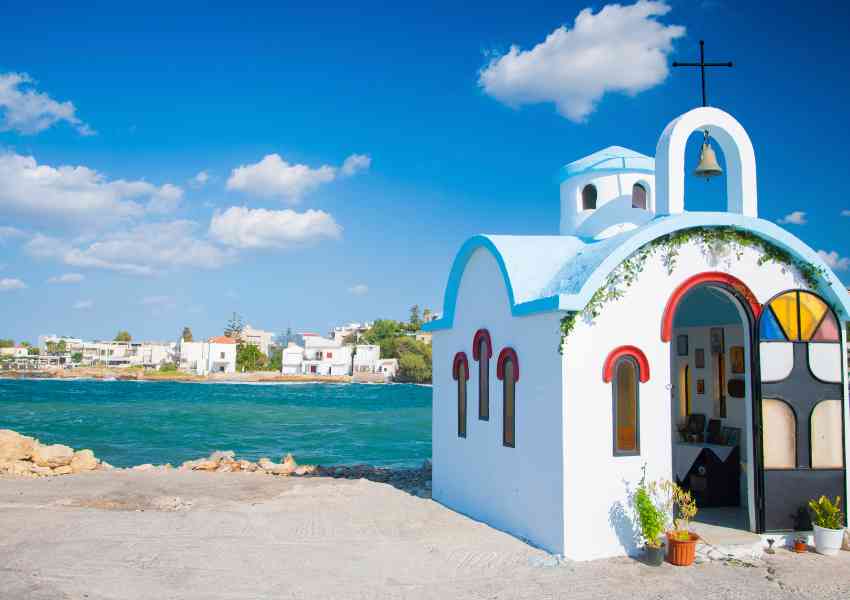 Crete is famous for its mouth-watering Greek cuisine, making it an ideal spot for solo travellers who are food lovers. One of the Cretan dishes to try in Crete is Dakos, made of chunks of tomatoes and cooked in sheep's cheese and Greek olive oil.
Athens
Many people wonder if Athens is worth visiting and the answer is yes, Athens is an ideal destination in Greece for solo travel! As the capital city, it has modern infrastructures and facilities, allowing for easy exploration even when you're on your own. It's a city rich in culture and history and is home to some of the world's most famous archaeological sites, such as the Acropolis Museum and the Parthenon Temple.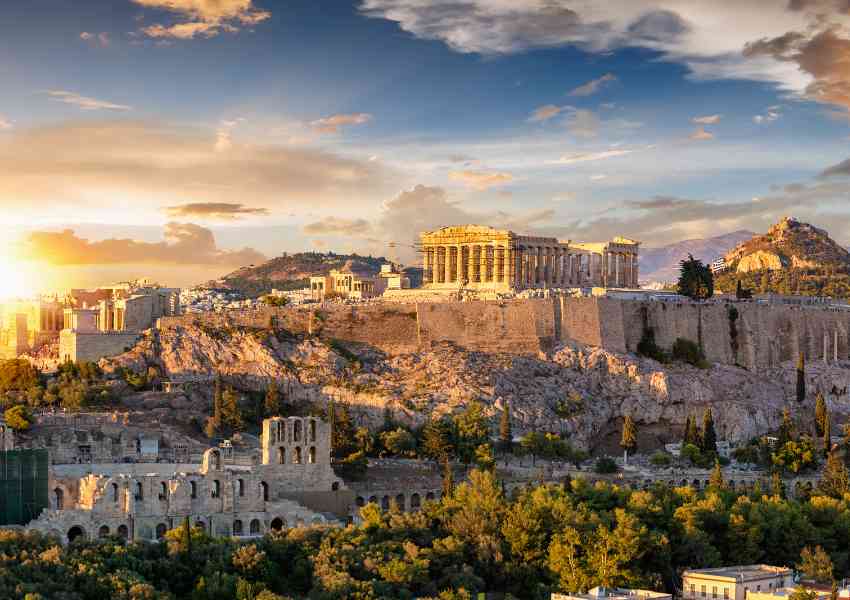 Athens is also home to bustling markets and villages, perfect for those who want to immerse in the local life. The hillside village of Plaka is a lovely place to stroll around, where you'll find shops selling souvenirs, sidewalk cafes, and local tavernas serving delectable gyros and other Greek specialities.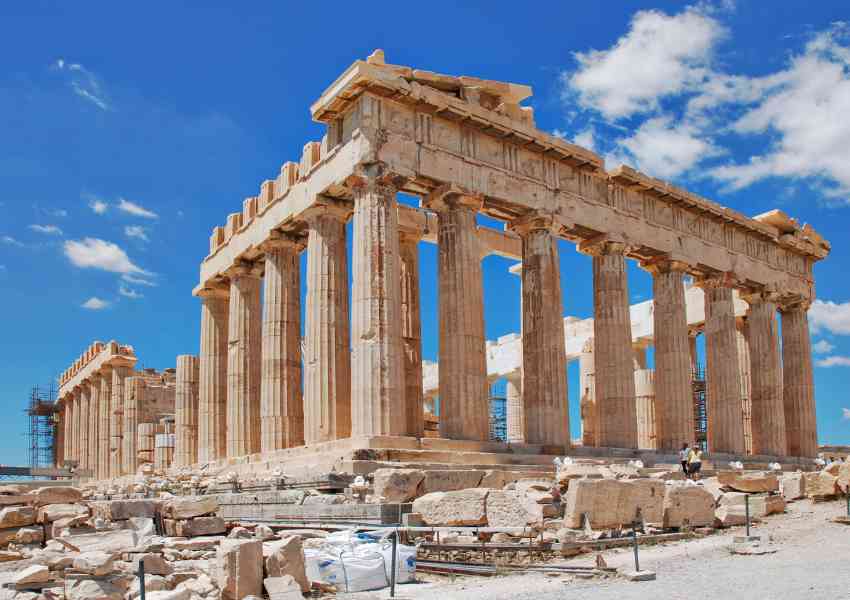 In addition, Athens is a great base for exploring other Greek islands since many excellent tours in Greece depart from Athens, offering the perfect opportunity for solo travellers to visit several Greek islands in one visit.