Wondering what to do in Plettenberg Bay? If you're traveling South Africa's dreamy Garden Route, a stop in "Plett" is an absolute must. with a flourishing wine route to explore, white sand beaches, and an array of outdoor activities set just a stone-throw away, fitting all the incredible things to do in Plettenberg Bay into a short itinerary isn't easy, but we'll try!
On this guide to Plettenberg Bay, I'll be sharing some of my favorite things to do in and around the town. Aside from that, I'll also be sharing some useful tips and tricks to make the most out of your time in Plett and the Garden Route, including where to stay and tips to make the most out of your visit to this little gem of a town.
The best things to do in Plettenberg Bay that you can't miss:
Robberg National Reserve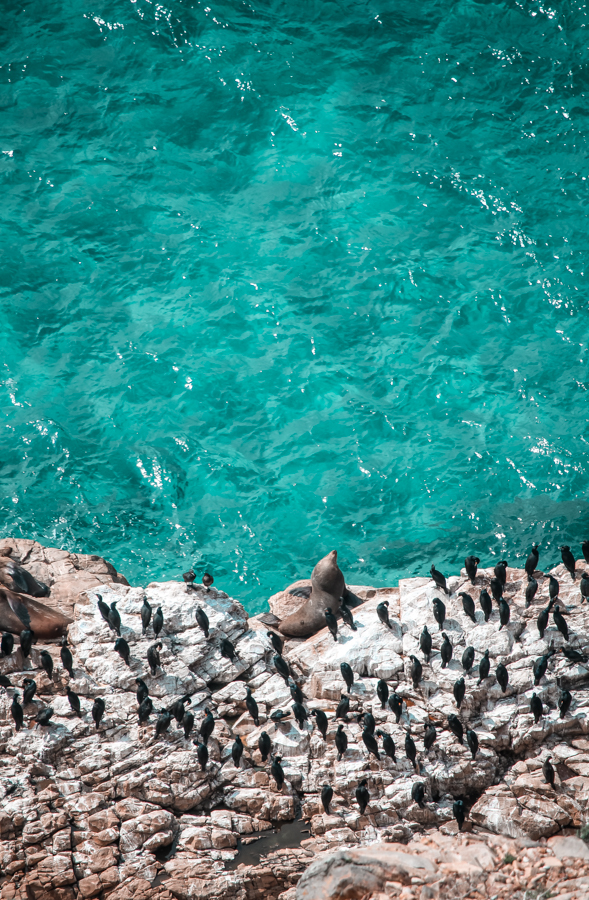 Spending at least a few hours in Robberg National Reserve in a must on any Plettenberg Bay itinerary and one of the best things to do on the entire Garden Route. Aside from its incredible wildlife viewing opportunities and its famous climbing-falling dune, Robberg is a haven for history lovers – rocks in the area date back 120 million years (artifacts from the Stone Age have been found in the caves along the area!).
Robberg offers three different hiking trails, with the longest being 11 kilometers and lasting up to five hours and the shortest being just two kilometers one-way. They all start at the same point at the parking place, so it's hard not to find your way.
We did the short one, as we only had a few days to spend in Plettenberg Bay, but even that gave us the chance to see sand dunes, a ton of wildlife, and spend a bit of time at the beach.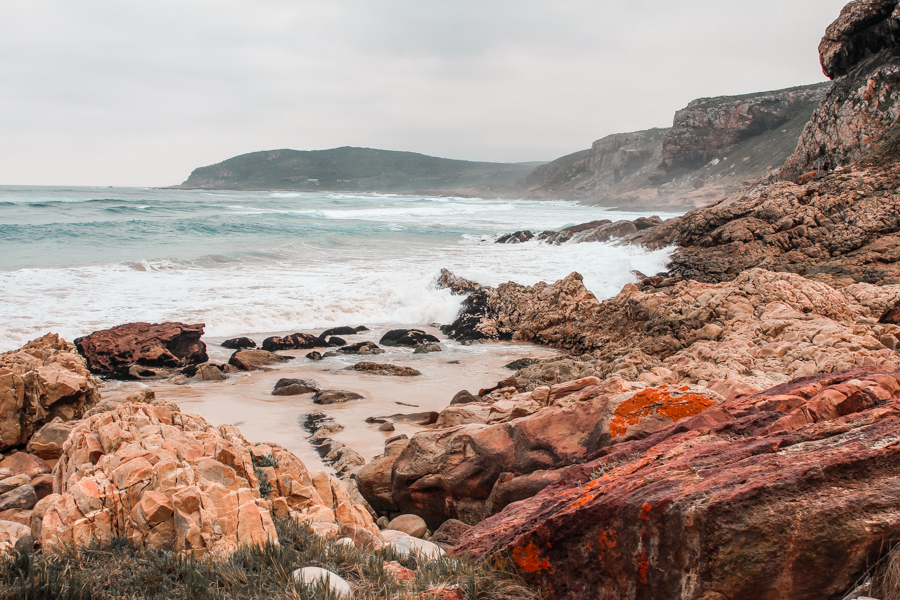 The highlight of my time in Robbert National Reserve was getting to spot dozens of seals just hanging out along the coastline. I'd never seen seals before, so I was incredibly excited to get to see so many of them! Aside from giving you the chance to see whales and seals, a hike through Robberg's coastline gives you the opportunity to spot the blue duiker (the smallest antelope in the Western Cape), dolphins, and a variety of bird species, too!
If you're lucky enough to visit Plett Bay during the whale's breeding and calving season (between June and November), you have huge chances of spotting a few whales while hiking. If you want to get up and close, you can book a chartered boat trip, too!
Go abseiling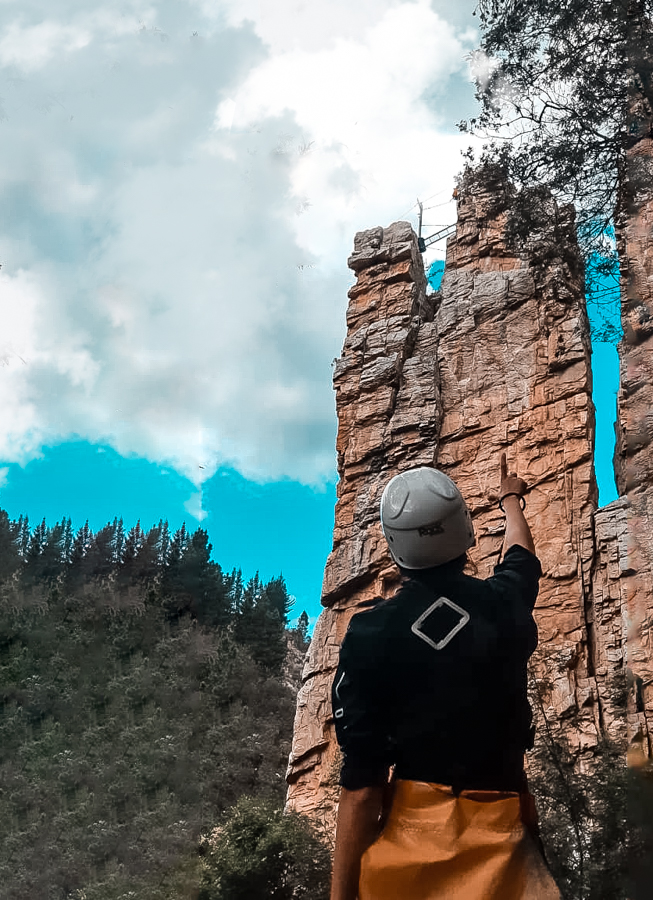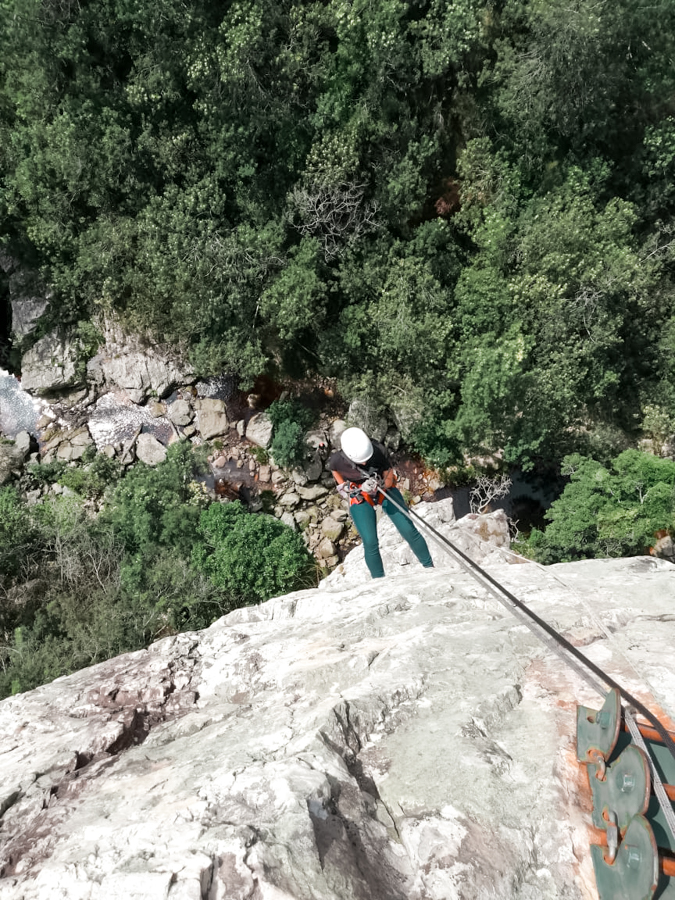 Here's one activity for daredevils at heart – Abseiling in Plett Bay isn't for the faint of heart, but if you're into all things adrenaline, this might be one of the coolest things to do in Plettenberg Bay for you!
The experience takes you on a Via Ferrata to a 50-meter high cliff that you'll descend from and into a river valley. Along the way, you'll get to see incredible geological landscape and rock formations, most of which date back to the beginnings of time!
It's terrifying and exhilarating all at once.
How to book: We arranged our abseiling experience with AfriCanyon – they're the only company offering the activity in the area and I can't recommend them enough. The excursion took us around two hours when counting in the hike back up.
Tip: because the sun in Plett Bay can get scorching hot, I recommend booking your abseiling tour in the morning.
Kay and Monty Winelands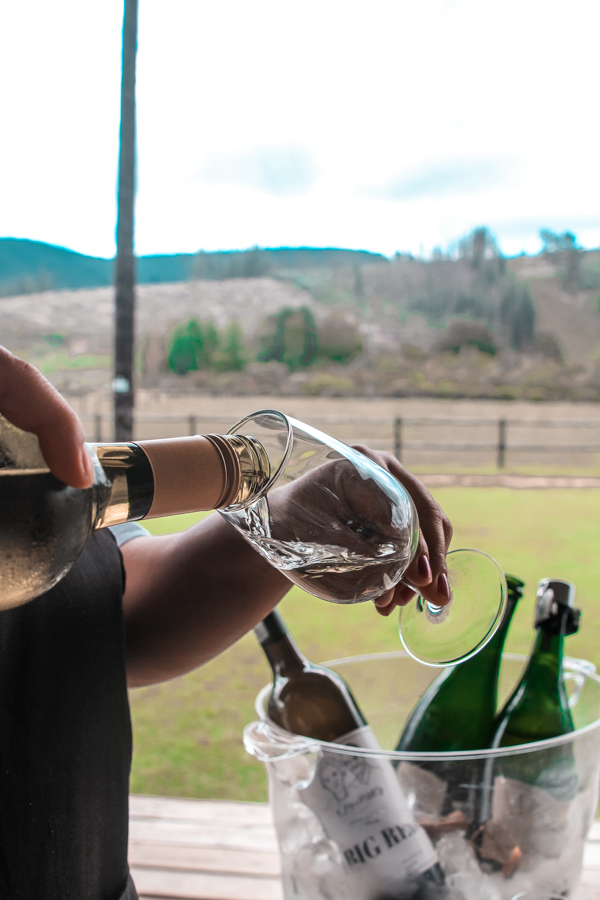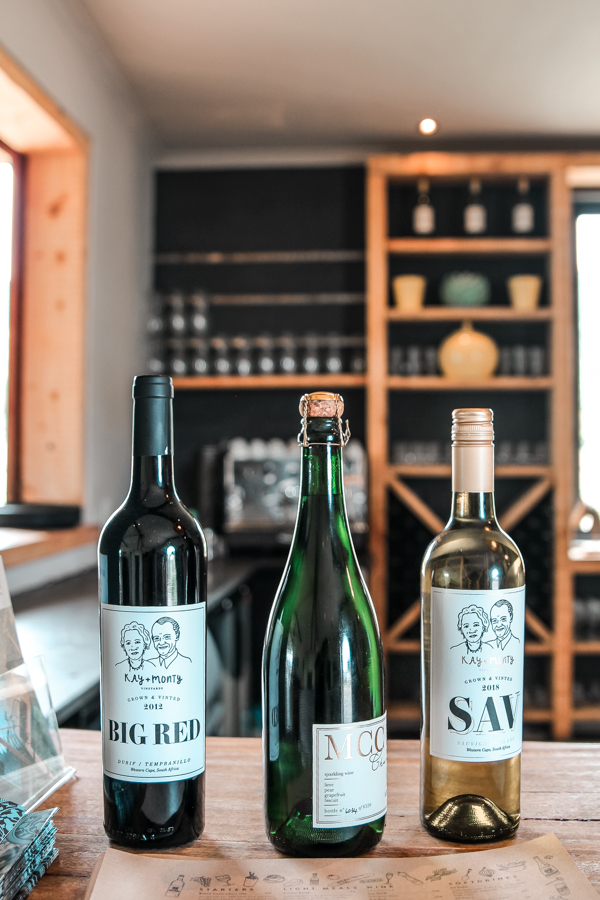 The Garden Route is famous for its wine farms, but you already knew that. Even though towns like Stellenbosch and Franschhoek have the rep for being THE spots to hit for a wine-tasting sesh, Plettenberg Bay has a fabulous wine route of its own.
After my abseiling experience with Africanyon, I needed to do something more low-key, so we headed to Kay and Monty Vineyards for lunch and wine-tasting experience.
Kay and Monty Vineyards is a fabulous boutique wine farm where you can pop by for lunch, wine, or just a cup of coffee and something sweet. South Africa, in general, is a foodies paradise, but the cheese platter we had at Kay and Monty is worth flying back to South Africa for. Seriously – make sure you plan a lunch here in your Plett Bay itinerary, I still can't stop gushing about their artisanal bread, either!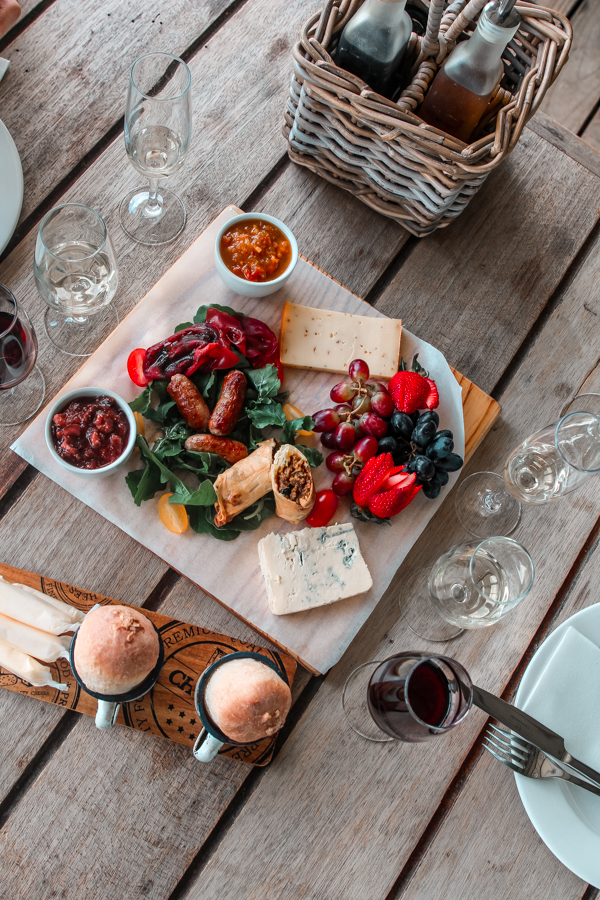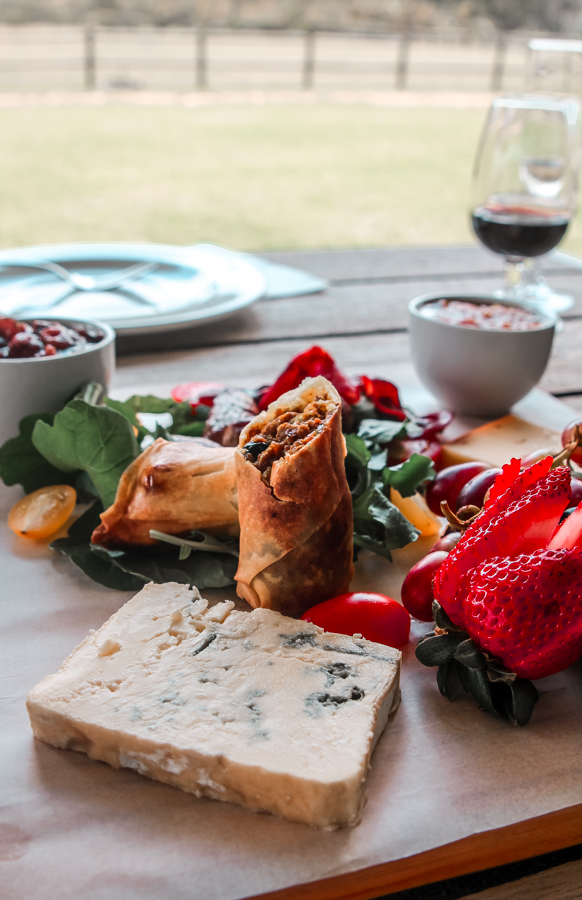 If you're want to stay a while longer, you can book a horse-drawn carriage ride with Hog Hollow Horse Trails that'll take you on a 30-minute trail around the estate. You'll get to learn more about the story of the place – all with a glass of sparkling wine in hand, of course.
Monkeyland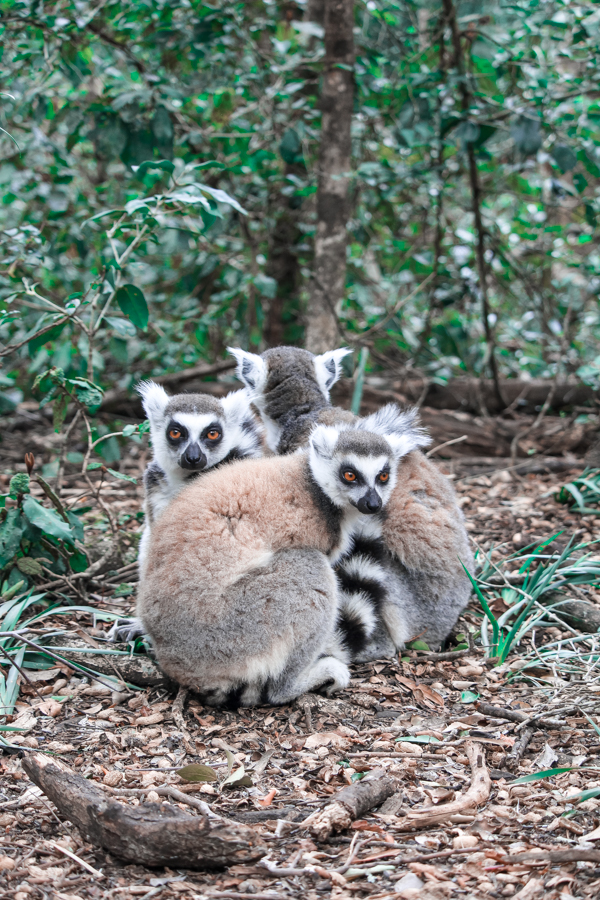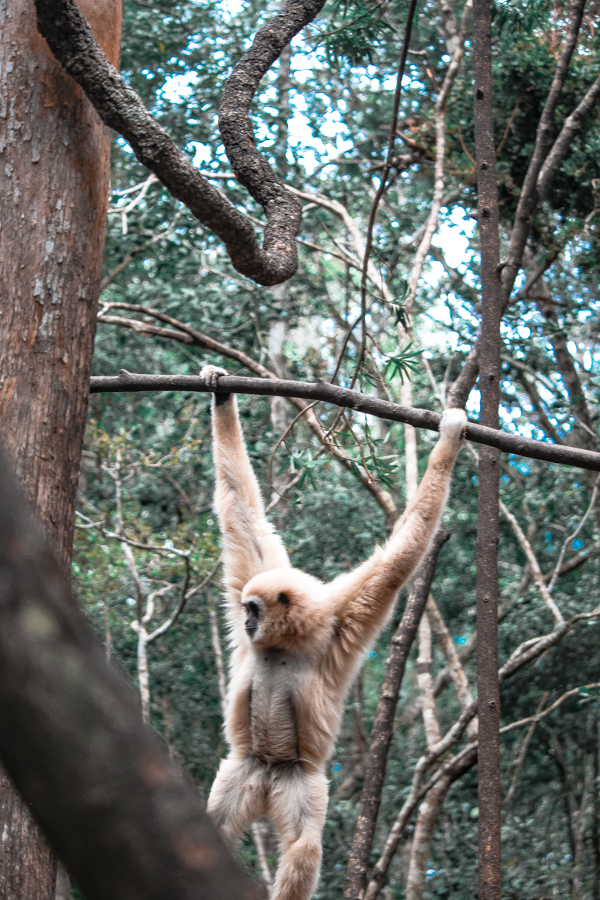 If you've been reading my blog for a while, you already know that one of my main reasons to travel is to see wildlife. I've seen gorillas in the Congo, orangutans in Borneo, and chimps in Zambia, and seeing King Julien in the flesh had always been on my bucket list. When I found out there was a place in Plettenberg Bay where I could see lemurs, I was sold.
Monkeyland is the first free-roaming primate sanctuary in the world. Its aim? To rehabilitate our furry cousins while still allowing them to live as naturally as possible. Monkeyland is home to over 700 monkeys and apes who roam around the grounds semi-freely. While seeing lemurs was the highlight for me, I also had a ton of fun seeing howler monkeys, spider monkeys, and Lar Gibbons!
Visiting this sanctuary is one of the best things to do in Plettenberg Bay for wildlife enthusiasts like myself, so make sure to include it in your itinerary. You need to book a tour, as independent walks are not allowed for the safety of the animals and your own.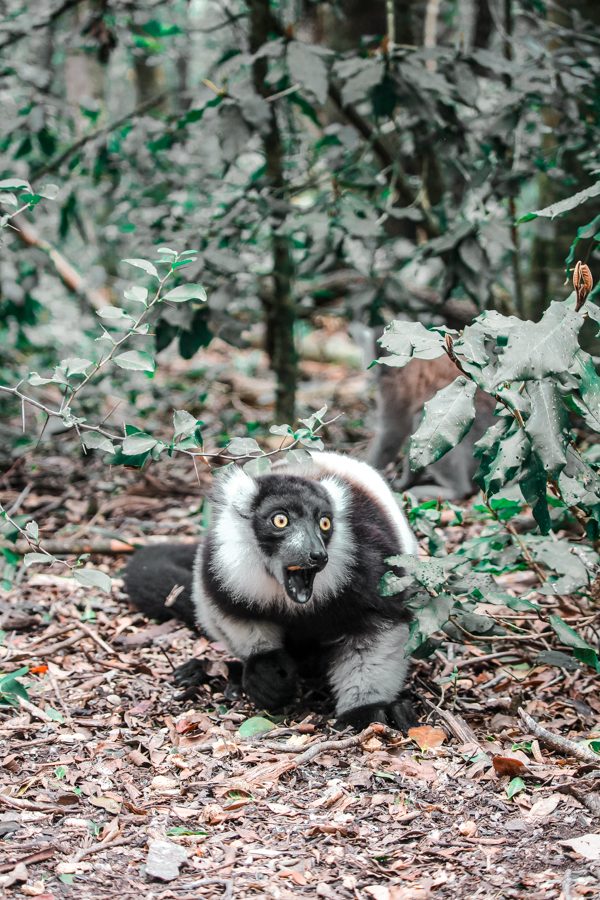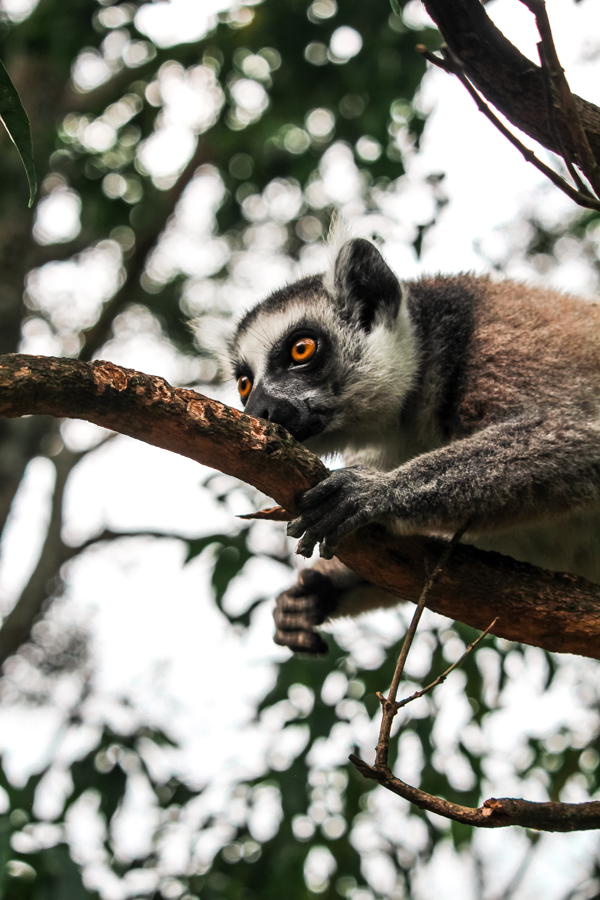 For more information on visiting Monkeyland and arranging your tour, head over here.
Tenikwa Wildlife Sanctuary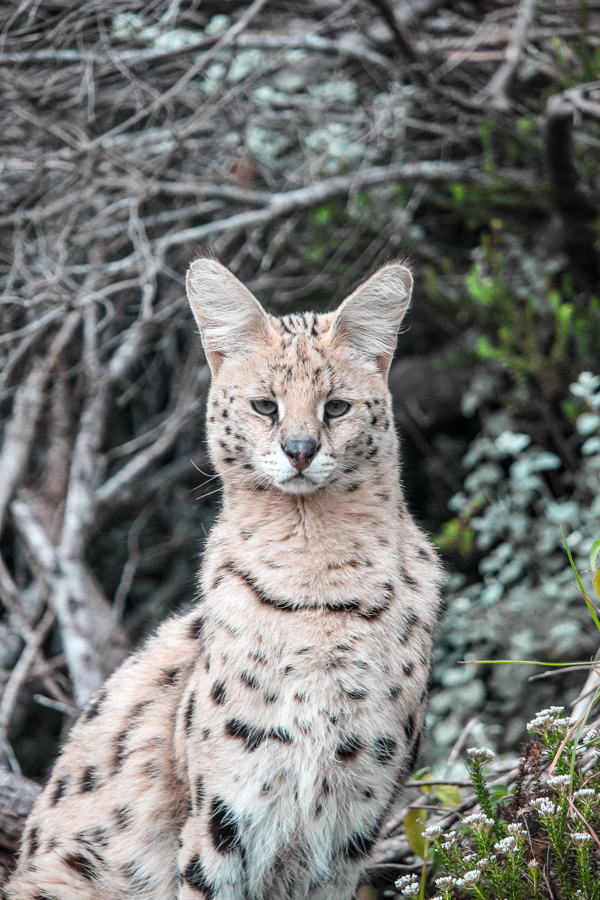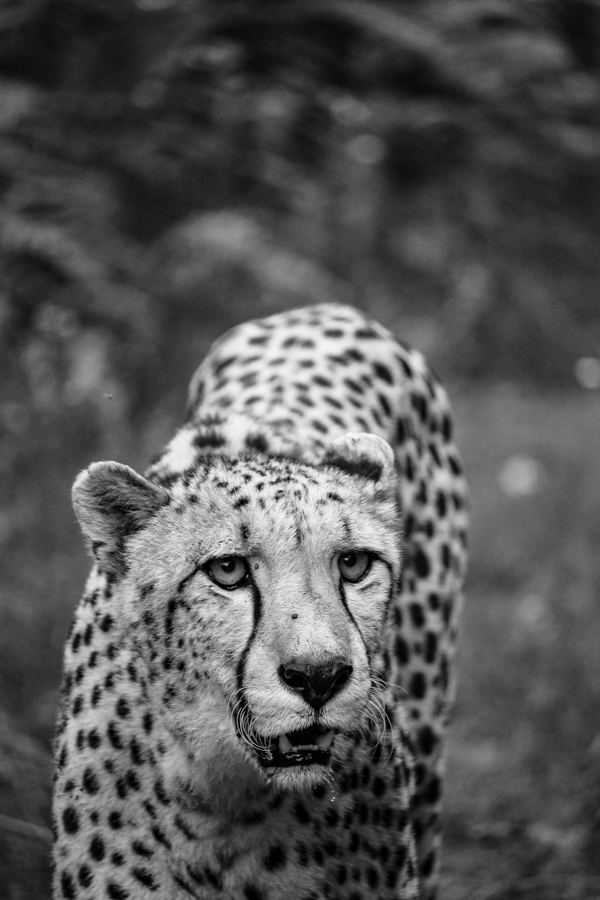 Chances are one of your aims while traveling South Africa is to see some big cats. While there's nothing quite like seeing them in the wild on safari, one of the most exhilarating things to do in Plettenberg Bay for wildlife lovers is visiting Tenikwa, a sanctuary for big cats and other animals whose aim is to rehabilitate injured or abandoned wildlife.
A highlight for me was getting the chance to see caracals. Seriously, guys, I love lions, leopards, and cheetahs, but caracals are the most beautiful of big cats out there (AND DON'T TRY TELLING ME OTHERWISE).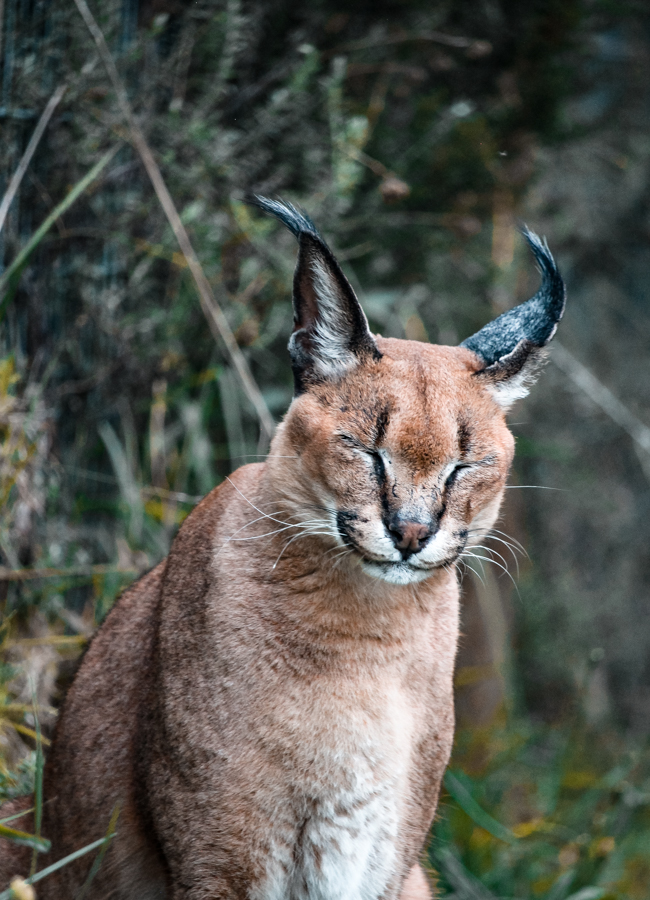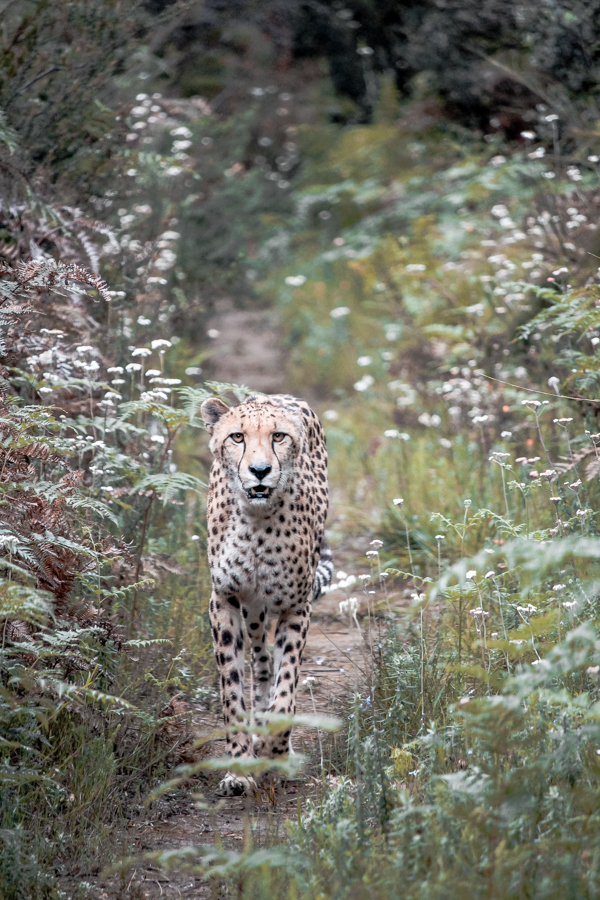 You can come and visit the animals as part of your Plettenberg Bay itinerary, but if you have time to linger a while longer, they offer a myriad of tours to get up and close and learn more about South Africa's indigenous cats.
Find out more about Tenikwa and their wildlife tours in Plettenberg Bay here.
Birds of Eden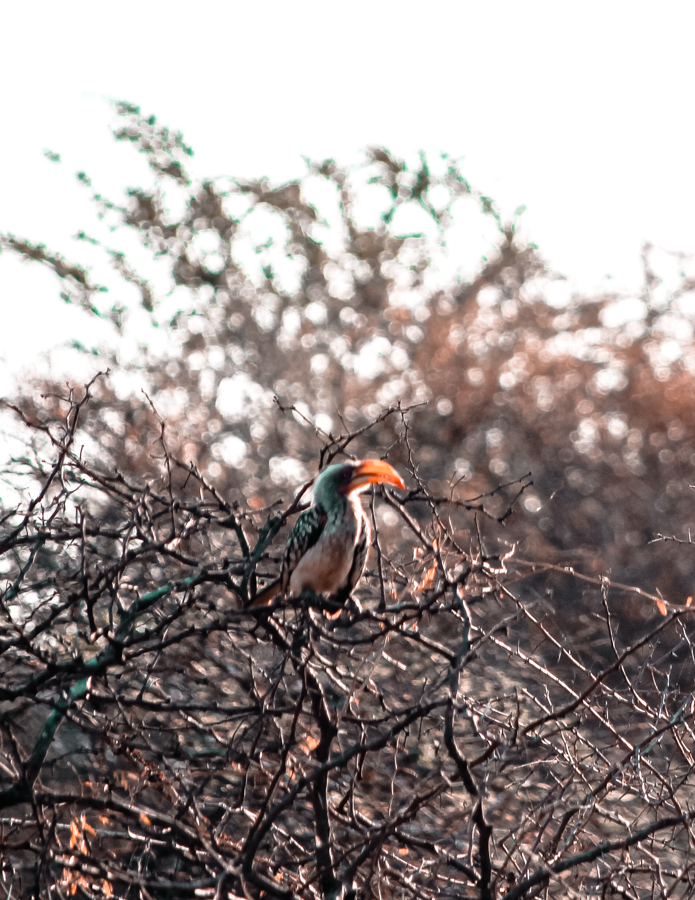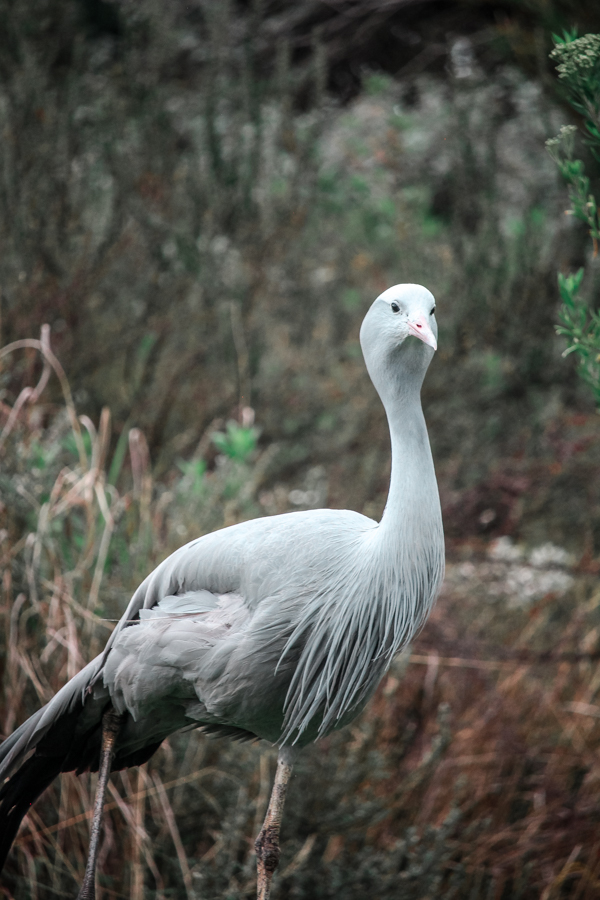 Another amazing thing to do in Plettenberg Bay is visiting Birds Of Eden, a haven for those with a soft hard for birds.
Home to over two hundred different types of birds, the sanctuary is one of the few true free flight domes (and the world's largest), where birds can be rehabilitated while still living in an environment that resembles their natural habitat.
Visits to Birds of Eden are usually self-guided, but you can also arrange a private walk if you're keen to get a more in-depth experience. If you want to learn more about visiting Birds of Eden, head over here.
Old Nick Village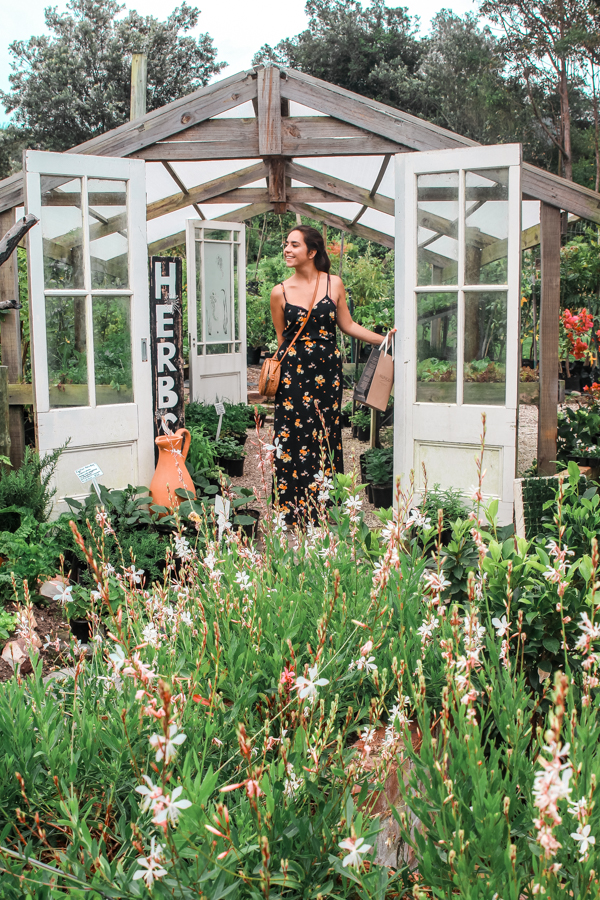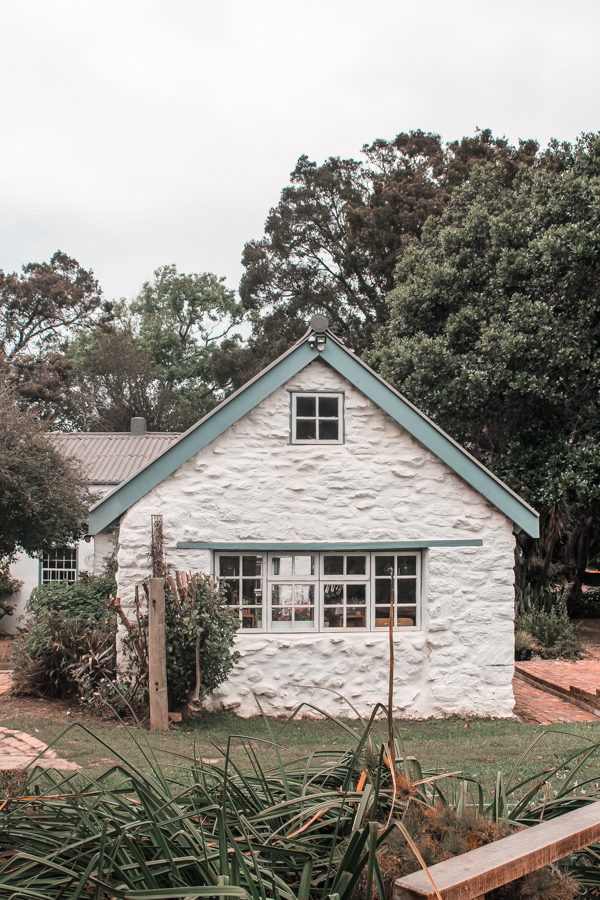 If you're into all things artsy, then a stop at Old Nick Village is a must. Set in a Cape Farm complex from the 1880s, the now restored area features a collection of eclectic and independent shops owned by local curators and designers. Think crystals, loomed blankets, gourmet chocolate, and handmade baskets.
I've been to a ton of markets all over the world, but Old Nick Village is honestly something special. It's a place where every single detail has a meaning – from the benches built using old looms to the quirky houses that now house the shops.
But more than that, Old Nick Village is known for being the host to some of the coolest events in Plettenberg Bay. If you happen to be in town on a Wednesday, make sure to pop by, as they host their famous Mid Week Market, where you'll get the chance to find homegrown veggies, ethically farmed dairy, and a huge array of natural and homemade products.
Mungo Mill + Store
Visiting Mungo Mill is one of the newest things to do in Plettenberg Bay, and since it's set inside Old Nick Village, you can visit them both in one go.
Opened just a couple of years ago, Mungo Mill has quickly become one the heart of Plettenberg Bay's design scene and one of the coolest places to visit in town. If you're into slow fashion, a visit here is a must for you! The mill is open to the public, so you can head inside and experience the weaving production (some of which is done using centuries-old looms). On weekends, creators take a break, but you can still book a guided tour to take you in so you can get a better chance at seeing the looms up close.
Take a day trip to Knysna
Knysna is another popular spot on The Garden Route, and if your schedule doesn't allow time to stay there, a day trip to Knysna from Plettenberg Bay will do just fine. Listing everything there is to do in Knysna deserves a post of its own, so make sure to check out my guide to Knysna for all my details and suggestions to help you make the most out of your day trip.
Where to stay in Plettenberg Bay?
We stayed at The Old Rectory, a cozy boutique hotel located in the heart of the city and just a short stroll away from the beach. Set inside the oldest surviving building in Plettenberg Bay, The Old Rectory is the newest hotel in town and THE place to stay in Plettenberg Bay if you want all those summer-beachy vibes.
The hotel boasts a pool, a world-class spa set inside a restored church, 18 immaculately decorated rooms (if you're into interior design, you'll fall HARD for this property), and a restaurant offering mouth-watering food.
Seriously, stay here while in Plettenberg Bay, but be warned that you might wind up having a hard time deciding between actually going out to explore Plett or lounging by their pool all day.
Book your room at The Old Rectory here.
Where to eat in Plettenberg Bay
Breakfast: We always had breakfast at The Old Rectory, and I don't regret it one bit. It's buffet-style and loaded with fresh fruits, granola, locally-sourced cheese, and homebaked bread and goodies. And guys, THE COFFEE. Make sure to order a cup of cappuccino, it's the best I had on my entire trip through South Africa. The restaurant is set inside a restored building that still holds so much historical meaning to Plettenberg Bay, but during the hotter months, you can have your breakfast under a dreamy Milkwood tree next to the pool.
Lunch: As mentioned on my things to do in Plettenberg Bay section above, you MUST have lunch at Kay and Monty Vineyards. I still can't get over their cheese platter and homemade bread. Pair that with a wine-tasting session, of course!
Dinner:
The Fat Fish: The Fat Fish is a contemporary restaurant that offers tapas, fresh seafood and platters of sushi (they have vegetarian options, too!). Its terrace seating area offers unbeatable views of Plettenberg Bay from its terrace, so get here around sunset. The dessert menu was a dream, too – make sure to order crème brûlée
The Table Restaurant: Another unbeatable spot for dinner is The Table Restaurant, especially if you're more in the mood for a more relaxed vibe. Their signature dishes include Ostrich with chili, prawn pizza, and handmade pasta. The Table is also known for serving some of the best cocktails in Plettenberg Bay, so definitely pop by for a drink or two!
When is the best time to visit Plettenberg Bay?
Summer is the best time to visit Plettenberg Bay. Between October and March, Plett sees temperatures rising up to 27°C (80,6°F), and sometimes even touching the 30s (nineties in Fahrenheit).
If you're visiting during winter, it's a gamble. Winters in Plett Bay are typical of the Cape Coastal area – sometimes mild and clear and sometimes cold and rainy. If you do visit during the winter months, make sure to dress in layers for this very reason.
If you want to see whales while visiting Plettenberg Bay, your best chances are during the breeding and calving season between June and November.
Tips to visit Plettenberg Bay
Tap water in Plettenberg is totally safe to drink, as it is all over South Africa.
Even though Plettenberg Bay is a popular beach town, it can get chilly during the winter, spring, and autumn, so make sure you pack a light jacket for the evenings.
Don't forget travel insurance for your trip to South Africa! This Plettenberg Bay itinerary includes a whole lot of activities in nature. You don't want to end up in debt if anything were to happen during your trip. I highly recommend purchasing your travel insurance online via World Nomads (it's really easy!). It will cover you on any adventurous activities that other insurances won't cover you for, like abseiling.
Disclaimer: This post was written in collaboration with Plettenberg Bay Tourism Board. However, all opinions are my own.
PIN THIS POST