I've officially found my favorite beach in Mexico and I never expected it wouldn't be on the Mayan Riviera.
In fact, it's in Oaxaca, and it looks like this: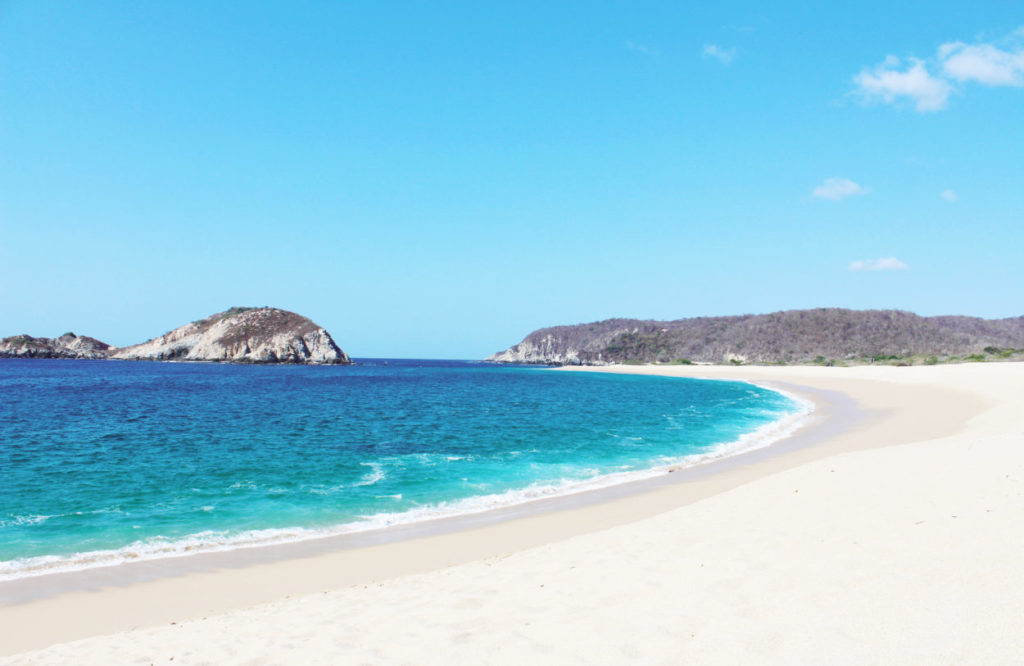 But let me give you a bit of background info first.
After almost two years of being a couple, my boyfriend and I decided it was time for me to take a break from Germany and that, instead, he'd visit me in Mexico to get to know my roots.
I wanted him to fall in love Mexico. I had five weeks to achieve this, and if you are familiar with Mexico, you already know that an entire month isn't enough to cover even a tiny fraction of the country.
When he announced that his flight was booked, all I could do was stare at a map in horror. I knew he'd love Quintana Roo and Yucatan because well, he's quite a beach person and the beaches on the Caribbean side of Mexico are probably some of the most beautiful in the world, but there were also so many other places that I wanted to show him and with such a limited time frame, it was kind of impossible to fit everything in.
The thing is, guys, that I wanted him to see a rawer part of Mexico instead of just massive tourists destinations. We ended up choosing to explore the state of Oaxaca because it's an incredible destination to get a first-hand impression of authentic Mexican culture. Aside from that, Oaxaca boasts an extensive coastline that I have never explored myself, so it was also an opportunity for me to see more of my own country as well.
After spending a week in the city, we headed south, where we encountered a problem: It was Semana Santa in Mexico, two-week long school holiday and the time of the year when beach destinations get filled with local tourism. That was another reason why I initially decided to cross the Riviera Maya off the options list for this trip.
The Oaxacan coast was, unfortunately, no different.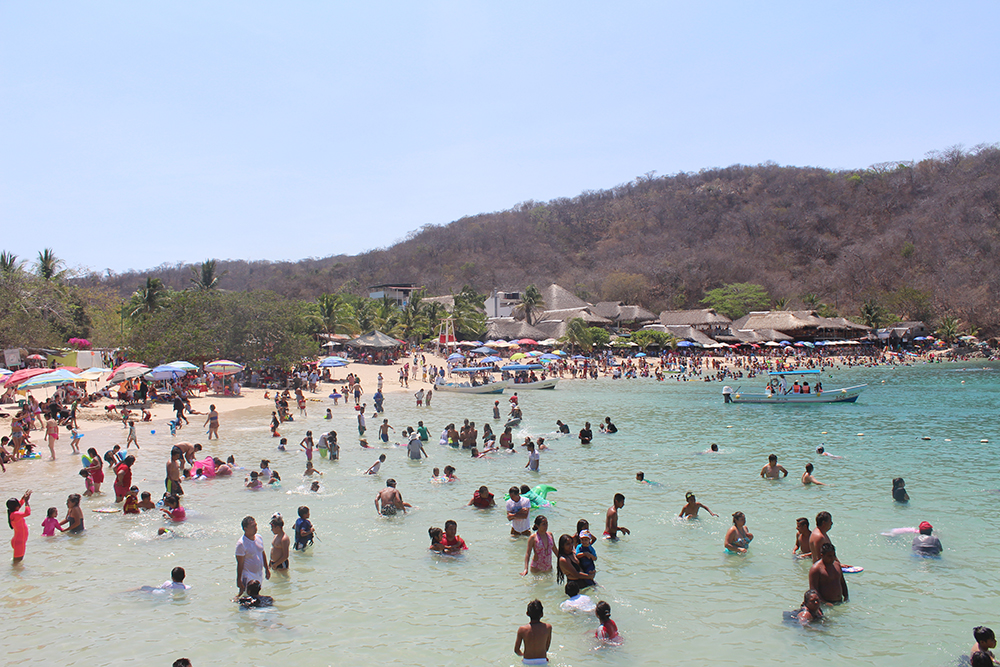 It was one of those expectation/reality kind of moments.
Ugh.
On our way back from La Entrega beach, I began talking to our taxi driver while in Huatulco.
"It's super crowded everywhere, huh?", he casually spurred out to break the silence in the cab.
"Yeah, we are a bit disappointed right now. Would you happen to know a lesser-frequented beach around here?", I asked kinda hopelessly.
"All beaches are crowded right now. It's Semana Santa.", he said.
Sigh.
"But I do know a beach not far from the city. There are no restaurants or anything, though. It's a virgin beach and you have to walk through the jungle to reach it or take a boat."
My eyes brightened as I blurbed out "please do tell me more."
And just like that, the next day, we set out to find Cacaluta Bay and the whole ordeal was a dream come true. We hiked through the jungle and past a lake which different species of birds made their hangout spot, and it was just an amazing sight. If you are into bird-watching, then right there is another reason to not miss Cacaluta Bay. The name Cacaluta actually comes from Zapotec language and translates into "the place where the blackbird stands" in honor of a large species of black-colored bird that was said to inhabit the jungle that surrounds the bay.
We spotted tons of vultures, but we also saw pink and white birds whose names I am unfortunately unaware of (bear with me while I find out!). 
After a one a half kilometer walk through the shaded jungle, we spotted hills of sand.
And then...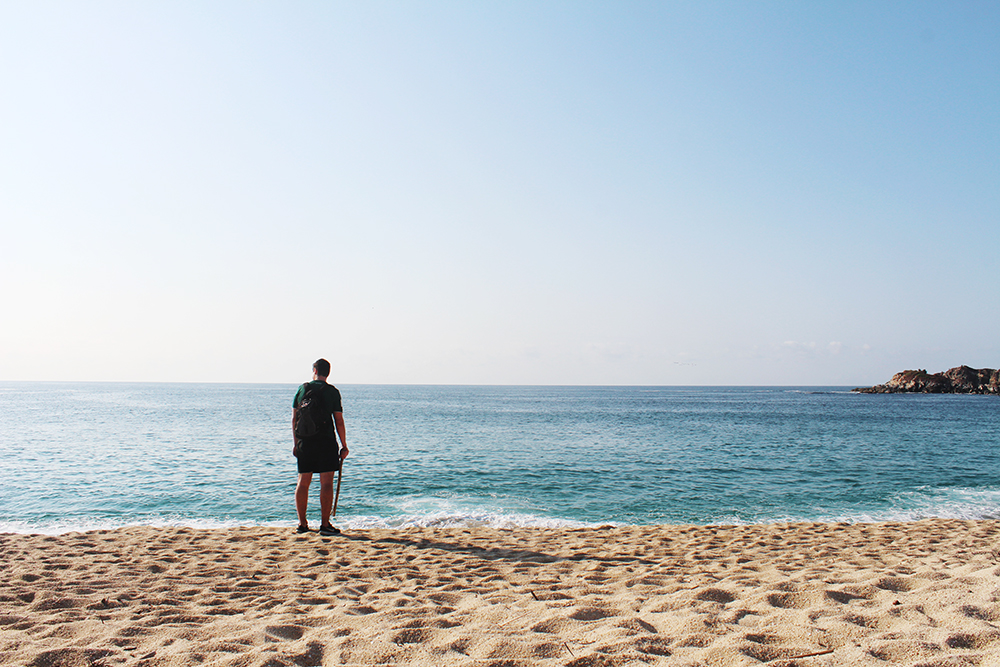 An epitome of paradise and we had it all to ourselves.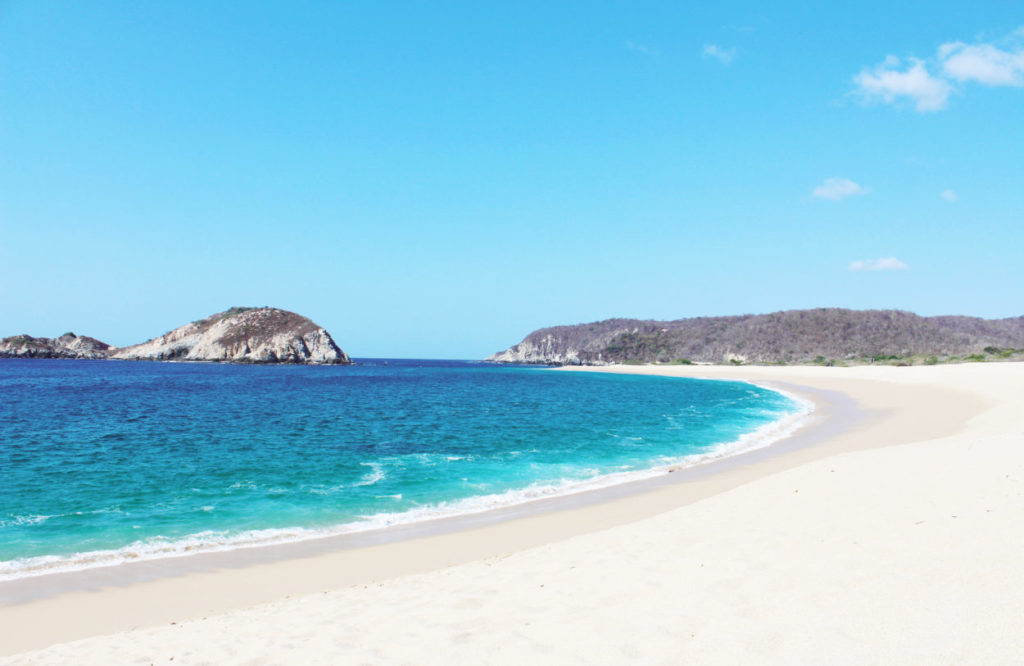 After finding a spot of shade beside a cliff to drop or backpacks under, we dove into the clear waters of Cacaluta Bay.
We were able to spot a few mantas, as well as different kinds of fish, my favorite was a tiny version of spadefish.
The day was spent alternating times lying on the beach and diving into the water. It was like a dream come true. Aside from us, there was a couple who came here on a tour, but they spent about half an hour there before they continued on with the rest of their planned activities and Cacaluta belonged to only us again.
We had found paradise and I never wanted to leave. A part of me wanted to ditch our travel plans to Chacahua National Park to just like, stay at Cacaluta forever and learn to live off the land.
I found out later on that this beach was the setting of a scene in the infamous Y Tu Mama Tambien
, a classic Mexican film directed by Alfonso Cuarón, in which two boys in their late twenties and a woman road trip the Pacific Coast of Mexico and stumble upon this isolated beach in which they set up camp in.
HOW TO GET TO CACALUTA BAY
Cacaluta is located about eight kilometers south of La Crucecita in Huatulco. You can easily get there by hiring a boat driver to leave you there. However, I thoroughly enjoyed getting there by land and having the freedom to enjoy this perfect piece of paradise without having to worry about anybody else's time.
Getting there by road is super easy, as well. There is no public transportation there, as the road where the hiking trail to Cacaluta is a dead end, but you can just hail a taxi on the street and ask to be dropped off at the entrance to Cacaluta. The taxi should charge you no more than $60 for the drive.
The driver should know exactly where to take you, but just in case he doesn't, you can find the map here.
The exact coordinates are: 15.734728, -96.159742
The start of the walk looks like this and it will be located to your left. The trail is well-marked and quite an easy walk under the shade of the trees.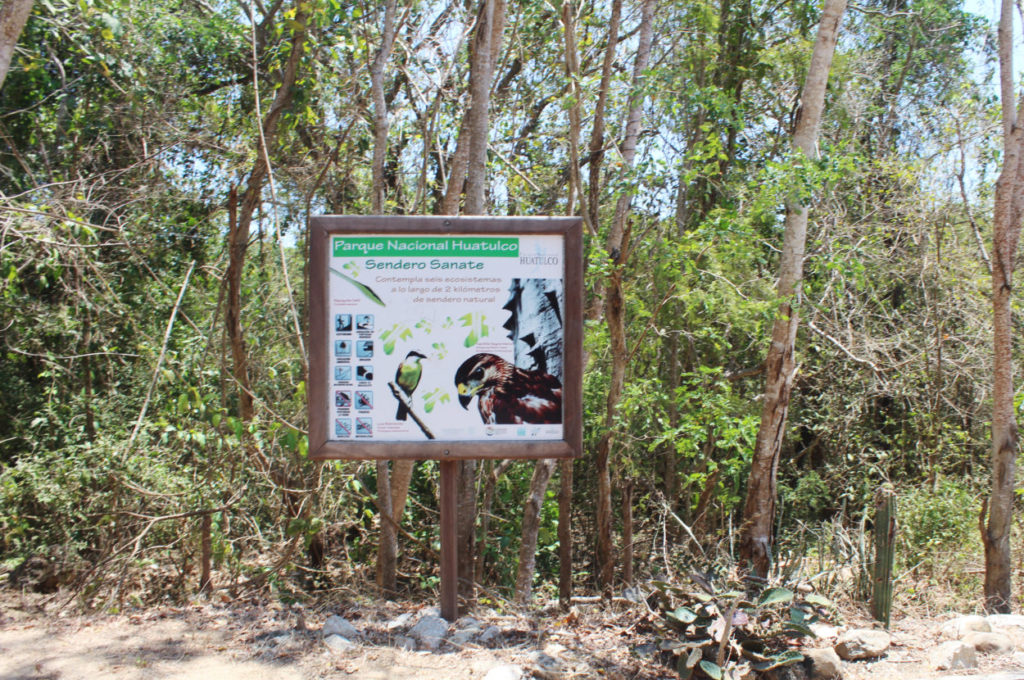 Getting back to Huatulco is also easy. You can walk back the way you came from, and once you reach the road, you have to walk one kilometer towards your right to reach Playa Maguey, where you'll find a taxi stand to take you back into the city. The walk to Playa Maguey is short but not shaded at all, so make sure to bring a hat as well.
WHAT TO BRING TO CACALUTA BAY
Cacaluta is a virgin beach, which means there are no restaurants or any amenities at all, do bring a lunch and enough drinks if you plan on spending the day here.
The area next to the cliffs is shaded up until 2pm or so, and after that - nothing! If you want to stay longer, I'd highly recommend you bring something to protect yourself from the sun like an umbrella or a beach tent like this CoolHut by Avalantor.
Sunblock, too. But I am sure you already knew that. I do want to take the time to recommend bringing an eco-friendly sunblock to avoid harming the pristine environment of Cacaluta. Chemicals such as oxybenzone, which are found in normal sunscreens threatens coral reefs and the animals who reside in the oceans. The decline of reefs is quickly becoming a global problem, and it's best to avoid being a part of the problem. There are many sunscreen companies that claim their products are biodegradable, but this is not always the case. Stream2Sea is tested and proven reef safe, so I'd go for that one! They also have other products on offer like hair conditioner and sunburn relief which are worth having a look into.
It's also important to keep in mind that there are no lifeguards here, so I wouldn't recommend visiting this beach with children.
Camping at Cacaluta is also allowed and it's free of charge. Just please, please make sure you clean up after yourself.
BEST TIME TO VISIT CACALUTA
The waves at Cacaluta start getting stronger at around 1pm. I definitely recommend starting the day at around 6 or 7 A.M. to make the most out of the day and avoid the heat.
Have you ever been to Cacaluta Beach? If so, did you love it as much as I did?
If you know any other secluded beach paradises in Mexico, let me know in the comments section below. I'd love to know! 🙂