17 Epic Bali Instagram Spots You Must Visit
Welcome to the land of stunning beaches, lush rice terraces, and captivating temples — Bali!
This tropical paradise is a dream come true for Instagrammers and photographers, as every corner of this island offers a unique backdrop that screams 'picture perfect'.
From the clifftop ocean views of Nusa Penida to picturesque cafes and unique Bali bamboo houses, here you will find unlimited inspiration.
Where to stay in Bali for photography? One of the best places is Ubud, which provides endless photography opportunities with its nearby rice terraces, sacred temples, and waterfalls. Another famous place for epic shots is Penida Island.
I live in Bali, and I'm a passionate photographer and below, I'm sharing the top Bali Instagram spot that you don't want to miss on your next vacation.
Best Bali Instagram Spots
#1 Tegalalang Rice Fields
Located north of Ubud centre, the Tegalalang neighbourhood is one of the best places to stay in Ubud for 5-star eco resorts. And, apart from the luxury accommodation Tegalalang is home to the UNESCO-listed rice paddies, which also happen to be the most iconic rice fields in the entire island.
There is a small entrance fee, a free car park and a few local restaurants where you can have a cold drink with a view of the fields. Bring comfortable shoes, as you will have to climb down and over a valley to get to the most scenic part of the rice paddies.
Photo Tip: The best time to shoot at Tegalalang rice paddies is early in the morning, just after sunrise, when the light is soft and you can capture the stunning light beams.
#2 KYND Community
When it comes to Instagrammable cafes in Bali, there is no more famous or cute place than the KYND Cafe with its pink-painted walls. There are two KYND cafes, one in Seminyak and a new one in Batu Balong, which is one of the best places to stay in Canggu for food and nightlife.
KYND is a vegan restaurant with the best plant-based food in Bali! Everything I have ever tried there was delicious, so you won't have any problems with their menu, but if you want a colourful prob for your photo, order one of their smoothie bowls.
In my opinion, the original cafe in Seminyak is more picturesque, with its iconic pink wall that says "Another day in paradise".
Photo tip: KYND Cafe is less busy in the late afternoon, which is the best time to visit for the best photo opportunities.
#3 Bali Tree House
Located on Nusa Penida, the Rumah Pohon Tree House is the Bali Instagram dream come true! Yes, it is super touristy, and yes, if you come during the day, you will have to queue to take the photo, BUT, honestly, it will be so worth it.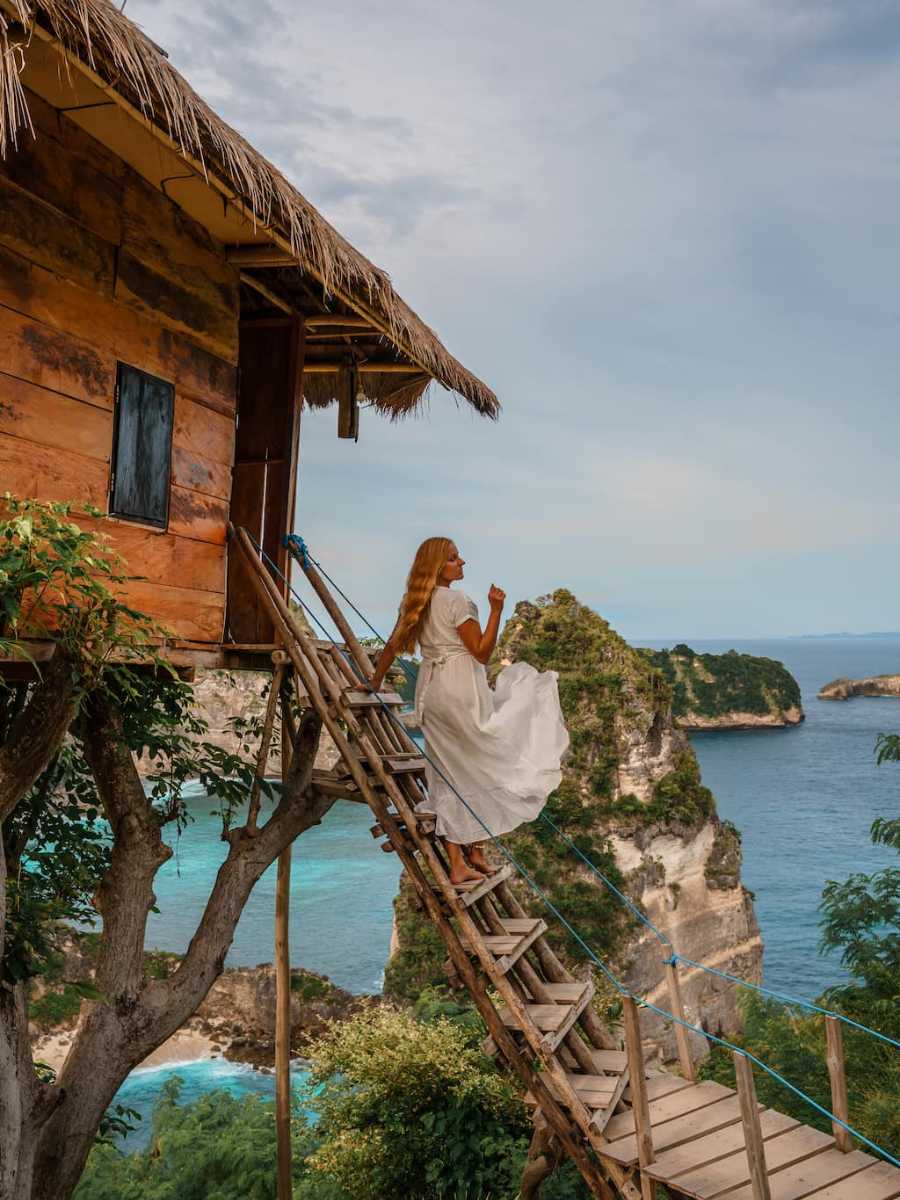 Here, it's all about the backdrop of the turquoise ocean and soaring cliffs. And, if you're really committed to "killing" it on Instagram, arrive at the tree house for the sunrise for an even more dreamy shot or clip.
Nusa Penida is a small island located a 30-minute ferry ride from Bali mainland and can be visited on a day trip. But, if your itinerary allows you, I highly recommend staying in Penida for a night or two.
#4 Kelingking Beach
Another must-visit Instagram spot on Bali's Nusa Penida is the famous Kelingking Beach, located in the eastern part of the island.
Kelingking Beach is known for its cliff that looks from above like a T-rex dinosaur head. Again, it is such a popular photo spot, and despite the fact that you most certainly have already seen it on social media, in person, it will still take your breath away!
There are a few photo spots with T-rex rock at different angles that you don't want to miss.
And if you're feeling adventurous, you can take the steep path down to access the beach too. It takes at least 30 minutes to get down, but make sure you're wearing some sturdy shoes as the track is not very well-maintained.
#5 Lahangan Sweet
Lahangan Sweet is a viewpoint of Mount Agung that only in the recent 2 years has become one of the most popular Bali Instagram spots. I visited it in 2021, and my photos and reels of the place went viral on Instagram!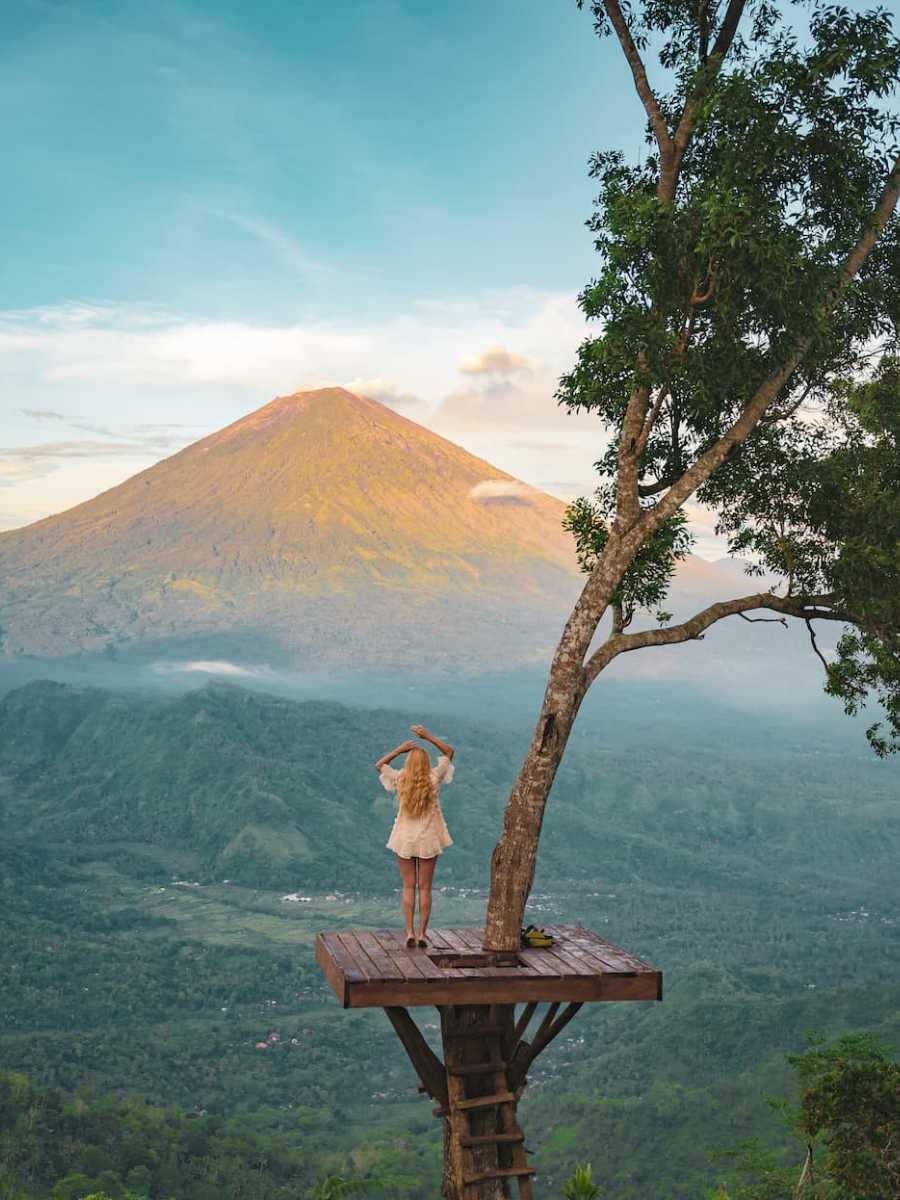 The viewpoint is located within a campsite in the southeast part of the island, around a 35-minute drive from Amed. There is a wooden platform built on a tree where you will stand, and the person who takes the photo will stay on the hill for the best photo angle.
The climb to the platform is a little scary, but the view of the volcano is simply jaw-dropping.
Photo tip: For the best light, visit Lahangan Sweet either at sunrise or sunset.
Instagrammable Bali Temples And Waterfalls
#6 Tirta Gangga Water Palace
Tirta Gangga is a royal water palace located in the east of Bali, near Amed and Candidasa. It's one of the most popular Instagram spots in Bali, especially for couples.
This place is so dreamy, and its gardens are filled with ponds, statues and stone carvings.
Before you enter the palace, make sure you buy some fish feed sold by local vendors outside of the entrance. The ponds are teaming with them, and if you feed them, they're gathered around you, which will make for a cool shot!
As with all popular Instagram spots in Bali, the best time to take photos at Tirta Gangga is in the early morning to avoid crowds.
#7 Handara Gate
Located in the north of Bali, near Pura Ulun Danu Temple in Munduk, Handara Gate is one of the most iconic Bali Instagram spots.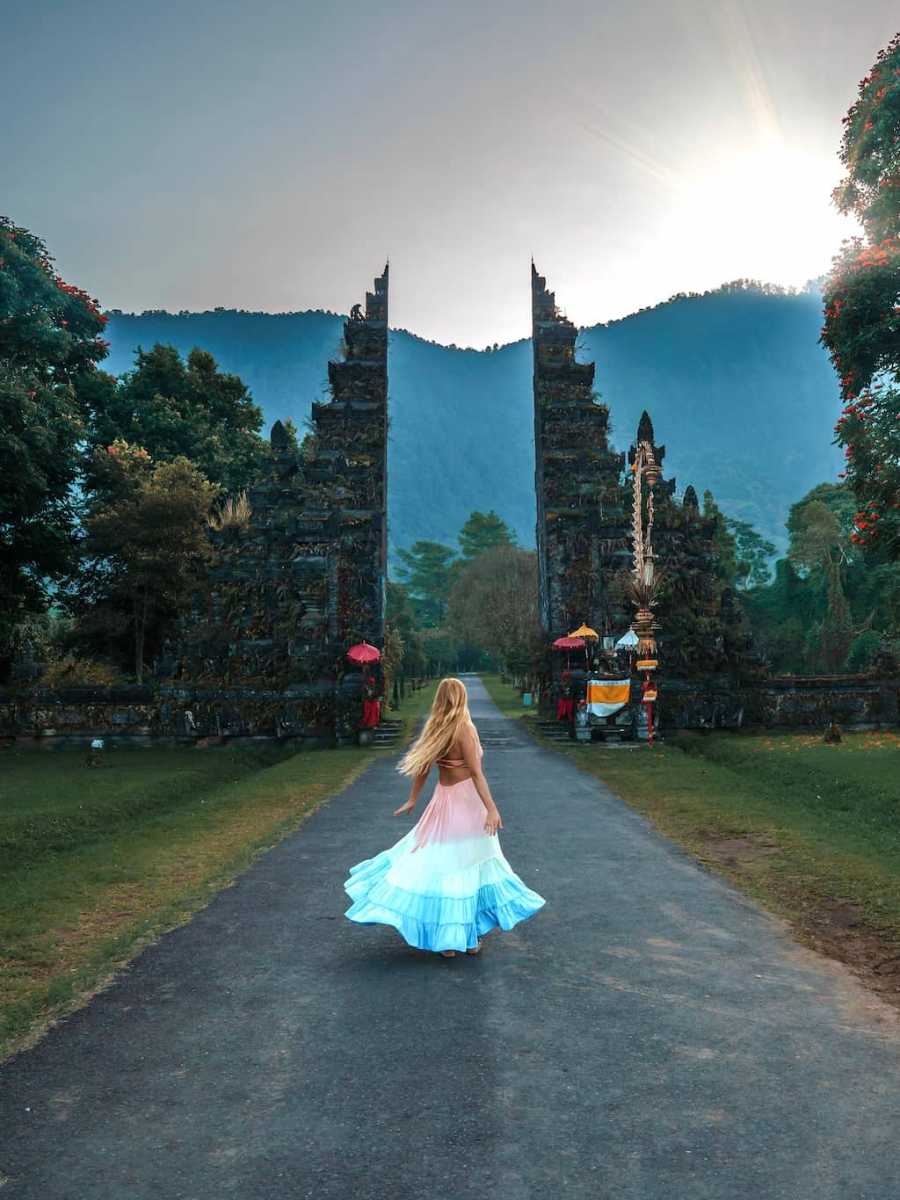 The gate is decorated with traditional Balinese ornaments, and its entrance lies between two volcanic mountains surrounded by lush greenery. It may appear that the gate leads to a temple, but in reality, it's a gate to a resort…
Despite that, Handara Gate has become so famous that there are now many tourists waiting in line to take photos each day. So, if you want an Instagram-worthy photo here, arrive early or late in the afternoon when there are fewer people.
#8 Gates of Heaven
Part of the Lempuyang Temple, the Gates of Heaven is another iconic spot for Bali Instagram photos.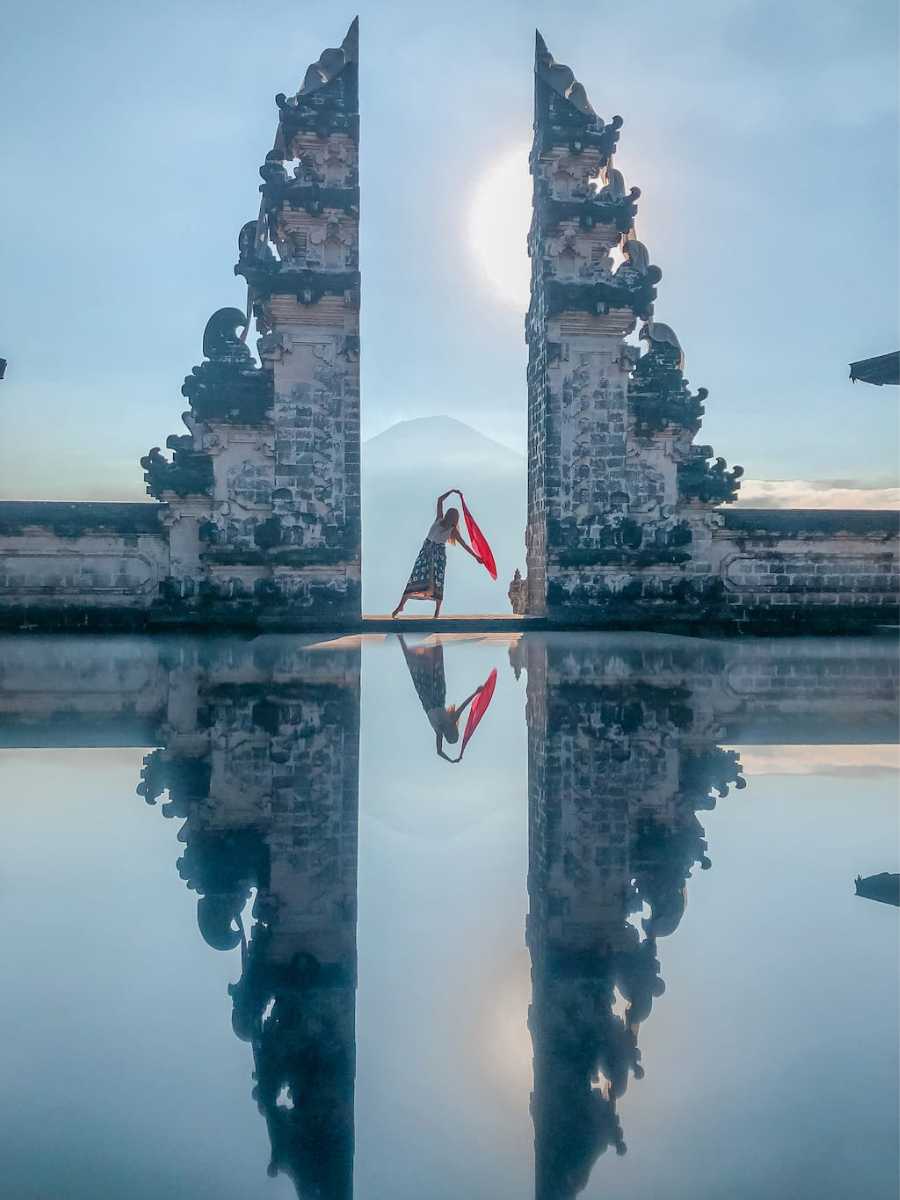 The temple itself is located about 2 hours away from Ubud and is one of the oldest Balinese temples. It's also known as Pura Penataran Agung Lempuyang.
The trick to getting the perfect shot here is to take a photo at a big Balinese gate with the volcano in the middle and use a mirror reflection to create what appears to be a water reflection of the temple. But don't worry, there is normally a staff member assisting all visitors in taking the photo.
You may also like:
#9 Kanto Lampo Waterfall
Kanto Lampo is one of the most photogenic waterfalls in Bali, located about a 30-minute drive from Ubud. The waterfall comes down from cliff walls between two volcanic rocks, and you can walk right up to the waterfall itself!
Photo tip: If you're shooting with a professional camera, use a slower shutter speed to make the falling water smooth. If you're a solo traveller, don't worry, there is always a local guide that helps tourists with photos for a small tip.
Instagrammable Hotels In Bali
#10 Bamboo House At Camaya
If you're looking for a unique place to stay in Bali that will also provide plenty of photo ops, there is no better place than one of the bamboo houses at Camaya located in southeast Bali, an area called Sidemen.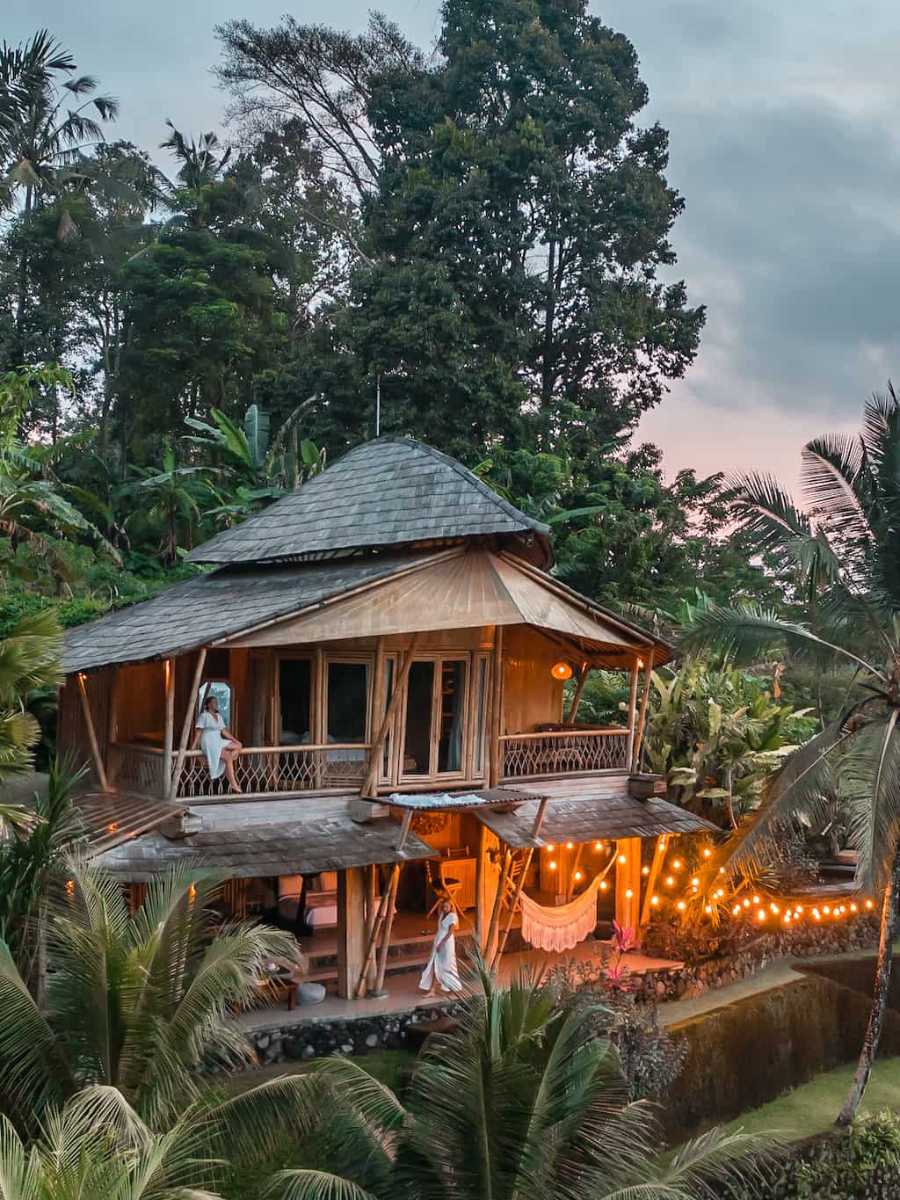 The two-storey bamboo houses sit on top of a hill surrounded by lush vegetation and rice fields. It's truly an idyllic setting!
The bamboo houses have large window glass walls on the second floor and are open-concept on the ground floor, allowing for maximum natural light. They also come with a plunge pool and suspended net, which is perfect for photography.
#11 Villa Cella Bella
Villa Cella Bella in Ubud offers some of the dreamiest and most Instagrammable villas in Bali. It's decorated with traditional Balinese art and artefacts, boho furniture and tropical plants.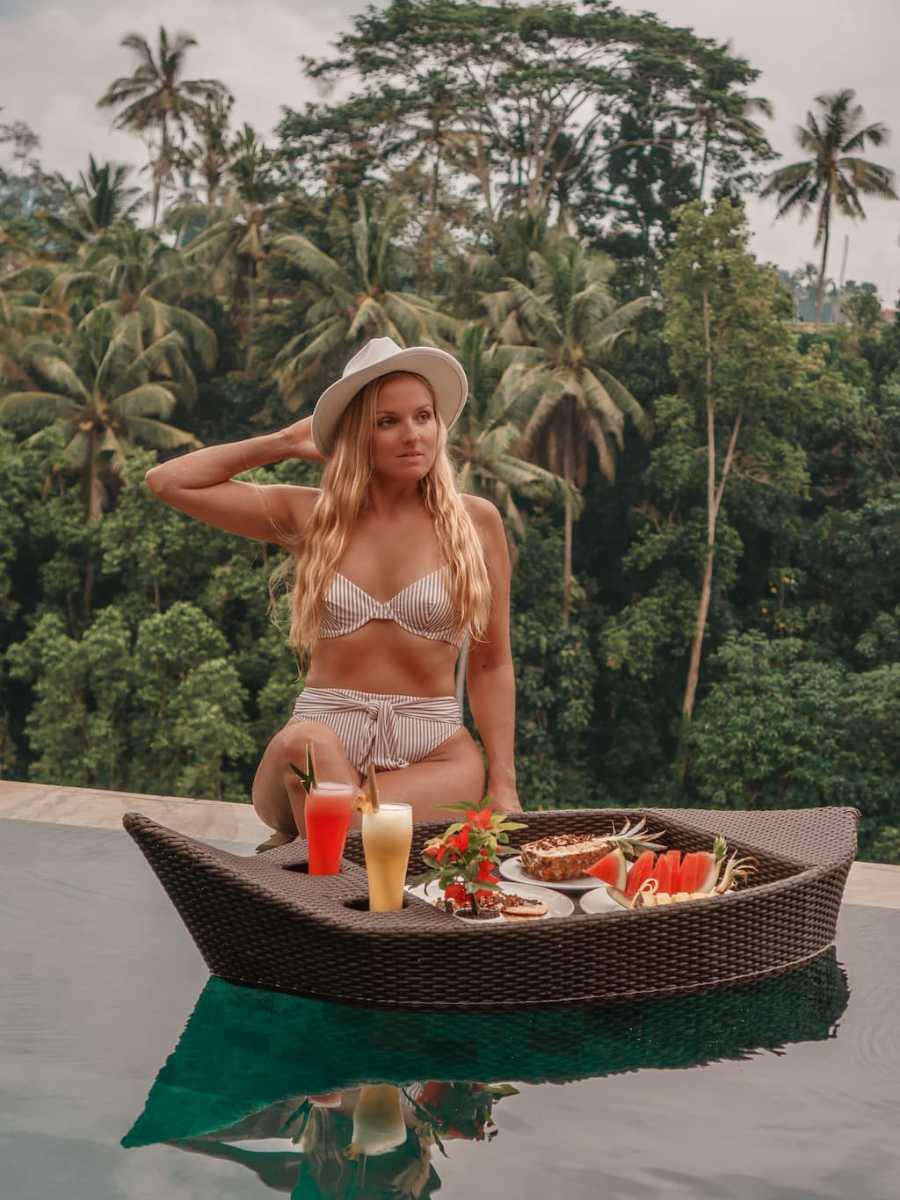 The best part about this place is its jungle pool overlooking the valley – a perfect spot for that morning yoga pose shot! The property specialises in organising typical Balinese Instagrammable experiences such as floating breakfasts, flower baths, candle-lit dinners – you name it.
Plus, the villas also have private terraces with daybeds for a perfect chill-out spot to take your Instagram stories.
#12 Kamandalu
Kamandalu Resort is located in Ubud and belongs to one of the most Instagrammable hotels in Bali. It offers modern Balinese-style villas with infinity pools overlooking the jungle valley and lavish bedrooms decorated with handmade furnishings, traditional Balinese art and antiques.
The most Instagram-worthy shots you can take at Kamandalu are on their iconic tree swing and of the picnic, they can organise for you on a boat floating down a small stream.
#13 The Udaya In Ubud
The Udaya in Ubud is a modern and minimalist boutique hotel located out of the centre. The villas are designed with natural materials, such as wood and stone, to create an eco-friendly atmosphere. It is the perfect place to stay in Ubud for couples on a romantic vacation.
Many Instagrammers come to Udaya for its iconic flower baths, which are one of the most beautiful in Bali. For poolside shots, there is also a large infinity pool with amazing views of the greenery.
Instagrammable Cafes In Bali
#14 Sketsa 2D Cafe Seminyak
Ever wanted to step into a drawing? Sketsa 2D Cafe in Seminyak lets you do just that! It is not your usual Instagram destination in Bali, but it will give you something different, and who doesn't like unique on social media?
The cafe's walls have black and white drawings all over, making it feel like a giant sketchbook. Order a coffee and take as many shots as you like! If you're worried about other people, arrive early for breakfast to avoid any potential photo bombers.
#15 Penny Lane
If you're looking for an Instagrammable cafe in Bali, Penny Lane in Canggu, with its boho-chic vibe, is the perfect spot The place is decorated with vintage furniture pieces, chandeliers, and quirky paintings.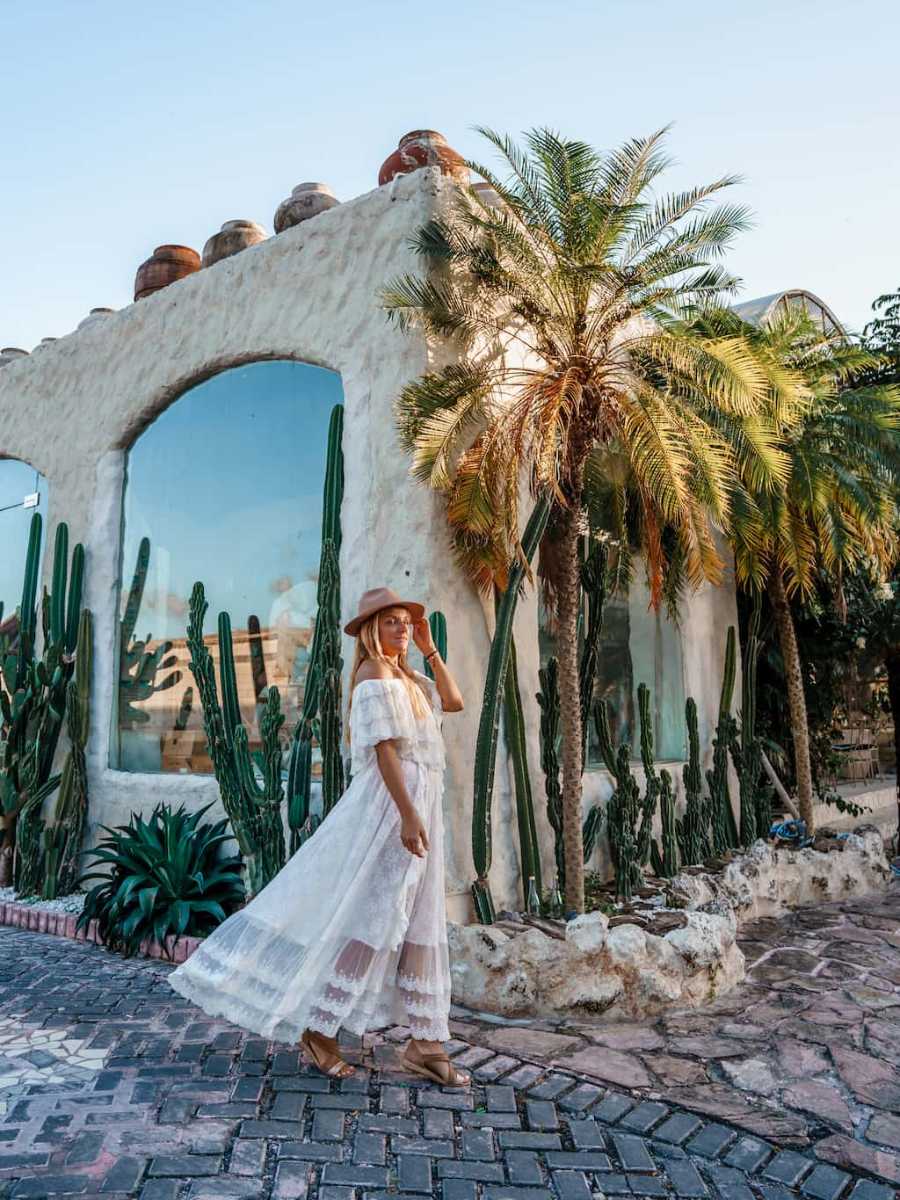 It's known as the 'Instagram cafe' of Canggu, and it's always full of people taking pictures of their coffee or food. But it's not only for Instagrammers, Penny Lane is a popular location for professional fashion photo shoots in Bali!
Penny Lane is located in the Batu Balong area.
#16 Lazy Cats Café
Located in the heart of Ubud, Lazy Cats Café is a go-to spot for Instagram enthusiasts and foodies alike. The cafe boasts a quirky decor, with an eclectic mix of comfortable leather sofas, plants, and intriguing artwork.
The standout feature of the cafe is its balcony, offering cosy seats and views of the bustling main street of Ubud.
This cafe is not just about aesthetics. It's a haven for vegetarians, serving an array of mouthwatering dishes, so make sure you also visit for brunch or dinner.
#17 Montana Def Cafe
When you're in Kintamani, north of Bali, don't miss the opportunity to visit Montagna Del Cafe. This cafe has become an Instagram sensation thanks to its breathtaking view of Mount Batur Volcano.
The most famous photo spot here is in the doorframe of the balcony, offering a stunning backdrop for your photos. There's also a net downstairs where you can lounge and snap more unforgettable pictures.
It's also an excellent spot for breakfast or brunch, serving a variety of smoothie bowls, eggs your style and burgers.
Bali Instagram spots: Final Words
Bali is a photographer's paradise – so of course, it also has to be one of the most Instagrammable places in the world. There are many places throughout Bali that are perfect for shooting photos.
Whether you're looking for an iconic spot to take professional content or just want to have some fun shots with friends, Bali is a perfect destination for all photography enthusiasts.
About the author
Mal is a travel blogger and co-owner of WhereToStayBali. She divides her time between living in Bali and exploring the world. Apart from travelling, she is also an avid surfer and passionate photographer.