10 Best Places for Solo Travel in Spain
If you are looking for a safe country for solo female travellers, Spain is one of them.
Within Spain, you can find many safe destinations which offer amazing activities for solo travellers, from visiting important UNESCO World Heritage Sites and hitting the best museums to immersing yourself in the Spanish culture and tasting delicious food.
10 Safest Cities in Spain for Solo Female Travel:
1. Malaga
Malaga is a fantastic destination for solo female travellers. The city is walkable, safe and full of things to do over a weekend or longer.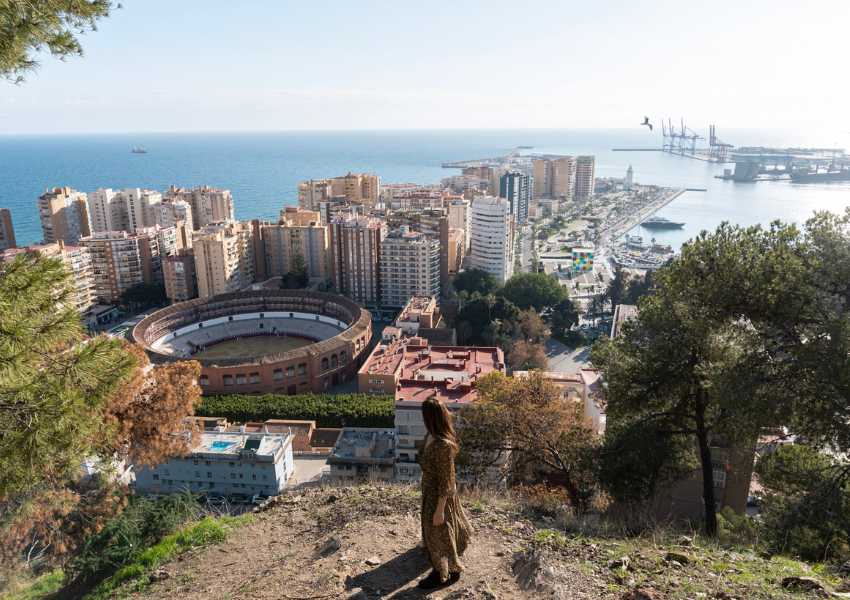 Some of the best things to do in Malaga include exploring Old Town Malaga, visiting the Alcazaba Palace, Malaga Cathedral and La Malagueta Beach.
On top of its fantastic attractions, you might want to try the local food like espetos (sardine skewers), ajoblanco (cold garlic soup) and ensalada malagueña (Malaga-style salad).
If you plan to stay longer than a weekend, visiting Malaga towns like Benalmadena, Marbella and Nerja is worth visiting.
For a quieter atmosphere, you can also choose Marbella over Malaga. It has one of the most beautiful old towns in the Costa Del Sol, lovely beaches and it's also a great shopping destination.
Where to stay in Malaga: Room Mate Valeria Hotel
2. Seville
Another top destination for solo female travellers in Southern Spain is Seville.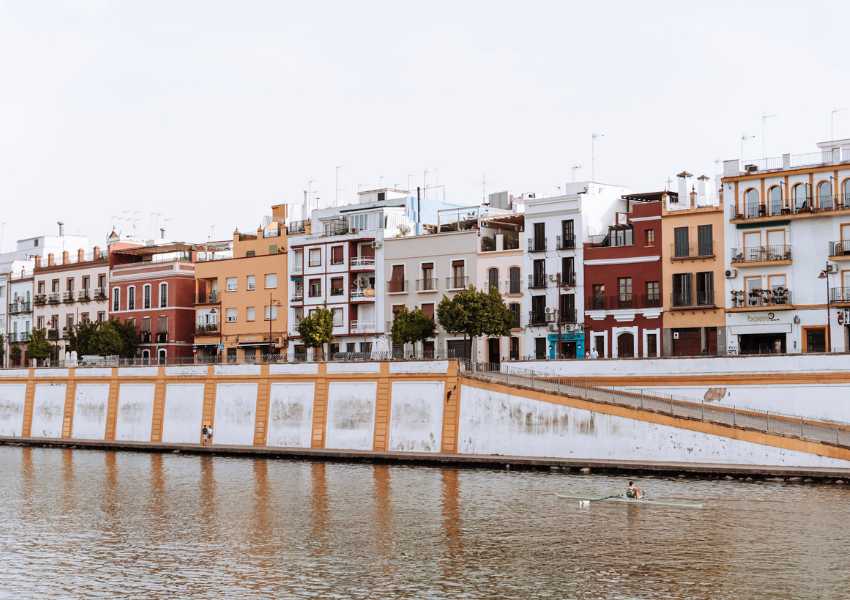 There are many reasons to choose Seville as your next destination: its sights, delicious tapas and vibrant atmosphere.
The Andalusian capital is home to wonderful historical buildings and sights. If you choose Seville, you can't miss Seville Cathedral, the biggest Gothic cathedral in Spain.
Alcazar de Sevilla, Plaza de España and Setas de Sevilla are other must-see attractions. Each of these sights is unique.
Alcazar de Sevilla takes you through beautiful gardens; Plaza de España amazes you with its detailed Andalusian tiles and scenery; and Setas de Sevilla offers some of the best views of the city.
Overall, the city is safe, but keep an eye on your belongings in the busy tourist areas.
Where to stay in Sevilla: One Shot Palacio Conde de Torrejón 09
3. Santander
Located in the north of Spain, Santander offers a different side of the country.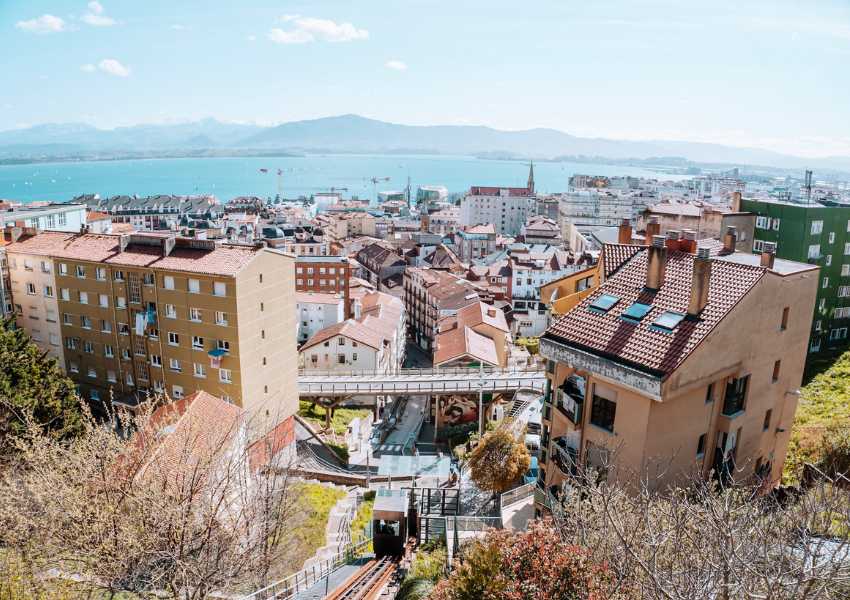 So, why is Santander a good city for solo travellers? It's a tranquil and safe city with stunning green landscapes and beaches.
Two days in Santander will give you the opportunity to explore everything the city has to offer.
If you love museums, head to El Botín, which has a wide range of pieces of art. But even if you don't enjoy visiting museums, check out its rooftop terrace for beautiful views. It's free to access too!
Another main attraction to visit in Santander is Palacio de la Magdalena. This beautiful palace was a former royal residency, and you can now visit the palace's interior.
If you decide to spend longer in Santander, the city is surrounded by incredible places you can take a day trip to. For example, you can visit the picturesque city of Santillana Del Mar or the green landscapes of Covadonga.
Where to stay in Santander: NH Ciudad de Santander
4. Mallorca
Mallorca has the perfect combination of beaches and sights.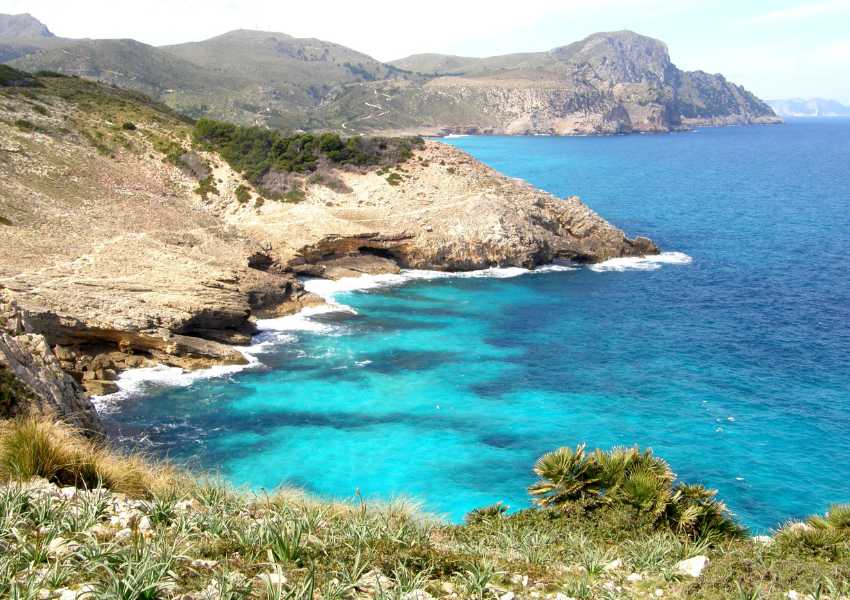 Travelling solo around the island is easy by renting a car, especially if you want to discover the amazing beaches across Mallorca.
However, you can explore Palma de Mallorca and picturesque towns if you aren't into a beach holiday.
Visit the cathedral, wander the idyllic streets in the old town and try the local food. Make sure to taste the famous ensaimadas (sweet pastries).
If you plan to spend more than a weekend in Mallorca, don't miss the opportunity to explore the beautiful towns of Sóller and Deià.
Where to stay in Mallorca: Hotel Costa Azul
YOU MAY ALSO LIKE:
5. Alicante
There is much more than Benidorm in Alicante. The city itself is a fantastic city break for solo travellers. Whilst the city centre isn't as big as other Spanish destinations, there are enough things to do in a day or two.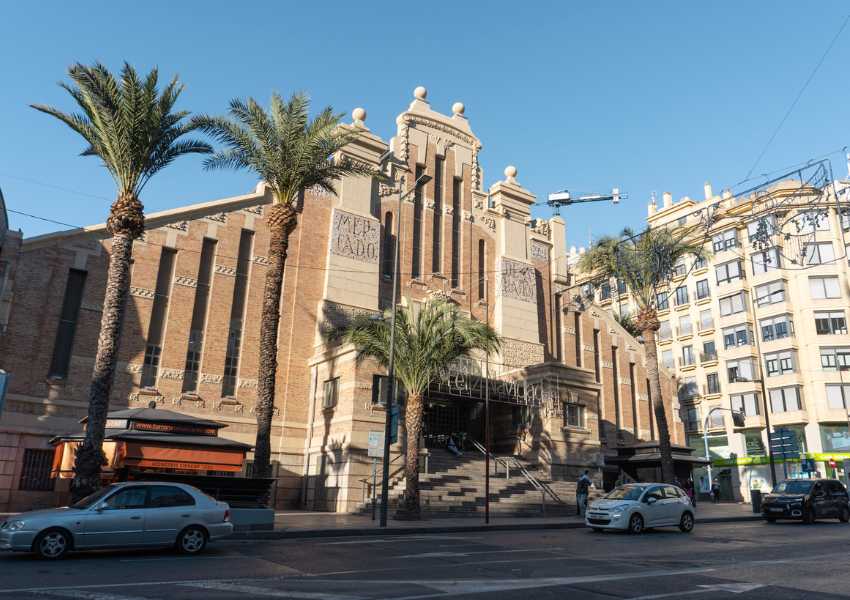 An unmissable in Alicante is Castillo de Bárbara. The castle is on top of the city, and not only can you learn about Alicante's history, but you can enjoy the panoramic city views too.
Other things to add to your itinerary include exploring the old town, visiting the city museum and relaxing at a beach bar.
During your time in Alicante, visit its nearby towns like Villajoyosa and Altea. The latter is one of the most beautiful whitewashed towns in Alicante.
Where to stay in Alicante: Occidental Alicante
6. Valencia
Valencia is a fantastic city break for solo female travellers. The city is safe even more if you stay near the historic old town. You can explore it on foot, but it also has efficient public transportation.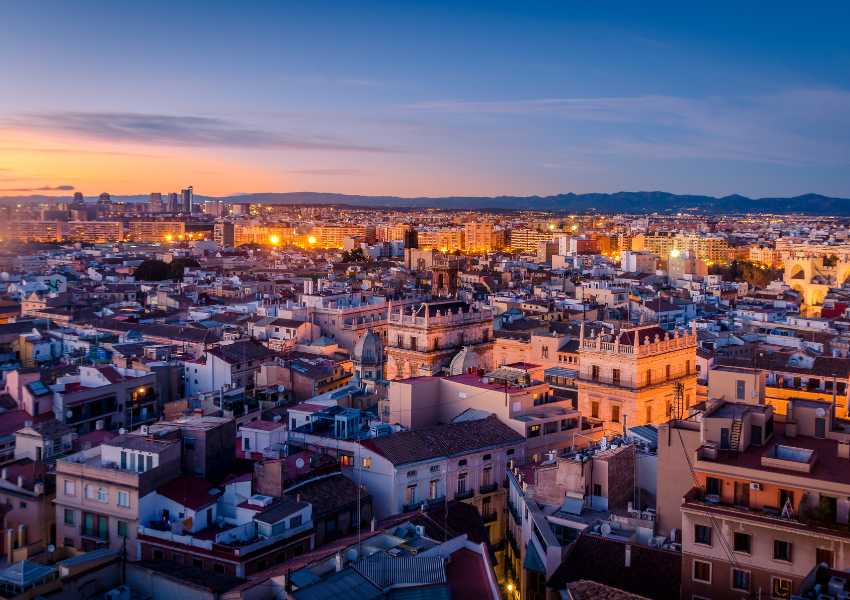 The best activity to do in Valencia for solo travellers is to join a walking tour. You will learn about the interesting history behind this vibrant city and see beautiful sights like the cathedral, and you can also meet other travellers.
If you love food, Valencia Central Market is a must. It has two floors with a wide range of products, including fresh produce like fruits, vegetables, nuts and more. But there is also a section with traditional pottery and other souvenir items.
In addition to wandering the market and maybe buying something, another food-related activity perfect for solo travellers is taking a paella lesson. You will learn exactly how to make authentic Valencian paella.
Where to stay in Valencia: Hotel Soho Boutique Turia
7. Tenerife
Tenerife is one of the most popular islands in the Canary Islands, and it's unsurprising because of its beauty and wide range of activities to do.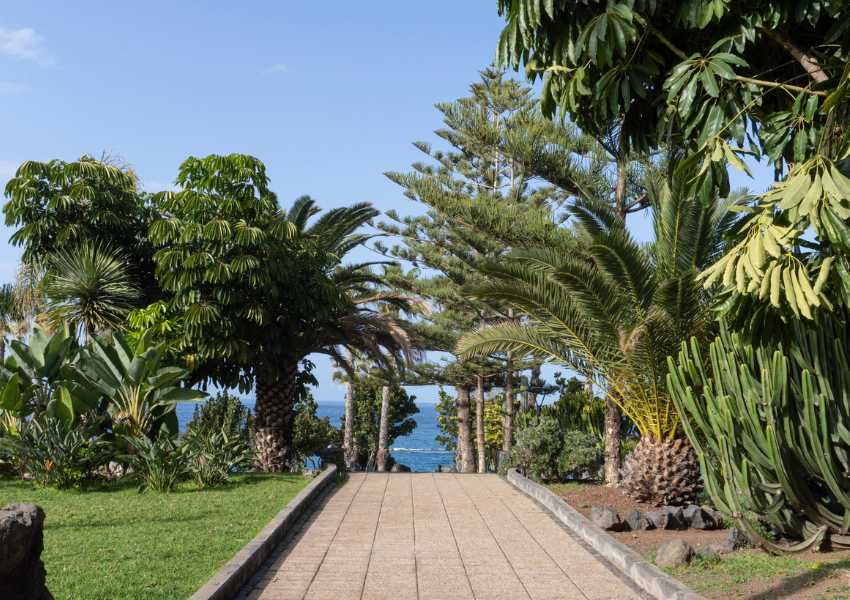 Despite being an island, it's very easy to move around regardless if you choose to take public transport or rent a car.
On top of this, the island is very safe, which makes it a perfect destination for solo female travellers.
If you want a beach holiday, stay in the south of Tenerife. However, if you want a city break, head to Puerto de la Cruz.
Puerto de la Cruz has many things to do for solo travellers, from taking a guided tour or the sightseeing bus to spending time at Lago Martianez or the beach.
Where to stay in Puerto de la Cruz: H10 Tenerife Playa
8. Madrid
The capital of Spain, Madrid, ticks all the boxes for a fun solo trip. There is no way you will get bored of the city as it is full of amazing sights, museums, parks and more.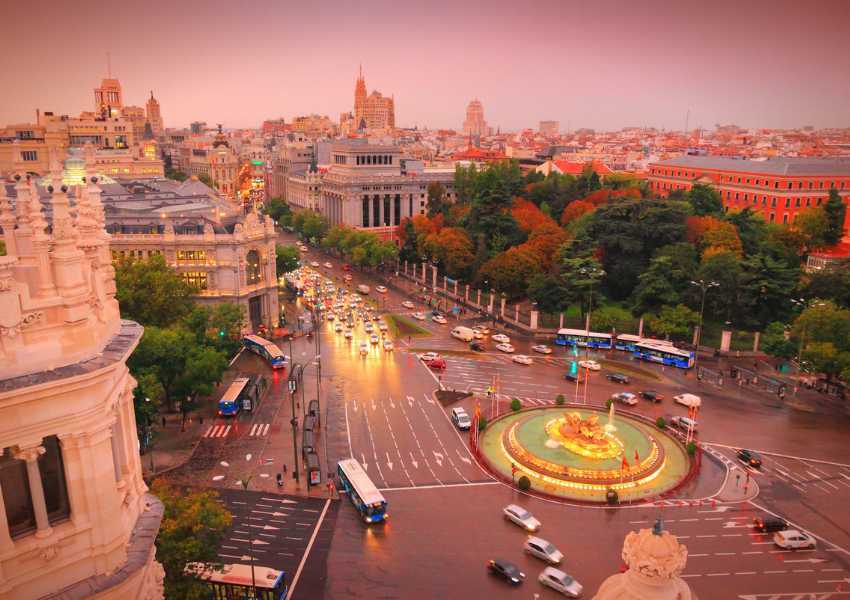 It is normal to wonder if it is really a safe city as it is a big city, but generally, it is a safe city for solo female travellers. Just be aware of pickpockets in busy areas and avoid quiet streets at night.
Whether you love museums, food or green spaces, you will find the perfect activity for you in Madrid.
Some of the best things to do in Madrid alone include visiting museums like Museo Nacional del Prado or Museo Nacional Centro de Arte Reina Sofia, enjoying the views from the hop-on hop-off bus, taking a tapas evening tour or watching a flamenco show.
And if you love the nightlife, the Chueca area is the place to be!
Where to stay in Madrid: The Social Hub Madrid
9. Barcelona
Barcelona is one of those cities that must be on every traveller's bucket list. Its impressive architecture makes it worthwhile.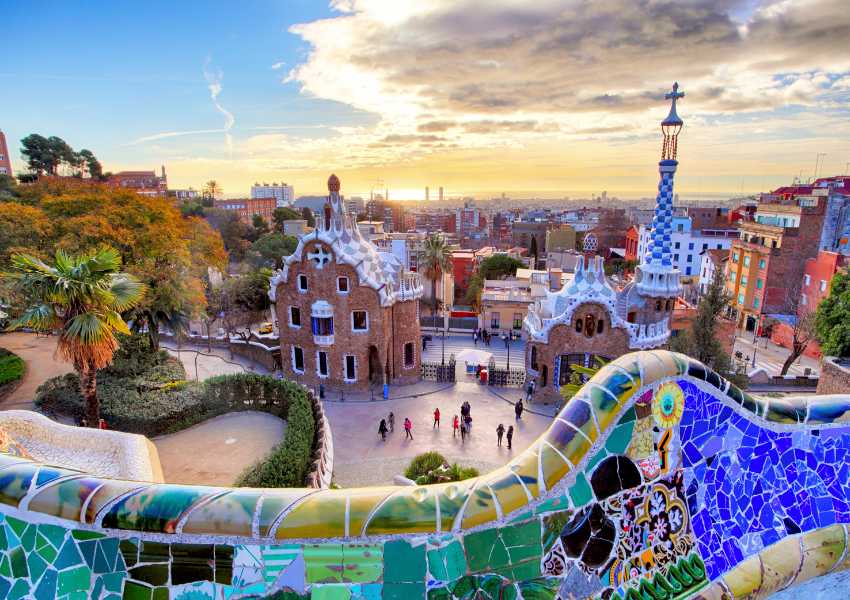 The activity options are endless, and you won't get bored as a solo female traveller.
If you are interested in the unique Gaudi architecture, take a guided tour of Sagrada Familia and visit Park Güell.
Other fantastic activities to do solo include visiting La Barceloneta Beach, going on a tapas tour or taking a day trip to Montserrat.
Last but not least, the nightlife in Barcelona is great. There are many cool bars and clubs to enjoy a night out.
In general, Barcelona is a safe city, but unfortunately, pickpocketing occurs in the main tourist attractions and areas, so don't leave your things unattended and consider taking an anti-theft bag.
Where to stay in Barcelona: Petit Palace Boqueria Garden
10. Salamanca
Salamanca, located in Castile and Leon, might not be on the top of a traveller's list, but it is a city that can surprise you in many ways.
If you love history, you won't be disappointed by Salamanca.
Walking around Salamanca is a lovely experience because it seems like an open museum. You can contemplate the beautiful historic buildings and their unique architecture, walk its Roman Bridge and soak up the atmosphere.
While visiting Salamanca, you can also take a train to Madrid and explore the capital in a day.
In terms of safety, Salamanca is probably one of the safest cities in Spain!
Where to stay in Salamanca: Ikonik Plaza Mercado
Conclusion: Best Places for Solo Travel in Spain
Is it safe to travel to Spain? Yes, it is. Most places are safe for female travellers. However, always watch out for your belongings in busy areas and avoid transiting quiet streets at night.
BIO: Cristina Reina is the blogger behind My Little World of Travelling, a blog that helps travellers discover Spain and its hidden gems. She is passionate about sharing local tips about her hometown, Malaga, and beyond.