Where to Stay in Curacao in 2024 (Best Areas + Hotel Recommendations For Every Budget)
Wondering where to stay in Curacao? Here's the ultimate guide to the best areas to stay on the island as well as a list of the best hotels for every budget!
Known for its vibrant and colorful architecture, pristine beaches, diving and snorkeling opportunities, and cultural diversity, Curacao is one of the most beautiful and interesting islands the Caribbean has to offer.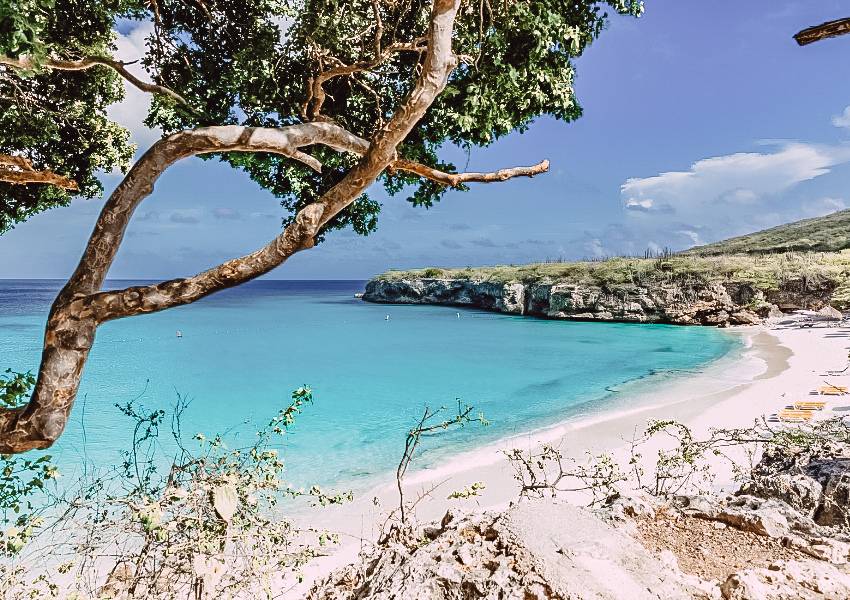 Knowing where to stay in Curacao is key to planning the perfect trip. Despite the island being pretty small, your accommodation can ultimately make or break your trip.
In order to help you make the best decision on what hotel to choose, I put together the ultimate guide to the best places to stay in Curacao.
Where is the best place to stay in Curacao?
Before you begin diving into potential options, it's important to evaluate your preferences and what matters most to you during your stay.
Are you seeking a luxurious resort that pampers you with upscale amenities and world-class services? Or perhaps you're looking for a cozy bed and breakfast that provides a more authentic, local experience.
Whatever your style, there are lots of options on where to stay in Curacao to cater to your needs. Let's dive into what each area in Curacao is best to stay depending on your preferences before I list all the best hotels on each one!
Where to Stay in Curacao: An Overview
Now that you've thought about your priorities, let's explore the island's most popular areas, all with their unique charms and attractions.
1. Where to stay in Curacao for culture: Willemstad
As the capital city, Willemstad offers a mix of history, culture, and entertainment. Willemstad is a great choice when choosing where to stay in Curacao if you want to be close to restaurants, nightlife, and historic sites.
Stay near the vibrant Handelskade for bustling nightlife.
Opt for the quieter Pietermaai district for boutique hotels and quaint restaurants (this is the area I personally recommend staying at. The district is beautiful, has plenty of colorful houses, gorgeous boutique hotels, and is close to everything.)
Scharloo and Otrobanda offer a mix of local and tourist experiences.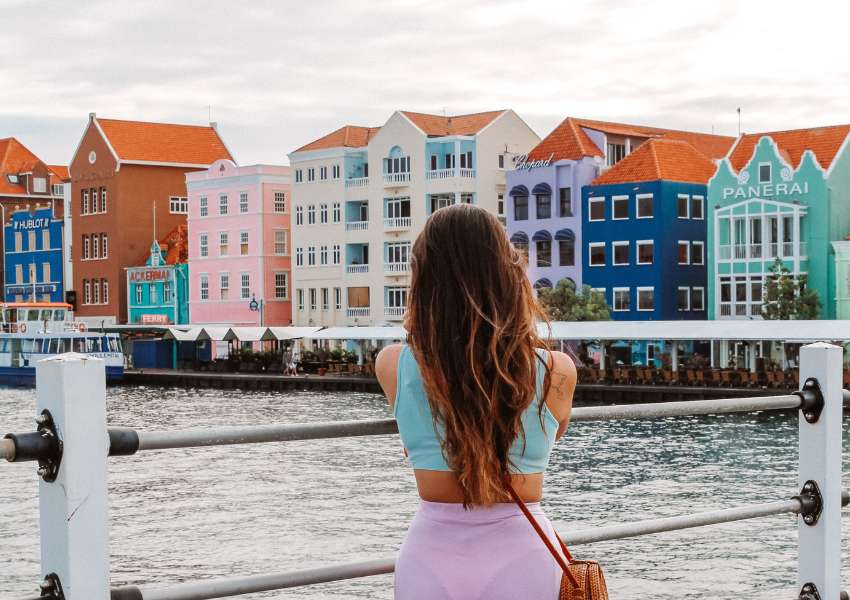 2. Where to stay in Curacao for beaches: Jan Thiel
If you're looking for a more upscale experience, Jan Thiel is the place to be. This popular tourist area features luxurious resorts and stunning beaches.
Jan Thiel is a popular area to stay in Curacao as it has lots of beautiful beaches and upscale resorts. It offers a range of accommodations, from luxury resorts to vacation rentals.
This area of Curacao is known for its water activities, including snorkeling, diving, and boating. You'll also find restaurants, beach clubs, and a lively atmosphere.
3. Where to stay in Curacao for snorkeling, nature, and beaches: Westpunt
If you prefer a more secluded and nature-focused experience, Westpunt is an excellent choice.
This area is known for its beautiful beaches, and lush nature reserves as well as its diving spots, such as Playa Kalki and Mushroom Forest. This area is perfect if what you're after is relaxation and outdoor activities.
Stay close to Shete Boka National Park and Christoffel National Park for outdoor exploration.
Experience more authentic Curaçao culture in the local fishing villages.
Find some of the best Curacao snorkeling tours.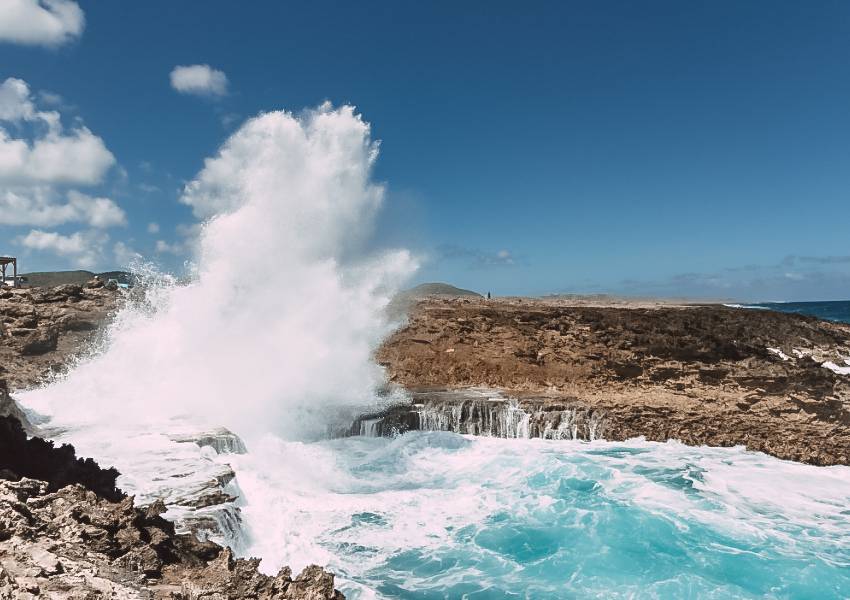 4. Where to stay in Curacao for a bit of everything: Piscadera Bay
Located near Willemstad, Piscadera Bay is a tranquil area with several beachfront resorts and hotels.
It offers a peaceful ambiance and easy access to both the city and nearby attractions. Piscadera is a great choice for business travelers, golf lovers, and those looking for a relaxing vacation.
Piscadera Bay is a good option if you're seeking a balance between relaxation and proximity to amenities.
Be sure to visit the nearby Blue Bay Golf Course if you enjoy hitting the links.
Stay near the Curaçao World Trade Center if you're in town for business.
5. Where to stay in Curacao for shopping and beach clubs: Mambo Beach
Mambo Beach offers a lively atmosphere with beach bars, restaurants, and shops. This destination is perfect for those who love to be in the heart of the action.
It is home to several resorts, beach clubs, bars, and restaurants and is known for its lively nightlife and water sports activities.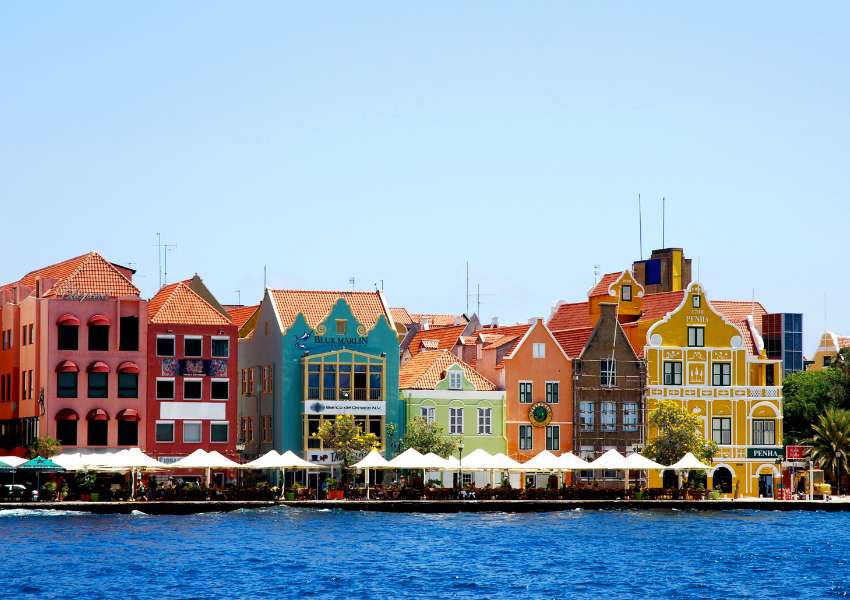 Where to Stay in Curacao: Hotels For all Budgets
Best luxury resorts and beachfront hotels in Curacao
When planning where to stay in Curacao, you have a variety of exceptional luxury resorts and beachfront hotels to choose from.
1. Baoase Luxury Resort
Baoase Luxury Resort is one of Curacao's most exclusive and picturesque resorts. Nestled on a private beach and surrounded by lush tropical gardens right by the ocean, you'll experience a private sanctuary that offers true relaxation and tranquility.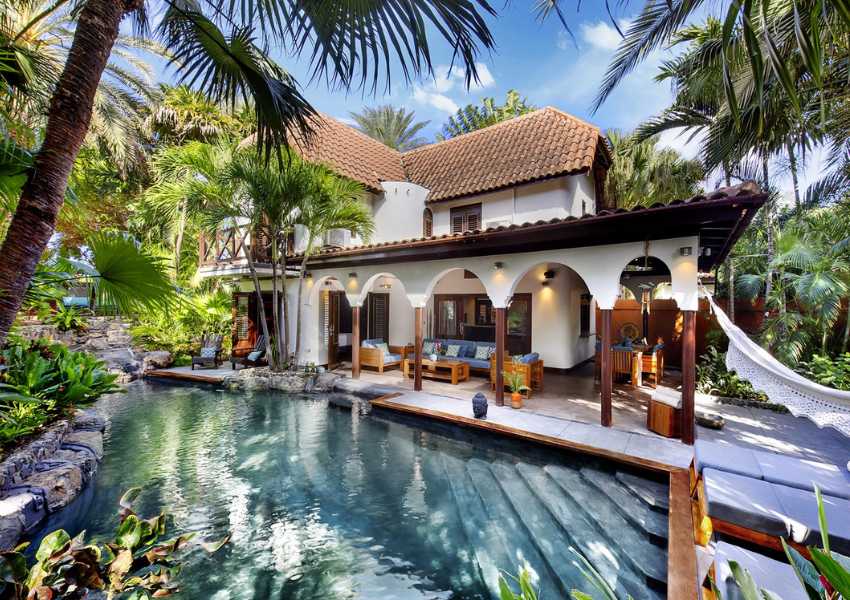 Set in lush tropical gardens, the resort's villas and suites are decorated with Balinese-inspired furnishings, providing you with an authentic and tranquil ambiance.
Each accommodation features a private pool or direct access to the resort's infinity pool, ensuring maximal relaxation and privacy during your stay.
When it comes to dining at Baoase Luxury Resort, you're in for a treat. The on-site restaurant, Baoase Culinary Beach Restaurant, serves innovative international cuisine made from fresh, local ingredients.
Here, you can also indulge in a romantic beachfront dinner or a private dining experience in a gazebo, making your trip extra memorable (if you're visiting the island on a romantic trip, Boase is ranked as the best place to stay in Curacao for couples!)
⭐️ BAOASE REVIEWS: 9.4/10
"Baoase Luxury Resort is hands down THE MOST amazing place to enjoy a couples romantic getaway or like what we did, celebrate our honeymoon. It truly was luxurious with its beautiful private beaches, white sand and crystal clear water great for snorkel just outside the lagoon. The staff were very helpful and professional, they felt like family by the end of our trip. The food was better than any other food I have had the room was magnificent with our own private pool and beach." (Read more reviews here)
2. Avila Beach Hotel
Avila Beach Hotel offers a blend of contemporary design and authentic Caribbean charm.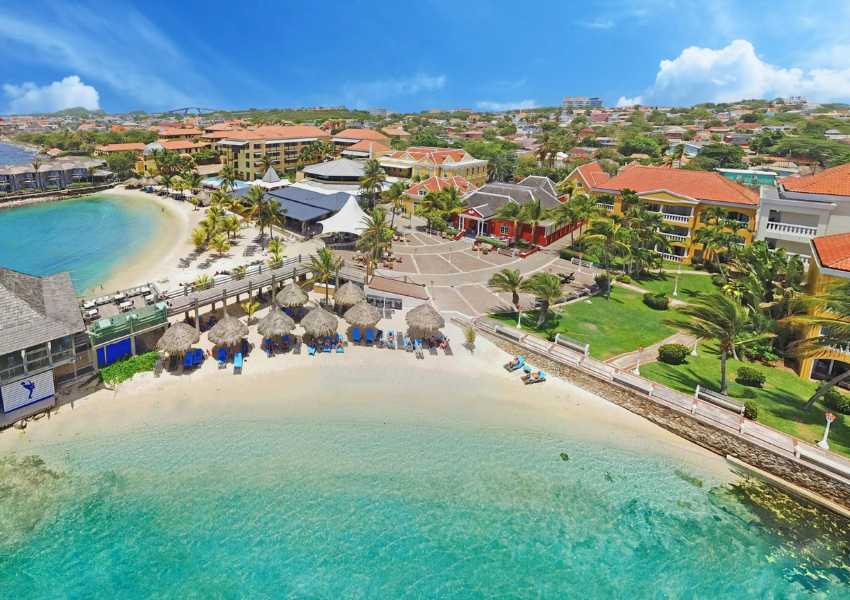 The hotel has a rich history dating back to the late 18th century and upon entering the hotel, you'll find yourself surrounded by beautiful architecture reflecting Curacao's Dutch colonial past.
Your room options range from comfortable standard rooms to luxurious suites with stunning views of the Caribbean Sea. While here, you can enjoy the sand and surf on their private beach or relax by the beautiful infinity pool overlooking the turquoise waters.
As a bonus, Avila Beach is pretty close to Mambo Beach and Willemstad, so you'll have access to other spots and amenities if you feel like you need a change for a bit.
⭐️ AVILA BEACH HOTEL REVIEWS: 8.5/10
"Everything was excellent! Friendly and informative staff, relaxing beach with plenty of lounge spots always available, good food and great cocktails! Lovely atmosphere with beautiful murals for pictures." (Read more reviews here).
3. Renaissance Wind Creek Curacao Resort
Renaissance Wind Creek Curacao Resort is a luxury resort located in the heart of historic Willemstad and offers stunning views of the Caribbean Sea. This is a great option if you want to be close to the action as it's just a short stroll away from vibrant shops, cafes, and breathtaking historic sites.
The resort boasts a luxurious environment, with modern design and world-class amenities. In your spacious room, you'll find a comfortable bed, elegant furnishings, and all the modern conveniences you need for a perfect stay.
A highlight of your stay at the Renaissance Wind Creek Curacao Resort will be its infinity pool, where you can lounge on a poolside cabana with a drink or two in hand or take a swim with beautiful Caribbean views!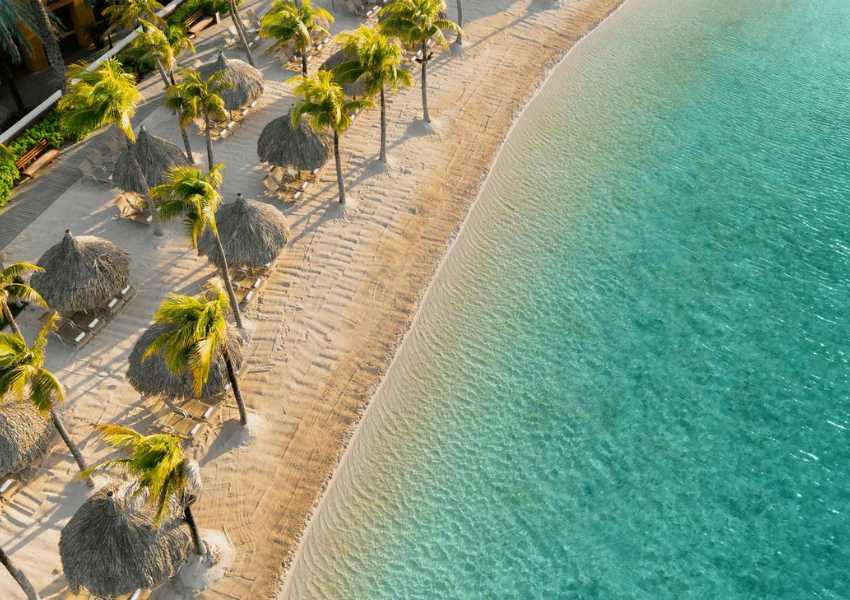 During your time at this fabulous Curacao resort, you can spend hours on end swimming and snorkeling in crystal-clear waters, relishing delicious cuisine, and lounging at the beach.
Moreover, thanks to its convenient location in the heart of Willemstad, you'll have easy access to shopping, dining, and entertainment options.
⭐️ RENAISSANCE WIND CREEK CURACAO REVIEWS: 8.7/10
"Without a doubt the best hotel in Curacao! Just wow! The breakfast is just stunning, the infinity beach is fatastic, rooms are big and comfortable. And specially the stuff is friendly and very, very helpful. The protected resort area is included in historic buildings of the city and in best location." (Read more reviews here).
4. Papagayo Beach Resort
Papagayo Beach Club is a modern, elegant resort with breathtaking ocean views. Located in the heart of Jan Thiel Beach and surrounded by vibrant dining spots, you'll have easy access to the best Curacao has to offer.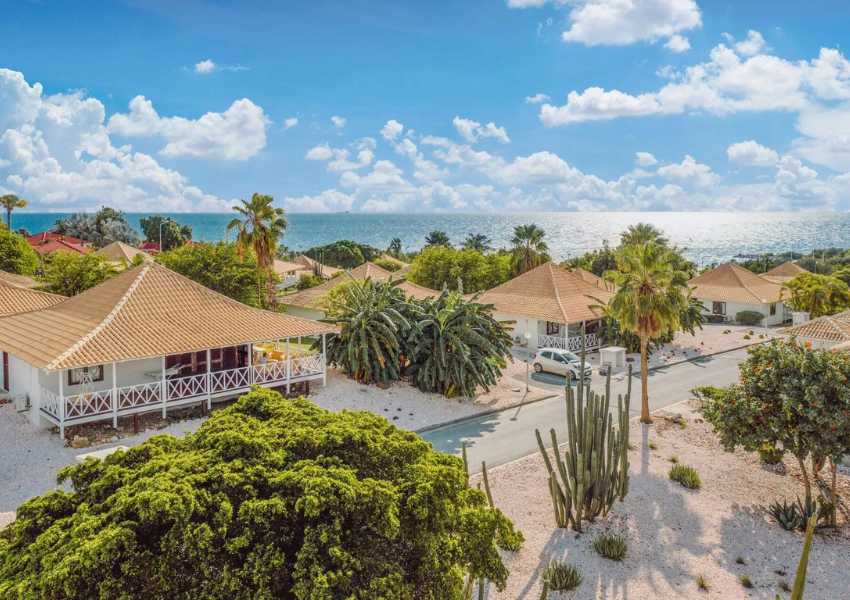 The hotel features trendy rooms and suites, a lovely infinity pool, and unique design elements throughout the property that will make your stay in Curacao a treat.
Additionally, the resort is conveniently located close to Willemstad, Curacao's colorful capital. This makes it easy for you to explore the island's vibrant culture, dine at local restaurants, and shop at unique boutiques if you ever get tired of enjoying the beach.
⭐️ PAPAGAYO BEACH RESORT REVIEWS: 8.6/10
"This is my favorite resort and my go to place to stay when visiting my family. The staff go above & beyond to make sure that your stay is as perfect as possible. My favorite part? The birds & lizards! Put a big bowl of water out and just watch what happens." (See more reviews here).
YOU MAY ALSO LIKE:
Best mid-range hotels in Curacao
If you're looking for a comfortable stay without breaking the bank, these mid-range hotels in Curacao have got you covered. Each offers excellent value for your money, providing a variety of amenities and lovely experiences.
5. Sunscape Curacao Resort Spa & Casino
Located in the Mambo Beach area, Sunscape Curacao Resort is an all-inclusive resort that offers comfortable rooms, multiple pools, a private beach, and a casino.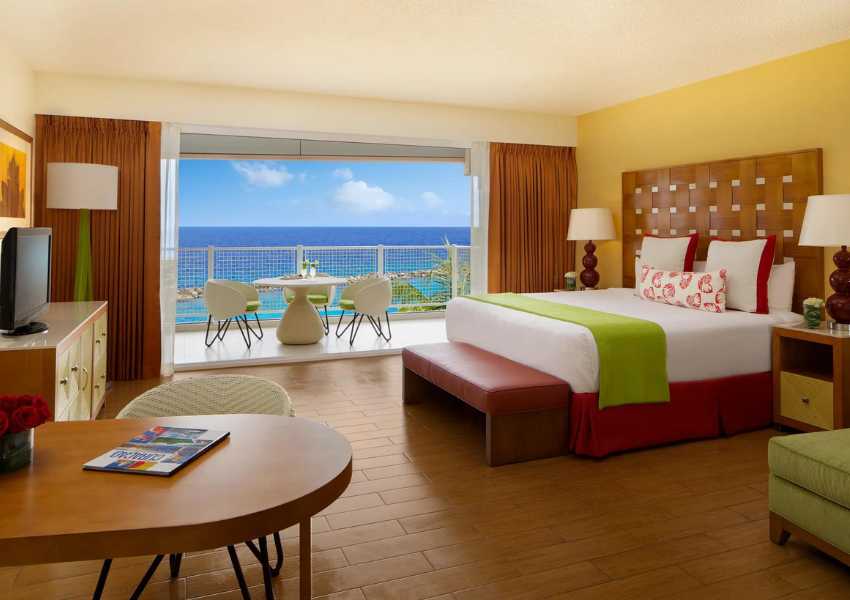 Each room is well-appointed with comfortable furnishings, a private balcony or terrace, and stunning views of the Caribbean Sea or lush gardens.
For those seeking adventure, the resort offers an array of activities such as snorkeling, scuba diving, and beach volleyball. Additionally, the on-site dive center provides all the equipment and services needed to explore the beautiful underwater world of Curacao.
This is also one of the best places to stay in Curacao for families, as it boasts several pools as well as a kids' center.
⭐️ SUNSCAPE CURACAO RESORT REVIEWS: 7.2/10
"The beach here is amazing! It's big, lots of chairs with sun/shade. Water is clear and almost no waves. Good for snorkeling, lounging in the water. Rooms could use some updating but beds were very comfortable. Food is decent. Staff was all friendly. Lots of scheduled activities. Lots of pool space. Would return simply for the beach!" (Read more review here).
6. Curacao Marriott Beach Resort
Situated on Piscadera Bay, Curacao Marriott Beach offers you an incredible experience, with beautiful white sand beaches and turquoise waters just steps away from your room.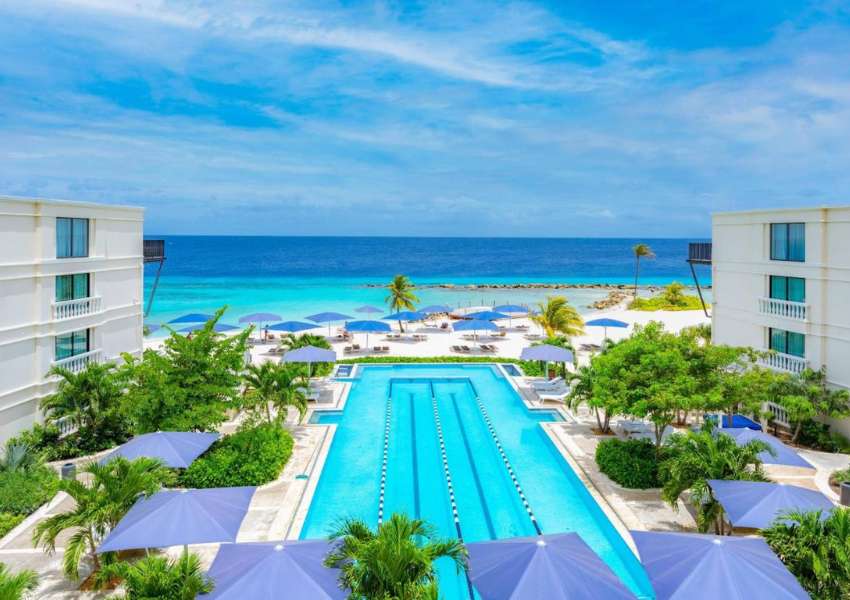 You can choose from a variety of guest rooms and suites with stunning ocean or garden views. Moreover, there are several on-site restaurants you'll love.
Activities at the resort cater to every preference, and you'll find options like diving and snorkeling, beach volleyball, or simply lounging by the pool with a book in hand.
⭐️ CURACAO MARRIOTT BEACH RESORT REVIEWS: 8.7/10
"The property is massive and the pools were amazing. The beach was right there and the beach side service was very helpful. Free snorkeling equipment" (Read more reviews here).
Best budget hotels in Curacao
When it comes to budget hotels in Curacao, you can find several options that offer affordable rates while still providing comfortable accommodations. Here are some of the best budget hotels in Curacao:
7. San Marco Hotel and Casino
Located in the heart of downtown Willemstad and just a short walk away from the iconic Queen Emma Pontoon Bridge, San Marco Hotel and Casino offers you easy access to local attractions, shopping, and dining options.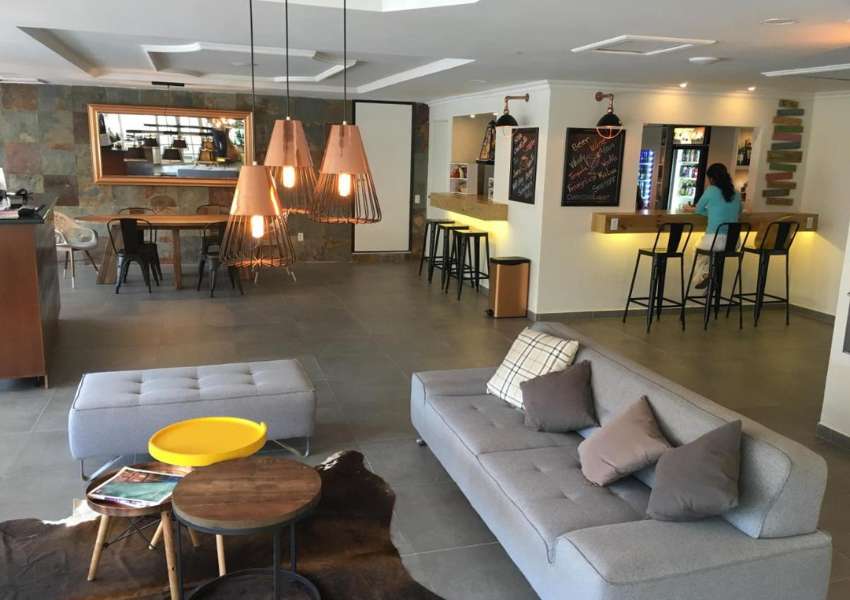 In addition to the on-site casino, you'll be able to enjoy a complimentary breakfast buffet each morning during your stay. Not only that, but other hotel facilities include conference rooms, a coffee shop, and a gift shop.
⭐️ SAN MARCO HOTEL REVIEWS: 8.2/10
"The location is excellent, close to everything, the staff couldn't be more friendly, and the room rented was exactly what I was looking for, given the price, they have nicer rooms but just traveling on a budget to go to the US consulate, it was way better than expected." (Read more reviews here).
8. The Ritz Village Hotel
The Ritz Village Hotel is known for its colorful and vibrant design, providing you with an authentic Caribbean atmosphere as it is housed in a restored 19th-century mansion.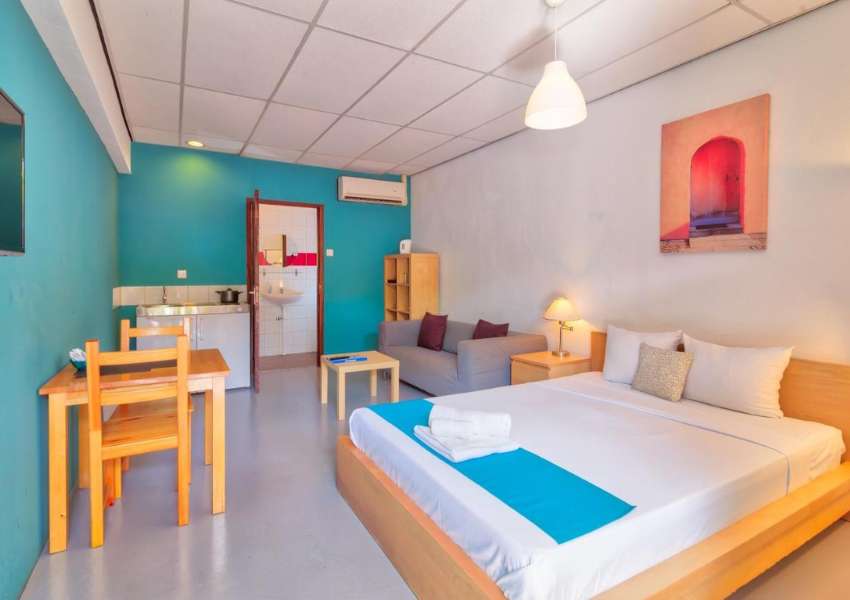 It's located in the colorful Scharloo neighborhood and for its price, it's great value for money!
It offers a variety of room types, including dormitory-style rooms and private suites.
In addition to the comfortable rooms, the hotel offers several facilities for you to enjoy during your stay. Take a dip in the outdoor swimming pool, or relax in the Jacuzzi. If you're in the mood to explore, rent one of their bikes and navigate your way around the island.
⭐️ THE RITZ VILLAGE HOTEL REVIEWS: 7.5/10
"The location was perfect for us. The staff is friendly and is rightfully proud of their hotel and customer service. The urban beach is incredibly well done, a place which truly allows you to unwind with a cold beverage from the bar with your toes in the sand. Love it."
9. Trupial Hotel & Casino
Located near the WTC in Willemstad, this budget hotel offers comfortable rooms for great prices.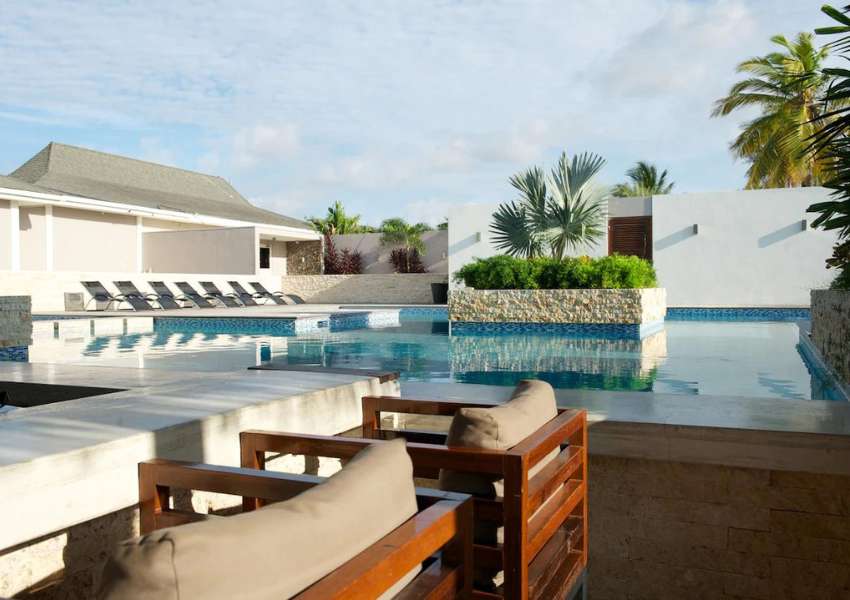 You'll find a range of room options to suit your preferences and budget. All rooms feature air conditioning, free Wi-Fi, and a private balcony with a view of the lush gardens or pool area.
⭐️ TRUPIAL HOTEL AND CASINO REVIEWS: 8.4/10
"Charming hotel spread out over lushly landscaped garden type environment. Staff was exceptionally responsive and friendly. Room was spacious and modern. Could have been a tad cleaner in the bathroom and having bugs near the outside patio door. Didn't love the fact that parking was scarce at night because of the casino." (Read more reviews here)
Best Boutique Hotels in Curacao (Set in the Pietermaai District)
I previously mentioned how the Pietermaai District was my favorite area in Curacao.
As you stroll through the narrow streets of Pietermaai, you can the vibrant rows of Dutch-style buildings with their colorful facades and intricate detailing. Pietermaai is also where you'll find some of the best Instagram spots in Curacao!
As you may have guessed, many of the buildings here have been turned into cozy hotels, so I thought it was worth creating a special section for them in case you love boutique hotels as much as I do.
10. Boho Bohemian Boutique Hotel
A stunning boutique hotel located in the Pietermaai District in Willemstad. The location is ideal as it's located close to many eateries, cafés, and shops.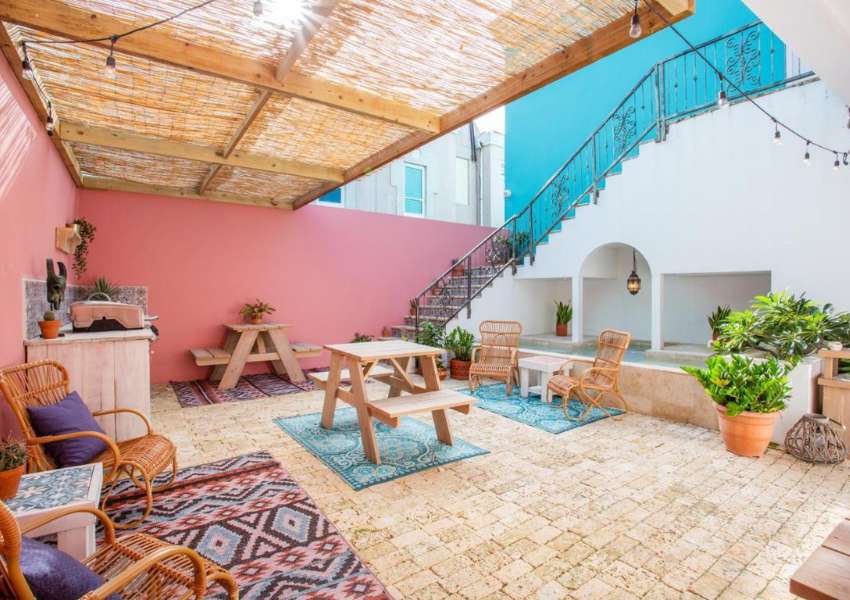 The rooms are beautifully decorated in a boho style and you'll find plenty of incredibly photogenic corners all over the property.
⭐️ BOHO BOHEMIAN BOUTIQUE HOTEL REVIEWS: 8.9/10
"Such a unique & very beautiful boho boutique hotel, with a nice balcony. Charming, very clean & everything looks brand new. Very comfy bed. The kitchenette was great & we were happy to do our own breakfast & lunch in our room." (Read more reviews here).
11. BijBlauw
BijBlauw is a cozy boutique hotel that provides luxurious atmospheric rooms and delicious food in a beautiful restaurant with great views of the ocean.
BijBlauw was fully renovated in 2013 and is located inside three colorful buildings. In total, the hotel has 14 rooms, including one two-bedroom apartment and a one-bedroom apartment, so everything here feels very intimate.
⭐️ BIJBLAUW REVIEWS: 8.8/10
"Fantastic 'home base" for our visit to the lovely Curacao!!! From walking up we were in awe. The room was lovely but the best parts were the area on the rocks to view the beautiful ocean either morning, noon, or night! We enjoyed many moments here just taking in the beauty." (See more reviews here).
12. Saint Tropez Boutique Hotel
Saint Tropez is a small boutique hotel with 24 rooms, an oceanfront bar, a lively restaurant, and a beautiful infinity pool overlooking the ocean.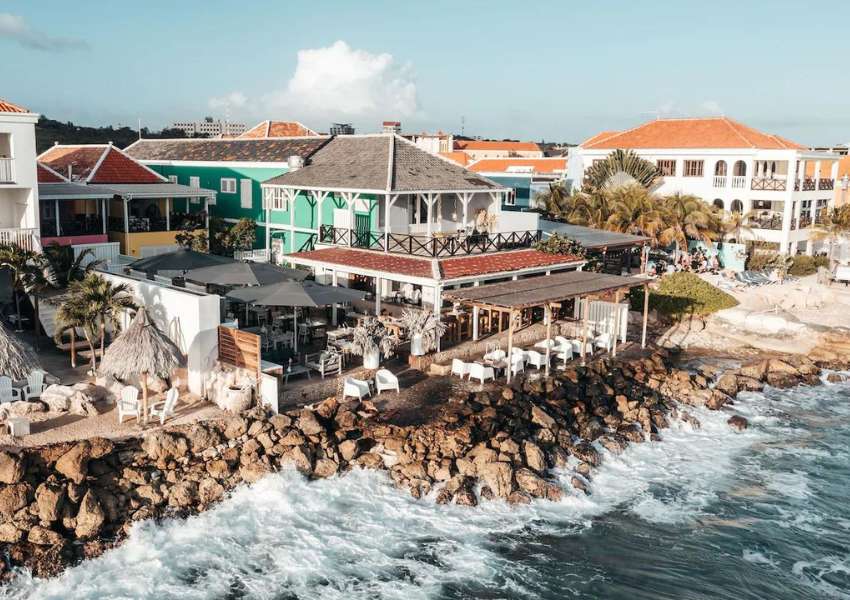 This is one of those "places to see and be seen" in Curacao. Even if you decide not to stay here, make sure you visit their restaurant at least once during your itinerary!
⭐️ SAINT TROPEZ REVIEWS: 8.8/10
"The property was relaxing and peaceful, the staff were attentive, professional and welcoming. The food was excellent !!!, most impressed with the freshness of the sushi. I was lulled asleep by the sound of the ocean waves. I will definitely revisit this property." (Read more reviews here.)
13. Pietermaai Boutique Hotel
Pietermaai Boutique Hotel offers stylish and individually decorated rooms in a restored historic building.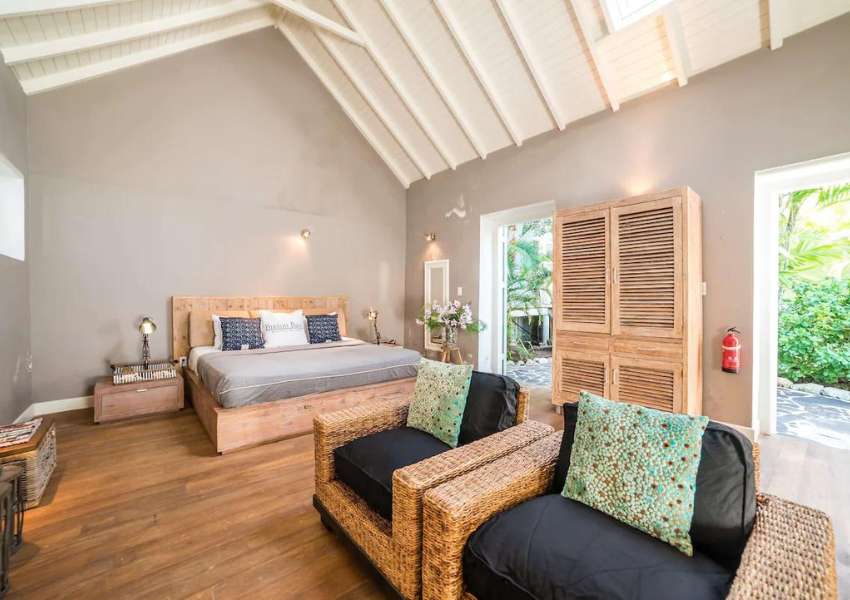 It features a rooftop terrace and a plunge pool and is within walking distance of restaurants and nightlife.
⭐️ PIETERMAAI BOUTIQUE HOTEL REVIEWS:
"What a great place to stay at. I wish I had stayed here during my whole stay in Curaçao (instead of St. Tropez). Beautiful architecture with a lot of character, and in just one day I meet and befriended multiple other guests at the facility. In the heart of everything but with all the peace and quietness. You'll fall asleep listening to the sound of the waves of the ocean and are woken up listening to them, too." (Read more reviews here)
Tips for visiting Curacao
Now that you know where to stay in Curacao, here are some general tips so you can make the most out of your time on the island:
The standard voltage in Curacao is 127V and the frequency is 50Hz: The power sockets used in Curacao are type A and type B. Make sure you pack a universal travel adapter like this one to be able to charge all your electronics during your trip.
Don't forget travel insurance! Healthcare in Curacao is top notch, but it can also get expensive if you're not covered. If you don't have travel insurance yet, I recommend HeyMondo for an affordable yet extremely reliable option (they will take care of any medical issues, flight cancelations, trip interruptions, and plenty more during your trip).
Experience the local cuisine: Curacao has a unique blend of Caribbean and Dutch cuisine. Some of the popular dishes to try are stobá (a stew made with beef or goat), keshi yena (a stuffed cheese dish), and pastechi (a fried pastry filled with meat or cheese).
Pack water shoes like these ones: Most beaches in Curacao are pretty rocky. You won't need them if you just want to lounge on the beach, but it's recommended to wear them if you plan on swimming.
Tap water in Curacao is generally safe to drink: If you want to stay on the safe side, I recommend carrying a purifying water bottle like this one.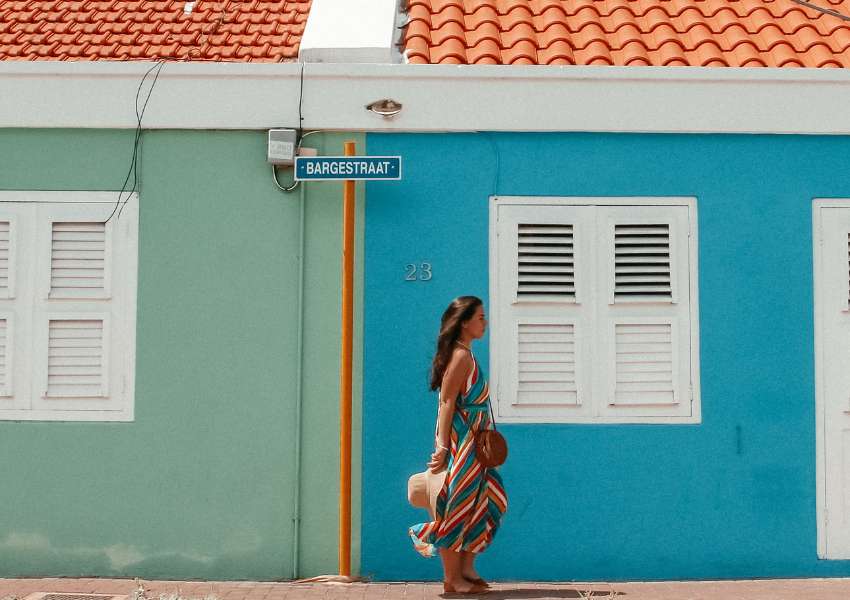 Where to stay in Curacao: FAQs
What part of Curaçao is best to stay in?
Where to stay in Curacao is ultimately your choice and it depends entirely on your interests and what you want to get out of your visit.
With that said, in my opinion, the best part of Curacao to stay in is the Pietermaai District in Willemstad, as you will be in the heart of the island and have access to the city's amenities and colorful buildings.
Another great area to stay for a quieter experience is Jan Thiel. This is a resort area with beautiful beaches, water sports, and beach clubs.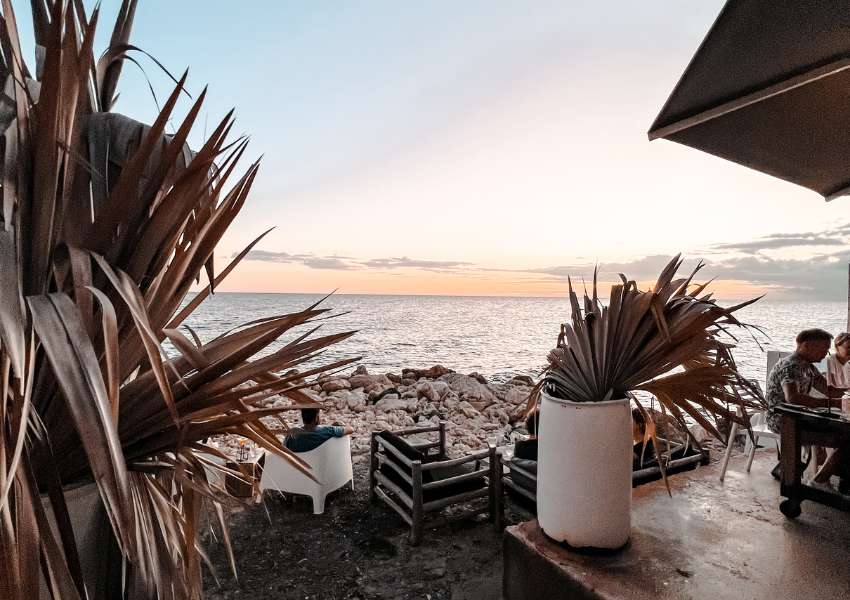 What is the best all-inclusive resort in Curacao?
The best all-inclusive resort in Curacao is the Renaissance Wind Creek Curacao Resort.
The hotel's beachfront location while still being in the heart of Willemstad makes it unique on the island, as most other resorts are located further away.
Moreover, the Renaissance offers tons of incredible amenities, ranging from spas, casinos, dining options, and more.
What is the best place to stay in Curacao for couples?
Baoase Luxury Resort is a great place to stay for a romantic getaway in Curacao!
The villas and suites here are simply stunning and offer a perfect blend of modern comforts and tropical charm.
You'll have your own private pool and access to a pristine private beach, making it ideal for couples who want to escape everything. Boase also has a restaurant that serves up a delightful fusion of international and Caribbean flavors. Click here to see rates and availability.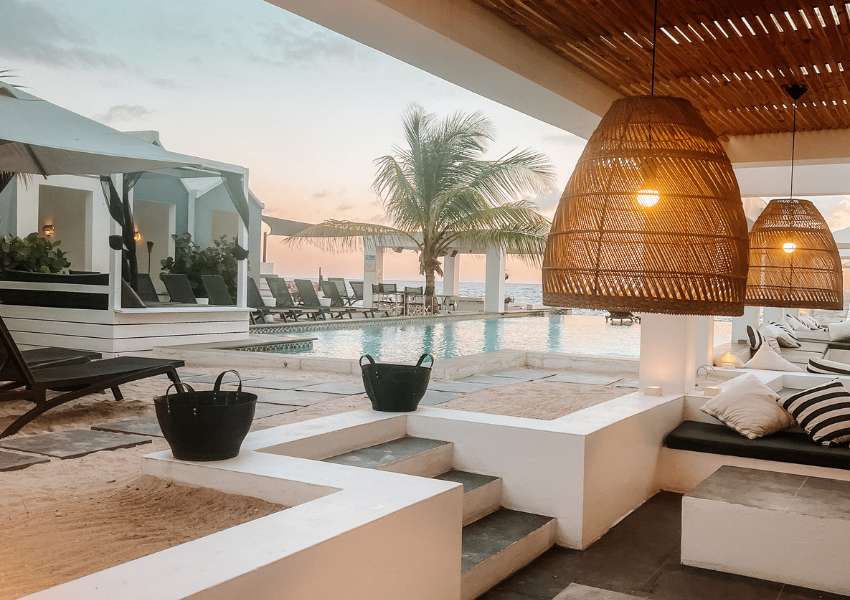 What is the safest area in Curacao?
Curacao is generally considered a very safe destination for travelers.
However, it's always important to exercise caution and take necessary precautions wherever you go. In terms of safety, the areas of Willemstad, including the districts of Punda and Otrobanda, are typically considered very safe for tourists.
These areas are well-patrolled by police and have a significant presence of tourists, which contributes to a generally secure environment.
Is Aruba or Curaçao better?
Both Aruba and Curacao are worth visiting, but they do have some key differences that are worth knowing about.
I put together a comparison guide between Curacao vs Aruba describing all of them so you can decide for yourself!
Do I need a car in Curacao?
Exploring Curacao without a car is possible if you stay at your resort or stick to booking all-inclusive tours.
However, if you're the type of traveler who loves independence and want to be able to explore the island at your own pace, renting a car is highly recommended as public transportation is very limited.
As a rule, if you're staying anywhere outside of Willemstad, you will likely need a car unless you plan on staying inside your resort for the entirety of your trip. If you're staying within Willemstad but want to explore the rest of the island, I also recommend renting a car.
What is the best neighborhood in Willemstad?
The Pietermaai District is probably the best neighborhood to stay in in Willemstad.
Known for its vibrant atmosphere, rich history, and colorful buildings, wandering through the streets of Pietermaai is a real treat.
You'll encounter charming boutique hotels, boutique shops, art galleries, and a diverse array of restaurants and bars.
The district comes alive at night with its lively nightlife scene, featuring live music, jazz clubs, and beachside lounges, so getting bored here is a pretty hard thing to do!
If you're looking for a hotel in Pietermaai, my recommendation would be Boho Bohemian Boutique Hotel. This is where I stayed the last time I visited Curacao and loved its decoration, overall atmosphere, and location.
Wrapping up: Where to stay in Curacao?
One of the most important aspects to consider when planning your trip is where to stay in Curacao.
Whether you want to be near the picturesque beaches of the west coast or the bustling heart of Willemstad, Curacao offers an array of accommodations that will ensure the trip of a lifetime.
Let me know in the comment section below if you still have questions or doubts about where to stay in Curacao. I'll be happy to help!