18 Things to Do in Curacao For the Perfect Vacation
Wondering what the best things to do in Curacao are? Here's the ultimate guide to this colorful slice of Caribbean paradise!
Picture yourself a Dutch town, splash it with buckets of vivid colors, place it on an island in the heart of the Caribbean, and you've got yourself the perfect destination.
Despite its small size, Curacao is a place that has plenty to offer. From multicolored architecture to untouched nature and beaches hidden amid coves, getting bored here is a pretty hard thing to achieve.
If you're currently in the planning stages of your Curacao itinerary and find yourself wondering what to see and do, here's everything you need to know about visiting the Caribbean's best-kept secret.
☀️ What are the best things to do in Curacao?
1. See the city's skyline from Queen Emma Bridge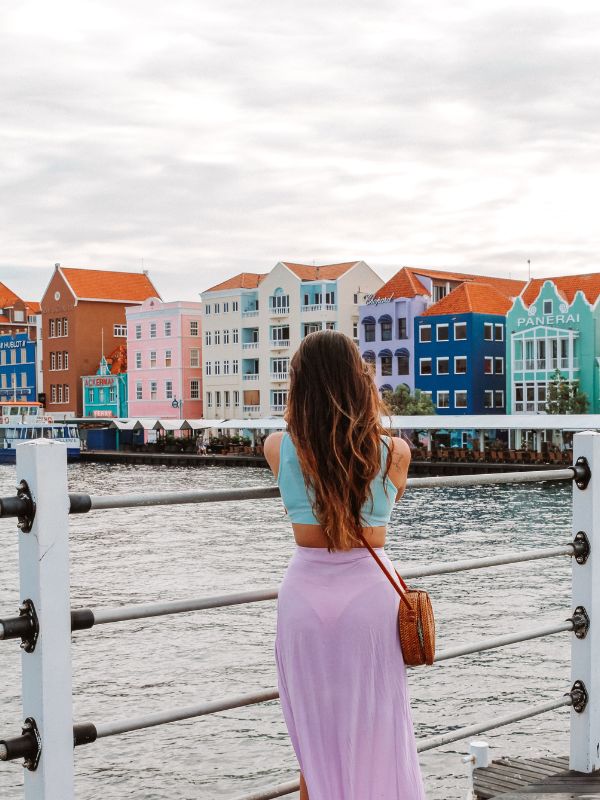 Queen Emma Bridge connects the Otrobanda and Punda neighborhoods of Willemstad, making it a must on any Curacao itinerary. If you stand on the bridge, you'll be able to see the city's main skyline to one side and the harbor to the other.
Otrobanda is pretty much considered the heart and soul of the city of Willemstad and a UNESCO World Heritage Site thanks to its historical wealth and stunning buildings, so you can easily check out the bridge while you're out and about exploring.
As a warning: the bridge opens and closes several times in order to allow boats to pass. Be careful while you walk, as there are no "set" times.
2. Dance the night away at Mambo Beach Club
Mambo Beach Club is one of Curacao's biggest hot spots and one of the best things to do in Curacao if a beach day is what you're after.
During the day, it turns into a high-end beach club with beautiful boho-style decor (the cocktails are incredible here!). After dark, it becomes the go-to place for dinner and they host parties after the sun goes down every so often.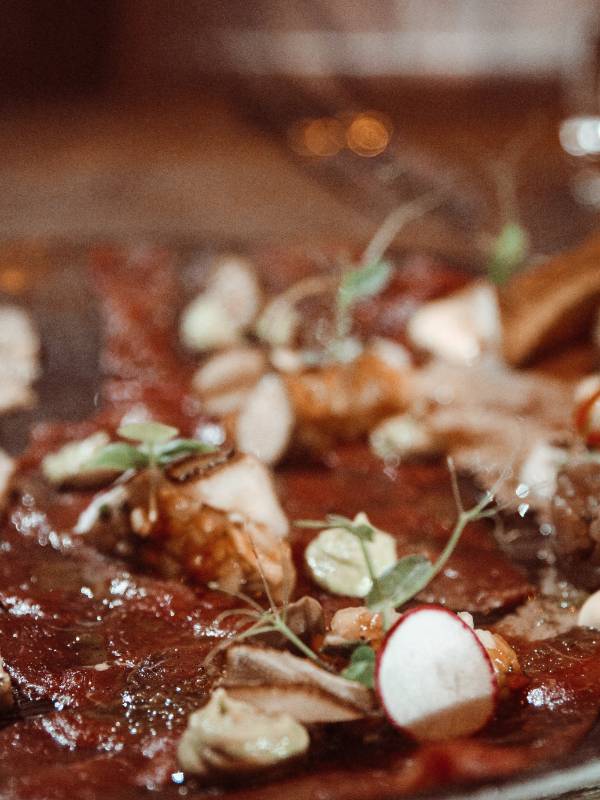 3. See the works of Francis Sling at his workshop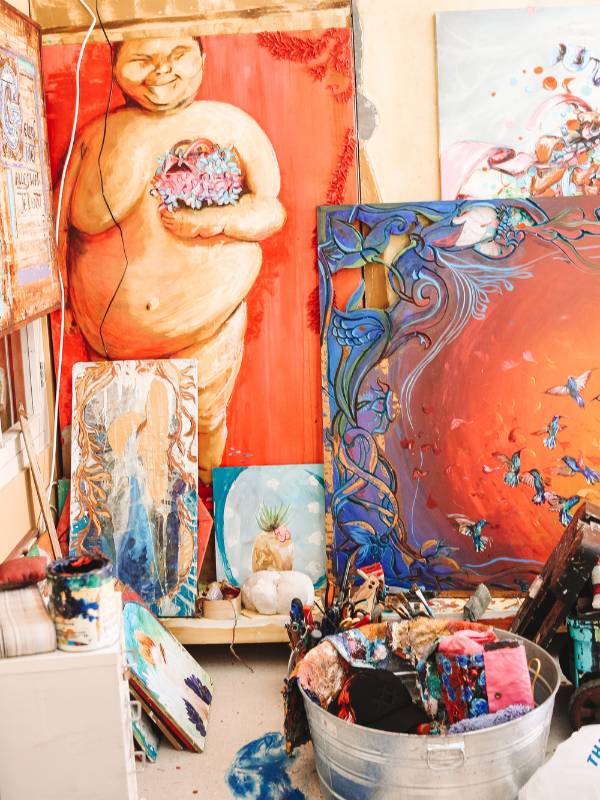 Located in the Scharloo neighborhood, Francis Sling's Art Cave is a small art gallery and workshop where you can come and admire the work of Francis Sling.
Francis Sling is a fine artist hailing from Curacao and the man behind some of the island's most famous wall murals. You will definitely get to see plenty of his works as you explore Willemstad, but visiting his workshop will give you a much deeper insight into his work (you may even get to meet him!).
Tip: Bargestraat, the street the workshop is located on, is an incredibly colorful and photogenic spot in case you want to capture photos of Willemstad beyond the popular spots!
4. Get lost in the Cathedral of Thorns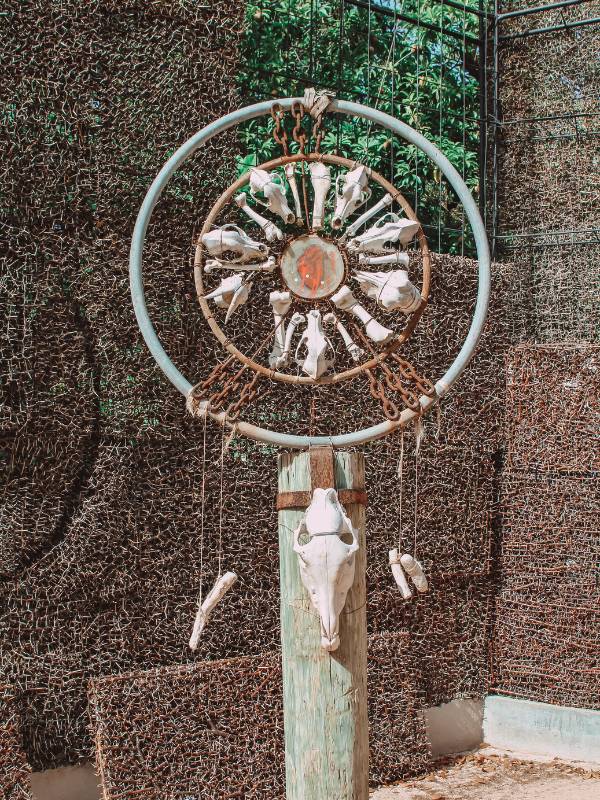 If you're a lover of the weird and the wonderful, this place is a can't-miss on your Curacao itinerary.
The Cathedral of Thons is exactly what it sounds like: A cathedral made out almost entirely out of thorns!
This incredible piece of art was designed by Herman van Bergen and constructed by unemployed youth. Despite its name, there is nothing religious about it.
In fact, the cathedral feels more like a giant labyrinth you can stroll through. It was created to honor the Native People of Curacao and the African slaves ensnared ruing the British colonization of the island.
Aside from that, there are plenty of walls where you'll be able to admire artworks of contemporary art by guest artists. Every so often, it also hosts performances and events at night! You can check out their calendar here.
YOU MAY ALSO LIKE:
5. Learn all about aloe vera at CuraAloe Plantation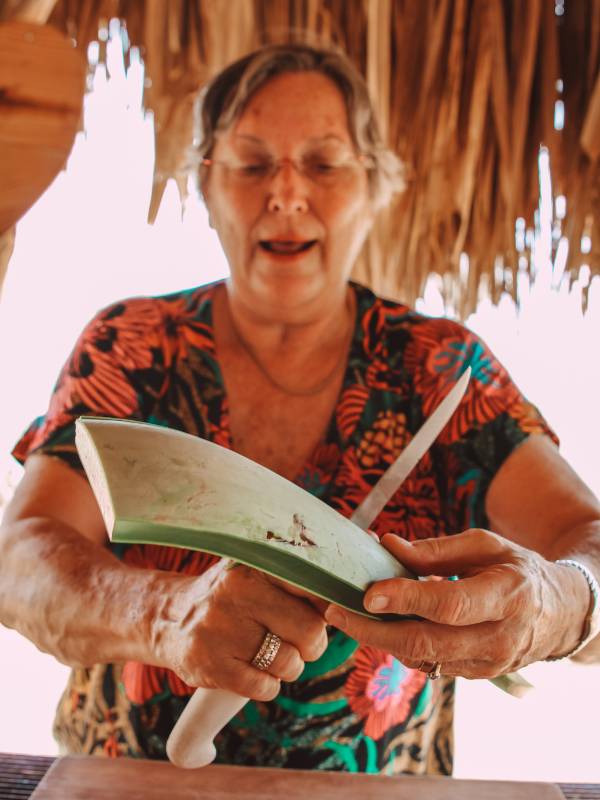 Here's something you may not know about Curacao's name: The word "cura" in Spanish means "to heal". The name of the island alluded to the fact that it is believed to contain healing properties, especially because of its high number of medicinal plants.
Aloe vera is one of them, and one of the largest farms found around the island is the CuraAloe Plantation.
During your visit, you will be able to learn all about aloe vera and its properties as well as tour the estate to get an insight into how the plant is grown and turned into creams, ointments, and more.
7. Make your own Chichi at Serena's Art Factory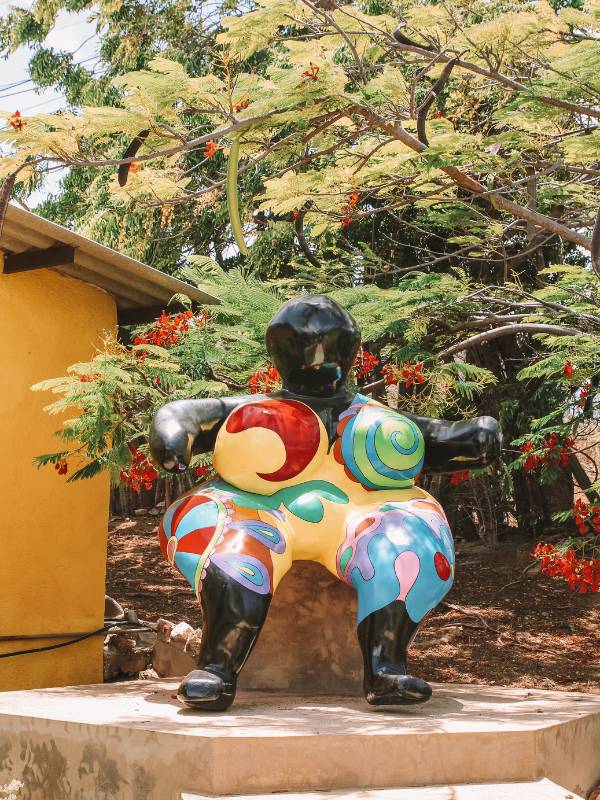 After checking out the CuraAloe plantation, you can pop over to Serena's Art Factory as they're located right next to one another.
Chichi® sculptures are one of the most iconic symbols of Curacao and even though you may get to see a few gigantic versions of them in Willemstad, there's nothing quite like visiting the place where they were originally created.
Chichi Dolls are ceramic figures painted in all sorts of colors and island-inspired patterns meant to honor big sisters and the important role they play in the Caribbean community.
Tip: if you visit on Tuesdays and Saturdays at 9 AM, you can join a workshop to paint your very own doll at the garden alongside Serena, the inventor of Chichi Dolls.
7. Explore the island of Klein Curacao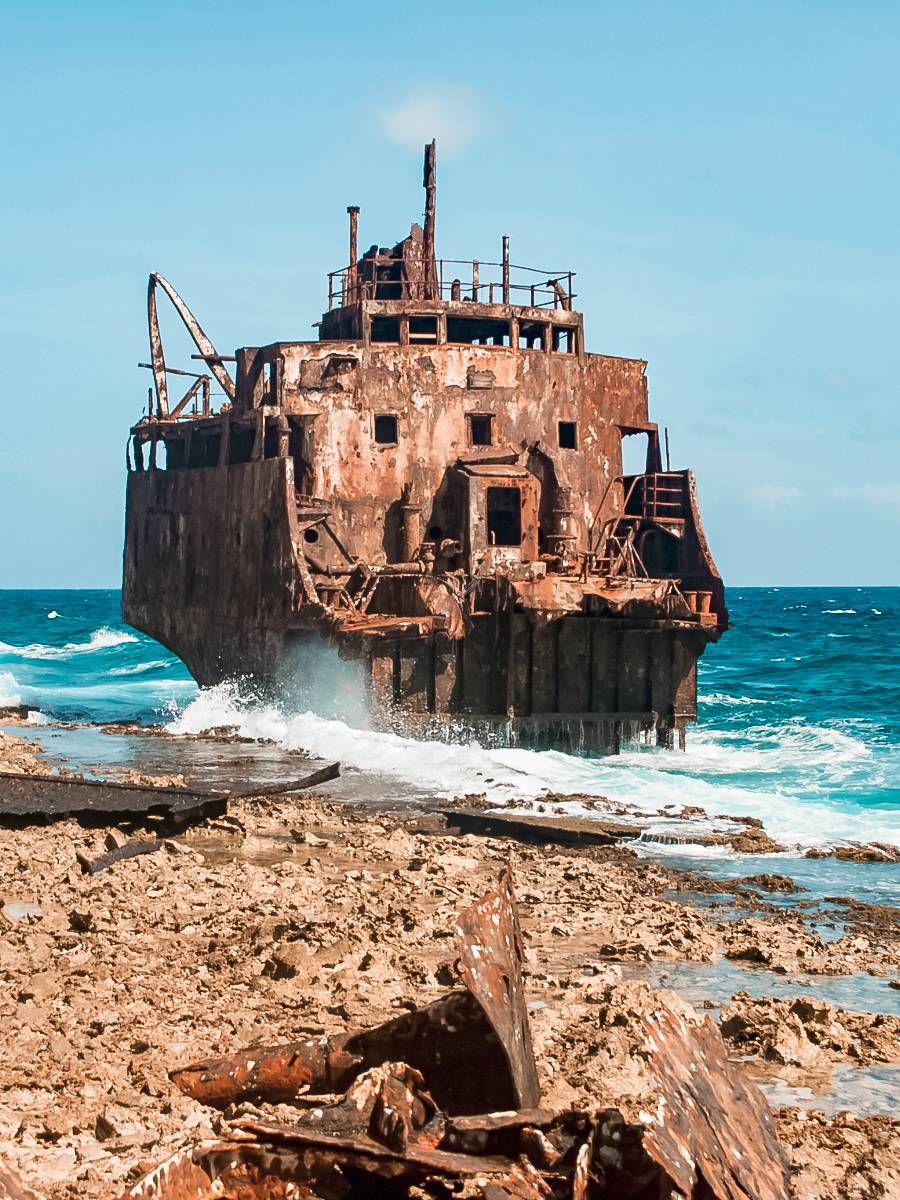 Klein Curacao is a small cay just off the coast of mainland Curacao where you'll find yourself amid a world of uninhabited paradise-like beaches and historical goodness.
This is one of the best things to do in Curacao, but do note it takes at least half a day to visit as there's a boat ride involved to get there!
Aside from exploring the island on foot and lounging on picture-perfect beaches, Klein Curacao is also a wonderful place to go snorkeling as there is a spectacular reef right under the surface.
8. Find your bliss at Playa Porto Mari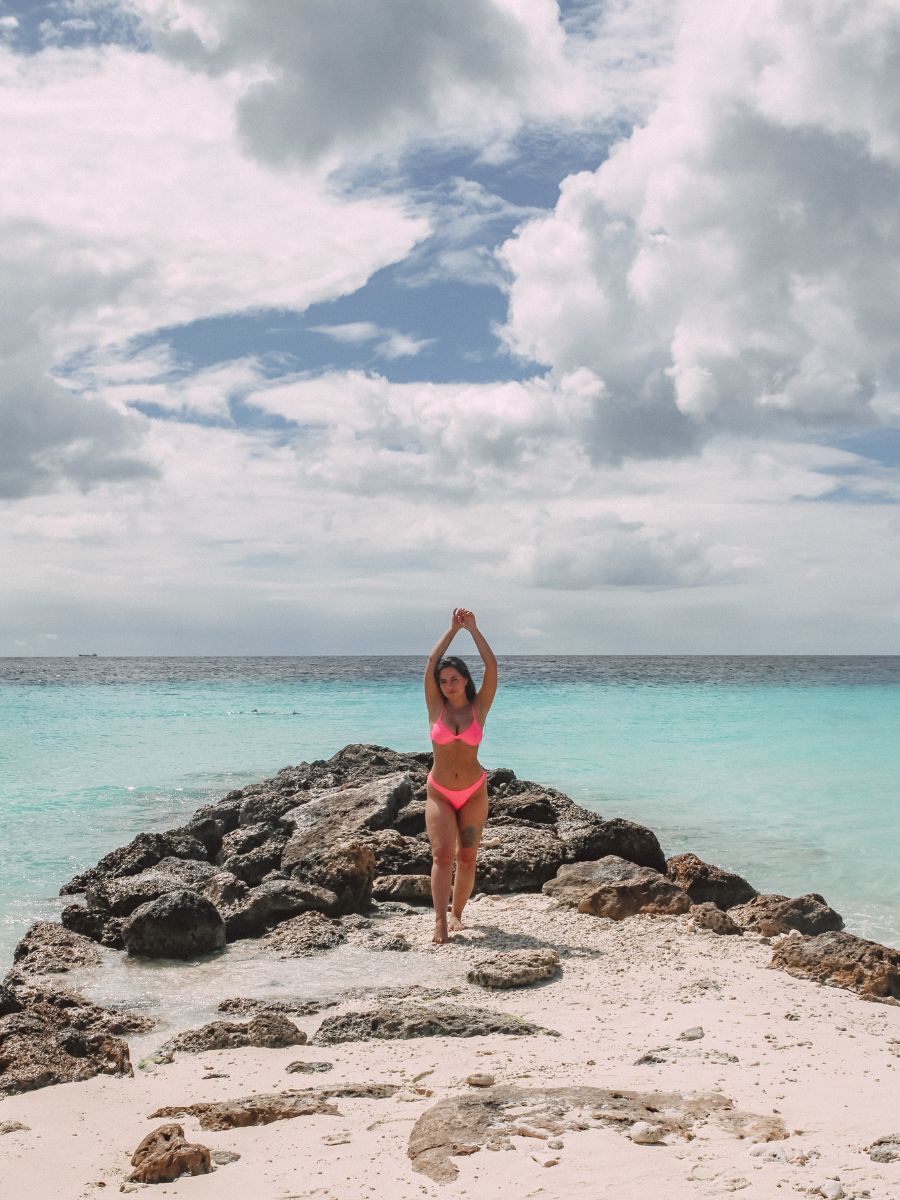 Porto Mari was my favorite beach in Curacao (I visited a ton of them!). While many beaches in Curacao are small, Porto Mari is a bit bigger and has softer sand, so if you only have time to visit one beach during your visit, make sure it's this one!
White soft sand and sapphire-toned water are the staples of Porto Marie. There is a bar on-site in case you want to grab a drink and something to eat, but you're also more than welcome to bring your own food.
If you're in the mood for exploring, there are two nature trails starting right on the beach, and there's a reef right below the surface, which makes snorkeling here a super easy task.
As a note, this beach is famous for homing a few pigs! Don't get too excited, though, as they only really hang out in a puddle at the parking lot rather than at the actual beach. I was definitely disappointed!
9. Visit a herbalist at Den Paradera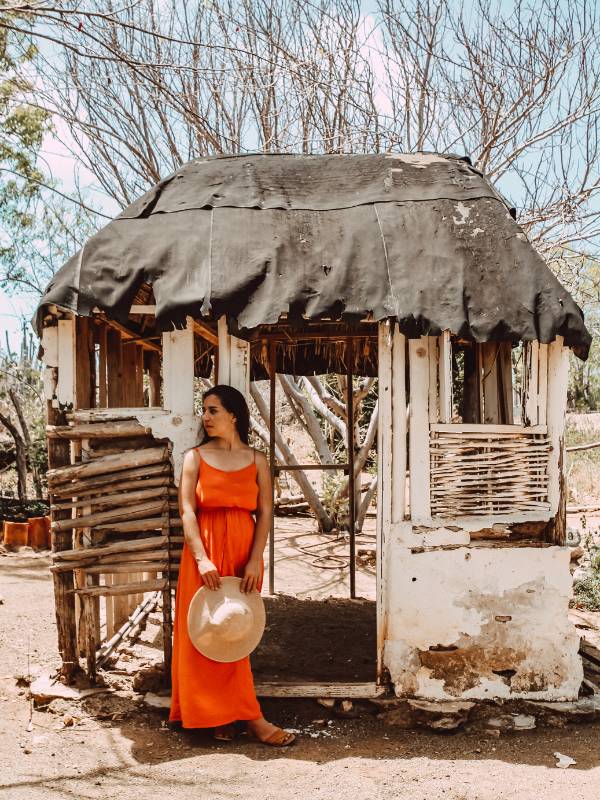 Plants play an important part in Curacao's daily life, and all over the island, you'll find several healing herb gardens.
Den Paradera is one of them. Here, you'll get to learn all about the island's flora and its curative properties. Dina Veeris, the owner, is one of Curacao's most important herbalists known for treating everything from sleeping troubles to broken hearts using natural remedies.
10. Shete Boka National Park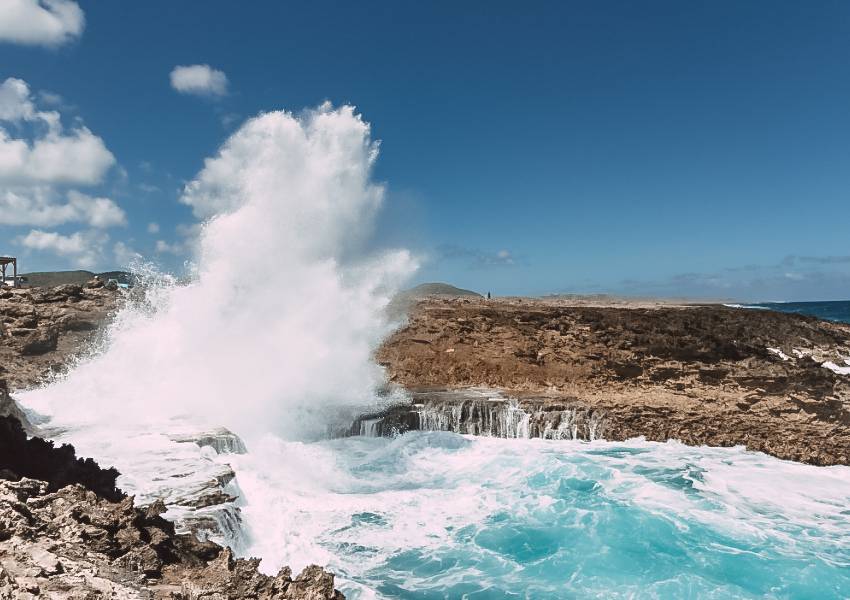 Known for its humongous waves that splash into an underground cavern, visiting Shete Boka National Park is one of the best things to do in Curacao for nature.
The park is known for its outstanding hiking trails along rugged cliffs, its limestone bluffs, and gorgeous inlets, not to mention it is also one of the best places in Curacao to see turtles, who have made the park their favorite nesting spot.
11. Go underground at Hato Caves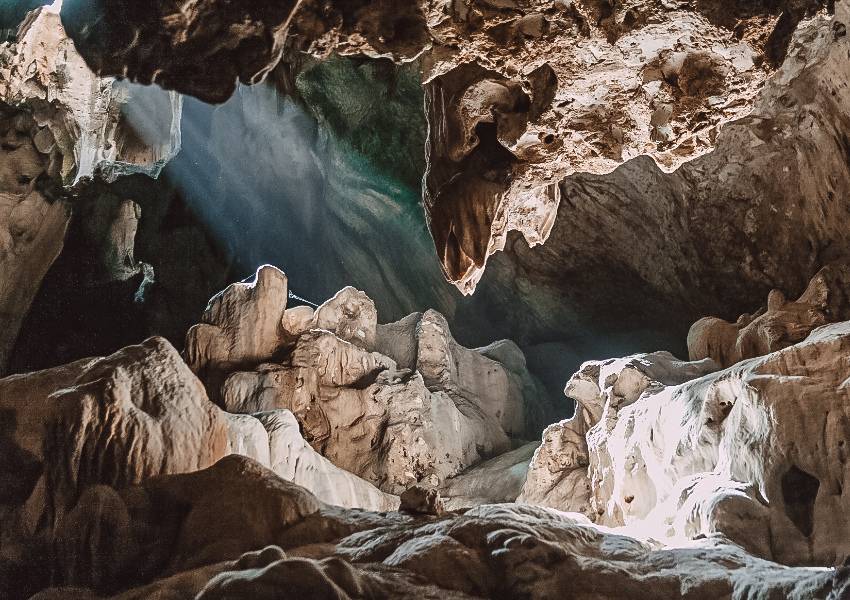 Hato Caves are a series of caves known for their striking geological beauty as well as the world of history they contain.
About 1,500 years ago, the caves were the home of Caquietito Indians and Amerindian Arakaws.
Aside from the impressive stalactites, waterfalls, and other geological formations, you'll get to find here, you will also be able to take a step back in time through petroglyphs that perfectly tell the story of what life was like in the caves for the indigenous people of Curacao.
12. Stroll Willemstad for beautiful pictures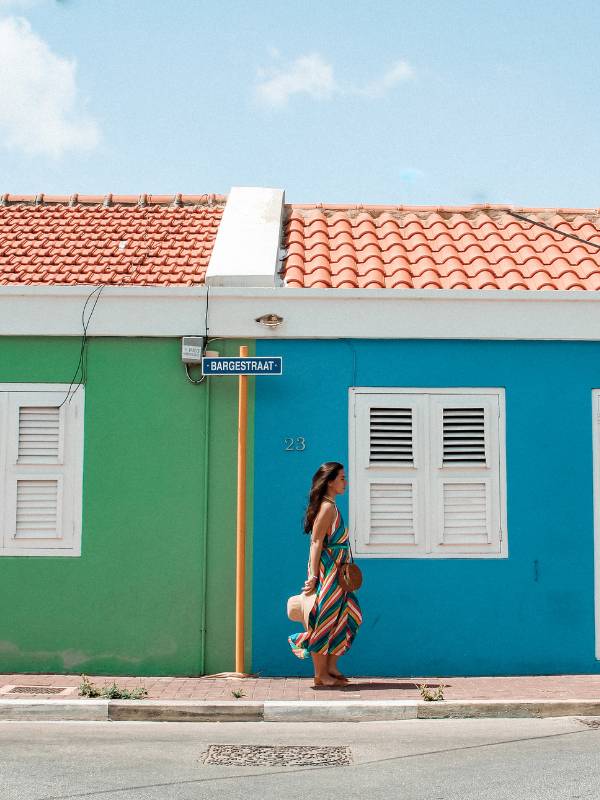 Even though it's relatively small, Willemstad is home to plenty of the most instragrammable spots in Curacao. All over the island's capital, you'll find buildings splashed in bright colors and impressive wall murals.
Make sure to visit the Queen Emma Bridge for beautiful spots of the city's skyline, the Scharloo neighborhood for hidden spots and artsy vibes, and the popular Pietermaai District for some of the most iconic doorways and facades of the city like the pink facade of Scuba Lodge.
13. Relax Kokomo Beach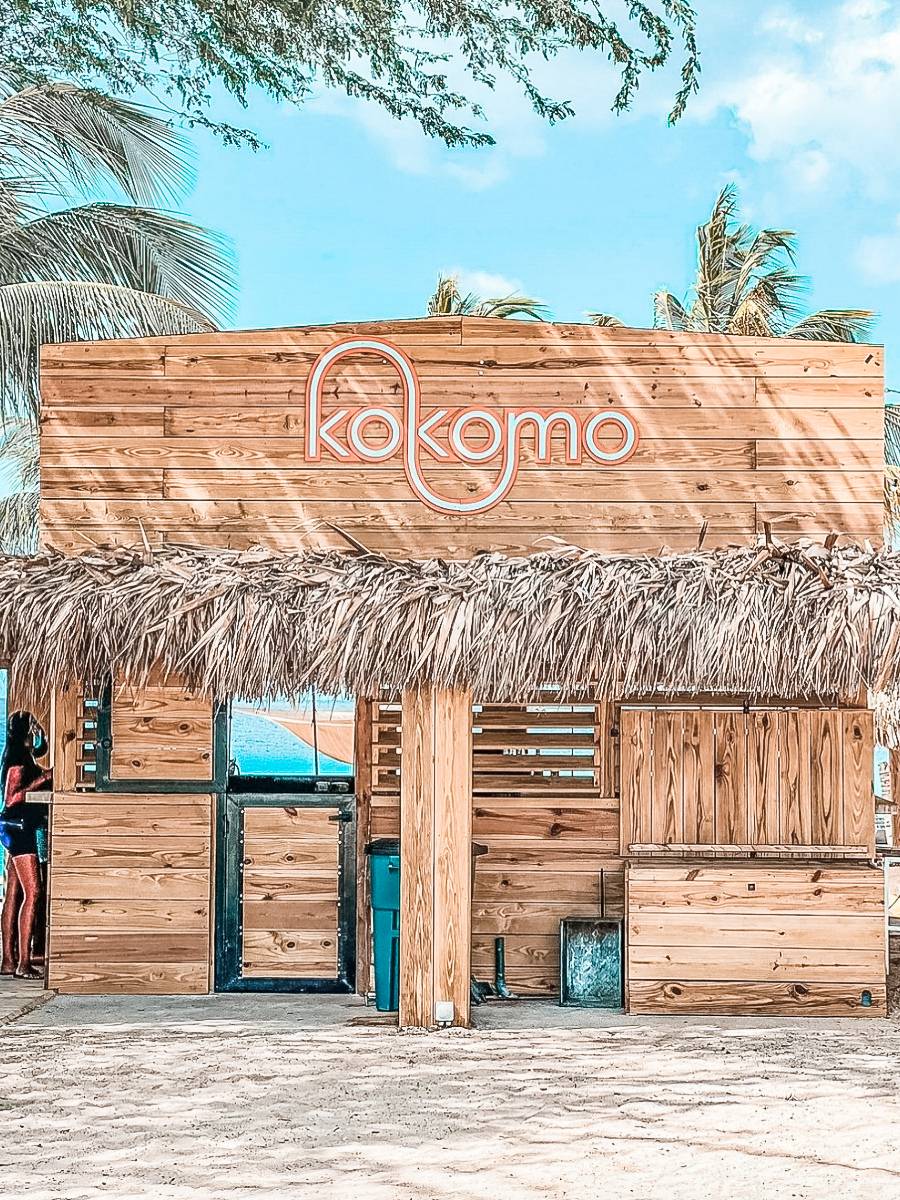 Kokomo is one of the most popular beach clubs in Curacao for all the right reasons!
Home to white sand and crystal clear waters, this is the perfect spot in Curacao for a relaxing beach day. Kokomo was actually made famous for its overwater hammocks, so if you've seen them on Instagram and have been wondering where to find them, this is where!
Entrance to Kokomo Beach is free, but renting a beach chair is highly recommended for the best experience. There's also a restaurant and bar on site.
14. Get lost at Kleine Knip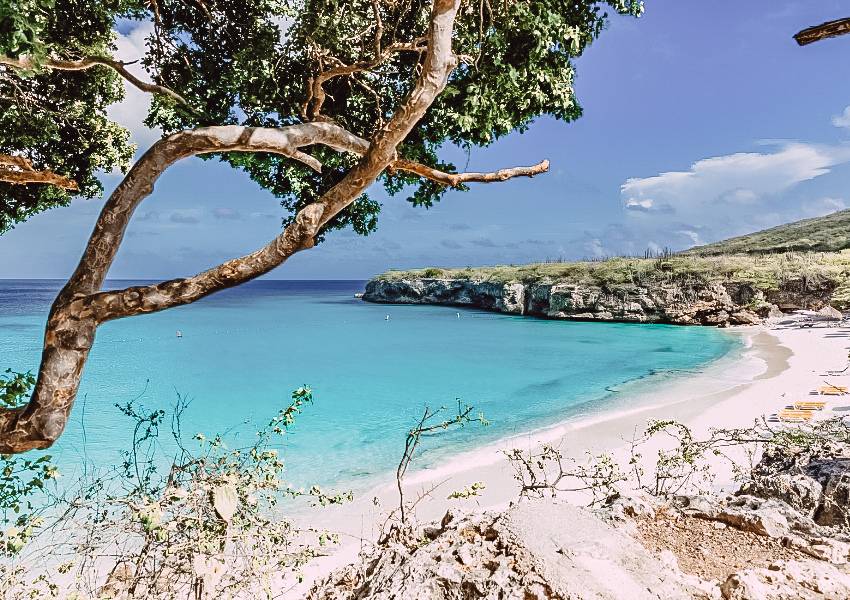 Set right next to the famous Grote Knip, Kleine Knip is a smaller beach that is much lesser visited and perfect if what you're after is a quiet experience at the beach away from crowds.
Kleine Knip is a small cove, so I recommend getting here as early as possible as space is limited. Entrance is free and there are no amenities at all, so make sure to bring along food and water.
15. Swim with turtles at Playa Piskado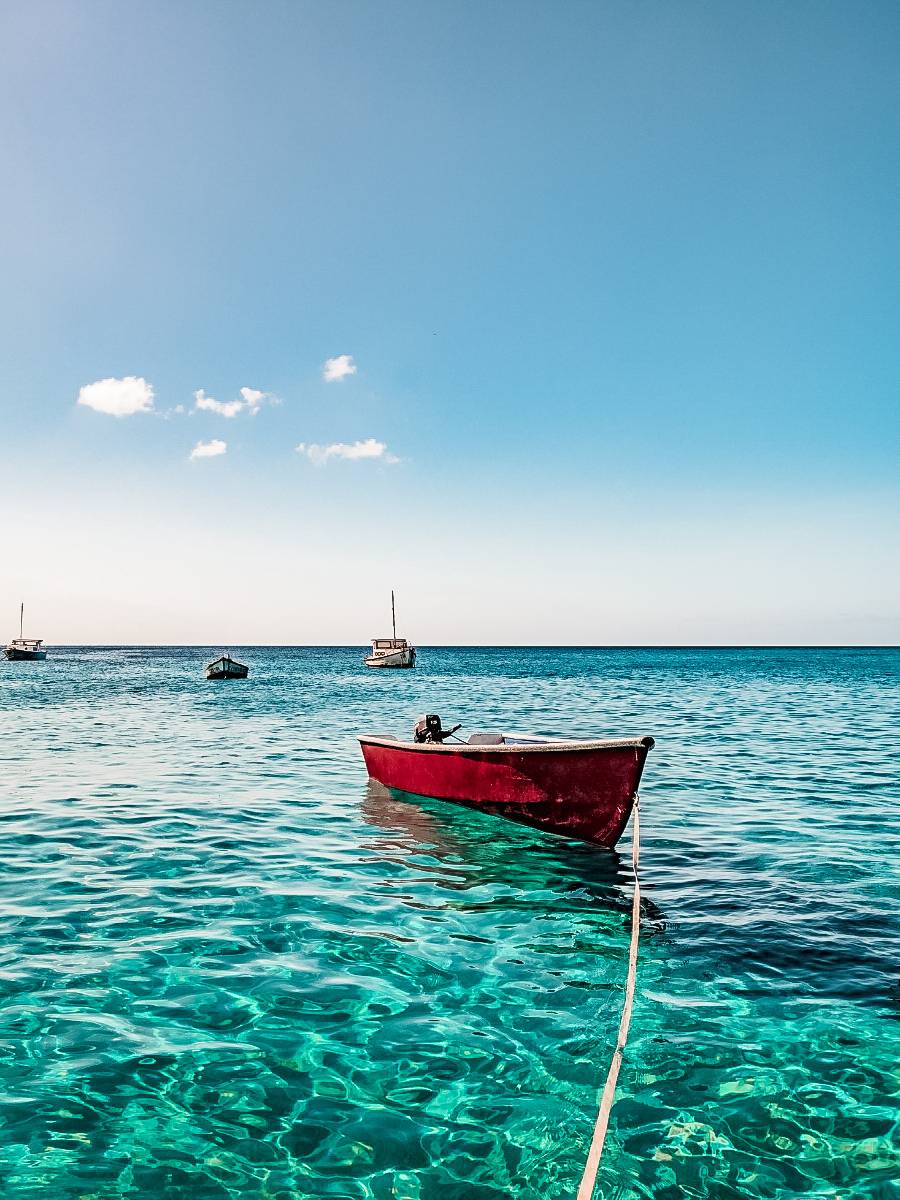 More commonly known as Playa Grandi, Playa Piskado is definitely not the most beautiful beach, but visiting it is one of the most popular things to do in Curacao because sea turtles love hanging out here.
Because Playa Piskado is a base for fishing activity on the island, turtles are drawn to the area. As soon as you jump into the water, you'll be able to spot them, and because they don't shy away from humans, they may glide right past you without a care in the world!
16. Enjoy a treatment at 8 The Experience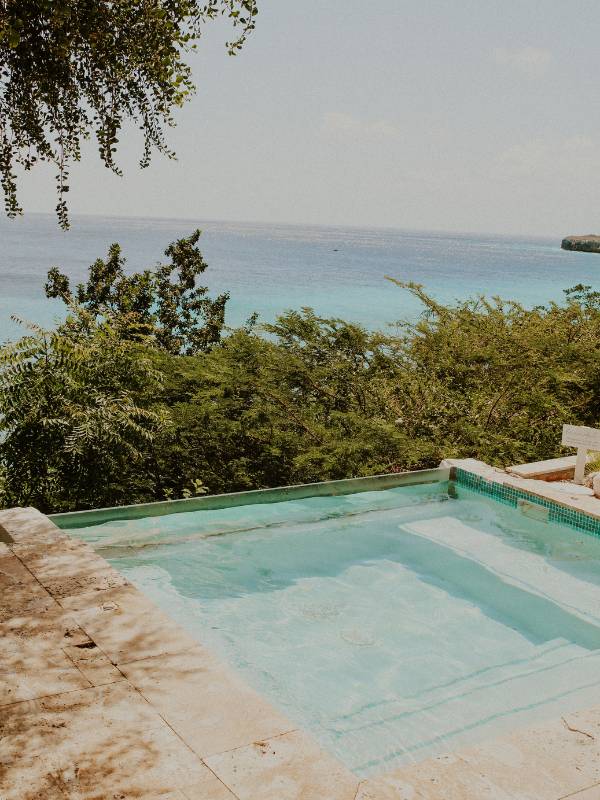 If relaxing and gorgeous ocean views are your jam, booking a day pass to 8 The Experience is definitely one of the best things to do in Curacao for you!
This is by far the most beautiful spa I've ever been to. It's perched right on a hill overlooking the ocean and features intimate infinity pools, open-air treatments, a large pool, and beautifully themed rooms that will make you feel as though you're traveling to different locations – there's a Rainforest Steam Room, an Igloo room, and a Sahara-themed room!
8 The Experience is one of the most beautiful spas you'll find anywhere in the world and one of the best things to do in Curacao if a little relaxation is what you're after.
17. Visit the 3 O'Clock Romance Building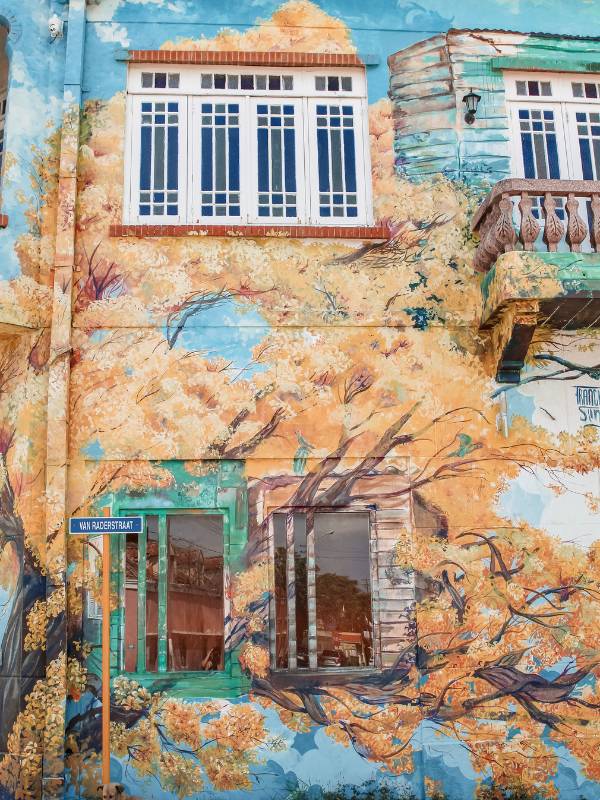 I've mentioned Francis Sling and his beautiful murals already, so of course, mentioning where to find them in Willemstad was a must, too!
While there are gorgeous murals all over town, one of the most striking ones is the 3 O'Clock Romance Building in Scharloo.
This is one of Sling's most popular works as it tells the story of two birds who meet by chance and without setting a date, they both fly over to the place they met in hopes of finding one another at the same time.
18. Eat your way through Plasa Bieu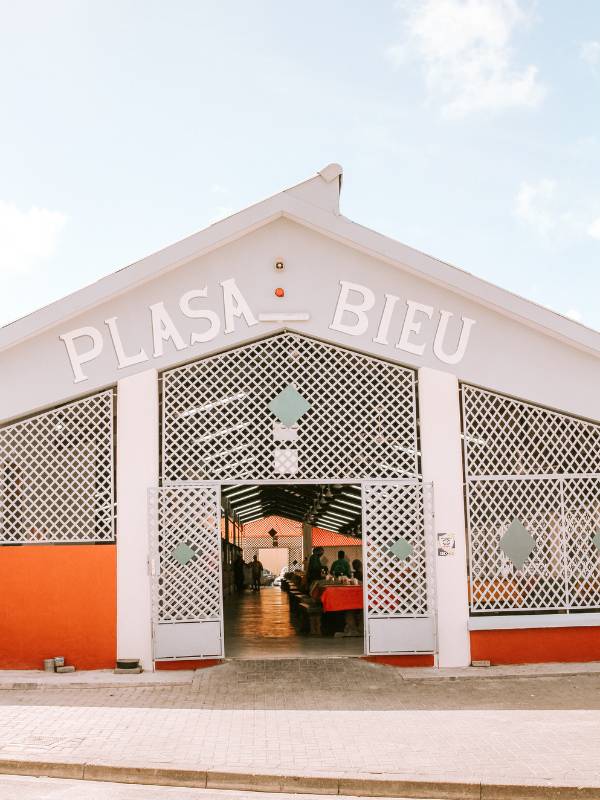 Plasa Bieu, or The Old Market as it's more commonly referred to, is the oldest market in Curacao and a place you must visit in order to get a taste of local life on the island.
Even though it's small, this place is a foodie's paradise, especially if you want to try authentic food and observe how its prepared. Delicacies you must try include:
Funchi (fried corn dough)
Kadushi (Cactus soup or stew)
Repa di Pampuna (pumpkin-based pancakes)
Bakiou (cod fish)
Baka stoba (beef stew)
🍲 Where to eat in Curacao
One of the best things to do in Curacao is eat! There's plenty of delicious street food all over the island as well as amazing restaurants you'll love.
These were my favorites:
Saint Tropez Ocean Club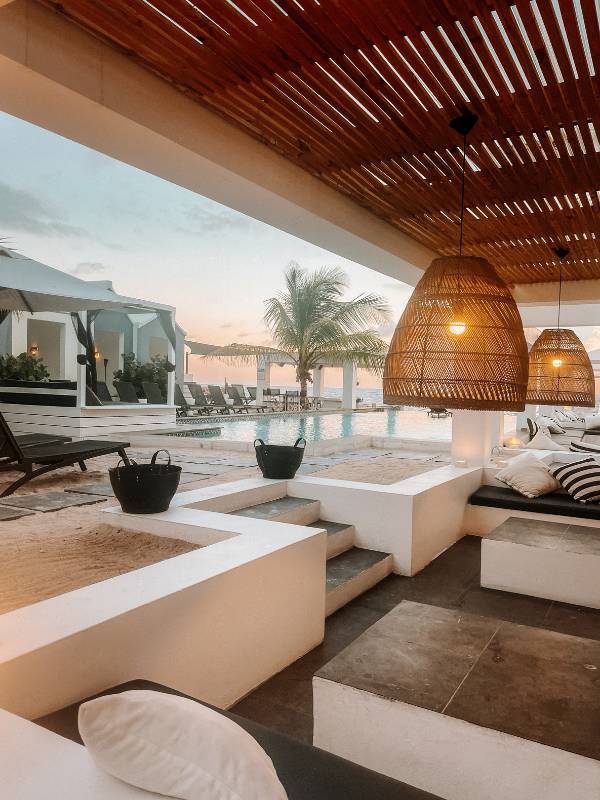 Saint Tropez Ocean Club is one of the biggest hot spots in Curacao and the place to see and be seen.
It's both a beach club and a restaurant located in the Pietermaai District in Willemstad that offers breakfast, lunch, and dinner. Its menu offers dishes inspired by international recipes with a Caribbean flair added into the mi.
Saint Tropez is also a boutique hotel and one of the best places to stay in Curacao if you still haven't booked accommodation. Check their rates here.
Koraal Rooftop Terrace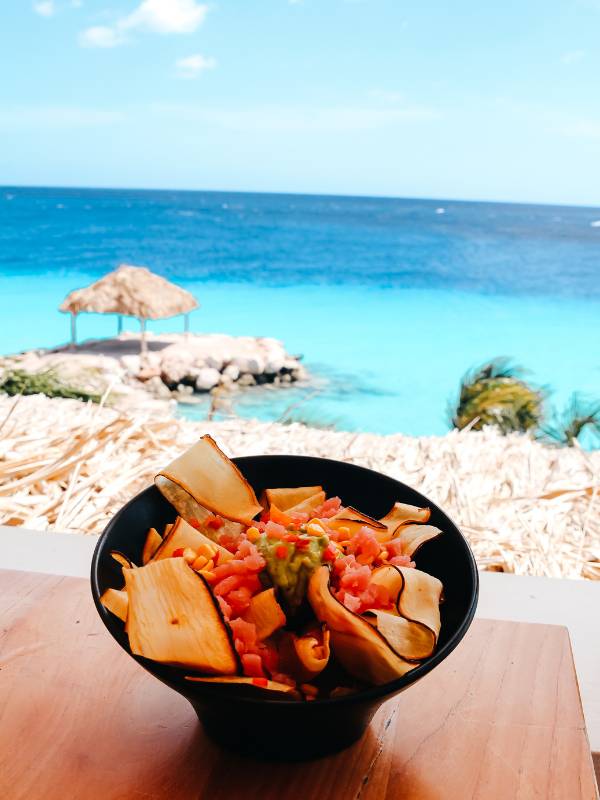 This was my favorite restaurant in Curacao despite it being a bit of a trek from Willemstad.
Here, you'll find a varied selection of tapas that you can enjoy with beautiful views of the Caribbean. I recommend ordering the Cheeseballs, they're delicious! Every Saturday, they also offer sushi from 12 PM to 6 PM.
It's also a beach club with pools, hammocks, and lounge chairs. Moreover, 8 The Experience Spa is located right next to it, so you can make a day out of it and visit both on the same day.
BijBlauw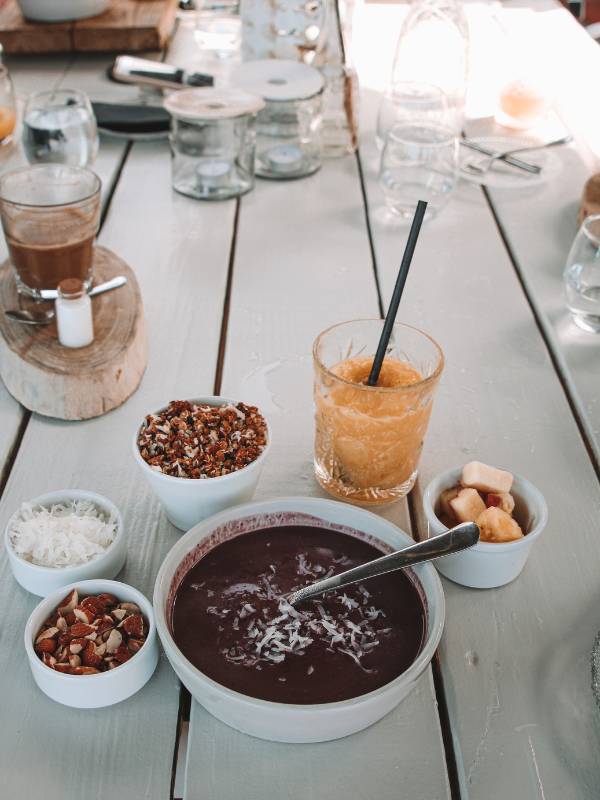 Beautiful ocean views in a courtyard are the staples of this restaurant in Willemstad.
They offer a variety of dishes for breakfast, lunch, and dinner. I particularly loved their hearty breakfasts!
Oliva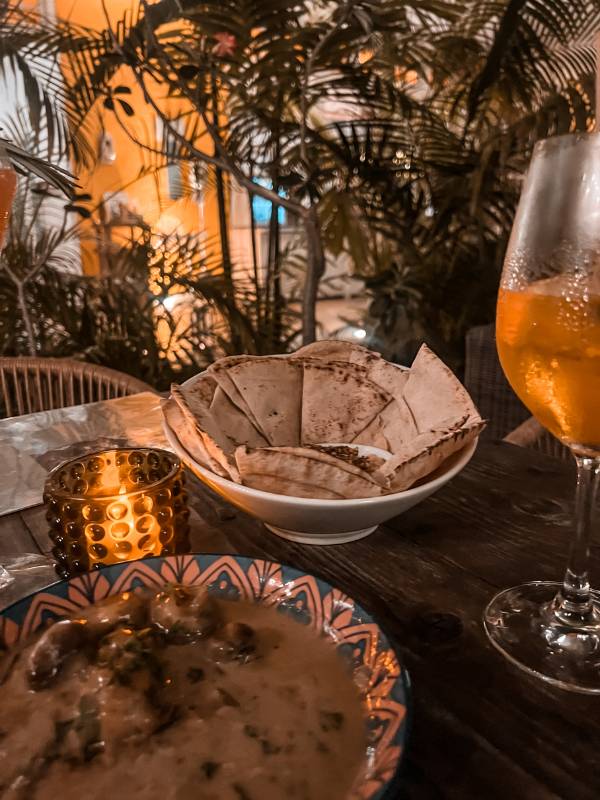 Oliva Gastro Bar is a cozy restaurant located inside a former monastery that's perfect for a cozy dinner.
I had the patatas bravas, the mushrooms served in gorgonzola sauce, and the kofta with tzatziki, and loved everything. As the main dish, I ordered the truffle risotto which was delicious.
Number 10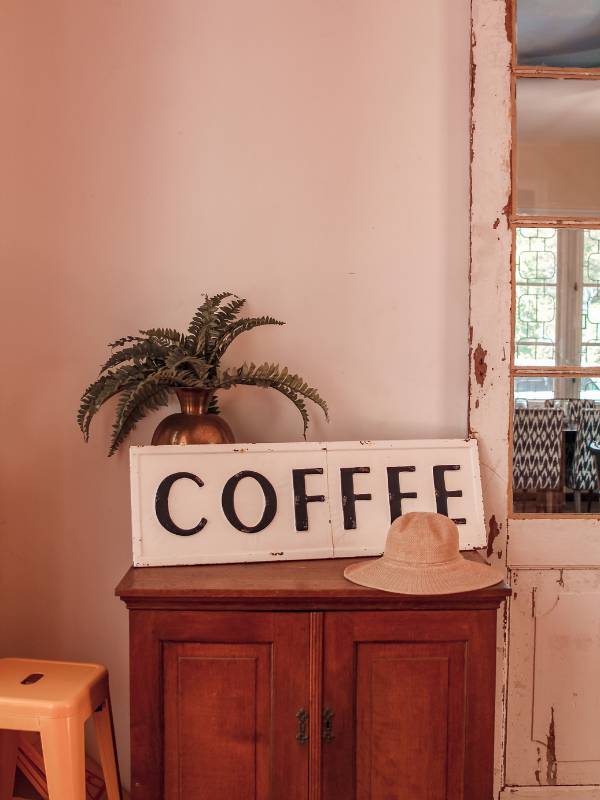 A cozy café with lots of incredibly photogenic corners, elegantly themed rooms, and a lovely outdoor patio.
You'll find everything from amazing burgers to healthy food options as well as great coffee and pastries!
Eater Fleur de Marie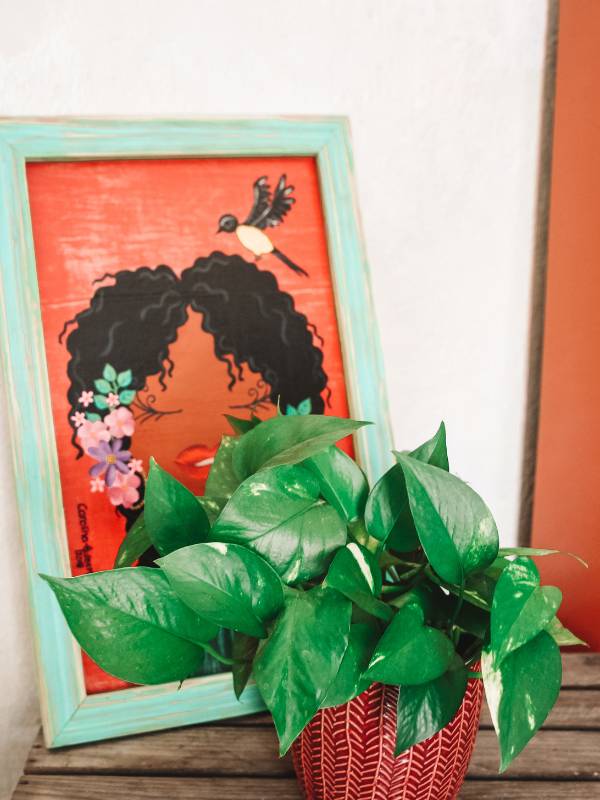 Fleur de Marie Eatery has more of a local vibe and I'd consider it a bit of a hidden gem.
This charming eatery is located in the Scharloo neighborhood and serves organic, farm-fresh dishes inside an eclectic space filled with art and lovely decor.
🏨 Where to stay in Curacao
I stayed at BOHO Bohemain boutique hotel, a beautiful boutique hotel located in the heart of the Pietermaai District in Willemstad. The location is ideal as it's located in a safe area close to many restaurants and shops.
The rooms are gorgeously decorated in a boho style and you'll find plenty of incredibly photogenic corners all over the property.
You can book your stay here or read my full review of the hotel here.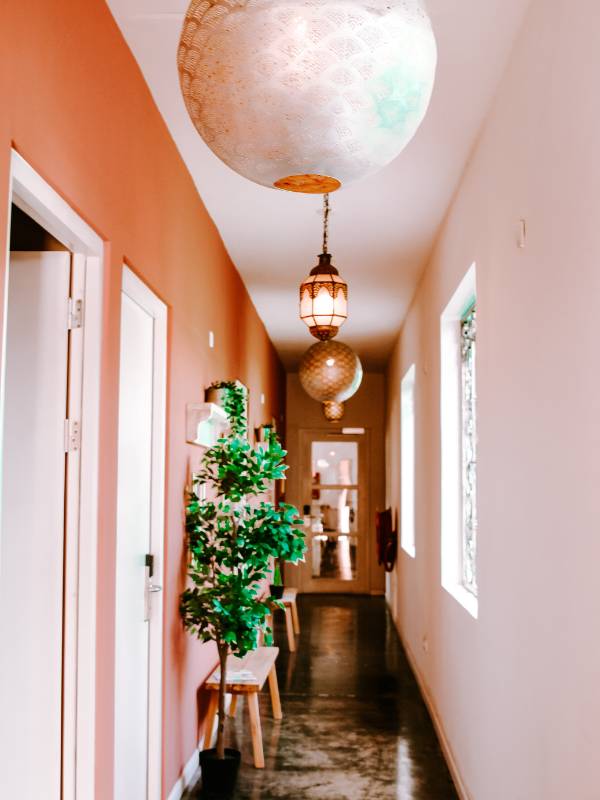 🚗 How can I get around Curacao?
The best way to get around Curacao is by car.
There are some shuttles and public buses available that can take you to popular places around the island, but they're very infrequent and not a very reliable option.
If you want to have the liberty to explore the island on your own without needing a tour, you will definitely need to rent a car.
I rented mine via DeVos and couldn't have asked for a better experience. Not only was it extremely affordable, but Ricardo and his entire team always made sure we were well taken care of (so much better than renting with a large company!)
🌎 Travel insurance for Curacao
Don't forget about travel insurance to travel to Curacao!
Curacao is a prime spot for adventure, so having travel insurance to back you up is essential.
If you're still on the lookout for travel insurance for your trip, I highly recommend Safety Wing. It starts at only $45 a month and will cover you throughout your trip!
📅 What is the best time to visit Curacao?
For great weather, February through June is the best time to visit Curacao, while October, November, and December are the rainy season (it won't usually rain enough to ruin your trip, though!).
February is when the Curacao Carnival takes place. Every year, the island's streets become a gigantic party where locals and visitors dress up in colorful customs to party outside.
While this is definitely a wonderful experience to have, prices do rise during the carnival, not to mention that moving around Willemstad gets tricky as many streets close, so make sure to keep that in mind when planning your trip.
🌵 Best tours in Curacao
Snorkel with turtles
Have a once in a lifetime experience and swim with the colorful fish, turtles, and other wildlife. Visit Curacao's desert, and enjoy the North-West water's spectacles and the green South-West coast.
Book one of the best Curacao snorkeling tours and spend the day amid colorful fish and coral while sea turtles glide right past you. Then, check out Curacao's desert and explore the lesser-known Southwestern side of the island. Book here.
Boat cruise to Klein Curacao
Take a boat cruise over to Klein Curacao, a small cay where you'll find pristine sandy beaches, a striking array of marine life, and beautiful historical gems. Book here.
North West Coast Jeep Safari Tour
Hop on a jeep and explore the northwestern coast of Curacao, where you can find flamingos, natural pools, a water cannon, and a desert. Book here.
Other tours and things to do in Curacao:
🇨🇼 Tips for planning a trip to Curacao
Before you board your plane, make sure you fill out your digital immigration card in order to be able to enter Curacao.
If you plan on swimming in the ocean, make sure you pack a pair of water shoes and most beaches are rocky.
If you want to explore beyond Willemstad without a tour, you will need to rent a car. I recommend renting yours with De Vos like I did.
US Dollars are accepted almost everywhere as are credit cards.
Check out my Curacao packing guide for what to pack.
🌊 FAQ about the best things to do in Curacao
❓ What are the best things to do in Curacao?
While ranking the best things to do in Curacao is impossible as it entirely depends on your travel style and interests, some activities definitely can't miss on your itinerary include visiting Playa Porto Marie, strolling Willemstad, taking a day trip to Klein Curacao, and tasting local food at Plasa Bieu.
❓ Is Curacao worth visiting?
Of course! Even if you've visited other islands in the Caribbean already, Curacao has its very own charm and flavor.
Because of its history and the fact that it is a part of the Netherlands, Curacao has a very distinct European flair, not to mention beautiful beaches, colorful architecture, and lots of locations perfect for exploring nature
❓ Are Curacao's beaches nice?
Yes, but they're not long shores of soft white sand.
Most of Curacao's beaches are small and tucked away between cliffs, making them pretty cozy but different from what you may expect from a Caribbean island.
❓ What is the most popular beach in Curacao?
Playa Porto Marie is one of the most beautiful beaches in Curacao and a pretty popular one as its significantly more spacious compared to most other beaches around the island.
Mambo Beach is also extremely popular because it is located a short drive away from Willemstad and has lots of trendy beach clubs and amenities.
❓ How many days should I stay in Curacao?
3-4 days are great to get an introduction to the island (you should be able to explore its main highlights as well as spend some time at the beach).
With that said, a week would be ideal if you want to avoid having to rush around, explore a little further, and still have plenty of time left to relax.
🌴 Final thoughts on the best things to do in Curacao
From its striking beaches to its incredibly colorful architecture and a vast array of historical spots, there's a plethora of incredible things to do in Curacao despite its relatively small size.
From relaxing at the beach to hiking and experiencing the island's vibrant art scene, you can easily plan a jam-packed Curacao itinerary depending on your interests.
No matter what your travel style is, you'll find plenty of amazing activities and things to do on this paradise-like island.