The Best Photo Spots in Curaçao
I still can't seem to stop gushing about all the wonderfulness that is Curaçao.
Truth be told, I never really thought much about it – I knew it was an island in the Caribbean and part of the Netherland Antilles, but aside from that, it was a pretty blank spot on my map.
I'm so glad I went, though. Whenever a friend asks me what Curaçao is like, I always reply by saying "imagine a town in The Netherlands, then splash it with a few buckets of paint, and place it on an island in the Caribbean." Because guys, that's exactly what it's like!
One of the main reasons that make Curacao worth visiting, in my opinion, is how photogenic the island is. From its turquoise waters to the colorful haven that is Willemstad, the entire island is so photogenic that I'm convinced taking a bad picture is an impossible task.
I decided then, to put myself up to the task of putting together a post on my favorite photo spots in Willemstad.
1. Queen Emma Bridge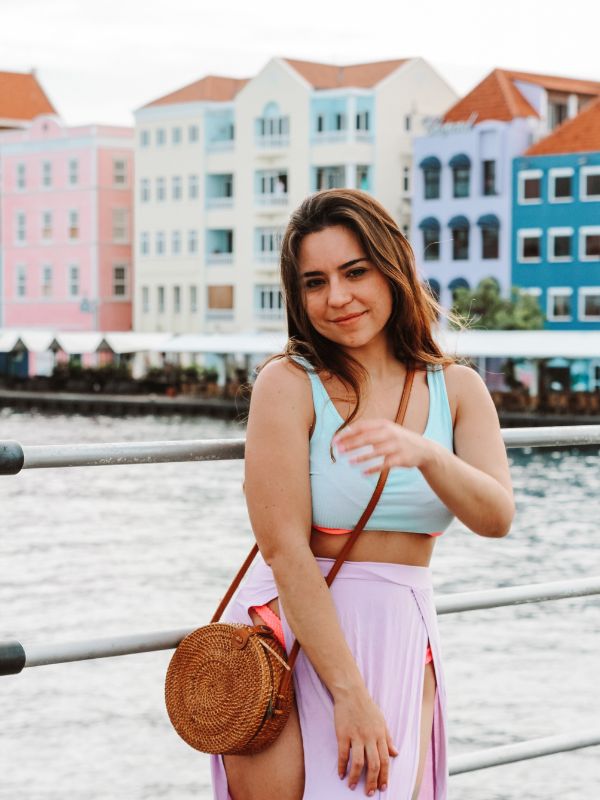 Queen Emma Bridge connects the Punda and Otrobanda quarters of Willemstad, overlooking the town to one side and the harbor to another.
From here, you'll get the best views of Willemstad's colorful skyline, which makes it by far, one of Willemstad's most famous photo spots (for all the right reasons!).
Make sure to stick around long enough to see the bridge opening and closing for incoming boats to pass through.
2. Scuba Lodge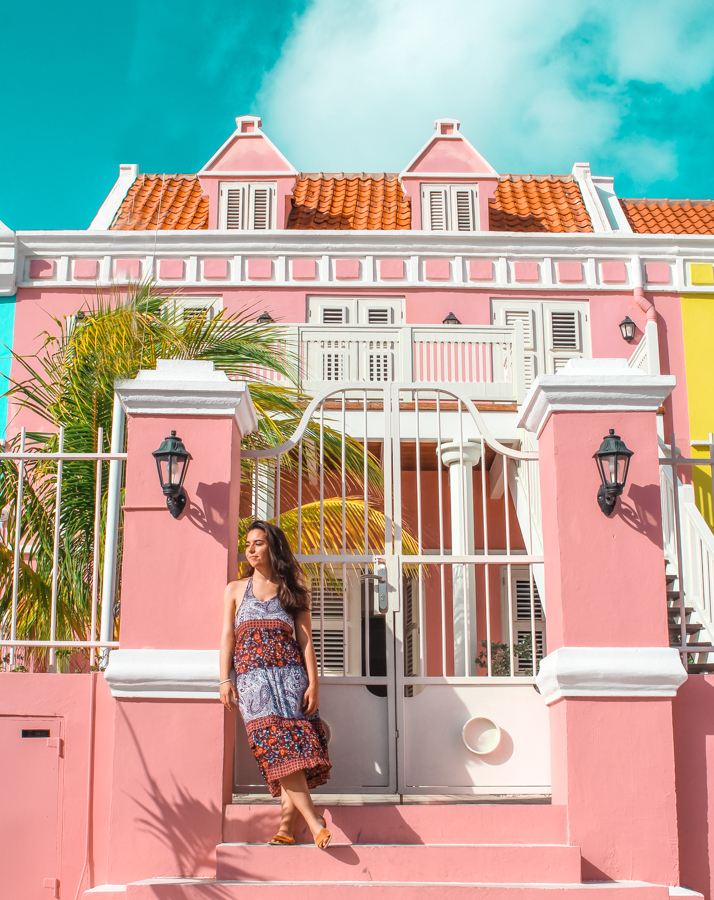 You can never go wrong with a pink building, am I right? Scuba Lodge is a cute boutique hotel designed for scuba diving enthusiasts, but you don't need to be a diver to book a room here. If you're staying elsewhere, make sure to at least pop by to take a few pictures of its pink façade.
It doesn't stop here, though: The entire street where Scuba Lodge is (Pietermaai St) is lined by all shades of colorful buildings – it's like a giant color palette waiting to be photographed!
Tip: Just a few meters away from Scuba Lodge, there's a really cool hotel/eatery called BijBlau, this was one of my favorite places to eat in Curaçao. They serve healthy meals, great smoothie bowls, and amazing coffee with views of the Caribbean ocean.
3. Bargestraat Street in Scharloo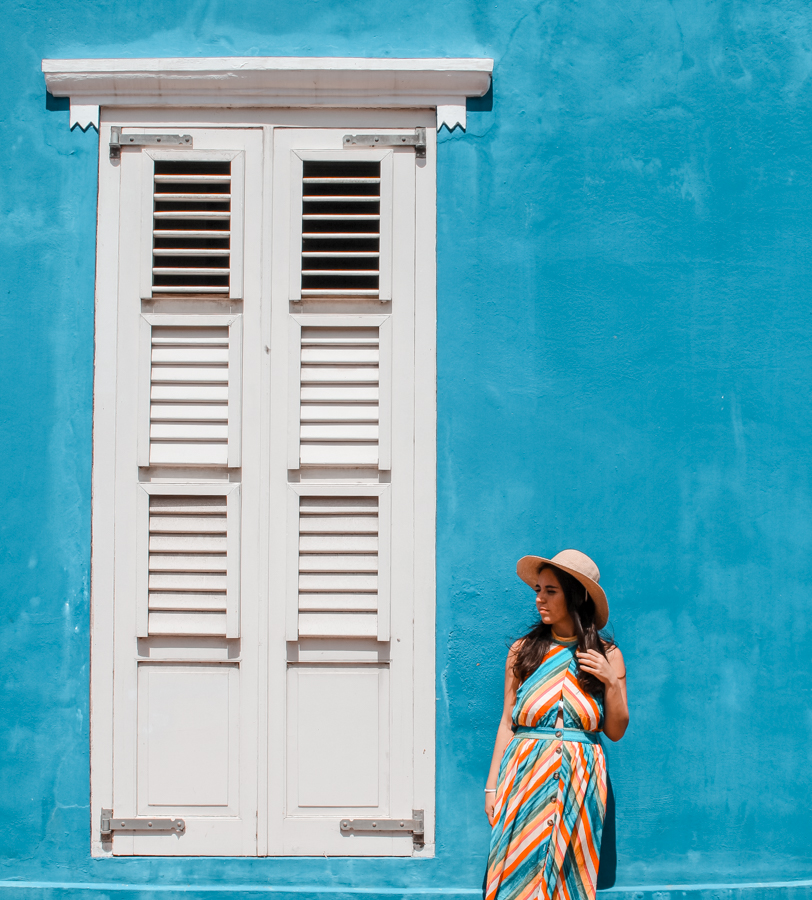 Bargestraat is a colorful street set in the neighborhood of Scharloo which is known for its art scene, wall murals, and colorful houses. Even though the entire neighborhood is a photographer's dream, my favorite photo spot here was Bargestraat for sure!
Another thing I love about this street is that it's just around the corner from Francis Sling's workshop.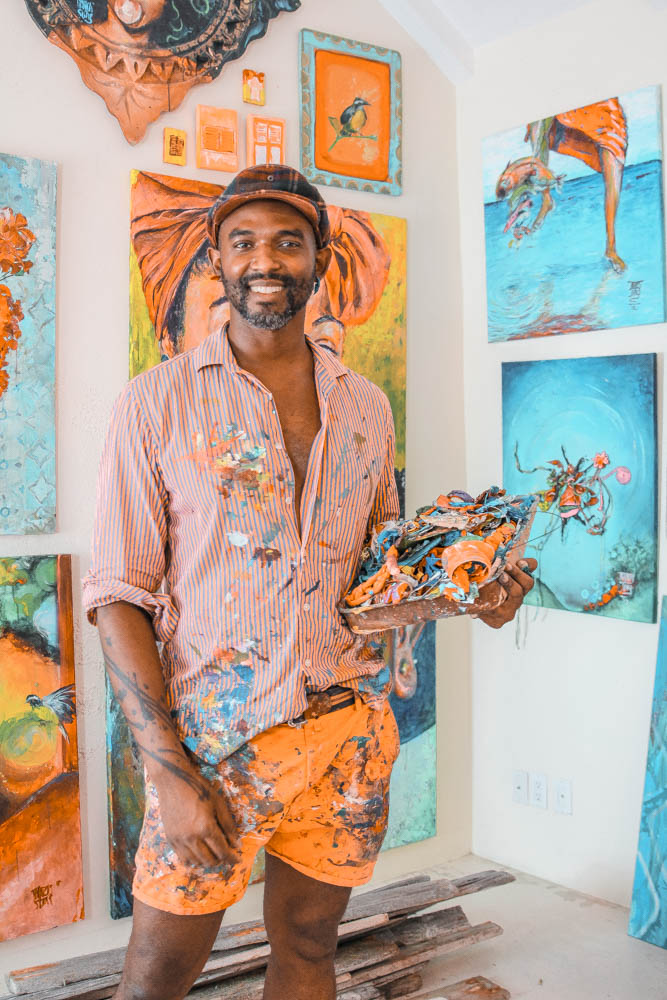 He's one of Curacao's most famous painters and is known for being the creative behind a ton of Willemstad's most famous wall murals (many of which you'll find by strolling through the neighborhood).
If you get hungry while shooting here, pop by at Fleur de Marie Eatery – it's a lovely new brunch spot serving all things healthy (with a Caribbean twist of course!).
Below are some pictures from my visit to Francis Sling's gallery and brunch at Fleur de Marie.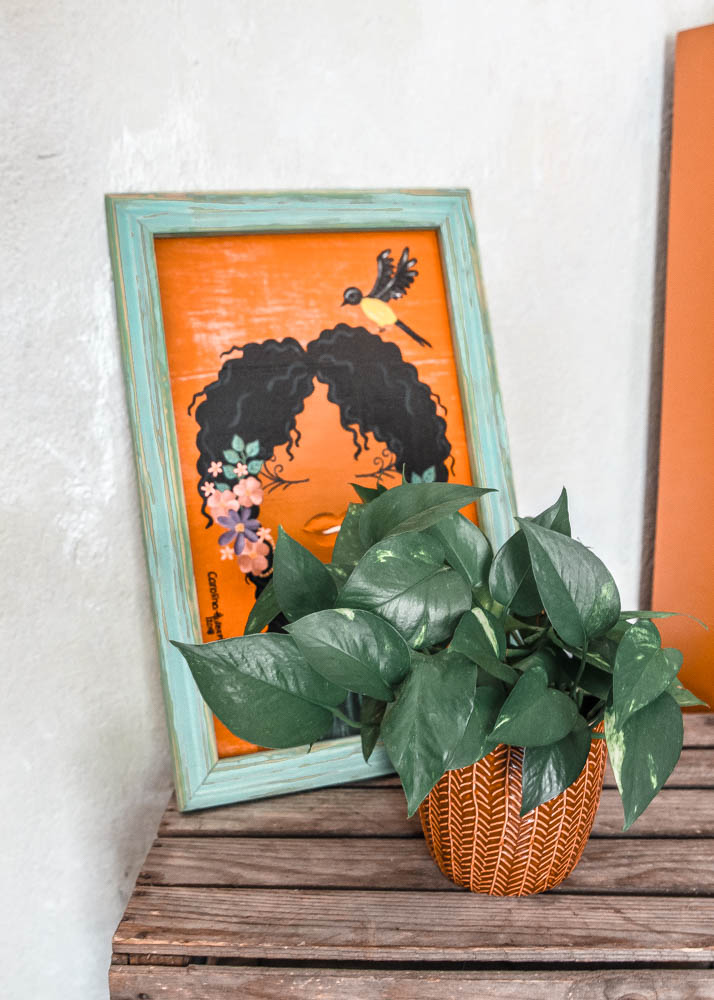 4. 3 O'Clock Romance Building
I've already mentioned Francis Sling's murals in Willemstad, so of course, I had to give you some pointers as to where to find them!
The 3 o'Clock Romance is one of his most famous pieces set right in the heart of Scharloo, just a short walk away from Bargestraat street, so you can easily combine a photo session of these two photo spots in one morning.
This mural depicts the story of two birds who meet by chance and without setting a date, they both fly to the same spot at the same time where they met the next in hopes to find one another.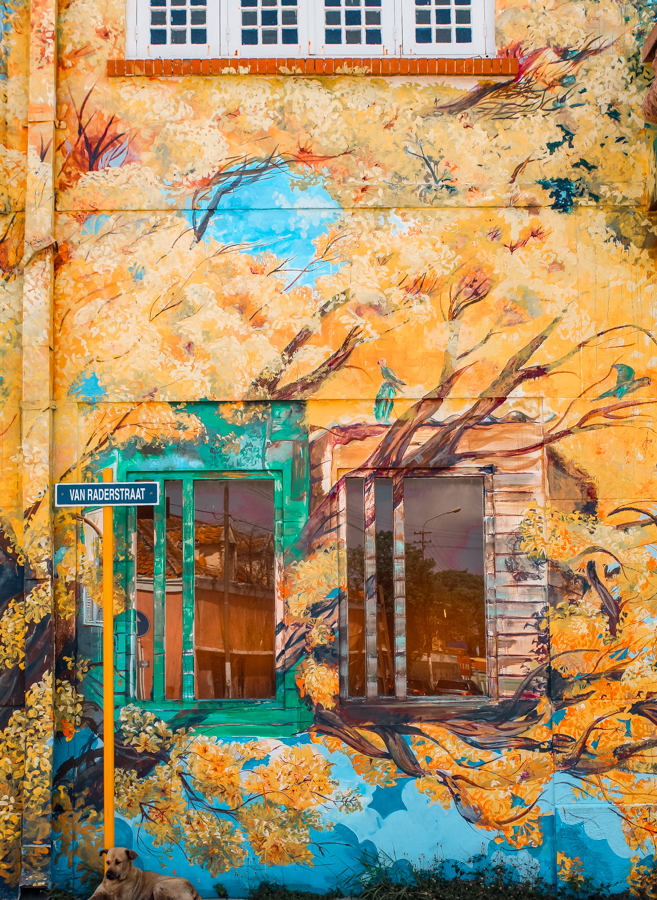 YOU MAY ALSO LIKE:
5. Church of Thorns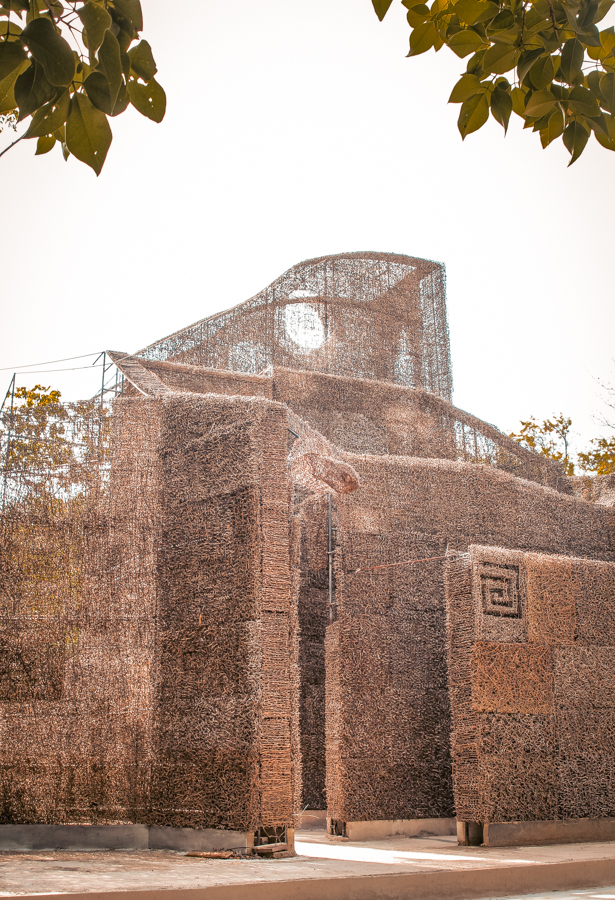 If you're into all things weird and wonderful, you'll love this place.
It's set behind Numer Ten, a really cute coffee shop (which also happens to be another really great photo spot in Willemstad, by the way!).
After you're done drinking a cup of coffee or sampling some of their cakes, head out for a walk into the forest and you'll stumble across Church of Thorns. It's exactly what it sounds: a church…. made out entirely out of thorns!
I did mention that Number Ten was a great place to eat/take pictures before heading over to check out the church, so I'll drop a few pictures here for you to see what I'm talking about! 🙂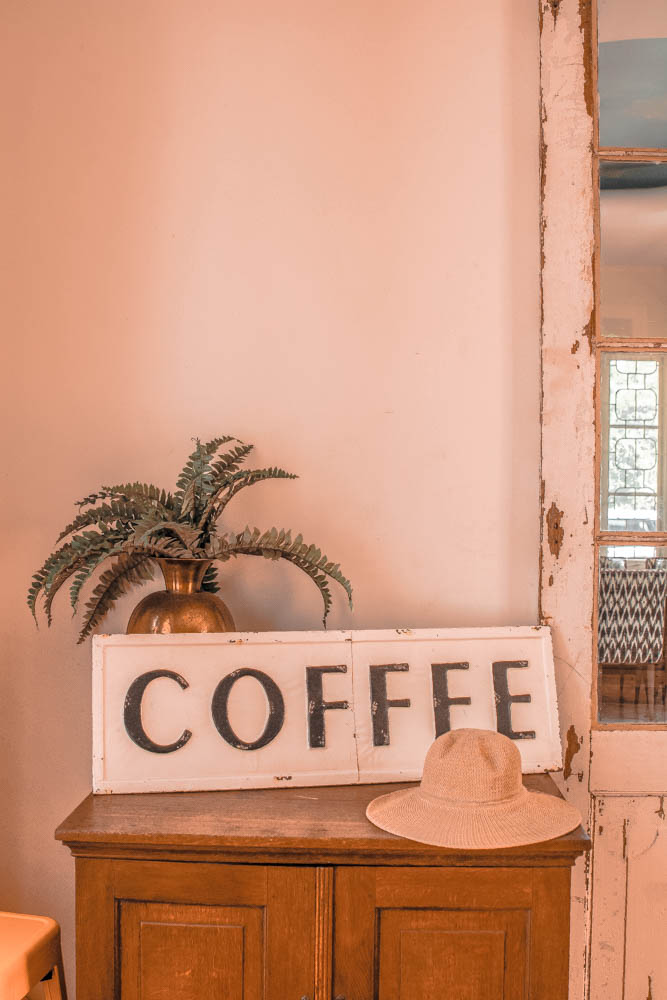 6. CurAloe Plantation
This one is a bit of a trek from downtown Willemstad, but totally worth it!
Set five kilometers outside the city center, not only is this aloe vera plantation an incredible photo spot in Willemstad, but it's also an interesting place to visit if you're keen to learn more about aloe vera.
The name of the island comes from the Spanish word "cura", which means to heal and you'll find a ton of that all over Curaçao – from the crystal clear waters to the vegetation's medicinal properties – one of which is aloe vera!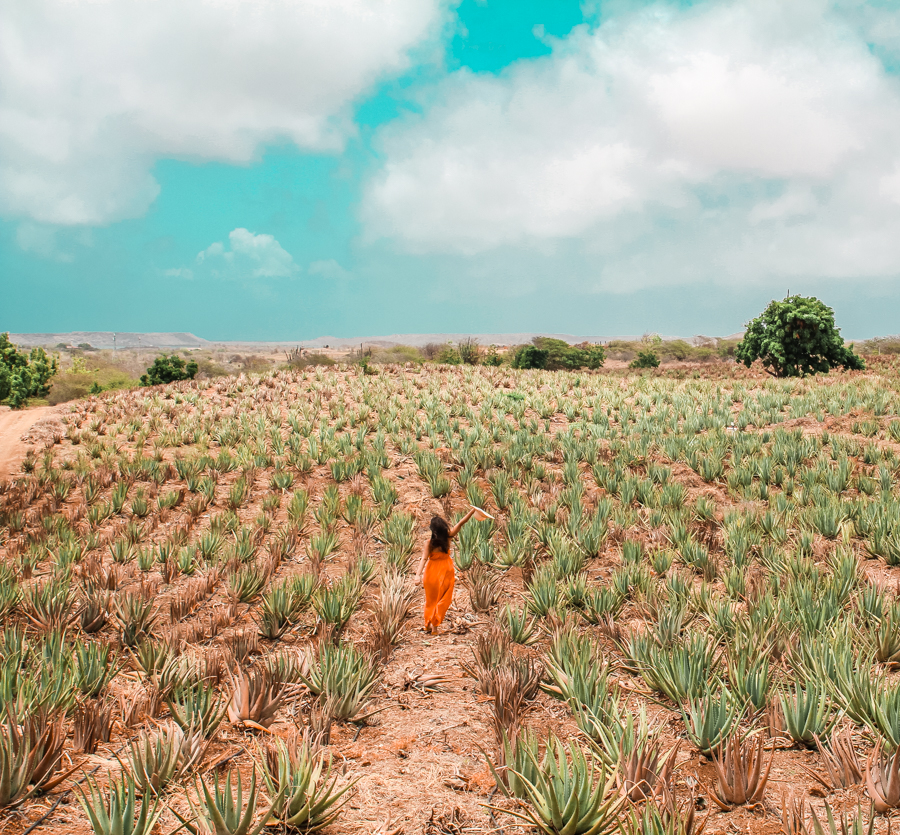 Where to stay in Willemstad, Curacao
I stayed at BOHO Bohemain boutique hotel while in Willemstad, a gorgeous boutique hotel located just across the street from Pietermaai street, known for its colorful buildings and great bars/restaurants, so you'll be in the middle of everything.
The hotel itself is an Instagram spot in and on itself! The rooms are beautifully decorated in a boho style and you'll find plenty of incredibly photogenic corners all over the property. My favorites were the pool on the main courtyard (pictured below) as well as the terrace at the top.
You can book your stay here.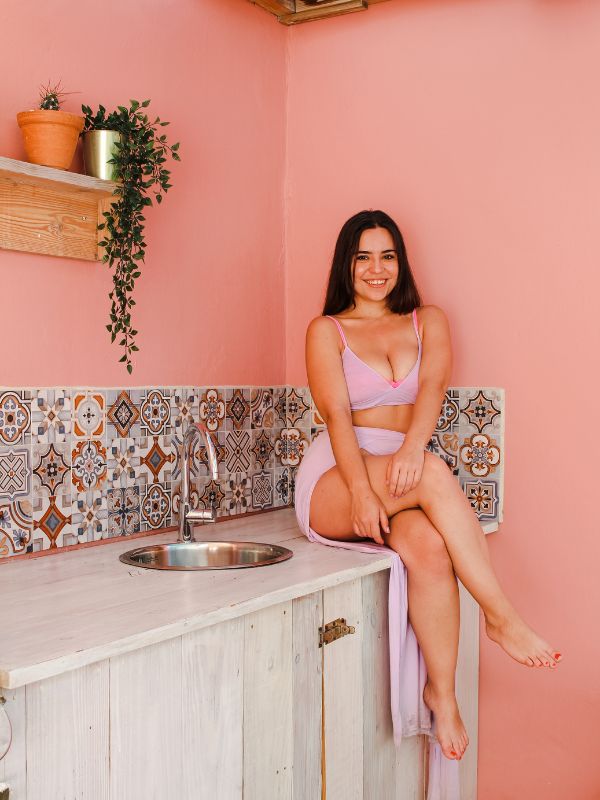 Have you visited Curacao? What are some other cool photo spots you came across?