Best Time to Visit Curacao: A Quick Guide for Travelers
Wondering when is the best time to visit Curacao? Here's the ultimate guide to help you plan your trip at the right time!
Curacao is a vibrant and colorful Caribbean island with crystal clear waters, white sandy beaches, and a rich cultural heritage, offering visitors a unique blend of relaxation, adventure, and exploration.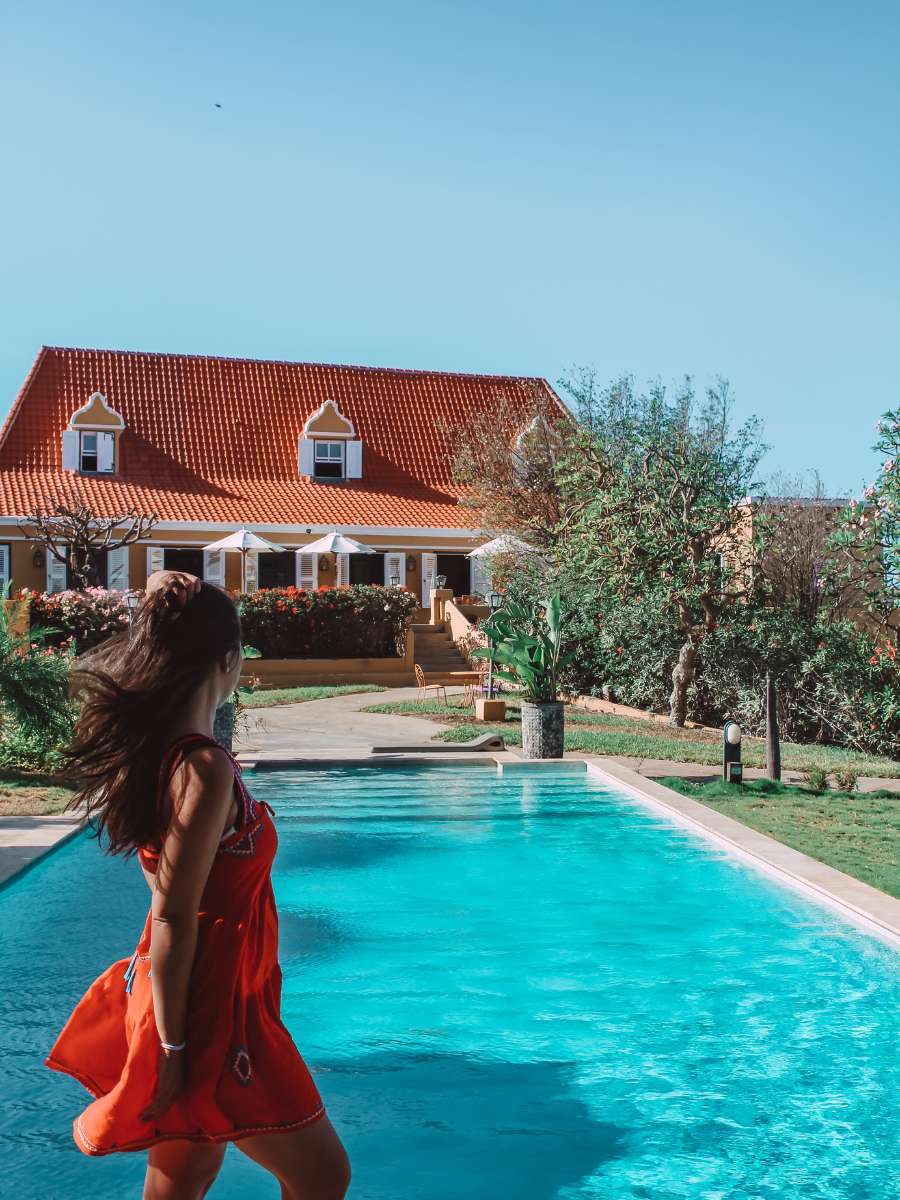 Even though the island is blessed with beautiful weather pretty much year-round, but there are still some things to keep in mind when planning your trip. Here's what you should keep in mind when deciding when to visit Curacao:
Best Time to Visit Curacao for Great Weather
Average Temperatures
In Curacao, you can expect a warm, tropical climate year-round. Average temperatures range from 24°C (75°F) to 32°C (90°F), making it a pleasant destination for your visit.
Below is a table detailing the average temperatures throughout the year:
| Month | Average Low | Average High |
| --- | --- | --- |
| January | 24°C (75°F) | 30°C (86°F) |
| February | 24°C (75°F) | 30°C (86°F) |
| March | 25°C (77°F) | 31°C (88°F) |
| April | 25°C (77°F) | 32°C (90°F) |
| May | 26°C (79°F) | 32°C (90°F) |
| June | 26°C (79°F) | 32°C (90°F) |
| July | 26°C (79°F) | 32°C (90°F) |
| August | 26°C (79°F) | 33°C (91°F) |
| September | 26°C (79°F) | 33°C (91°F) |
| October | 25°C (77°F) | 32°C (90°F) |
| November | 25°C (77°F) | 31°C (88°F) |
| December | 24°C (75°F) | 31°C (88°F) |
As you can see, the weather stays pretty constant year-round! This means that weather-wise, the entire year is the best time to visit Curacao.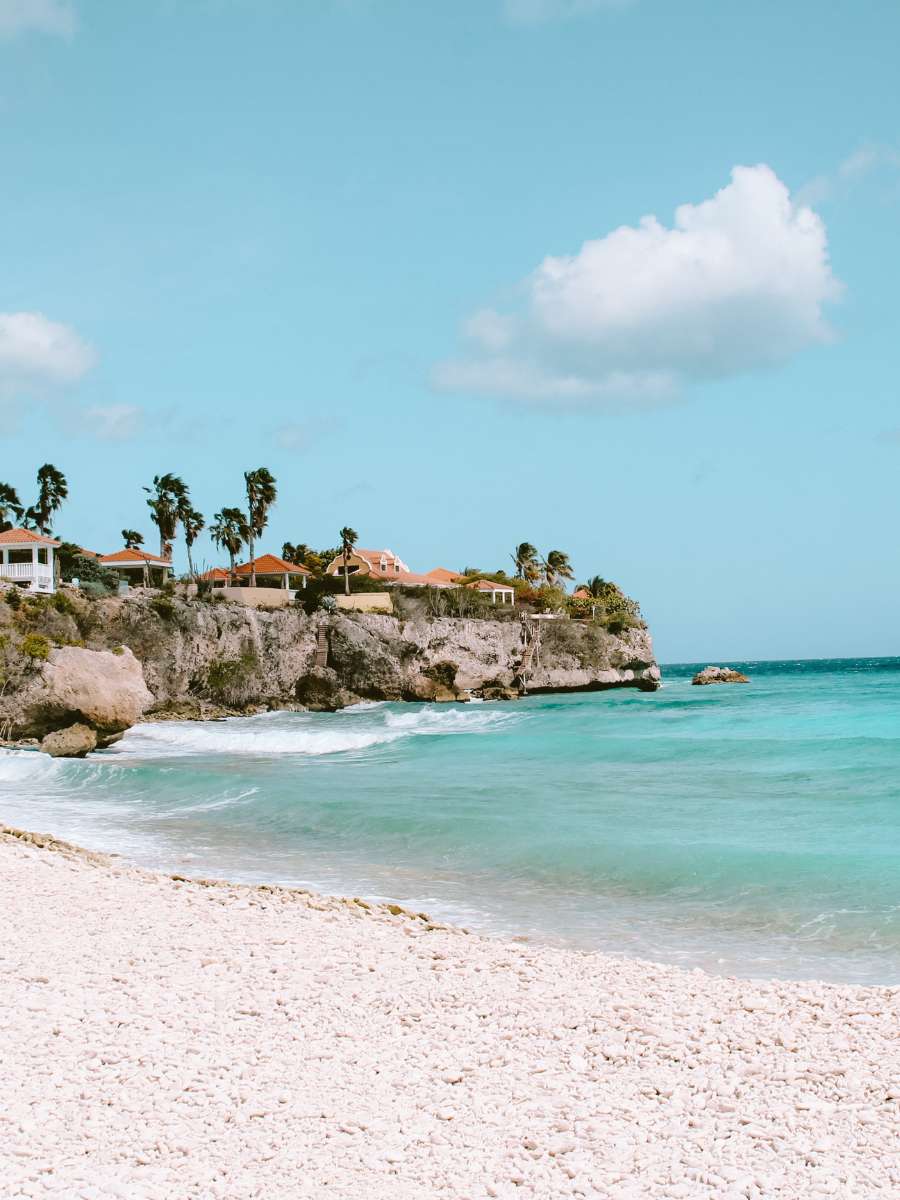 Rainfall and Rainy Season
Curacao's rainy season is typically from October to January, but you can still expect plenty of sunshine throughout these months.
Curacao is located outside of the hurricane belt and hurricanes are extremely rare, so that is not something you have to worry about when planning your trip.
During the rainy season, rain showers are brief and rarely last more than an hour, allowing you to continue your day under the Caribbean sun. Here is a summary of the average rainfall per month:
January: 44 mm (1.73 inches)
February: 25 mm (0.98 inches)
March: 23 mm (0.91 inches)
April: 15 mm (0.59 inches)
May: 19 mm (0.75 inches)
June: 25 mm (0.98 inches)
July: 38 mm (1.50 inches)
August: 40 mm (1.57 inches)
September: 46 mm (1.81 inches)
October: 87 mm (3.43 inches)
November: 92 mm (3.62 inches)
December: 81 mm (3.19 inches)
Hurricanes and Tropical Storms
One of the best things that make Curacao worth visiting is that it is located outside the main hurricane belt, making the island less susceptible to tropical cyclones.
However, it's always a good idea to keep an eye on the local weather forecast during the Atlantic hurricane season, which runs from June 1 to November 30.
While the risk of hurricanes is relatively low in Curacao, you should always be prepared for the possibility of unforeseen weather events during your travels.
Best Time to Visit Curacao for Beaches and Water Activities
Best Time to Visit Curacao for Snorkeling and Diving
The best time to visit Curacao for snorkeling and diving is from April to November.
During these months, visibility is excellent, reaching up to 100 feet (30 meters) or more. Water temperatures are also more comfortable, averaging 80°F (26.7°C). This will make your underwater exploration enjoyable.
Two standout spots you should consider visiting are Playa Kalki and Klein Curaçao. These sites feature beautiful reefs teeming with marine life and there are tons of amazing Curacao snorkeling tours you can book.
Best Time to Visit Curacao for Beach Conditions
Curacao is blessed with lovely weather all year round, but the best beach conditions occur during the summer months.
Between June and September, you'll experience sunny days with very little rain, making it ideal for lounging on beach chairs or participating in water sports.
Keep in mind that while beach conditions are generally favorable in the summer, prices for accommodations and activities might be slightly higher due to demand.
Don't forget to get travel insurance for your trip! As always, I recommend Safety Wing for great prices and coverage abroad. It starts at only $45 USD per month and will have you covered with everything you may need during your trip! Check them out here.
Best Time to Visit Curacao for Events and Festivals
When you plan your trip to Curacao, consider timing it around some of the island's lively events and festivals.
Curaçao Carnival
One of the biggest celebrations is the Curaçao Carnival. Starting in late January and lasting until early March, this vibrant event has parades, colorful costumes, and lively music. It's a must-see display of the island's diverse culture and history.
Keep in mind that, even though this is one of the most exciting times to visit Curacao, hotels book out pretty quickly, so make sure you plan your trip well in advance if you want to visit during the carnival season!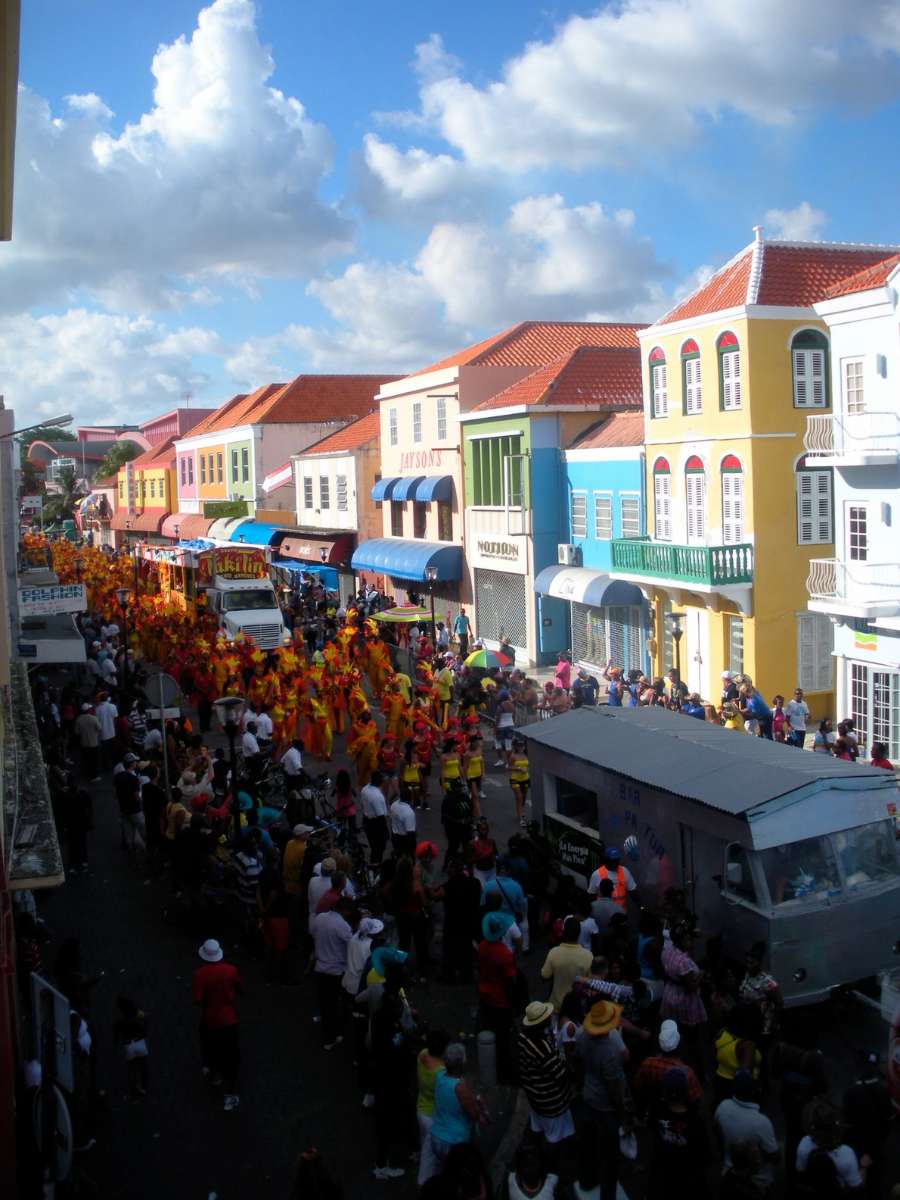 North Sea Jazz Festival
In September, the North Sea Jazz Festival comes to town. With internationally acclaimed artists performing across various genres, including jazz, soul, and pop, you're bound to find a show that suits your taste. This three-day event is held at the World Trade Center near Piscadera Bay.
Plein Air Curaçao
Another great event is Plein Air Curaçao, a week-long art festival that takes place in March.
During this event, local and international artists gather to paint en plein air, capturing the beauty of Curacao's landscapes and UNESCO World Heritage Site, Willemstad. You can admire and even purchase the stunning artwork created throughout the week.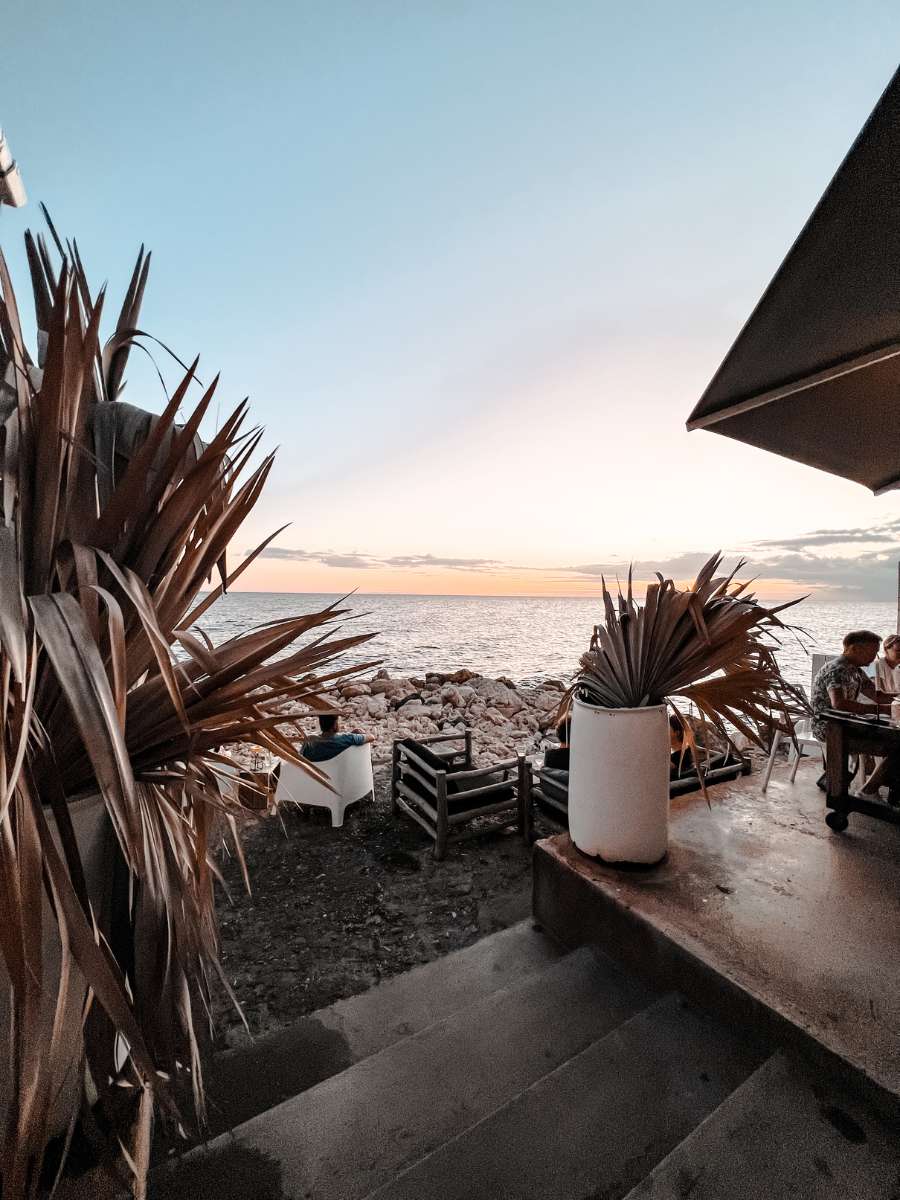 Best Time to Visit Curacao for Budget Travelers
If you are a budget traveler and looking for an affordable trip to Curacao, then you need to plan your visit during the off-season. The off-season in Curacao is from May to November, which is also the rainy season. However, this should not discourage you from visiting, as the rain is sporadic and the island is still beautiful during this time.
Accommodation Prices
During the off-season, you can find great deals on accommodation, with prices dropping up to 50% compared to peak season.
You can find budget-friendly options such as hostels, guesthouses, and apartments, which are perfect for budget travelers.
If you are traveling with a group, you can also rent a villa, which can be more cost-effective than staying in a hotel.
Flight Prices
Flights to Curacao during the off-season are also significantly cheaper than during the peak season. You can save up to 30% on flights if you book during the off-season.
Keep in mind that flight prices may vary depending on your departure location, so it's best to do some research and compare prices before booking.
YOU MAY ALSO LIKE: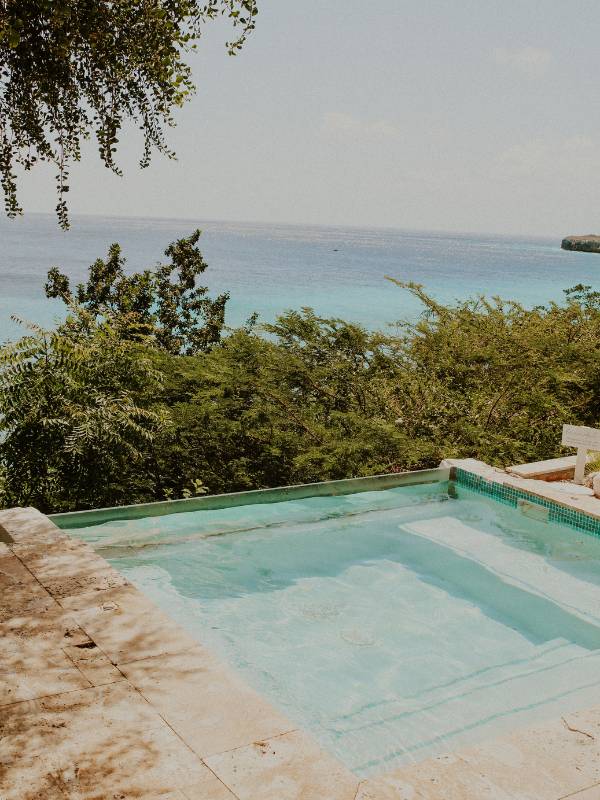 Curacao's High, Low, and Off-Peak Seasons
Visiting Curacao during the high season, which runs from December to April, means you'll experience the best weather.
Peak Months in Curacao
The average temperature is around 27-29°C (80-84°F). Peak months are December through February when tourists flock to the island to escape colder weather elsewhere.
While it's a beautiful time to visit, be prepared for crowding and higher accommodation prices.
Low Season in Curacao
In contrast, the low season falls between May and November. During these months, you can enjoy fewer tourists, lower prices, and still experience warm, sunny days.
However, keep in mind that September and October are likely to have increased rainfall due to the hurricane season.
Even though the risk of hurricanes affecting Curacao is low, these months may have unpredictable weather. Still, rain is not much of an issue in Curacao, so it shouldn't deter you from planning a trip.
Off-Peak Season in Curacao
The off-peak season in Curacao occurs during parts of March, May, and November.
During this time, you'll find prices slightly lower than at the height of the high season but a bit more expensive than the low season.
The weather during off-peak months is generally consistent with pleasant temperatures and mostly sunny days.
To summarize, here's a quick overview of the seasons in Curacao:
High Season (December – April)

Ideal weather
Crowded and high prices

Low Season (May – November)

Warm, sunny days with potentially more rainfall
Less crowded and lower prices

Off-Peak Season (parts of March, May, and November)

Slightly lower prices than high season
Consistent, pleasant weather
Where to Stay in Curacao
Curacao has a wonderful array of hotels, ranging from luxurious resorts to beautiful boutique hotels located inside colonial houses.
Here are a few suggestions on where to stay in Curacao now that you've decided when is the best time for you to visit!
Avila Beach Hotel
With a rich history dating back to 1949, Avila Beach Hotel combines old-world charm with modern luxury.
The rooms offer oceanfront views, providing a perfect setting for a honeymoon or romantic retreat.
Avila Beach Hotel is set on both Blue Bay and a secluded private beach, this hotel is one of the best places to stay in Curacao for couples or those looking for an extremely relaxed atmosphere.
It's also pretty close to Mambo Beach and Willemstad, so you'll have access to other spots and amenities if you feel like you need a change for a bit.
⭐️ AVILA BEACH HOTEL REVIEWS: 8.5/10
"Everything was excellent! Friendly and informative staff, relaxing beach with plenty of lounge spots always available, good food and great cocktails! Lovely atmosphere with beautiful murals for pictures." (Read more reviews here).
👉 CHECK RATES AND AVAILABILITY
Renaissance Wind Creek Curacao Resort
The Renaissance Wind Creek Curacao Resort is located in the heart of Willemstad and is rated as one of the best all-inclusive resorts in Curacao.
During your time here, you can crystal-clear waters for swimming and snorkeling, relish delicious cuisine, and comfortable rooms.
Moreover, thanks to its convenient location in the heart of Willemstad, you'll have easy access to shopping, dining, and entertainment options.
⭐️ RENAISSANCE WIND CREEK CURACAO REVIEWS: 8.7/10
" · Without a doubt the best hotel in Curacao! Just wow! The breakfast is just stunning, the infinity beach is fatastic, rooms are big and comfortable. And especially the stuff is friendly and very, very helpful. The protected resort area is included in historic buildings of the city and in best location." (Read more reviews here).
👉 CHECK RATES AND AVAILABILITY
Papagayo Beach Resort
Situated near Jan Thiel, Papagayo Beach Club is an upscale resort that provides luxury villas and suites with private pools or jacuzzis.
It offers access to a beautiful beach, infinity pools, a spa, restaurants, and a lively beach club.
⭐️ PAPAGAYO BEACH RESORT REVIEWS: 8.6/10
"This is my favorite resort and my go to place to stay when visiting my family. The staff go above & beyond to make sure that your stay is as perfect as possible. My favorite part? The birds & lizards! Put a big bowl of water out and just watch what happens." (See more reviews here).
👉 CHECK RATES AND AVAILABILITY
YOU MAY ALSO LIKE:
Best Time to Visit Curacao: FAQs
What is the rainy season in Curaçao?
Curaçao is blessed with a tropical climate, which means that it is generally warm and sunny throughout the year.
However, there is a rainy season, which lasts from October to December. During this time, you can expect some rain showers, but they are usually short-lived and followed by sunshine, so it won't really ruin your trip.
What is the best month to visit Curaçao for weather?
The best time to visit Curaçao for weather is between April and September. During this time, the weather is warm and sunny, with little chance of rain.
The average temperature during these months is around 30°C, making it perfect for outdoor activities such as snorkeling, diving, and exploring the island.
What is the cheapest time to visit to Curaçao?
The cheapest month to go to Curaçao is September. During this time, the island is less crowded, and the prices for flights and accommodation are lower.
However, it is important to note that September is also the peak of the hurricane season, so there is a slight risk of tropical storms.
Travel Insurance for Curacao
Having travel insurance when visiting Curacao is key so you can enjoy your trip worry-free.
I use HeyMondo on all my travels. It's very affordable and covers pretty much everything you may need during your trip, including medical expenses, trip cancellations, trip interruptions, and more. You can also get 5% off if you book via this link!
Best Time to Visit Curacao: Conclusion
Curaçao is a beautiful island with a tropical climate that makes it an ideal destination for a vacation.
Whether you prefer a warm and sunny climate or don't mind a little rain if that means getting to save money, there is a time of year that is perfect for you.
If you still have questions about the best time to visit Curacao, please drop them in the comment section below and I'll try my best to answer them!