13 Miami Instagram Spots: Top Places to Take Pictures in Miami According to Travel Bloggers
If you're looking for the best Miami Instagram Spots, you're in the right place!
Miami is a city I got to call home for over a year when I was younger. Even though I've gotten to live in plenty of other places since then, I still think it's one of the most beautiful cities in the United States.
Everywhere you turn, you'll either stumble across a beautiful beach, a kickass rooftop, a pretty café, or a vibrant Art Deco building.
If you're wondering where to find the best Instagram spots in Miami, I put together a guide to some of the prettiest locations in the city to take pictures. These are them:
☀️ Miami Instagram Spots
1. South Beach Lifeguard Towers
When you think of Miami, you likely start to picture bright colors and art deco designs. One of the best places to capture that in a photo is in South Beach, specifically at the brightly colored lifeguard towers along the beach.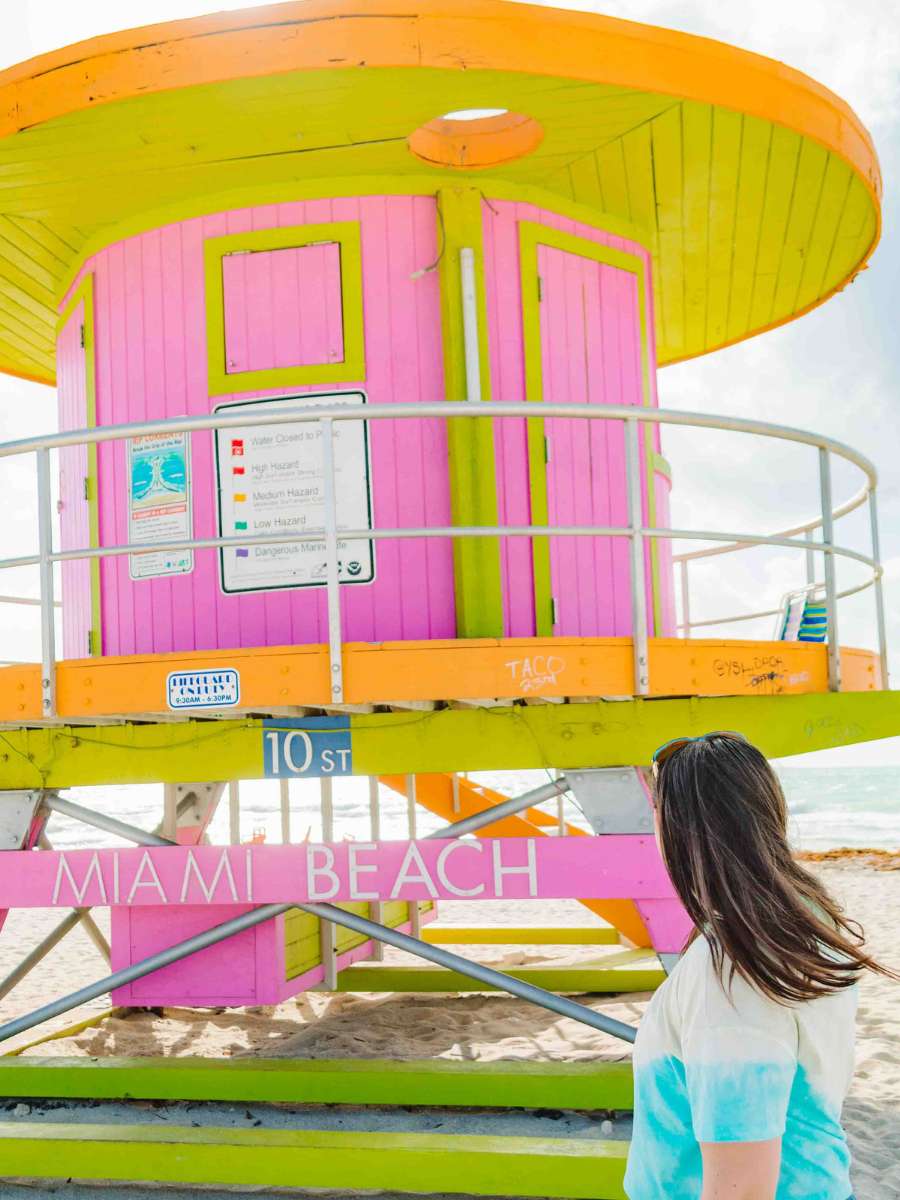 South Beach is actually a barrier island just east of Miami so to get there, you can either drive or take public transport.
There's a great bus system that travels to Miami Beach from the MIA airport and the greater Miami area. Plus, it's easy to get around South Beach with public transportation, especially using their free trolley system.
To find the lifeguard towers, you quite simply walk to the beach and you'll run right into them.
There are a ton of them scattered on the beach and they're all a little different with varying bright colors and shapes, each as picturesque as the next.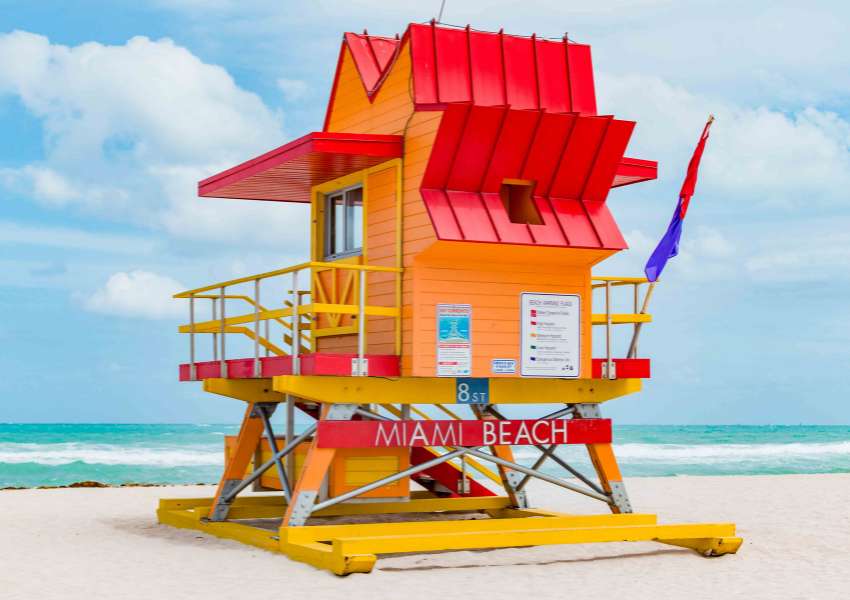 The easiest way to capture photos without a ton of people in them is to arrive early in the morning to take your photos.
Alternatively, if you walk along the beach to areas that are less populated with beach-goers, you can capture photos without others in them.
This is easier than you might think because people tend to cluster in groups around beach amenities like chair rentals and snack shacks.
One of the best parts of this Instagram spot is that it's free, so if you're looking to save money in South Beach, this is a fun, free activity!
Recommended by Alanna from Periodic Adventures
2. The Goodtime Hotel
Lover of pastels and cute decor? If so, head to one of the most adorable Miami Instagram spots, The Goodtime Hotel. Located off of Washington in South Beach you can snap some one-of-a-kind photos.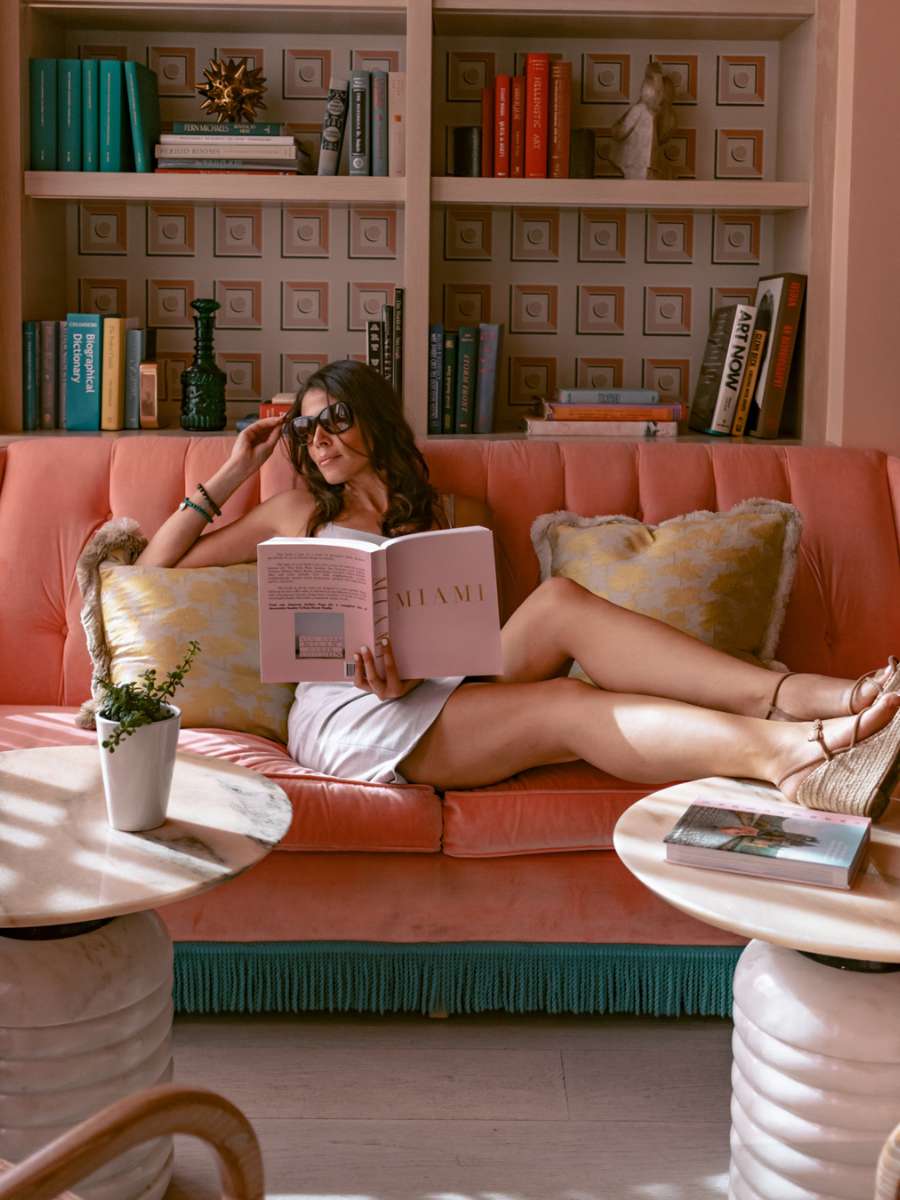 Doors opened in April 2021 by singer Pharrell Williams and his business partner David Grutman. Since its opening, it has been a favorite for both locals and tourists.
You may want to consider booking your room at The Goodtime Hotel during your visit to Miami Beach. Suites are retro-themed and consist of a palette of pink and mint green. Also, the bright and airy decor has perfect lighting for all your photos.
Be sure to have brunch at their restaurant Strawberry Moon. This Mediterranean bohemian-themed restaurant is decked out in palm greens, all shades of pink, and turquoise seating to match Miami Beach.
The pool at Strawberry Moon is another Instagrammable spot on the property to snap photos. Pool parties are free for hotel guests.
Do take note that professional cameras are not allowed for photos. Don't think you can sneak into the pool with your camera. Security does check purses and bags prior to entering the pool area.
The library is another spot not to be missed at the hotel. This cozy nook is pink with very chic decor. Be sure to arrive early because it does get crowded with other photo takers. Cameras are allowed and you don't have to be a guest to visit.
Recommended by Chrissy of Jetlaggedroamer
3. Art Deco in Miami Beach
The Art Deco in Miami Beach is the perfect canvas and one of the most instagrammable places in miami, as these historic buildings are unique with their geometric designs and cute colors.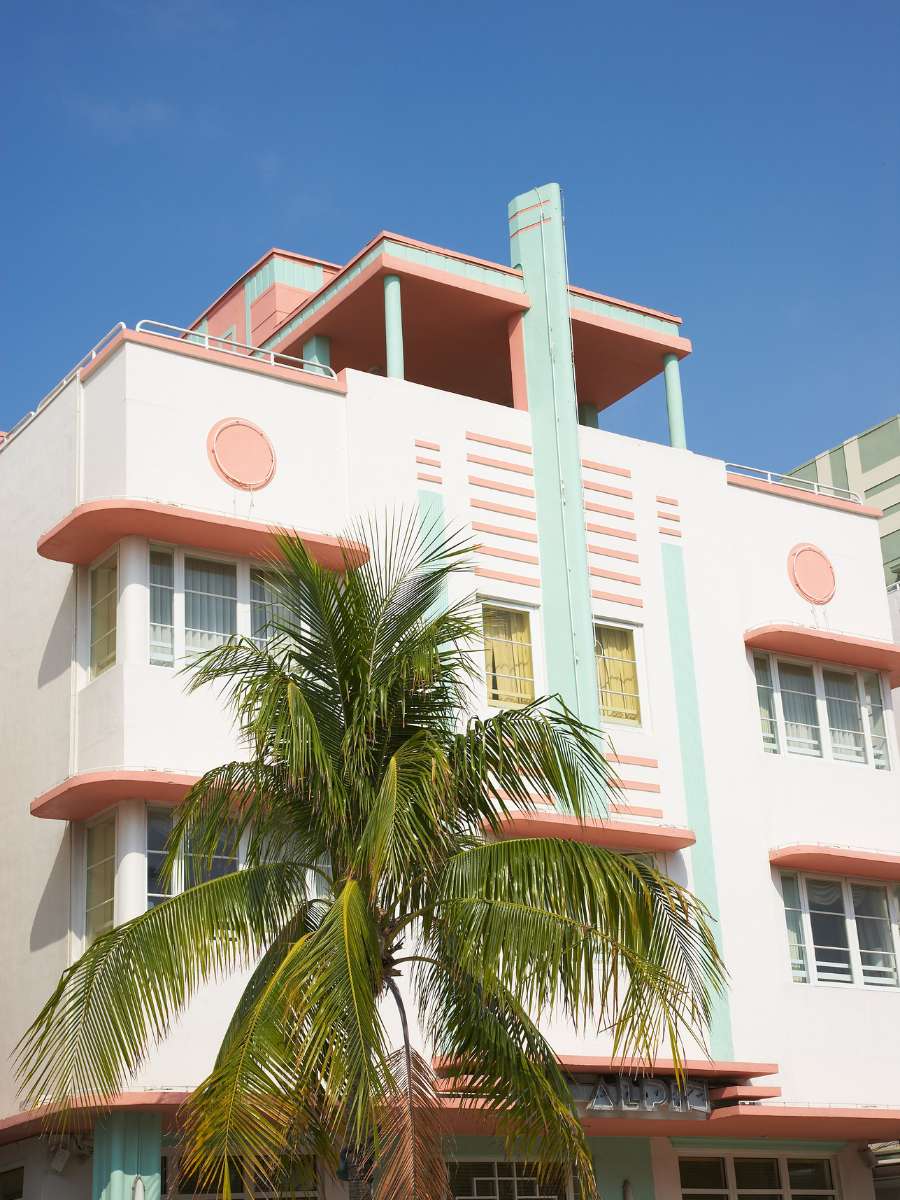 Each has its own style and story to share. The main streets to plan your trip around are the infamous Ocean Drive and Collins Avenue, just around the corner. And you'll want to get some day and night shots because the buildings light up in neon colors come nightfall.
Miami Beach started seeing an influx of Art Deco architecture, known locally as Tropical Decor, in the 1920s, and the design stuck around until the 1940s.
Today, it is part of Miami Beach's South Beach history and is overseen by the Miami Design Preservation. It was placed on the Register for Historic Places in 1979.
Buildings to look out for are The Avalon, with its glowing green sign and a vintage mustard car parked out front, the Essex House Hotel, which resembles a ship, and The Carlyle for its 'eyebrow' sunshade.
Most of the Art Deco buildings in South Beach are hotels, which means you can book a stay for interior shots too!
Remember to check the hotel management policy on photoshoots and be aware that Ocean Drive and Collins Avenue are popular tourist spots, so be respectful of the people on vacation around you.
Recommended by Amanda of Hey! East Coast USA
4. Stiltsville
Easily one of the best Miami Instagram spots, Stiltsville is located on the southern end of Biscayne Bay and is definitely one of the most unique things to do in Miami.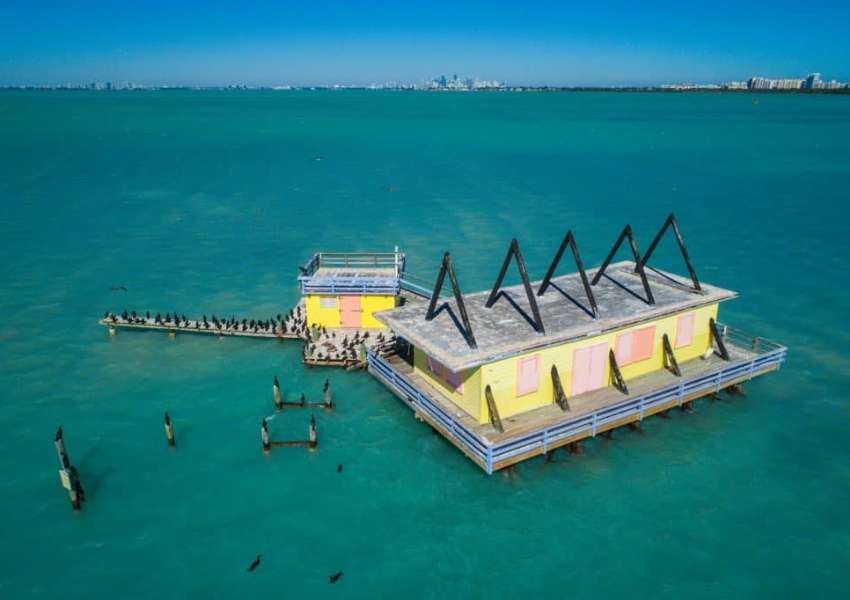 It also derives its name from the fact that this complex is made of a series of wooden, stilt homes that sit atop concrete pilings.
However, what really makes this an exceptional photo spot is that all of these structures feature beautiful, pastel-hues and sit atop stunning, greenish-blue water.
Therefore, any photos you take will truly "pop" since this area is brimming over with color.
Now, in total, you can expect to find seven houses here, although some can and have been destroyed by passing hurricanes.
So, if you would like to visit yourself then be sure to head to Biscayne National Park and sign up for a boat tour to this amazing place.
And while it will take around an hour to get to Stiltsville, it's worth it since you'll get to see local wildlife and take stunning photos of the Miami skyline.
Also, while you can charter your own boat, do be aware of the fact that the waters around Stiltsville are notoriously difficult to navigate. Therefore, only experienced boaters should attempt to travel to this area by themselves.
Recommended by Victoria of Florida Trippers
5. South Pointe Park
As you stand at the southernmost tip of Miami Beach, you find yourself immersed in the breathtaking beauty of South Pointe Park.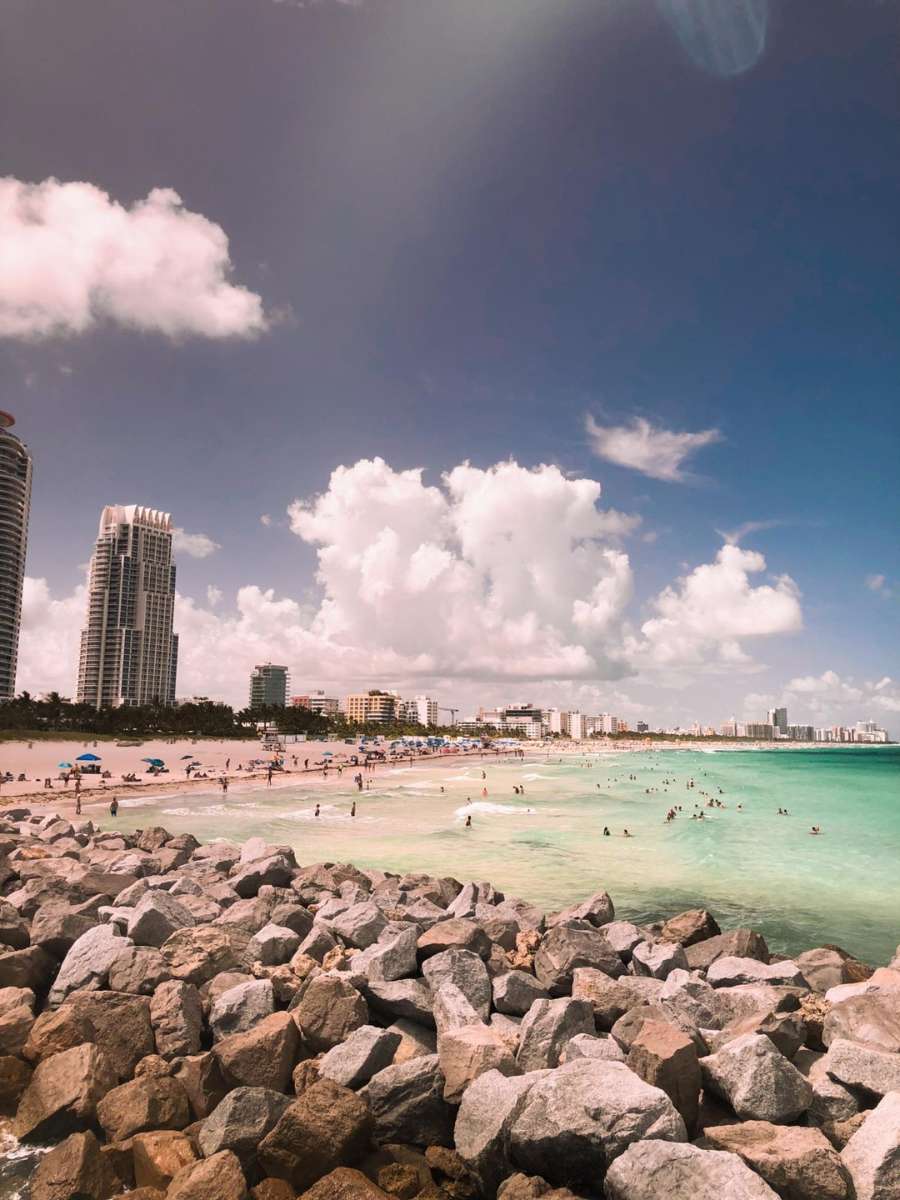 This idyllic oasis perfectly blends nature's splendor and urban charm, creating a picturesque setting that beckons you to explore and capture stunning photographs.
South Pointe Park serves as a gateway to the Atlantic Ocean, with its expansive green spaces, swaying palm trees, and vibrant flowerbeds creating a delightful setting for relaxation and recreation.
The park's well-manicured lawns provide the perfect spot for picnics, sunbathing, or simply basking in the gentle ocean breeze. The park also features a spacious dog park, where furry friends can frolic and socialize, adding to the lively atmosphere.
One of the main draws of South Pointe Park is its panoramic views of the ocean, Biscayne Bay, and the Miami skyline, making it one of the best Miami Instagram spots if a quintessential photo is whar you're after.
As the sun begins its descent, casting a golden glow across the water, the park transforms into a haven for photographers seeking to capture the beauty of nature and the vibrant cityscape.
Every angle offers a mesmerizing photo opportunity, from the iconic South Beach lifeguard stands to the majestic cruise ships sailing by.
Personally, I have found South Pointe Park to be an ideal spot for capturing stunning sunset shots.
The vivid hues of the sky merging with the shimmering water create a breathtaking backdrop, while the silhouettes of palm trees and the park's striking pier add depth and character to the composition.
The park's well-positioned benches and walkways provide excellent vantage points for framing the perfect shot.
Beyond its visual allure, South Pointe Park offers a range of amenities and recreational activities. Visitors can rent bicycles to explore the park's paved pathways, enjoy a leisurely stroll along the promenade, or indulge in a delectable meal at one of the nearby waterfront restaurants.
The park also provides easy access to the picturesque South Pointe Beach, inviting visitors to dip their toes in the crystal-clear waters of the Atlantic Ocean.
Recommended by Victoria of Guide Your Travel
6. Miami Design District
The Miami Design District is a neighborhood in Miami, Florida, known for its high-end fashion, art galleries, and design showrooms.
The entire neighborhood has some of the most instagrammable places in Miami, including colorful street art, outstanding sculptures, and incredibly stunning art installations.
Tip: One of the best ways to visit the Miami Design District is alongside a local who knows where the cool stuff is! While the main galleries and locations can be found in guidebooks, someone who lives here will not where to find cool hidden spots, cute cafés, and more.
For that reason, I recommend booking this Hidden World of Miami Design District Tour, where you'll get to see the parts of the neighborhoods most visitors don't get to see. They also know where to take the best photos! Check it out here.
7. Ancient Spanish Monastery
One of the best photo spots in Miami is the Ancient Spanish Monastery. This beautiful structure is in stark contrast to other more modern areas of Miami. It's also considered the biggest jigsaw puzzle in history!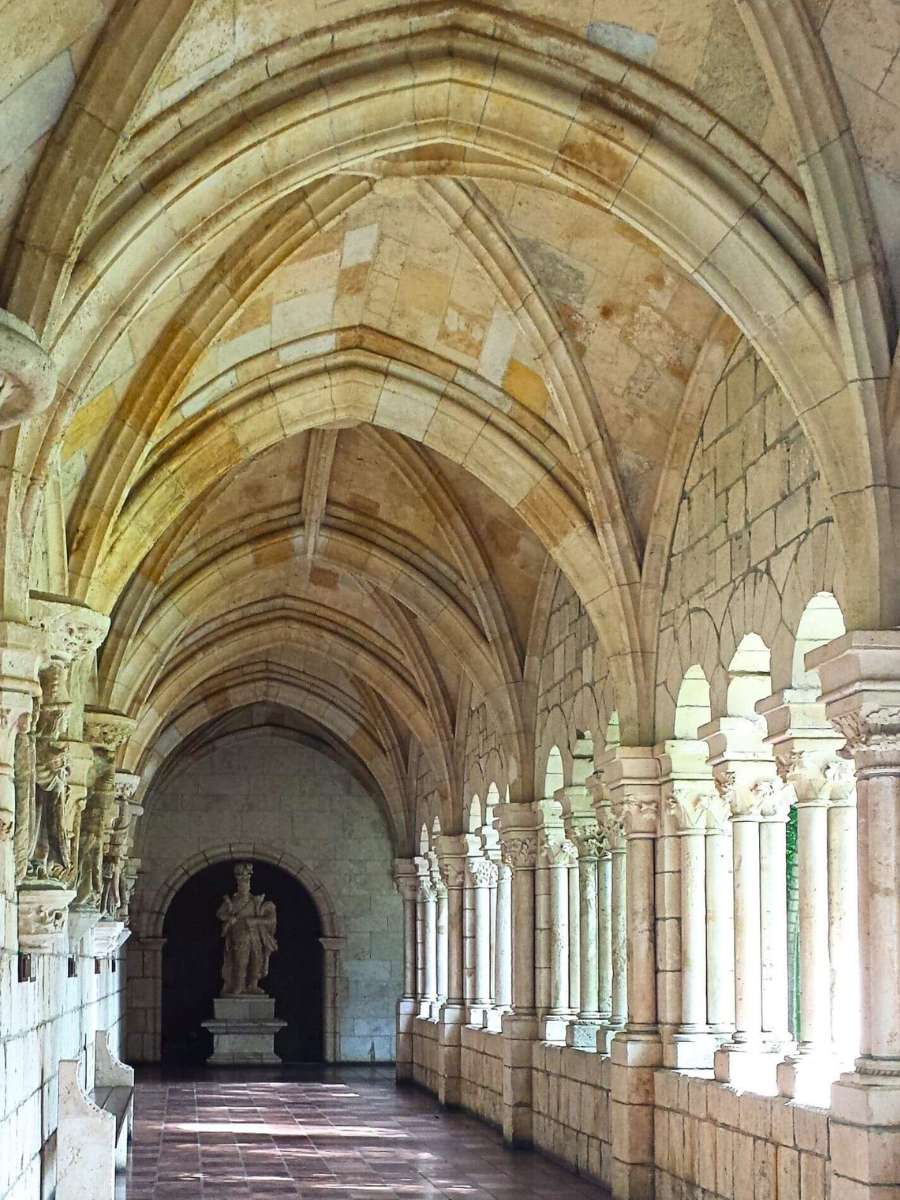 Originally, the structure was built in northern Spain in the 1100s. Monks lived in the monastery until a revolution occurred in the 1830s and the cloisters were seized and converted into a granary and stable.
Then, in 1925 it was purchased by William Randolph Hearst who had the buildings taken apart stone by stone, packed in about 11,000 numbered wooden crates, and shipped to the US. Unfortunately, Hearst ran out of money, and the crates ended up being sold at an auction and remained in a warehouse in New York for 26 years.
Eventually, in 1952, one year after Hearst's death, two entrepreneurs purchased the stones to create a tourist attraction.
After 19 months and about $1.5 million dollars (today that would be more than $20 million dollars!), the monastery was put back together. In 1953 the monastery was called "the biggest jigsaw puzzle in history" by Time magazine.
In 1964, the cloisters were purchased by Colonel Robert Pentland, Jr, a philanthropist who presented them to the Bishop of Florida.
Today, it is an active church with services on Sundays and throughout the week. Because of how beautiful the grounds are, there are often weddings, concerts, and other events.
Many photo shoots and movies are shot here as well. Some great places to take photos are in the cloisters, on the patio, and outside on the manicured lawn.
Because of the many events that take place, I recommend calling ahead to make sure they are open on the day you want to visit. Admission is $10 for adults.
Recommended by Vicky of Buddy The Traveling Monkey
8. Wynwood Walls
Wynwood Walls is a must-stop spot for anyone looking to check out iconic Miami Instagram spots.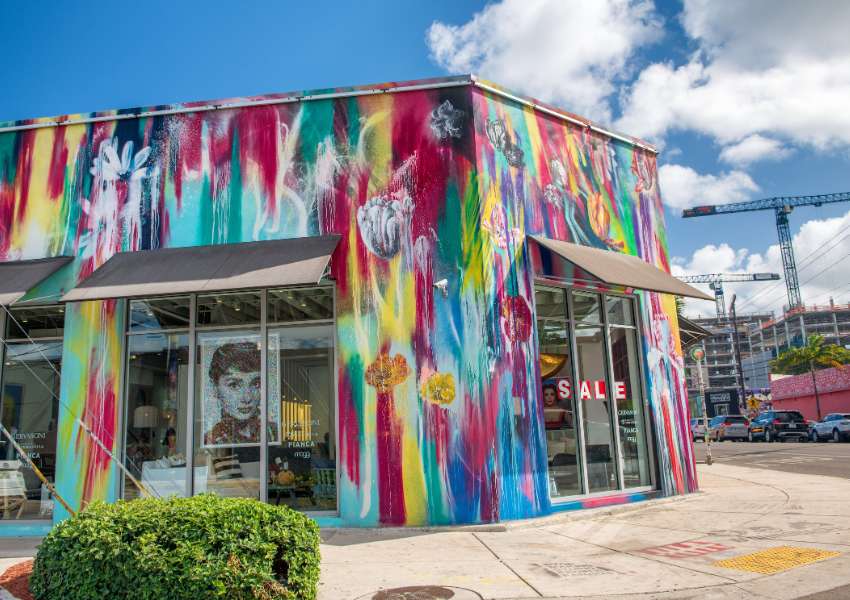 This vibrant and unique area is an outdoor street art museum designed to capture and protect modern street art.
Located in Miami's Art District, Wynwood Walls was part of an urban revitalization project and has contributed to the ability of the once run-down neighborhood to thrive once again. The area is now one of Miami's most vibrant and lively neighborhoods, featuring art galleries, boutiques, bars, and restaurants.
A walk through the Wynwood Walls Museum will present many opportunities for photo taking. The museum is full of colorful, unique, and intriguing wall murals designed by professional artists on the exterior of warehouses that are protected year-round.
Some of the featured artists include Buff Monster and his colorful, cartoon ice cream mural, Dan Kitchener with his urban landscape mural, and Ernesto Maranje, whose murals focus on preserving the environment.
When visiting Wynwood Walls, you will be free to wander the museum at your own pace, capture photographs of the murals, and take an Instagram selfie if you desire.
There is a fee to enter the museum, but being able to view the unique artwork will prove worth it. You will also want to make sure you set aside some time to explore other areas of the Wynwood neighborhood, which features over 200 murals waiting to be admired and photographed.
Recommended by Melissa of Navigation Junkie
9. Vizcaya Museum & Gardens
Even if you are only in Miami for a couple of days, there is one place you must visit: the Vizcaya Museum & Gardens.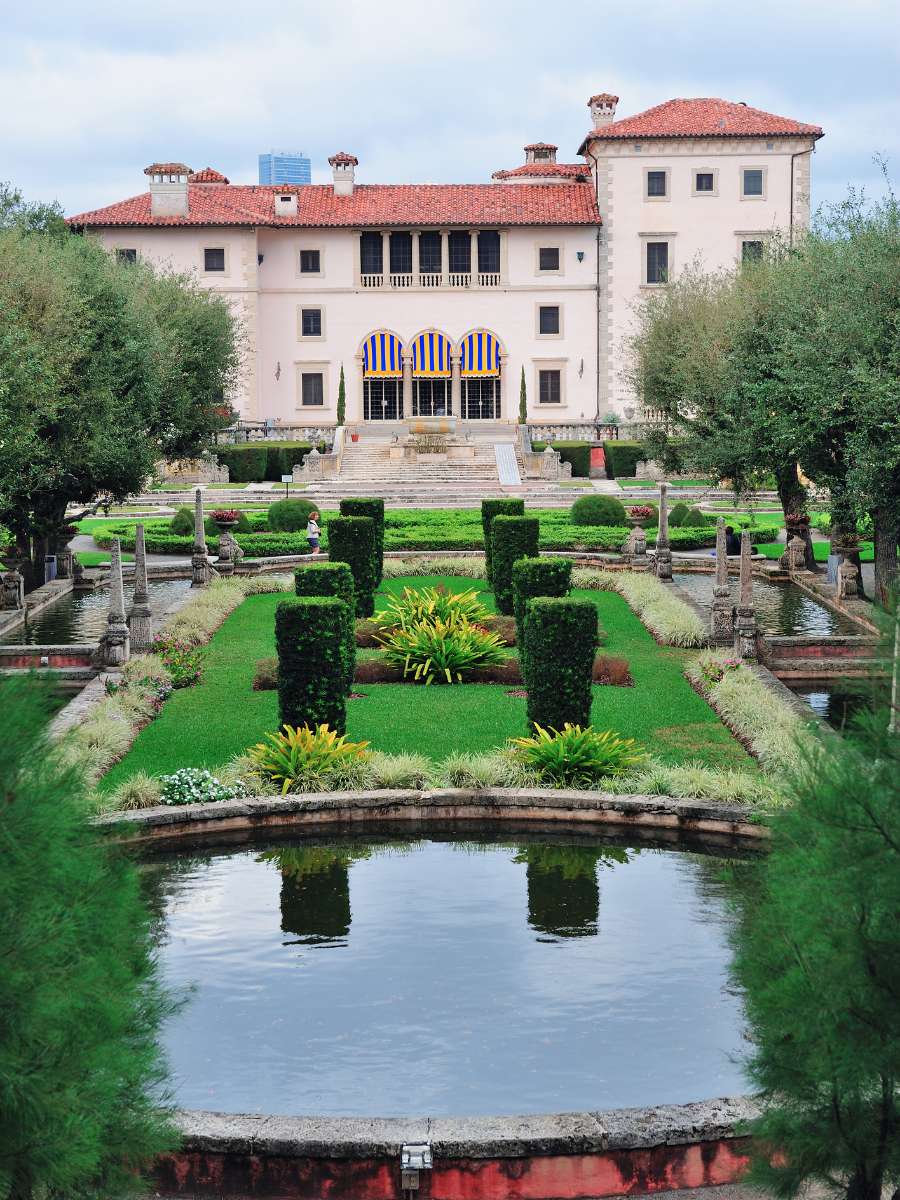 Located in the Coconut Grove neighborhood, Vizcaya is the former estate of James Deering, who built it as his winter home.
Today, Vizcaya is a museum that receives thousands of visitors worldwide who wish to see the charming beauty of the estate. If you're looking for one of the best Miami Instagram spots, mark this place at the top of your itinerary!
Vizcaya is a destination where you will find picturesque photo spots on every corner. The main home's exterior is an excellent picture spot, as the Mediterranean architecture will be the perfect background.
The home is also situated right in front of Biscayne Bay, with a scenic dock providing a great view of the surrounding landscape.
In addition, one of the crown jewels of the property is its gardens. With vibrant flower beds, lush miniature mazes, and fountains, you will have no shortage of Instagram photo opportunities. Every turn presents a chance to capture breathtaking shots against a beautiful backdrop.
One of the best photo spots is with a view of the central garden pool, providing you with the surrounding stunning greenery as well.
The gardens will make you feel like you've stepped into a fairytale. It's no surprise why this landmark has also become a popular wedding and event venue!
Recommended by Tamara Williams of My Elated Odyssey
🏨 Miami Instagram Spots: Hotel Edition
You'll find that some of the coolest Instagram spots in Miami are found inside hotels!
Plenty of hotels in Miami made sure to design their rooms and spaces in order to stay on top of the city's general aesthetic.
You can either choose to stay there for your trip to Miami or simply pop by at their restaurants or book a day pass to take amazing photos!
9. 1 Hotel South Beach
At 1 Hotel South Beach, you'll find countless spots ideal for that perfect Instagram shot.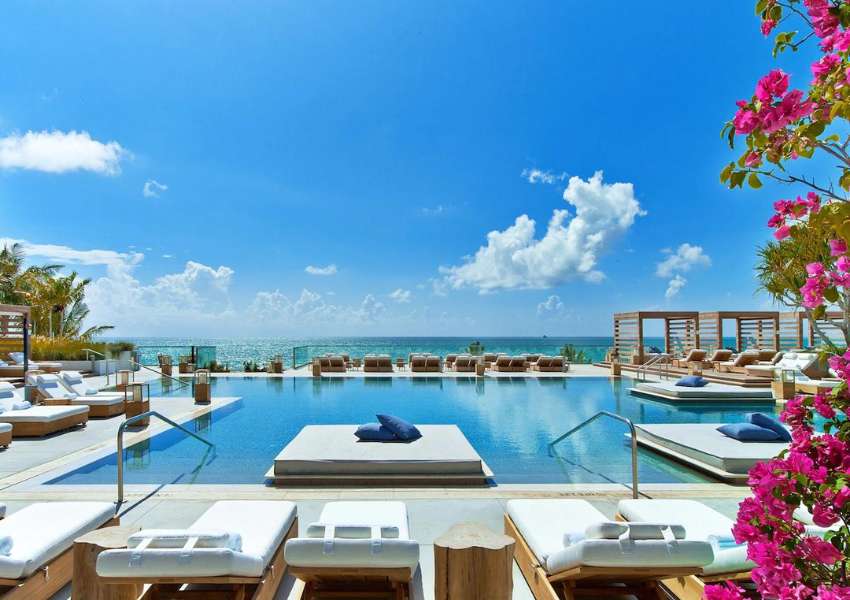 The luxurious rooftop pool offers panoramic views of the city, and the eco-friendly design throughout the hotel provides unique photo opportunities.
From captivating plant-filled walls to its serene spa, this hotel has plenty of incredible photo spots for a quintessential Miami Instagram photo!
10. Faena Hotel Miami Beach
The Faena Hotel Miami Beach sets itself apart with its extravagant interior design.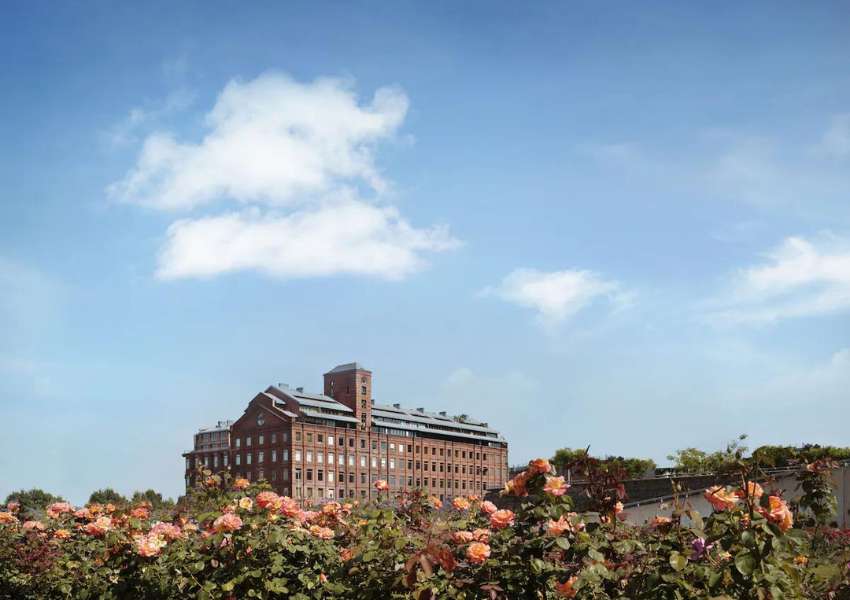 Rich red tones, gold accents, and modern art installations fill the hotel, offering endless inspiration for your Instagram posts.
Make sure to check out the opulent Faena Theater, where you can capture images of vibrant cabaret performances.
11. The Miami Beach EDITION
Expect elegance and sophistication at The Miami Beach EDITION and lots of incredibly instagrammable spots!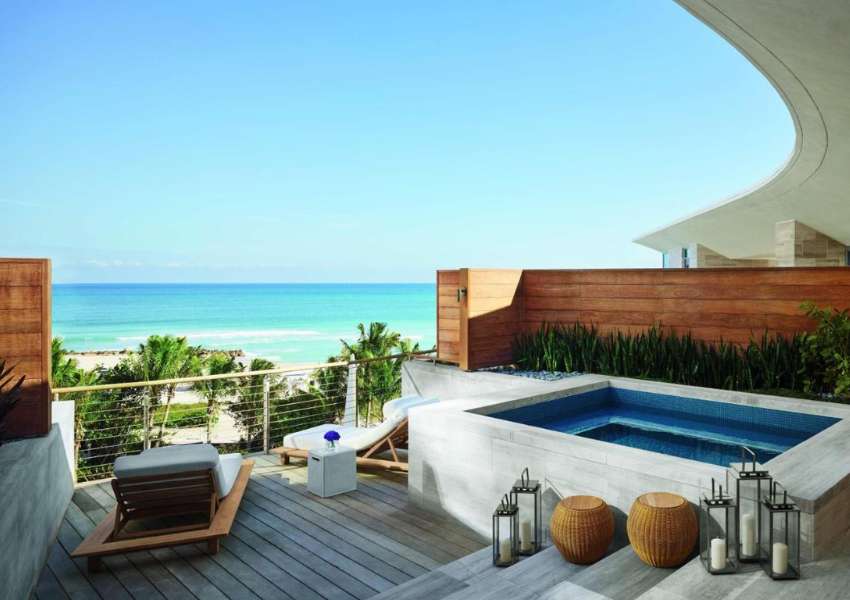 Here, you'll find plenty of chic places to take pictures for the perfect Instagram photo, including the swanky Matador Room and the tropical Tropicale space.
The private white sandy beaches with luxurious beach loungers also serve as an excellent backdrop for your Miami Instagram photos.
12. W South Beach
With its lively atmosphere and stunning design, the W South Beach is a great choice for Instagrammable moments.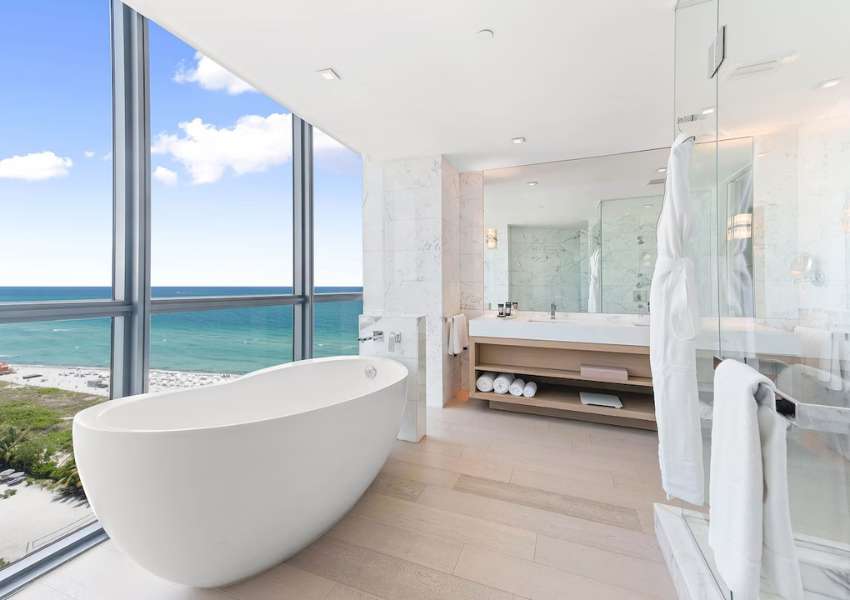 From the eye-catching pool area with vibrant lounges to the luxurious guest rooms, you'll find plenty of visually appealing spaces.
Don't forget to visit the popular WALL Lounge for a night out with even more fantastic photo opportunities.
13. Fontainebleau Miami Beach
The iconic Fontainebleau Miami Beach offers numerous picturesque locations for your Instagram feed.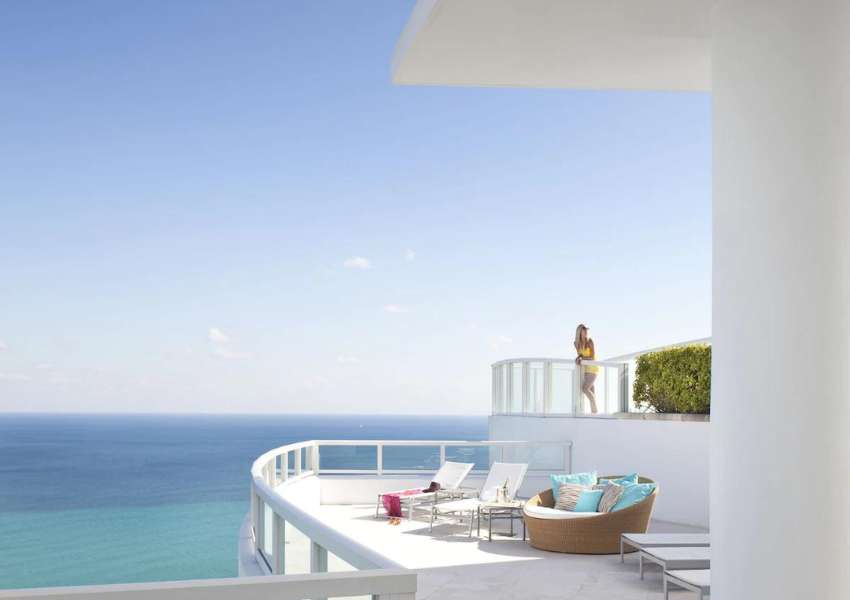 Snap a photo on the famous marble Bowtie Staircase or capture the beautiful blue ocean views from one of the many resort pools.
With its blend of historic glamour and modern sophistication, this hotel is definitely one of the best Miami Instagram spots out there.
YOU MAY ALSO LIKE:
📷 Hire a Photographer in Miami
If you want to get the best Miami Instagram shots, hiring a photographer may be a good idea if you're traveling solo or without a professional camera.
Here are some photographers you can hire to take amazing Instagram photos of your trip:
1. 120-Minute Private Vacation Photography Session
$699.00 for two hours and 60 final photos (up to 5 people)
Get a private 2-hour photo session wherever you want in Miami with this photoshoot! You can use this guide to find the best Miami Instagram spots and tell the photographer where to meet you. You will then receive 60 final photos five days after the shoot so you can get posting!
Up to five people can join in on this tour for the price listed above.
2. ANGLE – Experience Miami With a Local Photographer
$299.00 for one hour and 30 final photos (up to 4 people)
Choose between beaches, parks, Art Deco streets, and head out on a one-hour photo shoot with a professional photographer. You will then receive 30 final photos.
Up to four people can join in on this tour for the price listed above.
3. Private Miami Beach Photo Session
$162.00 for one hour and 20 final photos (up to 2 people)
Head out on a private shoot around Miami Beach for one hour and take amazing Instagram shots for your trip. You will receive 20 photos 14 days after your photoshoot. If you want more photos, you can book more time – just message the photographer to arrange this.
Conclusion: Instagrammable Places in Miami
From restaurants to hotels and Art Deco buildings, there are plenty of incredibly instagrammable places in Miami.
Whether you're lounging on a rooftop or exploring South Beach, you're pretty much guaranteed to find a beautiful photo spot all over, so make sure to bring your camera along no matter what your plans are!
If you still have questions about the best Miami Instagram spots, please feel free to drop them in the comment section below and I'll try my best to answer them.