10 Best Day Trips from Los Angeles, California
Los Angeles, California is famous for its year-round sun and star-studded attractions.
The Hollywood hills, the tall skyscrapers, and famous neighborhoods are great for exploring.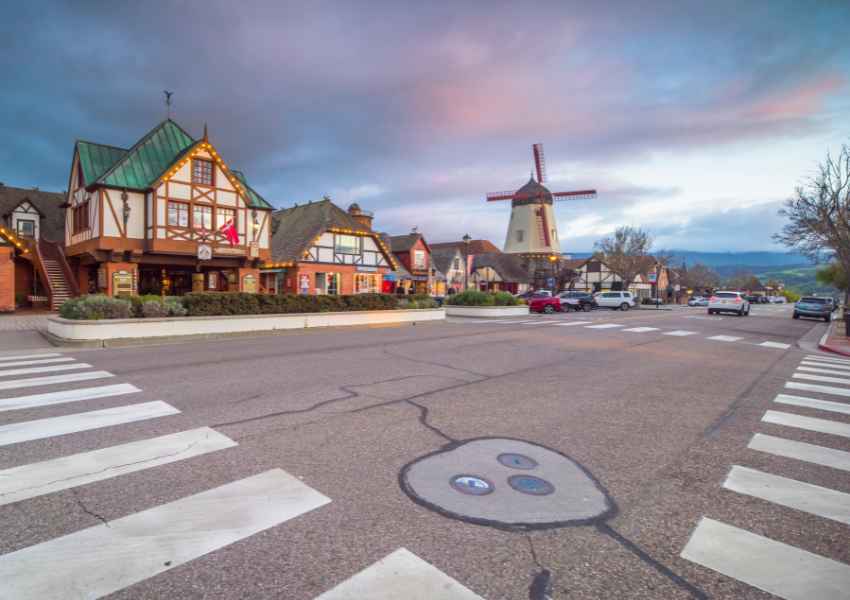 However, there's plenty to see in the surrounding areas, too! From the central coast to San Diego and everything in between, there are plenty of great day trips from Los Angeles to discover.
Here are ten of the best places to visit within just a few hours of LA. Chances are, you'll wish you had more than a day there!
Best Day Trips from Los Angeles, California
1. Joshua Tree National Park
Drive Time: 2 hours, 30 minutes
A Joshua Tree day trip is something that everyone needs to experience at least once!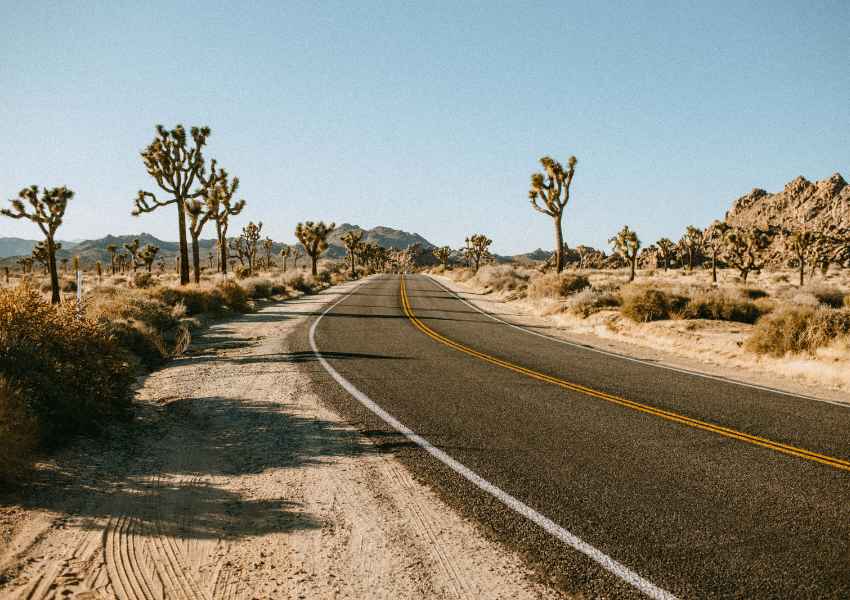 The park is about 130 miles east of Los Angeles and is home to wild rock formations, prickly cacti, and of course the Joshua Tree.
While at the park, be sure to stop at the iconic exhibits and views, including the Cholla Cactus Garden, Skull Rock, and the Hall of Horrors.
Consider a short hike to Arch Rock, or a longer hike through Lost Horse Mine. Definitely choose at least one trail to immerse yourself in the park's natural beauty!
Be sure to bring plenty of water and food with you as there is none available in the park.
Also, be sure to pack all of your desert hiking essentials, like sunscreen and a hat, because the sun here is strong and hot.
There is a small town right outside the Joshua Tree National Park that has several restaurants and unique shops to explore.
2. Palm Springs
Drive Time: 2 hours
Palm Springs is a great day trip from Los Angeles, located about 100 miles away.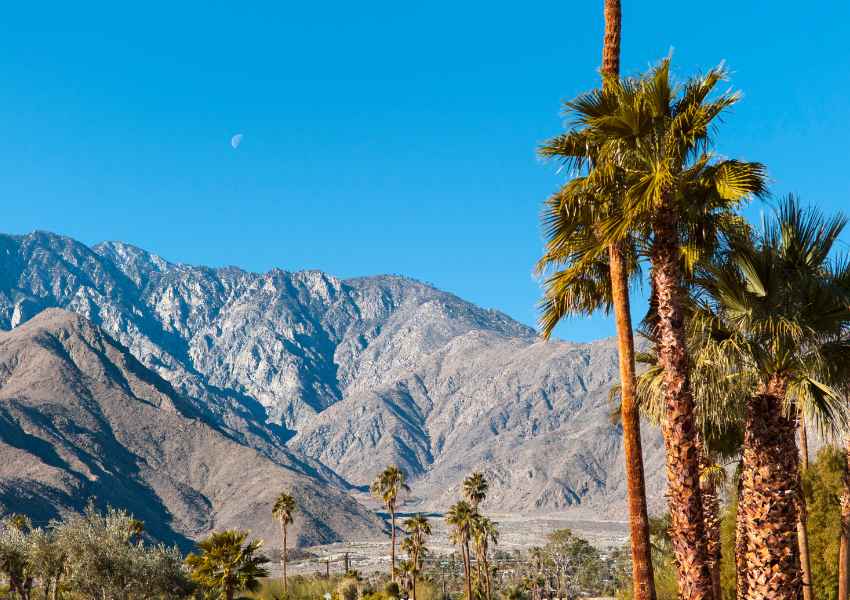 The drive to Downtown Palm Springs takes around two hours by car. You'll know you're getting close when you spot the famous Palm Springs windmills!
With only 24 hours in Palm Springs, you'll definitely have a jam-packed trip!
Start with the Palm Springs aerial tramway to get the best views of the town. Check out the Palm Springs Art Museum, the retro houses and hotels, and of course the walkable downtown area.
For those that want to hike, you can easily hit one of the desert trails to stretch your legs. And, for those who want to stay in the air-conditioned interiors, you can also visit the Palm Springs Air Museum for some history.
Don't miss the famous Shield's Date Farm for a tasty date shake before you head home. No matter what, you can have a lot of fun when spending time in Palm Springs.
3. Malibu
Drive Time: 45 minutes
Malibu, California is a surprisingly quiet seaside town with a very relaxed vibe, despite being so well known. It is a great escape from the city.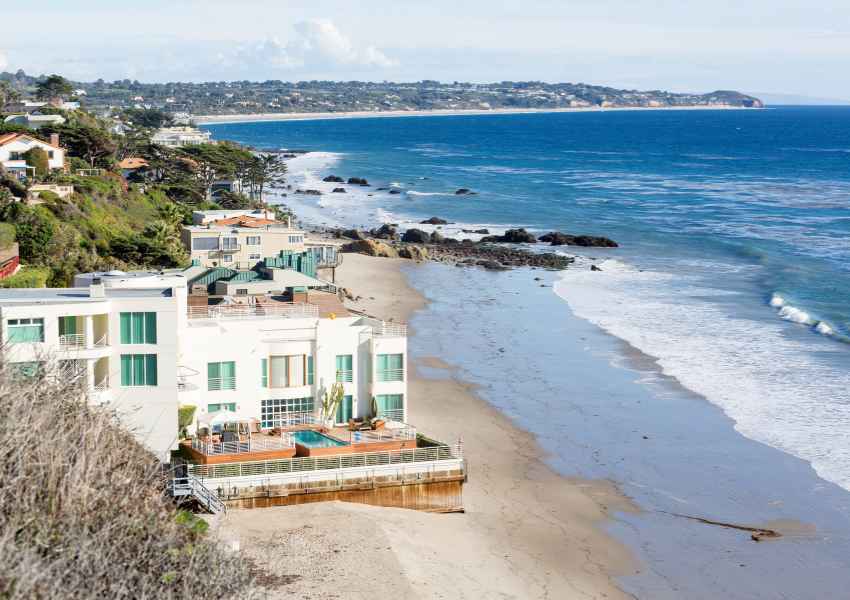 A day trip to Malibu is an easy escape from LA, so those short on time might consider this option. You'll want to include some of the prettiest beaches like Leo Carrillo and El Matador State Beach. The rocky cliffs create such a unique landscape!
Some of the best-known eateries include Duke's Malibu on the Pacific Coast Highway or Malibu Farm on the pier. Both serve delicious and fresh options with unbeatable views.
Definitely stay until sundown, because Malibu has the most beautiful sunsets on the Southern California coast! It will make for one of the best day trips from Los Angeles.
4. Santa Barbara
Drive Time: 1 hour, 45 minutes
Located just 95 miles Northwest of Los Angeles, Santa Barbara is a charming coastal city with a strong Spanish influence.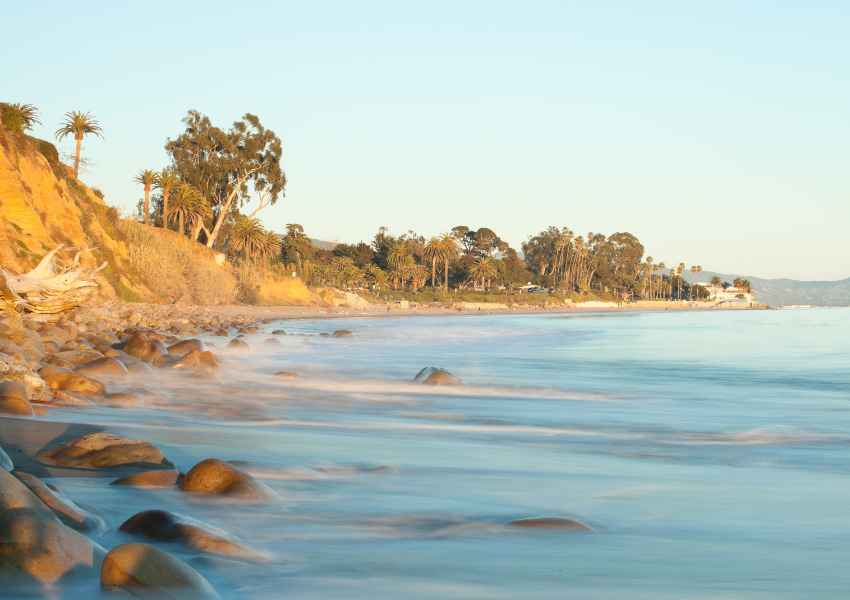 It's less than a 2-hour drive or train ride away from the city. There are plenty of fun activities in Santa Barbara, and it is the perfect destination for a peaceful and relaxing day.
Begin your visit at the historic Mission Santa Barbara, one of California's renowned 21 missions.
Afterwards, check out the iconic Stearns Wharf, the rainbow-colored Chromatic Gate sculpture, and the Santa Barbara Museum of Art.
If you're a wine enthusiast, venture to the outskirts of Santa Barbara for some great wine tasting experiences.
For your meals, don't miss out on the mouthwatering cuisine at Los Arroyos. Santa Barbara is known for its excellent Mexican food, so be sure to grab some.
5. Solvang
Drive Time: 2 hours, 15 minutes
Solvang is one of my favorite quirky towns in California. This now-famous village is full of Danish-style buildings and traditional foods. What more could you ask for?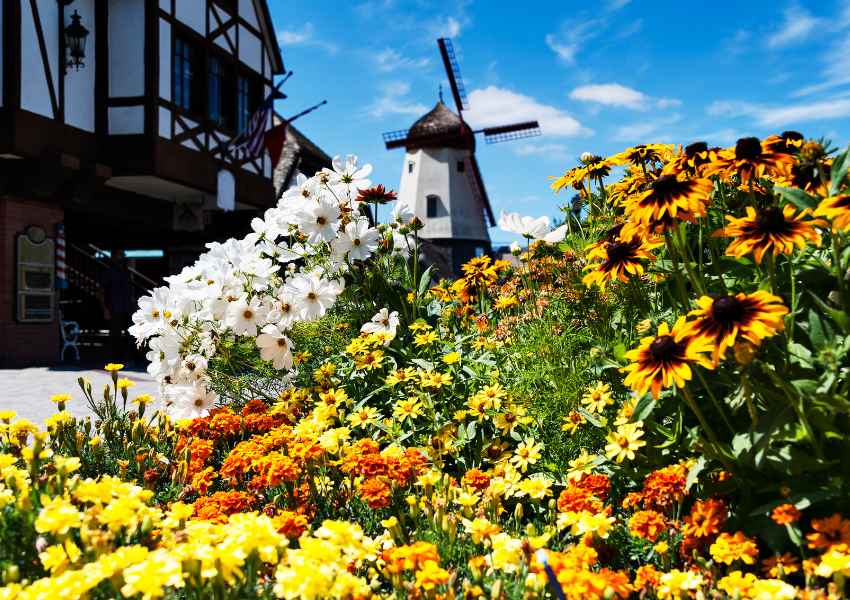 Originally a true Danish-American community, this charming town transformed into a tourist hotspot. But it still has traditional flair that captivates visitors.
Grab some Danish cuisine, savor Danish beer, and let the mouthwatering scent of Danish pastries liven up the air.
If you want to experience a Danish festival, plan your visit around the annual "Danish Days" festival in September. And, during the holiday season, enjoy a month-long celebration filled with events and Danish traditions.
Discover the "Danish Capital of America" for a taste of Europe in sunny California.
You may also like:
6. Laguna Beach
Drive Time: 1 hour 30 minutes
Discover Laguna Beach in an easy day trip from LA. This beachy town is a luxurious neighborhood in coastal Orange County with stunning cliffs and walkable streets.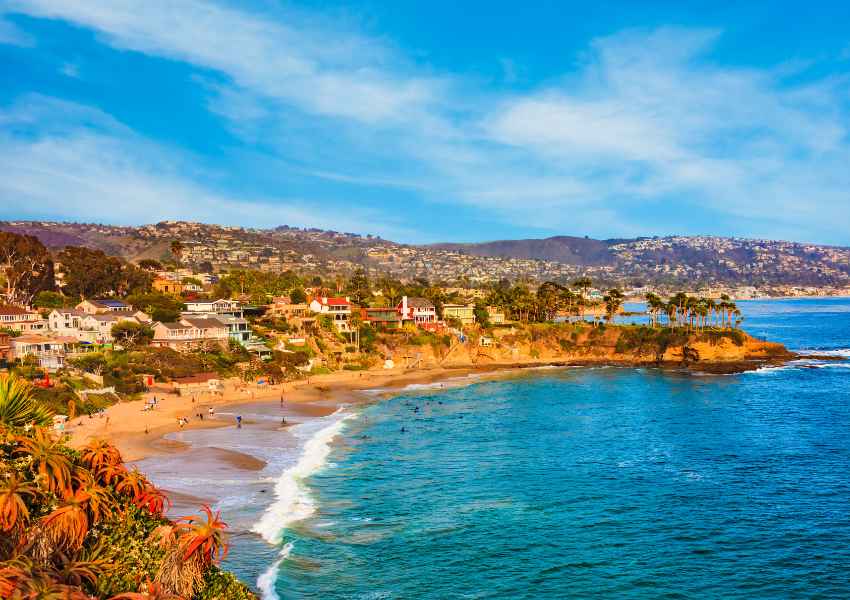 Laguna Beach is home to stunning, secluded beaches like Victoria Beach and Thousand Steps Beach. Dive into the crystal-clear waters or visit the Laguna Beach Pirate Tower, a popular spot for Instagram-worthy photos.
Those looking to relax can also find an array of spa and wellness resorts in Laguna for a truly relaxing day trip. Additionally, art galleries and clothing boutiques are fun to peruse.
Afterwards, check out the charming atmosphere of the main street for dinner and dessert. Local restaurants and ice cream shops with outdoor seating are a fun place to sit for the sunset.
7. Ventura
Drive Time: 1 hour, 15 minutes
Roughly halfway between Malibu and Santa Barbara sits the quiet coastal city of Ventura.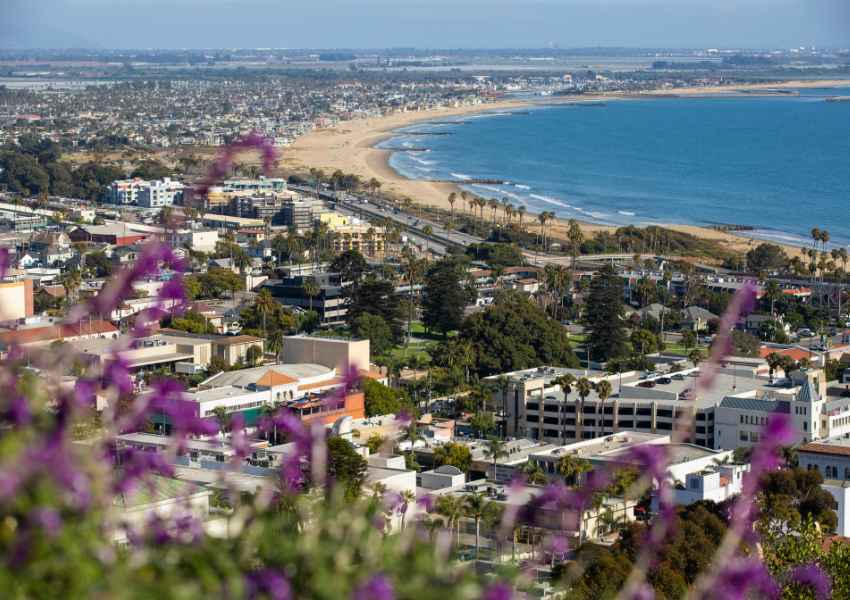 From downtown LA, it takes less than 90 minutes to reach by car, but you'll feel a world away!
Ventura is an often-overlooked area with laid-back charm. Main Street, the center of the community, offers a variety of restaurants, wine bars, thrift stores, boutiques, and art galleries to explore. You'll also find the historic Mission San Buenaventura here, which is a must see.
As you walk the town, don't miss the stunning Ventura County Courthouse architecture, a beloved local landmark and a great place for photos. Nearby are breathtaking views of the Pacific Ocean and the iconic Ventura Pier.
If you're more in the mood for nature, you can walk the sandy shores, take a leisurely stroll along the pier, or embark on a scenic walk along the paved path past Surfer's Point. It is an easy loop walk that really showcases the town and beaches.
8. Catalina Island
Drive Time: 30 minutes + 1-hour ferry
If you want to escape busy Los Angeles for a day, explore the popular Catalina Island, just a short ferry ride away from Los Angeles.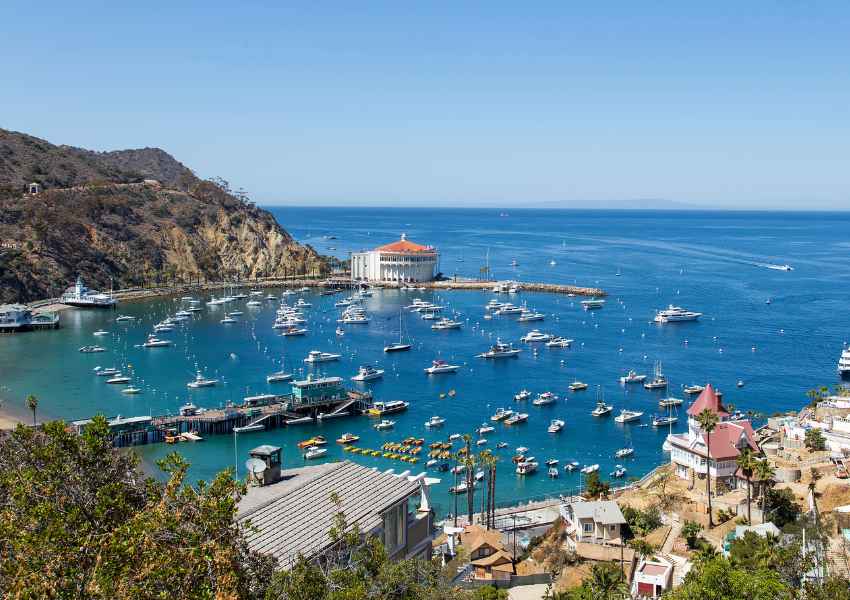 With stunning landscapes, outdoor adventures, and plenty of space to relax, it's the perfect day trip from LA.
Located 22 miles off the coast of Los Angeles, Catalina Island is a peaceful retreat from city life. Take a ferry from Long Beach, Newport Beach, or Dana Point in Orange County piers.
Once on the island, explore the charming town of Avalon. Unlike the city, cars are a rarity on Catalina Island. Most attractions are within walking distance or a short golf cart ride away.
Don't miss out on exciting activities like zip-lining, snorkeling, and hiking. With over 165 miles of trails, there's plenty of adventures to embark on.
9. San Diego
Drive Time: 2 hours
San Diego offers a completely different experience from Los Angeles.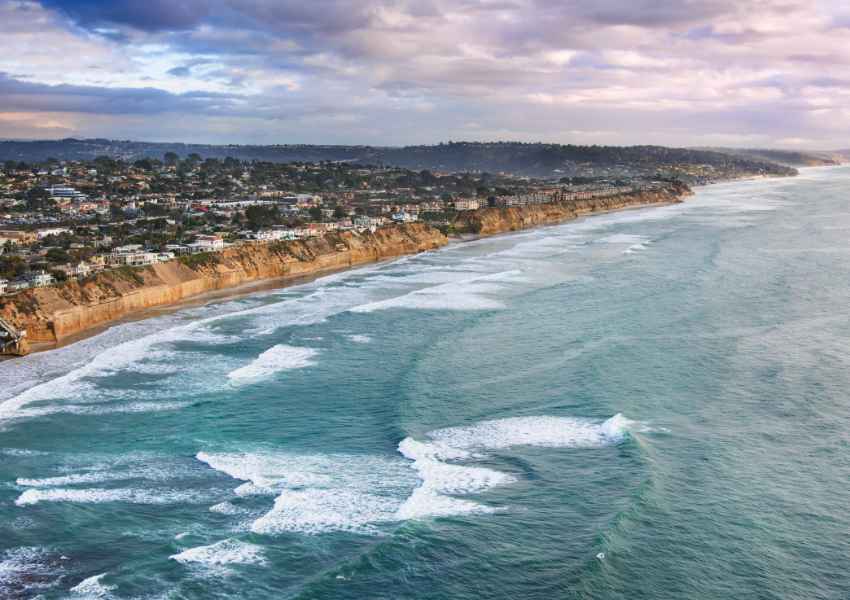 With stunning views of the Pacific Ocean, beautiful neighborhoods, and an abundance of parks and outdoor spaces, San Diego is a great day trip destination from LA.
One of the highlights of San Diego is of course the beaches. Coronado Beach, famous for its sparkling sand infused with tiny pieces of mica, is a true gem.
At low tide, you can explore the vibrant tide pools teeming with hermit crabs, fish, and waving sea anemones. And the best part? San Diego's southern location means you can enjoy a warm beach getaway even in winter.
Balboa Park is a unique cultural destination featuring over 16 museums, gardens, restaurants, and performing arts. Whether you're interested in science, art, history, or outdoor recreation, there's something for everyone to enjoy at Balboa Park.
10. Temecula
Drive Time: 1 hour 30 minutes
Discover the under-the-radar wine region of Temecula, just over 80 miles southeast of Los Angeles.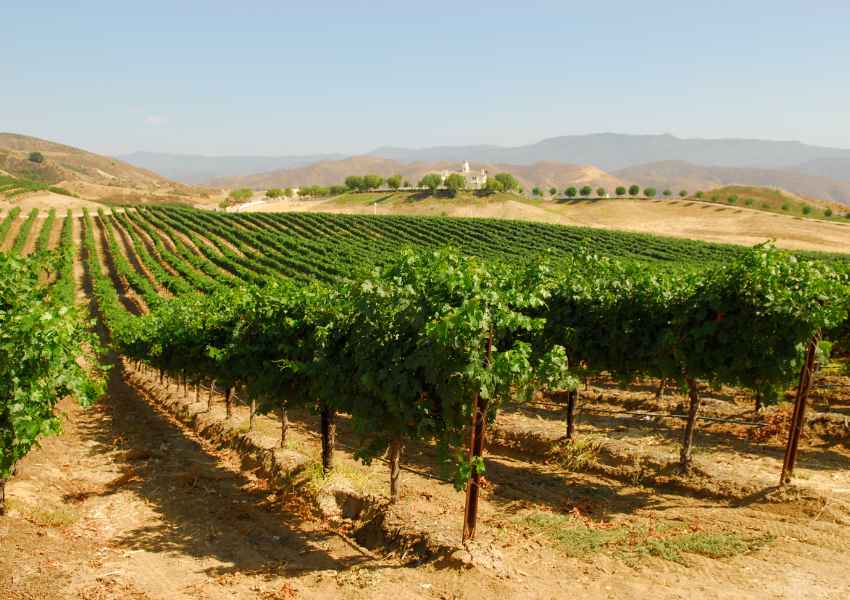 In just an hour and a half, you can immerse yourself in centuries of winemaking history.
When exploring Temecula, choose from over 40 wineries with award-winning wines and stunning vineyard views. A few standout vineyards to check out include Wilson Creek Winery, Thornton Winery, and Falkner Winery, each offering a unique selection of varietals and a true taste of California wine country.
Beyond wine, Temecula boasts a charming Downtown filled with delightful shops and dining options. For a great meal, try Small Barn.
Don't miss out on the winery restaurants either. Indulge in a fabulous dinner at Leoness or savor an amazing breakfast at Bolero at Europa Village. Temecula is the ultimate day trip destination for wine enthusiasts.
Important Tips for Your Day Trips from Los Angeles
Ideally you should self-drive or rent a car for these trips. Public transportation may get you to some of the areas, but won't give you the freedom to explore fully.
Make sure your tires and gas tank are full before you start your drive. Be sure to re-fuel before the tank gets too low, since some of these areas are fairly remote.
Try to avoid rush hour by leaving early in the morning, by 7am, and returning home after 7pm. If you can pass through the city of Los Angeles outside of these hours, your drive will be much more peaceful.
Download some music or podcasts before you drive in case you do hit traffic or areas with no signal. The deserts in particular are known for low cell signal.
Be sure to bring home Danish pastries, wine bottles, and any other special California themed gifts or souvenirs that is specific to where you visited. They are perfect either for yourself or for gifting.
Consider extending your stay by turning your trip into a weekend getaway.
Most of these destinations could also be used as day trips from San Diego, Anaheim, or any other Southern California city.
No matter when you travel, be sure to pack a few extra layers. In the winter, California can get chilly at night. In the summer, most indoor locations will be blasting air conditioning to beat the het. Layered clothing will be your friend!
Consider the time of year you're planning your trip. Depending on when you go, certain areas may be too hot or too cold for you to enjoy, if you are sensitive to temperature extremes. Check the average temperatures for the destination you have in mind before booking your trip.
Be sure to carry a credit card as well as quarters and cash. In many of these areas, you will be parking at meters or in paid parking garages. While many of them accept credit cards, some will require cash. Best to be prepared!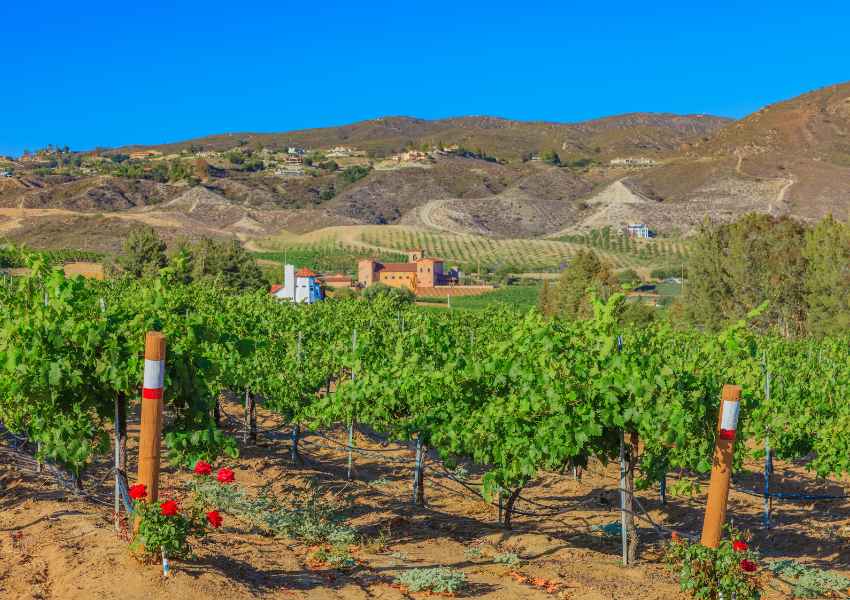 Conclusion: The Best Day Trips from LA
I hope that these day trips from Los Angeles provide you with some inspiration on places to visit around Southern California! They all offer something unique and different, and are a far cry from busy LA.
Whether you want to stay close to home or venture further away, there's a road trip on this list that will give you the perfect California getaway. From coastal adventures to desert explorations, these ten best road trips from LA are sure to be memorable!
ABOUT THE AUTHOR
This article was written by Monica at This Rare Earth, a travel blog focusing on outdoor adventure and solo female travel. You can usually find Monica exploring off the beaten path areas around the globe. Follow her adventures on Instagram!