7 Best Wine Regions in Germany You May Have Never Heard Of!
In search of the best wine regions in Germany?
Germany, while not one of the first countries that come to mind when one thinks of wine, is a prominent wine producer, known for its great wines and wine regions.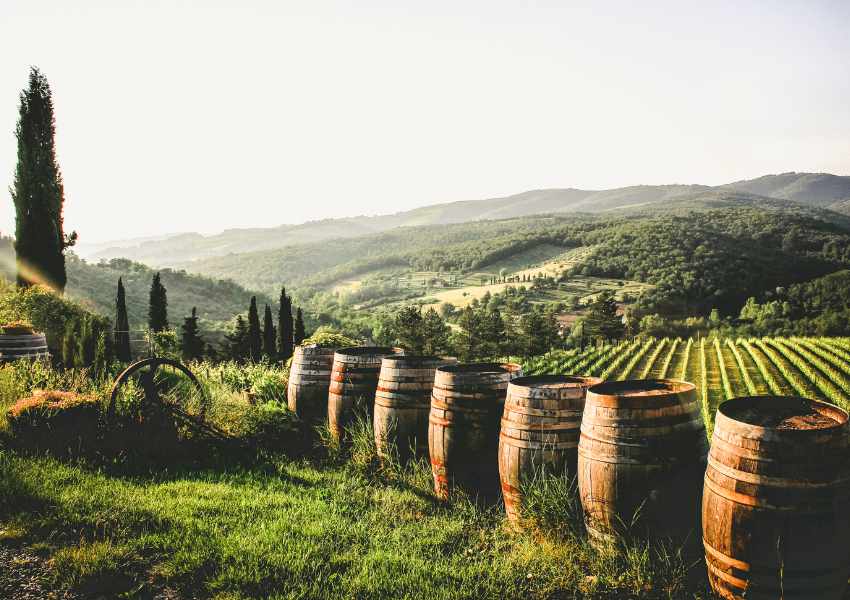 In fact, Germany produces far more than just Riesling; it has 13 wine regions, each of which produces different types of wines.
Today, we will go on a virtual trip to some of the best wine regions in Germany and see what they have to offer.
So, kick back, relax, pour yourself a glass of Spätburgunder (aka Pinot Noir in German), and let's start.
The Best Wine Regions in Germany
1. Mosel Wine Region
The Mosel region, in western Germany, is famous for being one of the best wine regions in Germany.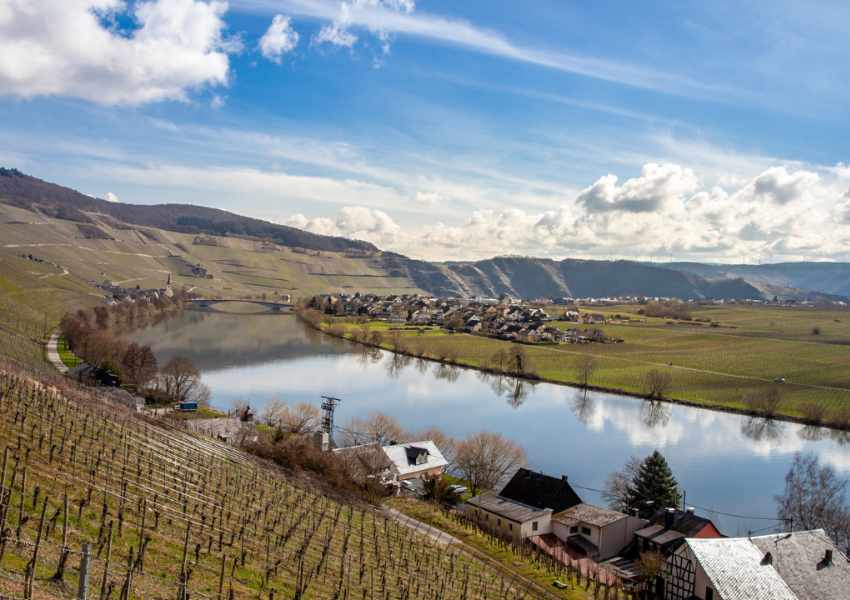 Its distinct geography, climate, and focus on a specific grape variety, Riesling, have elevated it to a prominent position in German wine production.
It was, in fact, the first region I visited in Germany and where I had my first glass of nice, cold German Riesling on a hot summer day.
Believe me, it was an excellent Riesling, which is precisely why Mosel rightfully claims the top spot on our list.
Geography and Terrain
The Mosel region is characterized by its striking landscapes and terraced vineyards.
These steep hills, hugging the winding Mosel River, provide an ideal setting for vineyards.
The slopes of the region maximize sun exposure, ensuring that grapes receive the necessary warmth during their growing season.
The Mosel River significantly contributes to creating a temperate microclimate. This microclimate is great for growing high-quality grapes.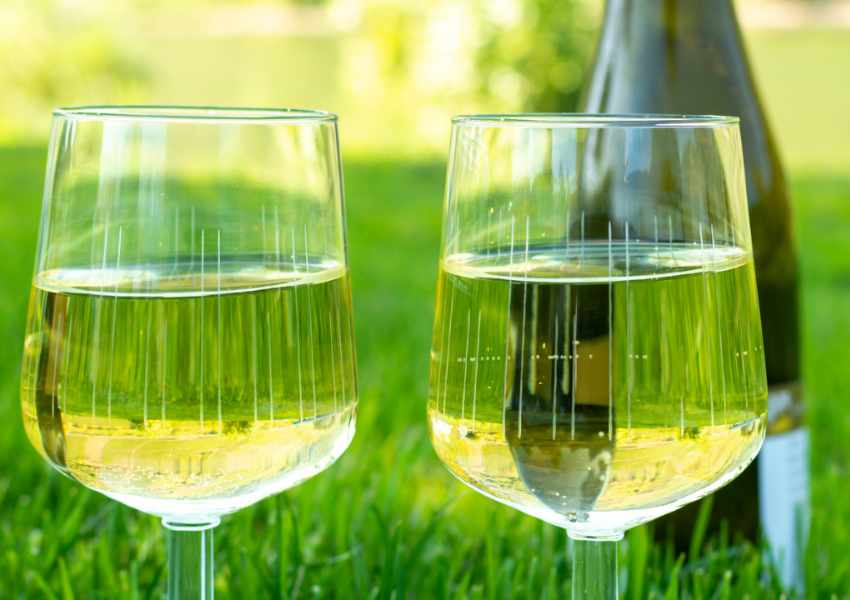 Climate
The Mosel wine region enjoys a cool climate, which makes it one of the best wine regions in Germany.
This means that the grapes have a longer growing season, resulting in a slower development process that enhances their flavor complexity.
Riesling grapes thrive in this cool climate.
The extended ripening period helps maintain their natural acidity, while the region's terroir imparts a distinctive mineral quality to the wines.
Prominent Grape Varieties
The Mosel wine region is known for Riesling.
Winemakers there have mastered the art of cultivating this grape variety, resulting in Rieslings of unparalleled quality.
While Riesling takes center stage, you can also find other grapes in the Mosel valley.
Riesling: These wines have vibrant acidity, lively fruit flavors, and a characteristic touch of minerality that reflects the region's terroir.
Müller-Thurgau: It offers a more accessible and approachable wine characterized by floral and fruity notes.
Elbling: This lesser-known variety produces light and zesty wines.
2. Rheingau Wine Region
The Rheingau area in western Germany is famous for producing excellent German wines. It's one of the best wine regions in Germany for Riesling.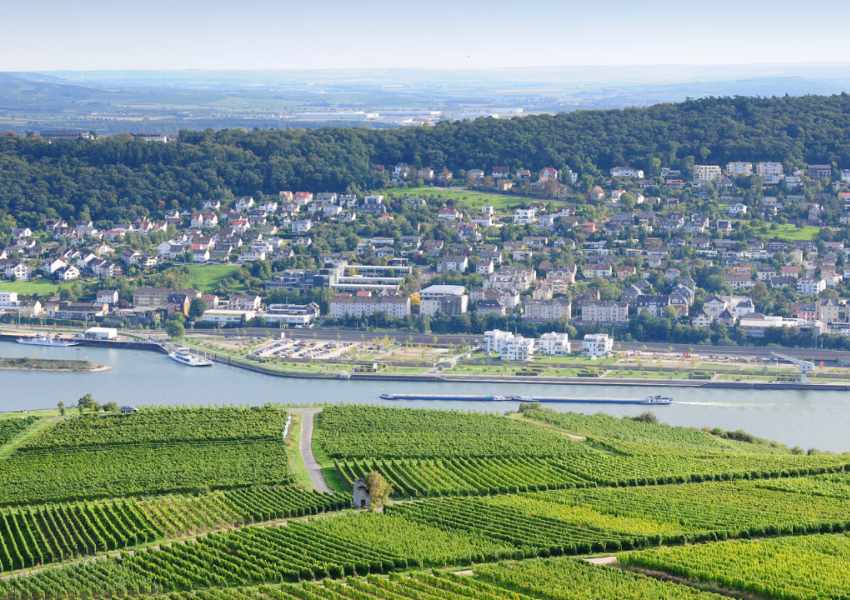 What makes this place unique is its long history of making Riesling wine.
Historical Significance and Riesling Tradition
The Rheingau has a long wine history. Riesling production there spans centuries.
In fact, this region is often considered the heartland of Riesling in Germany.
The tradition of cultivating Riesling grapes in this region dates back to the 15th century, when the grape was first introduced.
Monasteries and noble families played a significant role in promoting Riesling in the Rheingau, with many vineyards owned by them.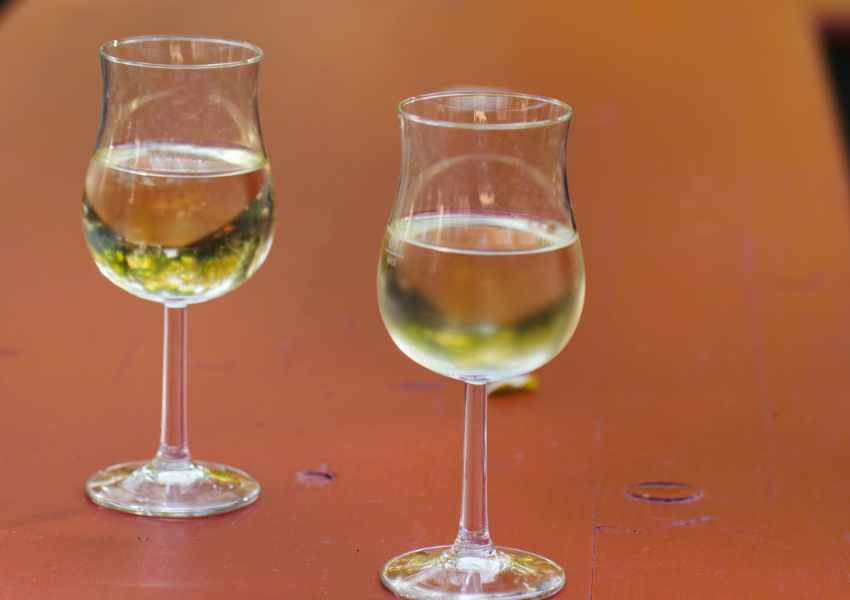 Unique Land and Weather
Rheingau has hilly vineyards that follow the Rhine River. These hills get a lot of sunlight, which helps grapes grow.
The river reflects the sun onto the vines, making the grapes even better.
The region's unique terroir gives a distinctive mineral character to the Riesling wines.
The combination of slate and quartzite soils, along with the influence of the river, creates an environment that is perfectly suited to the cultivation of this grape.
Prominent Grape Varieties
While Riesling is the superstar in Rheingau, there are other kinds of grapes too:
Riesling: It is known for its nice zingy taste, fruity flavors, and a bit of that special earthy taste. Some Rieslings from here are a bit sweet, and they balance the fruitiness and tanginess really well.
Pinot Noir (Spätburgunder): Rheingau is also famous for its Pinot Noir. These red wines are characterized by their elegance, complexity, and the region's unique touch.
Müller-Thurgau: This grape makes a wine that's easy to enjoy. It's flowery and fruity, and it's a good alternative if you want something different from Riesling.
3. Pfalz (Palatinate) Wine Region
Pfalz, also known as Palatinate, is one of the most important wine regions in Germany.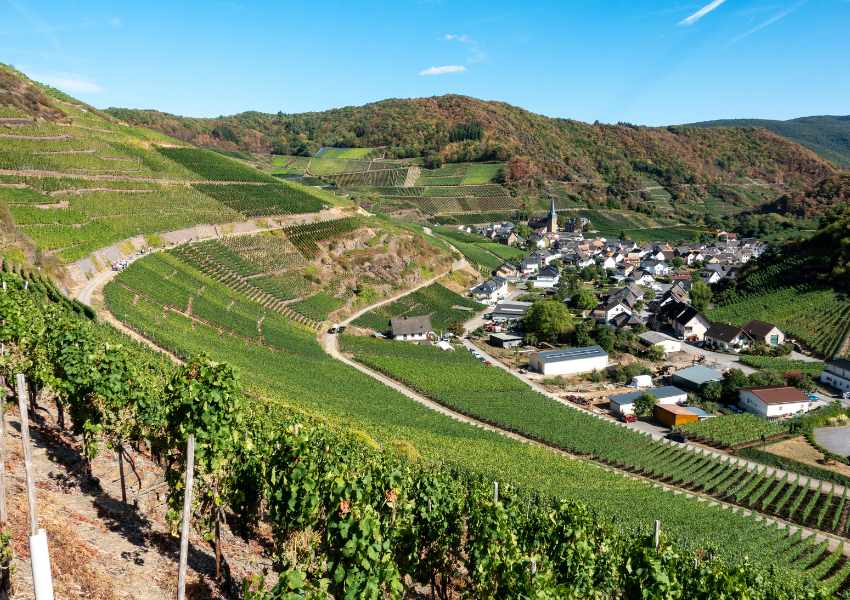 It is also the second-largest wine region in the country.
This region produces a wide variety of excellent German wines, and its unique characteristics make it a standout in the world of wine.
Geography and Landscape
Pfalz has a diverse landscape, featuring rolling hills, vineyards, and even some more rugged terrain.
This unique geography provides a range of microclimates and soil types, making it possible to grow a wide variety of grapes successfully.
The mix of soils, which includes limestone, loam, and sand, influences the character of the wines produced in Pfalz.
The region's location near the Rhine River adds to its appeal, as the river's influence on the local climate plays a significant role in grape ripening.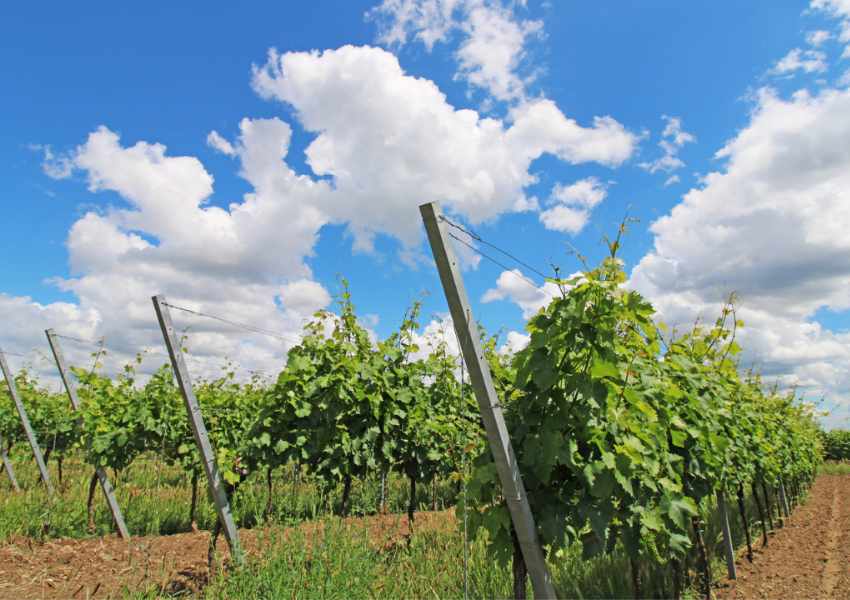 Prominent Grape Varieties
Pfalz is known for its diversity in grape cultivation, which leads to a wide array of wine styles. Some of the prominent grapes in Pfalz include:
Riesling: Just like in other German wine regions, Riesling is a star here. Pfalz Rieslings often have a balance of fruitiness and acidity, and they capture the terroir of the region.
Dornfelder: This is a popular red grape variety in Pfalz, known for producing rich and velvety red wine with dark fruit flavors.
Gewürztraminer:Pfalz is one of the notable regions in Germany for Gewürztraminer, known for its aromatic profile with spicy and floral notes, making it a great wine for beginners.
Weißburgunder (Pinot Blanc) and Grauburgunder (Pinot Gris): These grapes produce elegant white wine with a good balance of fruit and acidity.
4. Rheinhessen Wine Region
Rheinhessen is located in the southwestern part of the country.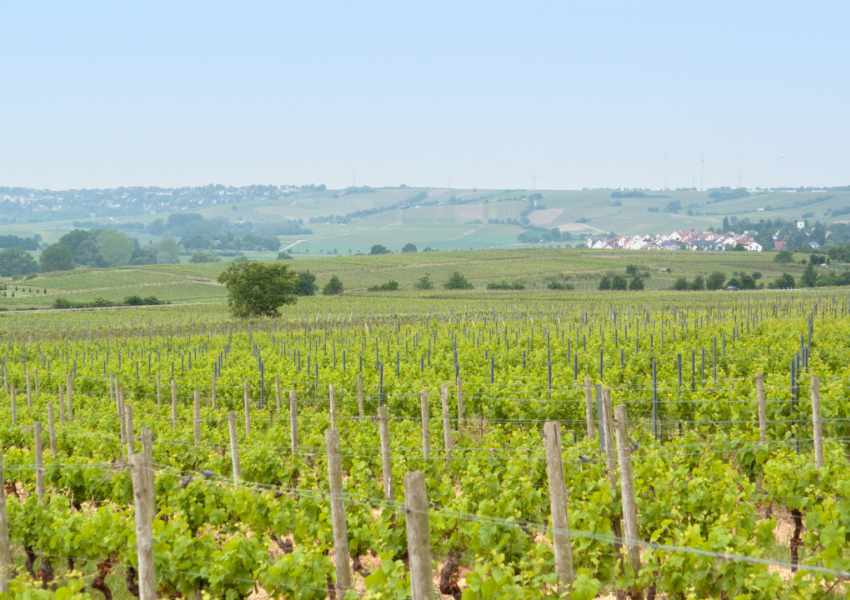 It is the largest wine region in Germany and is known for its diverse terroir, which includes a mix of soil types, microclimates, and topography.
German wine has been produced there for over a thousand years.
This wine region is renowned for producing a wide range of styles – white wine, red wine, and even sweet wines.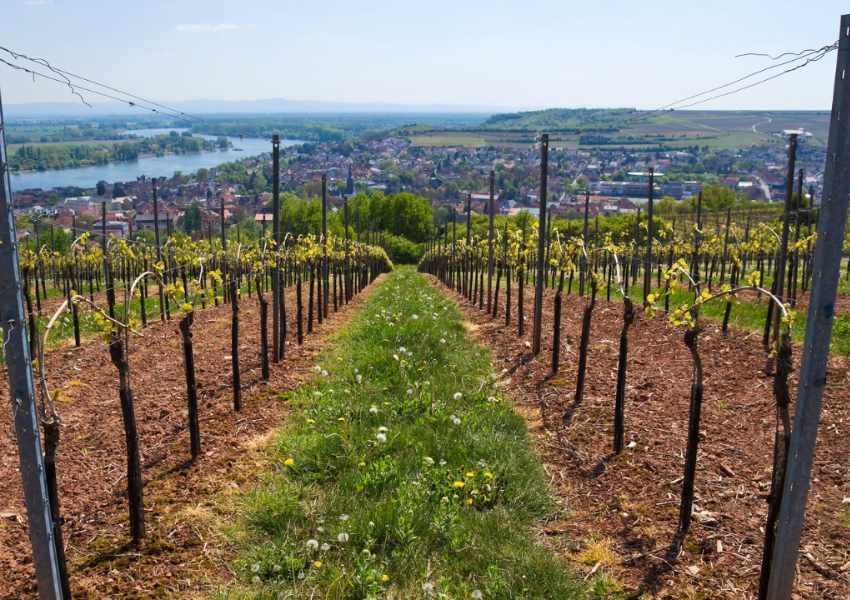 Prominent Grape Varieties
Rheinhessen is home to a variety of grapes, with a strong focus on white wines:
Riesling: It thrives in the varied terroirs of the region, producing a wide spectrum of wines, from dry and mineral-driven to aromatic, sweet wines. Riesling from Rheinhessen is known for its bright acidity and fruitiness.
Silvaner: It produces wines with a delicate, herbal character and a clean finish. Silvaner wines often pair well with the region's culinary specialties.
Müller-Thurgau: This grape variety is widely planted in Rheinhessen, producing easy-drinking, aromatic white wines.
Dornfelder: It produces deep, dark red wines with rich berry and cherry flavors.
Pinot Noir (Spätburgunder): While Pinot Noir is not as widely planted as some of the other varieties, it has been gaining popularity in recent years. Rheinhessen Pinot Noir red wine is known for its elegance, fine tannins, and red fruit character.
Grauburgunder (Pinot Gris): This white grape variety is used to create wines with a subtle fruitiness and a mild, creamy texture. It's often fermented dry but can also be made into off-dry or sweet styles.
Weißburgunder (Pinot Blanc): Weißburgunder wines are fresh and crisp, with green apple and pear flavors. They are typically dry and pair well with a variety of dishes.
5. Hessische Bergstraße Wine Region
The Hessische Bergstraße is situated in the southwestern part of Hesse, near the city of Darmstadt.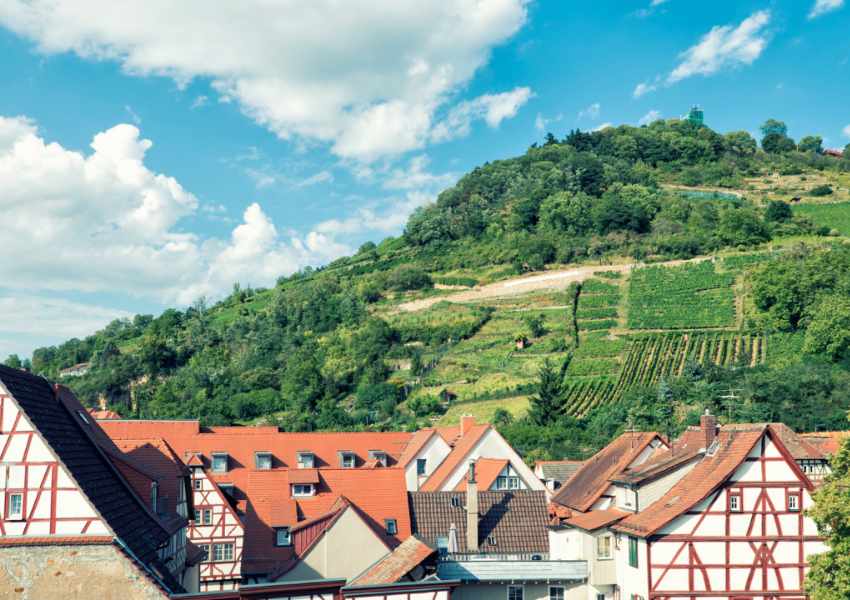 It is one of Germany's most northern wine regions. It is the smallest wine region in the country; it is known for its unique terroir, producing high-quality German wines.
The Hessische Bergstraße is one of the oldest German wine regions.
The region has a long history of wine culture and production, with evidence of viticulture dating back to Roman times.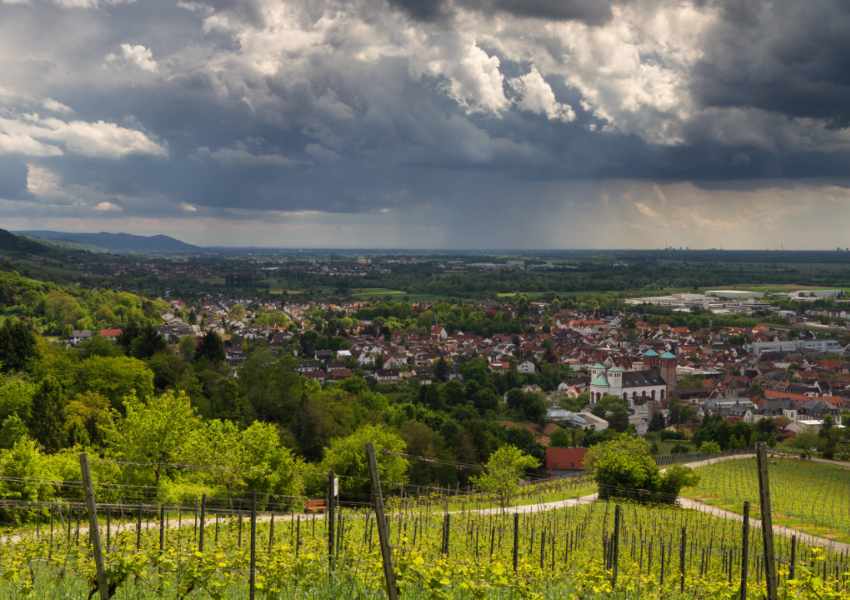 Prominent Grape Varieties
In the Hessische Bergstraße region of Germany, several different grapes are cultivated, with Riesling being the most notable:
Riesling: The wines made from Riesling grapes in this region can vary from dry to sweet and often exhibit mineral notes, citrus flavors, and a refreshing acidity.
Pinot Blanc (Weißburgunder): It produces elegant and aromatic wines with notes of white fruits, good acidity, and a subtle creaminess.
Pinot Gris (Grauburgunder): It is cultivated in the Hessische Bergstrasse. It produces wines with a fuller body, notes of ripe pear and apple, and a pleasant texture.
Pinot Noir (Spätburgunder): While the region is primarily known for its white wines, some wineries also grow Pinot Noir grapes. These wines tend to be lighter in style with red berry flavors and can display the region's unique terroir characteristics.
6. Baden Wine Region
The Baden region is located in the southwestern part of the country. It is one of the largest wine-growing regions.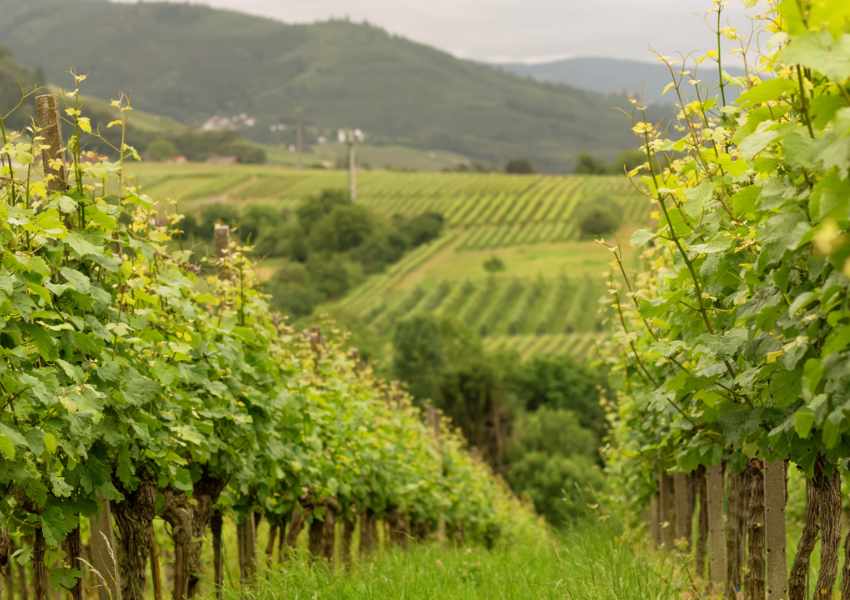 It is a famous wine region, known for its production of a diverse range of wines, with a focus on red wines, particularly.
Geography and Climate
Baden borders France to the west and Switzerland to the south.
It stretches from the northernmost point of the Black Forest to the shores of Lake Constance, covering many different terroirs.
Baden's diverse geography and terroir are a significant feature of the region.
It includes rolling hills, vineyards on steep slopes, and areas influenced by the Black Forest and the Rhine River. This diversity allows for the cultivation of a wide range of grapes.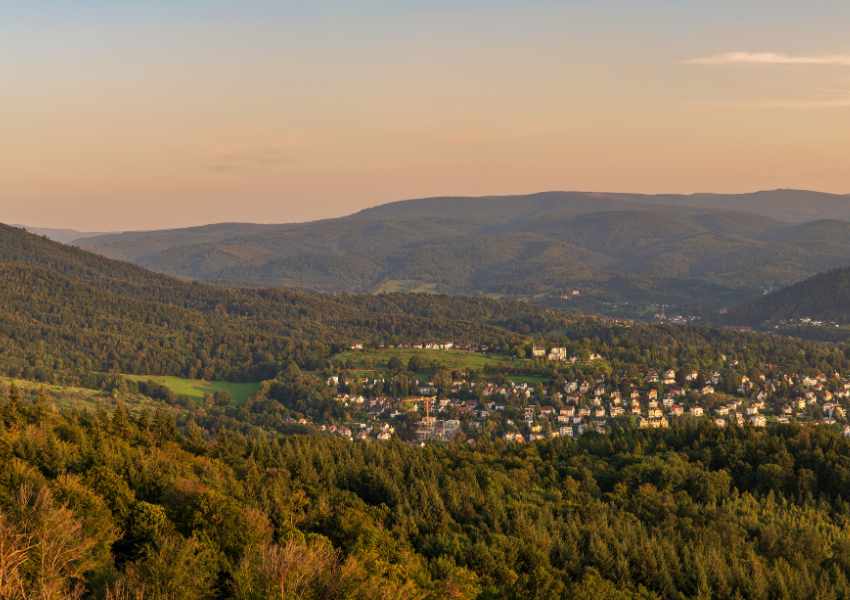 Prominent Grape Varieties
Some of the prominent grapes grown in this German wine region include:
Pinot Noir (Spätburgunder): Baden is famous for its Pinot Noir production. The region's climate and terroir are favorable for growing exceptional Pinot Noir grapes, resulting in rich and complex red wines.
Riesling: Riesling is a versatile grape variety and is cultivated in Baden, producing a range of white wines that can be dry or sweet, with flavors of citrus and mineral notes.
Grauburgunder (Pinot Gris): It produces wines that are often medium to full-bodied, with flavors of ripe pear, apple, and a hint of spice.
Weissburgunder (Pinot Blanc): It makes wines with notes of white fruits and a clean, crisp character.
Müller-Thurgau: This grape variety is grown in many of Germany's wine regions, including Baden. It is used to make lighter, aromatic white wines with flavors of green apple and citrus.
Chardonnay: Chardonnay is cultivated in Baden and can produce a variety of wine styles, from fresh and crisp to rich and oaked.
7. Franconia Wine Region
The Franconia region, known as "Franken" in German, is situated in the northern part of Bavaria, in southern Germany.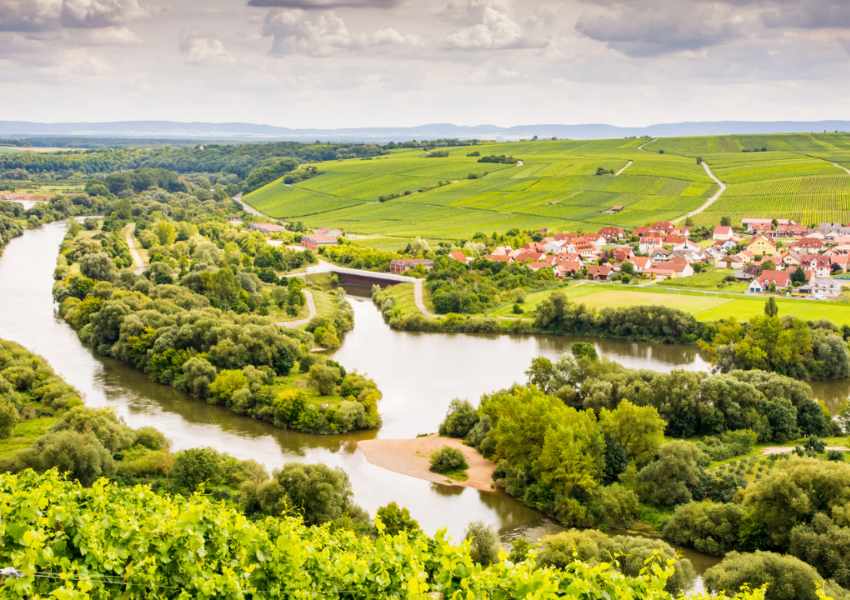 The region is situated along the Main River and features rolling hills, river valleys, and steep vineyard slopes.
The climate in Franconia is generally cool to moderate, which is favorable for the cultivation of a variety of grapes.
Franconia is known for producing predominantly dry wines.
These dry wines often display a distinctive mineral character, a hallmark of the region.
Bocksbeutel Bottle
The "Bocksbeutel" is a traditional, flattened, round bottle shape that is closely associated with the Franconian wines of Germany.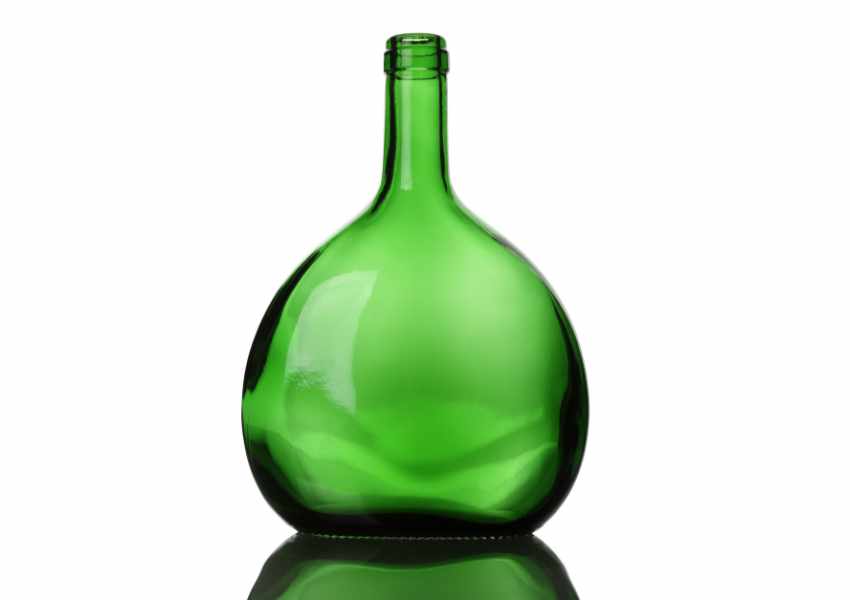 The Bocksbeutel bottle resembles a goat's leather pouch, which is the origin of its name (Bock means "billy goat" in German).
The use of the Bocksbeutel bottle dates back to the 18th century in Franconia, and it has been an integral part of the region's wine culture and tradition for centuries.
It is considered a symbol of Franconian wine.
The use of the Bocksbeutel bottle is regulated by German wine law. In order to use this bottle shape, the wine must come from the Franconia region.
It is a unique feature that distinguishes Franconian wines from those of other German wine regions.
Prominent Grape Varieties
Franconia is home to various types of grapes used for making wine, with some standing out more than others:
Silvaner: Silvaner is the flagship grape variety of Franconia. The region is renowned for its Silvaner wines, which often showcase a unique combination of minerality, freshness, and fruitiness.
Müller-Thurgau: This white grape variety is also widely cultivated in Franconia and is used to produce aromatic and approachable white wines.
Riesling: Riesling isn't grown as much but is still an important grape variety in Franconia, producing wines that can range from dry to sweet.
Other Varieties: Franconia also cultivates other grapes such as Pinot Blanc, Pinot Gris, and Spätburgunder (Pinot Noir).
The Best Wine Regions in Germany: Conclusion
Well, while we didn't have time for all of Germany's 13 wine regions, we did go on a thorough virtual journey through Germany's wine map.
To all wine lovers out there, take note: Germany has a lot more to offer than just excellent Riesling.
So, go ahead, start planning your trip, because these wine regions aren't just about fabulous wine; they're also perfect for wine tourism, and each one is more stunning than the next.