Unique Places To Visit In California For The Best Trip Ever
Planning a trip to the Golden State? If you're currently on the lookout for the best cities, national parks, and destinations to visit, you might want to take a look at some of the most unique places to visit in California for a truly special trip!
While most of these places aren't entirely off-the-beaten-path, many of them are definitely hidden gems in California that most people tend to overlook over more popular destinations.
With that said, though, I gathered the top recommendations from some of my favorite travel bloggers so you can get planning a unique trip to California!
Unique Places To Visit In California For The Best Trip Ever:
Solvang
The quaint city of Solvang, California is one of the most unique places to visit in California and best day trips from LA.
Often referred to as "a little slice of Denmark," you will feel like you've stepped into another country as you walk down streets filled with windmills and rural Danish architecture.
No matter the length of your California visit, planning one day in Solvang, California is a must-do.
The most popular things to do in Solvang include eating Danish pastries and wine tasting while you window shop.
Notorious for its decadent bakeries, Solvang has many to choose from, but one local favorite is Mortensen's Bakery.
Having a fresh bear claw or Danish kringle with your coffee is the perfect way to start the day.
Embarking on a wine tasting journey is easy to do, as Solvang has tasting rooms set up in the center of town.
The city is surrounded by lush wine regions, so there are plenty of local wineries featured, all with different wine flights and tasting options.
If looking to add a bit more fun to your trip, be sure to include a quick stop at Ostrichland, USA, a charming ostrich farm located just five minutes from Solvang.
Ostrichland is home to ostriches and emus, both of which you're able to visit and hand feed. Prepare for a funny, quirky experience that you won't forget.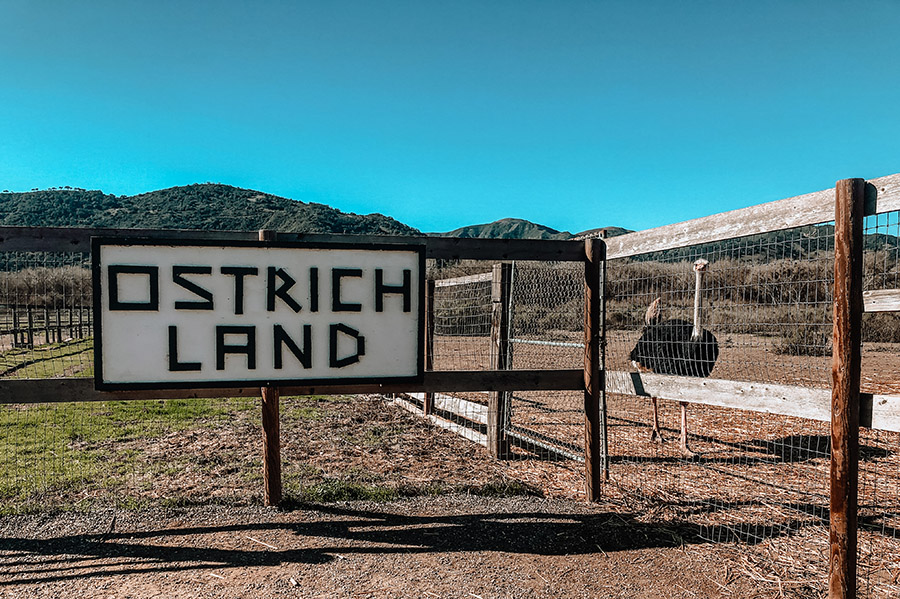 Where to stay in Solvang: When planning where to spend the night, location is everything. Highly recommended is The Landsby. The look and feel of this hotel are contemporary with a hint of traditional Scandinavian design. Located right in the heart of town, it is the perfect place to settle down and toast the quaint town of Solvang.
From Olivia @ Girl With Blue Sails
California Highway 120 (Tioga Road)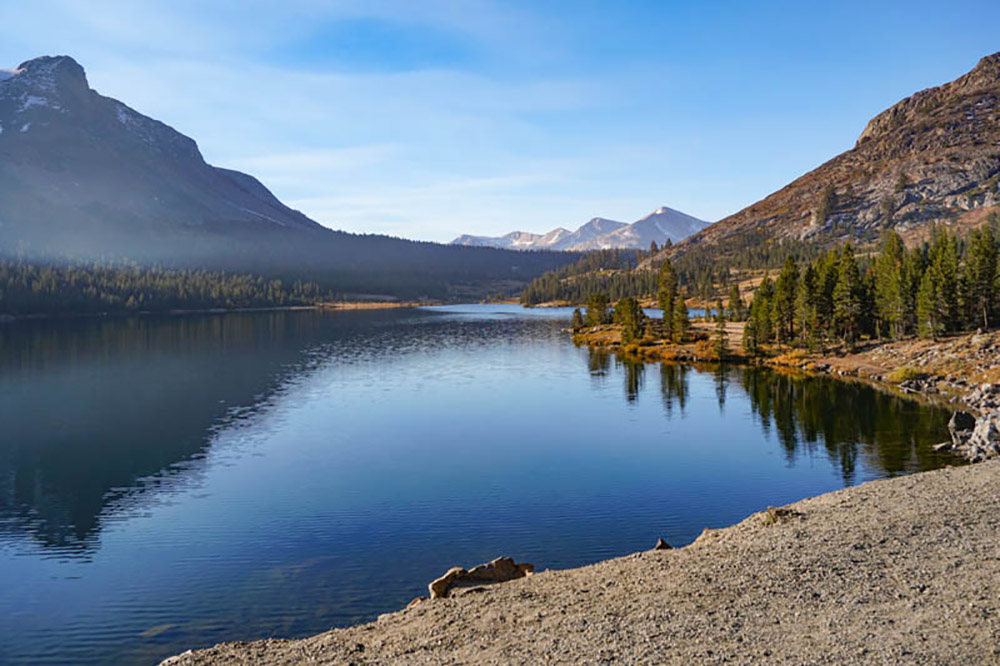 Driving Tioga Road through Yosemite is a California bucket list item for nature lovers and outdoor enthusiasts.
Tip: An RV rental will give you the opportunity to get to know this area in a close and personal way.
Not only is the drive spectacularly scenic, but it also offers a variety of activities along the way.
Tioga Road, or California Highway 120, runs in an east-west direction along the length of Yosemite National Park.
At the eastern entrance, it leads to Tioga Pass, the highest automobile pass in California, before descending to Lee Vining in the Eastern Sierra.
Along the route, you can see some beautiful sights, including redwood groves, panoramic views of the famous granite cliffs of Yosemite, and a number of pristine alpine lakes.
You can go hiking, look for wildlife, and wildflowers in season, and click a zillion photos.
Some of the best stops along the way include Olmsted Point, where you can see Clouds Rest and Half-Dome, two of Yosemite's most famous granite cliffs.
Tenaya Lake offers a peaceful place to walk along the shore or sunbathe on the beach when it is warm.
Tuolumne Meadows offers beautiful hikes with views of the meandering Merced River, and carpets of wildflowers in late spring and early summer.
Tioga Road is only open in the summer and fall: it generally opens sometime in late May and closes down in early November.
If you visit Yosemite National Park during this time, be sure to include the Tioga Road drive in your itinerary!
Dhara @ Roadtripping California
Carmel By The Sea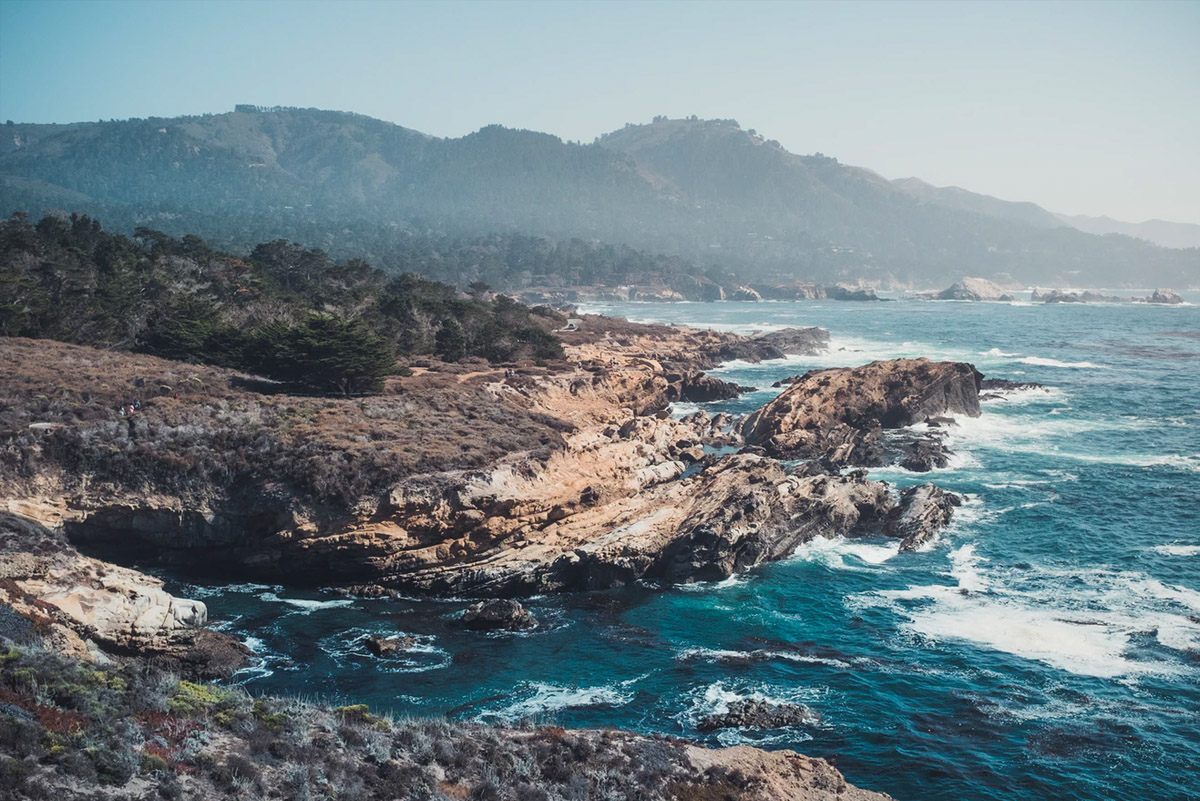 Among one of the cutest towns that you will ever see and one of the most unique places to visit in California (or even in the world), Carmel by the Sea should definitely be included in your bucket list of places to visit in California, especially if what you're looking for is to discover one of the most scenic drives in Southern California.
This pretty little town, located on the south coast of the Monterey Peninsula, is particularly popular for its cute tiny cottages surrounded by colorful flowers and greenery and with no numbers on doors, charming shops selling local goodies, and narrow cobblestone lanes.
All of these elements together create a magical atmosphere that will make you feel as if you are walking into a fairytale town.
It's such a unique place where shops leave bowls with water for dogs outside their doors, and walking on heels is forbidden by the law.
You can spend a few hours, a week or opt for a couple of months workationing in one of the cute cottages available to rent, the best way to enjoy this unique town like a local.
Carmel By the Sea is quite well known as a cultural town because it gave homes to many artists, especially writers who found in this fairy bubble a safe and inspiring nest after escaping from the great earthquake in San Francisco in the 20th century.
Names like Jack London, George Gershwin, Robert Lewis Stevenson, and the poet Robinson Jeffers among hundreds of others found in Carmel their inspiring place and made it their home.
The crushing waves over the deserted beach and the overwhelming nature as a backdrop complete the picture of the perfect town.
From Isabella Biava @ Boundlessroads.com
Hotel Del Coronado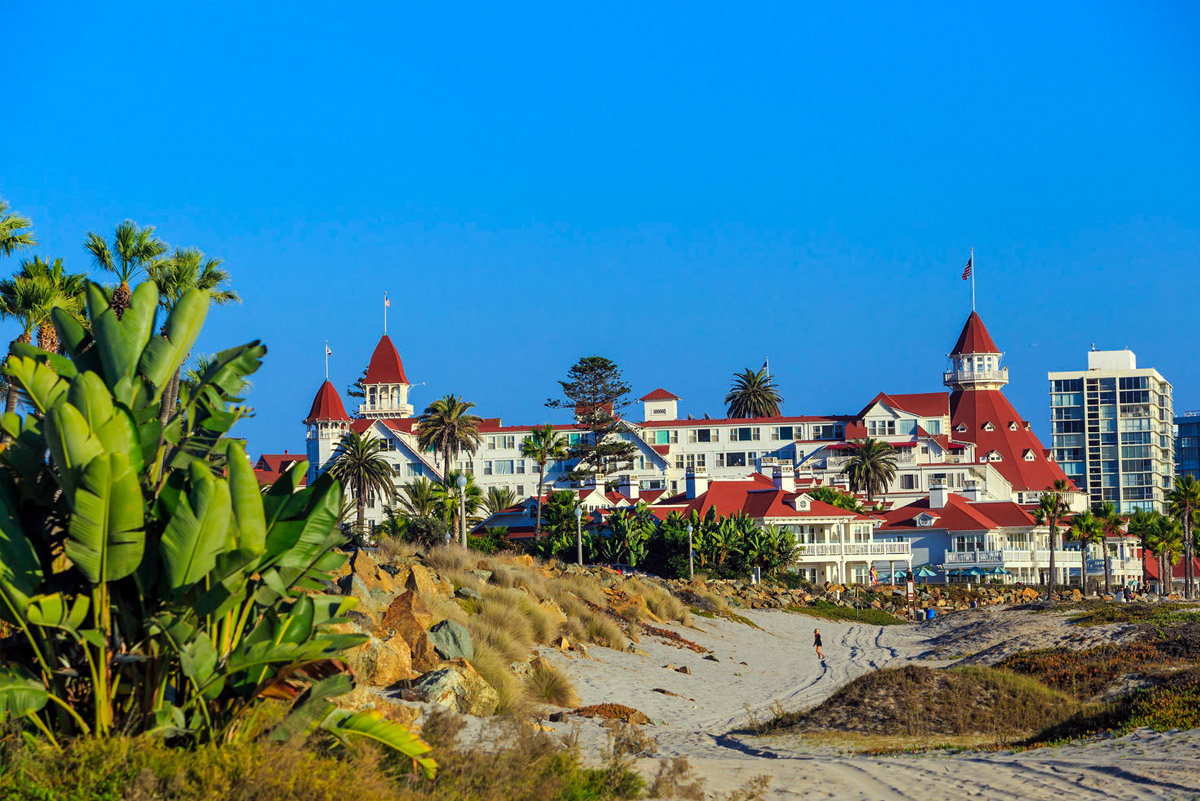 The famous Hotel Del Coronado – a Curio Collection by Hilton hotel – is one of Coronado's most famous landmarks and one of the best hotels in Coronado.
The iconic Victorian architecture with bright white walls and red-roofed towers is more than just a hotel, it is a tourist destination in itself and one of the most unique places to visit in California.
The hotel offers over 600 guest rooms and suites, including ocean-front private villas. The location, directly on the stunning beach of Coronado, is perfect for an unforgettable vacation.
This luxurious 5 Star Hotel was built in 1888 and has seen a lot of history over these years. Famous guests have included movie stars, singers, and US Presidents.
Even movies were filmed there, including "Some Like It Hot" starring Marilyn Monroe in 1958.
If you are looking for a good ghost story, there are actually several at the Hotel Del Coronado.
The most famous are the sightings of the "Beautiful Stranger" in room 3327. A lady called Kate Morgan stayed there in 1892 and ended her life there. Sightings and strange occurrences are still reported by guests these days.
If you are passing through San Diego, a visit to the Hotel Del Coronado – whether you spend the night there or not – should definitely be on your itinerary.
As a San Diego local, I love to head to the Hotel Del Coronado for an afternoon.
As you walk through the lobby, you feel like you are transported through a time machine and you can "feel" the history of this place. If only those walls could talk…
From Maria Haase @ SanDiegoExplorer
Galleta Meadows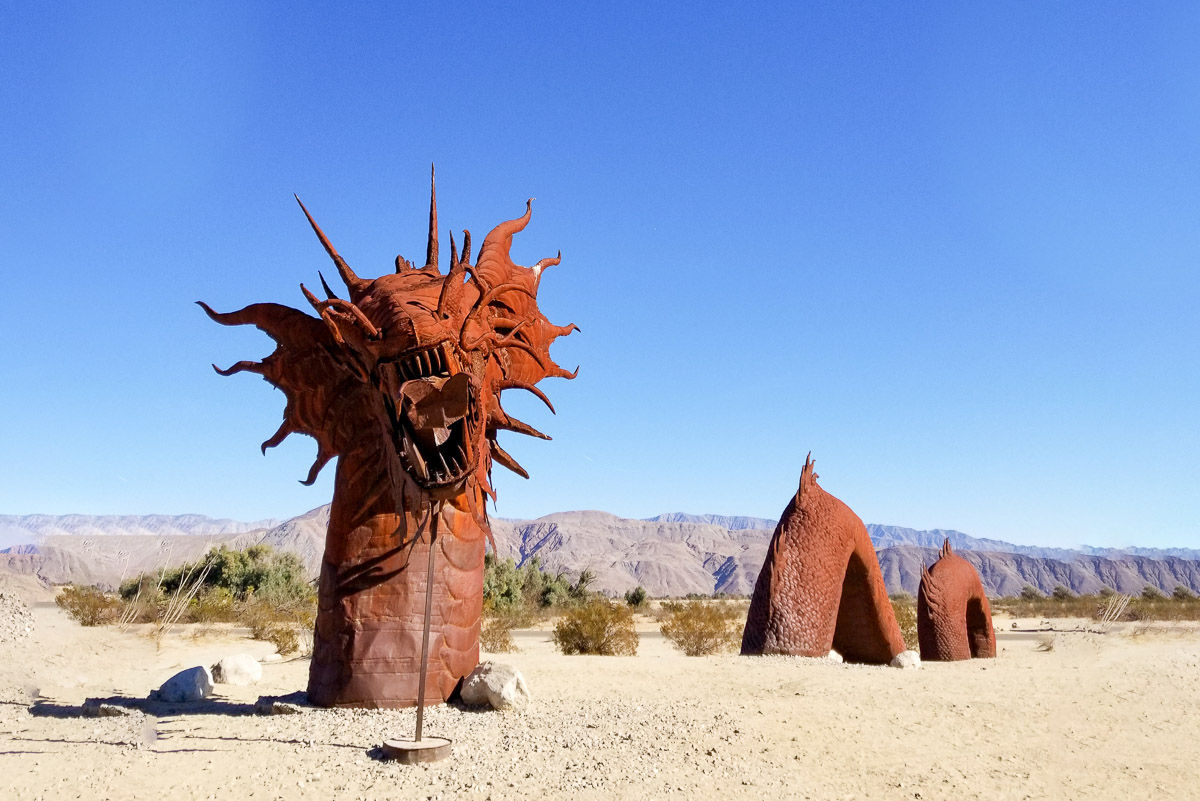 This unexpected delight in the middle of the Southern California desert will give you an experience like no other.
Because where else in the world can you go on a scavenger hunt for things like huge metal sea serpents and prehistoric animals in the middle of the desert?!
Galleta Meadows is an area of land in the small town of Borrego Springs, California.
Included on the land are over 125 metal sculptures scattered throughout.
These sculptures are open to the public for free and since you can drive to each one, this is a very budget-friendly activity for everyone.
Take it up a notch and rent e-bikes and see how many sculptures you can find during your trip.
This isn't the only cool thing to do in Borrego Springs.
You can also explore California's largest State Park: Anza-Borrego Desert State Park.
Although you'll have a hard time seeing all of it, you can start with some of the most popular hikes in the park with The Slot and Borrego Palm Canyon trail.
The Borrego Springs area may be small, but there's plenty to do.
Give yourself at least a 3-day weekend to explore one of the most unique places to visit in California. Check out this itinerary to plan your weekend in Borrego Springs!
Where to Stay in Borrego Springs: For a great place to stay, look no further than Palm Canyon Hotel & RV Resort. This hotel and RV resort has everything you need including a restaurant, laundry facilities, several pools, and more. You can even rent a vintage Airstream trailer if you don't feel like staying in a hotel room, but you don't have an RV.
From Heather Saez @ That OC Girl
Sequoia National Park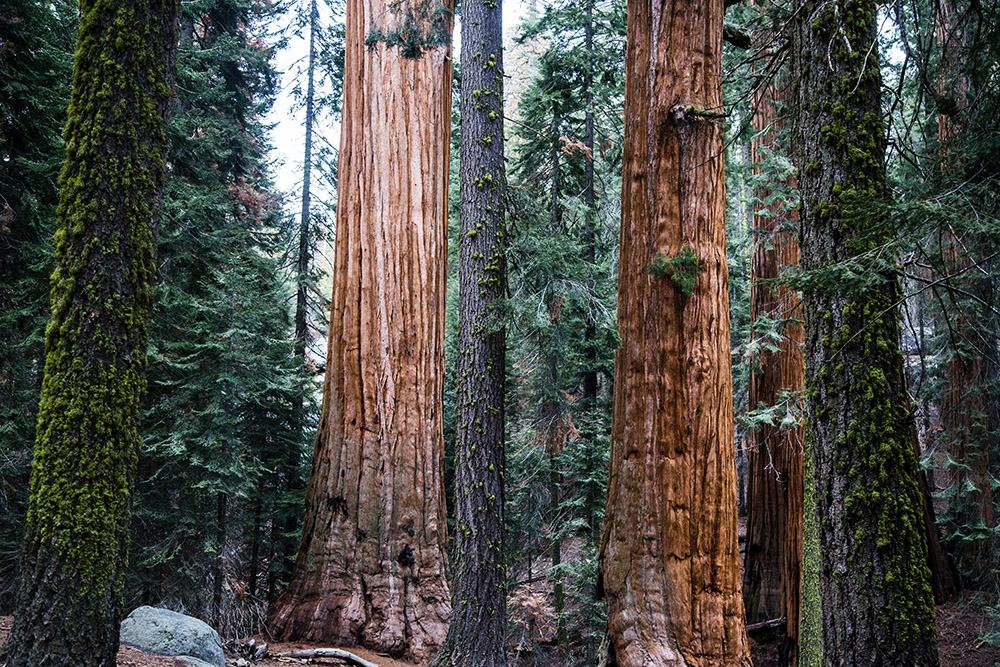 Sequoia National Park is home to most of the world's sequoia trees.
Sequoias are the biggest trees on earth (redwoods can grow slightly taller, but sequoias make up for it in overall size), so seeing them is a truly unique experience.
The largest trees have all been given names – the biggest of them all is the General Sherman Tree, which is reached from the parking lot along a short trail that actually goes through a tunnel cut into the trunk of a tree that fell across the path!
From the General Sherman Tree, the Congress Trail is an easy 2-mile loop that passes the third and fourth biggest trees in the work, as well as a couple of small groves of trees.
One tree, the aptly named Room Tree, is hollow inside and you can walk inside it. How cool is that?!
Another great hike you can do is to Moro Rock, an enormous granite dome.
You can climb to the top up 350 steps and will be rewarded with amazing views over the hills and San Joaquin Valley below.
The main road through the park is called the General's Highway and this is one of the best scenic drives in the country.
There are multiple viewpoints along the way. Also not to be missed is the small Giant Forest Museum, which has displays explaining all about the sequoia trees.
Where to Stay in Sequoia: The nearest town is Three Rivers, where there are vacation rentals available. The main lodge in the park is Wuksachi Lodge, located in the Lodgepole region of the park.
From James Ian @ Parks Collecting
Angel Island State Park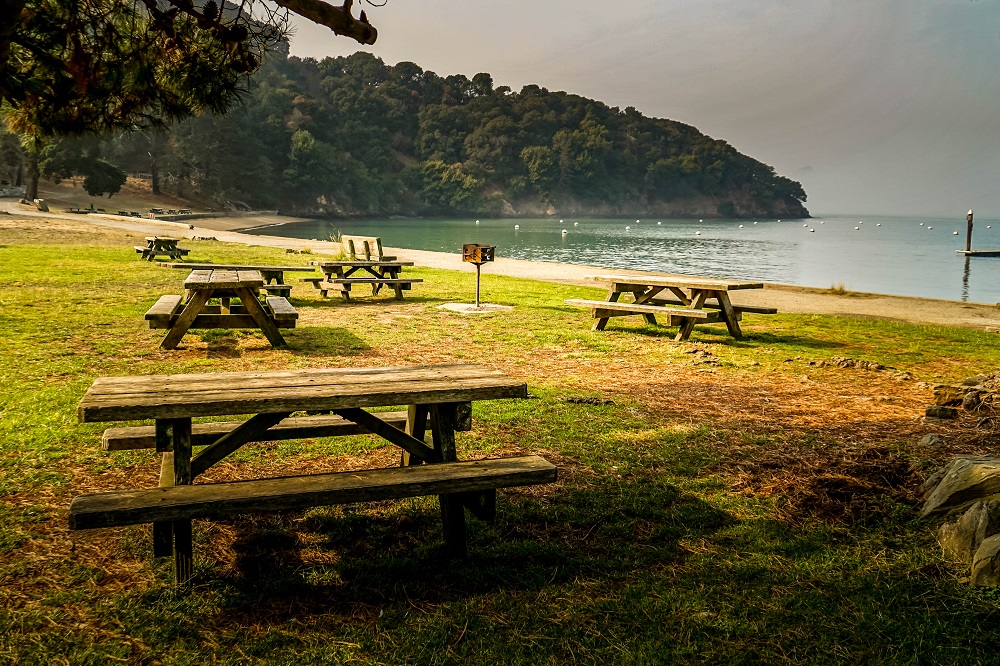 Angel Island State Park is not as well known as its neighbor, Alcatraz Island, but it's still worth visiting if you're looking for unique places to visit in California.
It has a unique combination of history and natural beauty. You can reach Angel Island by ferry from Pier 41 in San Francisco or Tiburon.
Before it became a state park, it was the home to military bases, an anti-aircraft missile site, and an immigration processing center.
Now, the immigration center is a fascinating museum that tells the stories of the immigrants.
In addition to visiting the Immigration Museum, you can watch a short film at the Angel Island Visitor's Center to learn more.
There is also a tram tour that will take you around the island.
Alternatively, you could hike the Sunset Trail to the summit or bike around Perimeter Road. We were lucky enough to see some deer during our visit!
When you are ready to relax, there are plenty of picnic tables with amazing views of San Francisco Bay.
You can bring your own food or pick up some at the cafe by the ferry dock.
With all the things to do on Angel Island, it makes for a packed day trip or you could stay overnight if you reserve a camping site in advance.
From Anisa @ Two Traveling Texans
Malibu Creek State Park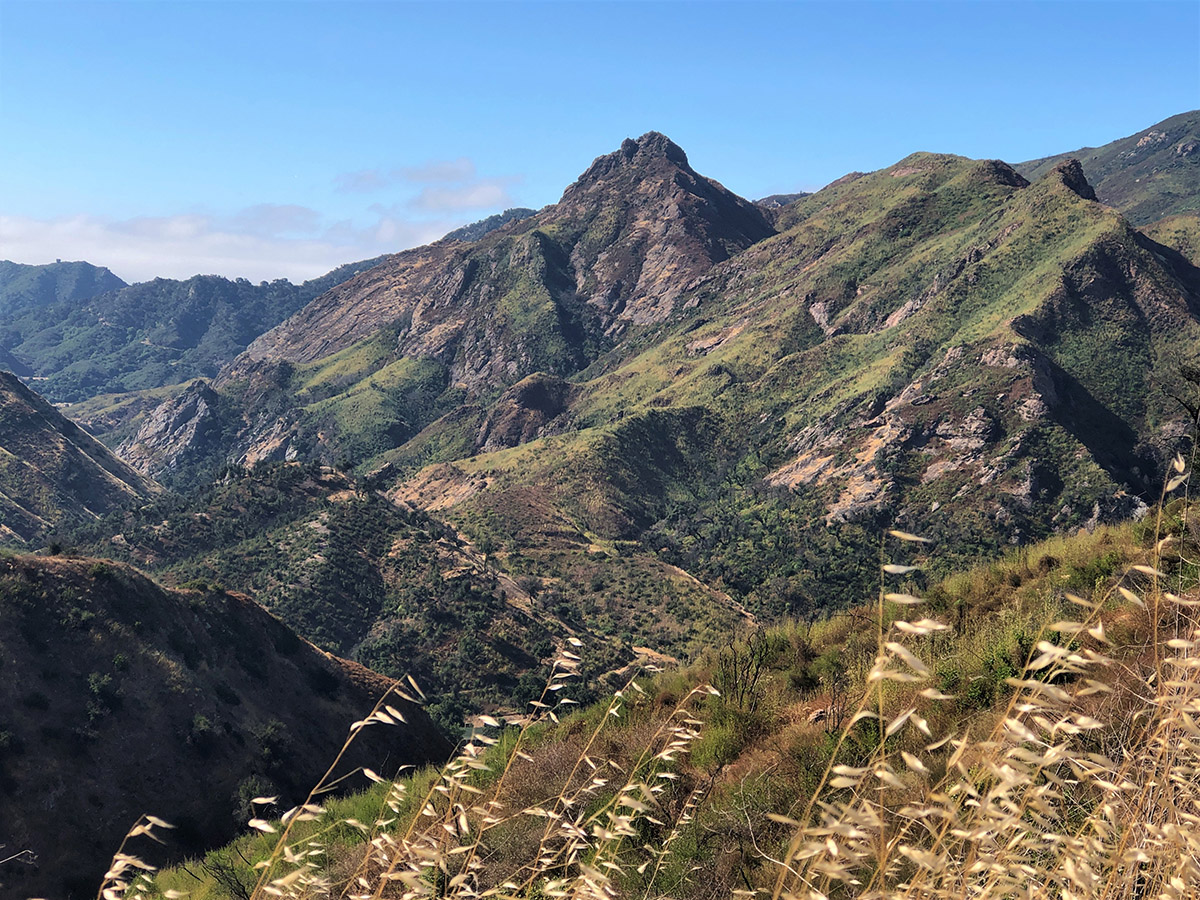 Set about 25 miles from bustling downtown Los Angeles, Malibu Creek State Park offers 8,000 acres of scenic beauty to explore for the low price of $12/day.
Located just 6 miles from the Pacific Ocean through the windy Malibu Canyon, this park occupies some prime Southern California real estate in the Santa Monica Mountains.
Hiking or biking the mountainous terrain affords some stunning vistas, especially in the spring when the wildflowers are blooming.
Trails for every level from easy to strenuous meander throughout the park to Century Lake, the Rock Pool, and perhaps the most famous trail leads to the MASH site, where the famous 70's sitcom was filmed.
Watch out for wildlife along the way, as these mountains are home to coyotes, mountain lions, deer, rattlesnakes, and many different bird species like the Great Blue Heron!
For the more adventurous, you can rock climb, horseback ride, or kayak in different areas of this stunning California park, but bring your own equipment as there are no rental outlets here.
You can also reserve one of the 62 tent campsites to make your adventuring easier.
This area has everything you need for a great vacation or a unique weekend trip.
A short drive on Mulholland Highway and you're right in the middle of Malibu wine country.
Visit Cornell Winery for some wine tasting and learn about the local wines in the region. Then grab a bite next door at The Old Place restaurant housed in the old Cornell post office.
You'll think you're in a movie set in these charming old buildings (and in a way you are as they have been in countless scenes over the last 50 years!)
From Denise @ Chef Denise
Sea Ranch at Sonoma County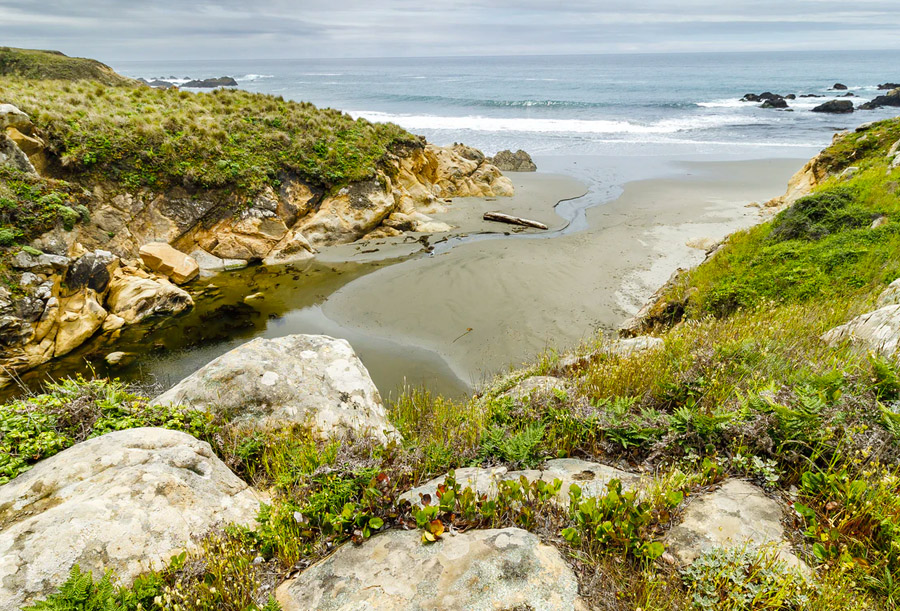 About 2 and a half hours north of San Francisco is the fascinating town of Sea Ranch, California in Sonoma County where Most of the vacation homes blend into the rugged coastline and offer incredible views of the ocean.
It's one of the most unique places to visit in California, especially if you're looking for a family-friendly escape.
In Sea Ranch, there is a Golf Course, and the gorgeous Sea Ranch Chapel. The best part of Sea Ranch is of course at your doorstep, the Pacific Coast.
There are dozens of small and large beaches, cliffs, and 50 miles of hiking trails. It was a family vacation we will never forget! We even loved the road trip with kids to get there from SF!
There are lots to do beyond Sea Ranch proper. The town of Gualala is only 5 miles north and has a gas station, small grocery store, and some great small restaurants.
If you want to explore more, check out Gualala Point Regional Park with the Bluff Trailhead.
Where to Stay at Sea Ranch: We stayed at Seascape, a rental home with floor-to-ceiling windows in 90% of the house facing the Pacific ocean. The best part was a hot tub in a walled garden. My kids loved playing in the hot tub (turned to medium temp!) and we all had fun relaxing in the evenings. Because of the planning of the neighborhood, you feel completely secluded with nature all around as you cannot really see your neighbors.
From Jennifer @ FamilyTripGuides.com
Mosaic Steps of San Francisco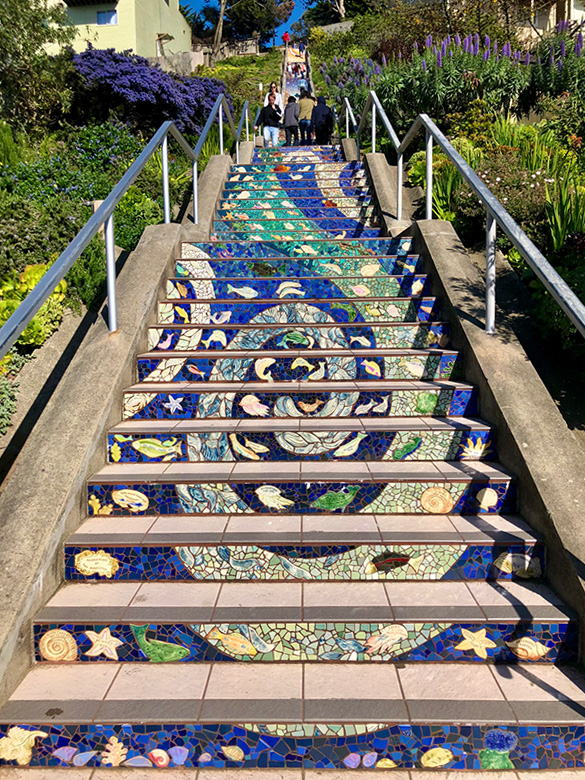 The beautiful mosaic steps of San Francisco are a hidden gem in California.
Despite the fact that San Francisco is built on steep hills, rarely any guide books talk about the masterpiece staircases which were really a canvas for local artists.
Since San Francisco is a top tourist destination filled with major attractions tourists rarely ever discover the many scenic staircases all around San Francisco.
Many years ago mosaic tile stairs were plain old stairs. They attracted bad elements to the neighborhood and especially the Lincoln Park.
Eventually some artists and neighbors got together to decorate the stairs with art.
They started with paintings which the neighbors transformed into tile art. The neighbors volunteered and donated funds to make it happen.
Each step in the mosaic stairs has a design. A set of steps, forms a painting if viewed from the front.
The staircases form a collection of paintings tied together with a theme or flow.
One could easily pass them by but if you pay attention the stairs come alive with the most beautiful art.
It's a great example of a community coming together to create beauty for all visitors of their home city.
There are many stairs in San Francisco with beautiful views.
But there are three steps with the mosaic art, two of them within walking distance of each other and Lincoln Park on the other side of Golden Gate Bridge.
A day trip to see the beautiful mosaic steps of San Francisco can easily be combined with Golden Gate Park and its many attractions.
If you have time you can also walk the Golden Gate Bridge and have a picnic in Crissy Field.
By Jyoti @ Story at Every Corner
Hearst Castle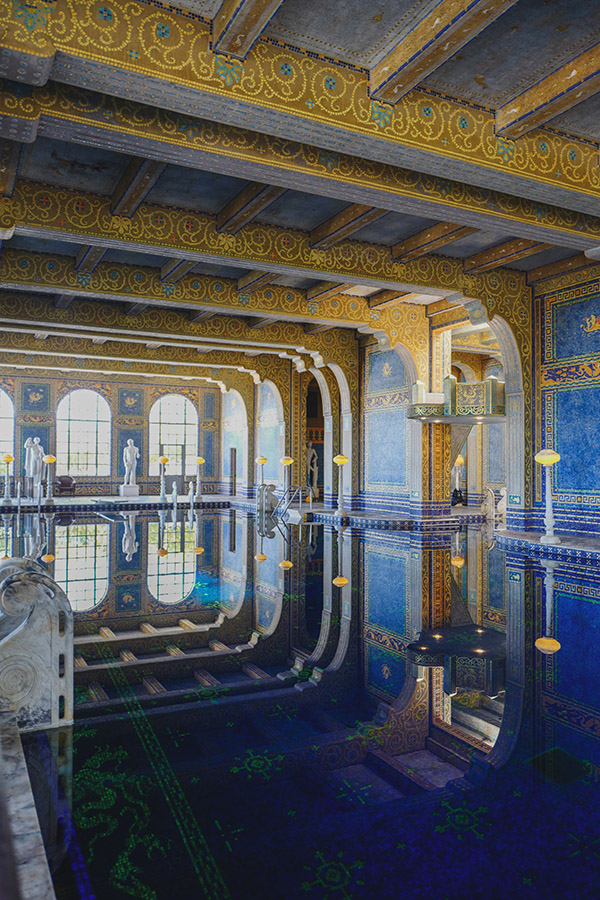 Hearst Castle is a National Historic Landmark of California that was the brainchild of publishing tycoon William Randolph Hearst.
Designed by architect Julia Morgan, the grand estate in San Simeon was constructed between 1919 and 1947.
The complex has a main building with two towers, three guest houses and sprawling gardens with fountains, pools and terraces.
For first-timers to Hearst Castle is to book in for a Grand Rooms Tour of Casa Grande, the main building, and the Assembly Room, Morning Room, Refectory, Billiard Room and Theater.
There are beautiful gardens to explore and plenty of impressive Art Deco works and Egyptian, Greek, and Roman antiquities.
Hearst Castle is full of rare artworks and sculptures from Europe and Asia. What's most impressive are the 30 carved and painted Italian and Spanish Renaissance-style ceilings.
A highlight is a massive painting by Spanish master Bartolomé Pérez de la Dehesa called the Annunciation, which graces the Assembly Room.
The oldest works in Hearst Castle are four sculptures of Sekhmet, the Egyptian goddess of war, who has a woman's body and a lioness head.
The sculptures are carved from diorite and are from the New Kingdom (c. 1550-1070 BCE).
Where to Stay: The best place to stay is in San Simeon, which is only a few minutes away from Hearst Castle.
From Christina @ Travel2next
Redwood National and State Parks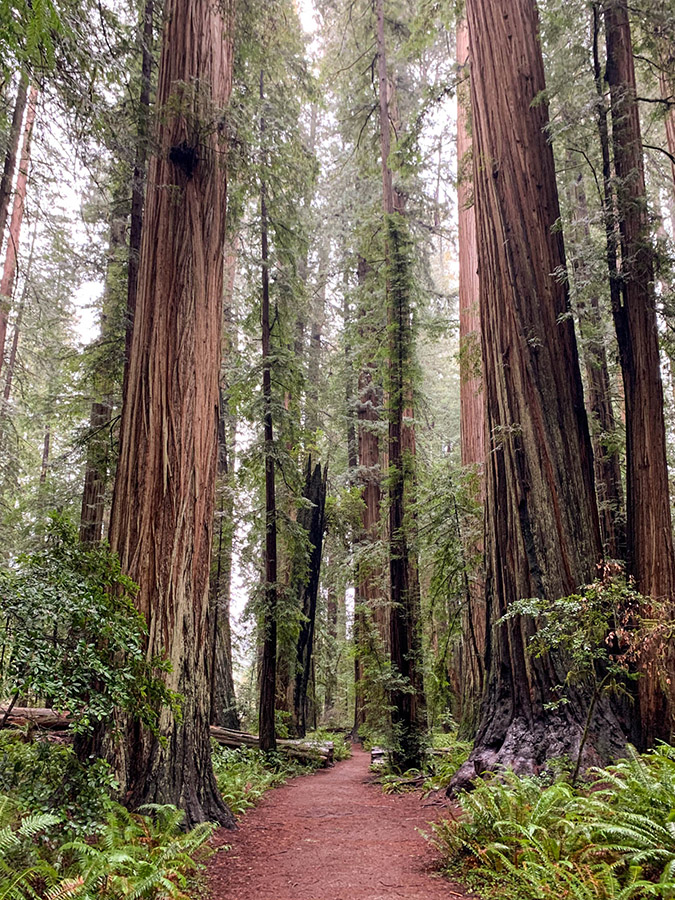 Redwood National and State Parks, tucked away on the northern California coast away from the hustle and bustle of the Bay Area, is an under-appreciated gem in a state full of amazing places to visit.
The centuries-old redwoods towering over the stunning California coast are a unique natural wonder found in few places around the world.
The park, which is a combination of a few different state parks including Jedediah Smith Redwoods State Park and Prairie Creek Redwoods State Parks, sprawls over 139,000 acres full of old-growth redwoods and temperate rainforests.
Camping in one of the state parks or the town of Trinidad are the best places to base yourself here for a couple of days of exploring the redwoods.
It makes a fantastic stop on a Northern California road trip, where you'll either be able to head east to Lassen National Park, or back down the coast to wine country and the Bay Area.
Don't forget to get travel insurance for your trip! As always, I recommend Safety Wing for great prices and coverage abroad. It starts at only $45 USD per month and will have you covered with everything you may need during your trip! Check them out here.
There are three highlights that we think you shouldn't miss on your trip through the redwoods.
First is Fern Canyon, which is a short but incredible journey where prehistoric-looking ferns snake their way up the walls of the canyon.
It's at the end of a rough road that should be passable for most vehicles.
Second is the drive along Newton B. Drury Scenic Parkway, a ten mile drive through an old growth redwood forest that's a more scenic drive than the stretch along Highway 101.
Make sure to stop at the "Big Tree," which is several thousand years old.
Last is Stout Grove in Jedediah Smith Redwoods State Park, a spectacular and largely untouched redwood grove that served as the backdrop for Endor in Return of the Jedi.
Getting there via the similarly scenic Howland Hill Road is part of the adventure!
From Matt and Alysha @ Wheatless Wanderlust
La Jolla Cove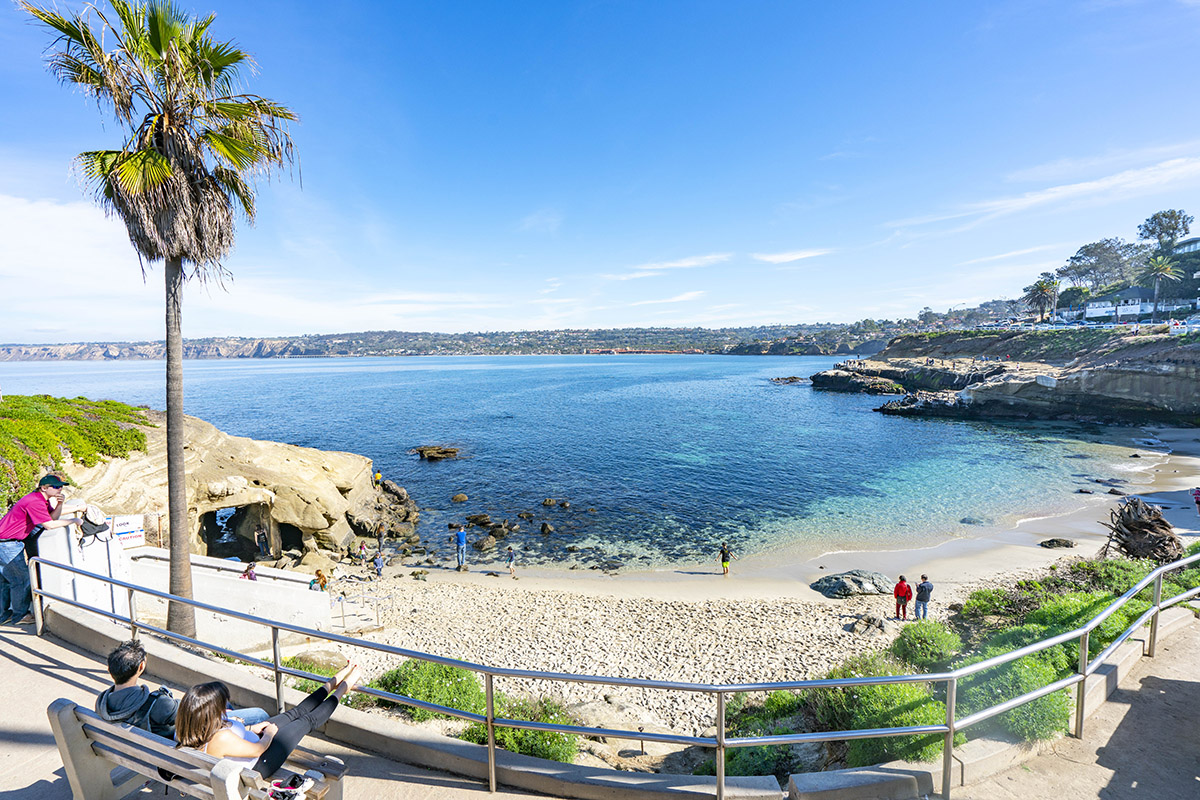 La Jolla Cove is one of the most photographed places in all of San Diego.
The picturesque cove is home to unusually calm and clear turquoise water and serves as an entry point to the La Jolla Underwater Park's ecological reserve which is popular for snorkeling, kayaking, and diving.
Moreover, during the La Jolla kayaking tours, you can paddle through the remarkably clear turquoise waters of La Jolla Cove and immerse yourself in the beauty of the Underwater Park's ecological reserve for an unforgettable adventure.
People also come here to see the chatty La Jolla sea lions who live on the upper bluffs and frolic in the water (yes, sometimes with swimmers and snorkelers).
You can use the small beach here for sunbathing and swimming (no floatation devices like boogie boards are allowed), but you should visit even if you have no intention of stepping onto the beach area.
People also come here to see the chatty La Jolla sea lions who live on the upper bluffs and frolic in the water (yes, sometimes with swimmers and snorkelers).
While you can walk out onto the bluffs to get close to them, it's discouraged so bring a zoom lens for photos, and rest assured that you'll be able to see plenty of their antics from the boardwalk.
This is a really lovely place to take a seaside walk.
Getting to La Jolla Cove from downtown San Diego is easy and takes normally 20 minutes or so by car.
You can easily pair a visit with dining at one of San Diego's best restaurants like George's Ocean Terrace on Prospect Street, San Diego's Rodeo Drive, just above the Cove.
Then walk off your meal by browsing the various art galleries and boutiques.
From Katie Dillon @ La Jolla Mom
Alcatraz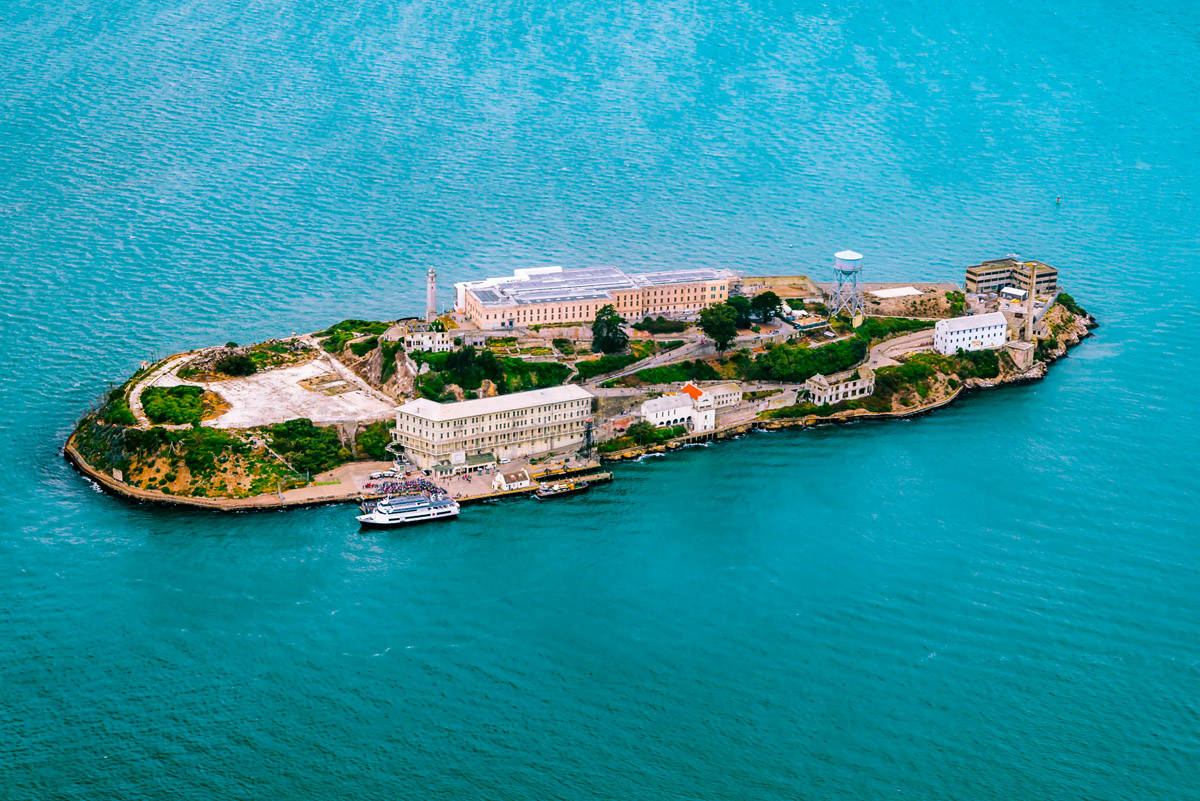 One of the most unique historical sights in California is Alcatraz Island. If you are visiting San Francisco, a tour to Alcatraz definitely is a must-do.
Alcatraz, or "The Rock" as it is commonly called, is an island in the San Francisco Bay that was formerly home to a maximum-security federal penitentiary.
The legendary prison closed in 1963, but has since been restored and is now a historical site managed by the National Park Service.
The tour starts at Pier 33, where you board the ferry to Alcatraz Island.
The ferry ride alone is incredible with views of the city and Golden Gate Bridge from the bay.
After disembarking from the ferry, you head up a steep incline to the cell house where you start your audio tour.
The audio tour is top-notch and takes you on a fascinating tour through the cell house and out to the surrounding grounds.
You really get a feeling of what it was like to be an inmate or guard when Alcatraz was still operating.
After your audio tour is complete, you can take your time enjoying the views and exploring the grounds before taking a ferry back to the pier.
It is important to note that there is no parking available at Pier 33, so the best area to book lodging would be in Fisherman's Wharf, only a quarter of a mile away.
You could also stay in Union Square and take public transit or rideshare to the pier.
Even if you only have a few days in San Francisco, you should make time to visit Alcatraz, it will likely be the highlight of your trip.
From Diane @ travelswitheli.com
Joshua Tree National Park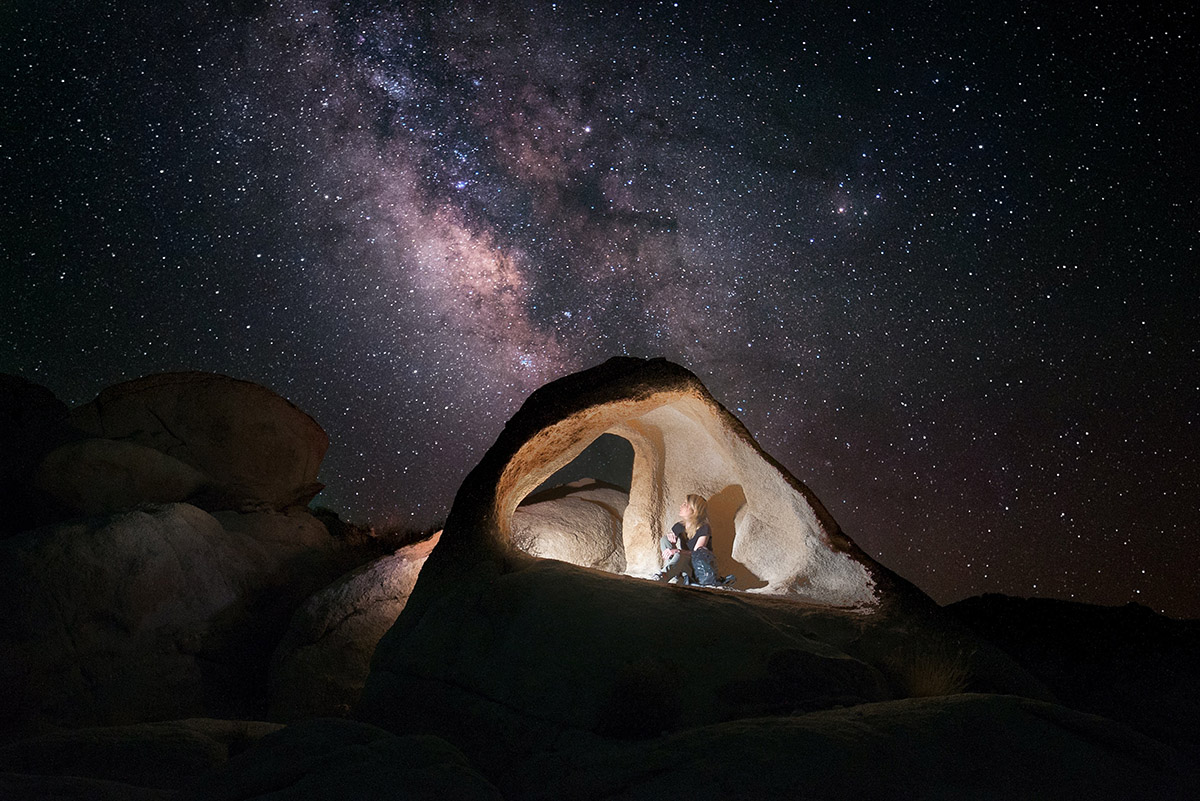 Joshua Tree National Park, located not too far away from Palm Springs, is one of the most underrated national parks in the USA.
One day at Joshua Tree is enough to visit the main instagrammable spots, enjoy a picnic in the desert and eventually also hike on one of the short trails if you feel like it!
Visiting Joshua Tree can be cheap if you are exploring California and its natural wonders.
The ticket is in fact included in America the Beautiful card, which means you can visit for free if you bought the yearly pass (it includes over 2000 parks in the US!).
Joshua Tree is also amazing because it's very rarely crowded. You can road trip for miles and never see another car.
Staying after sunset is usually a good idea. Joshua Tree boasts some of the darkest nights in Southern California.
It's actually certified by the International Dark Sky Association as one of the best parks to see the the Milky Way!
Stargazing at Joshua Tree is thus an unforgettable experience, that you might want to add to your California bucket list!
From Danila Caputo @ Travelling Dany – Every Corner a Story
Where to Stay in Joshua Tree: The House Estate
Point Reyes National Seashore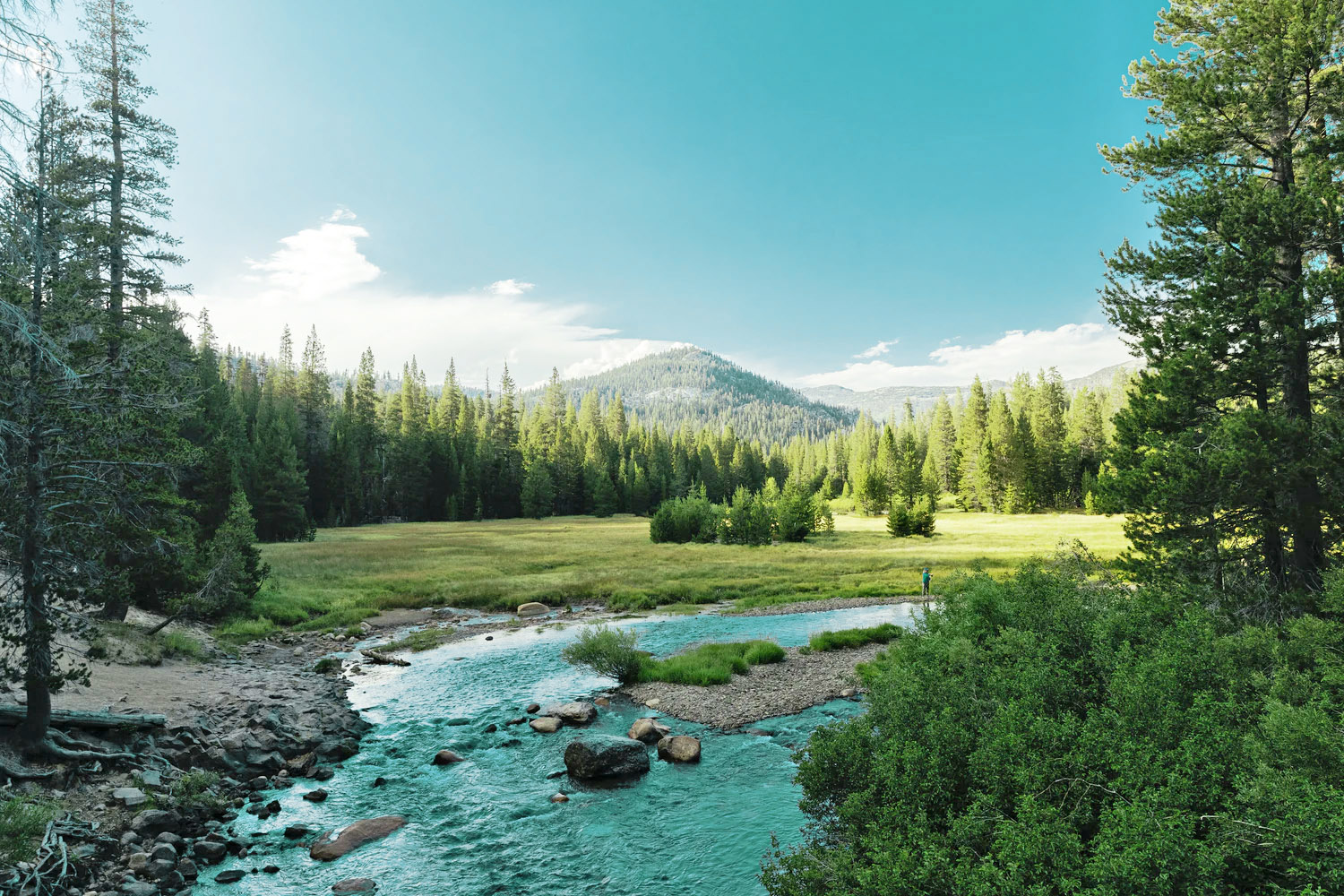 Point Reyes National Seashore is one of the most beautiful drives in California and a wonderful way to explore the wine country.
This beautiful location is less than two hours from San Francisco. Taking the CA-1 N is a scenic drive up the coast.
Once you pull into Point Reyes National Seashore, there are many options for scenic drives.
First, head to the Point Reyes Shipwrecks, which is an iconic wooden boat stuck on a sandbar and makes an excellent photo opportunity.
The next stop is the Monterey Cypress Tree Tunnel, which is a drive planted in the 1930s that leads to a historic radio station.
Next, make sure to check Drakes Beach, where you can spend a day gazing at the Pacific Ocean and stumbling across a seal or two.
Point Reyes National Seashore is the Point Reyes Lighthouse, you may need to take the shuttle from Drakes Beach.
The lighthouse was built in 1870 and offers some seriously amazing views of the Pacific Ocean.
The walk down is 313 easy steps (but it feels like 1,000 on the way up!).
If you have never seen elephant seals, the elephant seal overlook is the perfect next stop.
Bonus points if you stop by Tule Elk Preserve at Tomales Point, where you can see tule elks!
Scenic drive recommended by Rebecca @ Whatever Packs Your Bag
And that's the list! Have you ever visited any of these unique places in California?
Let me know all about your favorite California destinations in the comment section below!