Scenic Drives in Southern California That Will Get Your Jaw on the Ground
One of the best ways to explore the most unique places in California is to hit the road!
It's no secret that the Golden State boasts some of the most delightful sights in the entire country, and one of the best ways to get to see as much as possible is by adding some scenic drives in Southern California to your bucket list.
From California's desert magic to the shores of Big Sur and the glorious Sierra Nevada Mountains, here are some of the most scenic drives in Southern California that will get your jaw on the ground:
About this guide to the most Scenic Drives in Southern California
This guide is your one-stop resource for the best scenic drives in Southern California.
Not only will you find a thorough list of the best roads in the state (both recommended by myself as well as top travel bloggers), but you'll also be able to find insider tips to help you make the most out of your road trip.
In this post, you'll find the following info:
A list of some of the most scenic drives in Southern California
The approximate length and time needed to complete each drive
Things to do and cool stops to make for each drive
Expert tips for driving in Southern California
Beautiful Scenic Drives in Southern California Not to Miss:
1. Highway 395 (Sierra Nevada Mountains)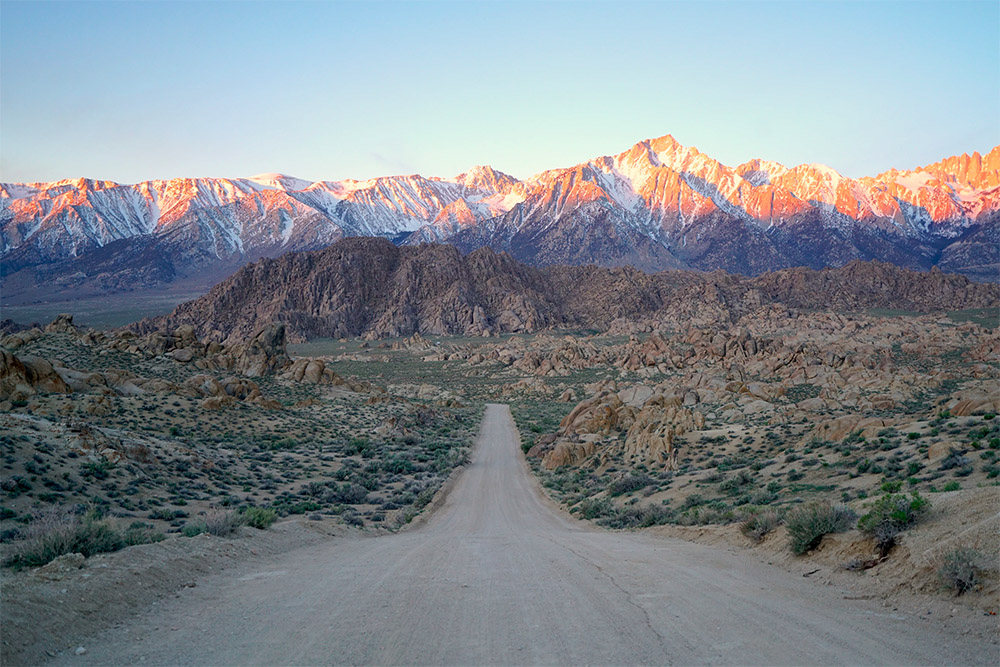 Highway 395 on the backside of the Sierra Nevada mountains in California is such a fantastic road trip to do and harkens back to old western California.
Not much has really changed with small towns, national parks, and stunning landscapes to discover.
From Los Angeles, the drive-through I395 can go all the way to Lake Tahoe and take several days to a week if you like to take it slow and enjoy the pace and lifestyle here.
Starting from LA, the drive is about 450 miles on the backside of the Sierras and you can visit two large national Parks: Joshua Tree National Park and Death Valley National Park.
Another fantastic place to discover is the national monument at Manzanar, which was a detention camp for the Japanese internment in the USA during World War Two.
Other cool landscapes and places of interest along this scenic road include the Alabama Hills, the western town of Bishop, the Bristlecone Pine Forest, the Devil's Postpile, and Mono Lake.
If you're into the weird and the wonderful, make sure to check out the ghost town of Bodie.
The drive on I395 is special not only because of all the historic and natural treasures you get to visit along the way, but the road trip itself is a California classic experience.
Length: Starting from LA the drive is about 450 miles on the backside of the Sierras.
Time needed: Multi-day road trip. This gorgeous drive can take several days to a week depending on how many stops you want to make and how long you want to stay at each location. I recommend taking things slow if time allows to get to fully soak in the beauty of this stunning drive.
Scenic drive recommended by Noel Morata @ Visit California and Beyond
2. Hwy 190 through Death Valley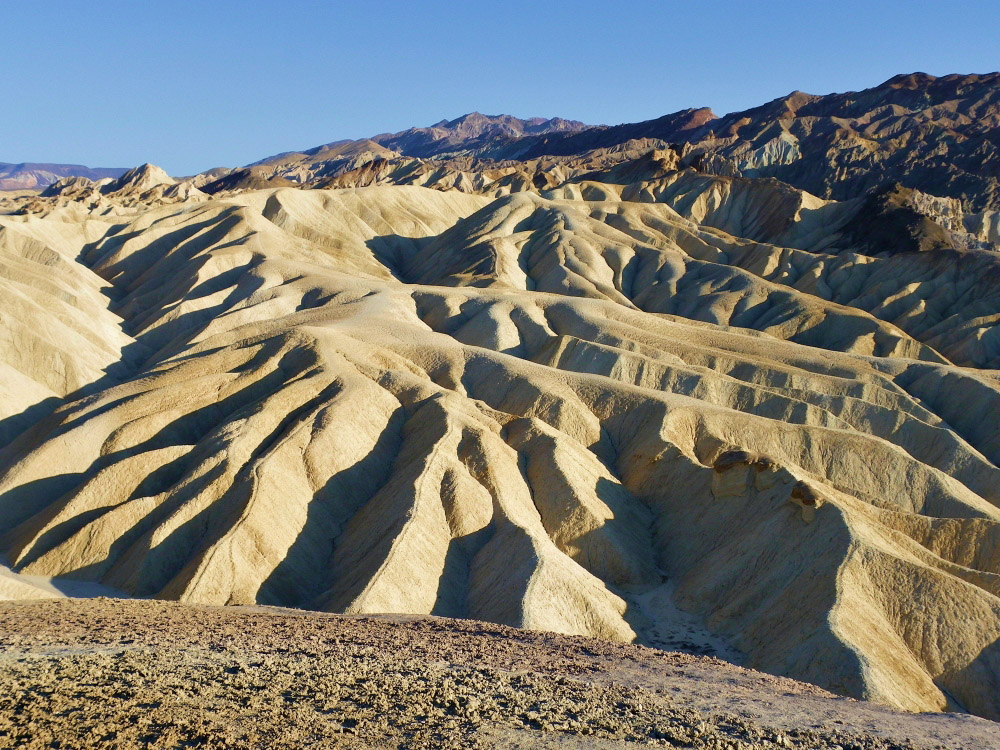 Highway 190 not only dissects Death Valley and is the main access road through the national park, but several of the most popular and spectacular places to visit, and things to do in Death Valley are right next to the road.
Coming from the west, Father Crowley Overlook gives you wonderful views of Death Valley spread out below you.
Hopping back in the car, you immediately start to descend a series of switchbacks into the valley itself.
The first main point of interest is the Mesquite Flats Sand Dunes at Stovepipe Wells.
There are seven areas of sand dunes in Death Valley, but the snowy white Mesquite Flats dunes are the most accessible.
You can walk straight from the parking lot on to the dunes. It is about one mile to get to the top of the tallest dunes.
A little further along, you will pass the turn off to Scotty's Castle.
More a villa than a castle, the 1902's Death Valley Ranch is currently closed due to flooding, but is usually open for house tours.
Back on Highway 190, be sure to stop off at Harmony Borax Works.
The former mine and borax plant dates from the late 1800's and is a fascinating step back in history.
There are ruins of factory buildings and a twenty-mule team wagon on display.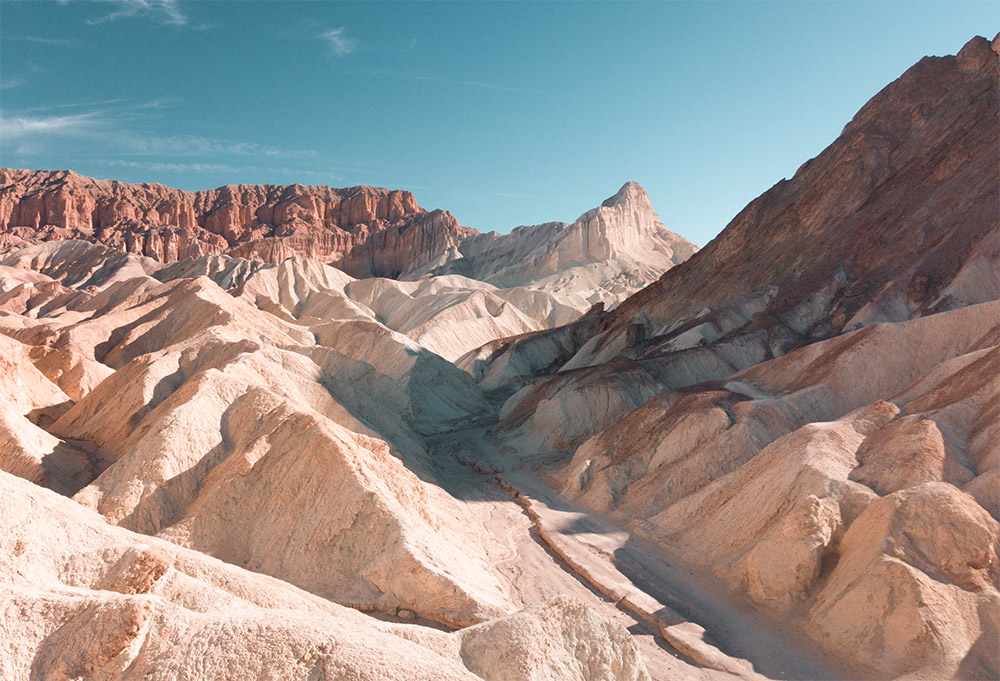 From there, it is a very short distance to Furnace Creek, the main settlement in Death Valley, where there are several types of accommodations, stores, and restaurants.
Near Furnace Creek, you will also find the turnoff to Badwater Road.
This diversion takes you to the Golden Canyon Trailhead, Badwater Basin (the lowest place in north America), Sidewinder Canyon and the Artist's Drive loop.
A little further along Highway 190 is perhaps the most photographed place in Death Valley, Zabriskie Point.
The golden ridged badlands are especially popular for sunrise and sunset but are spectacular any time of the day. From there, it is a short drive out of Death Valley.
Length: From Father Crowley Overlook in the west to Death Valley Junction in the east is 93 miles.
Time needed: Driving straight through, it only takes one hour and 45 minutes, but you will want to stop off at several points along the way, as well as take side roads to additional Death Valley attractions.
Where to stay in Death Valley: There are several campsites inside of Death Valley, all of which are free except for Furnace Creek campground ($22-$36 a night). With that said, camping in Death Valley works on a first-come-first-serve basis. Moreover, Death Valley can be brought weather-wise, so it's not recommended on most months of the year.
There are also a few hotels inside the park. These are pricey but totally worth it for an unforgettable stay. The Inn at Death Valley and The Ranch at Death Valley are both lovely options and the perfect way to experience a night under the stars at Death Valley.
Drive recommended by James Ian @ Parks Collecting
3. Jacinto Reyes Scenic Byway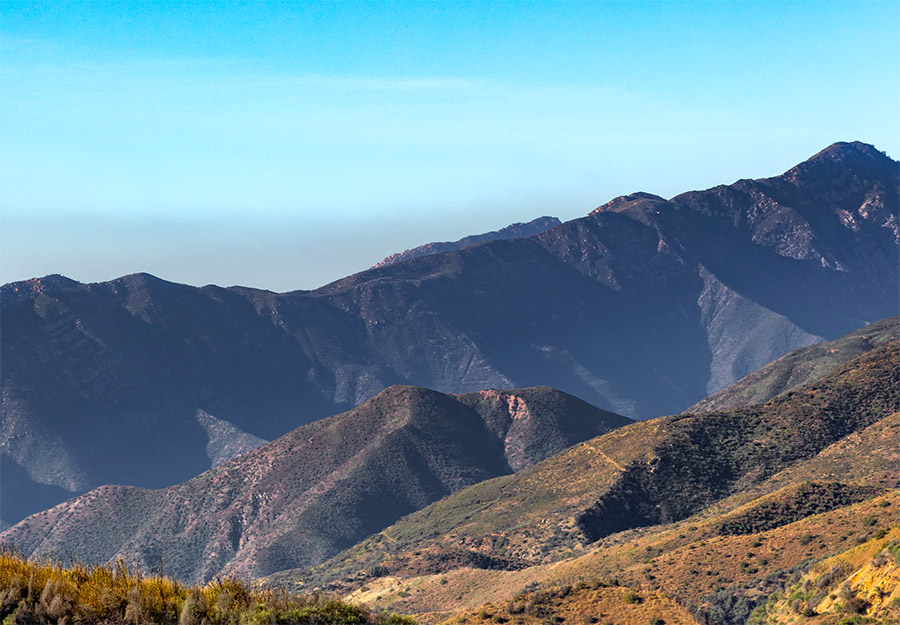 Set just a few hours from Los Angeles, the Jacinto Reyes Scenic Byway is a gorgeous drive that cuts through the Cuyama, the San Joaquin Valleys, and up to summits over 5,000 feet tall.
Even though the route is relatively short in length, you'll be making stops every few minutes to catch a glimpse of the beautiful landscapes.
The highlight will be when you drive through Los Padres National Forest, which is a wonderful spot to spend a few hours (or even a day) as it offers tons of hiking and horseback riding trails.
Other must-sees along the Jacinto Reyes Scenic Byway are the Dry Lake Ridge Botanical Area and the Piedra Blanca Rock Formations.
This scenic drive in southern California follows Highway 33.
Start in Ojai (15 miles north of Ventura) and head north. The end of the drive is right at the junction with Highway 166.
Distance: 36.5 miles
Drive time without stops: 4 hours
Don't forget to get travel insurance for your trip! As always, I recommend Safety Wing for great prices and coverage abroad. It starts at only $45 USD per month and will have you covered with everything you may need during your trip! Check them out here.
4. LA to Big Sur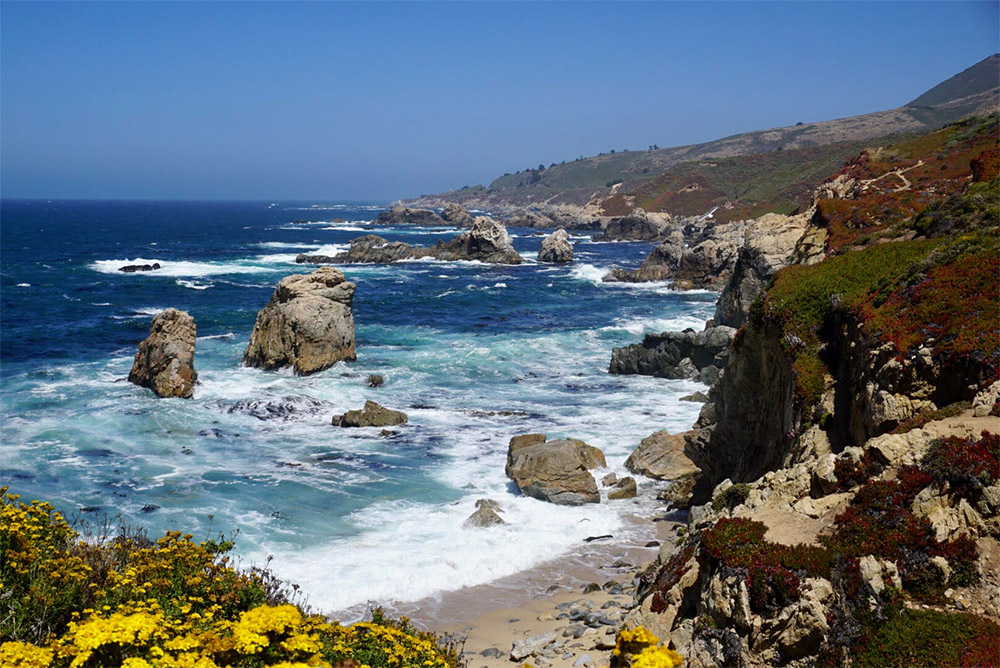 Taking the sunny coastal drive up Highway 1 from Los Angeles to Big Sur is one of the most scenic drives in Southern California.
There are shortcuts along this route to shorten the time, but if you're looking to take the most scenic route, plan for about 6 hours total driving time.
While this drive can certainly be completed in one day, it's recommended to split it into 2 days to take the time needed to fully explore the beauty of this drive and the stops it has to offer along the way.
After leaving the hustle and bustle of Los Angeles, a wonderful first stop is Malibu, where you can stop for some fresh seafood and fresh ocean air.
Another must-see stop along this scenic drive is Santa Barbara, which is a wonderful choice for a night's stay if you're looking to split the drive into 2 days.
It's a wonderful beach city with so many shops, restaurants, and classic Spanish colonial-style architecture.
See the coastline change from white sand beaches to rocky coast as you approach your final destination.
There are so many picturesque viewpoints to stop and pull over as you reach Big Sur.
Staying the night in nearby Monterey is a great option at this point, or, if looking to continue your journey north, this route takes you up to San Francisco and beyond.
Length: From Father Crowley Overlook in the west to Death Valley Junction in the east is 93 miles.
Time needed: This scenic drive can be completed in a day, but two days is recommended to make the most of it! A wonderful place to spend the night is Santa Barbara.
Drive recommended by Olivia @ The Girl With Blue Sails
5. Mulholland Drive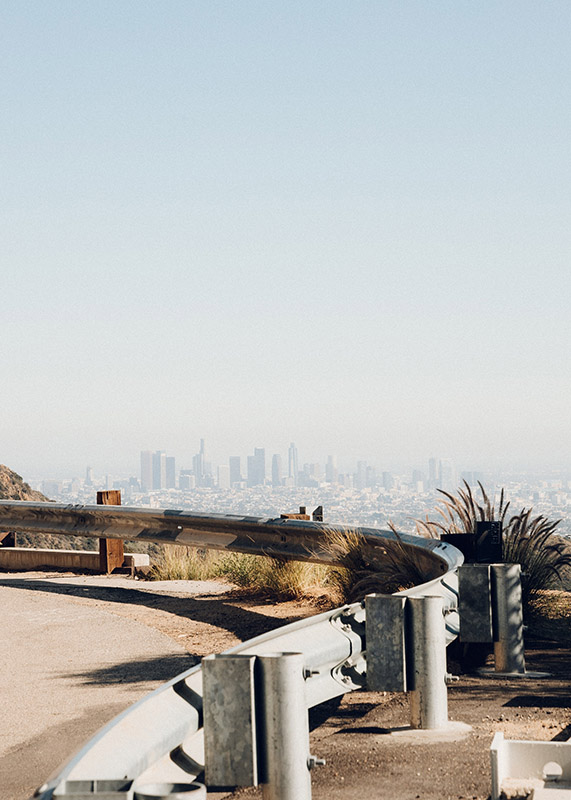 For one of the most quintessential scenic drives in Southern California hop onto Mulholland Drive in Los Angeles. Mulholland Drive is a beautiful, 24-mile long stretch of road between Highways 101 and 405 known for huge, luxurious celebrity mansions, sweeping Los Angeles views, and great views of the Hollywood Sign.
Mulholland Drive is home to seven, easy-to-find scenic overlooks which are perfect for a quiet moment away from the city, picture-perfect LA views, a cozy lunch spot, or romantic moments with your sweetheart.
The majority of the overlooks are located on the north side of Mulholland, so to avoid multiple left turns, I recommend starting your drive on the Cahuenga/Highway 101 side.
Along with the scenic overlooks, Mulholland Drive is known for its many, amazing celebrity mansions.
It's insane to see these beautiful mansions overlooking LA and imagine who is living there.
Right among these beautiful homes, you will find the trailhead for Runyon Canyon which is one of the best hiking trails in Los Angeles. It's definitely a worthwhile stop along Mulholland Drive.
To really feel like a celebrity, rent a convertible to take the drive with the top down and the wind in your hair. Or you can buy tickets on an open-air bus for a guided celebrity mansion tour!
Plan on two or more hours to complete the drive, enjoy your stops, and loop back to where you started.
If you are looking for an oasis away from the crazy amounts of LA traffic and crowds, make sure to add the Mulholland Drive to your itinerary.
Length: 24 miles
Time needed: 2 hours+
Scenic drive recommended by Jenessa Van Woerkom @ Destination Daydreamer
6. Joshua Tree National Park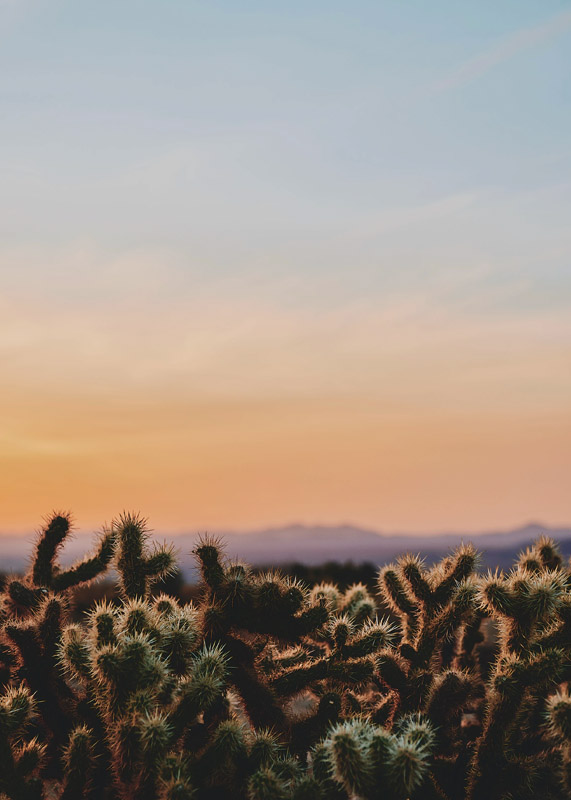 Taking the slow road through Joshua Tree National Park is definitely one of the most scenic drives in Southern California.
It's a lovely, spare landscape and you have to have respect for a region that can support so much biodiversity on so little water.
The eponymous Joshua Trees are the obvious main attraction, but the drive also includes bouldering opportunities, arches, old mining ruins, hikes and some pretty awesome views.
There's a lot to cover, but you can do a lot of Joshua Tree as a day trip or better yet, spend the night at one of these places to stay in Joshua Tree.
We recommend beginning the drive at the northwestern entrance, which is located in the town of Joshua Tree.
Then travel south through the park on Park Boulevard, divert down Keys View road and then backtrack and take Pinto Basin road out the south entrance near Indio. Some of the top stops include:
The Barker Dam trail, which has Petroglyphs and Mining history.
The Hidden Valley nature trail, which highlights Joshua Tree's unique geology.
The Queens Valley road, which is a little-used, super-secret dirt road that goes between Barker Dam and Skull Rock. Along the way, you can stop at the Queen's mine overlook.
The Arch Rock trail, which is a family-friendly hike with a cool arch and fun bouldering.
Key's View, which offers a stunning overlook into the Coachella Valley. Try to do this at sunset if you have the time.
Length: 50 miles
Time needed: One day is enough for the drive (it's one of the best day trips from LA). Two days are recommended if you want to do some hiking and indulge in other activities in Joshua Tree!
Scenic drive recommended by Carol @ California Crossings
---
Expert tips for driving in Southern California
California is one of the best places in the United States for driving due to its beautiful sights and easy-to-navigate highways networks.
With that said, though, make sure you keep the following basic rules in mind when road tripping around southern California:
Seat belts, always!
Generally, the speed limit on multilane freeways is 65 mph and 55 mph on two-lane highways. Within cities, it's usually 35 mph and 25 mph on residential areas and near schools. This isn't set in stone, though, but there are plenty of speed limits posted.
To drive in carpool lanes, you'll need to have at least two people in the car. Carpool lanes along freeways with heavy traffic are identified by black and white signs that come with times and days of enforcement (it's usually during rush hours on weekdays). Make sure to look out for these, as fines can be pretty hefty.
It's illegal to write or even read text messages while driving. If you need to speak on the phone, you'll need to use a hands-free device.
Check the official Driver's Handbook for more info on driving in California!
---
So there you have it!
Even though there's an endless list of scenic drives in Southern California, these are a great way to get started on your road trip bucket list!
Did any of these scenic routes in southern California spark any interest? Let me know which one in the comment section below!