11 Hidden Gems Near Los Angeles
Los Angeles can be an overwhelmingly large city to visit and feel like you're getting an authentic experience.
For a city that is known for its over-the-top glitz and glamour, there are a surprising amount of smaller, hidden gem activities just waiting to be discovered.
From secret beach coves to quirky art installations and mouthwatering hole-in-the-wall eateries, this blog is your ticket to exploring the hidden side of LA like a true local.
Let's get right to it! Here are the top 11 hidden gems found in and around Los Angeles.
Hidden Gems Near Los Angeles
1. Play at Sender One
Craving an adrenaline-packed day of unique adventure? Look no further than Sender One, the ultimate destination for thrill-seekers. Nestled conveniently near LAX airport, this one-of-a-kind rock climbing and bouldering gym will satisfy your craving for excitement.
At Sender One, you have the opportunity to explore the rope climbing and bouldering areas (features 50ft walls set by their renowned route setting team as well as extensive training areas), but the true hidden gem experience is exploring Sender City.
Sender City is an interactive climbing center with unique routes to explore. Climb the Gear Wall, tackle the Web challenge, and navigate the daring Trembling Towers. Jump, climb, slide, and unleash your inner adventurer (and inner kid!) at this exhilarating hidden spot in the heart of LA.
Address: 11220 Hindry Ave, Los Angeles, CA 90045
2. See a Hidden Comedy Show
One of my personal favorite things to do is find hidden comedy shows around Los Angeles.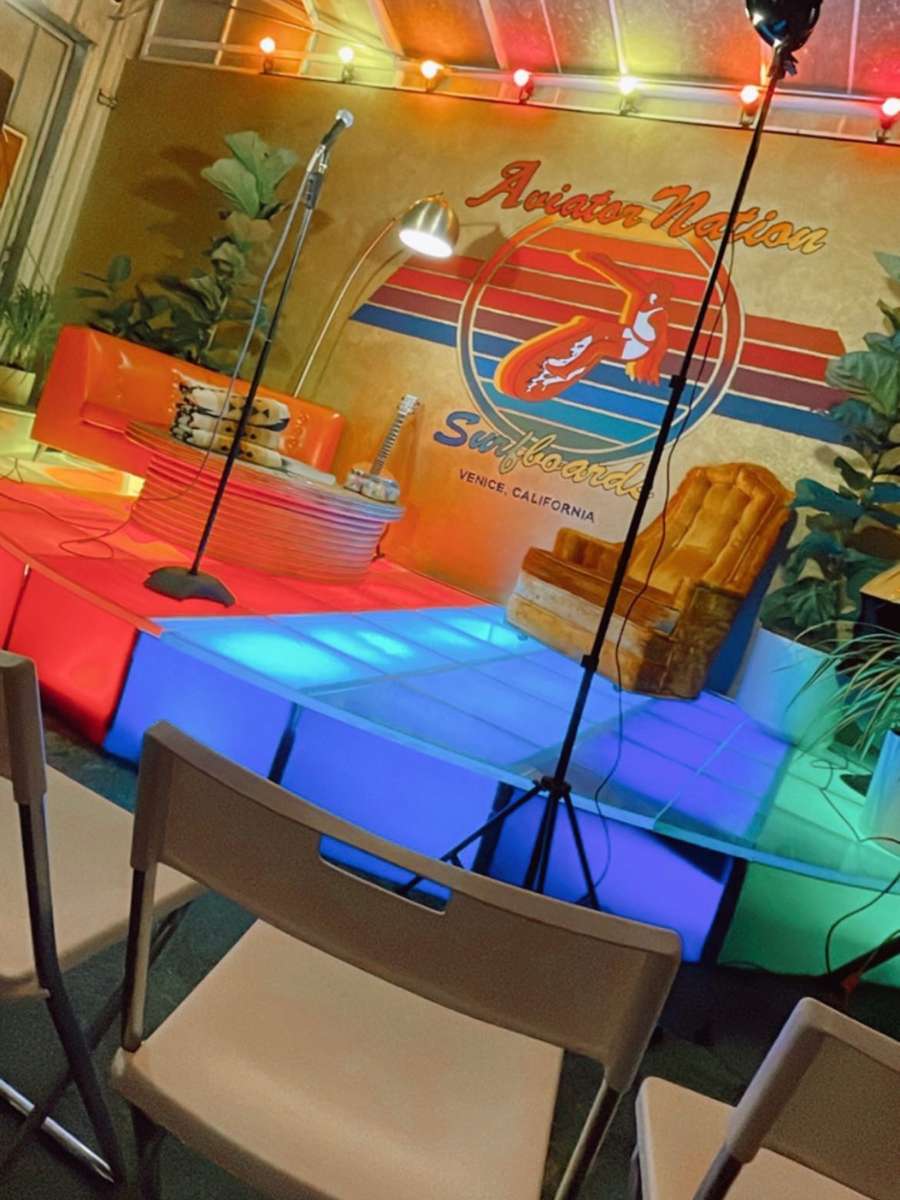 I've stumbled upon excellent shows at venues such as Aviator Nation in Venice Beach that had a great little show of unknown comedians and even gave out free hard kombuchas to sip on throughout.
You'll be amazed at the vibrant comedy scene tucked away in unexpected venues.
One way to find these hidden gems is through popular event platforms such as Eventbrite or Meetup, where you can stumble upon intimate comedy events organized by local comedians and enthusiasts.
Alternatively, a quick Google search or a browse through Facebook events or groups dedicated to comedy in LA can lead you to secret shows that are often off the radar.
Another option is "Don't Tell Comedy," a website that truly keeps their performers and venues secret until right before the show and is a fun way to discover comedians you wouldn't otherwise know to seek out.
Of course, there are always the bigger venues such as the Laugh Factory, but often the smaller shows and lesser-known comedians will leave you with an evening filled with unexpected laughter and unforgettable moments.
3. Relax at Avalon Beach on Catalina Island
Surprisingly, not many people know about the wonders that can be discovered just a short boat trip off the coast of Los Angeles on Catalina Island.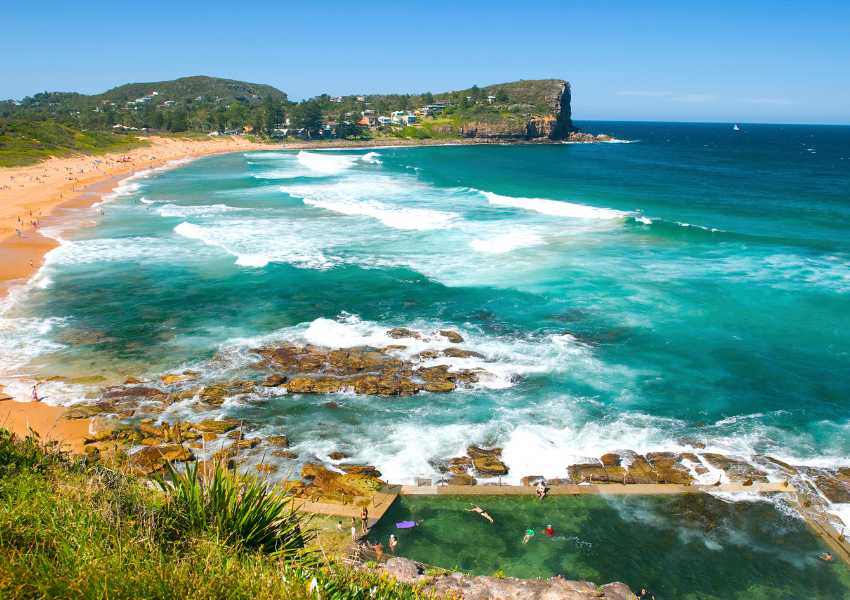 With its pristine shores and breathtaking views, Avalon Beach offers a perfect getaway from the hustle and bustle of the city.
There are many excellent hidden gem things to do on the island. For one, Catalina Island is home to world-class snorkeling.
Take a snorkeling or diving tour to discover the colorful marine life that lives beneath the surface. For a touch of history and art, take a tour of the iconic Casino, a stunning Art Deco building that showcases the island's rich heritage.
Indulge in a delightful dining experience at one of the many seaside restaurants, savoring fresh seafood and local delicacies.
If you're feeling adventurous, take a scenic hike along the picturesque trails, with panoramic vistas at every turn.
And for a unique way to explore the island, hop on a golf cart tour to cruise along the charming streets and discover hidden gems pointed out by local guides.
With an array of activities to choose from, Avalon Beach is a haven for relaxation, adventure, and memorable experiences.
4. Tour the Bradbury Building
When exploring downtown Los Angeles, a must-visit but lesser-known destination is the Bradbury Building, an architectural marvel that stands as a unique landmark.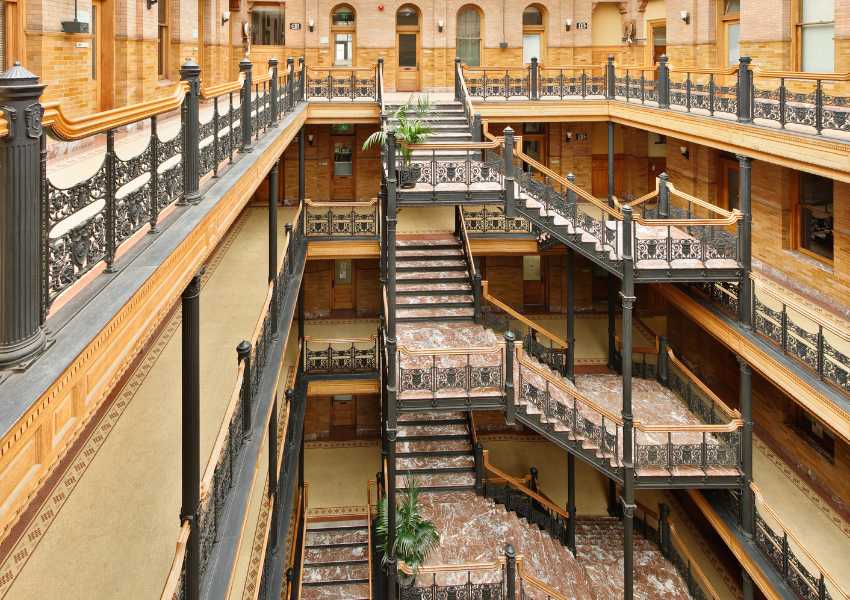 Constructed in 1893, this five-story office building showcases a captivating fusion of Romanesque exterior design and an awe-inspiring Victorian court within.
Inside, marvel at the open cage elevators, adorned marble stairs, and intricate iron railings that exude timeless elegance.
Originally commissioned by Lewis Bradbury, a prominent gold mining millionaire, the building was intended to provide a safe environment for his workers.
Over the years, the Bradbury Building has gained fame as a prominent filming location, most notably in the iconic film "Blade Runner."
While the building continues to serve as office space, it thankfully still opens its doors to the public, allowing visitors to marvel at its grandeur.
Though access is limited to the lobby and the first set of stairs, the Bradbury Building promises a captivating glimpse into its architectural splendor and rich cinematic history.
Address: 304 S Broadway, Los Angeles, CA 90013
5. Hike to the BACK of the Hollywood Sign
While there are plenty of "Hollywood Sign hikes" around the sign, most of these hikes only offer views of the sign.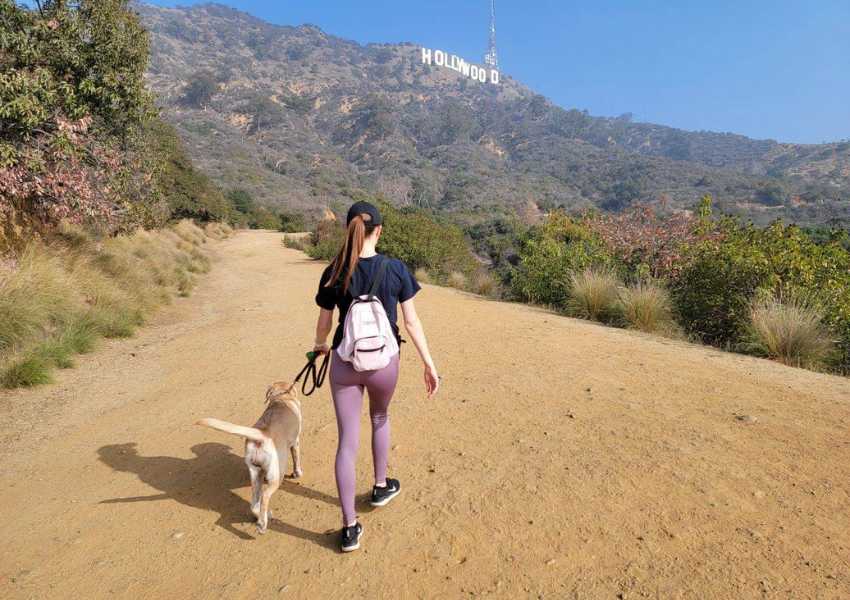 The one trail that takes you up to the backside of the sign is a bit of a hidden mystery for most people, as the city doesn't want the trail to get too clogged up.
The 4.3 mile out-and-back trail that has both panoramic views of the sign along the way and wraps around the backside for epic views over the greater Los Angeles basin is called "Hollywood Sign via Innsdale Trail and Mt. Lee Drive."
The trail itself offers a moderate incline, making it accessible for most hikers (although it's advisable to start early due to limited shade).
Additionally, finding parking is, surprisingly, relatively hassle-free in the neighborhood surrounding the trail head.
YOU MAY ALSO LIKE:
6. Explore the Hidden Gem City of Torrance
Most visitors to Los Angeles spend the majority, if not all, of their time in the city when in truth, the true hidden wonders of Los Angeles lie just on the outskirts.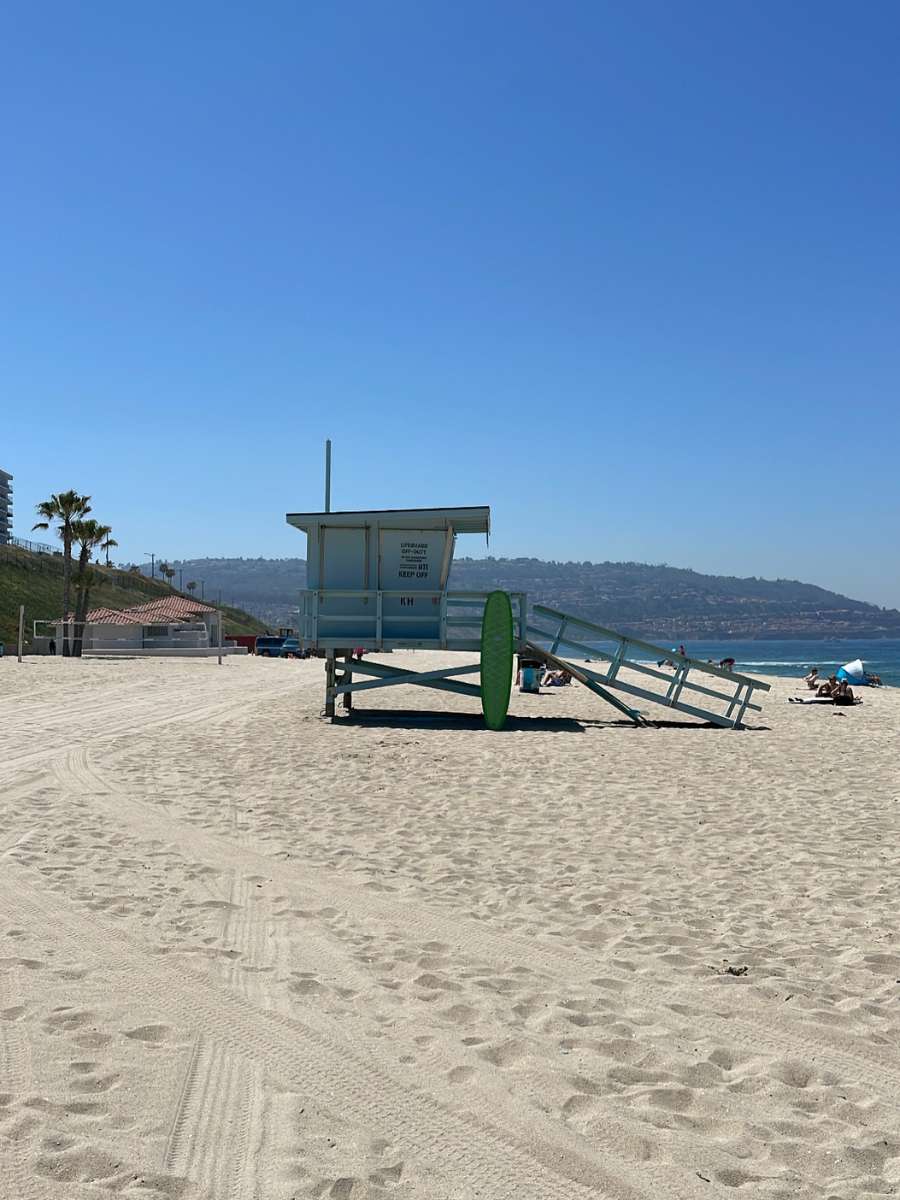 Take the city of Torrance for example, located in the southwestern part of the South Bay.
When visiting Torrance, there are plenty of exciting activities to enjoy. Start your day with a visit to the renowned Del Amo mall, one of the largest in America, which offers a vast array of shopping and entertainment opportunities.
If you're in the mood for some sun and sand, head to one of the least crowded beaches in Los Angeles, where you can enjoy surfing, rollerskating, biking, and other beachside activities.
For a taste of local flavor, make sure to check out the lively Farmers Market (Tuesday and Saturday mornings), where you can sample fresh produce and find delectable treats.
The Armstrong Theater is also a must-visit, hosting an array of live shows and events throughout the year.
Don't forget to indulge in the vibrant dining scene, with options ranging from mouthwatering Oaxacan cuisine at Madres to a variety of other international flavors.
Whether you're seeking retail therapy, outdoor adventures, cultural experiences, or culinary delights, Torrance offers a diverse range of activities to ensure an enjoyable (and incredibly unique!) visit.
7. Time Travel Mart
With two locations in Los Angeles, the Time Travel Mart offers a whimsical experience like no other.
As you step inside, you'll find yourself transported to a bygone (and a future) era, where time travelers gather to stock up on their "temporal necessities".
This one-of-a-kind convenience store curates an impressive selection of goods, all artisanally crafted to suit the discerning tastes of time explorers.
Notably, it serves as the headquarters for Barnacle & Barnacle, a publishing house specializing in original student-authored books. The store proceeds support students with improving their creative and expository writing skills.
Among the shelves, you'll discover treasures such as the "Time Scouts Handbook," the Time Travel Tours Postcard Series, as well as a delightful assortment of posters, mugs, books, and other whimsical nicknacks.
Whether you're looking for a unique souvenir or simply want to spend some time browsing the aisles in this fantastical store, the Time Travel Mart is a wonderful hidden gem in Los Angeles.
Addresses: 1714 W Sunset Blvd. Los Angeles, CA 90026 & 12515 Venice Blvd. Los Angeles, CA 90066
8. Go On a Malibu Wine Hike
Looking for a unique way to get out in nature and sample incredible wines? Malibu Wine Hikes offer an experience that seamlessly blends the beauty of nature with the pleasure of wine tasting.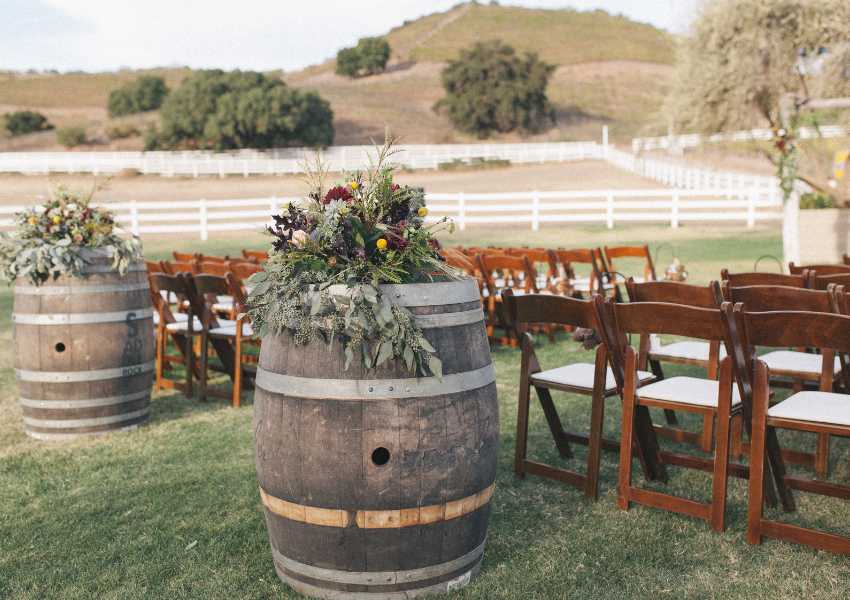 As you wander through the picturesque vineyards of Malibu, you'll find yourself immersed in breathtaking landscapes and surrounded by lush greenery.
These guided hikes offer a unique opportunity to explore the stunning Santa Monica Mountains while learning about the wine-making process and the history of the ranch.
For those seeking a more adventurous twist, 4×4 tours provide an exhilarating way to navigate the rugged terrain, offering a thrilling ride through the scenic vineyards.
Alternatively, for a retro and laid-back experience, VW bus tours allow you to cruise through the beautiful landscapes in vintage style.
Along the way, you'll have the chance to taste a variety of exceptional wines and learn from knowledgeable guides who will enhance your appreciation for the craft.
Address: 32111 Mulholland Hwy, Malibu, CA 90265
9. Solvang
Escape the bustling streets of Los Angeles and embark on a delightful day trip to Solvang, a hidden gem nestled in the heart of Santa Ynez Valley.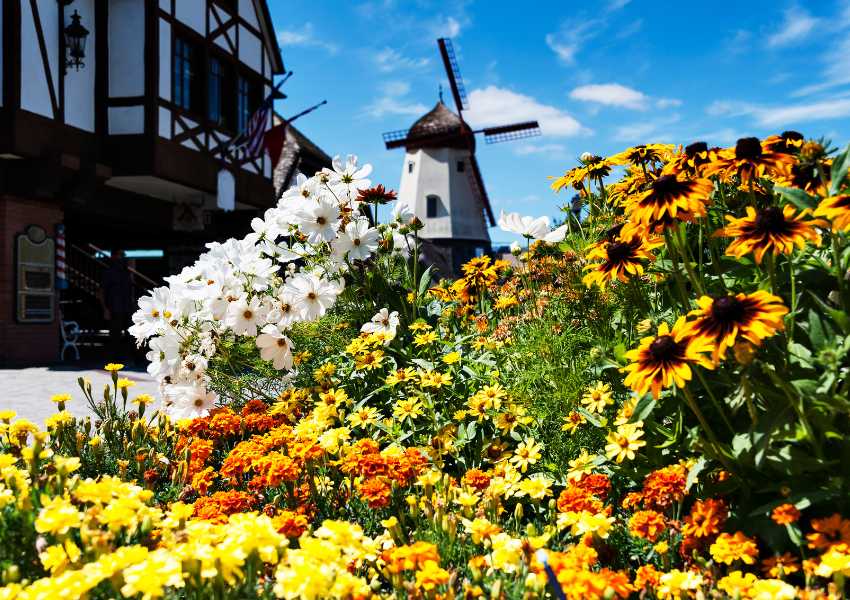 This charming Danish-inspired village offers a unique and enchanting experience that feels worlds away from the city, and even the country!
As you stroll through the quaint streets, you'll be captivated by the authentic European architecture, adorned with windmills, colorful facades, and flower-lined walkways.
Immerse yourself in the rich Danish culture by exploring the boutique shops filled with Scandinavian crafts, souvenirs, and home goods, tasting traditional Danish pastries at local bakeries, and indulging in scrumptious Nordic cuisine in the town's charming restaurants.
Don't miss the opportunity to visit the historic Mission Santa Inés or the iconic Little Mermaid Fountain.
For wine enthusiasts, Solvang is surrounded by picturesque vineyards and wineries, offering the perfect opportunity to sample local wines and take in the breathtaking landscape. With its distinct charm, Solvang provides a serene and idyllic escape.
10. View the Magical Garden of OZ
Immerse yourself in the whimsical wonderland of the Garden of OZ, a captivating outdoor space adorned with shimmering mosaic tiles and whimsical details.
Take in the sight of the intriguing Wall of Toys and discover a charming little mailbox, where you can send letters to the magical land of OZ.
Although the garden is not open for tours, as it's someone's residence, you can still experience its wonder by driving or walking past and catching a glimpse through the gate. This garden is certainly one of Los Angeles' more mysterious hidden gems.
Address: 3040 Ledgewood Dr, Los Angeles, CA 90068
11. Experience a Candlelight Concert
Enjoy an enchanting musical journey by attending a Candlelight show in Los Angeles.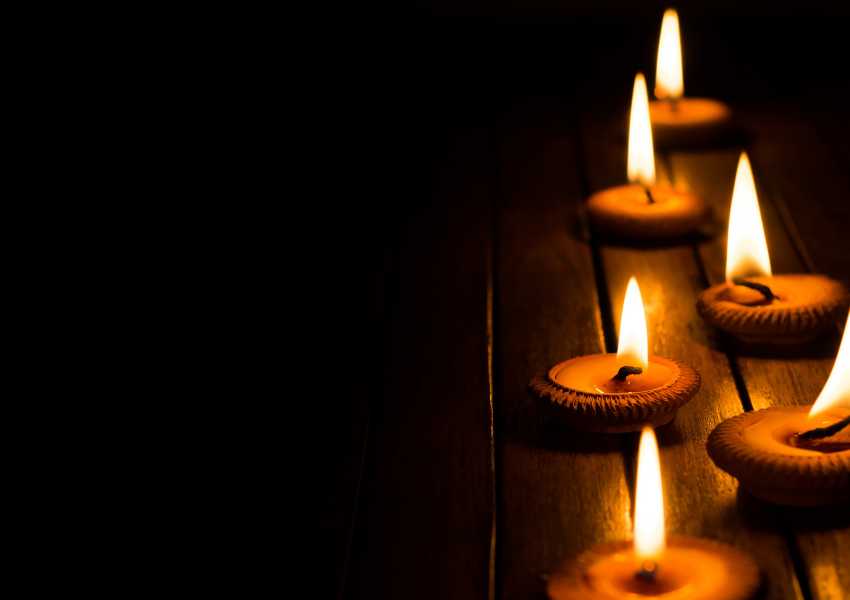 Whether you prefer Bach or the Beatles, these unique performances offer music for every taste.
Each location is thoughtfully selected to enhance the listening experience, providing an intimate and atmospheric setting that complements the beauty of the music.
The captivating sense of being surrounded by soft light paired with exceptional melodies and instrumental talent will leave you feeling entranced.
Whether you're a classical music aficionado or a lover of contemporary tunes, these Candlelight shows promise an immersive and unforgettable experience that will leave you mesmerized and longing for more.
Conclusion: Best Hidden Gem Activities and Sights in Los Angeles
Los Angeles, a city brimming with well-known attractions, also holds a treasure trove of hidden gems waiting to be discovered.
From the exotic Time Travel Mart to the Malibu Wine Hikes, LA offers unique experiences that defy expectations.
Venture to the Danish-inspired village of Solvang for a charming day trip, or immerse yourself in the intimate ambiance of a Candlelight show, where music transcends genres.
Whether it's enjoying the Garden of OZ or spending a relaxing day at Avalon Beach on Catalina Island, Los Angeles ensures an unforgettable journey through the lesser-known wonders of the city.
Janelle Axton
After traveling to over 25 countries and living in Ireland, Janelle created Make the Trip Matter – a travel blog that offers Travel Planning Services to help you travel more, live abroad, and discover a more meaningful experience from your travels.