Is Marrakech Safe? A Guide from a Frequent Traveler
If you're asking yourself "Is Marrakech safe?", here's what you need to know about Morocco's Pink City.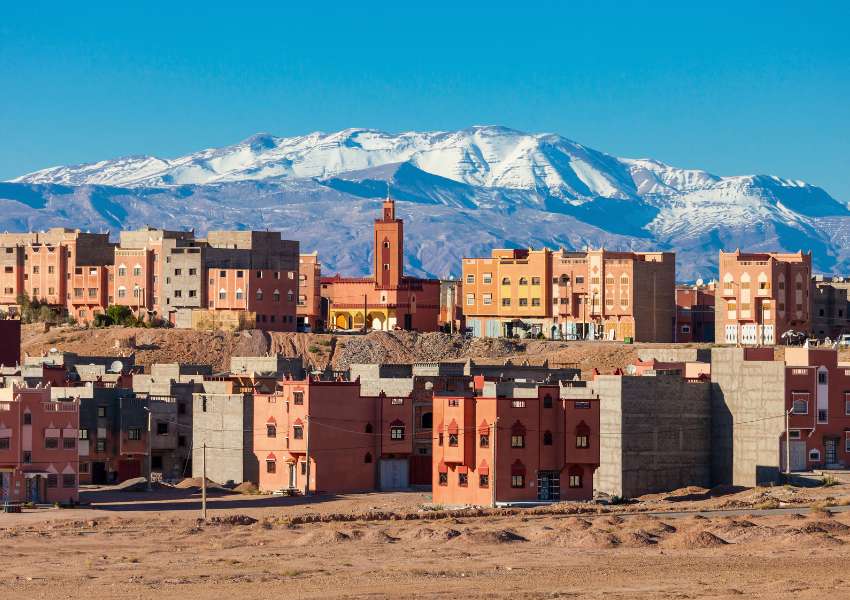 Even though safety is situational and a subjective matter, as someone who has visited Marrakech seven times and I truly consider it to be one of the best Morocco cities to visit. Here's my take on how safe the city is as well as tips on how to have a great trip!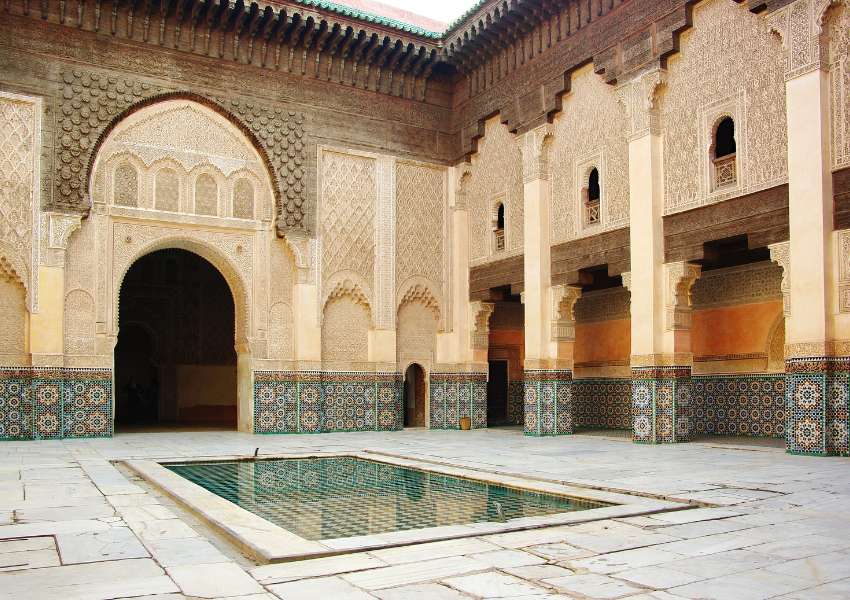 In general, the city is relatively safe for tourists, with locals being welcoming and helpful to visitors. However, like any other place in the world, it's very important to use common sense and take necessary precautions.
Is Marrakech Safe?
General Safety in Morocco
Marrakech, like any other city in the world, has its risks and rewards.
In general, Morocco is considered a safe country for travelers, but it's still important to exercise caution and be aware of your surroundings when venturing around. Petty theft like pickpocketing can be an issue in crowded areas like souks or busy streets. To minimize your risks, follow these tips:
Keep your belongings secure
Be aware of your surroundings
Avoid walking alone at night, especially in poorly lit areas
Safety in Marrakech vs Other European and African Destinations
In comparison to other popular European and African destinations, Marrakech holds up pretty well in terms of safety. Here is a quick comparison:
| Destination | Safety Considerations |
| --- | --- |
| Marrakech | Petty theft, particularly in crowded areas |
| Barcelona | Pickpocketing is common in tourist areas |
| Cairo | Possibility of political unrest, petty theft |
| Lisbon | General safety precautions advised |
As you can see, Marrakech is no more dangerous than other popular tourist destinations. The key is to remain vigilant and take precautions where necessary to ensure you have a safe and enjoyable experience.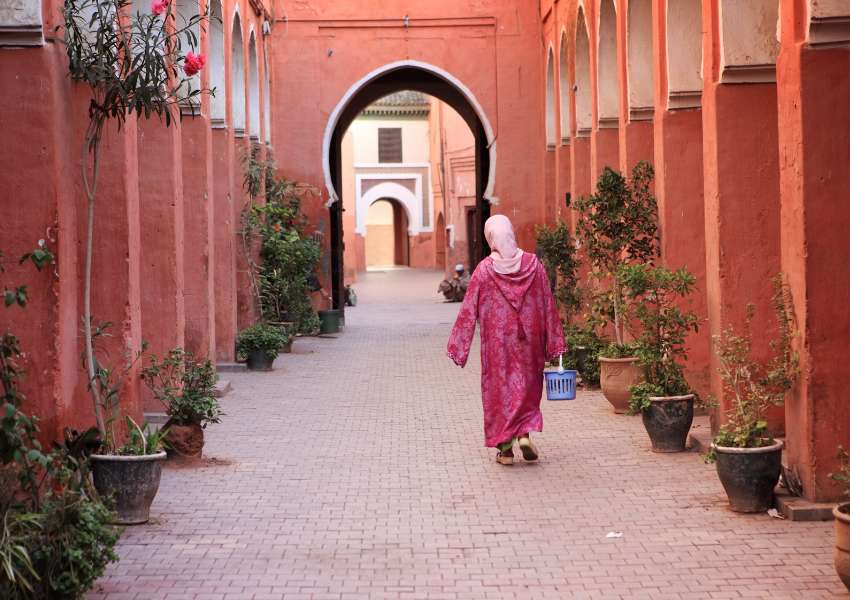 Safety Concerns in Marrakech
Common Scams and Pickpocketing
While exploring the vibrant city of Marrakech, especially in crowded areas like the Medina and markets, you should be aware of common scams and pickpockets.
Keep your belongings secure, and be cautious when someone approaches you offering unsolicited help or services. Some popular scams involve fake guides, counterfeit goods, and overpriced taxi rides.
In addition to scams, pickpocketing is prevalent in tourist areas. Be vigilant and avoid keeping your wallet or phone in easily accessible pockets, especially in crowded places and you should be fine.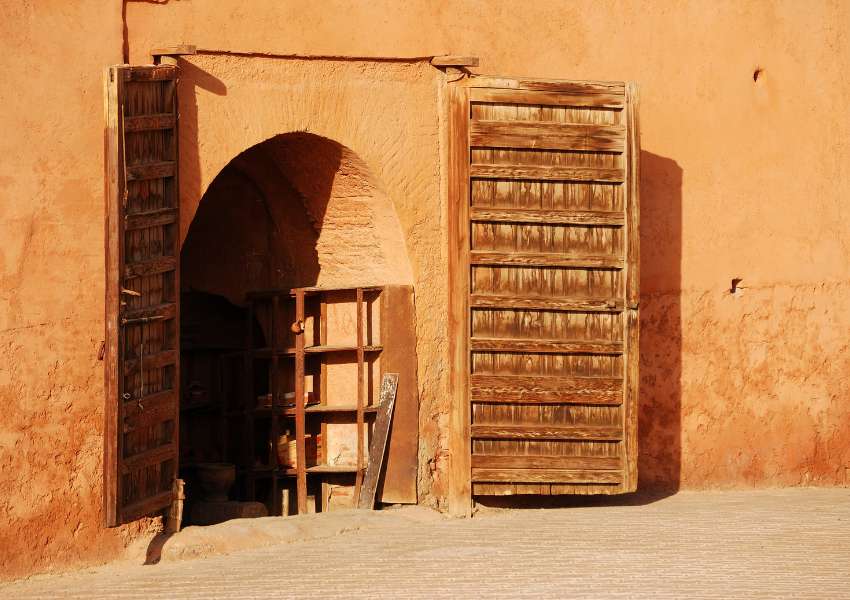 Common scams in Marrakech include:
The henna scam: This scam involves a local woman offering to apply henna to your skin for a small fee. Once the henna is applied, the woman will demand a much higher fee than originally agreed upon or refuse to let you leave until you pay a higher fee.
The unofficial guide scam: In the main square of Marrakech, Jemaa el-Fnaa, there are many unofficial guides who will offer to show you around the city. They may seem friendly and helpful, but once the tour is over, they will demand a much higher fee than originally agreed upon.
The fake charity scam: This scam involves someone approaching you and asking for a donation to a local charity. However, the charity is often fake, and the money goes directly into the scammer's pocket.
The overpriced taxi scam: Some taxi drivers in Marrakech may try to overcharge tourists by not using the meter or taking longer routes to the destination.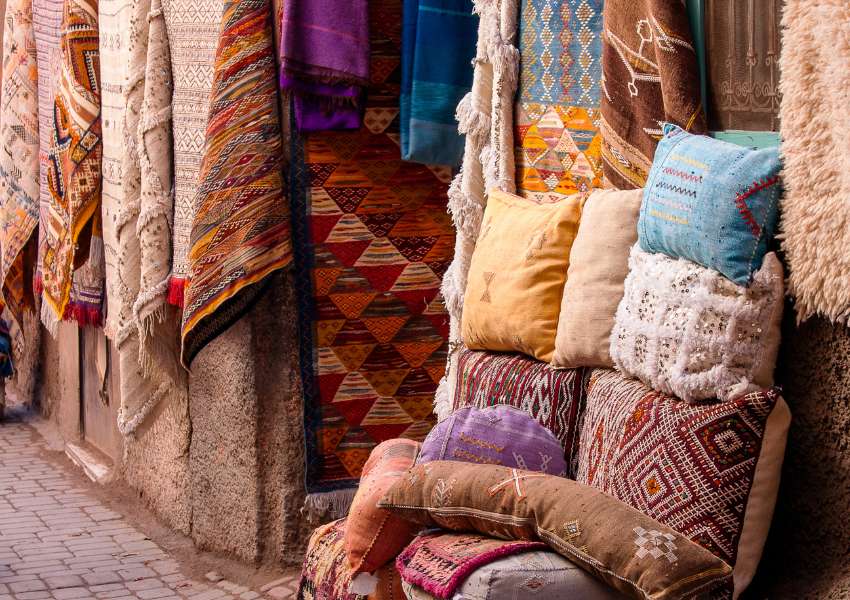 Theft and Violent Crime
Theft is the most common crime in Marrakech, and crimes against tourists usually involve petty theft.
To minimize the risk of theft, avoid flashing expensive items or large sums of cash in public. It's also a good practice to leave your valuables in a safe at your accommodation.
Violent crime is relatively rare in Marrakech, but it's essential to be cautious, especially after dark. Try to avoid walking alone in unfamiliar areas at night and opt for well-lit streets. If you're going out for the evening, let someone know where you're going and when you plan to return.
By taking precautions and staying vigilant, you can significantly reduce the risk of safety issues while enjoying the vibrant culture and beauty that Marrakech has to offer.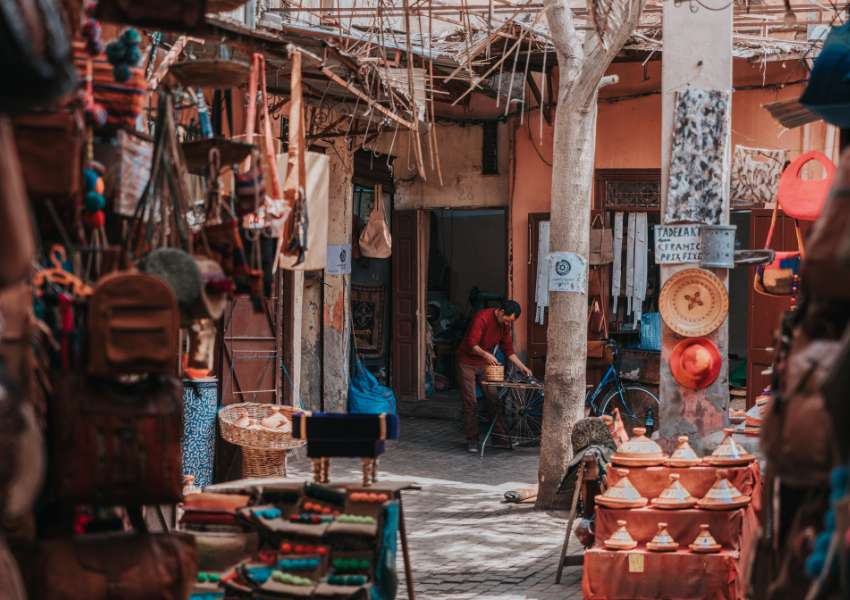 Marrakech Safety Tips for Travelers
Public Transportation and Taxis
When traveling around Marrakech, use public transportation such as buses or prefer the registered petit taxis over unlicensed ones.
To avoid getting lost or ending up in sketchy areas, always use Google Maps as your guide, but do keep in mind that, especially in the medina, some streets aren't registered or appear as open when they're really dead ends.
When taking a grand taxi, confirm the fare beforehand, and don't be afraid to negotiate, this is a common practice. If you plan on driving yourself, ensure you're confident with the local road rules and be wary of aggressive drivers.
If you really don't feel comfortable moving around Marrakech on your own, there are plenty of tours available as well! This can be a great way to get an introduction to the city without having to feel overwhelmed.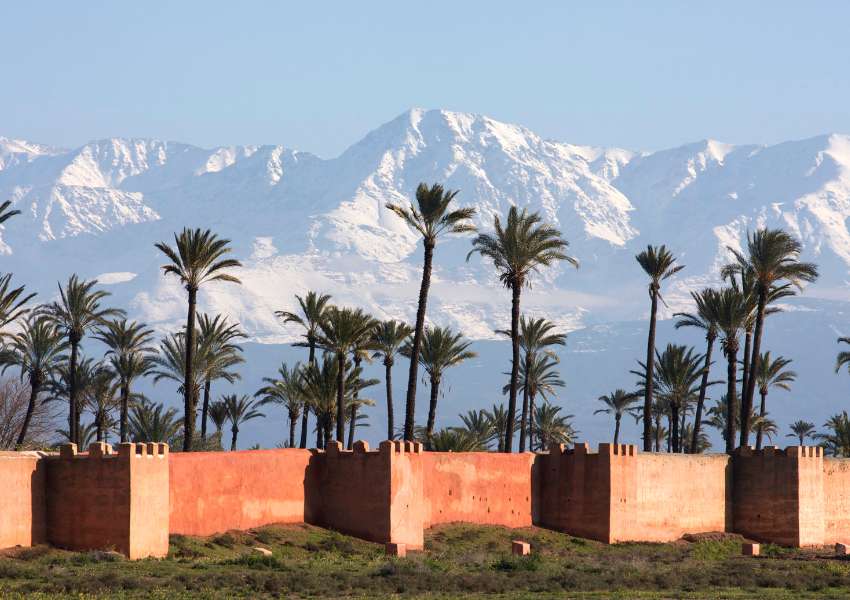 Is Marrakech Safe for Solo Female Travelers?
I've been to Marrakech alone a few times and in general, I did feel safe. My biggest issue was when walking around the medina as I felt I got harrassed by sellers a lot more than when in a group or with a guy, but that was about it (I'm a very anxious person, so those types of things can really ruin a trip for me).
For solo female travelers, it's essential to be aware of your surroundings and take precautionary measures. Try to avoid going out at night unless it's around big squares like Jemaa el-Fnaa which are usually bustling way into the night.
Dress modestly to fit in with local customs, and avoid walking alone at night, especially in poorly lit areas.
If you do wind up feeling too overwhelmed navigating the city alone, there are plenty of tours and day trips from Marrakech out there that you can join for the day. You'll be exploring alongside a group, which makes things a whole lot easier and you may wind up making new friends, too!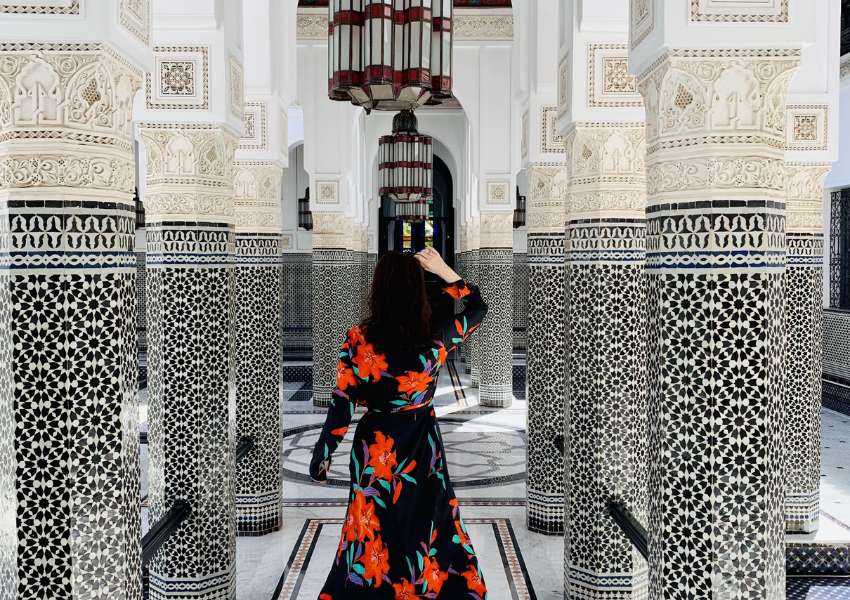 Staying Safe in Marrakech's Areas and Accommodations
Safe and Unsafe Neighborhoods
In general, the areas of Gueliz and Hivernage are considered safe for travel, especially during the day. They are more modern and touristic areas with plenty of restaurants, shops, and hotels.
On the other hand, some areas of the Medina, especially those further from Jemaa El Fna square, might be less safe, especially at night.
Don't forget to get travel insurance for your trip! As always, I recommend Safety Wing for great prices and coverage abroad. It starts at only $45 USD per month and will have you covered with everything you may need during your trip! Check them out here.
Recommended Accommodations for Families and Solo Travelers
Finding the right accommodation is key to enjoying your stay and feeling secure. Here are some recommendations for families and solo travelers:
Families: If you're traveling with kids, choose accommodations that provide family-friendly amenities and are located in safe neighborhoods. Some options include hotels and Riads in the Hivernage and Gueliz areas. Many of these establishments offer spacious rooms and are near kid-friendly attractions such as gardens and parks.
Solo Travelers: If you're traveling alone, consider staying in hostels or the riads located close to Jemaa El Fna square or in the heart of Gueliz. These areas tend to be more lively, enabling you to meet other travelers and always have someone around.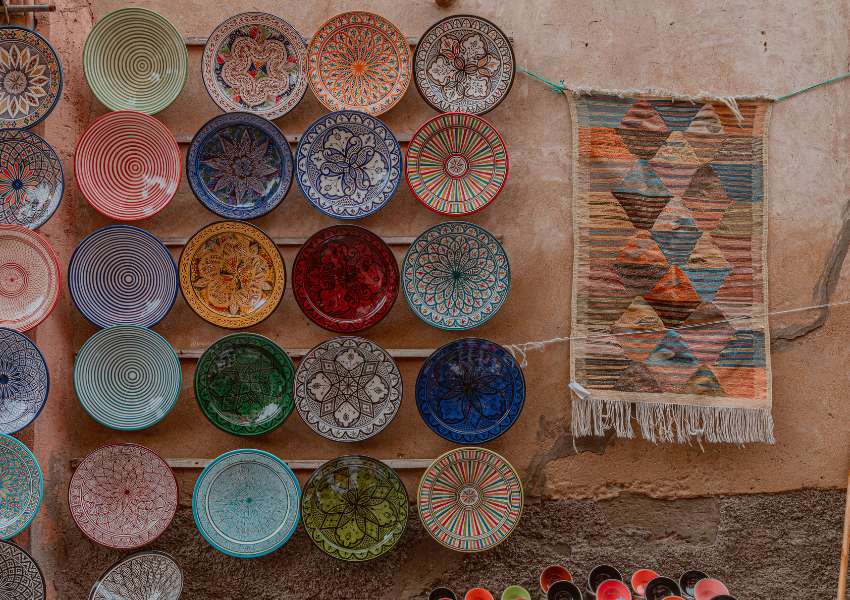 Religious Sites
Please note that while visiting mosques could be an enriching experience, many mosques in Marrakech are not open to non-Muslims, so make sure to check beforehand. When visiting religious sites, remember to dress appropriately, cover your shoulders and knees, and respect the local customs.
You May Also Like:
Understanding the Local Culture and Customs
As you venture through Marrakech, take time to appreciate the local culture. It's important to be respectful and adhere to the customs that define this enchanting city.
Dress modestly, especially in religious or sacred sites. I saw plenty of girls wearing skirts, etc and locals seem fine about it at tourist destinations, but it's better to be a good visitor and try to follow local customs.
Avoid offensive gestures and public displays of affection
Practice patience when navigating crowded streets and bustling markets. It can be stressful to walk around!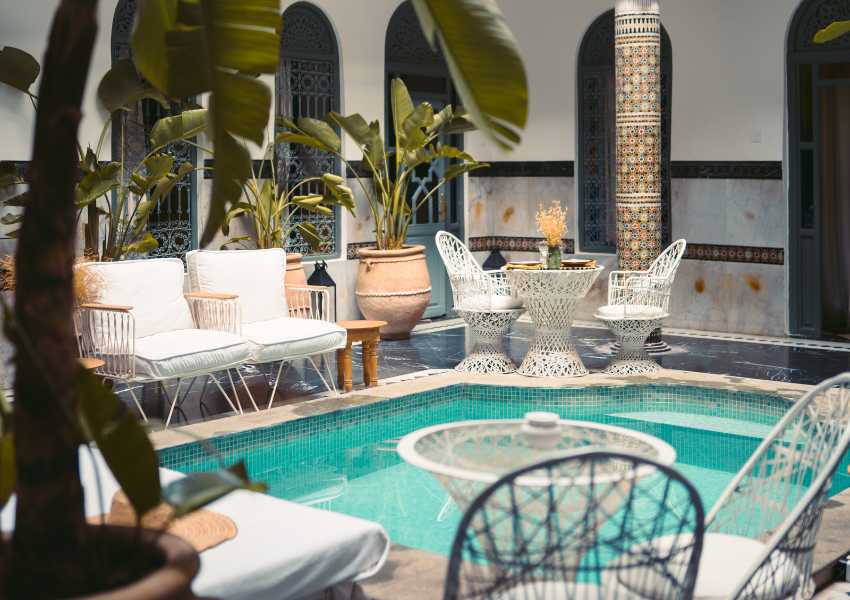 Navigating the Medina and Jemaa El-Fna Square
Arguably the heart of Marrakech, Jemaa El-Fna Square comes alive with snake charmers (don't support this!), entertainers, and an array of food stalls in the evening.
The surrounding medina, a labyrinth of narrow streets and alleyways, can be overwhelming for first-time visitors.
Here are some tips for navigating the area:
Stay alert: Keep your belongings secure and be aware of your surroundings, especially in crowded areas.
Rely on a map: While it's easy to get lost, having a map or GPS on your smartphone can help you find your way. Keep in mind that some online maps may not display streets within the medina property, so I recommend carrying a physical map as well.
Embrace the hustle: Engage in friendly haggling when shopping at the souks but remain firm when saying no.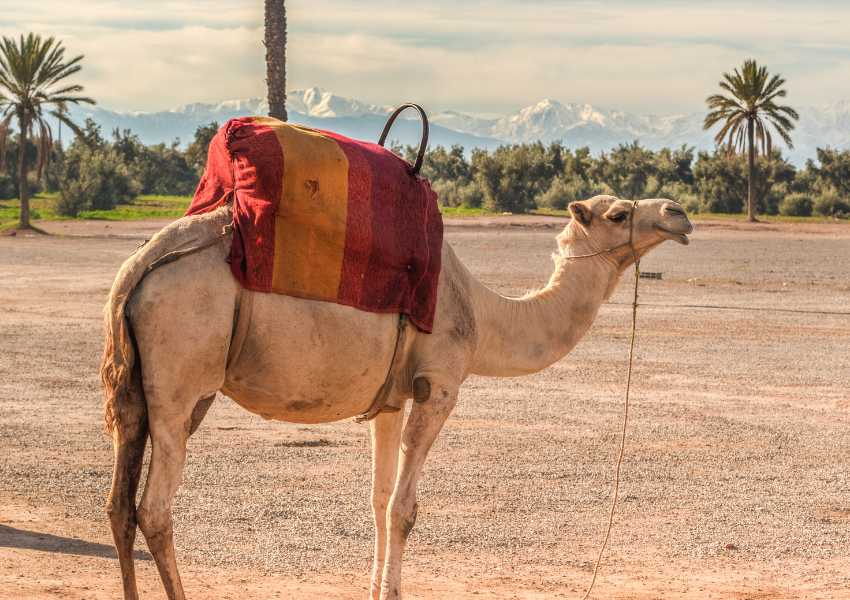 Best Time to Visit Marrakech
The best time to visit Marrakech depends on what you want to get out of your trip.
In general, the city gets very hot during the summer and pretty mild during the winter, with the peak tourist season happening between October and May. During this time, the weather is cooler and more pleasant, making it ideal for exploring.
Top Marrakech Tours
Where to Stay in Marrakech
If you're currently in the process of planning your trip to Morocco and are unsure of where to stay, I recommend booking one of the best riads in Marrakech to fully immerse yourself in an authentic experience.
Here are a few options for every budget:
Luxury: Royal Mansour Marrakech – This stunning riad boasts an amazing spa, a hammam, and restaurant with stunning vistas of the Atlas Mountains as well as beautiful outdoor pool to relax in. Book here.
Mid-range: Riad el Maktoub – Riad El Maktoub is a cozy riadin the heart of the medina. Its rooms are beautifully decorated and there's also spacious courtyard to relax in. Book here.
Budget: Riad Miski – This riad is centrally located on Djemaa El Fna and offers tons of amenities like a swimming pool. It's perfect if you're visiting Marrakech on a budget as it's great value for money! Book here.
Travel Insurance for Marrakech
Travel insurance is essential for a safe trip to Morocco.
If you're still on the lookout for travel insurance for your trip, I always recommend HeyMondo for great prices and coverage abroad (they'll cover medical expenses in case of any accidents, travel delays, cancellations, and much more).
Check them out here. You can also get 5% off if you book via this link!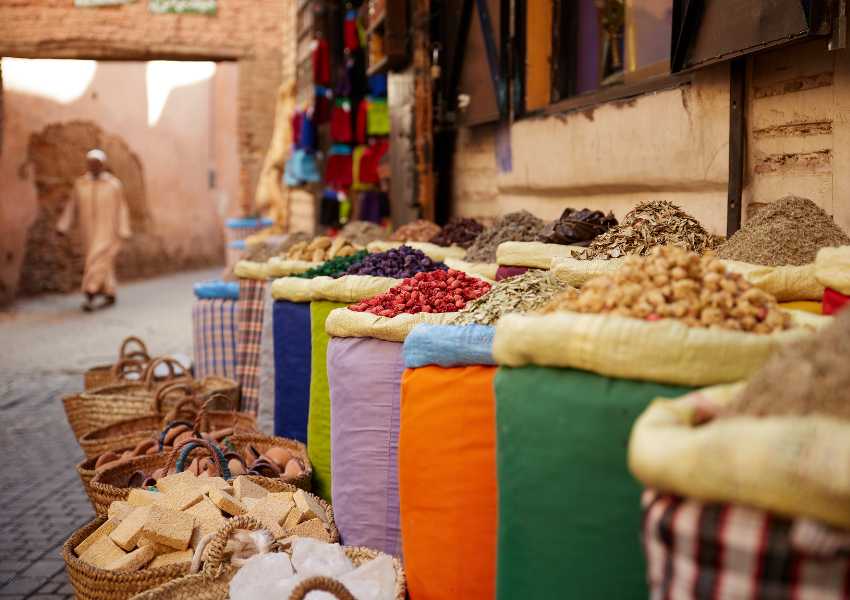 Is Marrakech Safe? FAQs
Is Marrakech safe for solo travelers?
Yes, Marrakech is generally safe for solo travelers. However, it's essential to be cautious, especially in crowded or unfamiliar areas. Keep your belongings close and follow your instincts.
Is Marrakech safe at night?
While Marrakech is safe at night, it's best to avoid walking alone in dark or poorly-lit areas, especially in the narrow streets of the medina.
Taxis are readily available and considered a safer mode of transportation after dark.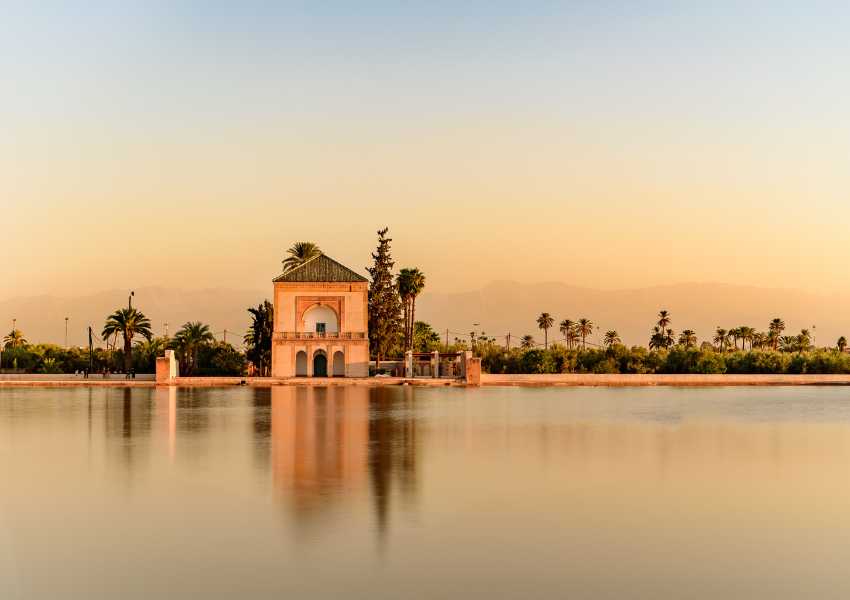 Are there safety risks for female travelers in Marrakech?
As a solo female traveler, make sure to exercise regular precautions and be aware of your surroundings.
It's advisable to dress modestly out of respect for cultural norms and to avoid drawing unwanted attention.
If you ever feel uncomfortable, don't hesitate to seek help from locals or authorities.
Many solo female travelers visit Marrakech daily with no incidents whatsoever, but unfortunately, we need to be more cautions anywhere in the world, really.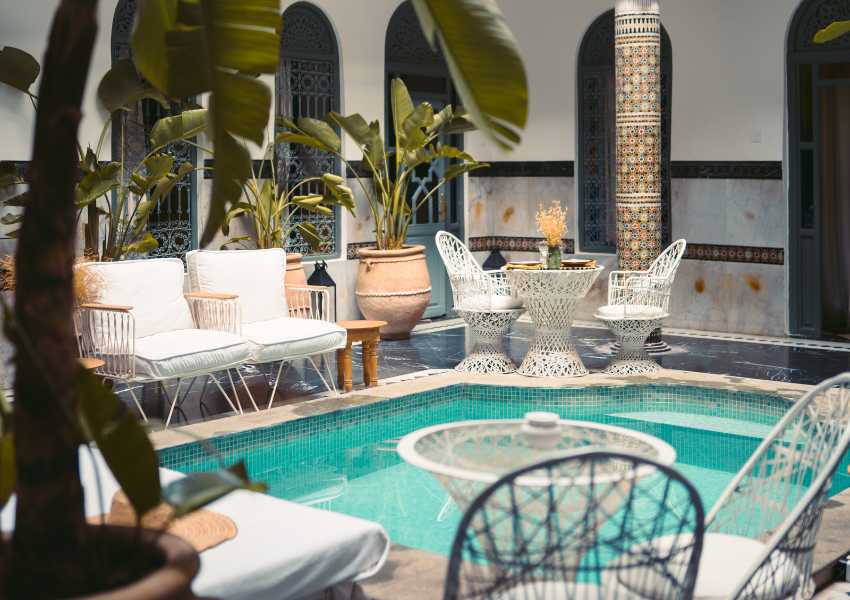 Is Marrakech safe for families?
Marrakech is a family-friendly destination and many attractions and accommodations cater to families.
However, it's essential to keep an eye on your children, particularly in crowded places like markets where they can easily get separated.
What are the safest spots in Marrakech?
Marrakech is filled with safe spots like the Jardin Majorelle, Bahia Palace, and Koutoubia Mosque.
Many public places are reputable and well-trafficked, making them good options when you're exploring the city.
What are the major safety concerns for visitors to Marrakech?
The primary security concerns for tourists in Marrakech are pickpocketing and scams.
Make sure your belongings are secure, and be cautious with people offering unsolicited help or services. Research before making purchases or accepting any offers to avoid falling victim to scams.
Is Marrakech Safe? Conclusion
While there are some common scams to be aware of and precautions to take in Marrakech, the city is generally safe for visitors.
By taking common-sense precautions, such as avoiding unlicensed guides and taxis and being cautious of strangers approaching you, you can enjoy all that Marrakech has to offer without any issues.
Marrakech is a beautiful and vibrant city with a rich culture and history that is well worth a visit!