Fun & Unique Things to Do in Miami
Looking for the most unique things to do in Miami? Well, you're in the right place!
Miami is a city that has it all, from stunning beaches and iconic Art Deco architecture to an electrifying nightlife scene and some of the most delicious cuisine you'll ever taste.
If you're looking for unique experiences that will make your trip extra special, then look no further – I've got you covered with this list of unique things to do in Miami!
Let's explore some of the most unique activities and attractions that this beautiful city has to offer.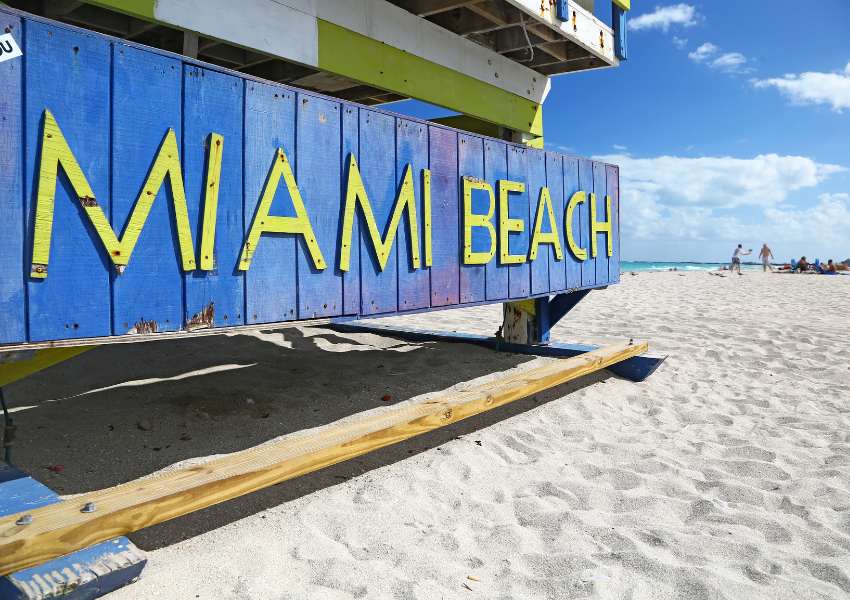 The Most Unique Things to do in Miami
From the unique architecture of South Beach to the Cuban culture that fills the streets of Little Havana, Miami offers a unique mix of culture and fun activities that you won't find in many places.
Let's explore some of those unique things to do.
1. Explore the Unique Street Art at Wynwood Walls
Wynwood Walls in Miami is a unique destination for art lovers and adventurers alike! As one of the most popular spots in the Wynwood neighborhood, this outdoor gallery features over 35,000 square feet of enchanting murals and street art pieces from artists all around the globe.
Here, visitors can stroll through the lively streets and alleyways, explore trendy shops and cafes, and experience unique events like art fairs, live music performances, and food festivals.
There's no better way to get a feel for Miami's vibrant culture and its love of art than with a visit to the Wynwood Walls.
It also happens to be one of the most Instagrammable places in Miami! So snap a picture to remember your favorites along the way.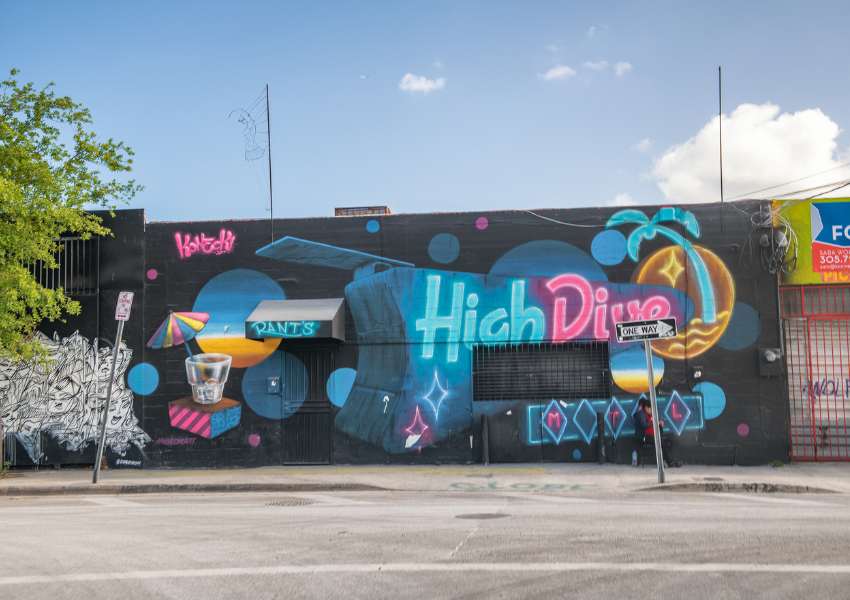 2. Tour the Unique Art Deco Architecture in South Beach
South Beach, Miami is famous for its unique Art Deco architecture, one of the largest collections in the world.
While you're here, experience one of the most unique things to do in Miami with a visit to this world-famous Art Deco district.
This iconic design style emerged in the 1920s and 1930s, with its bold geometric shapes, bright colors, and decorative elements.
Take a leisurely stroll along Ocean Drive for unique buildings, including some featured in movies like Scarface and Miami Vice.
Enjoy the unique style and glamour of South Beach, and while you're there, soak up some rays at some of the best beaches in Florida!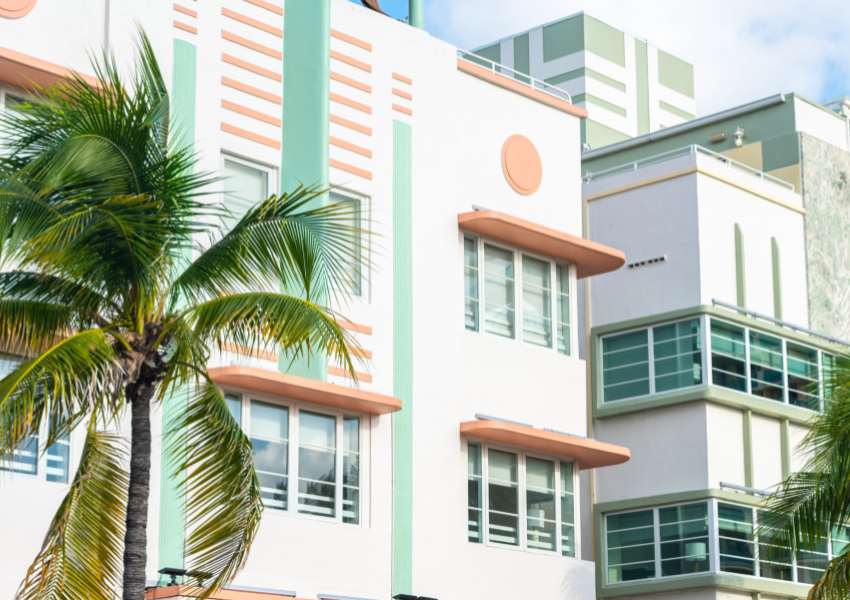 3. Visit Vizcaya Museum and Gardens to Explore its Unique European-style Villa and Gardens
Visiting the Vizcaya Museum and Gardens in the popular Coconut Grove area of Miami is like taking a step back in time.
Built in the early 1900s by industrialist James Deering, this unique estate is an architectural marvel with intricate details, beautiful paintings and 34 rooms filled with art and antiques from around the world.
The museum and gardens were designed to resemble an Italian Renaissance villa and are full of unique things to explore, from its 2,000 varieties of plants and trees – including orchids and bromeliads – to its stunning gardens, fountains and sculptures (and a maze garden!).
And if that wasn't enough, the estate has even been used as a backdrop for some Hollywood films like Ace Ventura: Pet Detective and Iron Man 3!
With its unique architecture and rich history, Vizcaya is a must-see place for anyone looking to experience unique things in Miami!
YOU MAY ALSO LIKE:
4. Shop at Lincoln Road Mall for Unique Boutiques and Shops
Lincoln Road Mall is a must-visit destination in Miami for anyone who loves shopping, dining, and people-watching.
It's a pedestrian-only street in the heart of South Beach that's home to over 200 retailers, including high-end boutiques, popular chain stores, and unique local shops.
But it's not just about shopping.
The vibrant outdoor atmosphere is what draws in the crowds. The street is lined with colorful art installations, outdoor cafes, and street performers, making it a lively place to stroll around and soak up the Miami vibes.
Whether you're looking to update your wardrobe, grab a bite to eat, or just enjoy some people-watching, Lincoln Road Mall has something for everyone.
And if you happen to be in town on the weekends, be sure to check out the farmer's market and live music performances.
5. Experience Miami's Diverse Culture in Little Haiti and Little Havana
Little Haiti and Little Havana are two vibrant neighborhoods in Miami that offer a small taste of Haitian and Cuban culture.
Little Haiti is known for its colorful murals, galleries, and Haitian cuisine, while Little Havana is famous for its Cuban food and coffee, passionate politics, music, and art.
Both neighborhoods are great places to visit if you want to experience a different side of Miami beyond the beaches and nightlife.
The energy and spirit of the local communities are what make these neighborhoods so popular.
Visitors can explore street art, sample authentic cuisine, and immerse themselves in the music and dance traditions of these cultures.
Don't miss the chance to sip on a cafecito, try a pastelito, or even take a salsa lesson.
Whether you're a foodie, art lover, or just looking for a unique cultural experience, Little Haiti and Little Havana are not to be missed.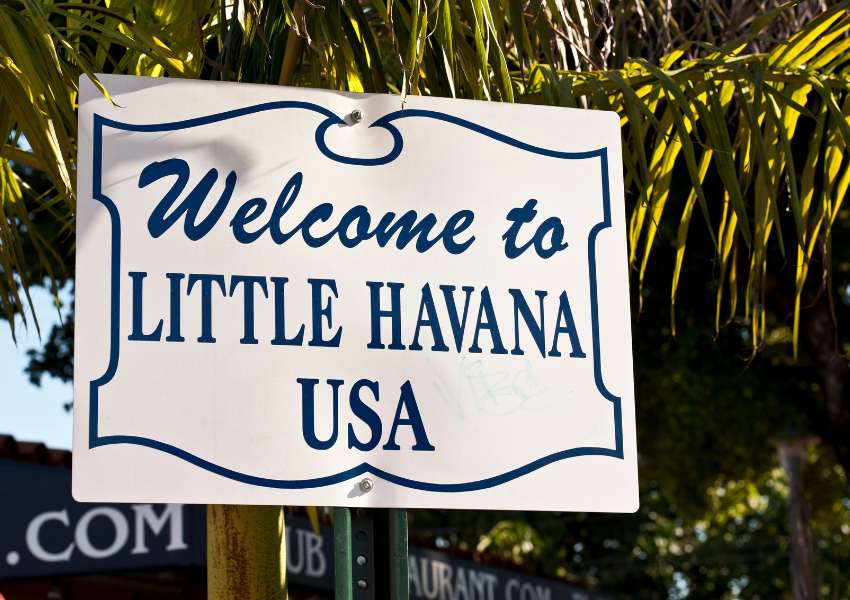 6. Take a Boat Tour of Biscayne Bay for Incredible Views of Miami's Skyline
If you're looking for a unique way to experience Miami's waterfront, a boat tour in Biscayne Bay is the way to go.
This beautiful bay is located just minutes from downtown Miami and offers breathtaking views of the city's skyline and turquoise waters.
Taking a boat tour is the perfect way to explore the bay and all of Miami's hidden gems, like the many famous islands in the area (Star, Palm, and Hibiscus) and Millionaire's Row or Fisher Island.
You'll see the mansions of the rich and famous or even oceanfront views of the well-known Miami Beach.
You might even see some of the bay's diverse wildlife, including dolphins, manatees, and a variety of birds.
So grab a camera and set sail to enjoy stunning views of the Miami skyline as well as a view into the alluring nearby islands.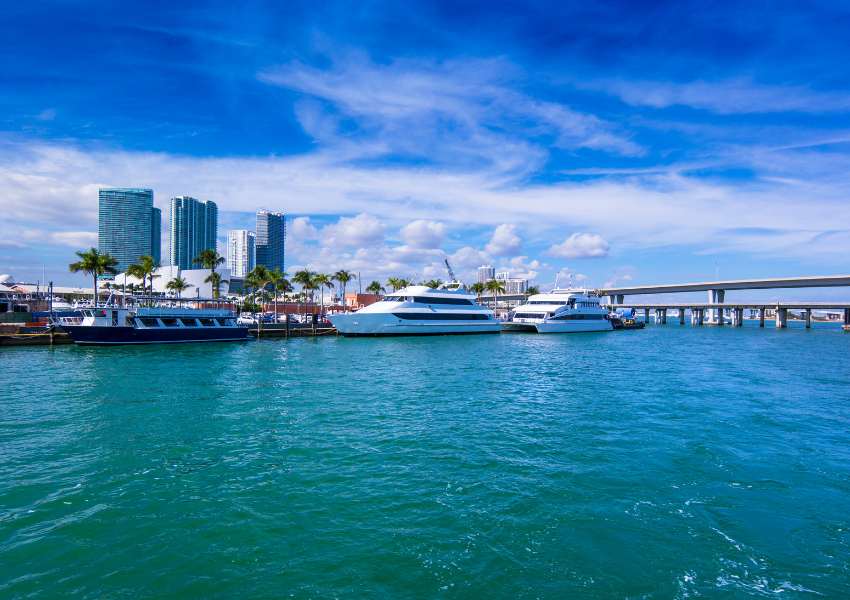 7. Catch a show at The Fillmore Miami Beach for a Unique Live Music Experience
If you're a music lover visiting Miami, catching a show at the Fillmore is a must-do activity.
Located in the heart of Miami Beach, this iconic venue has a rich history of hosting some of the world's biggest names in music.
Originally opened in 1950 the venue has undergone several transformations over the years.
Today, the Fillmore is one of Miami's premier concert venues, featuring state-of-the-art sound and lighting technology and a capacity of up to 2,700 guests.
Whether you're into rock, pop, hip-hop, or jazz, the Fillmore has something for everyone.
Not only does it attract big-name acts, but it also hosts up-and-coming artists and local musicians, making it a great spot to discover new talent.
The intimate setting and energetic atmosphere make for a truly unforgettable concert experience. So grab your tickets and get ready to rock out at the Fillmore in Miami!
8. Discover the Spectacular Wonders of the Phillip & Patricia Frost Museum of Science
If you're looking for a fun and educational activity in Miami, a visit to the Phillip and Patricia Frost Museum of Science is a must.
Located in Downtown Miami's Museum Park, this state-of-the-art science museum is home to a wide range of exhibits and interactive experiences that are sure to fascinate visitors of all ages.
The museum was originally founded in 1949 as the Miami Science Museum and moved to its current location in 2017 after a major renovation and expansion.
Today, the museum features a range of exhibits exploring topics like the human body, the environment, and outer space.
One of the museum's most popular attractions is the three-level aquarium, which features a variety of marine life from South Florida and beyond.
Visitors can also explore the planetarium, which features immersive shows exploring the cosmos.
So whether you're a science buff or just looking for a fun day out with the family, the Phillip and Patricia Frost Museum of Science is definitely worth a visit.
9. Discover Miami's Unique Coconut Grove Neighborhood
If you're visiting Miami and looking for a charming and laid-back neighborhood to explore, Coconut Grove is the perfect destination.
This historic neighborhood is located just south of downtown Miami and offers a unique blend of old-world charm and modern amenities.
One of the most popular spots in Coconut Grove is the waterfront park, which offers stunning views of Biscayne Bay and plenty of green space for picnics and relaxation.
Visitors can also explore the charming streets lined with boutiques, galleries, and restaurants.
The neighborhood is home to a variety of festivals and events throughout the year, including the Coconut Grove Arts Festival, which draws crowds of art enthusiasts from all over the world.
History buffs can also check out the Vizcaya Museum and Gardens, a stunning historic estate built in the early 1900s (and also on this list!).
Whether you're looking for a day of shopping, dining, or simply soaking up the Florida sunshine, Coconut Grove is a unique place to visit.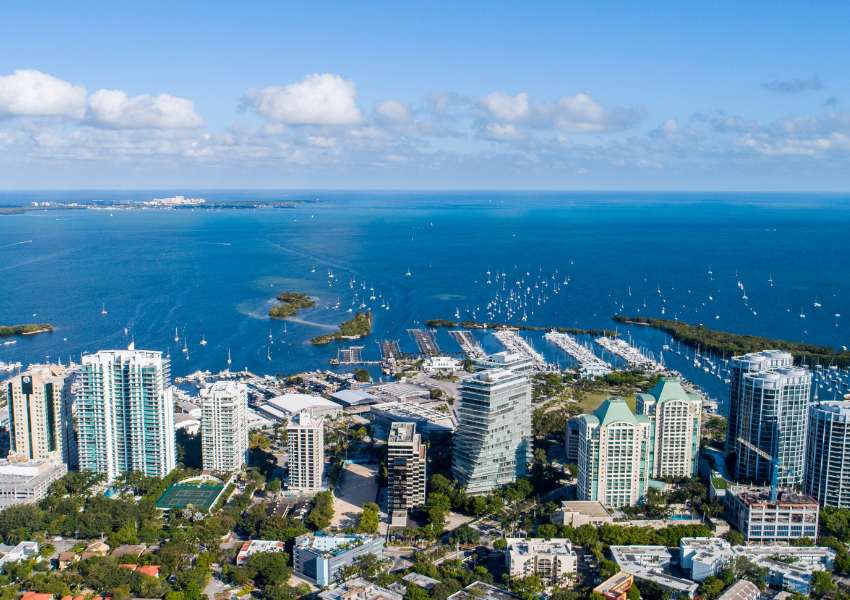 10. Dive Into the Unique Venetian Pool in Coral Gables
Looking for a unique and refreshing way to beat the Miami heat? Look no further than the Venetian Pool.
This historic pool is located in the heart of Coral Gables and is one of the most popular attractions in the city.
Originally built in the 1920s from a coral rock quarry, the Venetian Pool is a stunning sight to behold, with its natural rock formations, waterfalls, and lush landscaping.
Visitors can swim in the crystal-clear water or just relax on the sidelines surrounded by palm trees and tropical foliage.
The pool is open year-round, making it the perfect spot to visit no matter what time of year you're visiting.
So whether you're looking for a fun way to cool off or just looking for something a bit more unique, the Venetian Pool is a must.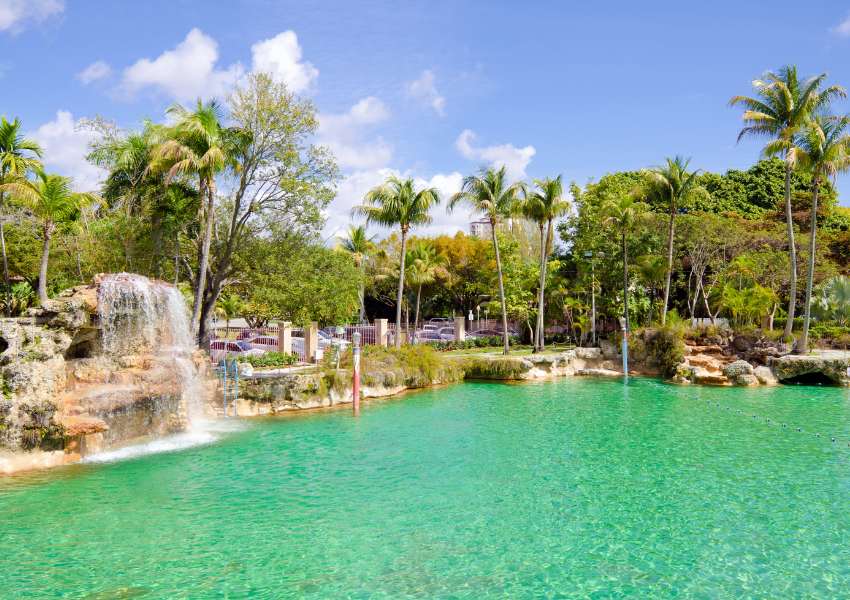 11. Admire the Beauty & History of The Ancient Spanish Monastery
If you're a history buff or just looking for a peaceful spot to visit in Miami, The Ancient Spanish Monastery should be on your list.
This historic site is located in North Miami Beach and features a collection of medieval buildings that were brought over from Spain in the 1920s.
The buildings were originally part of a monastery in Spain that was built in the 12th century and were shipped to the United States in pieces before being reconstructed in their current location.
It took around 19 months to put the Monastery back together, being dubbed "the biggest jigsaw puzzle in history!"
Today you can explore the beautiful cloisters, chapel, and gardens, which are filled with stunning architectural details and artwork.
Whether you're looking for a quiet spot to reflect or a fascinating piece of history to explore, The Ancient Spanish Monastery is definitely worth a visit.
12. Explore Oleta River State Park – Florida's Largest Urban Park!
Looking for an outdoor adventure in Miami? Oleta River State Park has you covered!
Located just north of downtown Miami, this beautiful park is the perfect place to enjoy nature and maybe even get a little exercise.
The park is home to miles of trails for hiking, biking, and running, as well as a beautiful beach for swimming and sunbathing.
You can rent kayaks or paddleboards and explore the winding waterways lined with mangroves and spot dolphins or manatees. Or, try your hand at fishing in the river.
With plenty of picnic areas and even cabin rentals available, Oleta River State Park is a great spot to spend a whole day or even a weekend.
Plus, the park's stunning views of the Miami skyline and abundance of wildlife make it a unique and memorable destination for visitors of all ages.
So whether you're looking for an active day outdoors or a relaxing day at the beach, Oleta River State Park is definitely worth a visit.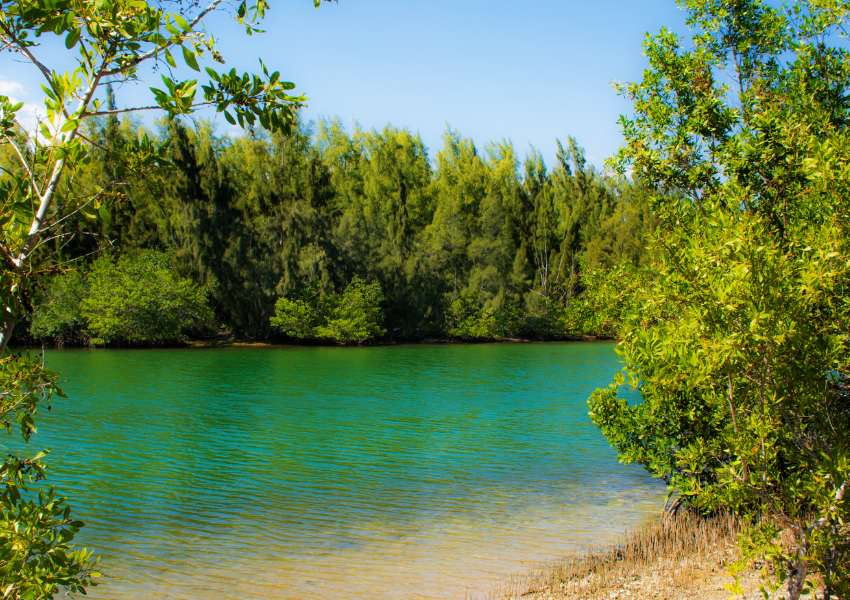 13. Take an Adventurous Day Trip to Everglades National Park
If you're looking for a one-of-a-kind adventure during your Miami vacation, you won't want to miss a day trip to Everglades National Park.
Known for its unique ecosystem, the park is a must-visit for nature lovers and wildlife enthusiasts alike.
You can explore the park's vast wetlands by hiking, biking, or taking a guided tour, where you'll have the chance to see alligators, panthers, the American crocodile, and other wildlife in their natural habitat.
The park also offers airboat tours, where you can glide through the waterways and experience the thrill of speeding over the water.
For a more laid-back experience, take a scenic drive through the park and stop at one of the many lookout points to take in the unexpected views.
Whether you're seeking adventure, relaxation in nature, or a bit of both, a day trip to Everglades National Park is sure to be a highlight of your Miami vacation.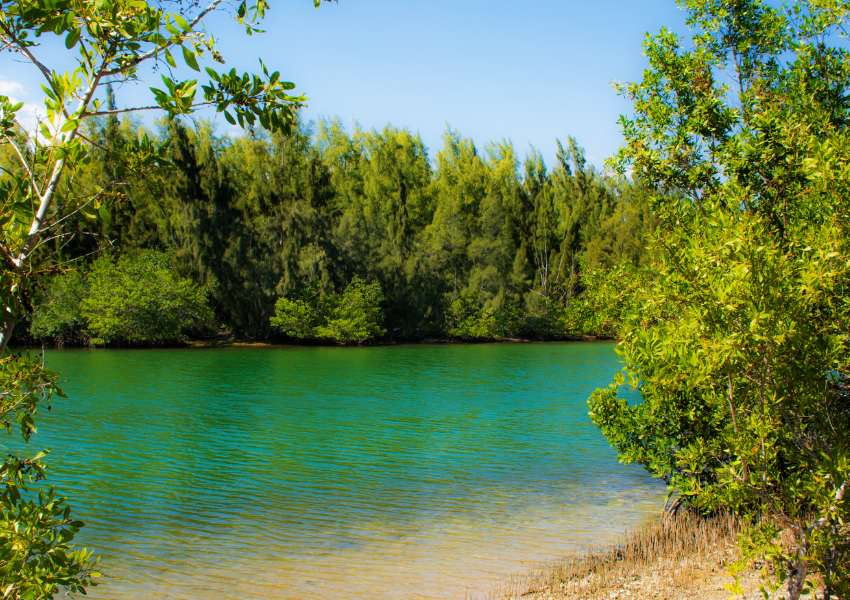 14. Explore the Beautiful Fairchild Tropical Botanic Garden
For nature lovers or anyone looking for a more peaceful thing to do to escape the incredibly energetic vibe of Miami, a visit to the Fairchild Botanic Gardens is a must.
This botanical garden is located in Coral Gables, about 20-30 minutes from downtown Miami, and is a popular destination for people of all ages.
This 83-acre garden is home to an incredibly large collection of rare and exotic plants from around the world. Some of the most celebrated tropical plants include palms, cycads, and vines.
In total, there are over 3,000 species of plants here, which makes roaming around the enchanting paths that much more enjoyable.
This beautiful place is named after Dr. David Fairchild, who was a renowned botanist in the area that introduced many exotic plants to the U.S.
His legacy lives on through this stunning collection of plants!
15. Experience the Unique Culture of Downtown Miami at Bayside Marketplace
Bayside Marketplace in Miami is an outdoor shopping and dining destination that offers a unique experience and also a look into the heart and culture of Miami.
With over 150 shops and restaurants ranging from high-end fashion boutiques to casual eateries, everyone will enjoy this spot.
With a location right on the waterfront, it offers stunning views of the bay as well as the Miami skyline.
Take in these incredible views while wandering through unique stores and enjoying street performances under swaying palm trees.
A fun fact about Bayside Marketplace is that it has been featured in several movies and TV shows, so you can experience the same places seen on the silver screen!
Whether you're a local or a tourist, Bayside Marketplace is definitely worth checking out.
Other Must Visit Places in Miami
If you're planning a trip to Miami, there are a few additional must-visit places that you shouldn't miss! Here's a quick list:
Haulover Sandbar- A local hotspot for boaters and water enthusiasts. Here, you can anchor your boat and soak up the sun while enjoying the crystal clear waters.

Monkey Jungle- Perfect for animal lovers! This unique park allows you to interact with various species of monkeys in a natural jungle setting. You'll have the chance to feed them, watch them play, and learn all about these fascinating creatures.

Catch a Miami Heat game – Perfect for sports fans, this is an unforgettable experience! With their passionate fans and top-notch players, the energy at a Heat game is electric.

Key Biscayne- Great spot for a beach escape and just a short drive from Miami. Offers some of the most beautiful beaches in the area, with pristine white sand and turquoise waters.

Rooftop bar in Miami- Great for a night out or a fun day outing to take in the stunning views of the city and enjoy delicious cocktails. Check out Area 31 in downtown Miami or Astra in Wynwood!

Miami Seaquarium- A popular attraction for families and animal lovers. Here, you can watch live shows with dolphins, sea lions, and killer whales, as well as see various marine creatures up close.
FAQ on Unique Things to do in Miami
If you have more questions about unique things to do in Miami or just need some more insight for planning your trip, here are some commonly asked questions and answers about Miami.
What part of Miami is the most fun?
Miami has a variety of neighborhoods, each with its own vibe and attractions. South Beach area is perfect for those who love nightlife, while Coconut Grove is great for those who prefer a more laid-back atmosphere.
Art lovers should visit Wynwood for its colorful street murals and galleries, while foodies will enjoy Little Havana's Cuban restaurants and cafes.
Ultimately, the most fun part of Miami depends on what you're interested in and what you're looking for in a vacation, as there's something for everyone here in Magic City.
How many days should you spend in Miami?
Well, that's a tough question! It really depends on what you want to do and see in Miami. If you're content with just lounging on the beach and sipping cocktails, a few days might do.
But, if you want to explore the city's vibrant culture, hit up some rooftop bars, catch a Miami Heat game, and check out the amazing food scene, you'll definitely want to plan for a longer stay.
And, if you're feeling adventurous and want to explore the surrounding areas like the Everglades or the Florida Keys, you'll need even more time.
My advice is to plan accordingly and don't rush your Miami experience – there's so much to see and do!
The Wrap-Up: Best Unique Things to do in Miami
So there you have it! Miami truly has a bit of excitement for everyone – from exploring the vibrant neighborhoods of Little Havana and Little Haiti, to catching a show at the iconic Fillmore, to soaking up some sun at the beautiful Venetian Pool. There's an endless list of unique things to do in Miami!
And don't forget about the incredible food scene, rooftop bars with a view, and thrilling outdoor activities like exploring the Everglades or taking a boat to the Haulover Sandbar.
So what are you waiting for? Pack your bags, book your flights, and get ready to experience all that Miami has to offer. Trust me, you won't be disappointed – Magic City is truly one of a kind.