19 Beautiful Oahu Instagram Spots
If you're planning a trip to Oahu and want to snap some Insta-worthy shots, you're in luck!
This tropical paradise is packed with picture-perfect locations that will make your followers or friends ask about these places' locations.
As a Hawaii local and avid traveler, I've scoured the island to find the most picturesque locations you can visit on your Oahu itinerary that will make your Instagram feed shine.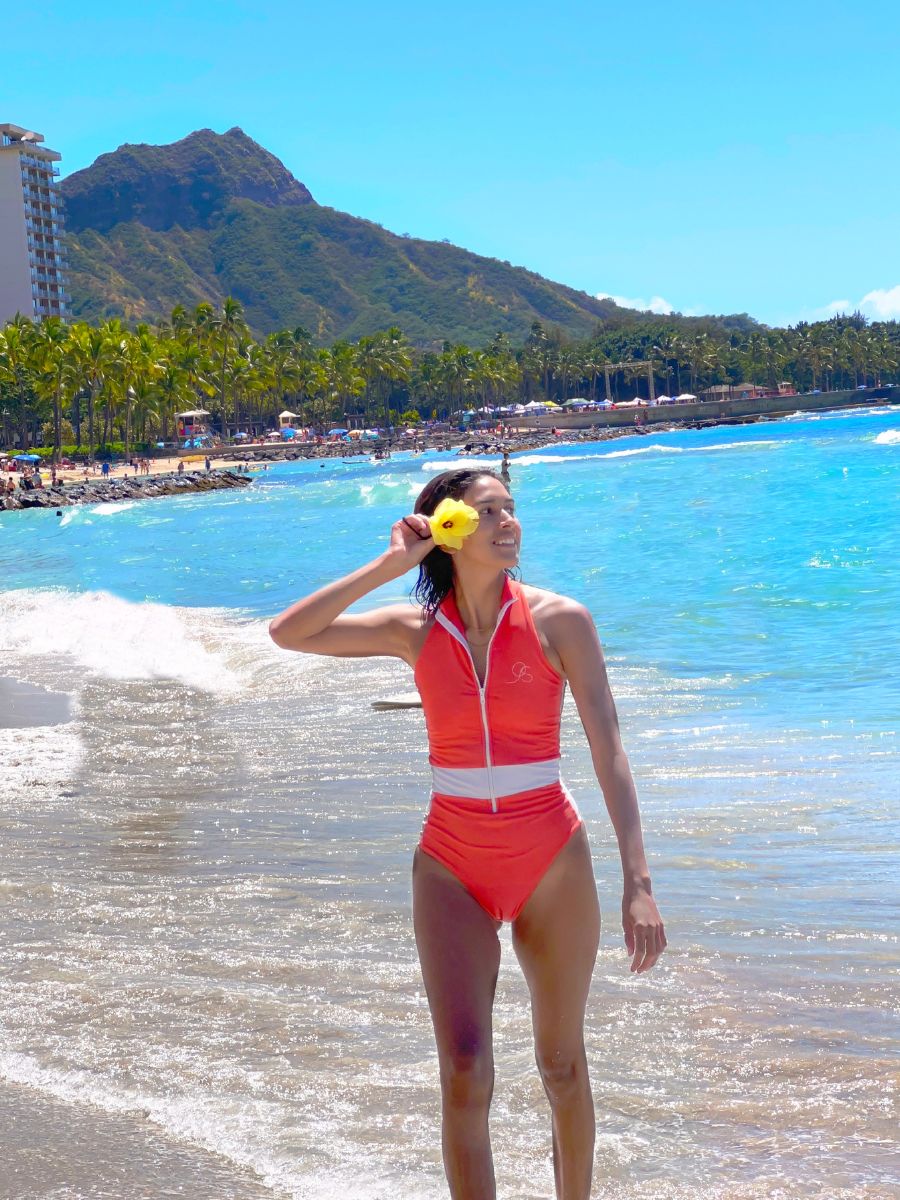 From lush gardens, stunning beaches, or colorful street art, we've rounded up the best places to take pictures in Oahu.
So grab your camera, put on your cutest outfit, and explore the most photogenic spots in Oahu together!
Best Oahu Instagram Spots
1. The Royal Hawaiian Hotel
The Royal Hawaiian in Oahu is one of the most photogenic places on the island!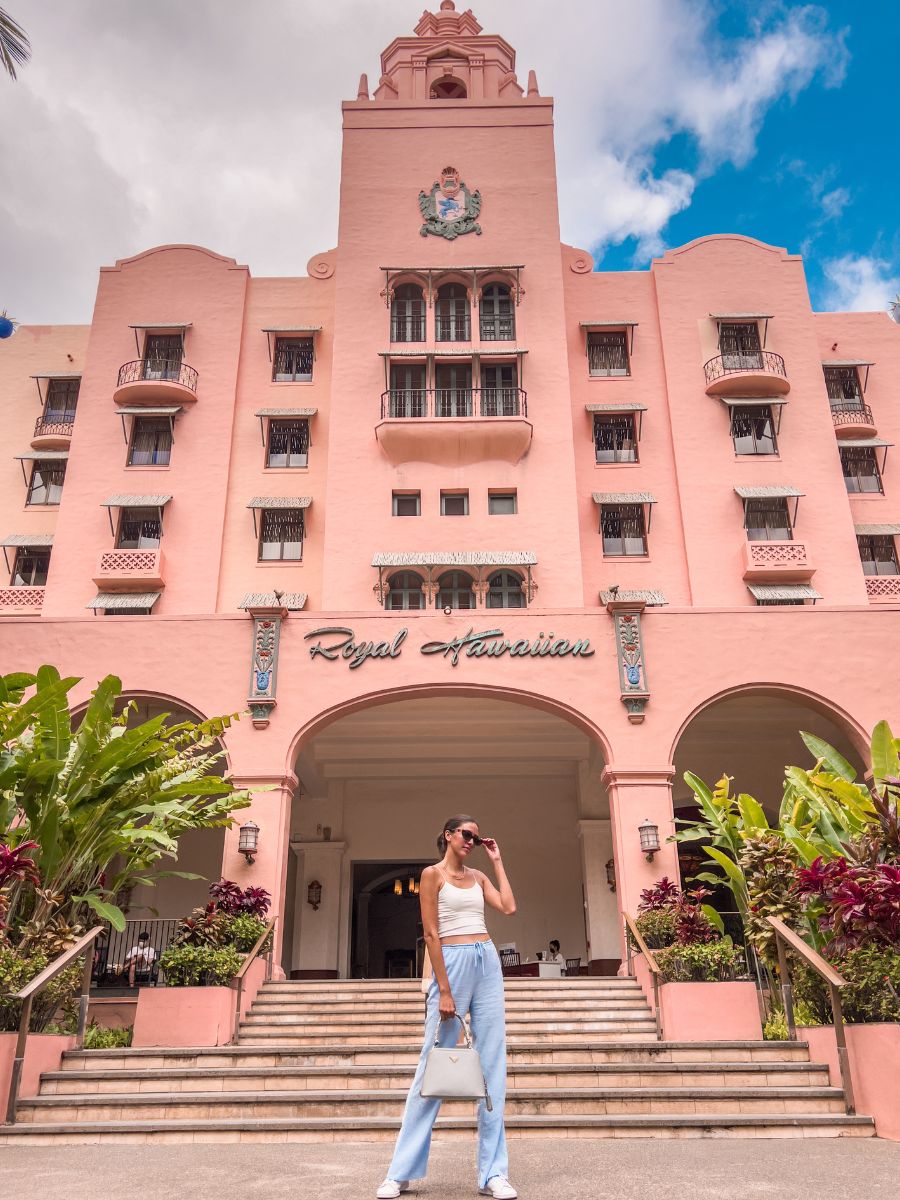 This iconic hotel has been a staple of Waikiki Beach since 1927 and is known for its pink exterior.
(yes, you read that right – PINK!).
One of the best spots to take pictures at the Royal Hawaiian is on the side of the hotel.
Another great spot is inside the hotel's elegant lobby, where you'll find stunning chandeliers and vintage decor that will transport you back in time.
2. Diamond Head State Monument
Diamond Head is a famous volcanic crater that offers a unique vantage point to capture breathtaking views of Honolulu and turquoise water.
You'll need to hike up a moderate trail to reach the top.
Don't worry, though; it's worth it!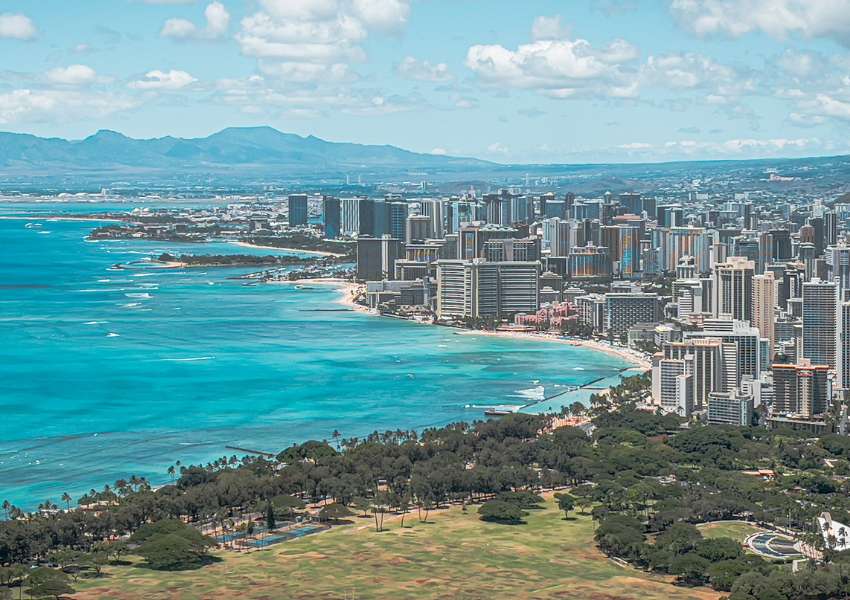 Diamond Head State Monument offers stunning views of the island, from the lush greenery on the trails to the panoramic views of Waikiki Beach.
And while it can be a bit crowded at times, careful timing can help you get great shots with fewer people in your way.
A reservation is required, plus a parking fee.
After your hike, grab a quick snack at the $5 bento box truck (shave ice, pineapple smoothie, bento box) outside Diamond Head on the main road.
Photo Tip: To get the colors of the ocean to really pop, plan to hike up at noon. It will be hot, so bring water, a hat, and sunscreen, as their little to no shade during the hike.
Best places to take photos in Honolulu
3. Kakaako Murals
Kakaako Murals in Oahu is a mecca for anyone who loves street art and colorful backdrops for their photos!
With dozens of murals covering the walls of this once-industrial area, you'll find an endless array of vibrant colors, intricate designs, and inspiring messages.
One of the most fantastic things about Kakaako Murals is that the artwork changes constantly, so every time you visit, there's always something new to see and capture.
The area has a relaxed vibe with many trendy shops and cafes nearby.
Photo Tip: For the best lighting, head to the area in the morning or during sunset for golden hour.
4. Tantalus Lookout
Tantalus Lookout is located at the top of a lush mountain; this lookout provides stunning panoramic views of the island that will leave you breathless.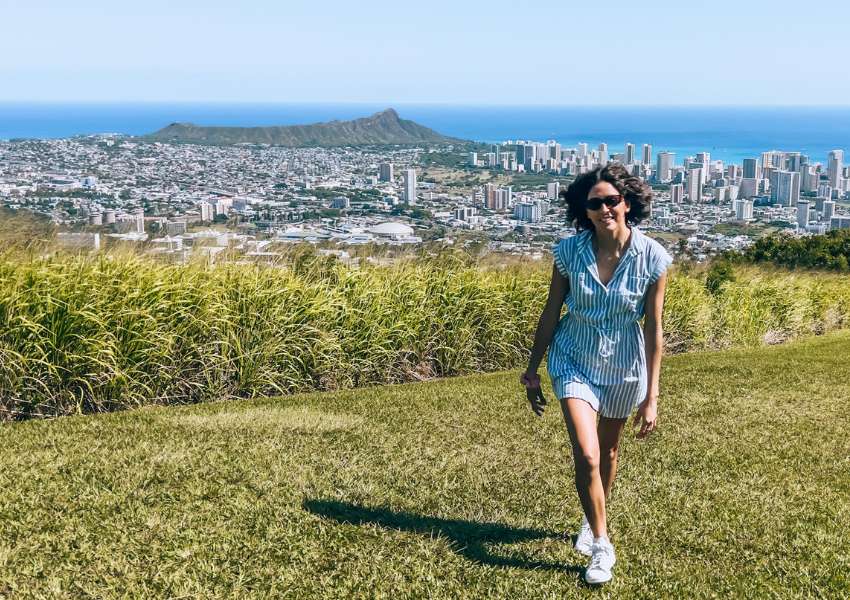 No hiking is required to get to the top.
It's only 15 min away from Waikiki with a scenic road to the top, head up Round Top Drive and follow the signs to the lookout.
Once you arrive, snap some photos from the lookout, where you can see Honolulu below you.
Remember to take a moment and admire the beautiful environment – you might even spot some rare birds or butterflies!
It's a peaceful location away from the busy city.
And if you're feeling adventurous, venture off onto one of the nearby hiking trails for an even more immersive experience in Hawaii's natural beauty.
5. Manoa Falls
Manoa Falls is a breathtaking waterfall popular spot for tourists and locals, nestled in a lush rainforest.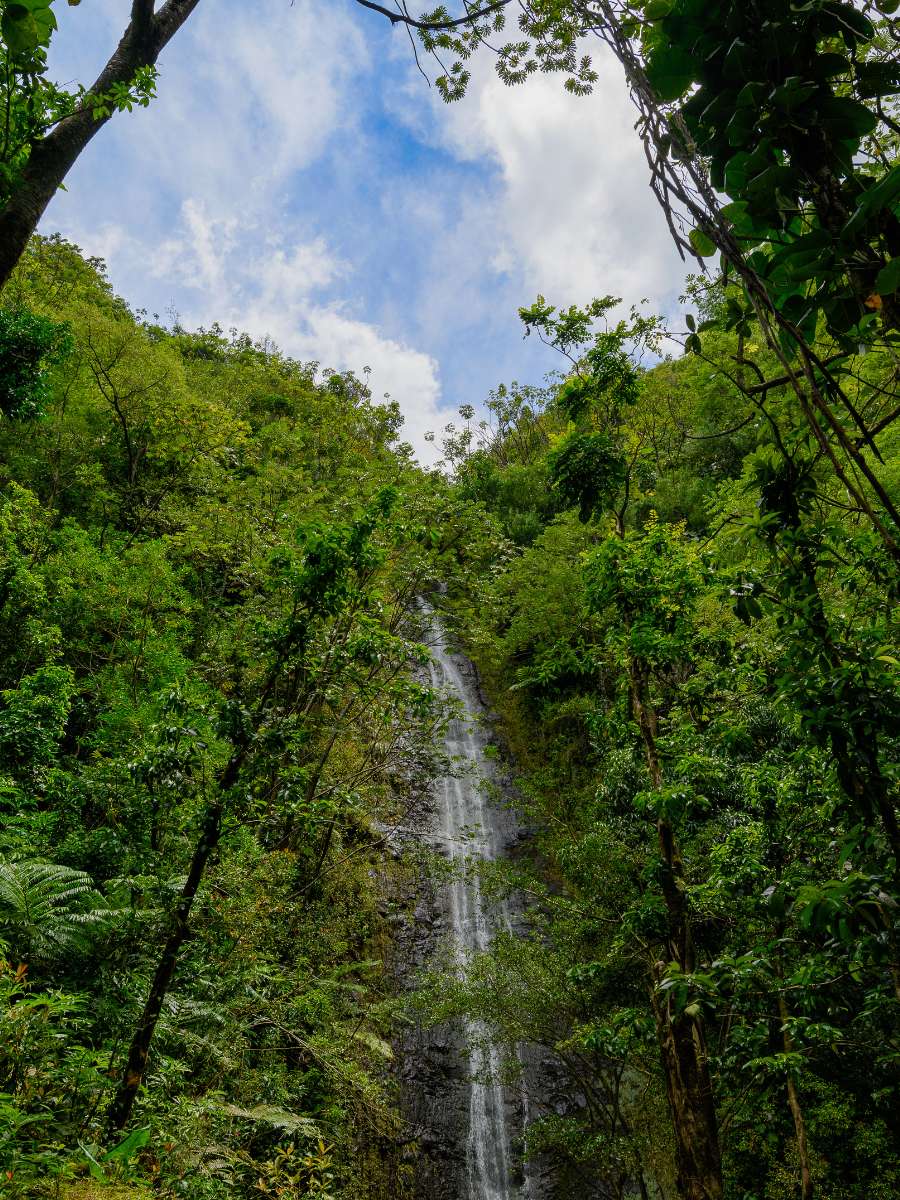 The hike up to the falls is relatively easy and takes you through some tropical scenery.
Just be sure to wear comfortable shoes; you don't mind getting dirty as this trail is muddy, and bring plenty of water.
Once you reach the falls, you'll be rewarded with a stunning view of the water cascading into a serene pool below, surrounded by towering trees and vibrant greenery.
The key to taking a pretty photo at this location is to capture the stunning waterfall from different angles against the lush greenery of the surrounding tropical forest. There is a $7 parking fee.
YOU MAY ALSO LIKE:
6. Koko Crater
If you love to go on hikes, this is a great challenging hike with spectacular views. Koko Head is a large volcano crater with a 1.6-mile out-and-back trail.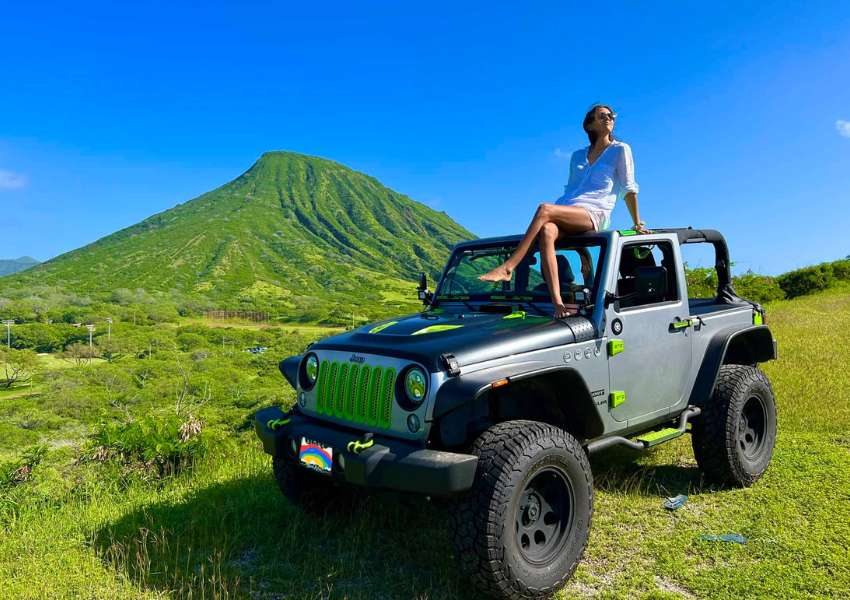 To reach the top, you will need to hike up 1000 steps!
It usually takes about 1hr and 30 min to complete.
Once you reach the top, you will see panoramic views of the east Honolulu shoreline, Hanauma Bay, and parts of Moloka'i. The best time to go is at sunrise to avoid the hot heat and to get the soft light.
Not much of a hiker? No problem!
Tip: Drive up to the Hawai'i Kai Lookout that will still give great views of Oahu and the Koko head crater without sweating.
Also, a great time to pull out a drone and get great shots from above!
7. Sailing on a Catamaran
A catamaran ride is a must-do activity when you're in Oahu.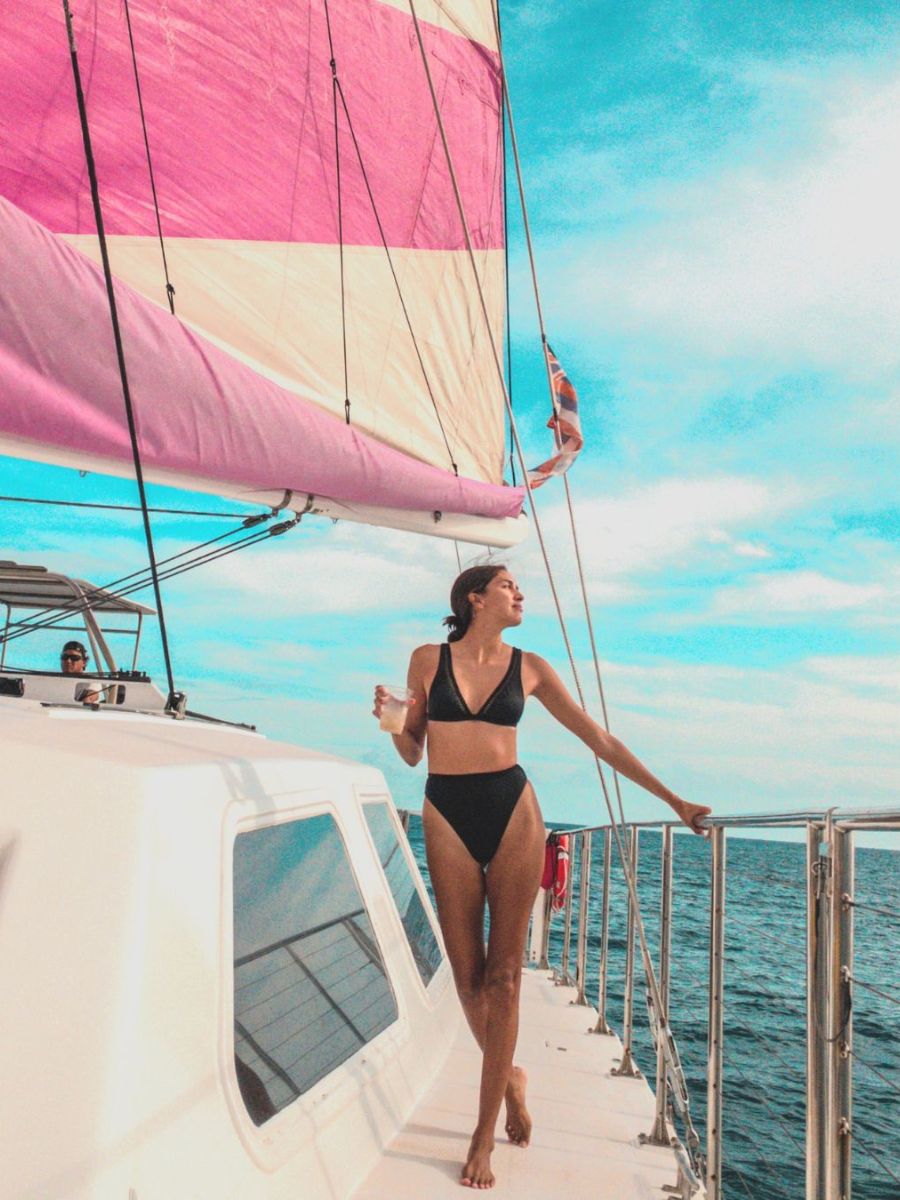 It is an exciting way to explore the island's stunning coastline and provides ample opportunities to snap some Insta-worthy shots!
Imagine sailing along the crystal-clear waters, feeling the warm breeze on your skin, and capturing the moment as the sun sets over the horizon.
Be ready to capture those epic shots of the wildlife in Hawaii, like dolphins, humpback whales, and Hawaiian sea turtles.
It's truly a magical experience that you won't want to miss when visiting Oahu.
Oahu Instagram Spots: Best Beaches
8. Waikiki Beach
Waikiki Beach is like stepping into a postcard – crystal clear waters, palm trees swaying in the breeze, and pristine white sand.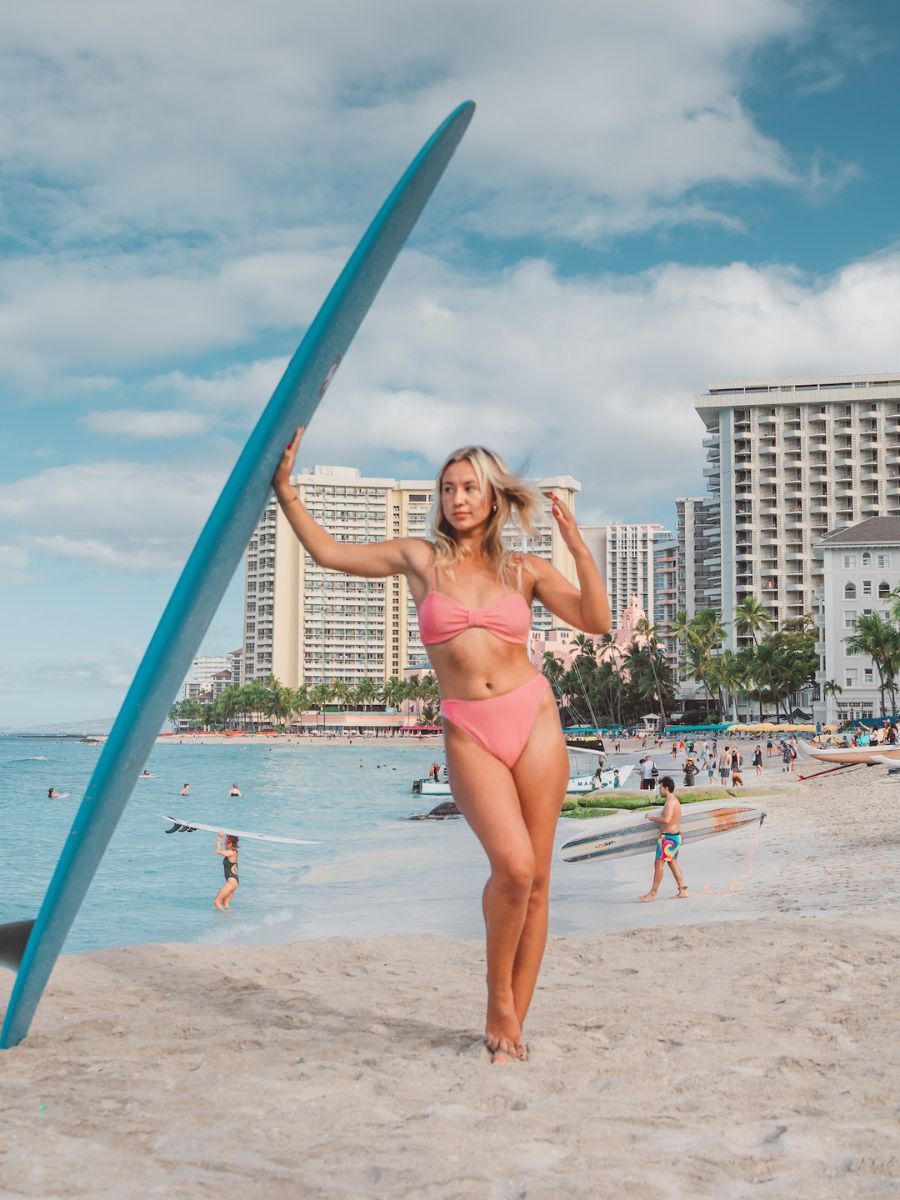 The vibrant colors of the beach umbrellas and surfboards contrasted against the blue skies and turquoise waters make for an unforgettable image.
Here you can get photos in the clear water, next to a yellow catamaran,under the beach umbrellas, or on a surfboard.
Try out surfing, as it is the birthplace of surfing and has some of the best learning conditions.
Tip: Head to the end of the beach in front of The Royal Hawaiian Hotel; there, you will get a great shot of the beach, hotels, and Diamond Head.
To avoid people in your photo, it's best to go in the early morning. Golden hour in Waikiki will be the best lighting.
9. Hanauma Bay
Hanauma Bay is an absolute paradise for underwater photography and videography enthusiasts!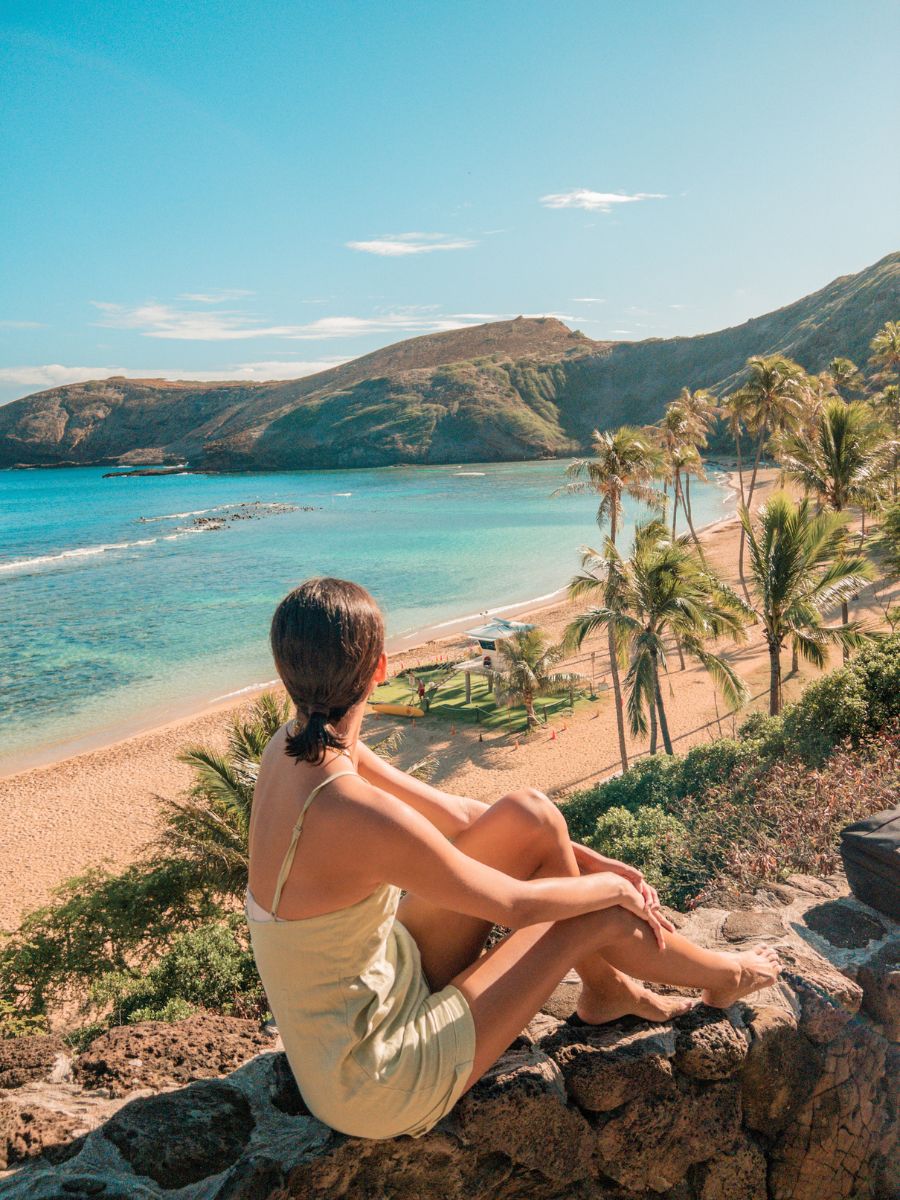 This stunning bay is home to a vast array of marine life, including colorful fish and sea turtles, with crystal-clear warm waters and vibrant coral formations; it's the perfect place to explore with your camera.
And the best part? Hanauma Bay is also an ideal spot for snorkeling if you want to get up close and personal with sea creatures because of its shallow depth and calm waters.
A reservation is needed ($25 per person) and there is also a parking fee.
So grab your GoPro or waterproof camera and dive right in!
10. Ko'Olina Lagoons
If you're a beach lover, you can only leave Oahu by visiting Ko'Olina Lagoons.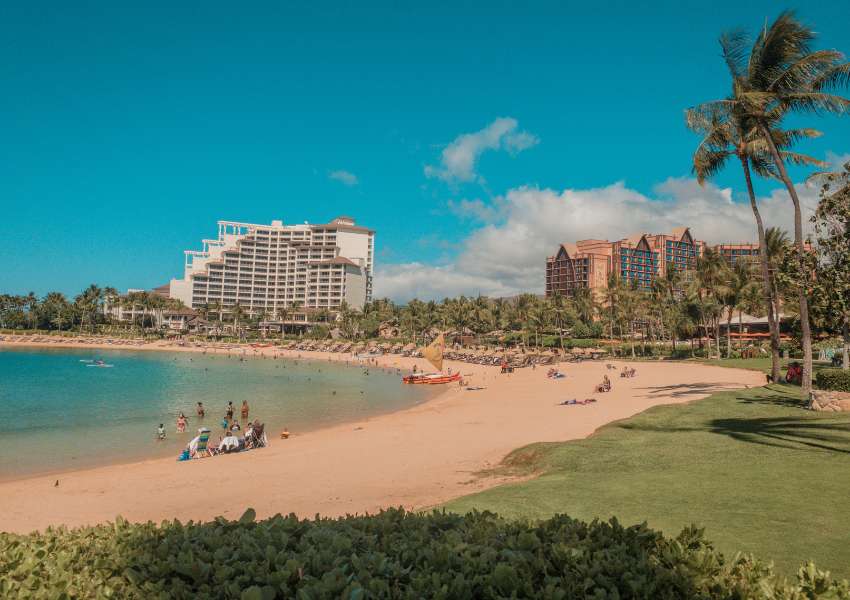 The golden hour here is exceptional as the sky turns a stunning shade of pink and orange, casting a warm glow over the coastline.
These are four lagoons in a resort area that is free to explore. This area is well-manicured with perfectly lawned grass and palm trees.
Whether you're looking to capture romantic couple shots or snap solo photos taking in the serene beauty of the sunset, Ko'Olina Lagoons is the place to be.
Tip: The second lagoon next to the four-season lagoon is most quiet and less crowded.
11. Lanikai Beach
Lanikai Beach is a breathtakingly beautiful slice of paradise that you must visit if you're in Hawaii.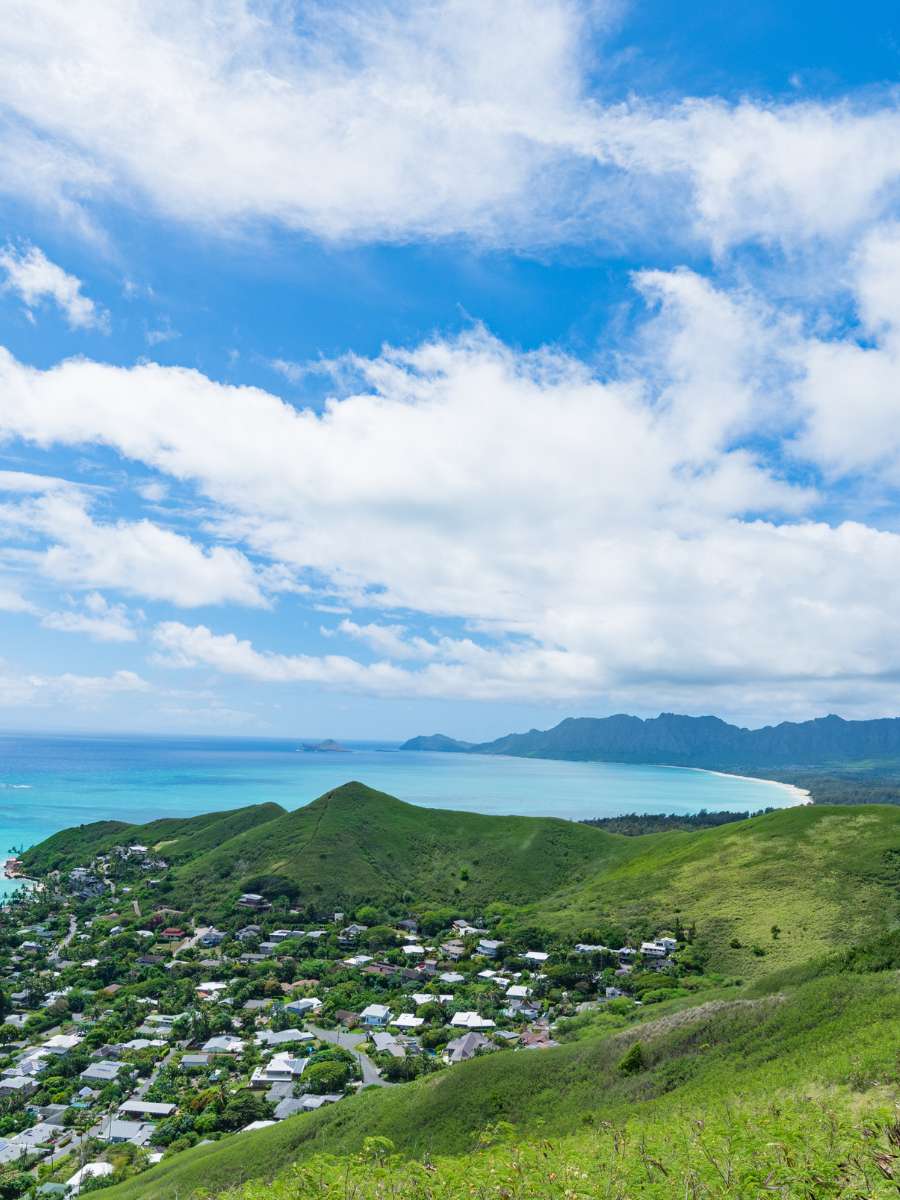 With its crystal-clear turquoise waters, powdery white sand, and breathtaking views, it's no wonder why this beach has become a bucket-list destination for travelers worldwide.
The scenery is so stunning that you'll feel inside a postcard!
Capture that perfect shot in front of the Mokes Islands in the background or pose on the beach with palm trees, and canoes and see why Lanikai Beach is truly a tropical paradise!
Instagrammable restaurants
12. Hideout at the Laylow
This hidden gem in Waikiki is a rooftop oasis that offers stunning city skyline views, stylish decor, and a laid-back atmosphere.
Hideout is designed to inspire your creativity and capture that perfect shot – from the colorful murals to the vintage surfboards and the view, it's no wonder that the Hideout at the Laylow has become one of Hawaii's most popular spots for Instagram-worthy photos.
But why take pictures when you can also indulge in delicious cocktails and food?
The Hideout offers a delightful menu of craft cocktails and small plates inspired by Hawaiian cuisine and is also the perfect spot to unwind.
13. Leonard's Bakery
Head to the famous Leonard's Bakery to take a photo with the iconic pink box and neon sign.
These fluffy, sweet treats are basically the most Instagram-worthy food ever.
Leonard's Bakery has made these delicious malasadas since 1952, becoming an iconic part of Hawaiian cuisine.
Do expect to wait in line as it's a popular spot. But it is totally worth it!
You're in for a treat!
14. The Sunrise Shack
The Sunrise Shack is a true gem for every Instagrammer out there.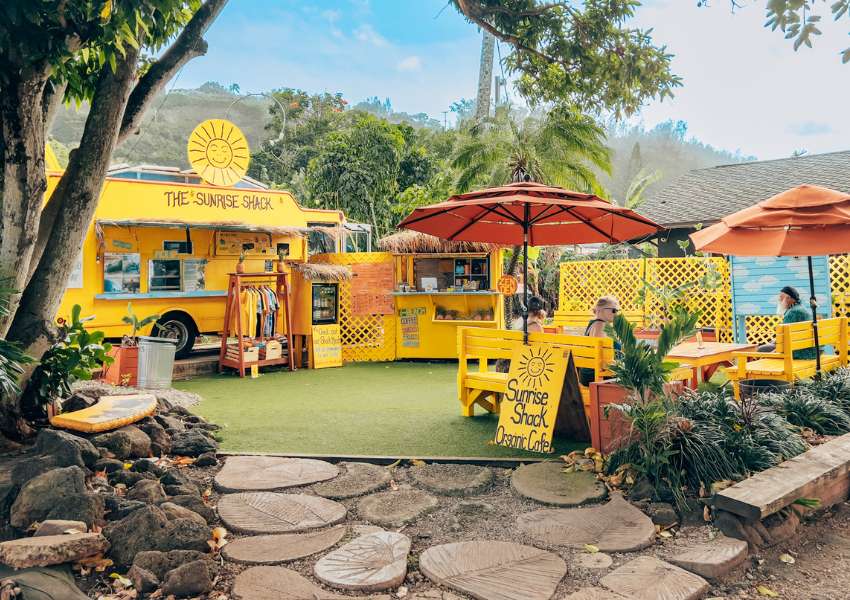 Not only does The Sunrise Shack offer a mouthwatering menu that will have you wishing for more, but its vibrant yellow exterior is an absolute showstopper.
The Sunrise Shack has several locations across Oahu, but the one that truly steals the show is the North Shore location near the legendary Banzai Pipeline Beach.
Oahu Instagram Spots: North Shore and East
15. Ho'omaluhia Botanical Garden
Ho'omaluhia Botanical Garden is a paradise for nature lovers and photography enthusiasts!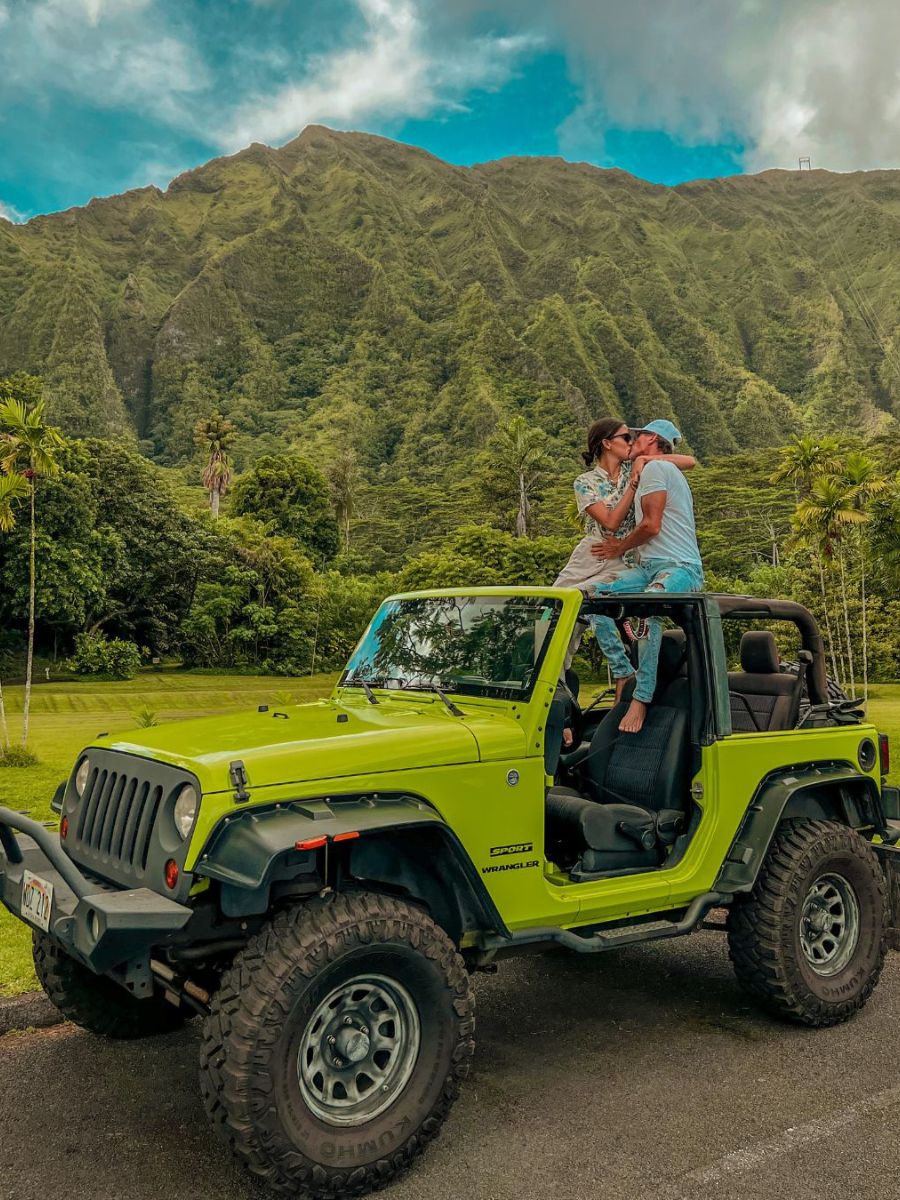 Located on the east side of Oahu, this stunning garden features over 400 acres of lush greenery, calming streams, and a serene lake.
There are many incredible photo ops here – from vibrant flowers to towering trees and even some cute little ducks waddling around!
But honestly, the sheer beauty of this place is reason enough to visit. The garden boasts an endless array of photo opportunities,
You'll be snapping selfies left and right as you explore this enchanting oasis.
Photo Tip: The entrance is the most iconic, but visitors can no longer stop on the road to take photos.
Have your phone recording as soon as you pass the guard to at least have footage of this iconic entrance.
Drive through the road and park in the designated spots. You can walk into garden sections with a beautiful mountain backdrop.
16. The Byodo-In Temple
The Byodo-In Temple is a must-visit spot for anyone who loves beautiful architecture and serene surroundings inside the Valley of the Temples.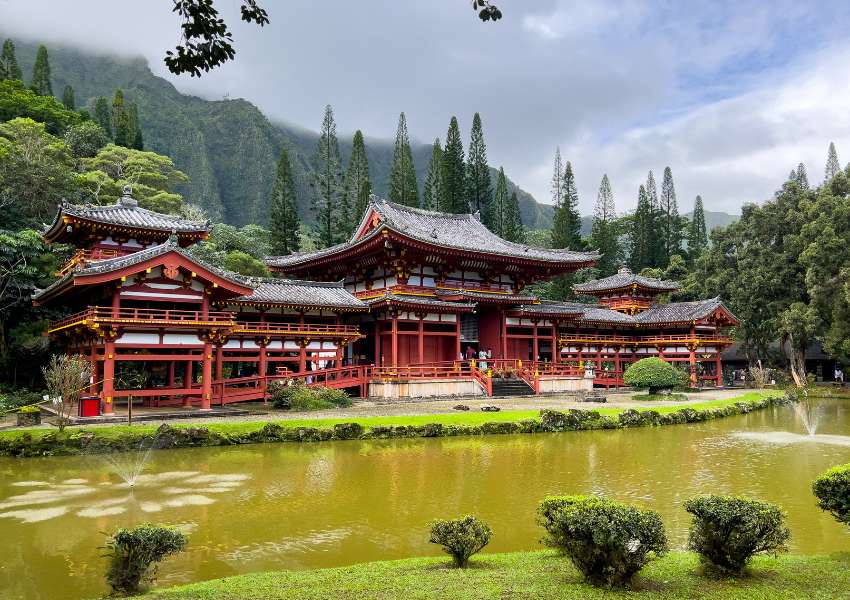 The temple was built to celebrate the 100th anniversary of the first Japanese immigrants to arrive in Hawaii and is a replica of a 900-year-old temple in Japan.
The temple's stunning architecture and intricate details make it a perfect backdrop for Instagram-worthy photos.
You will get amazing pictures, walk around the gorgeous grounds, marvel at the intricate architecture, and soak up the peaceful atmosphere.
Photo Tip: Arrive early to avoid crowds of people. There is an entrance fee of $5.
17. Kualoa Ranch
Kualoa Ranch is a 4000-acre working ranch, one of the most beautiful places on earth.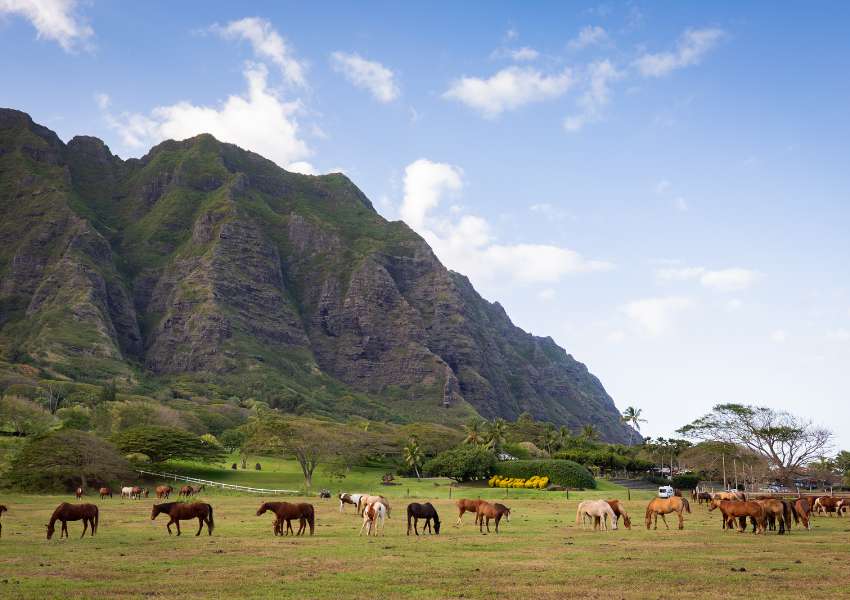 What makes Kualoa Ranch so unique is its breathtaking scenery. It offers stunning views of the island's natural beauty, including lush green mountains and sparkling blue waters- it's genuinely an out-of-movie!
Not only will you be able to snap some one-of-a-kind photos here, but you'll also have the chance to explore the ranch's many activities and attractions, from ATV tours to ziplining and film location tours.
Photo Tip: The only way to take photos in the valley is if you take one of their tours. The ATV and movie tours stop in the valley for a few minutes to take pictures.
18. Kaaawa Beach
After visiting the Kualoa Ranch, drive for five minutes north to arrive at this small beach right next to the road.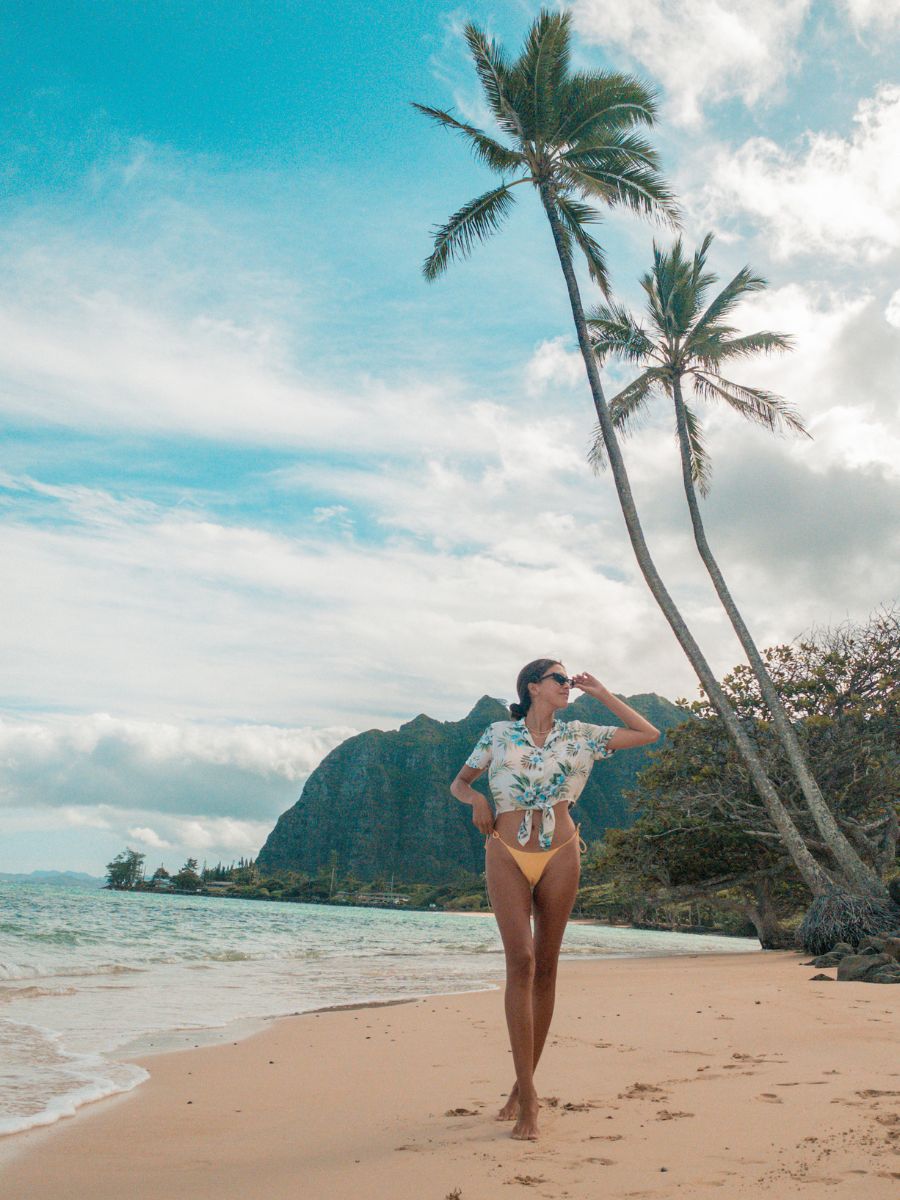 There is minimal parking, but the photo op is one of my favorite and iconic. Remember that this side of the island rains more than the rest.
Just a friendly reminder to always be respectful to the locals.
Photo Tip: Morning time is the best as the sun will light up the valley. Any time after 5 pm, the valley will not be well-lit. It's best to go during low tide as high tide might be too dangerous to walk on the narrow beach.
19. Haleiwa Town
Haleiwa Town offers excellent beaches, colorful street art, and charming shops; plenty of places to snap the perfect photo in this lovely town.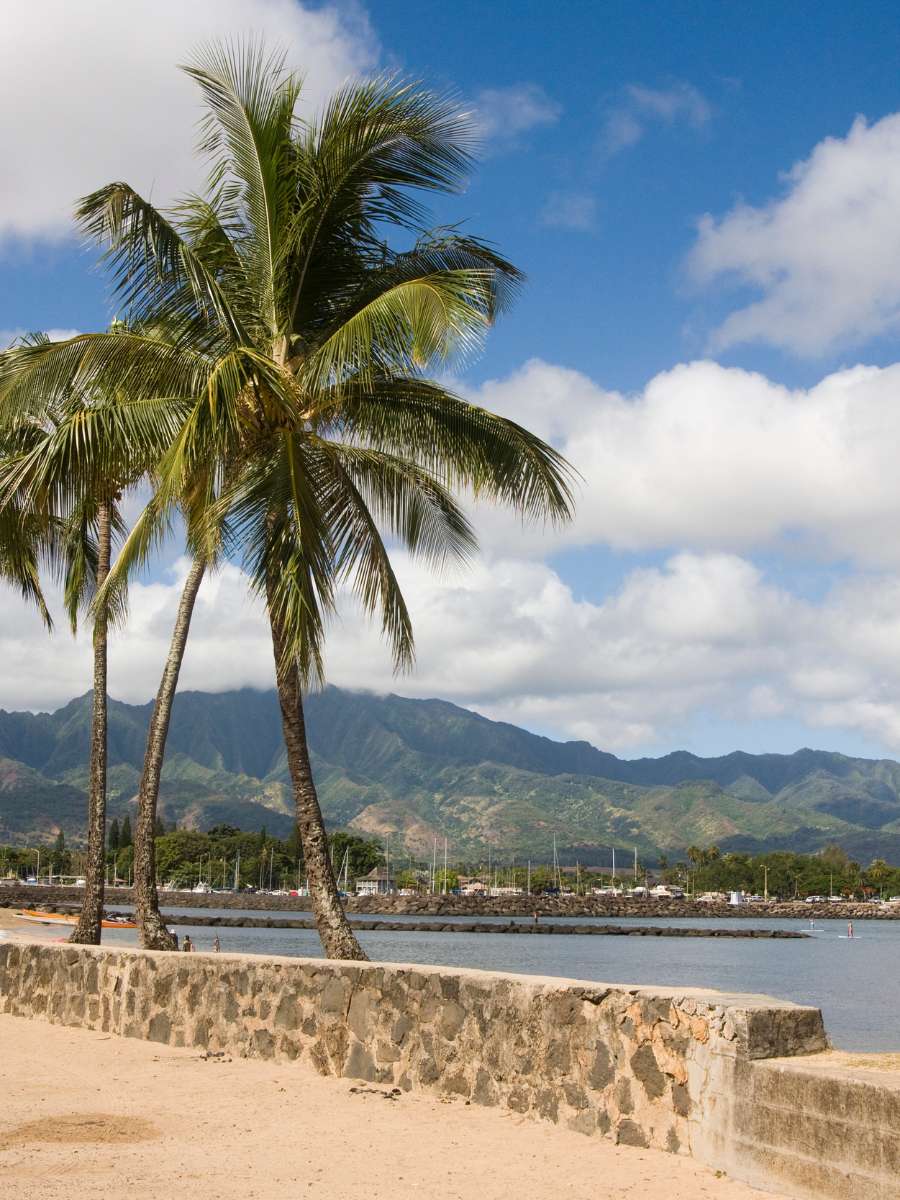 For starters, head to the Haleiwa Bowls and snap a pic with your açai bowl against the backdrop of vibrant street art.
Then head over to Matsumoto Shave Ice for a sweet treat and snap a pic of their iconic rainbow-colored shave ice.
And remember to explore the town's delicious food trucks.
Lastly, visit the famous Rainbow Bridge – an iconic landmark that perfectly captures the spirit of this lively town.
Best Oahu Instagram Spots: Conclusion
Oahu is a photographer's paradise, with many breathtaking locations to capture the perfect Instagram shot.
With so many stunning beaches, hidden gems, and picturesque restaurants, it's no wonder this island has become a top destination for photo ops.
We hope you enjoyed our guide to the best places to take pictures on this amazing island.
ABOUT THE AUTHOR
Bridget is an Oahu-based, mindful travel blogger with a keen eye for authentic experiences and hidden gems. On her blog, Bridget Gutierrez Travels, she shares her insights as a local and tips on how to have a more authentic trip to Oahu and travel mindfully.