Things to Do in Oahu Alone
Traveling alone can be an incredibly empowering and enriching experience, especially when exploring a beautiful destination like Oahu. With its stunning beaches, vibrant culture, and endless opportunities for adventure, Oahu is the perfect place to travel alone.
In this blog post, we'll be your trusty guide as we take you through the best things to do in Oahu alone. We've covered you, from exploring iconic landmarks like Waikiki to suggesting where to stay and what to bring.
Let's dive into the ultimate solo travel guide to Oahu!
Things to do in Oahu alone
1. Eat Local Food
When visiting Hawaii, the number one thing to do in Hawaii is to eat all the delicious local food. The Hawaiian food is a blend of different Asian Cuisines.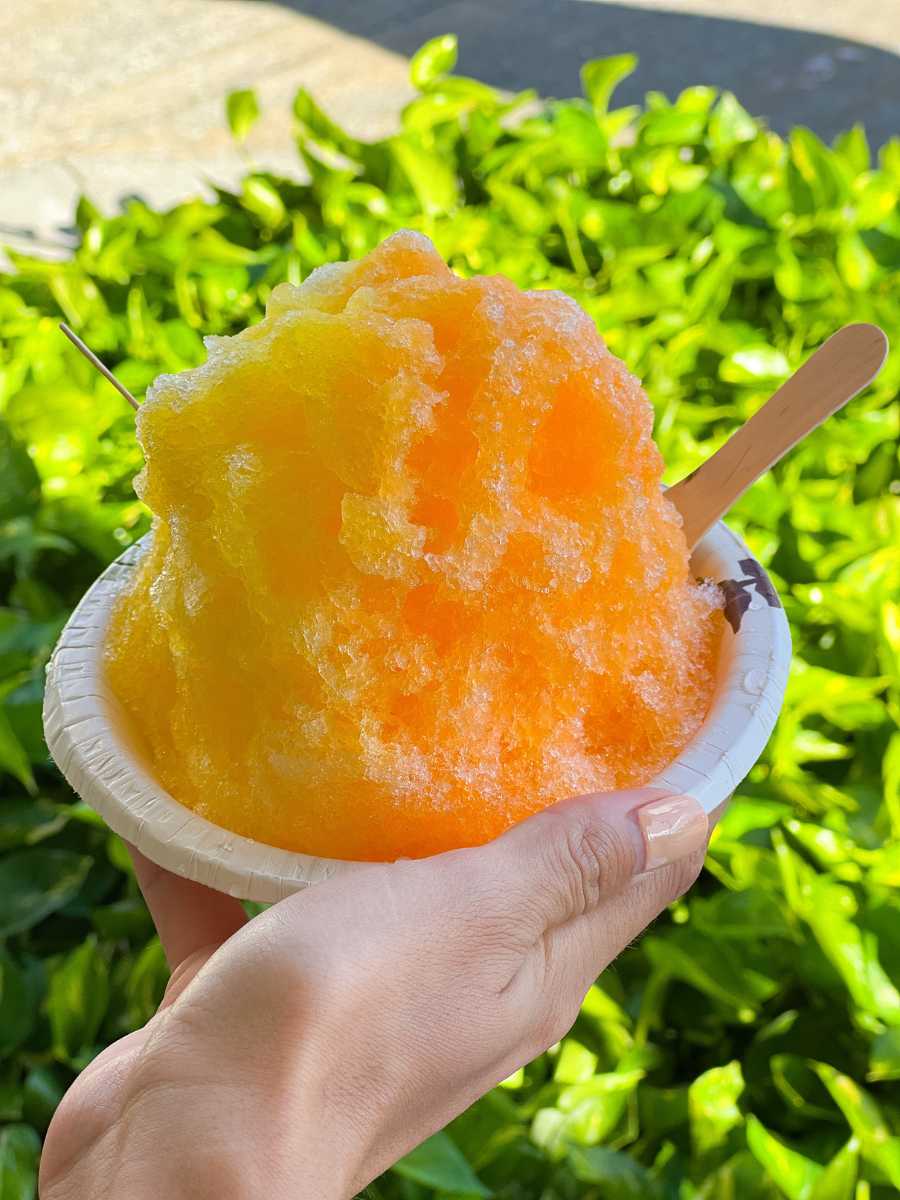 You must try popular foods when visiting Oahu: poke, malasadas, lunch plates, and you can forget Shave Ice. Poke is a Hawaiian dish of raw fish marinated in soy sauce, sesame oil, and other seasonings.
Malasadas are Portuguese donuts; the best place to get them is at Leonard's Bakery. Lunch plates are a local favorite meal that contains rice, macaroni salad, a choice of meat that can be Kahlua pork, chicken katsu, or beef, and a side of delicious vegetables. It's excellent for a quick-feeling meal. You can try all these foods alone or go on a food tour.
2. Tour Kualoa Valley
If you're visiting Oahu, a trip to Kualoa Ranch is a must be added to your Oahu itinerary.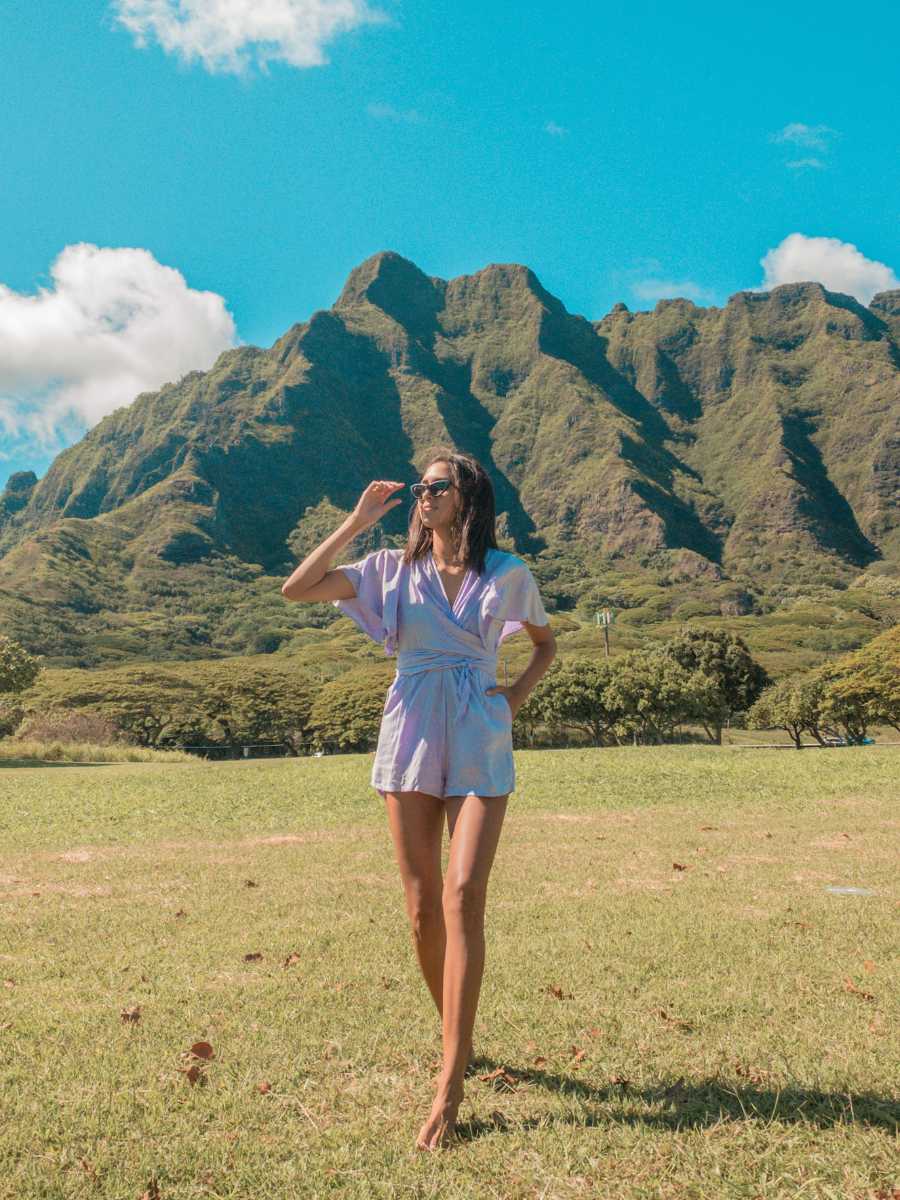 Kualoa Ranch is where they filmed many incredible movies like Jumanji, Jurassic Park, George of the Jungle, and many more.
It is truly a beautiful, jaw-dropping location. Kualoa Ranch is a working cattle ranch fully maintained by tours, and they offer so many tours daily for every type of traveler.
The best deal for your money is the Experience package, which is 3x 90 min tours for the price of one and includes a buffet lunch. If you're a movie fan of Jurassic Park movies, check out the movie tour, which will take you to the locations where the film was filmed. For adventurous travelers, check out the zip-lining tour to see the beautiful Valley from above. Any tour at Kualoa Ranch is incredible, and you can't go wrong with selecting any.
3. Attend a Hula Dancing Class
A great way to immerse yourself in Hawaiian culture is to check out cultural classes. Attending a hula dancing class is a great activity to do alone. It's a fun and educational experience.
Many hotels offer free hula lessons, and weekly hula classes are available in Waikiki for the public to join.
4. Stroll through Waikiki
Waikiki is one of the most iconic places in Hawaii and the birthplace of surfing. Walking around Waikiki, you can explore restaurants, spas, nightlife, high-end stores, and local stores to shop at.
5. Have drinks at Dukes Waikiki
A great way to enjoy your day or end your night is to head to Dukes, named after a famous surfer and Olympic swimmer who means a lot to Hawaii. This restaurant is located inside the Outrigger Waikiki Beach Resort.
Having drinks at Duke's overlooking the beach, especially during sunset with the surround of the waves and live music performances, will make you feel like you have an authentic Hawaiian vacation.
6. Beach Yoga
Beach yoga classes in Oahu are a fantastic option for solo travelers looking to enhance their mind, body, and soul while enjoying the breathtaking beauty of the Hawaiian islands.
Not only do these classes offer a chance to deepen your yoga practice, they also provide an opportunity to connect with like-minded locals, travelers and create a sense of community.
7. Go on Waterfall Hikes
Hawaii is known for its nature and especially for its hikes. Oahu has many waterfalls and hikes for every hiking experience level.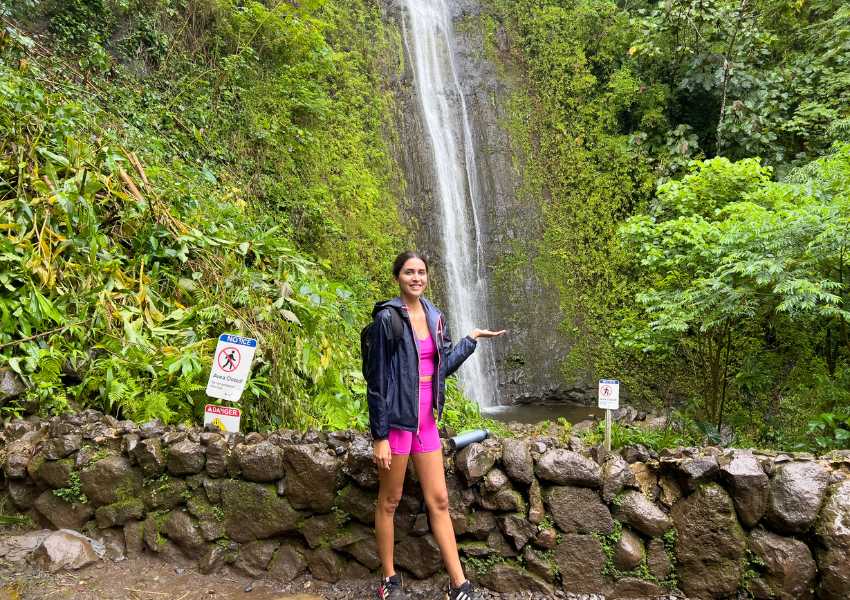 Going hiking is a great activity they are safe to go on, mainly because they are common to do by locals and tourists, so there's no need to feel worried about your safety.
If you prefer to go with a group of people, there are many tours; hiking tours will pick you up and tell you more details about the trail and are a great way to be with other travelers.
Pro-tip go early to avoid large crowds and the heat. Also, bring a rain jacket to avoid getting soaked.
8. Book a Snorkeling Tour
Snorkeling tours are to do in Hawaii because you will see so much diverse marine life that can only be found in Hawaii and nowhere else, like the humuhumunukunukuāpuaʻa (reef triggerfish).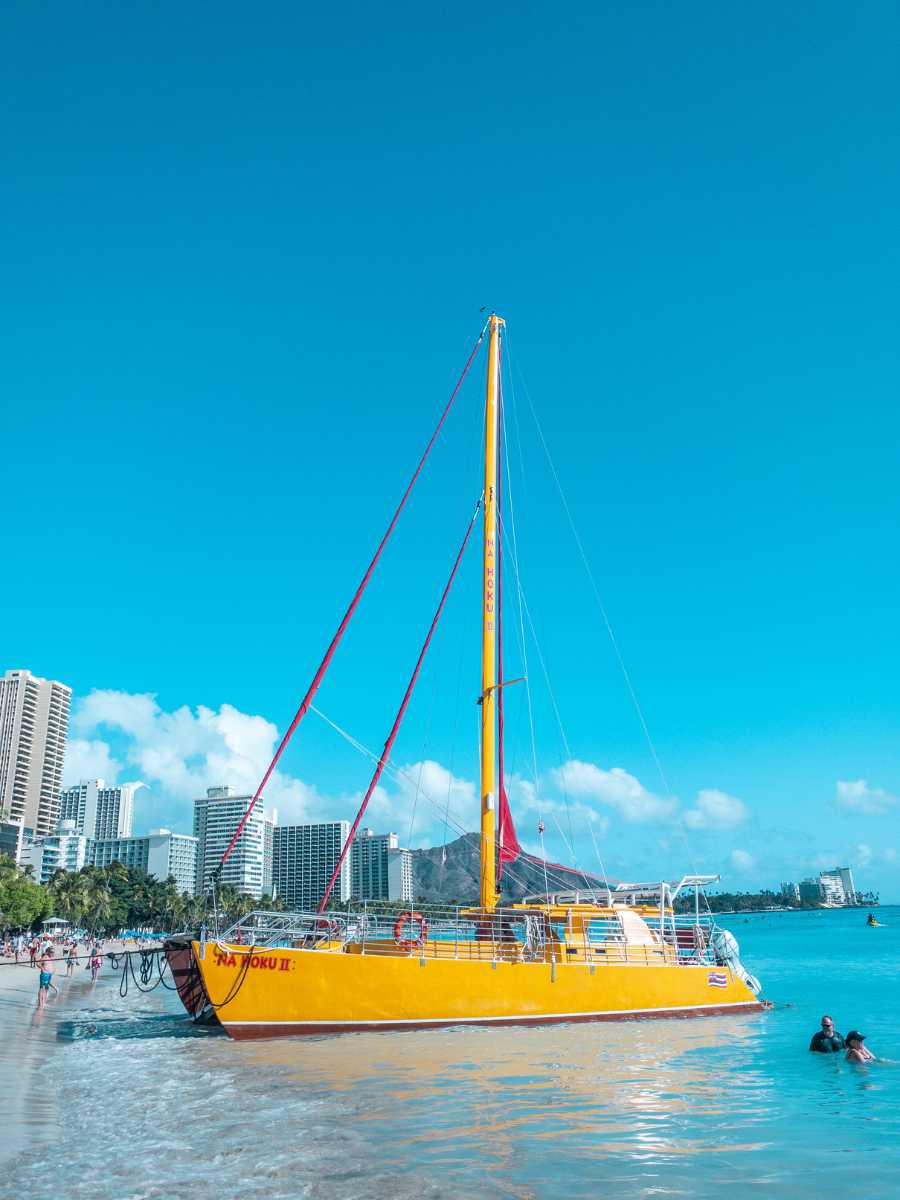 If you are lucky, you can get to snorkel with sea turtles. Snorkeling tours are great to do are great for solo travelers because you're able to meet other people in an environment-friendly environment where people are ready to explore new things.
9. Koolina Lagoons
Oahu is known for its famously beautiful beaches, and one of the lesser-known beaches is Koolina Lagoons.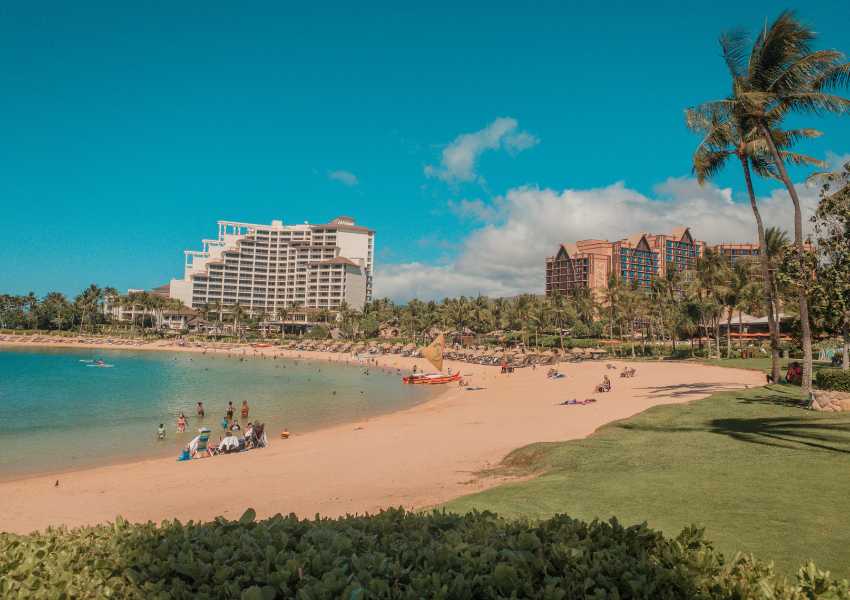 These lagoons are located in a resort area on the west side of Oahu. It's well-manicured and well-maintained, and it's great for people that want to have a relaxing less crowded beach with resort style and a more exclusive feeling without paying the high resort prices.
After a day of sunbathing and swimming in the lagoons, have a bite to eat at the resort restaurants. Stay until sunset to catch a perfect sunset view.
Pro-tip is to go to the second Lagoon as it tends to be the less crowded out of the four lagoons.
10. Oahu Photography Tour
Oahu has so many beautiful sights and places to have photo shoots for memories to last.
As a Solo Traveler, it's challenging to get the perfect picture but check out photography tours as you will have a knowledgeable tour guide showing you the sights plus, having to take your photos is a huge plus.
You will have Oahu Instagram pictures for days. and no need to worry about renting a car or getting lost.
11. Explore North Shore
A trip to Oahu is only complete with visiting North Shore. North Shore is a 55-minute drive from Waikiki and different from the Honolulu area.
North Shore is more of a small Beach Town about a surfing culture. The North Shore has food trucks, less crowded beaches, and hikes.
The best time to enjoy the beaches for swimming and snorkeling is during the summer months. During winter, North Shore has enormous 15-30 foot waves perfect for surfing. If you're lucky, you can see Pro surfers take on the most giant waves in the world.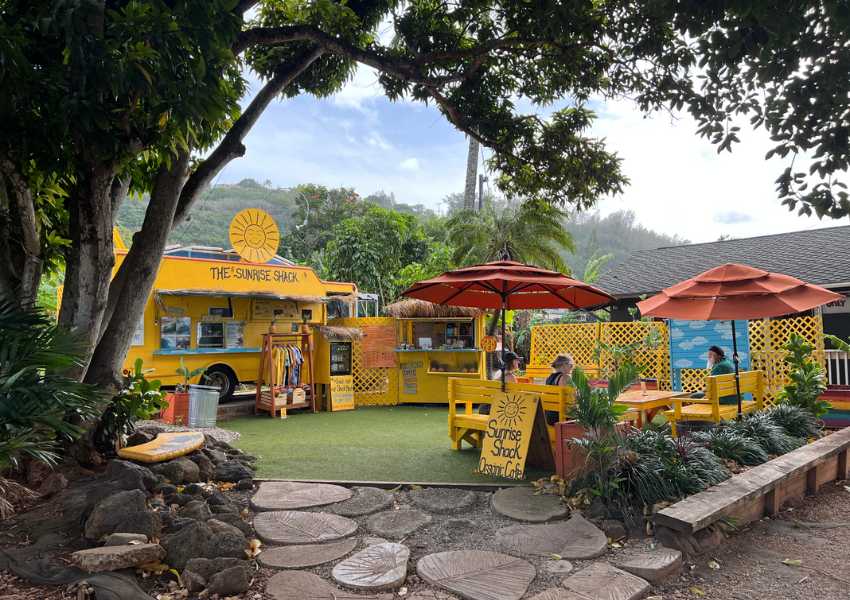 12. Free Fireworks show
Traveling alone to Hawaii, the cost adds up, but taking advantage of the free things to do in Oahu is the way to go.
Checking out a free fireworks show on Fridays around 8:00 p.m. The best places to see it are from a sunset boat tour or on the beach in front of the Hilton Village.
13. Hanauma Bay
Hanauma Bay in Oahu is a paradise for solo travelers seeking natural beauty and adventure.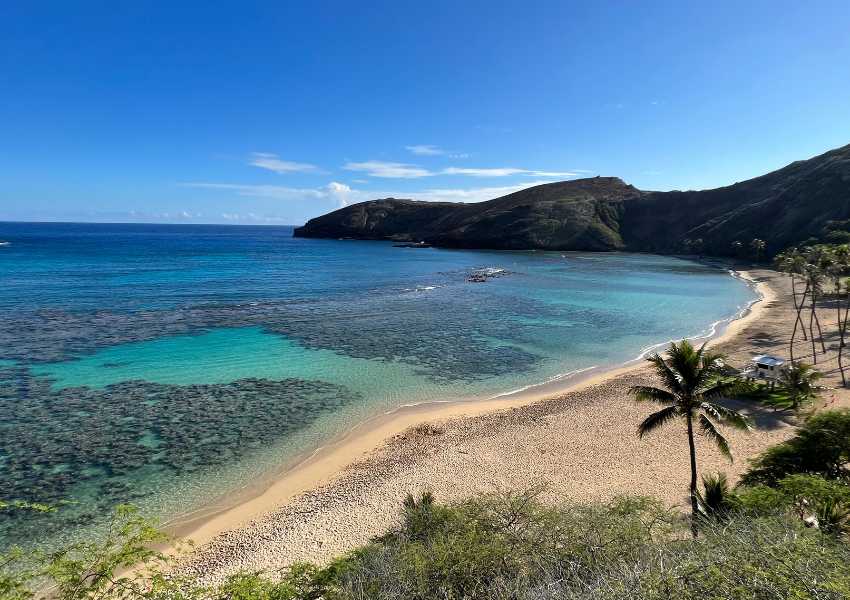 Its crystal-clear waters, vibrant coral reefs, and diverse marine life make it perfect for snorkeling and diving. Hanauma Bay is an ideal spot for solo travelers to disconnect from the world, relax and soak up the sun.
Where to Stay in Oahu
There are three main areas to stay in Oahu. Each area has its pros and cons, depending on your preferences. Your trip depends on which area you should stay on.
Waikiki
Waikiki is the main tourist area with the most resorts, boutique hotels, and Airbnb available for all budgets.
It's right in front of Waikiki Beach, full of restaurants, shops, and activities. It is a convenient location that is also walkable. Waikiki is the best area to stay in when visiting Oahu.
North Shore
North Shore of Oahu is a more laid-back surf town with fewer hotels to stay in. great for travelers that want more peace, like bad vibes, and a more local rural environment.
Koolina
Koolina is on the island's west side, in a designated resort area where it's manicured. Only a few Resorts and condos are available to rent. This area is for travelers looking for luxury, less crowded, and away from the hustle and bustle.
How to Get Around Oahu
Car: Renting a car is the best way to get around, giving you the freedom to go as you wish and stay as long as you want to. Renting a car can be expensive, so I recommend planning a few days to explore the island and the rest remaining in Waikiki to relax and do activities there. Then you can rent a car out for a few days and not your whole trip to save money.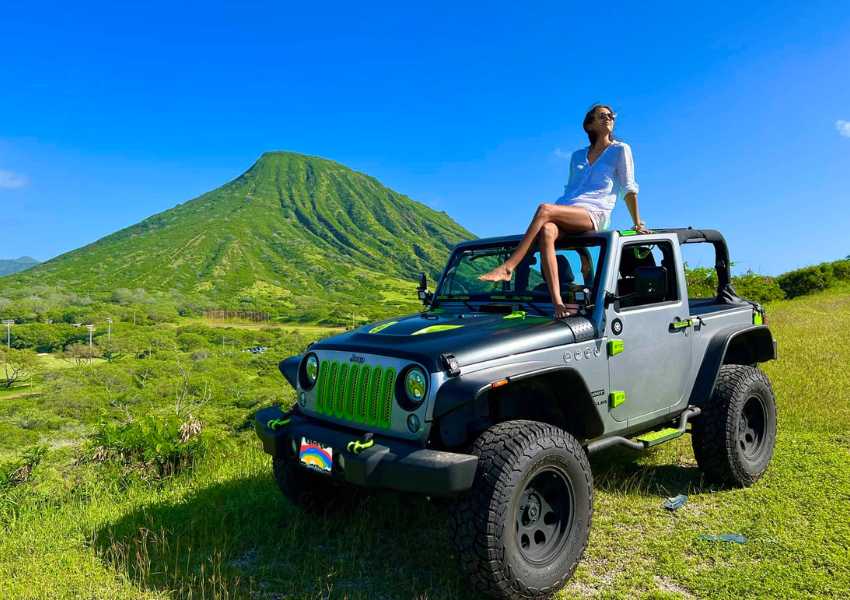 Public transportation: Oahu has public transportation options if you are on a budget. However, traveling by bus will take the longest to get around the island. Tickets cost about $2.50 per ride.
Uber: Uber's available on the island. The cost will add up quickly and Ubers are best to order for the Honolulu area if you're in North Shore it's going to have longer wait times and fewer available rides.
Many tours also offer Hotel pick-up; just make sure to ask if available for the hotel you are staying at and the additional cost.
Best Time to Visit Oahu
The best time to go to Oahu is during the shoulder season. Mid-April to June and September to October are the best months to go. During these months, the rates for hotels and flights are cheaper, there are fewer crowds, and the temperature is also excellent.
Safety Tips for Visiting Oahu Alone
Avoid going out at night: Oahu is generally a safe destination. Staying indoors during the nighttime, you can minimize the risk of potential incidents that may occur after dark.
Share your location with loved ones: In an emergency or any unexpected situation, having your location readily available can expedite rescue efforts and ensure that help reaches you as quickly as possible.
Never leave belongings unattended in vehicles: In Oahu, especially in tourist locations, it's known to be a high theft area. Leaving your belongings unattended in a car increases the risk of theft and can result in significant loss or damage.
Pay attention to beach warning signs: Oahu's beaches can be beautiful and inviting. Still, they can also be unpredictable and potentially dangerous. It is crucial to pay attention to beach warning signs to ensure your safety.
Things to Bring to Oahu Trip
Reef-safe sunscreen is a must to bring to Hawaii. Chemical sunblocks are banned in Hawaii. Mineral-based sunscreens are the only ones allowed in Hawaii to prevent coral damage and protect marine life for generations.
Pro-tip is to buy them before your trip because they will be more expensive and have less selection in Hawaii.
Reusable water bottles: This is a great way to stay hydrated without the overuse of single-use plastics. Plus, many hotels and even beaches have free water fountains to use.
Backpack or a tote bag: A backpack or tote is essential to bring daily to pack all your items on a day full of excursions.
Waterproof phone case: Oahu has so many great watersports to enjoy that you want to avoid damaging your phone, so bring a waterproof case to capture all the great moments and underwater activities.
A foldable lunch box to pack lunches for beach days or hiking days to avoid spending money eating out during your whole trip.
Portable charger: With recording so many moments throughout your day, phones will drain your battery, so come prepared and not miss any moments by having a portable charger.
Light waterproof jacket: Oahu being a tropical climate, tends to rain throughout the day, so having a waterproof light jacket is essential to avoid getting soaked during your day.
Is Oahu safe for solo travelers?
Yes, Oahu is a safe destination for solo travelers. Oahu has a relatively low crime rate compared to other popular tourist destinations.
The island is well-developed and offers many accommodations, transportation options, and activities catering to solo travelers. The local community is friendly and welcoming, and numerous resources are available to help ensure a safe and enjoyable trip.
How many days should I visit Oahu?
5 to 7 days is a good amount of days to visit Oahu. This gives you enough time to recover from the long flight, enjoy activities, and relax on the beach in Hawaii without feeling rushed or over-scheduled.
Things to Do in Oahu Alone: Conclusion
Exploring Oahu alone can be an exciting and fulfilling experience.
Whether you're interested in learning hula dancing, relaxing on the beach, or immersing yourself in nature through waterfall hikes and snorkel tours, Oahu has something for everyone.
If you're a photography enthusiast, consider taking an Oahu Photography Tour to capture the island's beauty.
When planning your visit, consider the best time to visit Oahu and find the perfect place to stay on the island. So pack your bags and prepare for an unforgettable solo adventure in Oahu!
ABOUT THE AUTHOR
Bridget is a travel writer and owner of Bridget Gutierrez Travels, where she helps you plan memorable vacations to Oahu. As a Hawaii local, she specializes in travel to Oahu, Hawaii.