Amazing Places to Visit in Your Oahu Itinerary
Commonly nicknamed "The Gathering Place," Oahu is one of the best islands to visit in Hawaii if what you're after is a mix of history, paradise-like beaches, and nature galore.
Thanks to its small but incredibly varied terrain, a visit to Oahu is all about diversity. During your visit, you could very easily check out a few beaches, explore a bustling city, climb volcanoes, and experience eleven of the world's 13 different climates all in just a matter of days!
Because the island has so much to offer, planning an Oahu itinerary can become a pretty daunting task, especially if you only have a few days to dedicate to it. If you want to do more than just lounge at the beach and actually discover what makes this island so insanely magical, here are the top places you need to visit in your Oahu itinerary.
Amazing Places to Visit in Your Oahu Itinerary
Honolulu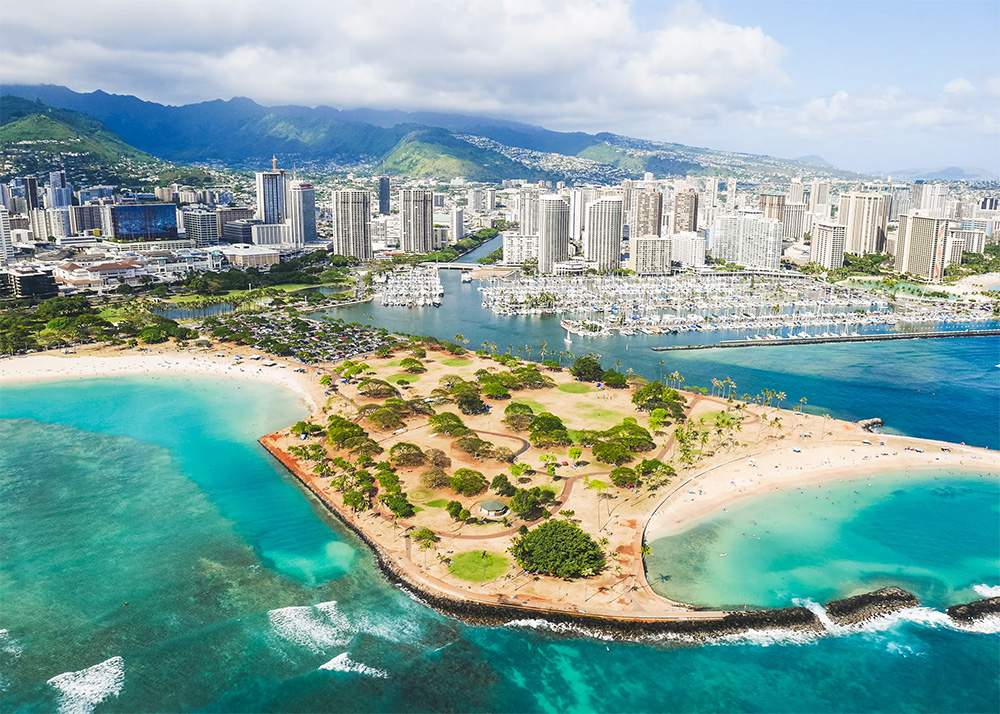 If I could describe Honolulu in just one sentence, it would be something along the lines of "the place where paradise meets the city". As the capital of Hawaii, Honolulu is a lively metropolis where you'll find entertainment options aplenty, cultural sights every step you take, and an incredible foodie scene.
As if that weren't enough, this gorgeous city is surrounded by a wide array of natural attractions, including looming volcanoes and paradise-like beaches.
Thanks to its pretty centric location, Honolulu is also a great spot to base yourself in to explore the rest of the island. All of the can't-miss places you need to visit in your Oahu itinerary are located a short drive away, which means you can get the best of all worlds: striking nature, historical monuments, and city-like amenities all in one!
Diamond Head State Monument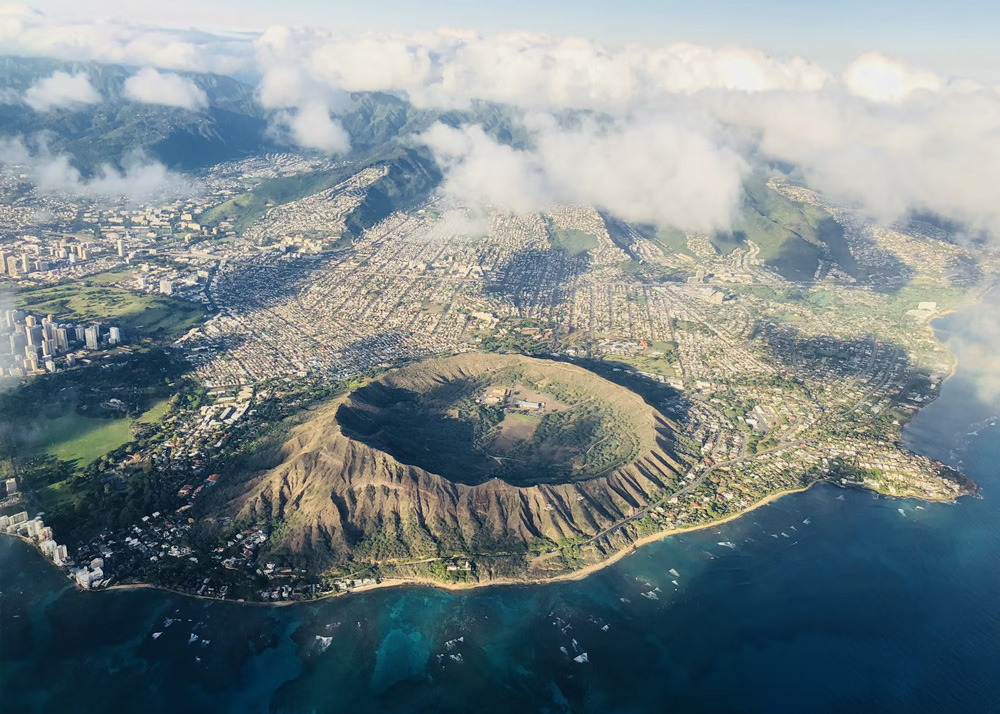 As Oahu's most iconic natural landmark and one you've likely seen countless times on postcards, Diamond Head is a must on any Oahu itinerary.
While you'll get to see it as you stroll through the streets of Honolulu, there's nothing quite like challenging yourself to actually reach the summit. Once at the top, you'll get a whole different perspective of the island's most impressive volcano as well as incredible birds-eye views of Honolulu and the southern coast!
The hike is relatively short at just under two miles round trip, but the rapid gain in altitude can make summitting a bit of a challenge.
If you're not a super experienced hiker, though, I still encourage you to give it a go as the entire way is paved and there are stairs on the steepest portions of the trail. Plus, there are plenty of lookout points with benches, so you'll have tons of reasons to stop and rest your legs if you need to!
Hanauma Bay State Park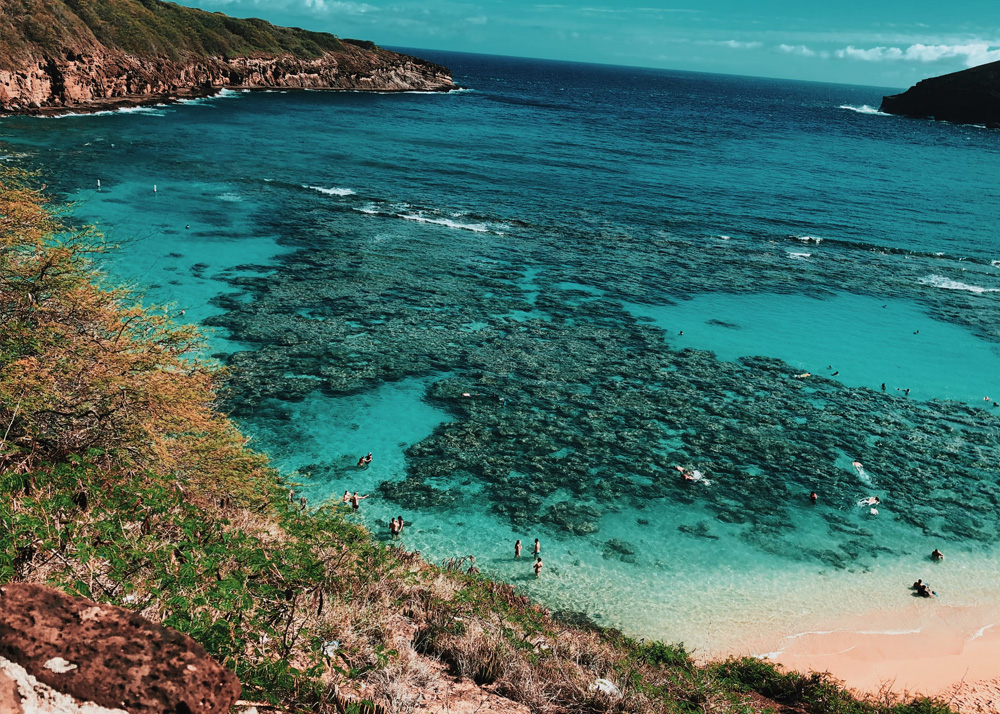 Set only half an hour away from Honolulu, Hanauma Bay State Park is a must on any Oahu itinerary, especially if you're into exploring nature and wouldn't mind getting to see one of the most beautiful beaches on the island!
Even though Hanauma Bay is close to the city, being here feels as though you're located a world away from the bustle and hustle.
Snorkeling is top-notch here, with hundreds of marine species gliding right inside the bay and waters calm enough to swim in. If you're up for a hike, make sure you follow the Koko Bay Trail, which will take you all the way to the top of a volcanic crater where you'll get the most awe-inspiring views of the bay!
YOU MAY ALSO LIKE:
Pearl Harbor and USS Arizona Memorial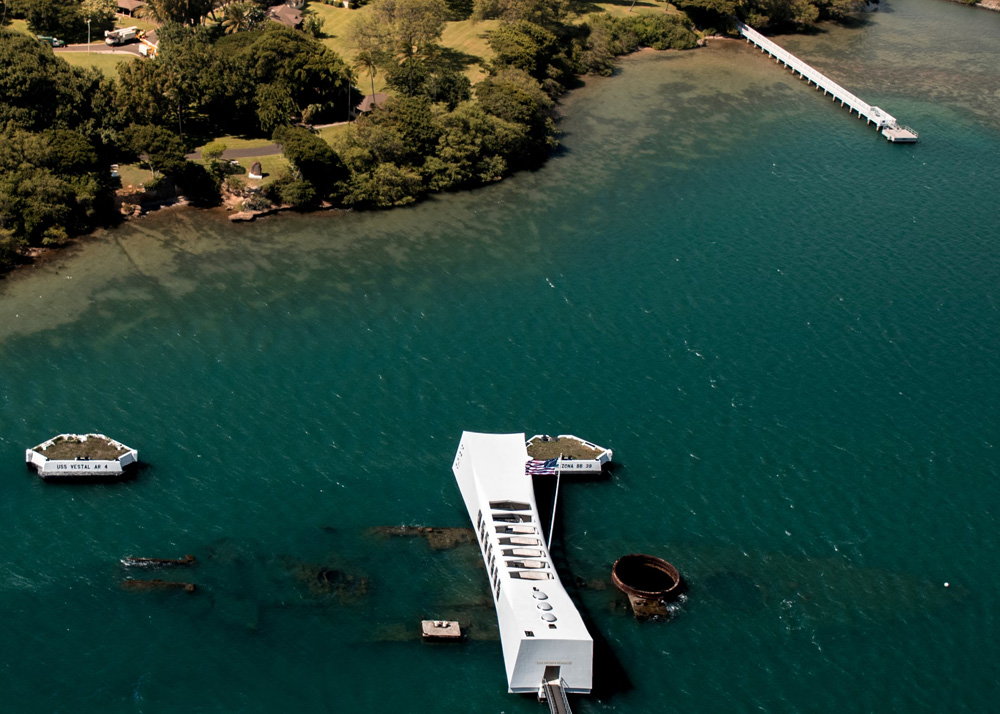 Pearl Harbor and USS Arizona Memorial is undoubtedly Hawaii's most emblematic historical place and the reason most visitors stay on Oahu! Even if you're not a history buff, dedicating time out of your Oahu itinerary to check out this place is crucial in order to learn more about one of the most important events in the history of the United States.
Plus, visiting Pearl Harbor is a sort of rite of passage in Hawaii and a way to pay homage to the victims, especially by visiting the Pearl Harbor Visitor Center. Moreover, you'll also get access to the USS Arizona Memorial, Battleship Missouri ("Mighty Mo") Bowfin Submarine & the Pearl Harbor Aviation Museum nearby in case you want even more doses of history!
Byodo-In Temple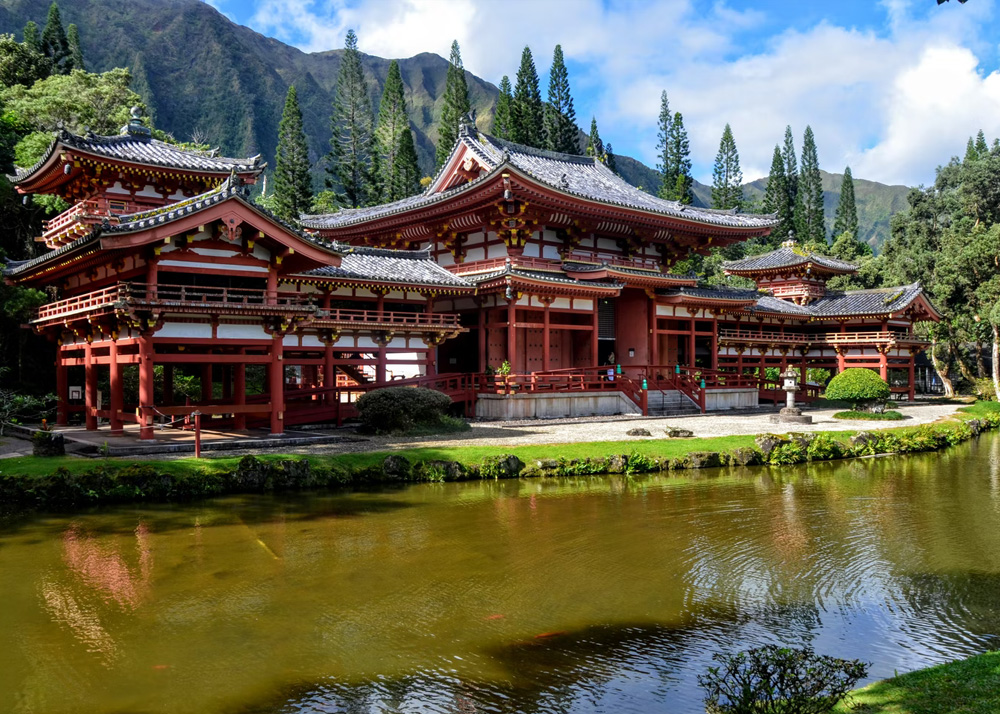 Want to feel as though you traveled to Japan? It's not exactly a secret that Japanese culture deeply influenced Hawaii, and a visit to Byodo-In Temple is a wonderful way to get acquainted with this unique blend of heritage.
Built as a small replica of the original temple of the same name in Japan, this gorgeous site was assembled at the foot of the Ko'olau Mountains in order to honor the Japanese people who made Hawaii their home over the centuries. The temple is actually a non-practicing Buddhist temple, which means visitors are free to walk around its sacred grounds.
Waikiki Beach
Waikiki Beach is known for its soft, white sand and clear turquoise waters, making it a popular destination for tourists and locals alike.
The beach is surrounded by high-rise hotels, restaurants, and shops, creating a bustling atmosphere.
There are plenty of amazing things to do in Waikiki, including surfing, paddleboarding, and snorkeling, or simply relaxing on the beach and soaking up the sun.
Keawaula Beach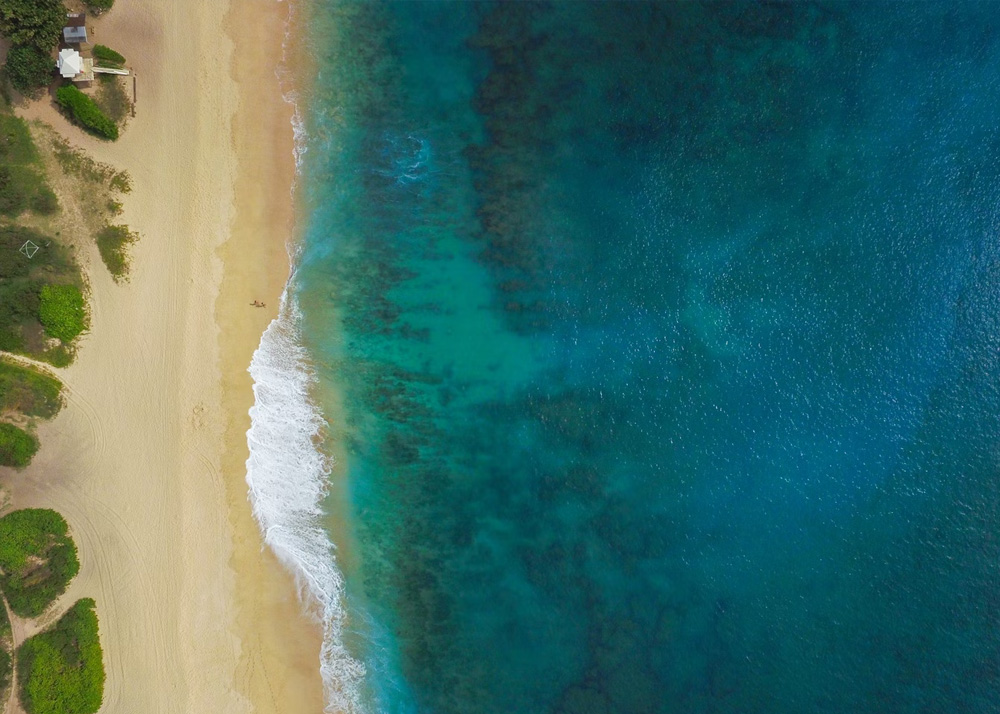 Also known as Yokohama Bay, Keawaula Beach is one of the best places to visit in Oahu if what you're after is a secluded and quiet beach experience.
Thanks to the fact that it's tucked away in one of the most remote parts of Oahu, Keawaula Beach rarely makes it to most Oahu itineraries, which makes it a dream come true if you're on the lookout for a bit of a hidden gem on the island.
While here, you'll get to enjoy a super chilled out day without any crowds around, all while getting glorious views of the Waianae Mountains off in the distance!
Finding this beach completely empty is not a rarity and it's almost completely undeveloped except for a few bathrooms and a parking lot, so make sure you come prepared with enough food, drinks, and umbrellas.
Don't forget to get travel insurance for your trip! As always, I recommend Safety Wing for great prices and coverage abroad. It starts at only $45 USD per month and will have you covered with everything you may need during your trip! Check them out here.
Ka'ena Point State Park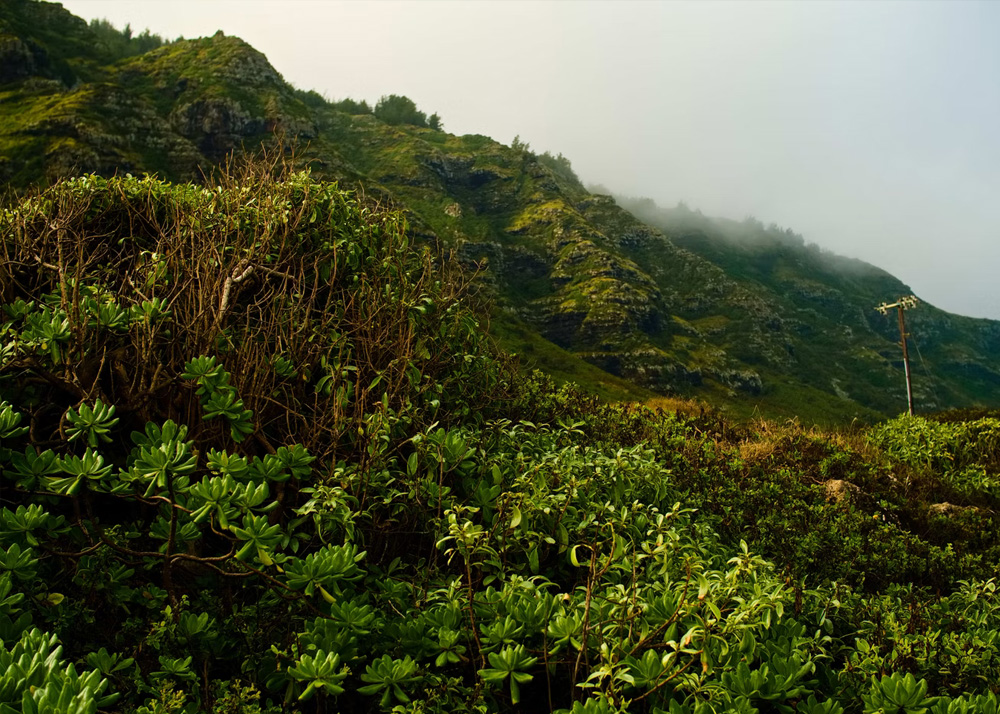 Set at the westernmost tip of the island, Ka'ena Point State Park is a must on your itinerary if a day spent amid nature sounds like your jam.
Home some of the most breathtaking vistas on the island, Ka'ena Point boasts tons of hiking trails that provide incredible views of the park's natural gems. For the ultimate experience, hike the Ka'ena Point Trail, which will take you along the volcanic coast of the park. Along its five miles, you'll get to see some of the most mesmerizing views of the Pacific Ocean, get close and personal with wildlife in the area, and stumble across several tide pools!
Waimea Falls Park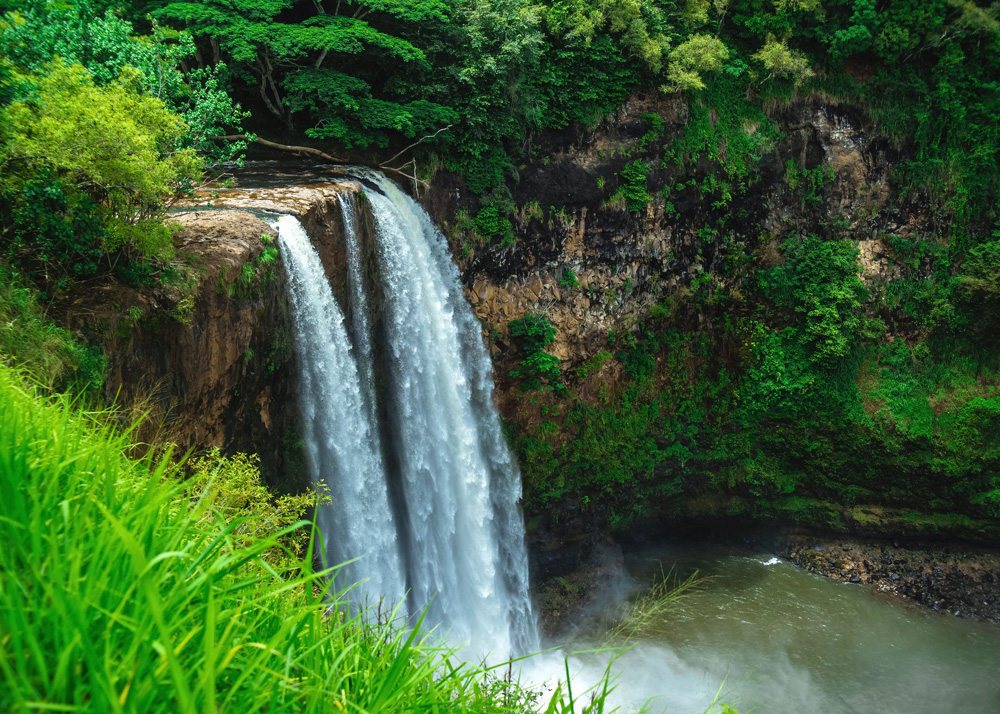 Aside from being known for its beautiful beaches, Hawaii is also famed for its Jurassic Park-like settings and a visit to Waimea Falls will very much have you wondering if velociraptors aren't about to pop out from the corner!
Set on Oahu's North Shore, a visit to Waimea Falls is a must in order to fully discover the best the island has to offer in terms of natural wonders. The main thing to see at the park is a striking 45-feet waterfall that cascades down into a pool. The trail itself to get there is considered one of the best hikes in Oahu, but it's still a pretty short one that almost anyone can do regardless of their hiking experience.
In addition to swimming under one of the most beautiful waterfalls on the island, Waimea Falls Park is also a great place to visit in order to learn about the importance of nature in Hawaiian culture through presentations and workshops held inside the visitor center.
Lanikai Beach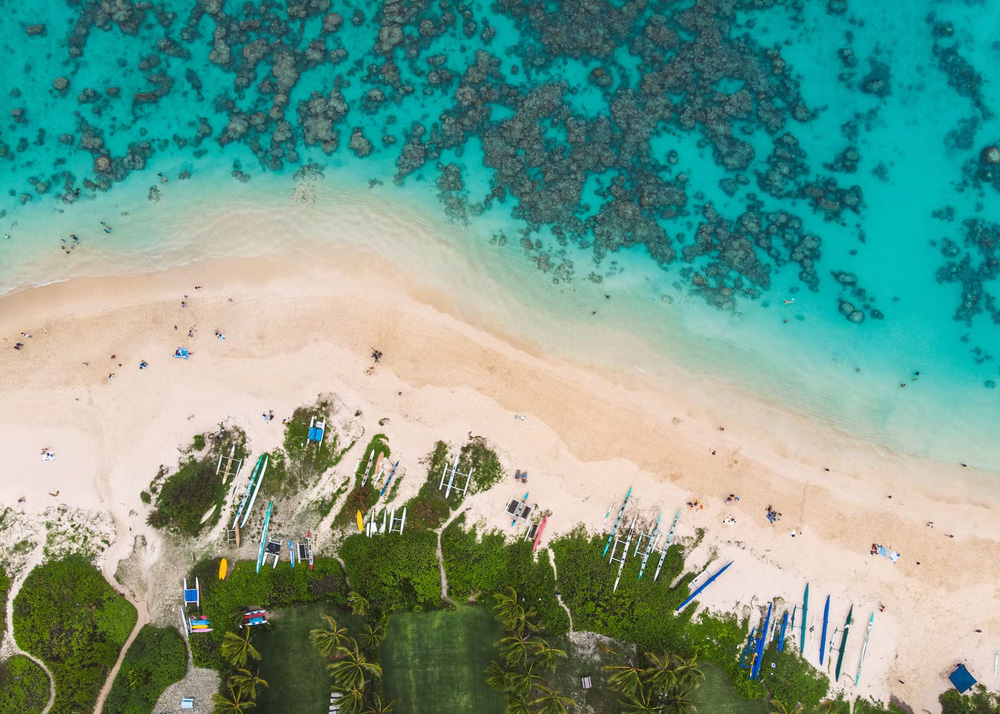 As soon as you step foot at Lanikai, you'll quickly realize why it's not only ranked as the most beautiful beach on Oahu, but also why it's continually listed as one of the best beaches in the entire world!
Boasting miles of azure-toned waters, lush surroundings, and soft golden sand, this beach is absolutely breathtaking. In fact, Lani Kai actually means "heavenly ocean", which is a pretty fitting description of what this place is like! Swimming is a dreamy experience to have here thanks to its super tranquil waters, but if you're up for trying something a little different, I recommend renting a kayak and making your way to two nearby islets located just off the shore!
Where to Stay in Oahu
Because Oahu is actually a pretty small island, you can drive from one side to the other in just under two hours. This means pretty much any of the places recommended on this Oahu itinerary can easily be treated as day trips.
While the entire island is dotted with amazing accommodation options, if you're on a budget, you'll want to base yourself in either Honolulu or the North Shore (or a mix of both). These are the two sides of the island where you can find plenty of accommodation options for all budgets, including some pretty fabulous Airbnb apartments and guesthouses.
If you're more into luxury stays, you'll find opportunities aplenty as well. A few high-end hotels you'll love include the Hilton Hawaiian Village Beach Resort in Waikiki, the Kaimana Beach Hotel in Diamond Head (the views here are unbeatable!), or the Turtle Bay Resort on the North Shore.