Creel Chihuahua is a dreamy pueblo magico in northern Mexico and the gateway to exploring the alluring Copper Canyon region.
Although small, this gorgeous village is surrounded by incredible things to see and do, making it one of the best hidden gems in Mexico for foreigners to visit.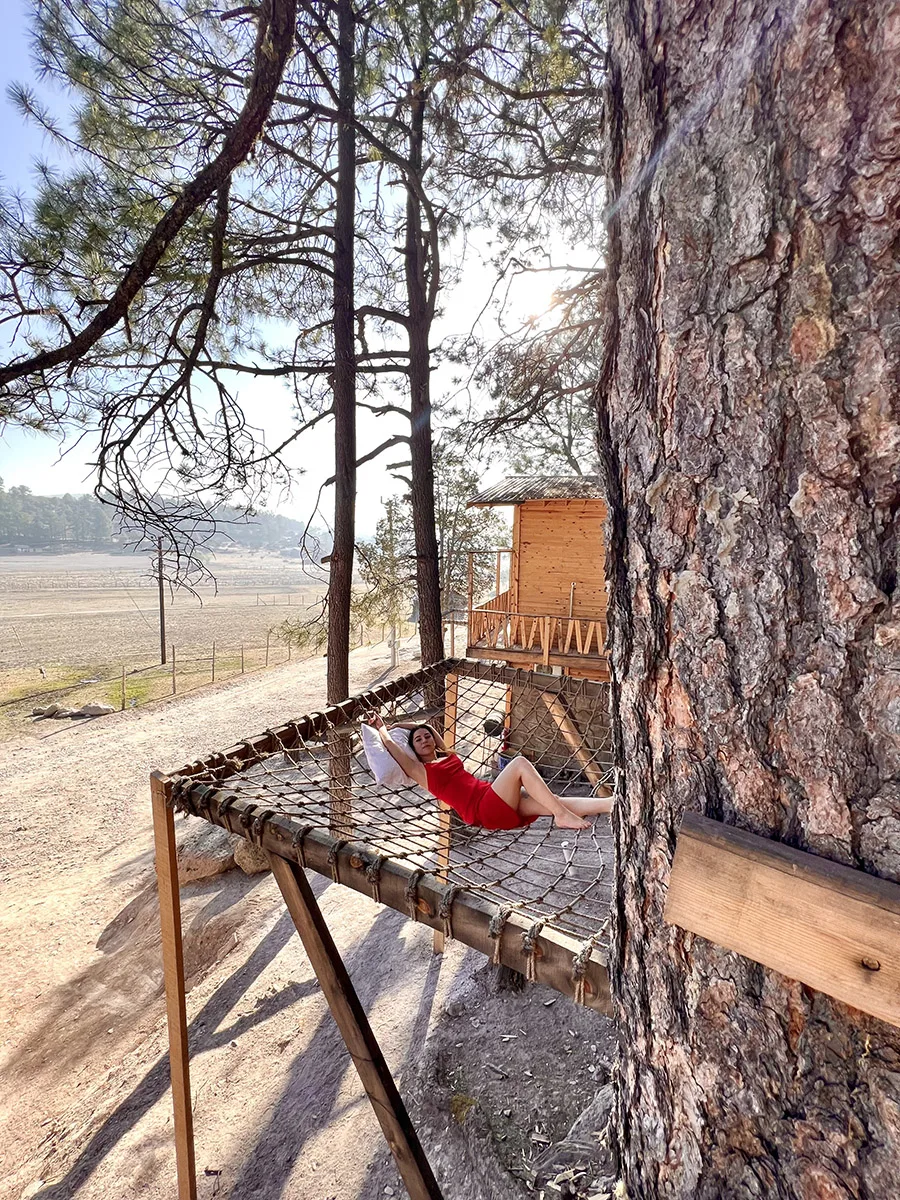 Nature, indigenous culture, and gawk-inspiring rights reign supreme in Creel Chihuahua. Think whacky-looking rock formations, landscapes that rival those of the Grand Canyon, and charming pine forests all over.
As if that weren't enough reason to convince you to visit Creel Chihuahua, this slice of Mexico is also home to authentic indigenous heritage.
Most of the people living in Creel are Raramuris (also known as Tarahumaras), a tribe in northern Mexico known for their artisanry work, weaving, and for being very fast runners (make sure you watch the "Lorena, la de pies ligeros" documentary on Netflix before your visit to get a great insight into their culture!
Things To Do In Creel Chihuahua
Explore Creel's Downtown
Creel's downtown is extremely small and you can easily explore it in just a few hours.
Some of the highlights include checking out Monumento a Cristo Rey, taking pictures at the train station, visiting the Museo Casa de la Artesanías to learn all about Raramuri crafts, and exploring a few of the artisan shops that dot the streets (I found shopping in Creel to be significantly cheaper compared to other stops on the Chepe route).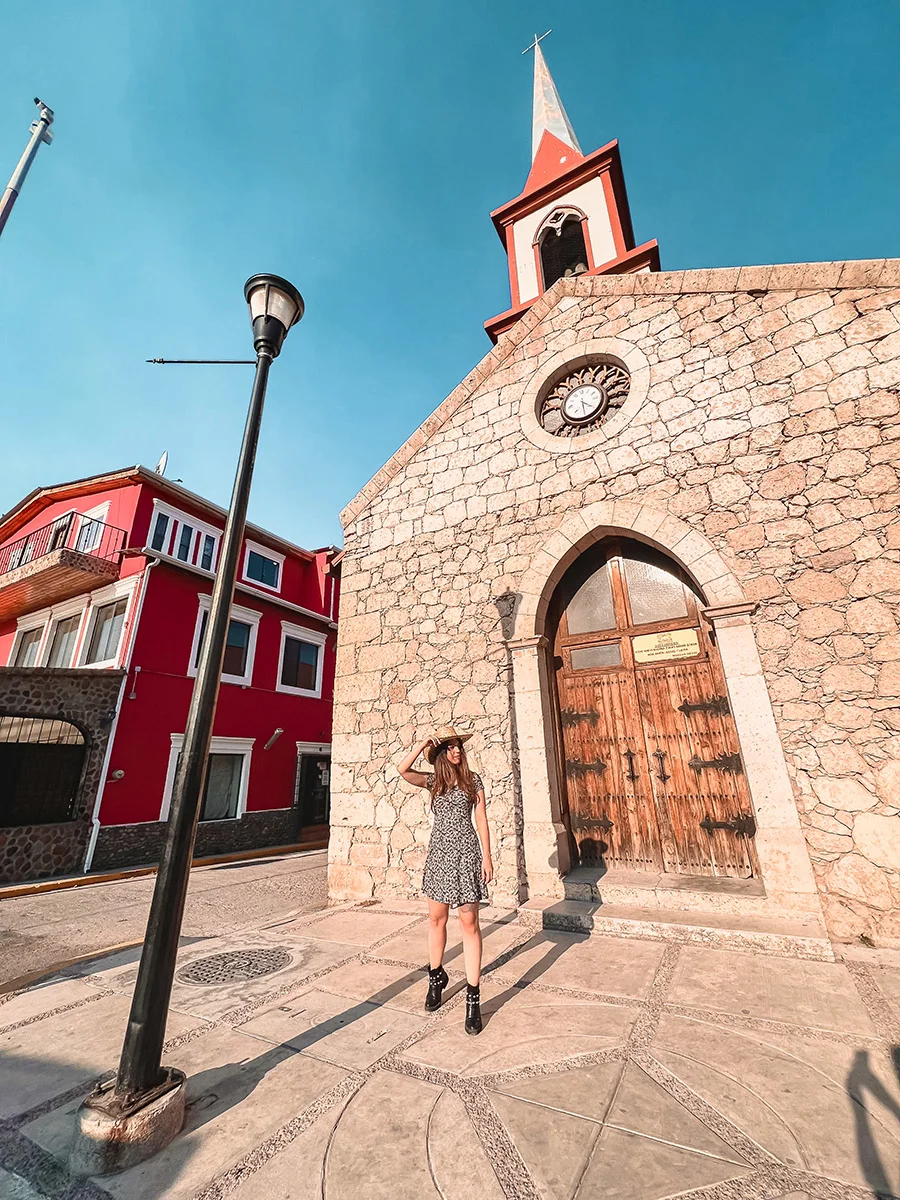 Valle De Los Hongos
Located about a 10-minute drive outside of Creel, Valle de los Hongos translates "valley of the mushrooms" because it has lots of colossal rocks that resemble mushrooms.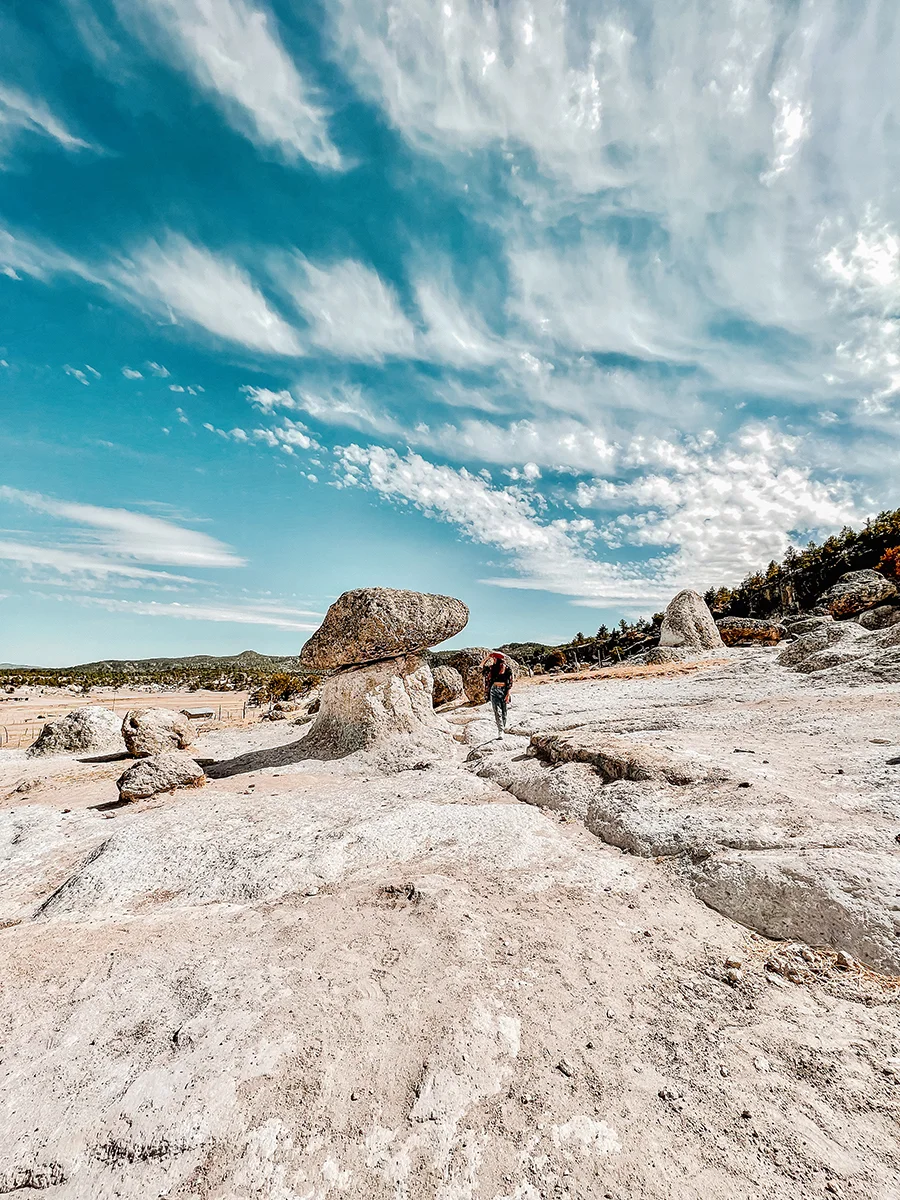 Almost right next to Valle de los Hongos is also a smaller valley called Valle de las Ranas (Valley of the Frogs). The rocks here are shaped like frogs, too!
I personally liked Valle de los Hongos more since the shapes are a lot more obvious and I loved the quirkiness of it, but because they're so close to each other, you can visit them both in one go.
Directions to Valle de los Hongos
San Sebastian Cave
San Sebastian Cave is one of the few inhabited caves in the region that the Raramuris allow people to visit.
The cave is pretty small and quick to explore, but I found it very interesting to observe the pre-Hispanic objects they use to cook, clean, and even ferment alcoholic drinks.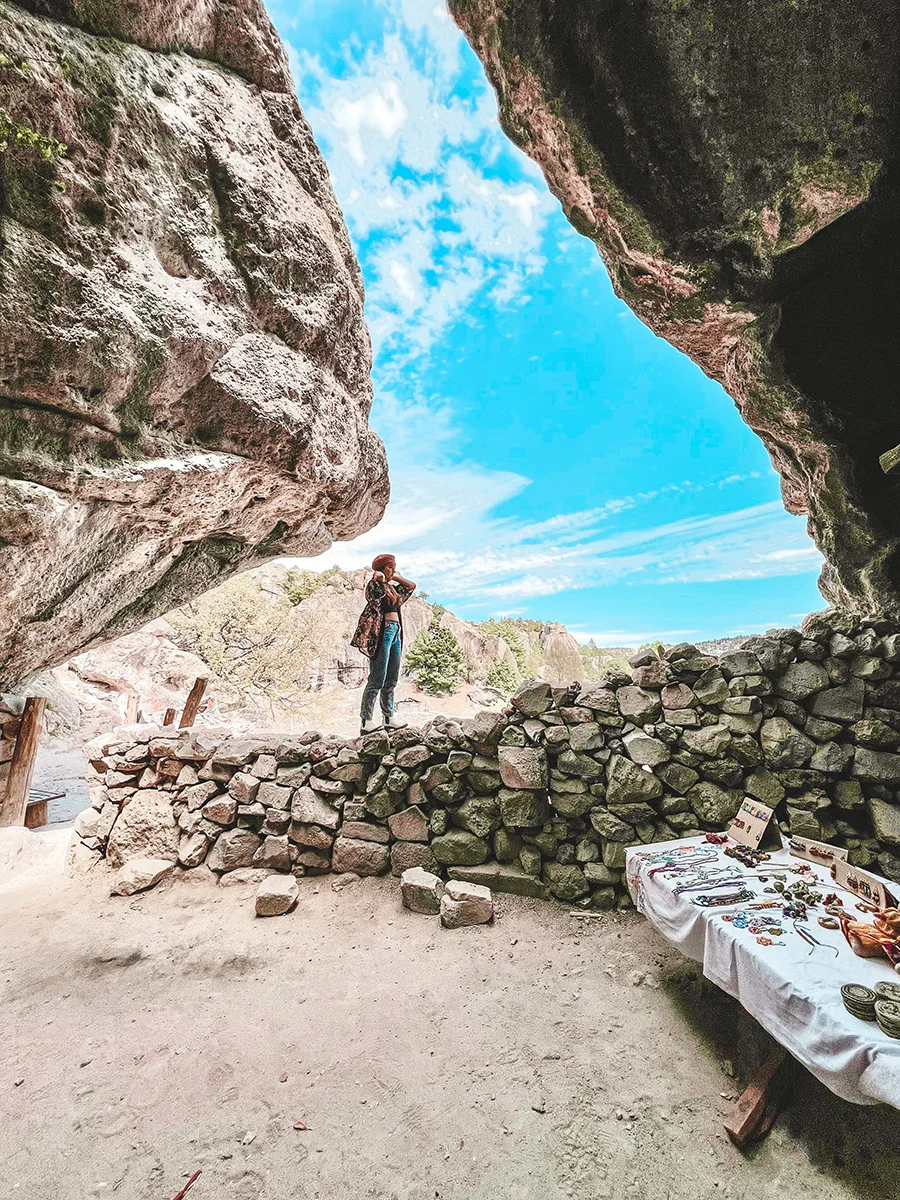 You can also purchase authentic Raramuri crafts during your visit at much lower prices (and directly from the artisans) than you would at the shops in Creel's downtown.
Directions to Cueva San Sebastian
Valle De Los Monjes
Valle de los Monjes (Valley of the Monks) was, by far, my favorite place to visit in Creel Chihuahua. It's simply extraordinary!
The valley is made up of enormous rocks and monoliths that are believed to have once been monks who were petrified while they meditated.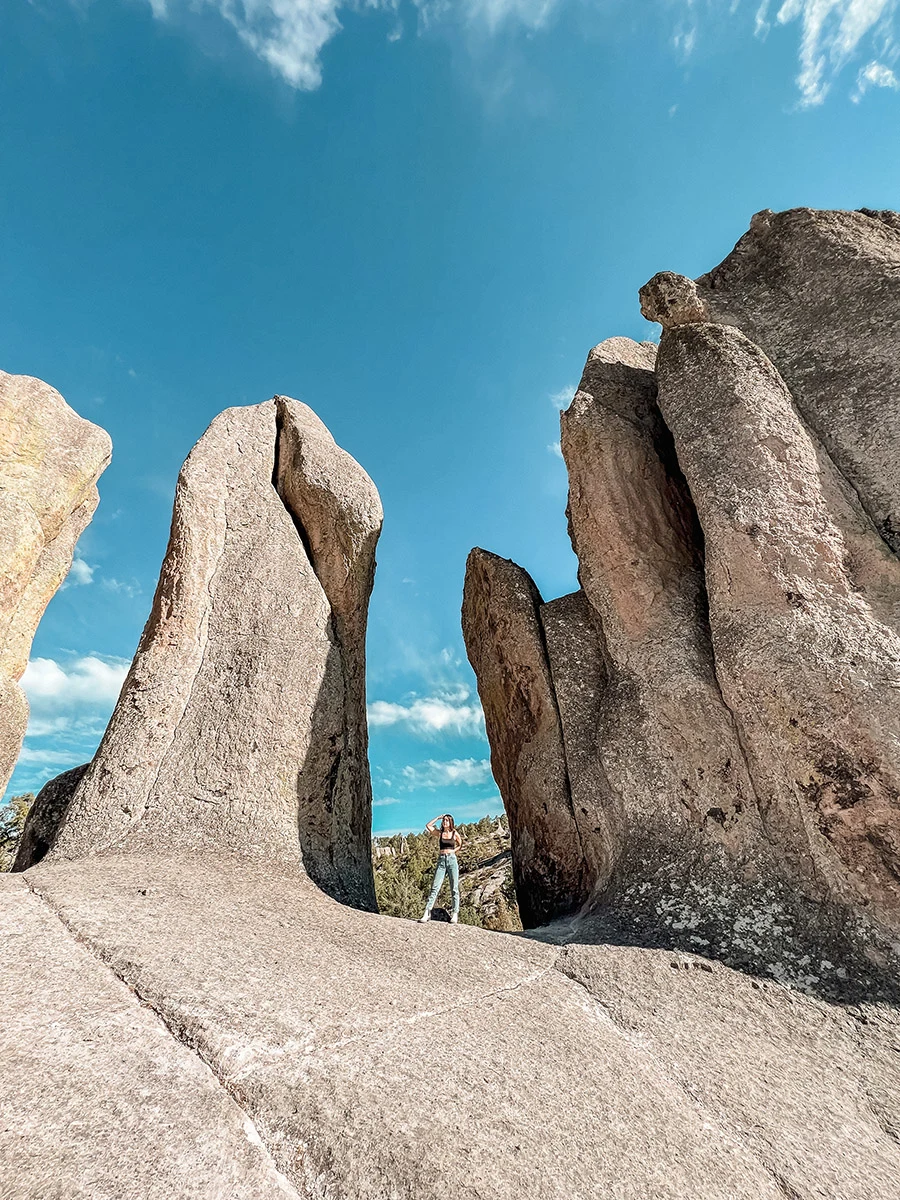 This valley is way bigger than the others and even allows for hiking and mountain biking. I recommend staying a few hours here exploring and lingering around for sunset when the rocks start glowing as the sun's rays hit them.
I actually wondered throughout my entire time here if my mind hadn't matured much because I just couldn't see how the rocks were shaped like monks.
To me, they looked like penises. I felt better later when I found out that, indeed, the valley is actually referred to as "the valley of erect penises" by the Raramuris
Directions to valle de los monjes
Lake Arecaco
Last but not least is Lake Arecaco, a peaceful lake surrounded by a forest where you can spend a few hours kayaking or boating over the lake, hiking, picnicking, and birdwatching.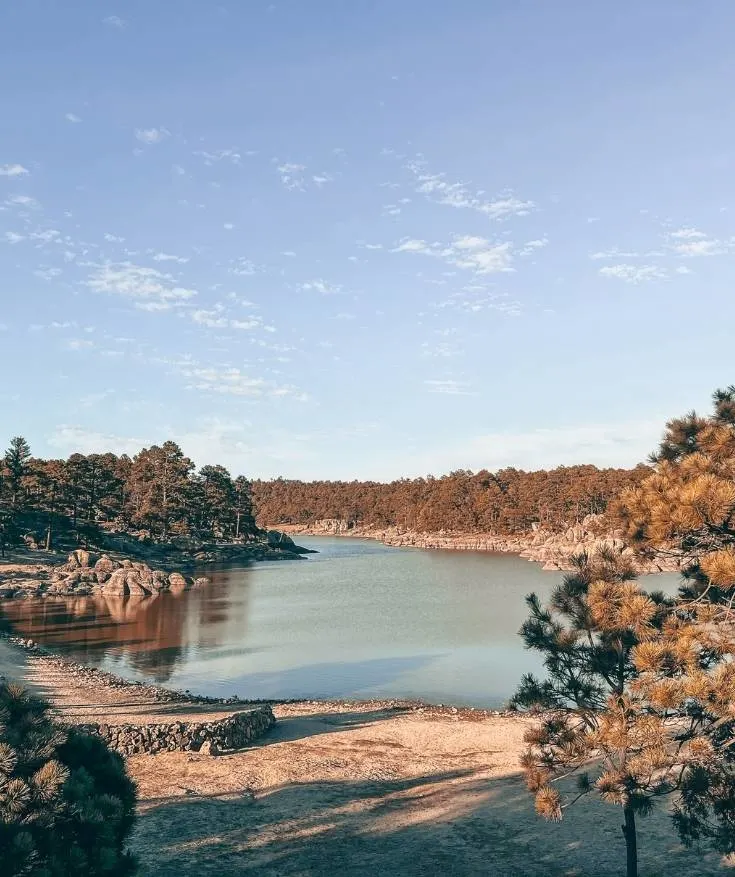 There are a few cabins and camping spots scattered around the lake as well in case you want to overnight here (stargazing at Lake Arecaco is said to be top-notch and Milky Way sights aren't uncommon!).
Where To Stay In Creel Chihuahua
There are many accommodation options in Creel. Most of the hotels you'll find here are either small family-owned hotels in downtown or rustic cabins on the outskirts.
As far as luxury/high-end accommodation options, there aren't many options, but they do have a glamping (bubble) hotel as well as a very cozy lodge right in the city center.
Wooden Inn
We stayed in Wooden Inn, a glamping hotel on the outskirts of Creel that offers treehouse-style cabins and bubble tents.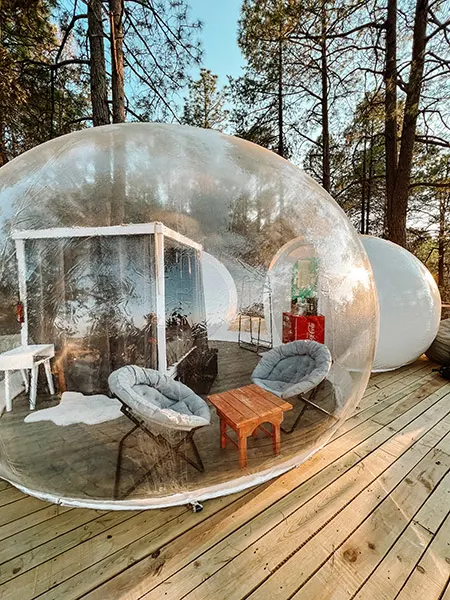 We stayed in both.
I loved the experience of staying in the bubble because you can see the stars right from your bed, but I liked the cabin a bit more because there's a fireplace inside it which provided a great respite from the cold. Creel gets pretty chilly at night!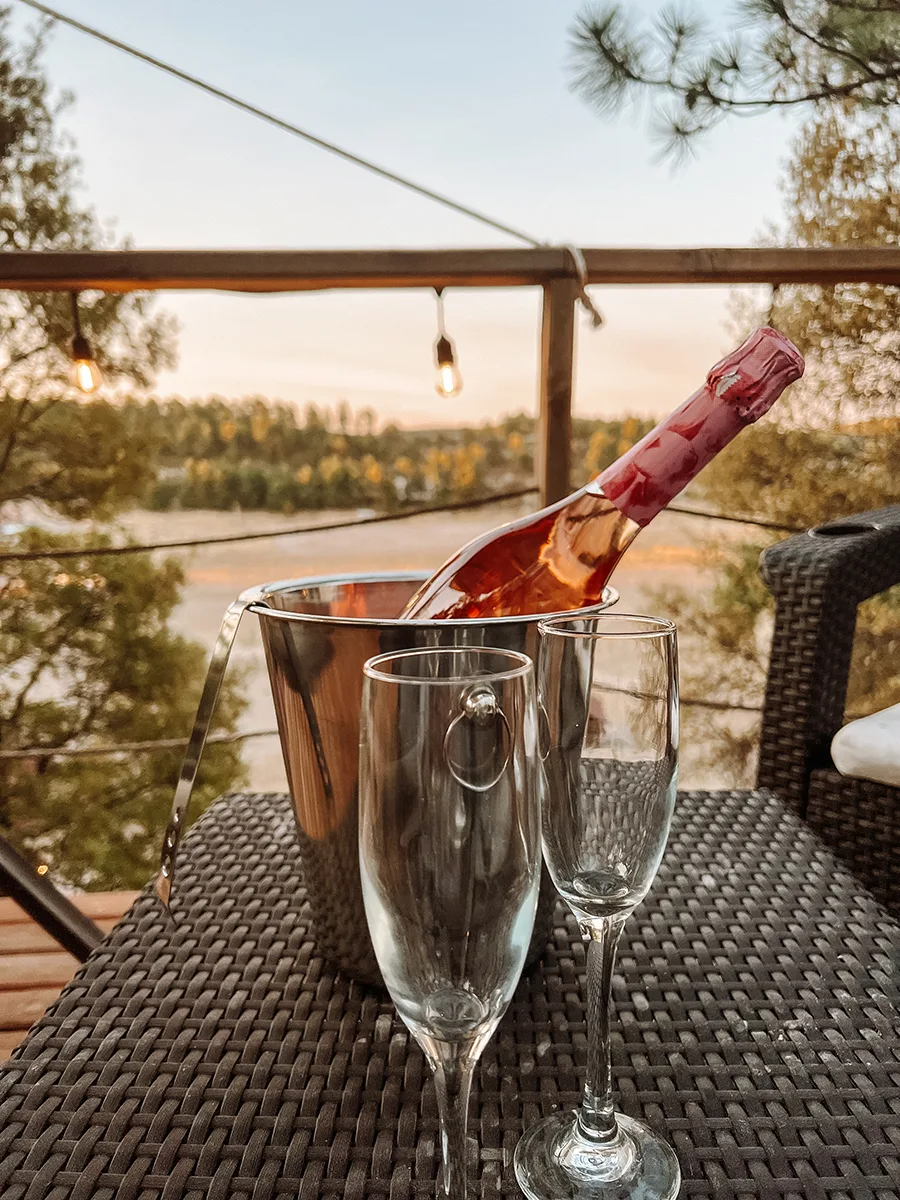 There are also common areas and terraces where the staff can set up campfires. They sell authentic Chihuahua cheese and wine bottles on-site, too!
The Lodge
The Lodge is another accommodation option in Creel that is on the higher end. This cozy cabin-style hotel is located right in the center of town and provides comfy rooms, great dining, and all the comforts you may need during your stay in Creel Chihuahua.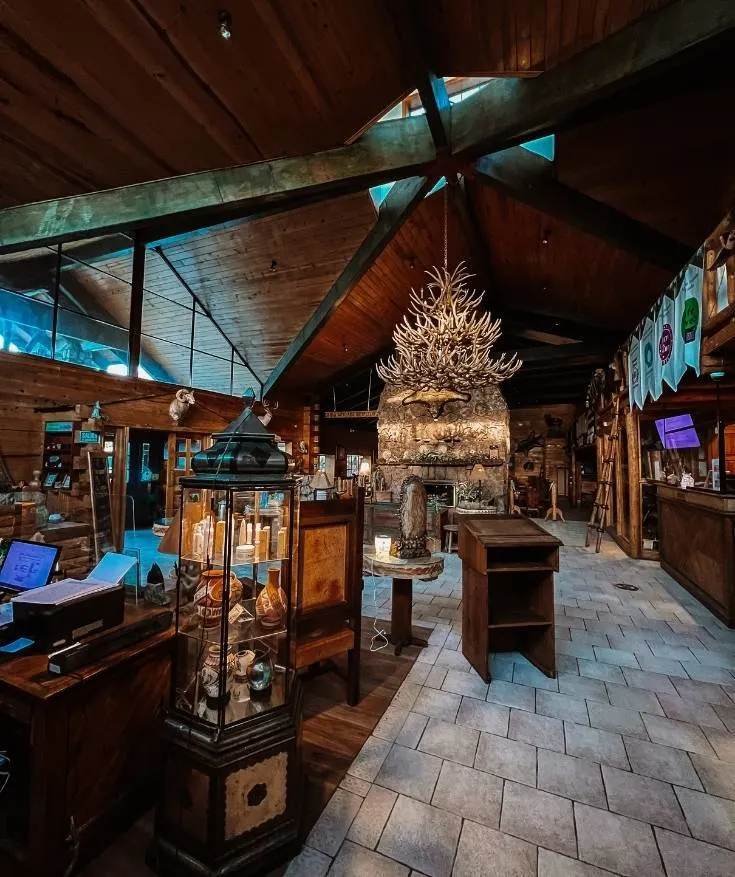 Where To Eat In Creel Chihuahua
There are several restaurants in Creel, most of which you'll find in the downtown area. If you're undecided, simply walk around and see which one catches your fancy!
Most restaurants in Creel offer local food. Chihuahuan food is somewhat different from the south of Mexico because it tends to be very cheese-based and they mostly use flour tortillas – it feels closer to Tex-Mex!
You will also find many pizza places as Chihuahua has a big Mennonite community that makes them (order yourself Mennonite pizza at The Lodge to see what I mean!).
We really enjoyed dining at the restaurant at The Lodge. It has a reputation for having the best Italian food in Creel.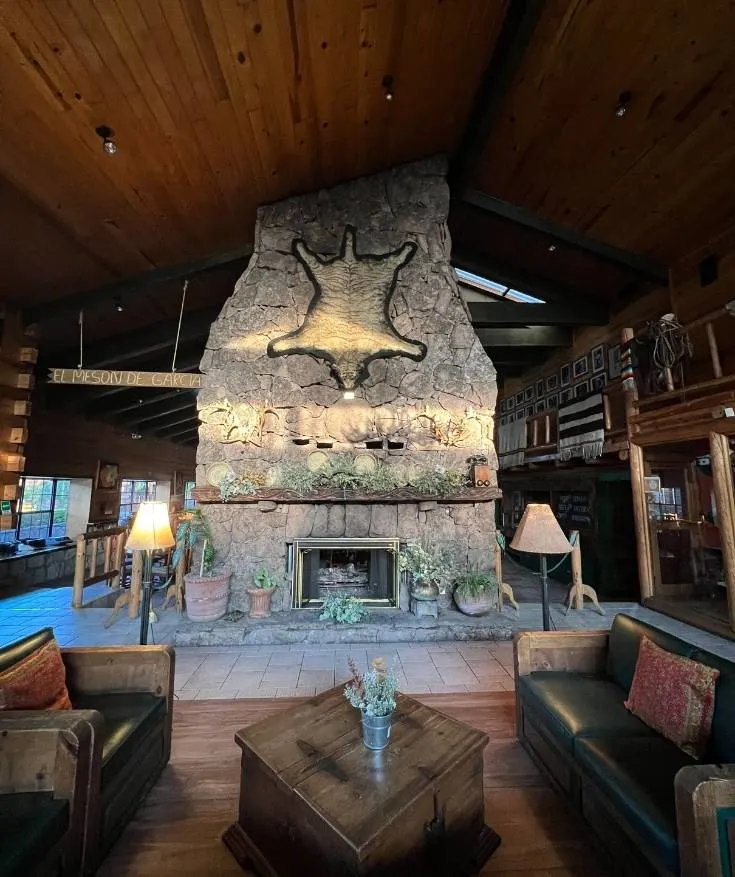 If you're excited to try authentic Chihuahua food during your time in Creel, this may not sound ideal, but their best sellers are Pizza Menonitas (Mennonite pizza), which is, believe it or not, a very typical meal in Chihuahua.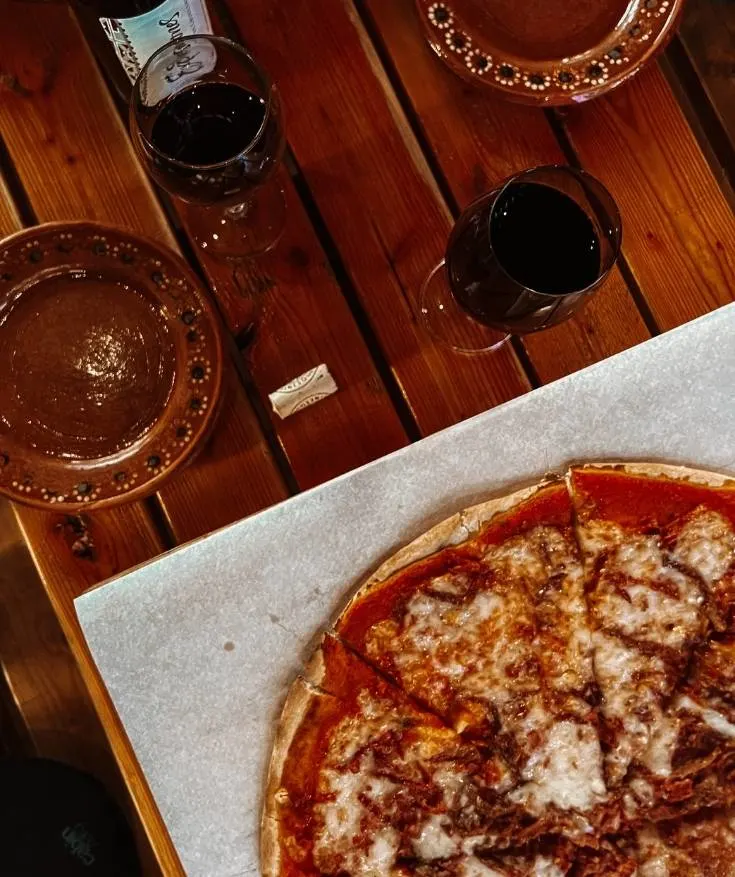 I paired my pizza with a bottle of red wine from Chihuahua. This was actually the first place I discovered that Chihuahua has vineyards and a pretty big wine-making scene!
If you want more typical Mexican food, another place I enjoyed was Restaurante Veronica. It's located almost on the main plaza and happens to be a favorite for locals and visitors alike.
Is Creel Chihuahua Safe?
Even though Chihuahua may have a bad rep because it's right on the US border, Creel is located in the south of the state, so it doesn't really have any issues regarding cartel violence.
Plus, Creel is a very small pueblo magico and has a very close-knit community. Everyone knows everyone!
The people from Chihuahua (chihuahenses) have a reputation among Mexicans for being very laid-back and welcoming. I definitely confirmed the statement is true when I traveled through the state.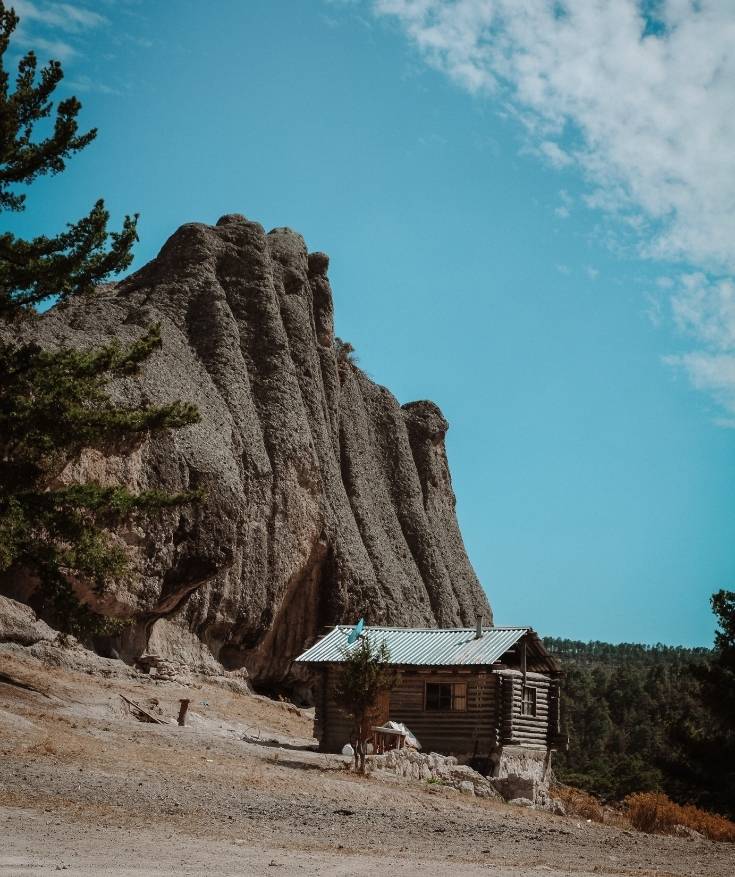 Best Time To Visit Creel Chihuahua
Winter: Creel Chihuahua does see snowfall during the winter. This is a gorgeous time to visit and see the Copper Canyon blanketed in white!
Summer: Summers in Creel Chihuahua can reach 100+ degrees Fahrenheit, so it's not the best time to visit Creel.
Fall: The weather during the fall months in Creel is great (albeit a bit chilly at night). Fall foliage is a thing in Creel Chihuahua and the landscape looks stunning in hues of gold.
Spring: Spring is another great time to visit as the landscapes around Creel look very lush and temperatures are pleasant. Avoid Semana Santa (Holy Week) as this is generally high season.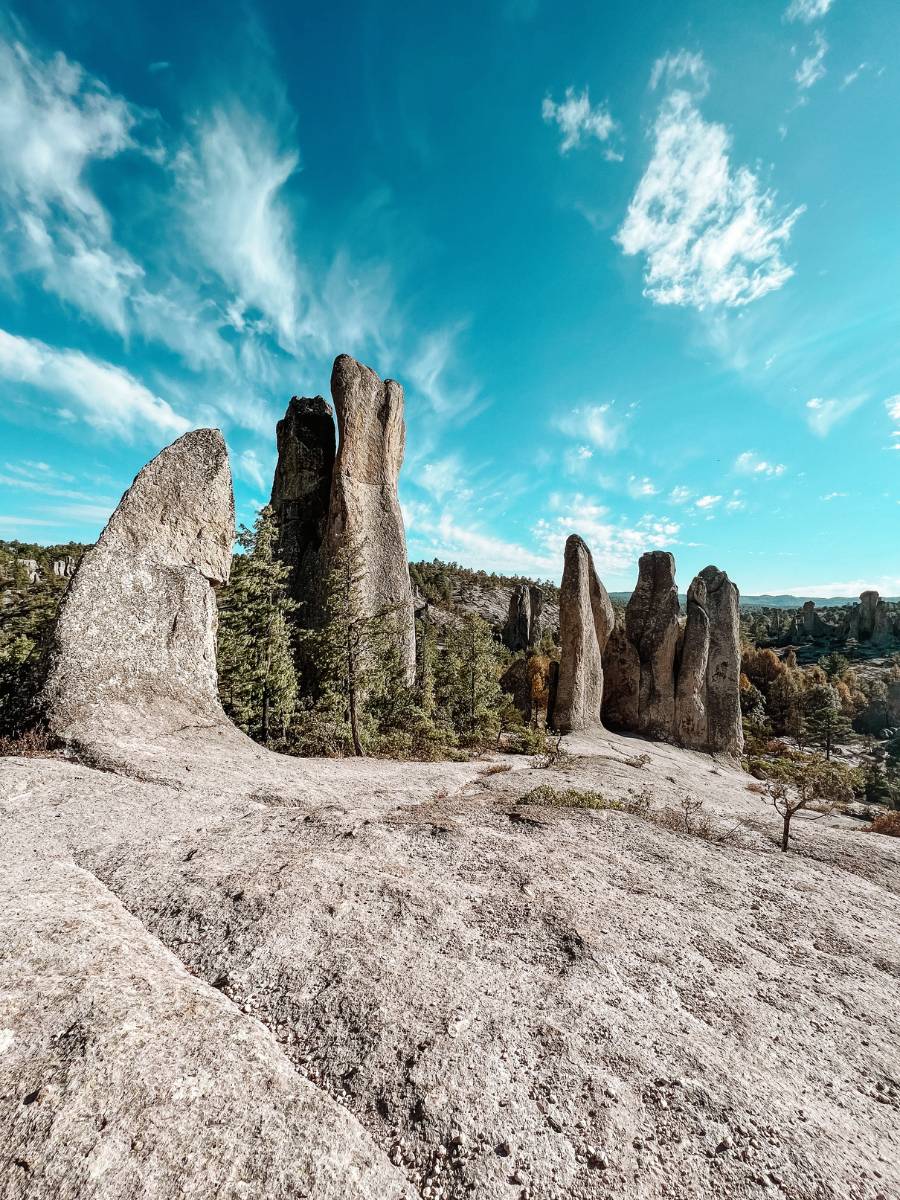 ✈️ How to get to Creel Chihuahua
Chihuahua City's international airport is the closest airport to Creel and the place you may land at if you're traveling from some cities in the USA or other parts of Mexico.
From here, you can reach Creel in different ways:
Creel Chihuahua via train
Even though Creel is known for being a famous stop on the Chepe journey through northern Mexico, the Chepe doesn't actually go from Chihuahua City to Creel.
But here's something most visitors don't know: There's a more "local", budget-friendly trail ride that does take passengers from Chihuahua City to Creel. It's called El Chepe Regional.
It's not really marketed and not as high-end as the Chepe for tourists, but it does offer a route several times a week. Check out their schedule here. The ticket costs around $70 USD.
How to get to Creel Chihuahua via rental car
Driving to Creel is the fastest way to get there. You can easily rent one at Chihuahua Airport.
How to get to Creel Chihuahua by bus
Taking a bus is the most budget-friendly way to reach Creel if you don't want to drive. There are several routes between Chihuahua City to Creel by Autobuses Chihuahuenses. This option is also better than the train because it offers more routes and buses depart daily.
Getting around Creel Chihuahua
Creel, Chihuahua is very small and you can easily get around the village on foot.
Some accommodation options are located in the outskirts, so you may need to hire a taxi to get to and from your hotel. You can arrange rides with your hotel or find taxis at the main plaza.
Moreover, some of the best things to do in Creel are located a 10-15 drive away from the center. You can either ask a taxi to take you to these attractions and wait for you or hire a guide.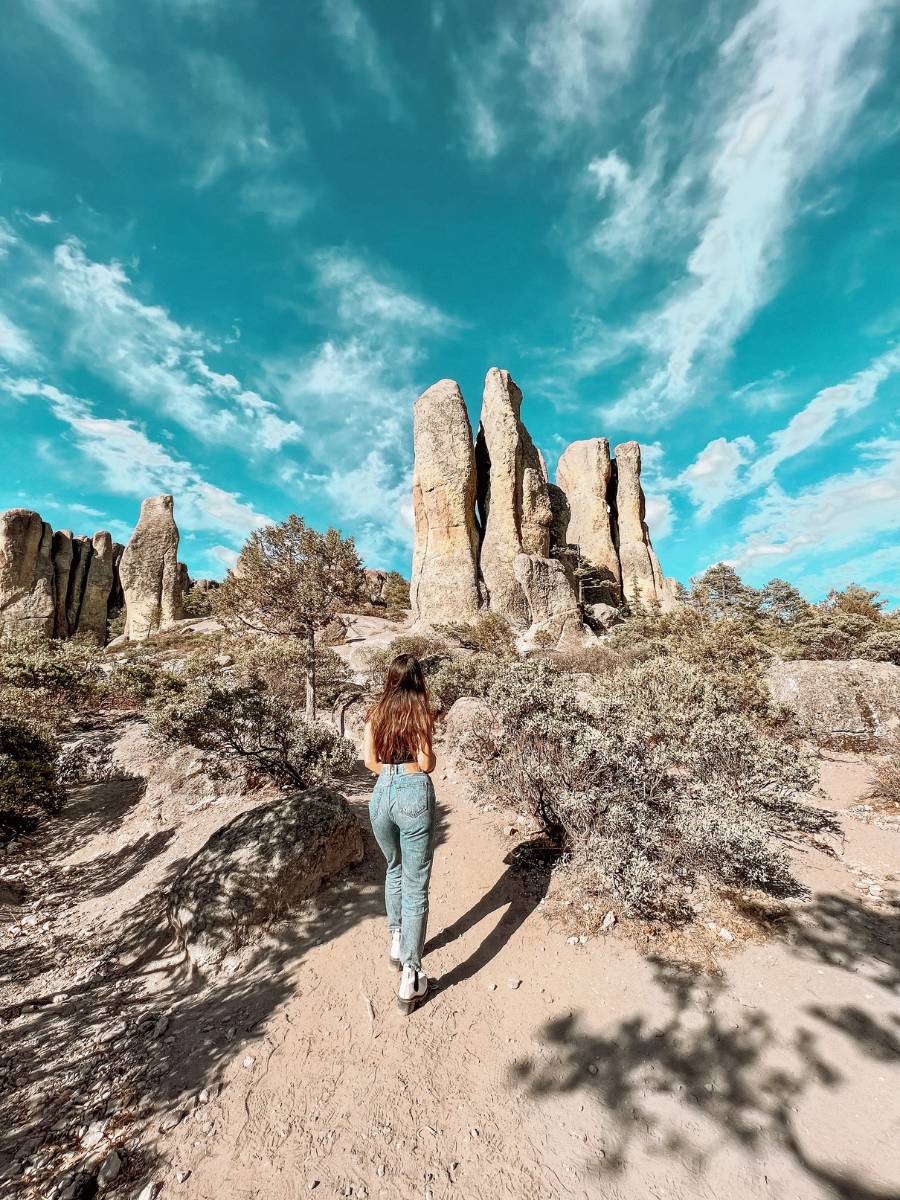 Creel Chihuahua Final Thoughts
Creel is one of the most exciting places to visit in Mexico if you want to visit somewhere different that isn't highly touristic.
Aside from its beautiful architecture, Creel Chihuahua is a place where you can dive deep into indigenous heritage, get a taste of Northern Mexican hospitality, and visit lots of places out in nature.