Taking a journey to the Last Frontier and need to know what the best restaurants in Anchorage, Alaska are? This guide has you covered! From fine dining to casual eateries, Anchorage has something for everyone's taste buds.
With its unique mix of cultures and flavors, it's no wonder that Anchorage is home to some of the most beloved restaurants in all of Alaska.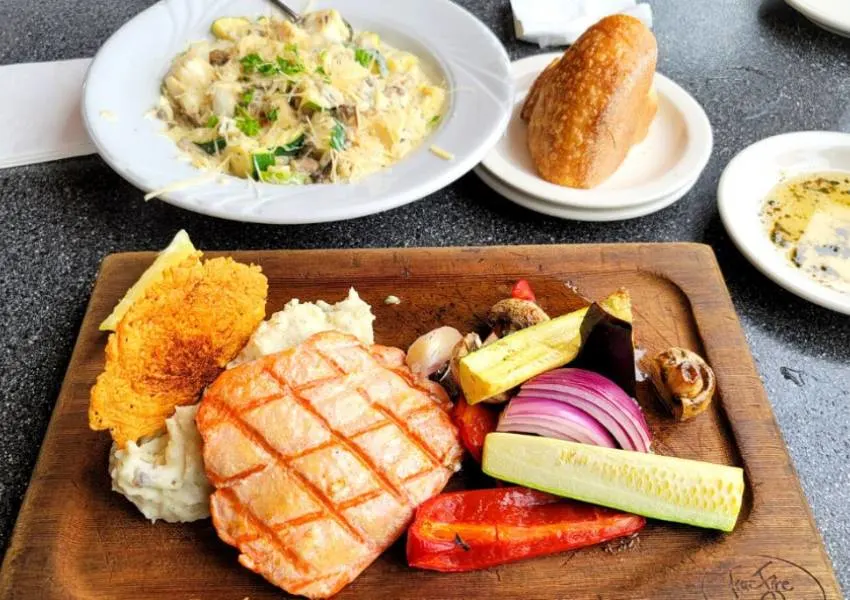 Whether you're a seafood lover or prefer your meat on the rare side, there's an amazing array of dishes to choose from – all made with fresh local ingredients.
In this guide, we'll be taking a look at the top restaurants in Anchorage so you can make sure your experience in the 49th state is truly unforgettable. Let's get started!
12 Best Restaurants in Anchorage Alaska
Disconnected from the contiguous United States, Alaska is situated far from the rest, and yet still offers some truly incredible food options.
From tropical Hawaiian specials to native Alaskan fare, these Anchorage restaurants should be at the top of your list!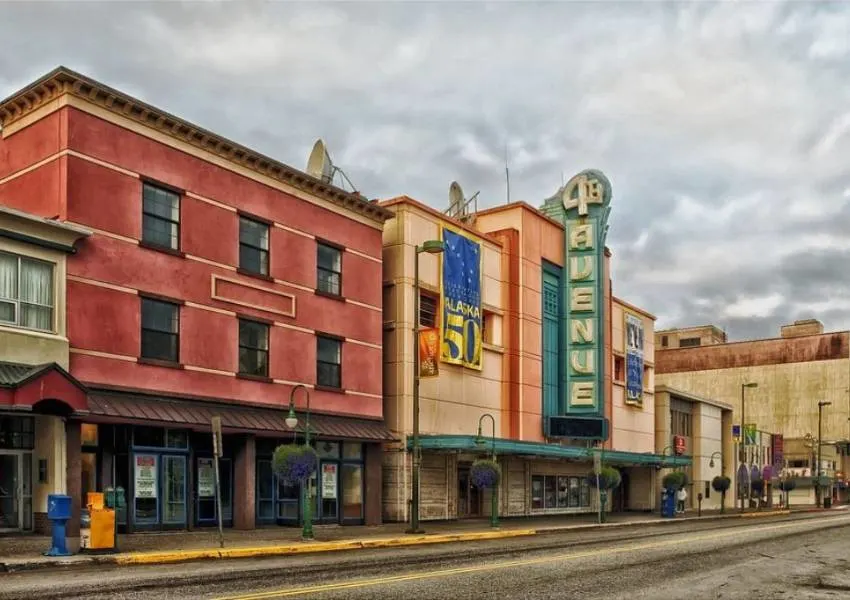 1. 49th State Brewing on West 3rd Ave
As one of the overall best restaurants in Alaska, the 49th State Brewing Company should be your first stop after you land in Anchorage.
This restaurant offers a unique dining experience that combines delicious food with locally brewed beers.
Guests can enjoy the restaurant's spacious and welcoming atmosphere while trying out some of their signature dishes such as the Alaskan king crab legs or the bison meatloaf.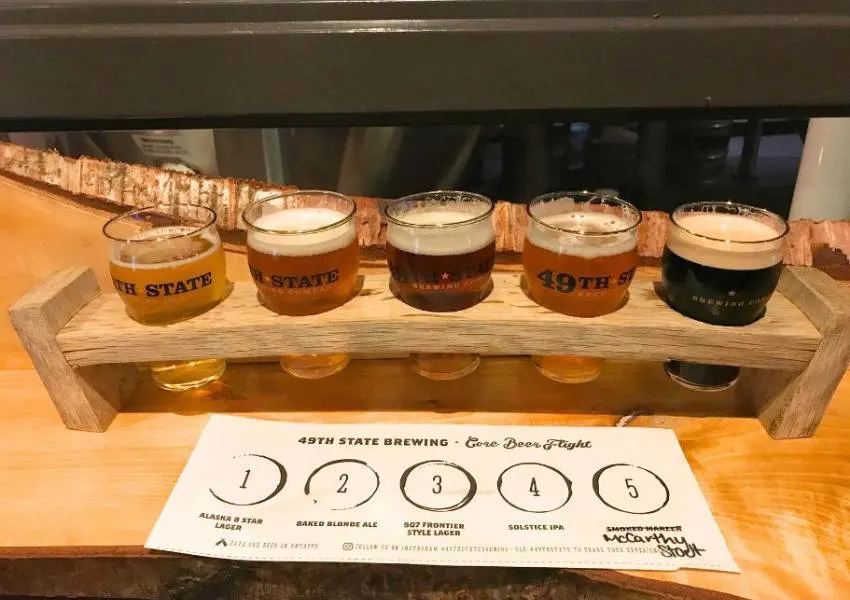 The 49th State Brewing Company prides itself on using locally sourced ingredients to create their dishes, resulting in an unforgettable dining experience that captures the essence of Anchorage's culinary scene.
In addition to the food, guests can also enjoy the brewery's award-winning beers, including the signature 907 Ale, made with Alaskan-grown spruce tips. Plus, the Anchorage location offers epic views over the ocean on their outdoor patio!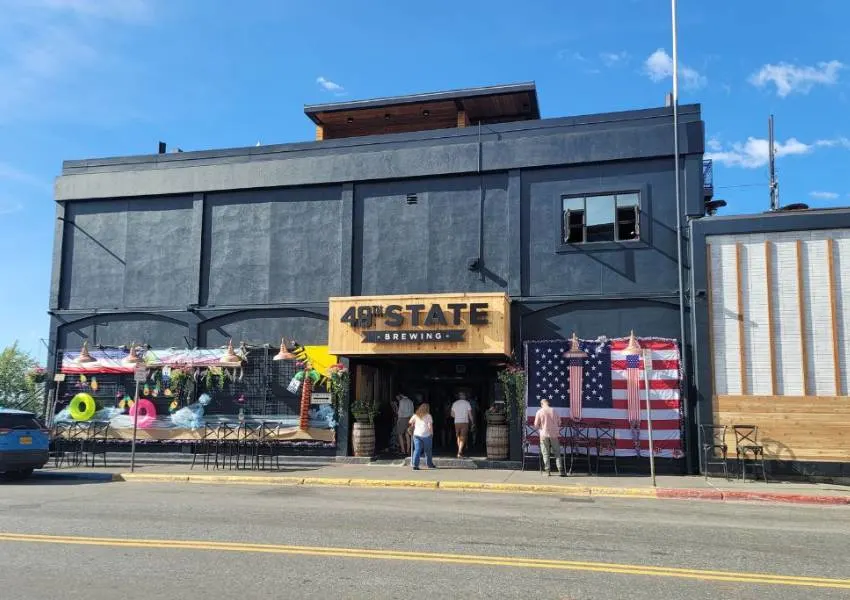 Overall, the 49th State Brewing Company offers a diverse menu, a vibrant atmosphere, and exceptional service – making it an essential stop on any food lover's journey to Anchorage, Alaska.
2. Fletcher's on West 5th Ave
A personal favorite in downtown Anchorage, Fletcher's has some of the best food in the city!
This upscale restaurant is renowned for its top-notch service and exquisite menu, featuring a range of Alaskan seafood dishes as well as excellent burgers, pasta, and pizza.
From start to finish, the dining experience at Fletcher's is nothing short of exceptional.
From the excellent staff to the food, you can expect to savor creative and flavorful dishes like the pan-seared halibut or the grilled Alaskan king crab legs in the ultimate atmosphere.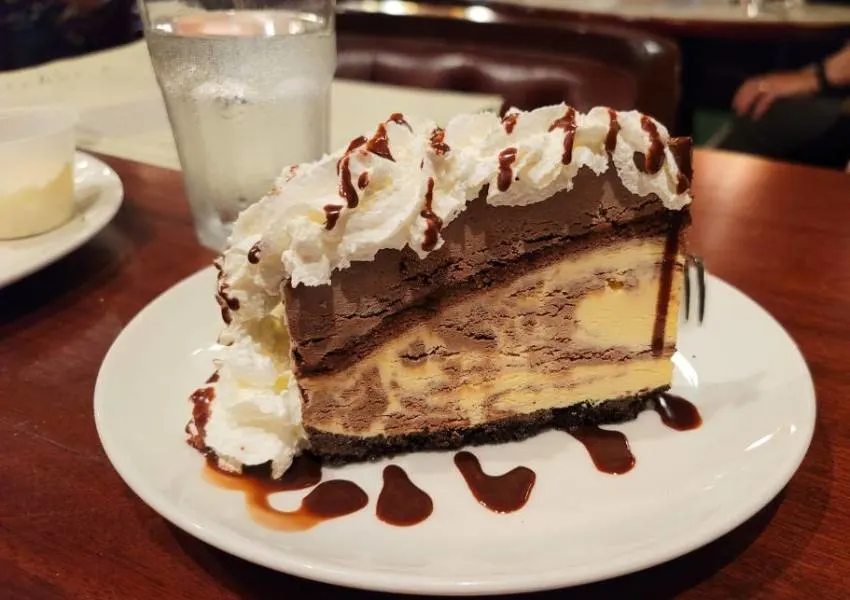 Additionally, Fletcher's boasts a beautiful wine bar with an extensive drink list that complements the dishes perfectly.
The intimate ambiance, delectable food, and professional service at Fletcher's come together to create a truly unforgettable dining experience that is not to be missed.
To get an in-depth look at their most popular menu items, check out their website!
3. Crow's Nest inside the Hotel Captain Cook
While you probably aren't looking at hotels for places to eat, you'll find an incredible eatery nestled on the top floor of Hotel Captain Cook known as Crow's Nest Restaurant.
Offering stunning panoramic views of Anchorage's skyline and the surrounding mountains, this is one restaurant that often gets overlooked.
Known for its upscale dining experience, the restaurant features sophisticated décor, white tablecloths, and impeccable service.
But the real star of the show is the menu, which showcases the best of Alaskan cuisine, with dishes like the wild Alaska king crab legs, Kodiak Island scallops, and a succulent lamb rack in a lavender pistachio crust.
For those looking for a unique taste of Alaska, the restaurant also offers a rotating selection of Alaskan game meats, such as elk and caribou.
Whether you're looking for a romantic dinner for two or a celebratory meal with friends, the Crow's Nest Restaurant delivers an unforgettable dining experience that combines elegant ambiance, outstanding service, and impeccable cuisine.
4. The Deck at Lake Hood inside The Lakefront Anchorage Hotel
While it may not be one of the new restaurants in Anchorage, it is surely one of the least known making it perfect for those wanting to escape the hustle and bustle of the downtown area.
Located inside The Lakefront Anchorage Hotel, The Deck at Lake Hood is a true gem in Anchorage's culinary scene.
This restaurant offers unparalleled views of the Lake Hood seaplane base while indulging in some of the freshest Alaskan seafood.
The menu features a wide range of dishes, including a 16oz prime rib and our personal favorite Alaskan crab and artichoke dip, all expertly prepared by the restaurant's skilled chefs.
In addition to the seafood, the restaurant also serves up mouthwatering steaks and other delectable burgers and sandwiches.
One of the highlights of dining at The Deck at Lake Hood is the opportunity to watch seaplanes taking off and landing on the lake – a truly unique and unforgettable experience.
To go with the perfect meal, the restaurant has a full bar, serving up expertly crafted cocktails and a large selection of beers and wines.
The Deck at Lake Hood's casual and relaxed atmosphere, combined with its stunning views and delicious food, make it the perfect place for a romantic date night or a fun night out with friends.
5. Haute Quarter Grill on West 4th Ave
Well known as one of the best seafood restaurants in Anchorage Alaska for its top-notch service, elegant ambiance, and exquisite menu, anyone with a taste for the ocean needs to make a stop at Haute Quarter Grill!
Offering a local take on seafood jambalaya and a rich platter of smoked salmon fettuccine, guests can expect an indulgent dining experience at Haute.
Plus, its ambiance is warm and inviting, with contemporary décor, plush seating, and a cozy fireplace that creates a relaxing atmosphere.
The restaurant's chefs use only the freshest ingredients, and each dish is expertly prepared to ensure maximum flavor and satisfaction.
Not to be missed are the seared ahi tuna, which is cooked to perfection, the filet mignon kabobs, which are succulent and juicy, and the peanut butter pie which is literally everything you want in a rich, creamy, buttery dessert.
Overall, the restaurant offers a premium dining experience that is nothing short of exceptional, and it is undoubtedly one of the best restaurants in Anchorage Alaska.
Just be sure to budget for this outing ahead of time, as many seafood restaurants in Anchorage will come at a higher cost than most.
6. Kincaid Grill at 6700 Jewel Lake Road
At Kincaid Grill, guests can enjoy a fine dining experience in one of the most beautiful settings in Anchorage.
Located on a hilltop surrounded by lush green foliage and views of Cook Inlet, Kincaid Grill is the perfect place for a romantic evening out or a special occasion celebration.
The restaurant's menu perfectly defines fine dining and features everything from Kodiak scallops nicoise to gorgonzola fondue served with mission fig-port chutney.
Also offering some gluten-free and vegetarian options, those with dietary restrictions can still enjoy an upscale experience on their trip to Anchorage.
7. Moose's Tooth Pub & Pizzeria on the Old Seward Highway
Moose's Tooth Pub & Pizzeria is an iconic destination in Anchorage Alaska for those seeking to indulge in tasty pizza and beer and offers some of the best lunches in Anchorage.
The restaurant features a cozy and welcoming atmosphere with rustic wooden interiors, making it a great spot for casual gatherings or a night out with friends.
The restaurant's menu is diverse, with a wide selection of original pizza recipes ranging from classic Margherita to Alaskan-themed pies such as "Call of the Wild" (with reindeer sausage, steak, and bacon) and "Avalanche" which comes with blackened chicken.
Additionally, Moose's Tooth boasts a fantastic rotating selection of specialty beers brewed in-house at their sister brewery, Bear Tooth Theatrepub.
With its delicious food, friendly service, and laid-back vibes, Moose's Tooth Pub & Pizzeria is undoubtedly one of the best casual dining spots in Anchorage Alaska.
8. Club Paris on West 5th Ave
Club Paris is a legendary steakhouse in Anchorage, Alaska that has been a staple of the city's culinary scene for over 60 years.
Easily one of the best restaurants in Anchorage Alaska, the award-winning eatery exudes an old-world charm with its dark wood paneling, leather booths, and elegant chandeliers.
The menu at Club Paris is centered around their signature hand-cut steaks, which are aged to perfection and cooked over a mesquite grill.
The Angus beef cuts are sourced exclusively from Midwestern farms and the seafood is sourced locally from the pristine waters of Alaska.
The service at Club Paris is unrivaled, with the wait staff being attentive yet unobtrusive, creating an overall dining experience that is second to none.
Not to be missed is the famous French onion soup, which is rich and savory, and the succulent filet mignon which they claim to be their most tender cut.
Whether celebrating a special occasion or seeking a refined dining experience, Club Paris is the epitome of sophistication and luxury in Anchorage, Alaska.
9. Hula Hands Restaurant on Mountain View Drive
Hula Hands Restaurant is an excellent choice for those who crave delicious Hawaiian-inspired dishes in Anchorage, Alaska.
Located on Mountain View Drive, this restaurant requires a short drive from downtown, but boy is it worth it!
Boasting a casual and relaxed atmosphere perfect for an enjoyable dining experience with family and friends, Hula Hands is a popular choice among locals.
The menu features a wide range of appetizing options, including the crowd-favorite Kalua pig and the delectable teriyaki chicken glazed with sweet and savory sauce.
The restaurant's unique twist on traditional Hawaiian fare, such as their pineapple fried rice and poke bowls, is a must-try for anyone looking for something out of the ordinary.
Hula Hands also offers catering services for any special occasion, ensuring that your guests will enjoy the same flavorful dishes that made the restaurant famous.
With its friendly staff and inviting ambiance, Hula Hands Restaurant is undoubtedly one of the best restaurants in Anchorage, Alaska for unique cuisine!
10. Bear Tooth Theatrepub on West 27th Ave
Bear Tooth Theatrepub, located on West 27th Ave in Anchorage, Alaska, is a unique dining experience that combines a full-service restaurant with a movie theatre… yes, please!
Designed with a rustic and inviting ambiance, this restaurant features an extensive menu of delectable dishes that are perfect for a casual night out or a dinner-and-movie date.
Their specialty is their hand-crafted pizzas, made with fresh ingredients that are locally sourced whenever possible.
One of their most popular pies, the Spicy Thai Chicken is a flavorful combination of curry peanut sauce, chicken, red onions, and topped with fresh cilantro.
In addition to their delicious pizzas, Bear Tooth Theatrepub offers a variety of appetizers, entrees, and desserts, all served in generous portions.
Pair your meal with one of their house-brewed beers or a refreshing cocktail for the ultimate dining experience.
Aside from its mouth-watering food and drinks, Bear Tooth Theatrepub also has a state-of-the-art digital projection system and a variety of classic and recent motion pictures to choose from.
With its relaxed atmosphere, delicious food, and exciting movie options, Bear Tooth Theatrepub is without a doubt one of the best restaurants in Anchorage Alaska for an unforgettable night out.
Spenard Roadhouse is a trendy and eclectic restaurant that offers a unique, yet casual, dining experience.
From the moment you set foot inside, you are captivated by the industrial-chic decor, which features an array of vintage furnishings and local artwork.
The menu is as diverse as the ambiance, with an emphasis on locally-sourced ingredients and innovative twists on comfort food classics.
Start your meal off with their famous blistered shishito peppers before jumping into the entrees which are just as tantalizing, with options ranging from the decadent beef short ribs to the spicy red curry.
For vegetarians, vegans, and those who require gluten-free meals, there are plenty of options that are specifically recognized as such, making it easy and stress-free to find a good meal.
While you're waiting for your meal, try one of Spenard's specialty whiskey cocktails or their subtly sweet Kentucky lemonade.
With its friendly and knowledgeable staff, unique atmosphere, and delectable cuisine, Spenard Roadhouse is one of the best restaurants in Anchorage, Alaska for foodies and casual diners alike.
12. Snow City Cafe on West 4th Ave
Located on West 4th Ave in Anchorage, Alaska, Snow City Cafe is a charming and cozy restaurant that has become a beloved local institution.
Known for its hearty breakfast options that are served all day long, Snow City Cafe offers an extensive menu of delicious and creative dishes that cater to every palate.
From savory scrambles to sweet and fluffy pancakes and their eggs benedict covered in rich, housemade hollandaise, their breakfast options are nothing short of divine.
However, Snow City Cafe also offers lunch and dinner options that are just as mouth-watering.
Their urban Seoul rice bowl is a definite must-try for vegetarians and meat-eaters alike, while their big thick shakes are the perfect way to cool off in the summer.
The cozy and inviting atmosphere, coupled with the friendly and attentive staff, makes Snow City Cafe one of the best restaurants in Anchorage downtown.
FAQ: Best Restaurants in Anchorage Alaska
In this next section, we're going to jump into answering some of your most popular questions in regards to Alaska's food scene.
What Food is Anchorage Alaska Known For?
Anchorage, Alaska is known for its incredible seafood dishes like salmon, halibut, and crab.
The city also has a variety of international cuisines due to its multicultural population as well as locally-sourced items from the surrounding areas.
Popular dishes include reindeer sausage, king crab legs, smoked salmon chowder, wild berry pies, and a variety of dishes featuring wild game.
With so much delicious cuisine available to experience in Anchorage, Alaska there's something for everyone!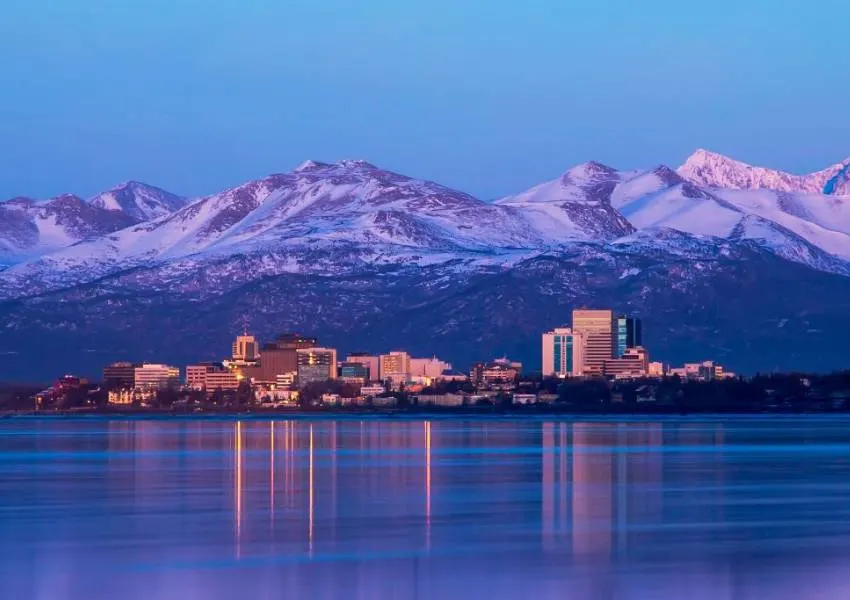 How do I Spend my Day in Anchorage?
If you have a day to explore Anchorage, Alaska, you'll want to make the most of it! Here's a sample itinerary to help guide you through some of the best the city has to offer.
Start your day with breakfast at Snow City Cafe on West 4th Ave. Known for its creative breakfast dishes like huevos rancheros and reindeer sausage omelets, Snow City is a must-visit for breakfast lovers.
The café is also conveniently located near several downtown attractions.
After breakfast, head to Kincaid Park for a morning of hiking or wildlife viewing (moose are especially common to see in this area).
The park is also home to bald eagles, bears, and other local wildlife, and features several miles of hiking trails with stunning views of the city and Cook Inlet.
For lunch, stop by Moose's Tooth Pub & Pizzeria on the Old Seward Highway.
The restaurant is known for its artisanal pizzas and craft beers, and also features a family-friendly atmosphere with a large outdoor patio.
In the afternoon, take a stroll through downtown Anchorage and do some window shopping in Polar Bear Gifts among other fun storefronts.
If you have time, check out the Alaska Native Heritage Center where you can learn about the rich culture of Alaskan Native people.
For dinner, head to Haute Quarter Grill on West 4th Ave for a fine dining experience.
This popular seafood restaurant showcases Alaskan ingredients in its innovative menu, which includes dishes like perfectly cooked Alaskan halibut to king crab and everything in between.
Finally, end your day with a show at Bear Tooth Theatrepub on West 27th Ave.
The venue features a full-menu restaurant and bar, as well as a movie theater that shows both new releases and classic films. It's the perfect way to wind down after a busy day exploring Anchorage.
Of course, this is just a sample itinerary – there's so much to see and do in Anchorage that you can customize your day however you like.
Whether you're interested in hiking, food, or culture, you're sure to find something to love in Anchorage, Alaska!
What is the Best Food to Buy in Alaska?
The best food to buy in Alaska is seafood! Alaska has an abundance of delicious seafood like salmon, halibut, cod, crab, and other fresh catches.
You can also find locally-sourced beef, reindeer sausage, and wild berry pies for a true Alaskan experience (though these become scarce during the cold Alaskan winters).
And don't forget some fireweed honey — it makes for a delicious addition to tea, cakes, and biscuits! With so many incredible options from the sea and land alike, shopping for food in Alaska is always an adventure.
What is Anchorage Famous For?
Anchorage, Alaska is renowned for its breathtaking natural beauty and abundance of outdoor activities. From stunning mountain vistas to miles of pristine hiking trails, Anchorage offers something for everyone who loves the outdoors.
The city is also known for its vibrant cultural scene, with a wide array of restaurants, theaters, museums, and art galleries that showcase the unique heritage of this beautiful region.
Additionally, Anchorage stands out as an ideal destination for seafood lovers due to its incredible selection of fresh catches from the sea like salmon, halibut, and crab.
With so much to offer in one place — from nature's wonders to delicious cuisine — it's no wonder why Anchorage is such a popular destination!
Final Thoughts: Best Restaurants in Anchorage Alaska
Alaska is a great destination for food lovers who want to explore the unique culinary offerings of this beautiful region.
From Snow City Cafe's creative breakfast dishes to Moose's Tooth Pub & Pizzeria's artisanal pizzas and craft beers, Haute Quarter Grill's fine dining experience with Alaskan ingredients, and Bear Tooth Theatrepub's movie theater and full-menu restaurant — there are plenty of amazing restaurants in Anchorage that will satisfy any taste!
Don't forget to pick up some local seafood or fireweed honey while you're at it—it makes for an unforgettable Alaskan experience.
So if you're looking for a delicious adventure filled with incredible sights and flavors, be sure to check out some of these best restaurants in Anchorage Alaska!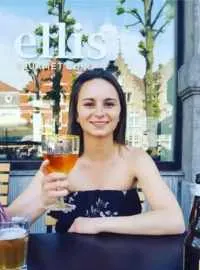 ABOUT THE AUTHOR
Emily Concannon is a full-time traveler and established travel blogger who traded her life in the restaurant business for the world. Now, the owner and author of multiple blogs including Emily Embarks and Sea to Summit Alaska, Emily is on a mission to discover the world's most unique destinations.