El Chepe Train: A Train Journey Through Northern Mexico
El Chepe Train is the only passenger train in Mexico and a truly enthralling experience that will have you exploring the best northern Mexico has to offer.
I recently rode the El Chepe Train and I'm still not over the experience.
As a full-time traveler, I've been on many train rides on every continent, but few of them compare to what I experienced aboard El Chepe Train (or "Copper Canyon Railway" as it's also commonly called!).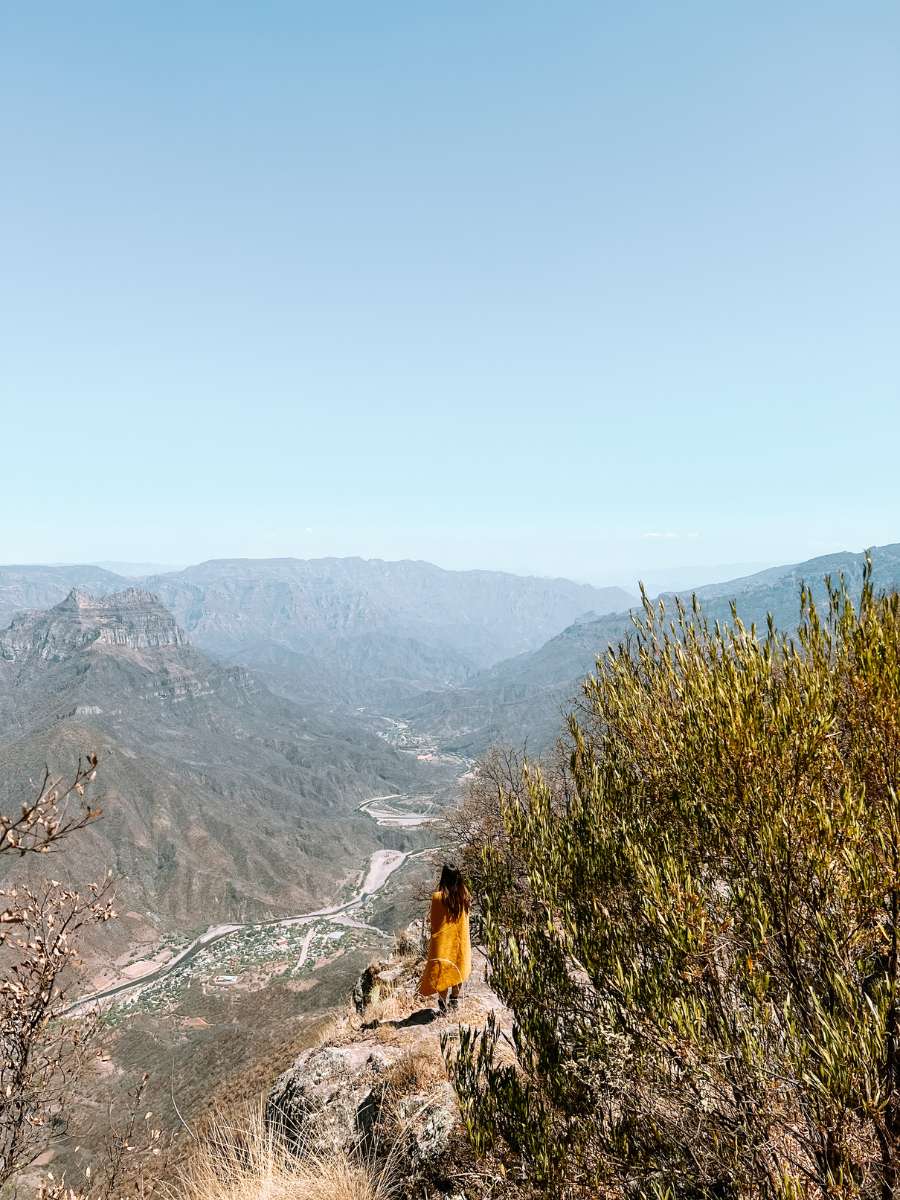 The landscapes I got to see along the way as well as the adventures I experienced on every stop I made were a great reminder of how vast Mexico really is and how much variety it has to offer visitors in terms of nature, culture, and food.
🚆 El Chepe Train
If you've been traveling around Mexico for a while, you've probably noticed one thing: There are no trains in the country!
While train travel in Mexico did exist back in the day, today, it's not really a thing anymore. The exception to the rule? El Chepe train in northern Mexico.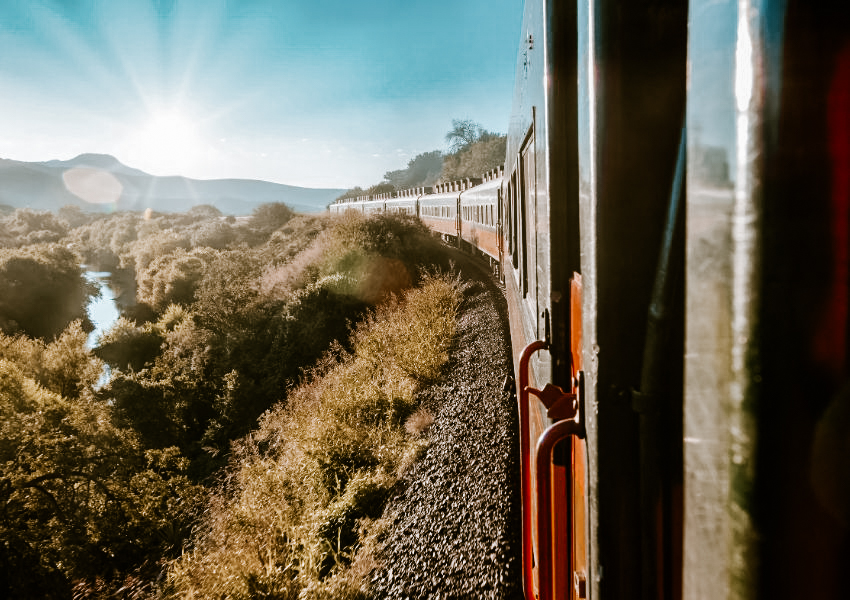 El Chepe is the only passenger train in the country and one that provides a journey of a lifetime through the Copper Canyon region all the way to the Sea of Cortez.
Starting in the magical town of Creel in Chihuahua and ending in Los Mochis, Sinaloa (or the other way around), this luxurious train journey will take you into a world of deep canyons, indigenous cultures, ever-changing landscapes, and striking vistas.
🚂 Deciding Your El Chepe Train Route
Depending on your plans, you can either start the journey from Creel, Chihuahua, or Los Mochis, Sinaloa.
Los Mochis is served by a small airport and offers domestic flights via airlines like Viva Aerobus, Aeromexico, and Volaris to and from major cities in Mexico. Moreover, there's also a ferry terminal that connects Los Mochis to La Paz.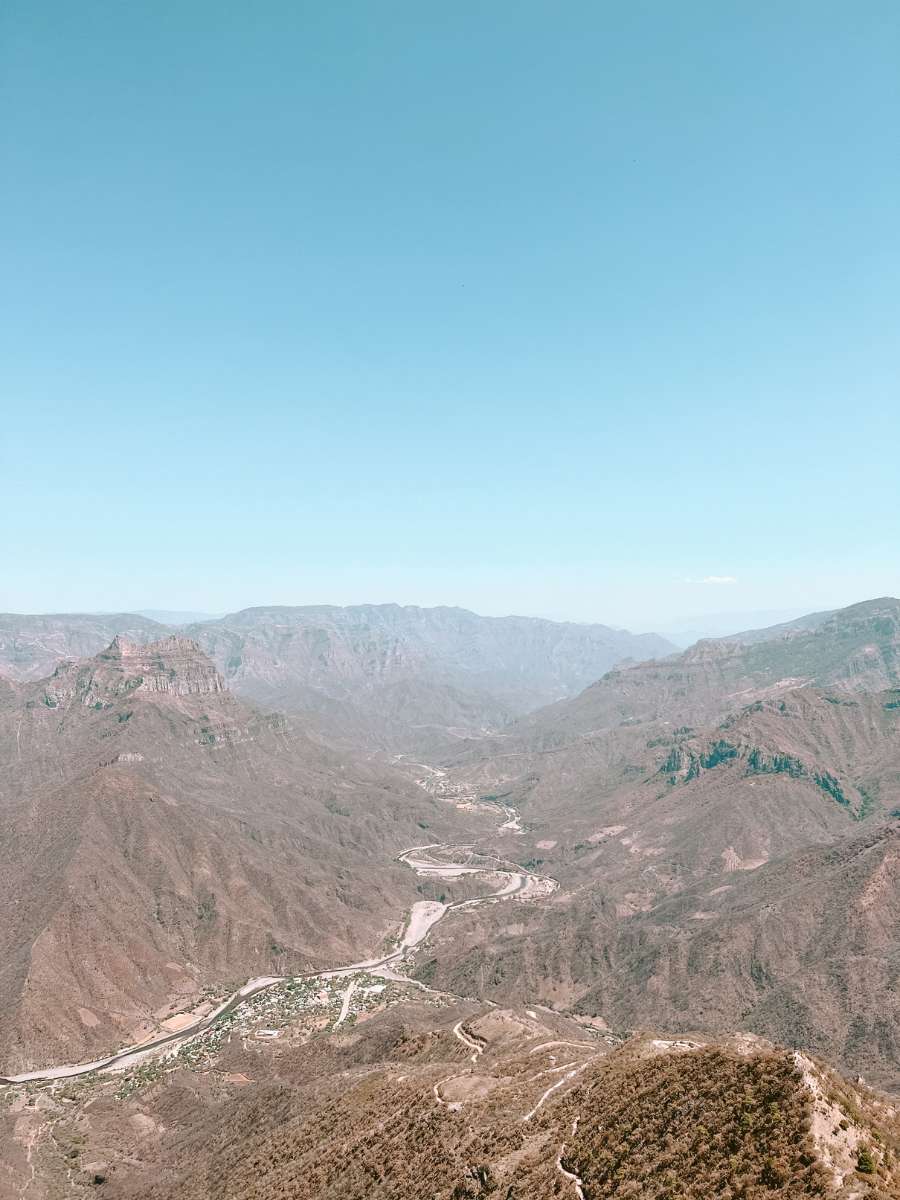 If you prefer to start from Creel, you will need to fly into Chihuahua City and make your way to Creel from there. You can do so by bus or by taking a train from Chihuahua City: El Chepe Regional.
This train is run by the same company as El Chepe Express, but it's not as "fancy". Overall, I recommend taking the bus instead, as it's actually way faster and a lot cheaper than riding the Chepe Regional (and the views from the train on this section aren't anything special).
🎟️ Purchasing El Chepe Train Tickets
El Chepe Express offers three different classes: First Class, Executive Class, and Tourist Class. Here's a breakdown of each:
El Chepe First Class offers super comfortable seats, panoramic windows, a meal and non-alcoholic drink on board plus a few snacks.
Moreover, this ticket also offers access to the bar and to the second floor of Urike restaurant, which has a see-through roof for incredible vistas of Copper Canyon!
El Chepe Executive Class offers very comfortable seating, access to the train's bar, and entry to the first floor of Urike restaurant.
Lastly, the tourist class doesn't offer seats as comfortable as the other two classes, but they're still quite comfy. This class has access to a different restaurant on the train, Kori Restaurant.
🛤️ How To Make Stops On El Chepe Train: Hop-In/Hop-Off
I actually found this a bit confusing when booking our tickets, so I thought it was worth writing about.
El Chepe only stops at each destination and continues to the next one immediately. This means that, in order to actually get to know each place on the El Chepe route, you will need to book a different ticket for each.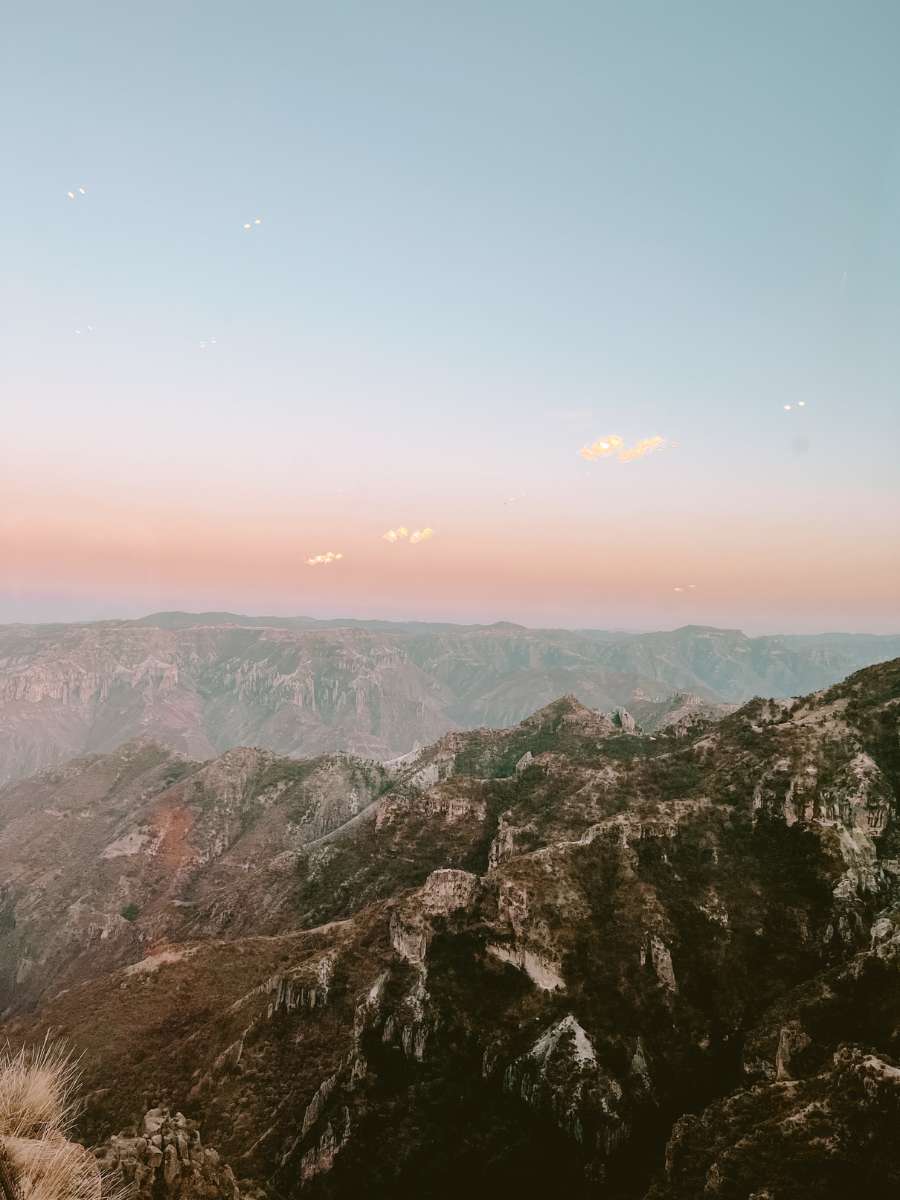 For instance, if you want to make a stop at Creel, Divisadero, and el Fuerte, you will need to book three different tickets:
Chihuahua City – Creel
Creel – Divisadero
Divisadero – El Fuerte
This means you will need to dedicate at least a week (if not more) to the entire Chepe journey. While you can absolutely just stay inside the train for the views along the way, I believe what makes El Chepe Train so magical is the stops it makes, so I don't recommend visiting in a rush!
You can book your tickets with stopovers here.
The Chepe Express doesn't run daily, so keep that in mind when booking. Luckily there is plenty to do at each place, so it's worth staying a few days at each destination (I actually felt I needed more time).
If you really don't want to stay that long, there's another train that runs on alternate days, which means you can get to your next destination easily.
This train is known as El Chepe Regional, which is locally known as the "Budget Chepe" and is not really marketed.
El Chepe Regional makes the same stops as the "fancier" Chepe Express version, but it's definitely not as luxurious. If you want to move around faster through Copper Canyon, I recommend mixing both trains into your itinerary.
You can see El Chepe Regional timetable here and you can book your tickets directly at the train station or by contacting their offices directly via the telephone.
📍 El Chepe Train Stops
The El Chepe train stops at five different locations: Creel, Divisadero, Bahuichivo, El Fuerte, and Los Mochis. You can actually start and end the journey from Creel or Los Mochis, depending on your plans.
1. Creel
A "pueblo mágico" and the gateway to the Tarahumara Sierra. Creel is home to a major Tarahumara (more commonly called "Raramuri" by locals) population, which means you'll be in for a real treat for culture and nature.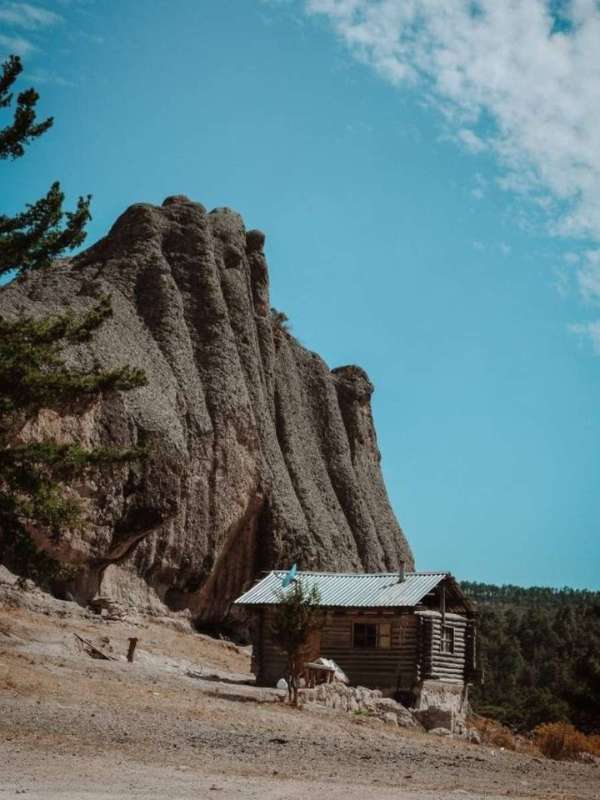 The Raramuris are an indigenous group from northern Mexico. They're known for being excellent artisans and speedy runners. In fact, the word Raramuri translates into "light feet" (rara= foot, muri= light).
YOU MAY ALSO LIKE:
From Creel, I also took the chance to take a day trip out to Batopilas, a colorful town and one of the most beautiful "pueblos mágicos" in Mexico I've ever been to. This is a bit of a side trip you can plan while staying in Creel if you have the time.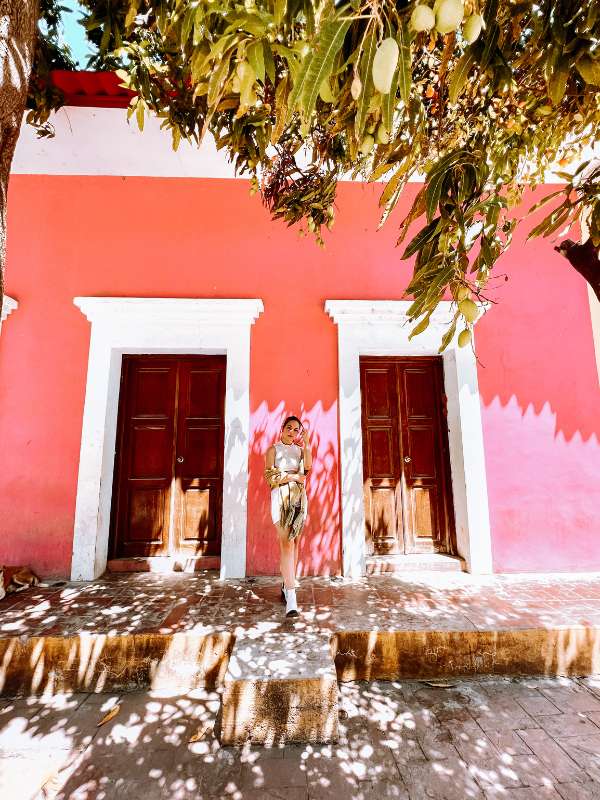 Where To Stay in Creel:
I stayed at Wooden Inn, a glamping spot on the outskirts of Creel where you can choose from staying inside a cozy cabin surrounded by pines or inside a bubble.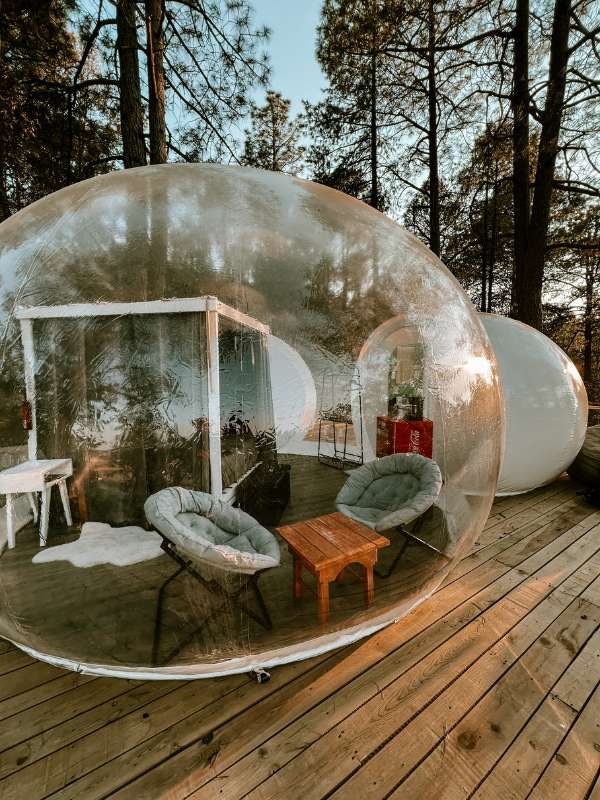 Whatever option you choose, make sure you bring some wine along to cozy up to! Check their rates here.
2. Divisadero
Divisadero is the next stop on El Chepe and the entry to the alluring Barranca del Cobre (Copper Canyon), a series of several gigantic canyons known for their copper-green-hued walls (Copper Canyon is 4 times bigger than The Grand Cayon!).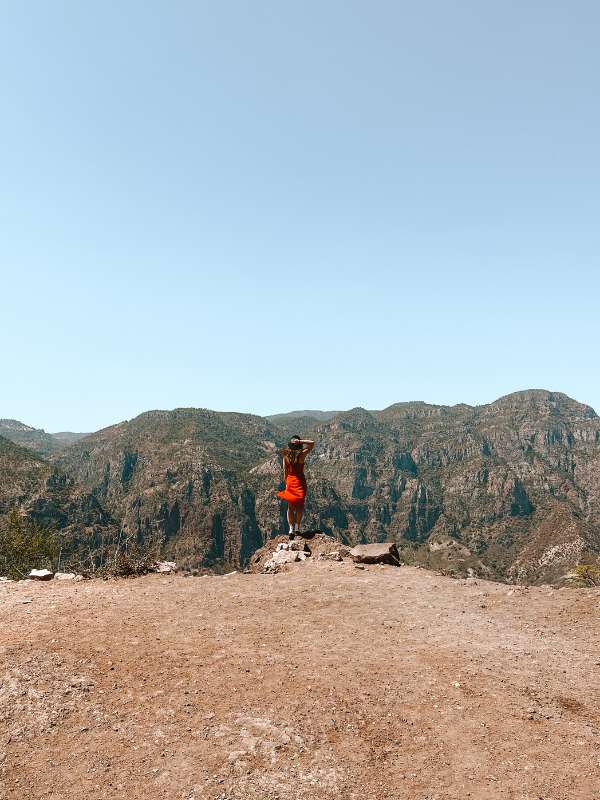 At Divisadero, you'll find three of the major canyons: Urique, Tararecua, and Cobre along with a ton of fully experience them.
The highlight at Divisadero is visiting Parque Aventuras Barrancas del Cobre, an adventure park where you can go hiking, ride a bike, go horseback riding, rappelling, rock climbing, and more. There's also a 2,650-meter series of zip lines and bridges as well as a cable railway!
Where To Stay in Divisadero:
I loved Hotel Divisadero Barrancas, which offers views of the three canyons! I stayed in their balcony rooms, and the views are unbeatable.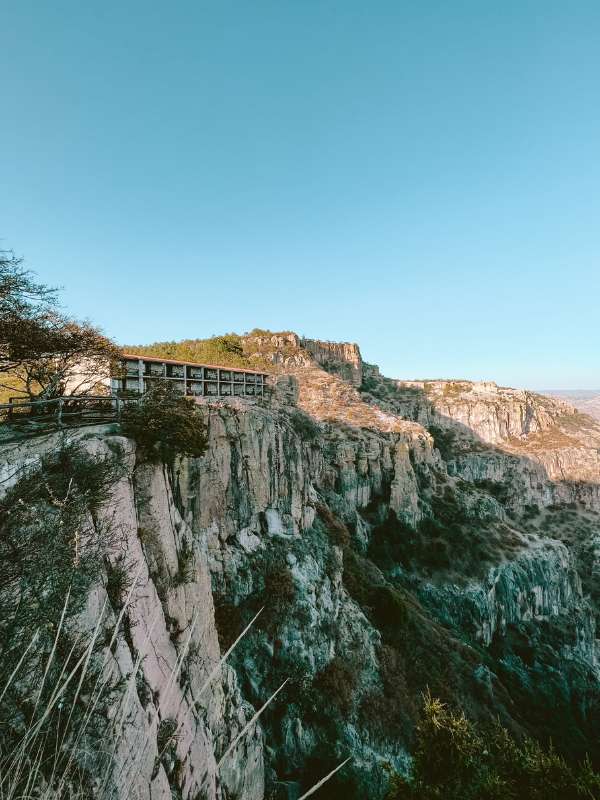 They have an on-site bar, a restaurant (with gorgeous vistas!), a reading room, a little coffee shop, and more.
Honestly, my favorite thing to do at Divisadero was probably chilling out at the hotel (glass of wine in hand) and gawking at the views. Check out their rates here.
3. Bahuichivo/Cerocahui
The main reason to make a stop at Bahuichivo is to visit the village of Cerocahui, which is located only 20 minutes away from the station and is known for its beautiful buildings and vineyards (yes! The state of Chihuahua actually has a huge wine-making scene!).
I really enjoyed our wine tasting at the Viñedos de Balderrama at Hotel Misión Cerocahui while in the area.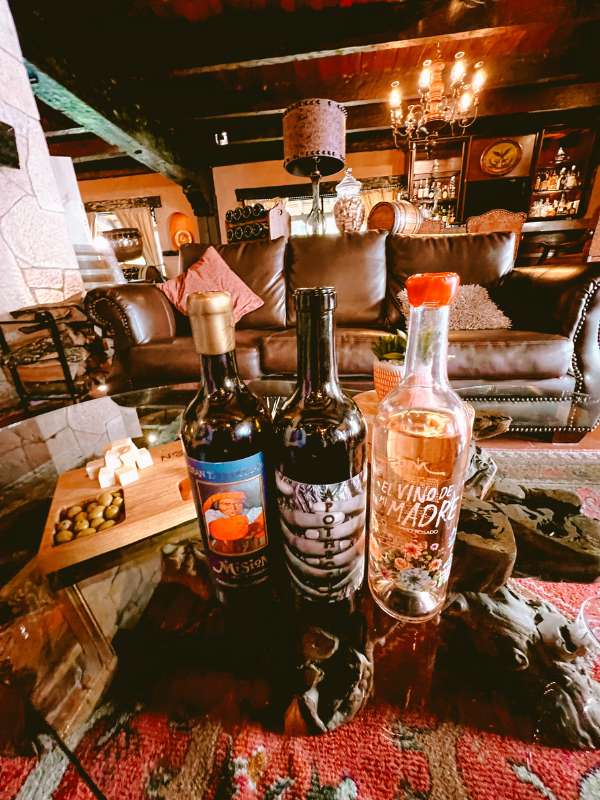 Another must during your visit is to check out the Huicochi Waterfall. To get there, you'll need to brave an 8-kilometer hike, but the views you'll get along the way of the Copper Canyon are well worth-it.
Moreover, make sure you also visit the Cerro del Gallego, a viewpoint that is considered the most beautiful in the entire Copper Canyon region.
Where to stay in Cerocahui:
Hotel Misión Cerocahui is THE place to be in Cerocahui. Not only is the decor beautiful, but it also has its very own vineyard! Check out their rates here.
4. El Fuerte
Once an important mining center, today, El Fuerte is one of the "pueblos mágicos" along the El Chepe Train route. El Fuerte is located in the state of Sinaloa, which means that from now on, the landscape and culture start to change significantly.
Once an important mining center, today, El Fuerte is a beautiful village with a small-town charm where you can find history galore as well as gorgeous colonial mansions and buildings from its golden era.
Most people who do the El Chepe Train Route don't actually make it this far, so you can expect a very local vibe.
Here, you can simply stroll the village, go on a boat ride across the river, and search for ancient. petroglyphs at the Cerro de la Mascara.
Where to Stay in El Fuerte:
As a fun fact, El Fuerte is said to be the birthplace of "El Zorro" (yes, the superhero!).
Diego (his actual name) was born in a colonial mansion in town, which is now a hotel called Hotel Posada Hidalgo. Ask for room 46 if you want to sleep in his childhood bedroom!
5. Los Mochis
The last (or first, depending on where you start) stop on the El Chepe route!
Los Mochis means "place of turtles" in the town's regional native language and is known for its ecotourism activities and scrumptious seafood and meat cuts.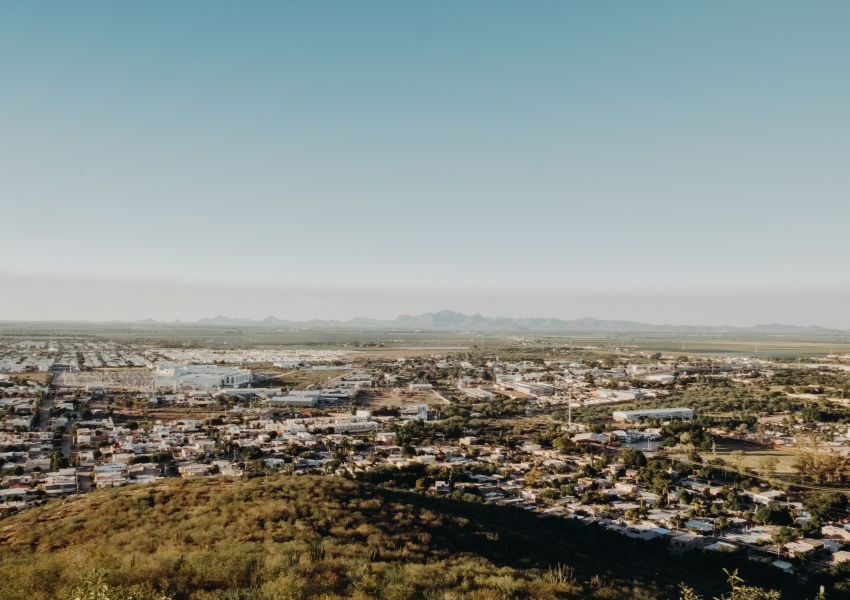 The city center is a pleasure to stroll through, with many colonial buildings dotting the streets. El Mochis is close to the third-largest natural bay in the world (Topolombapo Bay), where you can dive, snorkel, raft, visit the Dolphin Sanctuary, check out the Island of Birds, explore the Bat Cave, or just hang out at the beach.
Los Mochis has a small airport that serves domestic flights in case you want to fly elsewhere in Mexico from here.
If you want to continue to Baja California, you can take the ferry to La Paz from here.
📅 The Best Time To Ride El Chepe Train
The state of Chihuahua in Mexico goes through all seasons. There is no "best" time of the year to ride El Chepe Train in general, it's all up to what you want to get out of the trip!
Winter: Chihuahua does see snowfall during the winter, especially around the Creel area. The train ride in the snow is utterly magical!
Summer: Summers in Chihuahua can reach temperatures up to 40 degrees Celsius (100+ degrees Fahrenheit). I wouldn't recommend visiting during this time of the year if you plan to hike or explore the towns. If you're just riding the train without making any stops, though, you should be okay as it comes with aircon.
Fall: Fall foliage is a thing in Chihuahua and the landscape looks stunning in hues of gold. Fall is also the best time to visit if you want to explore Chihuahua's wine scene, as this is harvest season in vineyards.
Spring: Greens all over and pleasant temperatures. Avoid Semana Santa (Holy Week) as this is generally high season.
FAQs About El Chepe Train
📅 When is the best time to ride El Chepe?
For wonderful weather, spring is a great time to visit, while fall is also great for pleasant temperatures and fall foliage. Winter is another great time of the year to ride El Chepe Train if you don't mind the cold and want to see snow!
🚆 What is the difference between Chepe Express and Chepe Regional?
El Chepe Regional is the more economical version of El Chepe, while El Chepe Express is the train for tourists with more luxurious amenities. El Chepe Regional also has more stops, as many people in Chihuahua use it to get around rather than as a tourist attraction.
Another key difference between Chepe Express and Chepe Regional is that Chepe Express starts in Creel and ends in Los Mochis, whereas Chepe Regional's route begins in Chihuahua City and travels further north to other parts of Sinaloa.
🕒 How long is the El Chepe train ride?
El Chepe Train (Chepe Express) covers a route of over 406 miles through the northern states of Sinaloa and Chihuahua.
It begins in Creel, Chihuahua and ends in Los Mochis, Sinaloa (or the other way around), crossing stunning landscapes like the Copper Canyon and the Sierra Tarahumara.
In total, a non-stop journey takes about 15 hours to complete one-way, but you should try to schedule at least a full week for your trip as the best part of riding El Chepe is making stops at the many villages and attractions along the way.
🛤️ Where does El Chepe Train Start?
The El Chepe train, or the Chihuahua-Pacific Railway, starts in the city of Chihuahua, the capital of the state of Chihuahua in northern Mexico. The train travels through the Sierra Madre Occidental mountains, passing the stunning Copper Canyon, and ends in Los Mochis, a city in the state of Sinaloa.
The journey covers approximately 653 kilometers (406 miles) and takes around 15-16 hours to complete, depending on the train type, stops, and layovers.
🦺 Is El Chepe Train safe?
Yes, El Chepe Train is considered very safe. It's a very modern and reliable train and the stops it makes are very safe places for tourists.
🏷 How much does it cost to ride El Chepe Train?
El Chepe Train prices vary depending on whether it's low or high season. During high season, a one-way ticket from Los Mochis to Creel costs $5641 MXN and $4720 during the low season (2023 prices).
If you don't want to do the entire route, the price adjusts accordingly. You can check the full price table here.
Final Thoughts on El Chepe Train
Riding El Chepe Train is one of the coolest trips you can take, especially is what you're after is to explore a lesser-known side of Mexico for foreigners.
Not only is the train ride itself beautiful, but the stops you get to make along the way are true gems. All throughout the journey, you will get to learn about the indigenous cultures of northern Mexico, explore a canyon that is four times the size of the Grand Canyon, go on incredible hikes and other outdoor adventures, and a lot more.