Even though most people head to destinations like Tulum, Cancun, and Los Cabos, Mexico is a humongous country with a lot more to offer visitors.
Whether you're on the lookout for a beach holiday, a trip spent gorging on authentic street food or exploring small colorful towns, Mexico has a little something for everyone.
There are a thousand plus one hidden gems in Mexico, so I decided to put together a round-up of lesser-visited destinations in the country I'm proud to call my birthplace and home.
What Are the Best Hidden Gems in Mexico?
The best part about these destinations is that they're not entirely off the beaten track and only accessible to super intrepid travelers (although I'll be writing a post on those places as well!).
In fact, they're easy to visit even for first-time or solo travelers in the sense that there is enough infrastructure for visitors to have a great time, but they're also much less visited than other major destinations in Mexico.
You can also find organized group tours to Mexico that follow such interesting and a bit out-of-the-usual-path itineraries. If you feel it's easier to have someone else plan the trip for you and you only need to enjoy it, then a group tour is always a good option.
Hidden Gems in Mexico You Can't Miss:
Creel, Chihuahua
Creel is a small pueblo magico in the Northern State of Chihuahua that is also the gateway to the Tarahumara Sierra and Mexico's Copper Canyon.
While the village is pretty tiny, it has so many incredible things to see and do, especially if you're into indigenous cultures and otherwordly-looking landscapes.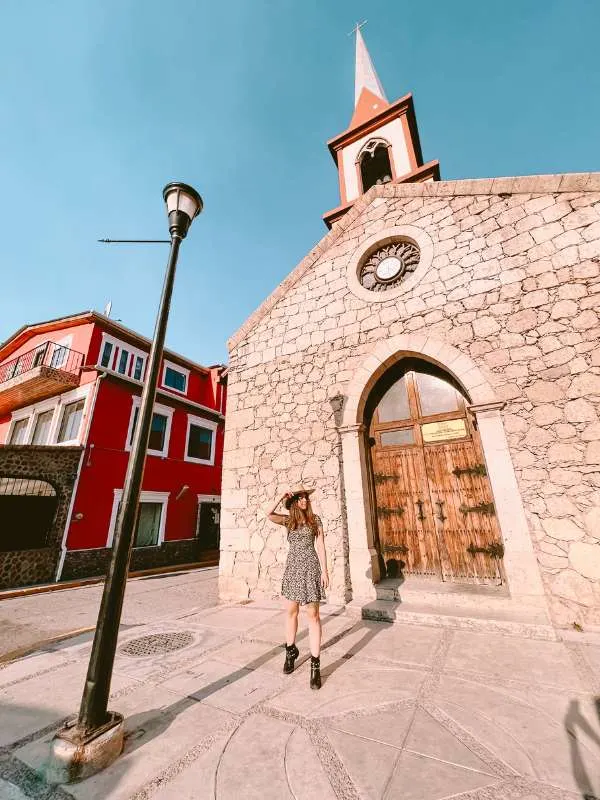 While here, you'll get to dive deep into Raramuri culture and explore beautiful landscapes like the Valley of the Monks filled with whacky rock formations and the Valley of the Mushrooms, which has rocks shaped like gigantic mushrooms!
Read my guide to Creel, Chihuahua here.
El Chepe
El Chepe is not a destination per se, but rather a journey!
El Chepe is a luxury train that traverses a huge chunk of Northern Mexico from Creel, Chihuahua all the way to Los Mochis, Sinaloa.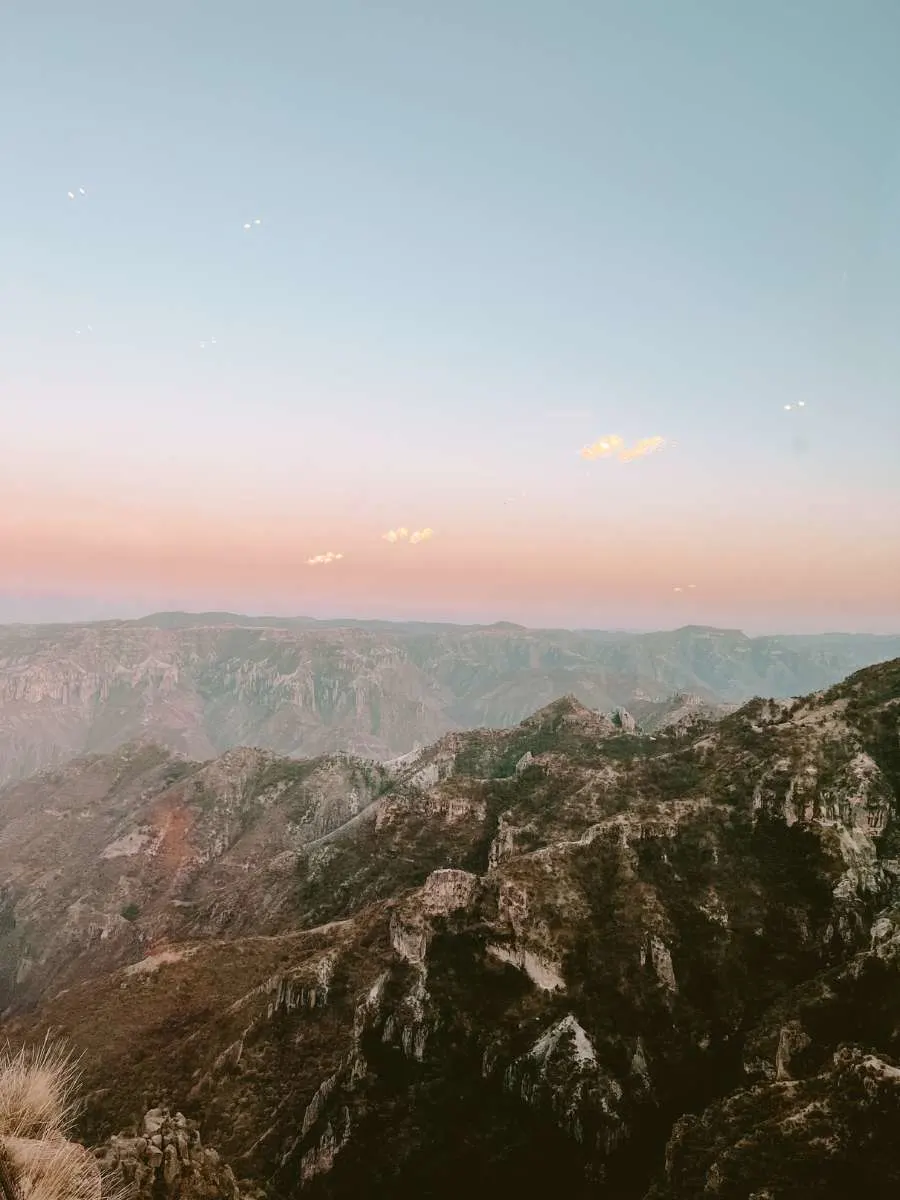 Along the way, you'll get to make stops along incredible destinations and villages that are considered hidden gems in Mexico for foreigners. Must-do stops include the village of Batopilas for colorful houses, Cerocahui for vineyards, and Copper Canyon for outdoor adventures in a canyon that is four times the size of the Grand Canyon!
Guanajuato City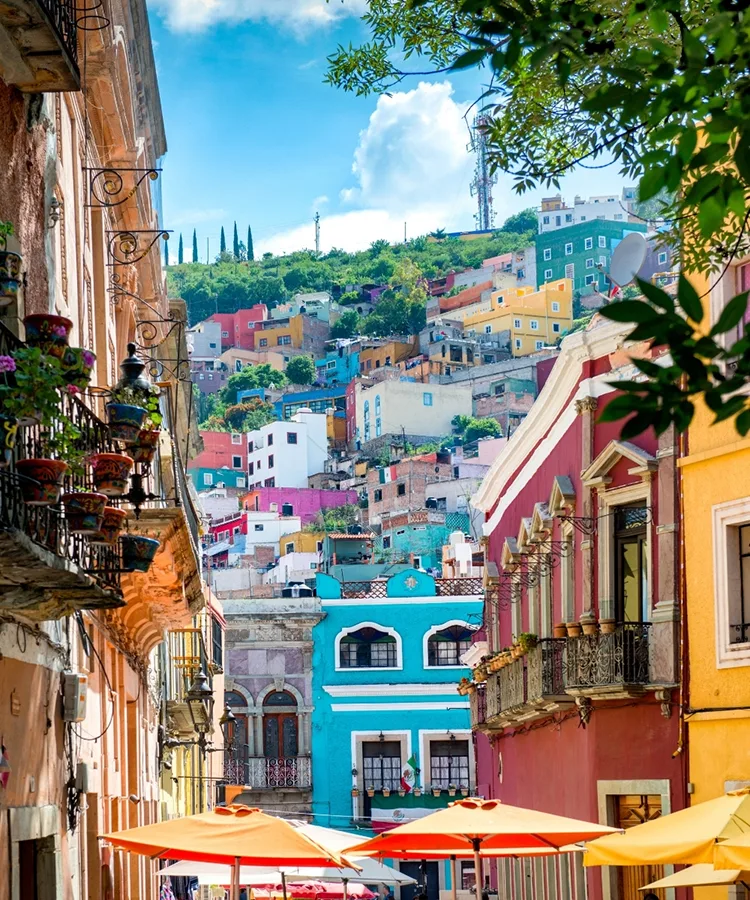 Instagrammable Guanajuato City, Mexico is considered one of the most colorful, picturesque and beautiful cities in the entire country.
Guanajuato City is the capital of Guanajuato state, and was once among the biggest mining areas of Mexico. In fact, historic Guanajuato City and its surrounding mines are a UNESCO World Heritage Site. When visiting, take a tour to see the La Valenciana and El Nopal mines.
The city itself is very walkable and one of the best things to do is wander around and find all the hidden gems it has to offer, like the Callejon del Beso (Alley of the Kiss). There are also many beautiful churches, including the iconic yellow Basilica of Our Lady of Guanajuato, and historic buildings like Teatro Juarez and the University of Guanajuato.
Spend some time relaxing in the Jardin de la Union (Union Garden), located just in front of the Templo de San Diego church. There are often musicians playing and vendors selling street food and art at this lively park in the center of town. Then, take the funicular (cable car) up to the Monumento al Pipila for the best views of the city.
For a unique experience, head to the Guanajuato Mummy Museum. This is the most visited of all Guanajuato City's sites and it has 100 actual mummies inside.
Located in Central Mexico, about four hours by car from Mexico City, and three hours from Guadalajara, Guanajuato makes the perfect weekend getaway. You can also combine it with visits to nearby San Miguel de Allende, Queretero, Peña de Bernal, Dolores Hidalgo, and more, to see even more of the best hidden gems in Mexico.
By Shelley Marmor From Travel Mexico Solo
Mineral de Pozos
Not far from Guanajuato City, you'll also find another hidden gem in Mexico.
Once a thriving mining town, Mineral de Pozos is what you could call a ghost today after operations ceased decades ago.
Thanks to tourism, Pozos isn't completely abandoned anymore, but walking through its colorful streets still feels quite deserted! All around town, you can also find hundreds of ruins of mines, some of which are open to the public and can be explored!
Moreover, Pozos is also home to one of the few lavender fields in Mexico, not to mention there is an actual beer spa!
READ MY GUIDE TO ALL OF GUANAJUATO'S PUEBLOS MAGICOS HERE!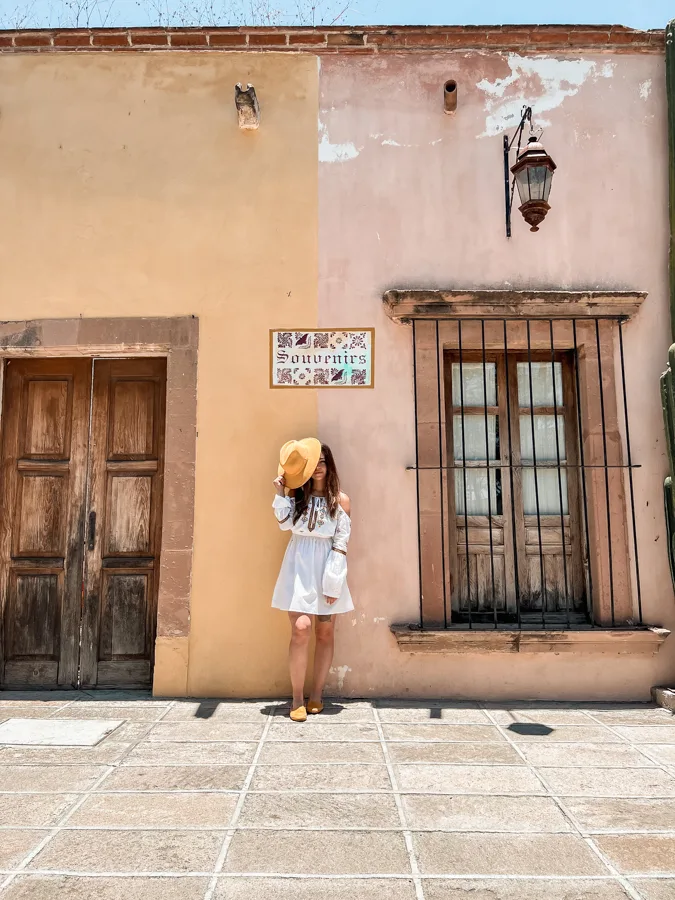 Merida
The capital of the Yucatan state, Merida has become one of the best cities for digital nomads, travelers and expats in Mexico! The city offers a wonderful mix of Spanish colonial architecture and traditional Mexican culture, with a dash of modernity as well.
Not only is the city itself aesthetically pleasing and brimming with fabulous restaurants and bars, but there are numerous things to see and do around Merida — making it an excellent base for day trips.
One of the best things to do when you first arrive in Merida is to join a walking tour of the city. Free Tours offers one every day at 10:00am and is a great introduction to the city. The tours are free, but a tip is expected.
Once you have your bearings from the walking tour, you can head off to explore some other areas of Merida, including the pretty Paseo de Mantejo street, the Municipal Markets, and of course, day trips.
Don't miss a trip to Progreso Beach, the Pueblo Magico town of Izamal, and the impressive Uxmal Ruins. Merida is one of the larger cities in Mexico, but it still has small town vibes.
By Dariece Swift from Goats On The Road
Puerto Escondido
Located on Mexico's Pacific Coast is the small surf town of Puerto Escondido. While a popular destination for pro-surfers, Puerto Escondido is actually an amazing place to visit in Mexico for anybody! The various nearby beaches are great even beginner surfers and it's the perfect place to learn and take lessons.
But besides surfing, there are lots of amazing things to do in Puerto Escondido. Do the night tour to swim with bioluminescent plankton. Also, be sure to get out on the water for a day of spotting dolphins, huge pods frequent the area and you'll likely see giant sea turtles, too. Playa Bacocho is a beach that is a sea turtle sanctuary too and every afternoon you can visit at 5 pm and help release baby turtles into the ocean.
Puerto Escondido is also a very relaxing beach town with tons of affordable and nice places to stay. There are plenty of amazing restaurants around and the town is known for its vibrant nightlife. Truly, it's well worth checking out for yourself!
By Bailey from Destinationless Travel
Sierra Gorda
Not many travelers include the Sierra Gorda in Queretaro in their bucket list, but I hope this will change with this post, as this is one of the most unique hidden gems in Mexico and deserves much more attention.
With a unique diversity of ecosystems where semi-desert meet oak forests and large cliffs rise above flat barren lands, this region is like a wonderland for nature and history lovers, packed with dreamy landscapes dotted with majestic waterfalls, soothing rivers, and breathtaking lookouts, but also old monasteries in the middle of nowhere witnesses of their history, you will need at least 3 days to explore and enjoy it fully.
The most spectacular places to visit in this region are the waterfalls of el Chuveje and Puente de Dios, the 5 old Franciscan missions, and the breathtaking views from the highest mountain point of the Sierra Gorda, Cuatro Palos. Those who love extreme sports will enjoy rappelling adventures and thrilling mountain biking trails.
You can either stay in Pinal de Amoles, as I did, and from there take tours every day to different areas, or you can stay in one of the eco camps available in the region and ask them to organize your tours to the other places, or just explore as you move around if you have your own car.
In any case, I would suggest you should hire a local guide that is an expert in the area, for a better understanding of the local environment and history. This way you will also support the local communities and contribute to their efforts to preserve the environment.
From Isabella @ Let's Travel to Mexico
Valladolid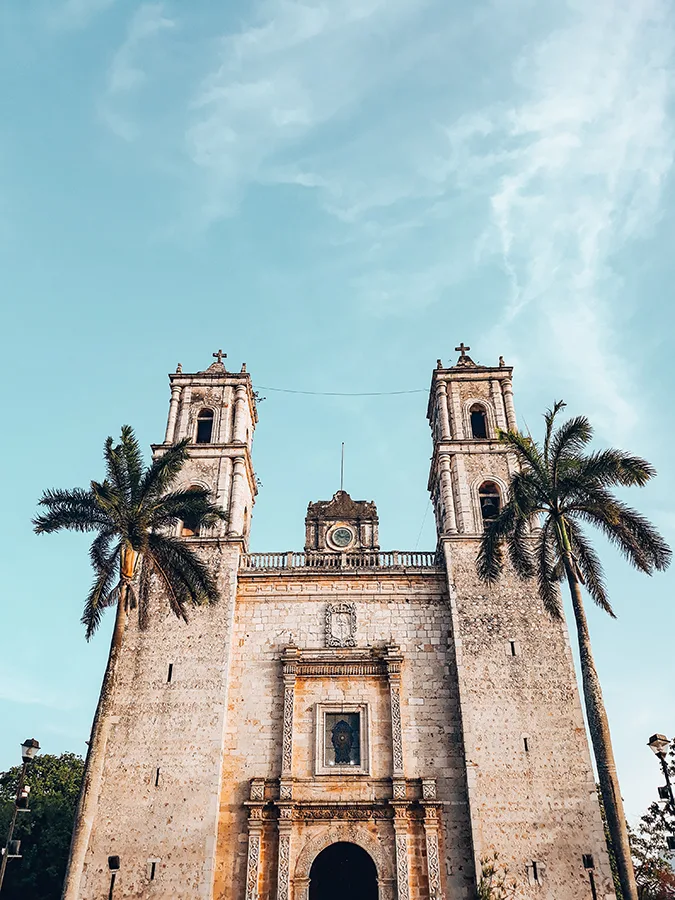 Valladolid is a charming Spanish colonial town in the Yucatan Peninsula, about two hours from both Merida and Cancun.
Even though the small town has become increasingly popular in the past years, Valladolid is still an authentic and budget-friendly travel destination in Mexico. Despite its small size, there are numerous things to do in Valladolid and around.
The best activities include taking photos of the colorful houses in the street Calzada de los Frailes, buying fresh food at the Mercado Municipal, or visiting the famous church Iglesia de San Servacio, which is located at the main square.
On top of that, Valladolid is well-known for its beautiful cenotes. Cenote Zaci, which is located in the middle of the town, is the perfect spot to take a refreshing swim and escape the Mexican heat. Cenote Suytun and Xkeken, which both show magical rock formations, are also worth visiting. Once in Valladolid, you should not miss taking a day trip to Chichen Itza as well. The famous Maya ruins, which belong to the new seven wonders of the world, can be reached after a short drive of 30-40 minutes.
From Carolin Klein @ Happy When Abroad
Taxco
A short ride southwest of Mexico City, you'll find one of the most underrated hidden gems in Mexico.
Best-known for its silver production and jewelry making, Taxco is also home to beautiful colonial architecture and the marvelous Santa Prisca de Taxco church. Designed in the Churrigueresque style, an elaborate 18th-century architectural style also sometimes called "Ultra-Baroque," visiting the church will be one of the highlights of your visit.
Taxco feels like you are traveling back in time, with small white taxis navigating the narrow, cobblestoned streets and quaint architecture surrounded by imposing mountains. While here, don't miss out on visiting the historic home-turned-museum at Casa Figueroa and the Museum of Religious Art, which doubles as a museum of Taxco's history.
Spend some time meandering around the winding streets and pop into jewelry stores for some window-shopping, taking in what is said to be the Western Hemisphere's best silver. Be sure to grab a bite to eat at delicious local restaurant Rosa Amaranto, and enjoy the wraparound views of Taxco from its rooftop seating, and spend some time people-watching in the Zocalo.
From Tegan and Alex @ Why Not Walk Travel Guides
Don't forget to get travel insurance for your trip! As always, I recommend HeyMondo for great prices and coverage abroad. Check them out here. You can also get 5% off if you book via this link!
YOU MAY ALSO LIKE:
Oaxaca City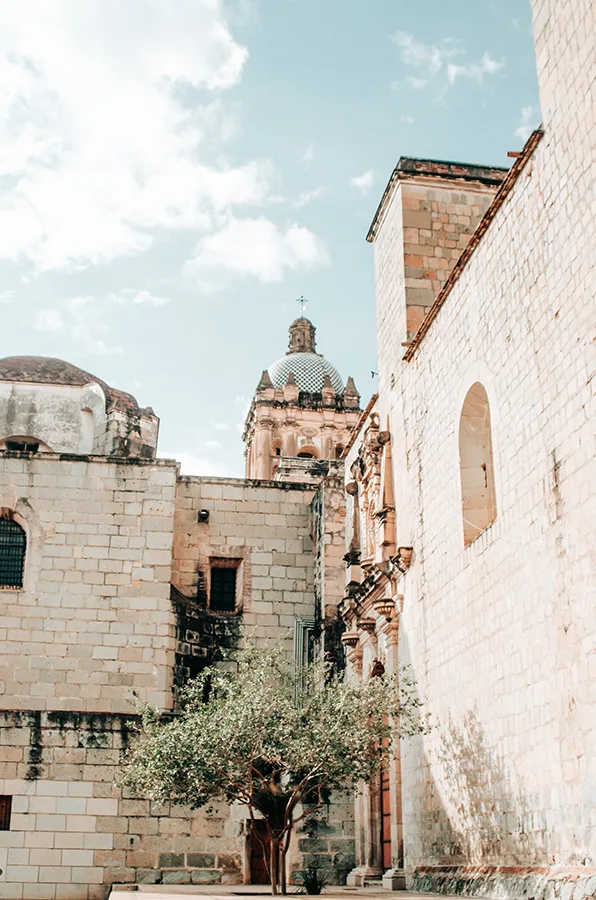 Located in southern Mexico, Oaxaca City is a colonial city with beautiful Spanish architecture and churches throughout. It's also a place whose people are particularly connected to their indigenous roots, the rich traditions of which infuse captivating energy into the city.
Between the colorful markets, incredible food, and lively street parades, Oaxaca often feels like it's in the middle of a fiesta. It's a lovely city to explore on foot, passing through different neighborhoods while stopping to admire the vibrant street art.
There are also many day trips from Oaxaca that you can explore on your own or with a tour. Most are within an hour bus ride of the city and include several points of interest along the way.
Spend the day hiking and swimming at Hierve el Agua, an infinity pool that sits atop a petrified waterfall. On the way back, stop to explore a mezcal distillery to learn the entire process from field to bottle. Or discover ancient Oaxaca with a visit to one of several nearby ruins such as Monte Alban or Mitla.
Oaxaca is a city that beautifully blends its past into a historical modern city. If you want to discover a hidden gem Mexico, put Oaxaca at the top of your list. There are natural places to discover, ancient ruins to explore, and mezcal to drink!
From Julien Casanova @ Cultures Traveled
Sayulita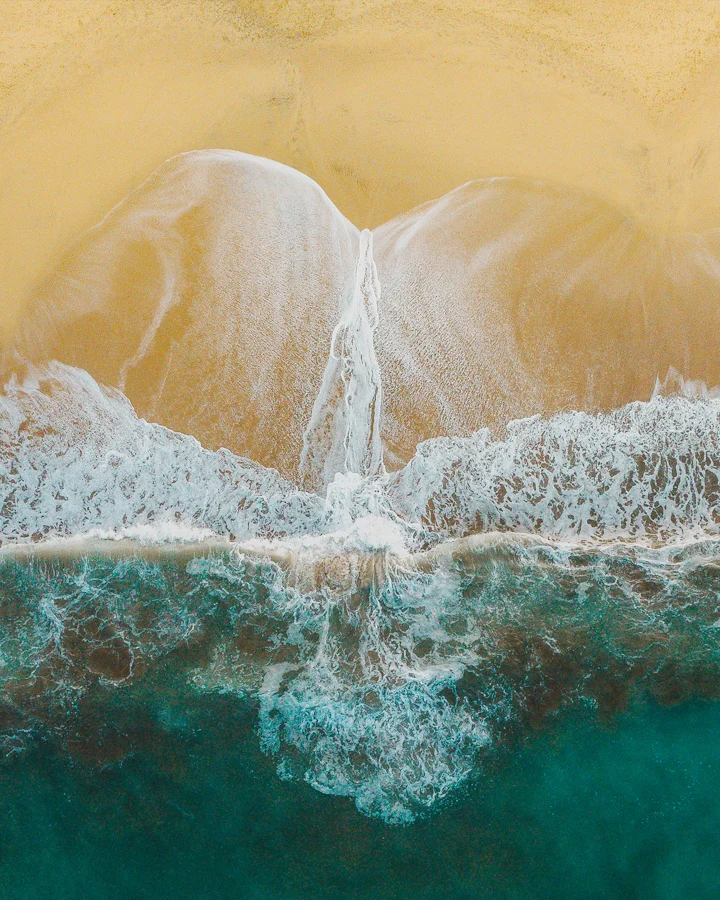 Drive just an hour away from Puerto Vallarta and you'll find the bohemian town of Sayulita, known for its surfing, amazing food scene, and colorful streets. It's a vibrant town offering affordable, yet stylish accommodation in boutique hotels and Airbnbs, rather than expensive all-inclusive mega-resorts. Sayulita is definitely one of the best hidden gems in Mexico when it comes to beach destinations.
There are many fun things to do in Sayulita. Try out surfing and book a lesson with Lunazul Surf School or rent beach chairs and sunbathe at Playa Sayulita, located right in town. At Playa Sayulita, there are beach huts where you can get a relaxing massage. They are inexpensive and such a treat right on the beach.
In town, you will find plenty of boutique stores selling bohemian clothing, jewelry, and unique artisanal products.
If you are a fan of the show Bachelor in Paradise, you may be excited to book a stay or spa package at the Playa Escondida Boutique Resort, where the contestants stay on the show! When the show is not filming, the resort is open to guests. It's located in a remote beach cove 10 minutes away from town and has its own private beach.
From Cecily Protsack @ Groovy Mashed Potatoes
Bacalar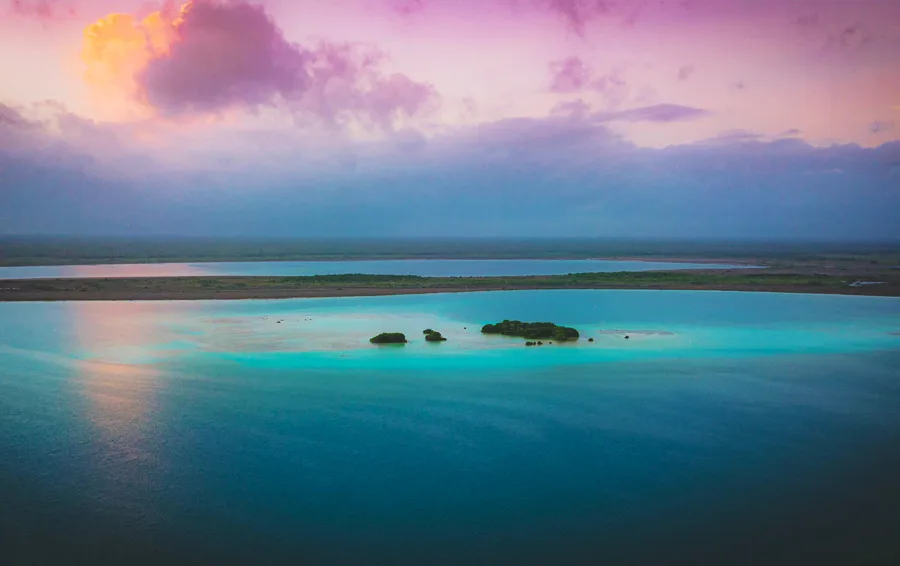 Located on the eastern coast of Mexico just north of the Belize border, Bacalar is one of the most beautiful and underrated destinations in Mexico. Known as "Laguna de Los Siete Colores" (Lagoon of the Seven Colors), Bacalar is a massive natural lagoon that is perfect for a relaxing and tranquil getaway. It gets its name from its varying depths and different shades of striking turquoise blue water.
Bacalar is also designated as one of Mexico's "pueblos magicos", which is an official distinction given to small towns that offer visitors a magical experience from their natural beauty, culture, traditions, or genuine hospitality. The town of Bacalar definitely lives up to this distinction with its incredible natural beauty and lack of mass tourism. It's a less well-known destination which makes it one of Mexico's hidden gems.
In Bacalar, there are many accommodation options located directly on the lagoon, where you spend the day relaxing on overwater swings and hammocks. For more adventurous activities, you can also try kayaking, standup paddleboarding, or sailing tours on the lagoon. Another popular attraction is visiting Los Rapidos, which is an excursion where you can float down the rapid canals of the lagoon.
From Allison Sicking @ Viva La Travelista
Todos Santos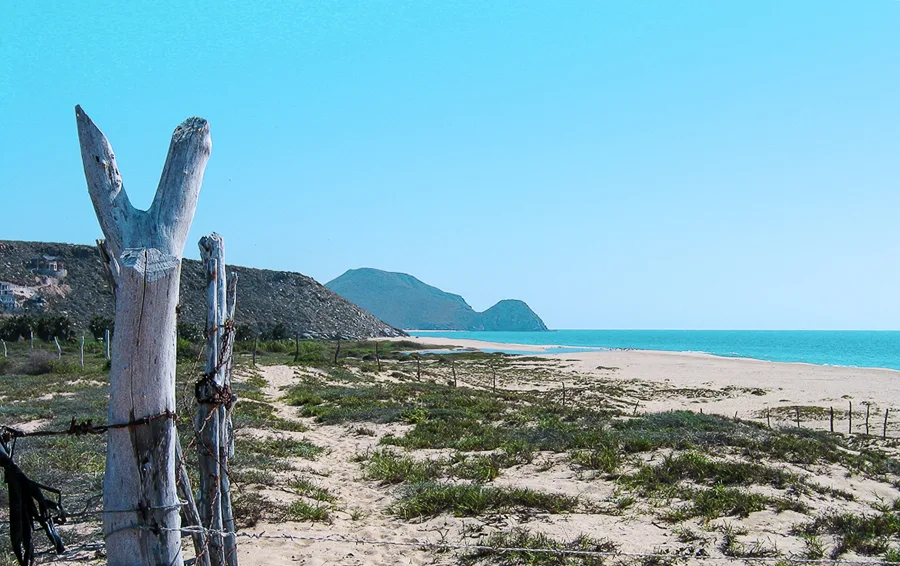 If you're looking for hidden gems in Mexico, look no further. Todos Santos is just an hour north of Cabo San Lucas on the Pacific Coast of Mexico's Baja California Sur. Founded in 1724, today the village is a mecca for artists, surfers, and lovers of Mexico's traditional food.
Todos Santos has long been known to collectors and visitors for galleries featuring paintings, ceramics, and pottery. But it's the spectacular beaches that draw ocean-loving tourists. Rent a board and paddle into the challenging world-class surf at La Pastora or take it a bit easier at Playa Los Cerritos.
One of the more fun and interesting things to do is to plan your visit at sea turtle hatching time. Hatchlings are released by Tortugueros Las Playitas, the sea turtle conservation group, almost daily from early December through April. You'll never see anything else like it.
A favorite from mid-January into March is the migration of whales. Thousands of Gray and Humpback whales can be seen breaching, tail smacking, or just swimming along. You don't have to book a tour. Pack a picnic and go to your favorite beach. The whales often swim close to the shore and are easily seen from there.
It's no longer a sleepy quiet seaside destination for just hippies and surfers. With upscale accommodations and excellent restaurants, Todos Santos is on its way to becoming a premier tourist stop. Don't wait. Book your trip before the throngs of tourists become an everyday thing.
From Lori Sorrentino @ Travlinmad
La Paz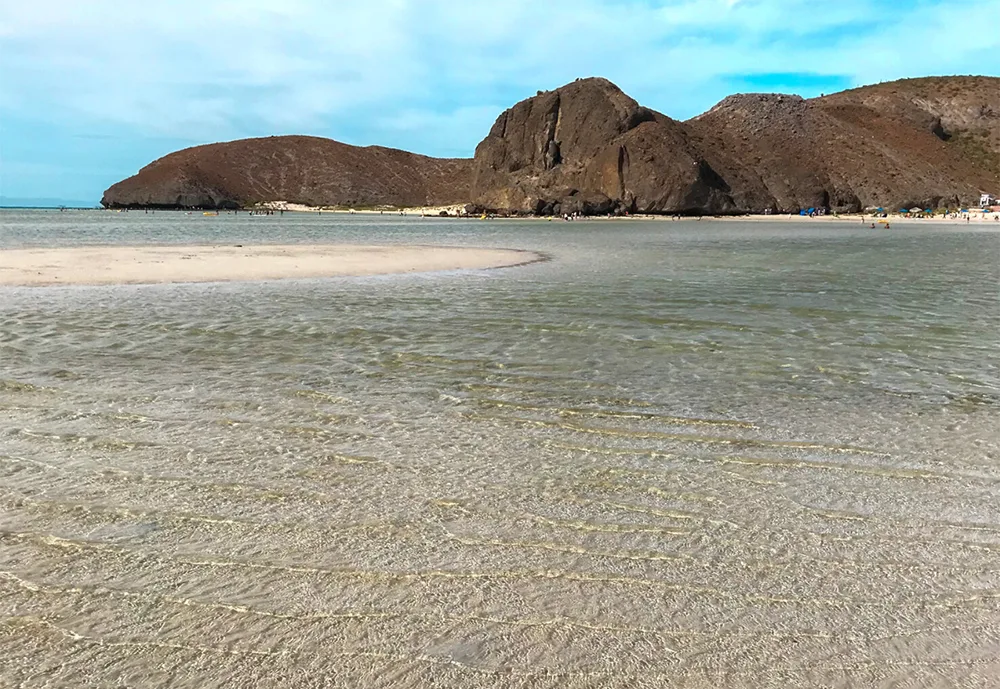 La Paz in Baja California Sur is often overlooked in favor of the luxe resorts of Los Cabos, about two hours to its south. But laid-back La Paz has some of Mexico's calmest swimming beaches, as well as fantastic day trips for snorkeling and scuba diving.
La Paz is located on the Sea of Cortez, which was once referred to by Jacques Cousteau as "the aquarium of the world." Much of this narrow sea between the Baja California Peninsula and Mexico's Mainland is protected as a UNESCO biosphere. Day trips in La Paz include visiting Isla Espiritu Santo within the biosphere to snorkel or scuba and see a colony of sea lions.
La Paz is also becoming known for its sustainable whale shark tourism, overseen by government agencies and researchers. From October through April, there are small group tours available to snorkel with whale sharks in the Bay of La Paz, often led by marine biologists as tour guides.
La Paz is also home to amazing beaches including Playa Balandra, one of the most beautiful beaches in Mexico. Located in a quiet lagoon, its calm waters are never more than waist-deep. Balandra is a hiking spot as well; climb its copper-colored cliffs for sweeping views of the lagoon's white sands and clear turquoise waters.
From Adrienne @ The Haphazard Traveler
Rosarito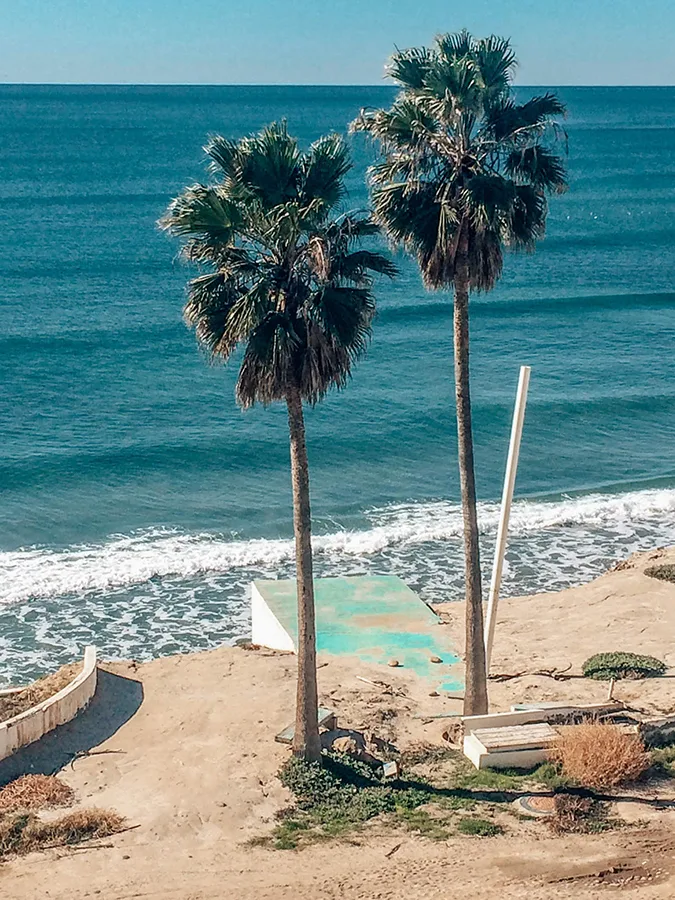 Hidden on the coast below Tijuana is a secret surfing town known mostly only by San Diego locals. If you are looking for incredible tacos and waves, then Rosarito is the perfect place.
It's a perfect weekend trip from Southern California, and it's very easy to drive across the border in your car. Just don't forget to buy car insurance before you cross the border.
The two main beaches of Rosarito, Playa del Rosarito, and Playa Santa Monica, are long stretches of beautiful sand where you can lay out in the sun or watch surfers out in the waves.
Or you can head down the colorful main street Boulevard Benito Juarez and try a taco at each of the taquerias you pass by! Don't miss Carnitas La Flor de Michoacan #2, where you can find some of the best tacos in town.
Besides beach hopping in Rosarito, there are two places nearby that will make your experience even better. The first one is a restaurant overlooking the ocean below. At Dmytri's Original La Fonda Restaurant, the food is great but the views while you're eating are incredible!

Next, just a little further down the coast in Puerto Nuevo, you'll find the best shopping street in the area as well as another colorful seaside village. If you're looking to buy something to remember your trip by, then you'll love the Paseo del Mar shopping street.

Enjoy your off-the-beaten-path vacation in Mexico!
From Dayna Brockbank @ Happily Ever Travels
Mahahual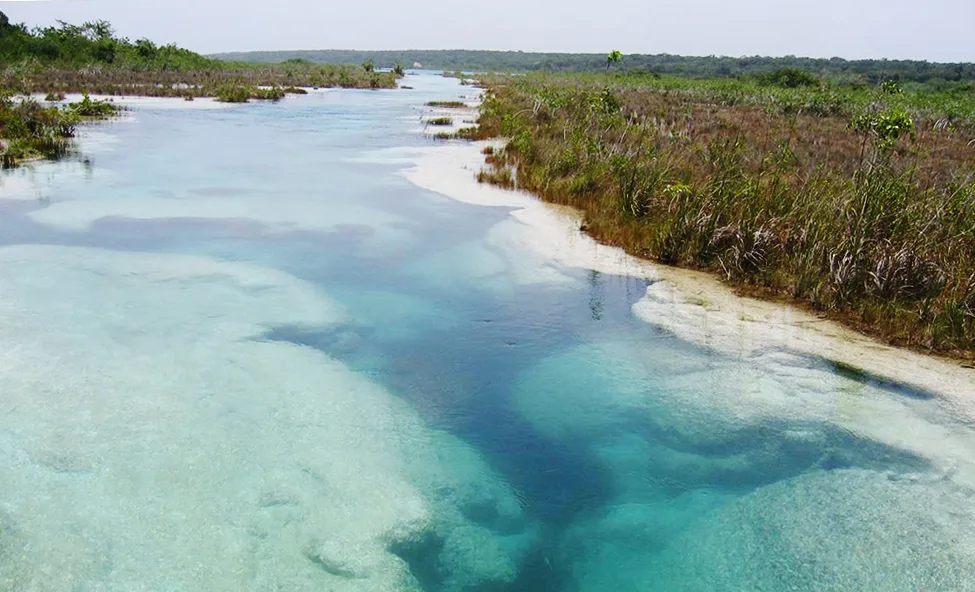 Home to the port of Costa Maya, a stop for many major cruise lines, Mahahual still manages to fly under the radar when it comes to Mexico's underrated destinations.
This quiet little beach town features a malecon, boutique hotels, and essentially desolate beaches during the week which are worth visiting. Nearby, you can visit the up-and-coming town of Bacalar and some cenotes.
Visitors should not miss some unique sites nearby. This includes the Bacalar Rapids, a rare opportunity to get up close to stromatolites. A visit to the Bacalar Lagoon, the Lake of Seven Colors is a great getaway for laid-back visitors. History fans will want to check out the nearby Mayan ruins of Chacchoben, Dzibanche, Kohunlinch, or Kinichna.
Don't feel like going anywhere else? That's okay too! Mahahual offers local tours, such as a chocolate factory and tequila tasting. This small town is deceptive because of the cruise ship port, but what you'll find (especially when cruise ships are not in port) is a small Mexican town with authentic flavor and experiences. Check out all the best things to do in Mahahual!
From Annick @ The Common Traveler
San Pancho
Located on the Pacific coast of Mexico, San Pancho is a lesser-known beach town. Many travelers visit nearby Puerto Vallarta, but make sure to add San Pancho to your travel list!
The main reason that this town is less touristed is due to the fact that the ocean isn't as swimmable as the nearby towns. However, while it may lack swimming opportunities, it more than makes up for it with the other fun things to see and do.
Take a stroll along the wide, beautiful beach and stop for some fresh ceviche under an umbrella at one of the many beachside restaurants. If golf is your thing, you'll be happy to know that there's a great 18-hole course right in town (Las Huertas)— with an amazing view of the ocean.
San Pancho offers many activities and amenities for those who want to stay a little bit longer. Here you'll find pilates and yoga classes, Spanish lessons on offer, a weekly market and if you're interested, you can even volunteer at the community center.
As the sun sets over the Pacific Ocean each evening, join the locals and tourists and make your way to the beach. Do as everyone else does and pack a blanket, a bottle of wine and if you have it, an instrument like a ukulele or travel guitar, and serenade your friends as you say goodbye to the day.
By Dariece Swift from Goats On The Road
Final Thoughts: The Best Hidden Gems in Mexico
So there you have it! Whether it's your first time traveling to Mexico or you just want to explore beyond the big tourist destinations, these hidden gems in Mexico are a great way to get to know the country in a more authentic way.
Have you ever visited any of these hidden gems in Mexico? What was your experience like? Let me know in the comments section below!