The Best Cenotes In Valladolid (That You Can Bike To)
August has been filled with some pretty kick-ass activities all over the ever-alluring Yucatan Peninsula, and one of my favorites by far has been getting to visit many of the best cenotes in Valladolid, a stunning colonial town lined by quaint and colorful buildings that sits just a short bus ride away from Tulum.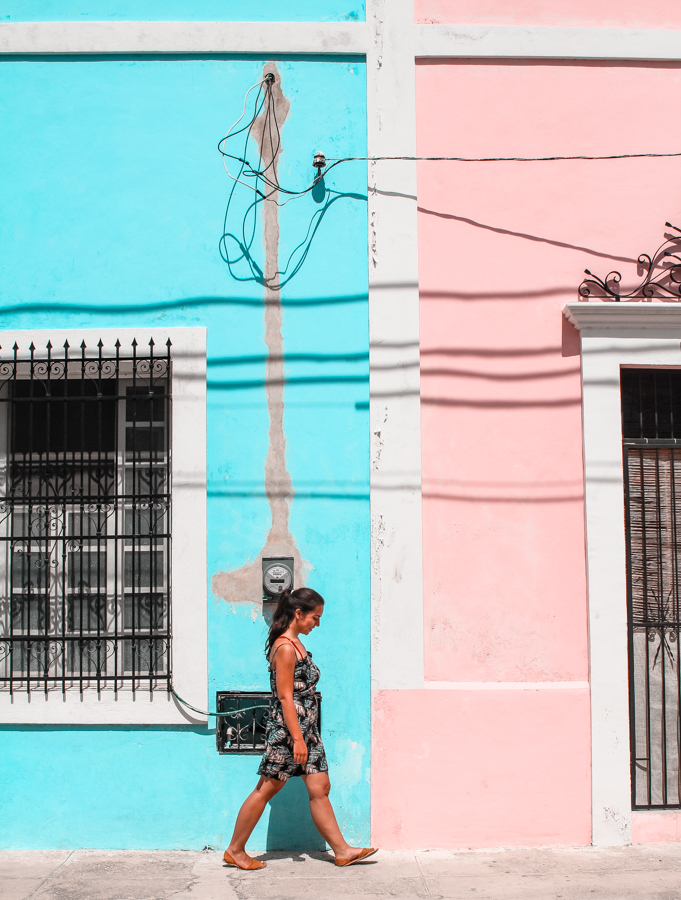 The Best Cenotes in Valladolid
What are cenotes?
Cenotes are natural sinkholes created by the collapse of limestone exposing water underneath. They're found mostly in the Yucatan Peninsula (interestingly, you'll find most of them around Chicxulub Crater, the place where the meteorite that wiped dinosaurs out is found.
Aside from their beauty, cenotes were an important cultural aspect of the Mayan culture as they were often used for sacrificial offerings, and artifacts, as well as human bones, have been found by researchers in more than a few cenotes all over Valladolid and the Yucatan peninsula in general. Eek! Check out this article on National Geographic if you're interested in learning more about this aspect of cenotes.
Seriously, cenotes are so much more than just pretty underground caves.
What are the best cenotes in Valladolid?
Going cenote-hopping is one of the best things to do in Valladolid. The town's outskirts are home to thousands of cenotes, so picking the ones you want to visit is no easy task. Luckily for us, Elvia, the co-owner of our hotel gave us some pretty cool pointers when we arrived and we set out to explore some of the best cenotes Mexico has to offer based on her recommendations. The reason we chose to see these ones was that they were so close to Valladolid that we could easily see them all in one day and more importantly, we could get to explore them independently and get to them on a bicycle!
San Lorenzo Oxman Cenote
This should be your first stop on your cenote-hopping endeavors and you can pair up your visit with breakfast at a hacienda.
Set just four kilometers (2.5 miles) outside of the city center of Valladolid, the cenote is tucked inside a gorgeous hacienda and has a fun rope swing for the brave ones!
San Lorenzo Oxman Cenote is a bit less popular than the other cenotes in Valladolid. If you manage to be there by the time it opens, you're very likely to get it all to yourself! We actually ended up at Oxman totally by mistake en route to another cenote when we took a wrong turn, but I am so glad we did because it was the highlight for me.
Essential things to know about this cenote:
Opening times: 8:00 am to 6:00 pm daily (I recommend getting there by 8 am, otherwise, it tends to get more crowded later on).
Cost: The entry fee to the cenote is 70 pesos, but they also have a pool-side restaurant and you can book a package for 150 pesos that includes your entry fee + discount coupon of 150 pesos at the restaurant, which was enough for a meal and a drink.
The Cenote Inside Selva Maya Hacienda
Time to head back to the main road for the next cenote on the list!
Set inside another gorgeous hacienda, this cenote boasts an underground natural pool that will make you swoon! Much like Oxman, they also offer buffet-style breakfast and lunches until five in the afternoon.
Essential things to know about this cenote:
Opening times: 9:00 am to 5:00 pm daily
Don't forget to get travel insurance for your trip! As always, I recommend Safety Wing for great prices and coverage abroad. It starts at only $45 USD per month and will have you covered with everything you may need during your trip! Check them out here.
Cenote X'kekén & Cenote Samulá (inside Dzitnup)
These are two different cenotes that are set in the same grounds and as far as striking natural wonders go, they're both sure to please. Set completely underground, they're a totally different experience from Selva Maya and Oxman, so make sure not to miss out on visiting!
The only downside to X'kekén and Samulá was that they felt a bit more touristic, with handicraft stand-owners trying to sell you something on the walk to the cenotes and tour guides touting at newcomers. Still, once you get past that, it's totally worth it.

Essential things to know about these cenotes near Valladolid:
Opening times: 8:00 am to 7:00 pm daily
BONUS: Cenote Saytun
This cenote is out of the route and hard to get to by bycicle, but it deserves a spot in this cenote guide as it's one of the best cenotes in Mexico.
Set just a fifteen-minute ride from Valladolid, Cenote Saytun (or Xibalba in Mayan language) had been off-radar for a while, but it's recently gotten popular thanks to Instagram, I'm pretty sure you've seen at least a few pictures of it already. What makes it so popular is the platform that stands in the center of the cenote – there's a point during the day where a ray of sunlight streams through the hole making the whole scene look almost other-worldly.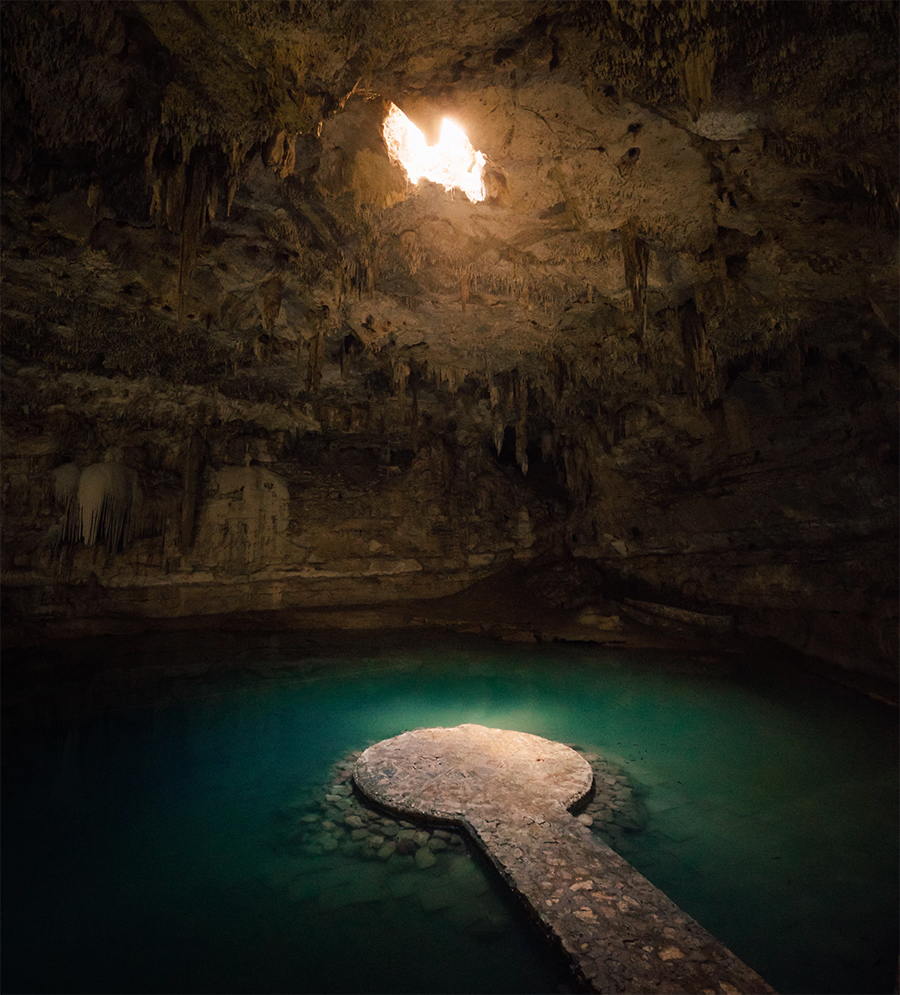 BONUS: Cenote Zaci
Cenote Zaci is another incredibly popular cenote in Valladolid. For this one, you don't need to go too far – it's set right in the center of Valladolid! If you're staying in the historic town, chances are that you can walk to it in just a few minutes, although a taxi to get here won't cost you more than 30 pesos regardless of where you are.
This cenote is half open, so it lets in a ton of light and you can easily see the stalagmites and stalactites that line the water.
There a restaurant at the entrance of the cenote, buffet-style – a perfect place to have breakfast! The entrance fee to this cenote is 30 pesos, but if you eat at the restaurant, your entry is free (included)
Where in Valladolid are these cenotes?
Here's the full route on Google Maps. The one tagged as "unnamed road" is San Lorenzo Oxman Cenote. It's set this way as there is an entrance there, but for some reason, Google Maps tries to take me further in through a much longer route.
Where to stay in Valladolid for all budgets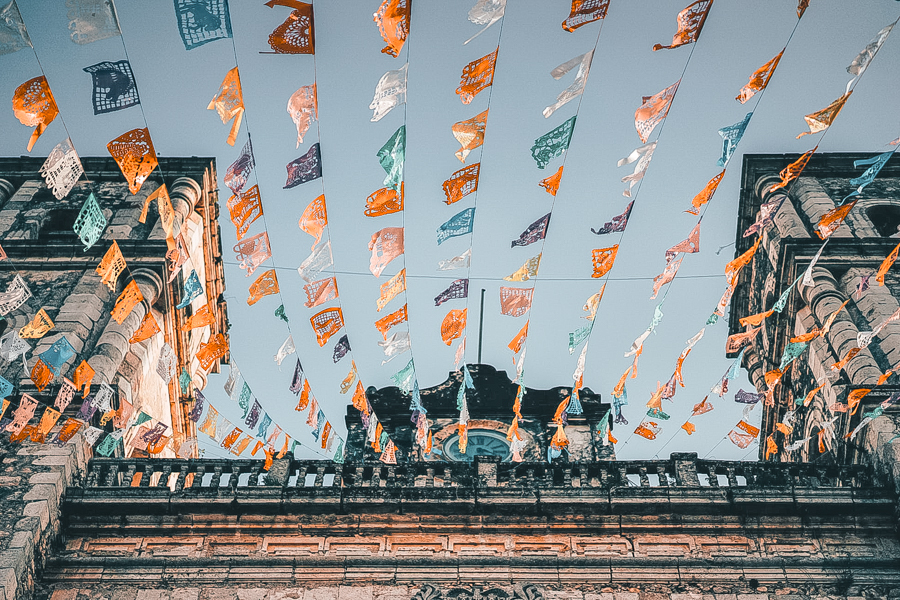 One of the things I loved the most about Valladolid (aside from its old-world charm and striking cenotes, obviously!) is that you get a pretty good bang for your buck. Unlike many other parts of the Mayan Riviera, Valladolid remains somewhat of a hidden gem in Mexico and hence, prices for accommodation in the city are significantly lower than, say, Tulum.
WHERE I STAYED: I stayed at Casa Sisal, a pretty new boutique hotel with double rooms starting at $32 and fully-equipped apartments with kitchen starting at $42. We both loved our stay here, the tiny pool was lovely, the wifi worked wonders, and the rooms were stunningly decorated and clean. Elvia, the owner, gave us some amazing recommendations on the best things to do in Valladolid.
BUDGET: For those backpacking Yucatan on a budget, Hostal Tunich Naj sounds like a pretty cool option with dorm beds starting at $7.
SPLURGE: If your budget is a bit higher and you don't want the cenote-hopping fun to end once you get back to your hotel for a break, then book yourself a room at Hotel Zentik Project & Saline Cave. Not only are the rooms splattered with gorgeous decoration, but it comes with an underground pool that looks like an underwater cave!
Renting a bicycle in Valladolid
This route will take you through four stunning cenotes in Valladolid that you can easily reach using a bicycle in half a day. There is a bike lane on the side of the road, so it's perfectly safe to do so.
I loved biking my way around some of the coolest cenotes I've ever visited and had the freedom to linger in the cenotes for as long as we felt like without the pressure of a tour guide rushing us around.
We rented our bikes for 20 pesos/hour at Calzada de los Frailes #215B
Travel insurance for Mexico
→ If you're still on the lookout for travel insurance for your trip, I highly recommend Safety Wing.
Have you ever been to any of these cenotes in Valladolid? Let me know which ones were your favorites!
Looking for more amazing things to do near Valladolid?
Check out my post about Las Coloradas, Mexico's pink lakes set just an hour and a half away north from Valladolid. Another place I love that is not too far from the city is Holbox Island!