Back when I was a teenager, I stumbled across a set of pictures of Lake Retba, a pink lake in Senegal and I became obsessed, not knowing that there were lakes just like it in my own country.
Just like most people visiting Las Coloradas nowadays, I found out about the existence of Mexico's pink lakes via Instagram and have visited them twice since then. It's pretty crazy to think that Las Coloradas used to be one of the biggest hidden gems in Mexico (like, virtually nobody knew about them) until up to a few years ago.
I decided to put together a guide in which I answer every possible question you might have about visiting Las Coloradas. From how to get there by bus, to where to stay, and yep.. whether or not visiting Las Coloradas is even worth it!
This post is LONG, but I'm convinced it's the most complete guide to Mexico's pink lakes out there since I made sure to include everything about the newest tour available as well as how to get there by public transport since I couldn't find any information on either when planning my trip.
Let's dive into what it's like to visit Las Coloradas!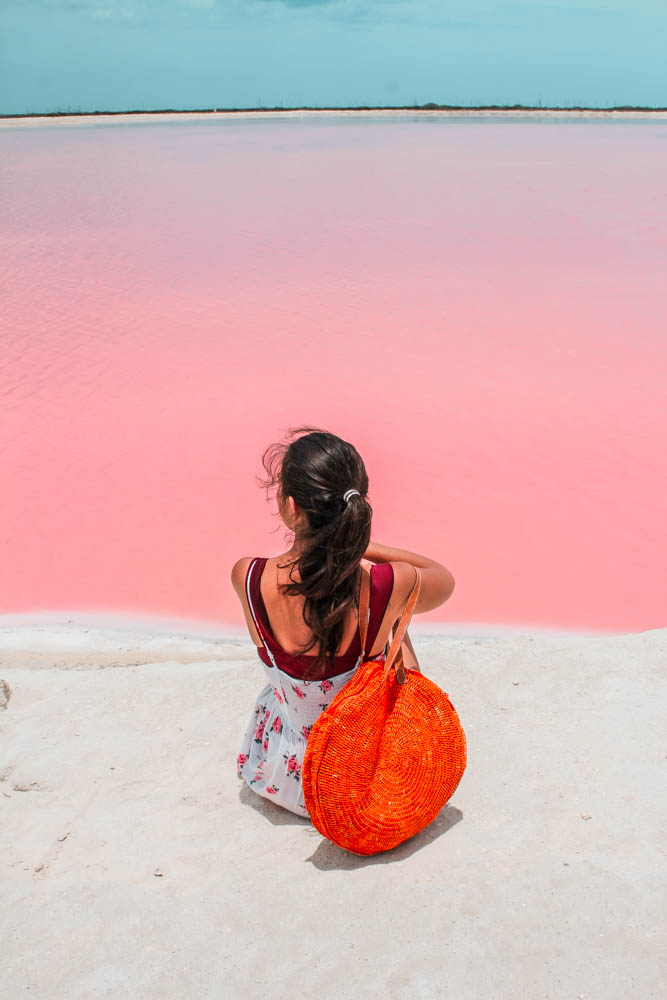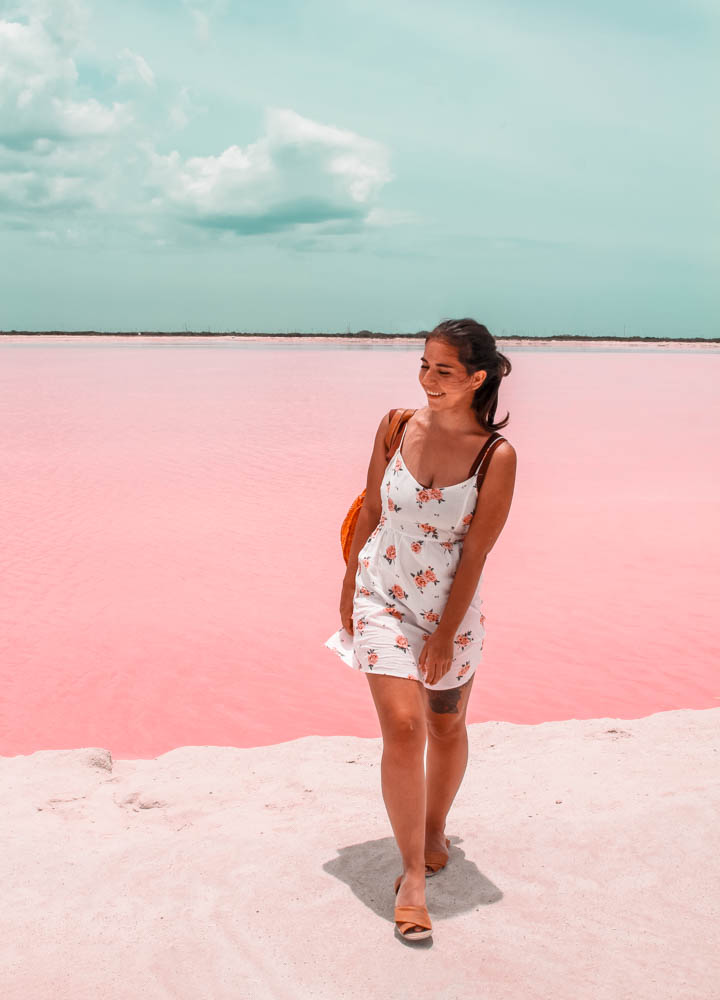 Are Las Coloradas Worth Visiting?
I'm not going to lie. The first time I visited Las Coloradas, I was very disappointed. Back then, I would have told you that visiting Las Coloradas isn't worth it at all. It's so far from everything and honestly? The water didn't even look that pink the first time I visited – it was cloudy, it had been raining all week, and well, yeah… it wasn't worth the three hour drive from Tulum at all.
Fast forward to July 2019 and I visited again. I was traveling with a friend and she had seen pictures of the lake and convinced me to give it another chance and MAN ALIVE! This time around, the water looked so pink that I actually wondered for a second if I was dreaming or something.
Whether or not Las Coloradas are worth visiting totally depends on your interests. If you want to visit for a killer picture, then it's definitely worth it given that you choose the right time to visit (more on that below). If you, however, just want to experience a striking lake – it might not be worth your time. Ultimately, the pink lake of Mexico is set inside a salt factory, and the surroundings aren't that pretty (they're often not shown in pictures) – the main pink lake is incredible, but it does look way more romantic in photos than it does in real life.
BUT, and yes, there's a big but, visiting Las Coloradas is totally worth it if you opt to take one of the locally-organized tours rather than visiting just the first lagoon.
So, listen – I'm not a tour type of girl. I love to do things independently but on this one occasion, I'll admit taking a tour was the right decision – It was a blast! I'll tell you all about it further down the post, but to keep things short for now: we got to visit more lakes inside the factory – some were pink, others were yellow, and some were even orange and oh, we got to see TONS of flamingos. How cool is that?!
You can book this on arrival for as low as $200 pesos per person – a steal for what you get (especially when you consider the $50 peso entry to the pink lagoon is included already).
Can You Swim In Las Coloradas?
Swimming in the pink lake of Las Coloradas is not allowed for two reasons. The first being for your own safety – the saline levels can sting, especially if you have any wounds and the temperature of the water can usually get over 40 degrees celsius. Secondly, salt is actually extracted from the lake and dead skin can fall off while you're swimming – this salt is packaged, sold, and later consumed.
There is now added security here due to people not following the rules and being plain assholes just to get a cute shot. Las Coloradas was never meant to be a tourist attraction – it just sort of happened. This is a privately-owned salt factory and the owners are kind enough to let visitors take a look. I mean, they could have easily built a fence around the lakes to keep people away, but they didn't. Let's be respectful visitors to ensure they don't ever need to take these measures and that more people can come and visit this fascinating spot in Mexico.
That being said, while swimming in the main pink lake of Las Coloradas isn't allowed, they recently opened a much smaller lake where visitors can swim. This lake isn't pink, it's turquoise but for me, getting to swim here was a highlight! Due to the high salinity, you can easily float here so it's sort of like a mini version of the Dead Sea in Jordan! I'll write more about this lake further down the post.
Are Las Coloradas Really That Pink?
If you've seen pictures of Las Coloradas online, you've probably wondered if Mexico's pink lake is really as pink as it looks on the photos without all the filters and Photoshop.
Here's the thing – it depends on a ton of factors! I've visited Las Coloradas twice, once in January 2018 and the second time this summer – the difference in the pinkness of the water was huge.
Here's an unedited picture of my visit in January 2018: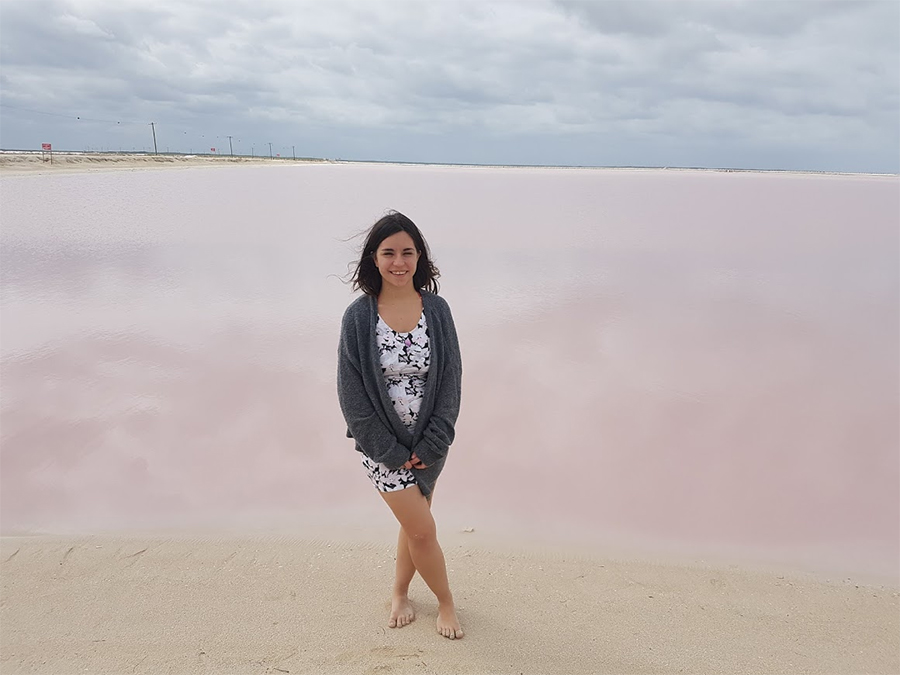 Yes, it did look kinda pink but also not really??? Definitely not as promising as the pictures we'd seen on blogs had suggested. My mom and I drove three hours from Tulum to visit Las Coloradas and to put things bluntly, I WAS DISAPPOINTED AS FUCK.
Here, though, is a totally different picture shot during my second visit. The difference was insane!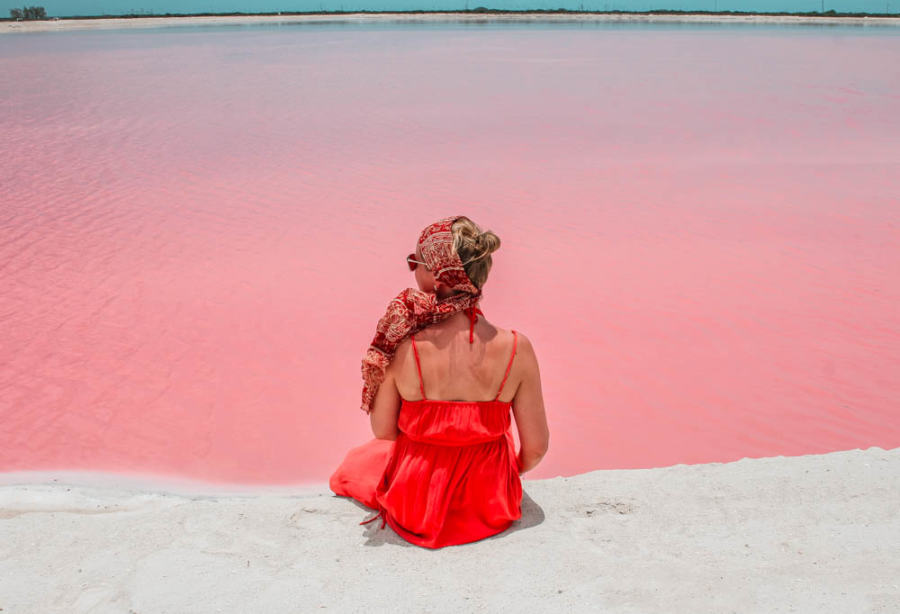 Disclaimer: Yep, it's a bit brightened up but the color of the water really did look that pink!
Factors to consider before visiting Las Coloradas:
Is it sunny? The sun plays a huge part in the water's color.
Secondly – RAIN. This baffled me at first but in hindsight, it makes perfect sense. If it's been raining buckets the days before your visit, rainwater will mix with the lake's and dilute the organisms that make the water look pink.
Thirdly, windy days are your friends. The more wind, the more the organism move, making the pink look brighter. Crazy, right? When we arrived to Las Coloradas, the lake looked pretty pink, but as we headed back and the wind hit the water, it suddenly looked even more striking. Here are two pictures of Las Coloradas shot the exact same day. The first was shot when we arrived – the sky was cloudy. The second was shot shortly after on the exact same spot – the sky had cleared up and the wind was at full blast!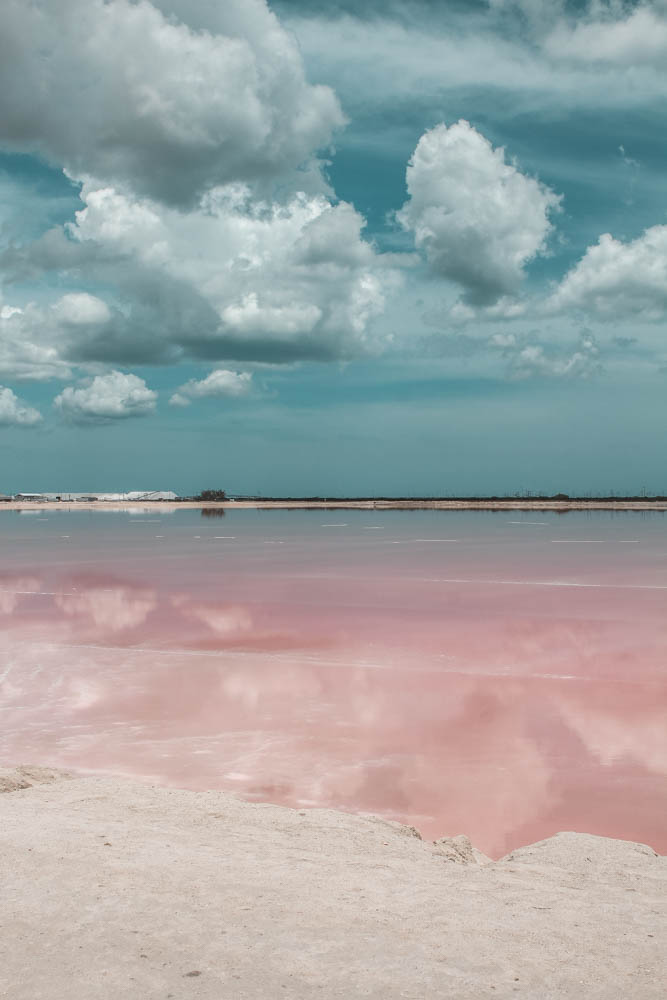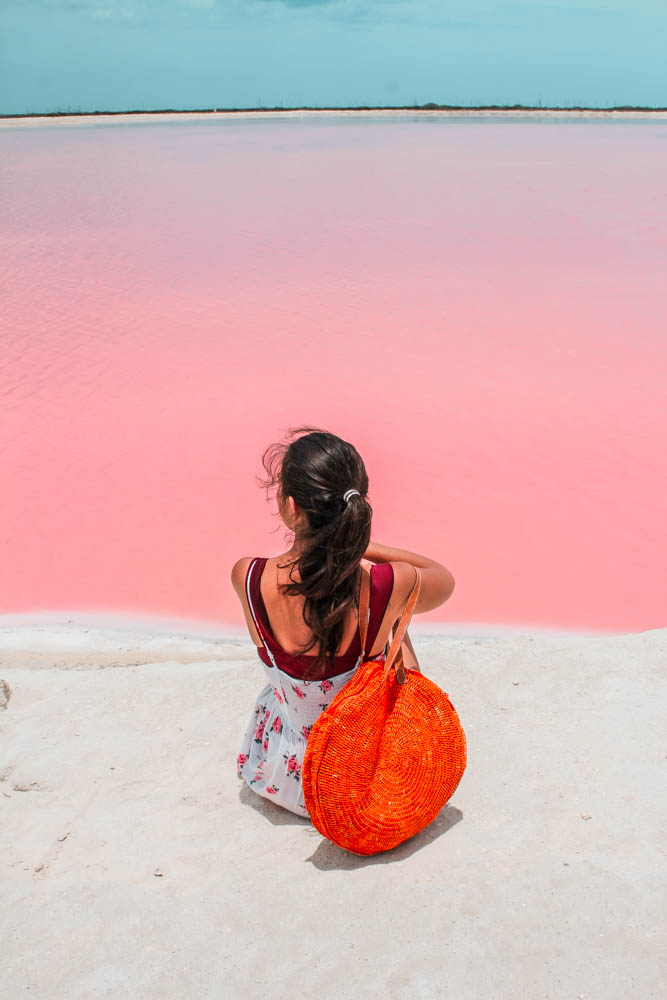 Our Tour Through Las Coloradas
I'll outline our tour through Las Coloradas below – in total, it takes anywhere from two to three hours depending on how long you take on each stop (one of the things I loved about the tour was how flexible our tour guide was, he was super chill whenever we wanted to stop somewhere to get a few shots).
The first stop iS a picture stops at the pink lagoon that initially made Las Coloradas so famous. There's not much to do here other than, yeah… take pictures!
Next up was a drive through the factory where we got to see so many other smaller lakes, many of which were full of flamingoes! I've seen flamingoes in the past, but never so up close as I did in this tour!
After a short drive, we got to our second location – a set OF insane-looking orange and yellow lagoons in which we felt we were walking through Mars!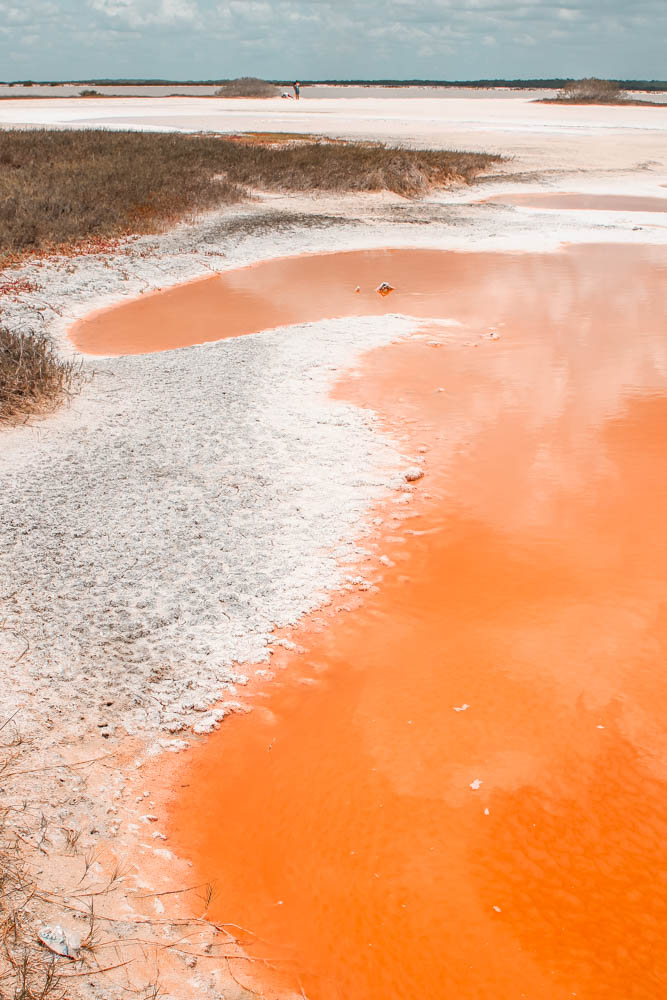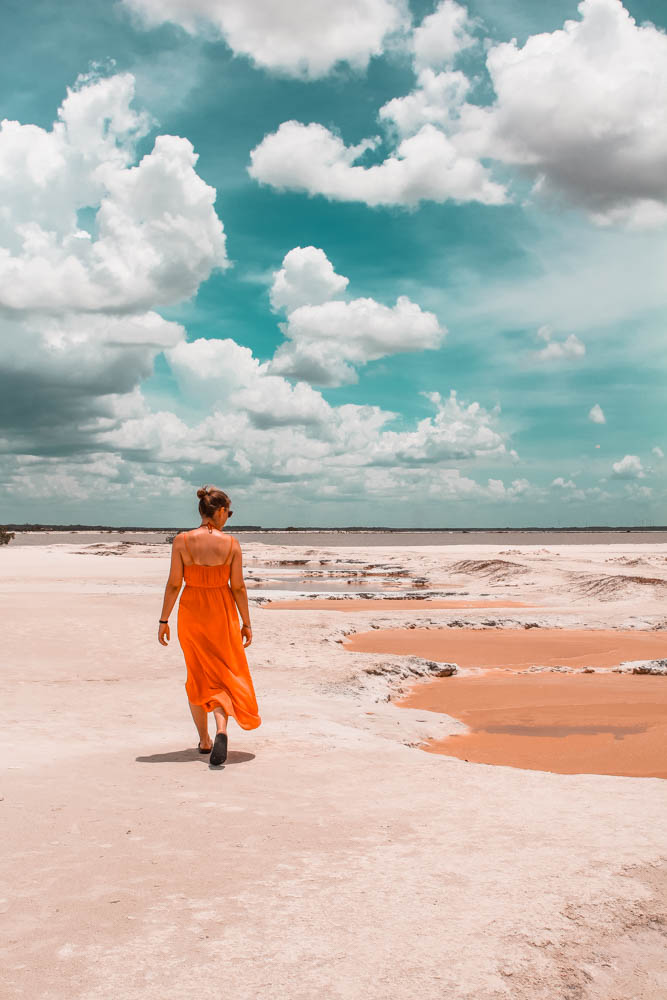 After walking through the orange lakes, we got a traditional Mayan mud bath. Okay, this sounded way better when our guide was selling us the tour. In reality, all he did was take some clay from the ground and have us splash it all over our faces, but it was still pretty interesting, I guess?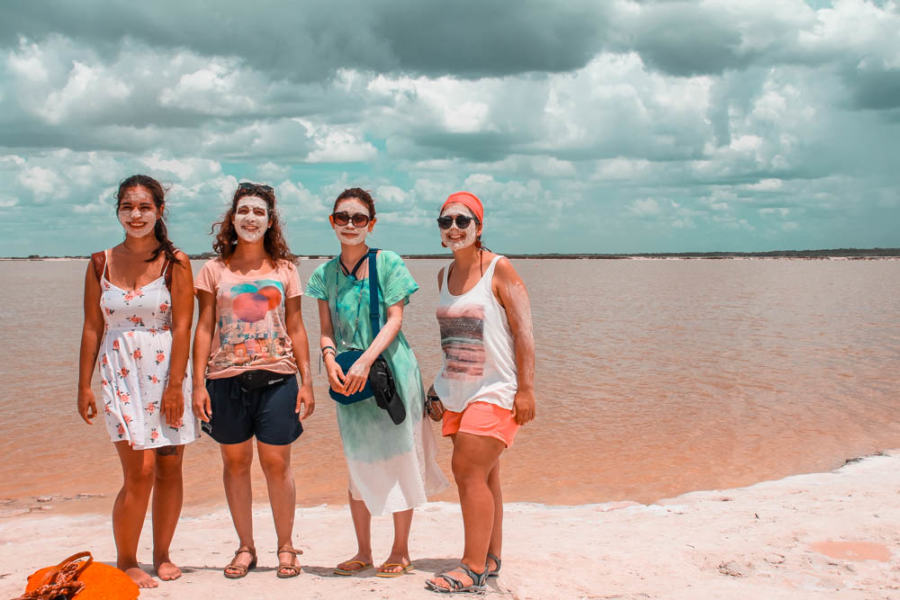 After our "mud bath" (if you can even call it that), our guide took us to a tiny green body of water where fish supposedly come up to bite off the skin from your feet. No fish came, but hey – we got to also see a green pond, heh.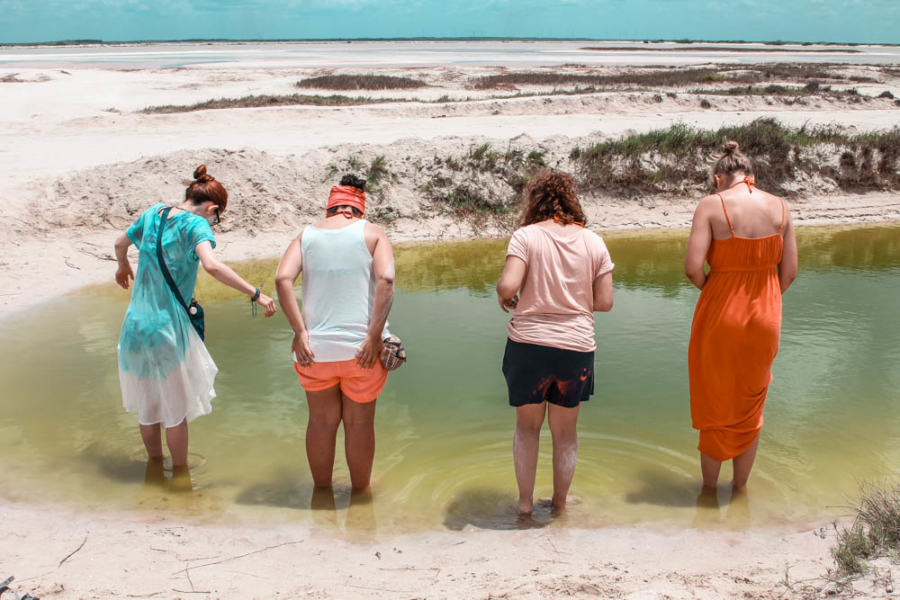 After that, they'll take you to the strip of virgin beach next to Las Coloradas – this was incredible for us since the Mayan Riviera is currently receiving an influx of seaweed and sadly, the beaches in Quintana Roo have lost their former glory. This beach, though, was free of seaweed – look at that water!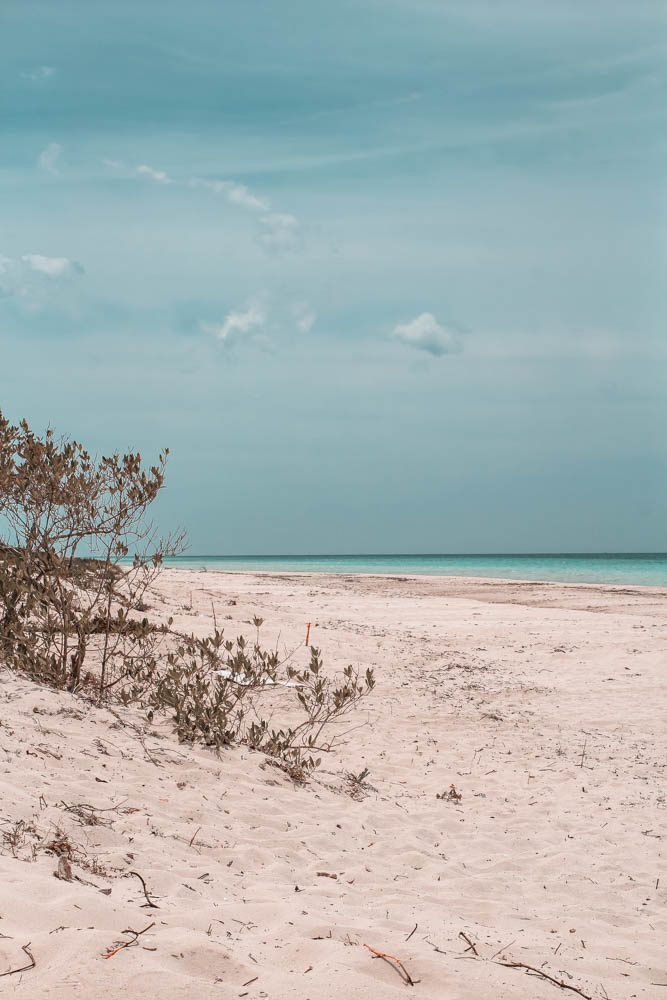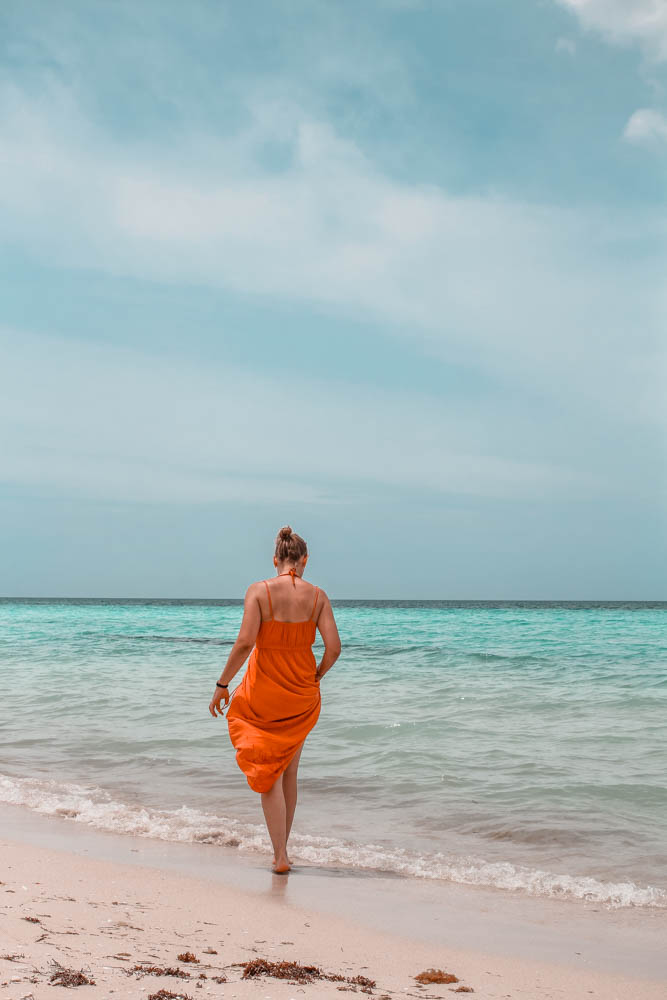 And last but not least, you'll make a stop at a turquoise-colored lagoon where you can float thanks to the high concentration of salt. Swimming in Las Coloradas isn't allowed to protect the water, but they opened this small lagoon for visitors to swim in and while it isn't pink, it was still so much fun to float around it! It reminded me of a smaller version of the Dead Sea in Jordan/Israel.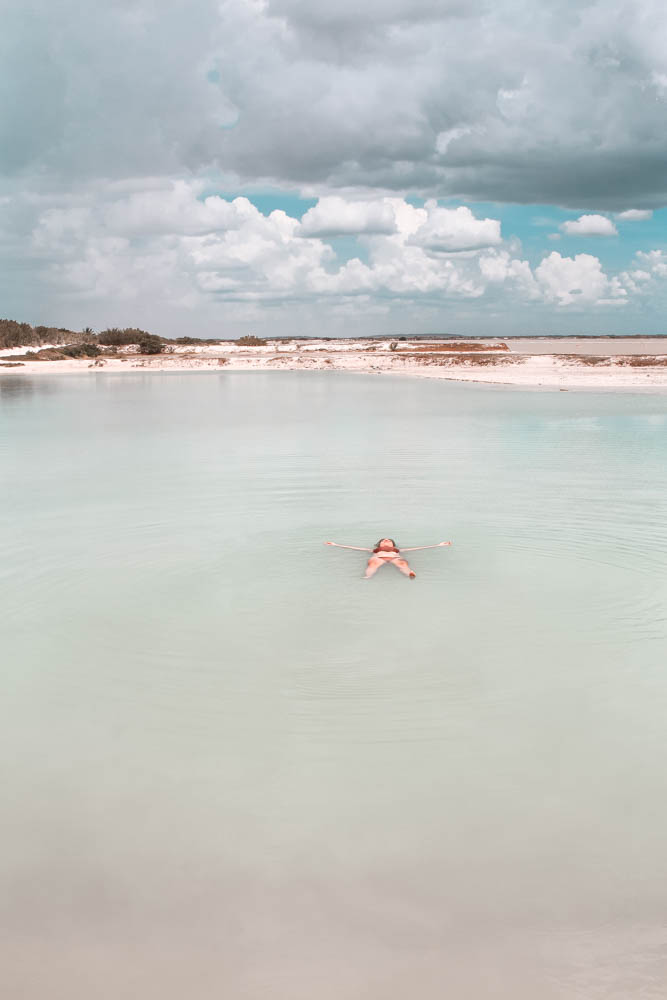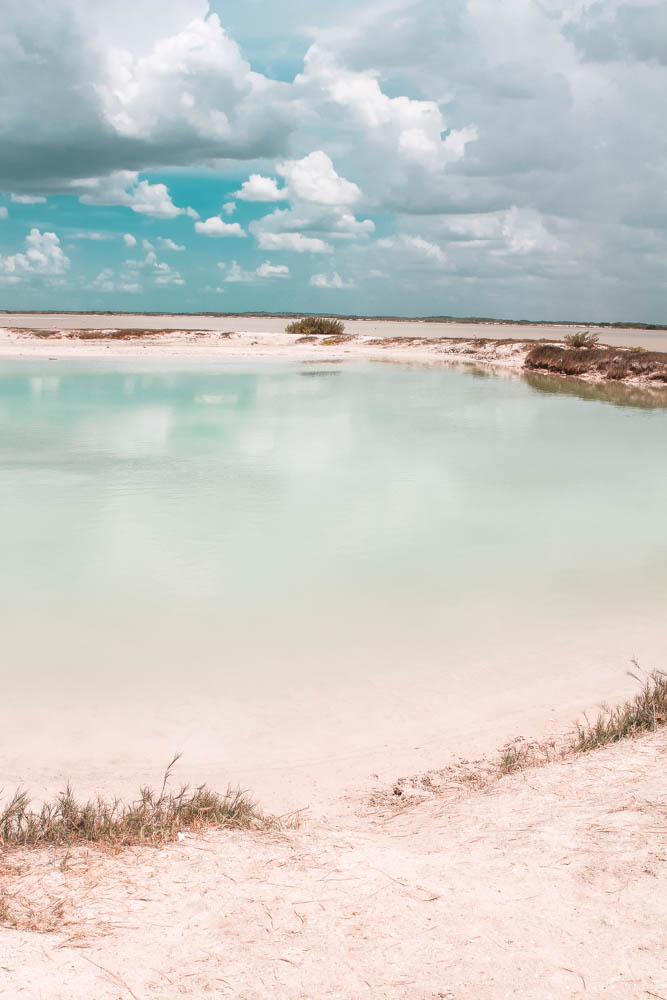 On the way back, we made a short stop at a viewpoint where flamingos love hanging out. There were hundreds of them – I've never seen so many flamingos in one spot!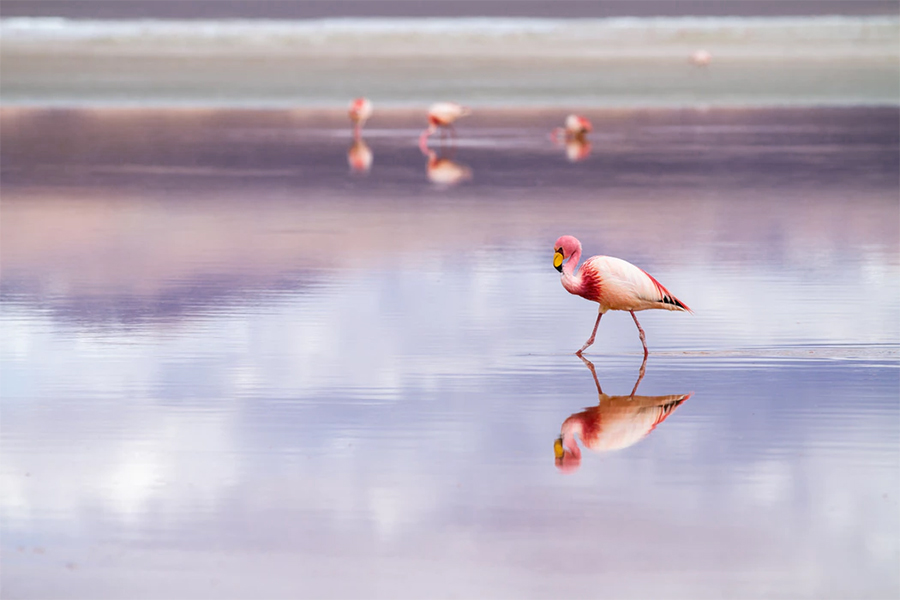 Fun fact: Did you know flamingoes are not actually pink when they're born? They get the color from a natural pink dye called canthaxanthin that they get from eating shrimps and algae.
Don't forget about travel insurance for Mexico! As always, I recommend World Nomads.
How To Book a Tour Through Las Coloradas
Doing the tour we did in Las Coloradas is super easy – you don't need to book anything in advance or make any special arrangements. We sort of just arrived and as soon as we got off the bus, we were swarmed by guys telling us all about the tour. At first, this felt sketchy as hell, but I did remember that on my last visit to Las Coloradas, one of the local guides told me they were planning on organizing full-on tours that would take people to other lakes that are not open to the public.
You won't have issues finding someone to book your tour with. Las Coloradas got so popular thanks to Instagram that the owners decided to hire local people from the village to guide these tours as a way to somehow control the influx of visitors without them having to put much effort into it. You'll know when a guy is legit because they'll be wearing long t-shirts with blue or red sleeves and a picture of a flamingo on the back.
How To Get To Las Coloradas by Bus
The first time I visited Las Coloradas, all we did was drive from Tulum and that was pretty easy. If you're doing that, I definitely recommend planning a stop in Valladolid to check out its incredible cenotes.
This time around, though, we didn't have a car and we just had to figure out how to get there by public transport. I was afraid it'd be super hard and time-consuming, but it was way easier than I thought.
We started in Valladolid, but it's pretty much the same if you're coming from Merida, Cancun, Tulum, etc. The first thing you have to do is find a bus that gets you to Tizimin. From Valladolid, we caught a bus at 8:30 at the ADO bus station. Note that you won't find this route online on ADO's website because it's not actually run by them, but Oriente Buses also leave from that terminal. Once you get to Tizimin, you have to walk to a different bus terminal called Noreste Terminal – it's just a block away from the ADO terminal(here's the exact location on Google Maps).
From the Noreste Terminal, you can catch a direct bus to Las Coloradas at 10:30 am. Let the driver know you're going to Las Coloradas and he'll drop you off right at the entrance. It's incredibly easy!
Getting back is pretty much the same process. The bus stops at the same spot where it will drop you off at 3PM – This is the only bus back to Tizimin from Las Coloradas, so make sure you don't miss it!
Where to Stay in Las Coloradas
Las Coloradas is a super small village with zero hotels or amenities. If you want to stay close to Las Coloradas, then I recommend staying in the nearby town of Río Lagartos, where you'll find tons of hotels for any budget. One of the best ones to stay at is Yuum Ha Boutique Hotel or Nirvana Blue if you're looking for a luxury stay.
And that's my guide to Las Coloradas! I hope you found it useful – I tried answering every possible question I had myself before going. Is there anything else you'd like to know about visiting Las Coloradas?
PIN THIS POST