10 Best Things To Do in Bergen, Norway
Bergen, Norway is known as the "Gateway to the Fjords" and it's a beautiful city with historic buildings, glorious mountaintops, and fantastic museums. It's one of the most popular cities to visit in Norway, and with good reason. It's absolutely beautiful, easily walkable, and full of history.
Traditionally, Bergen was a hub for the Norwegian fishing industry because of its port. And while it's still an important city for Norwegian fisheries, tourism has become an important part of the local economy.
If you are planning a trip to Norway, visiting Bergen should definitely be on your list. Here are the ten best things to do in Bergen!
10 Best Things To Do in Bergen, Norway
1. Stroll Through Bryggen
Bryggen is the most iconic area of Bergen and definitely the spot you will see all over Instagram!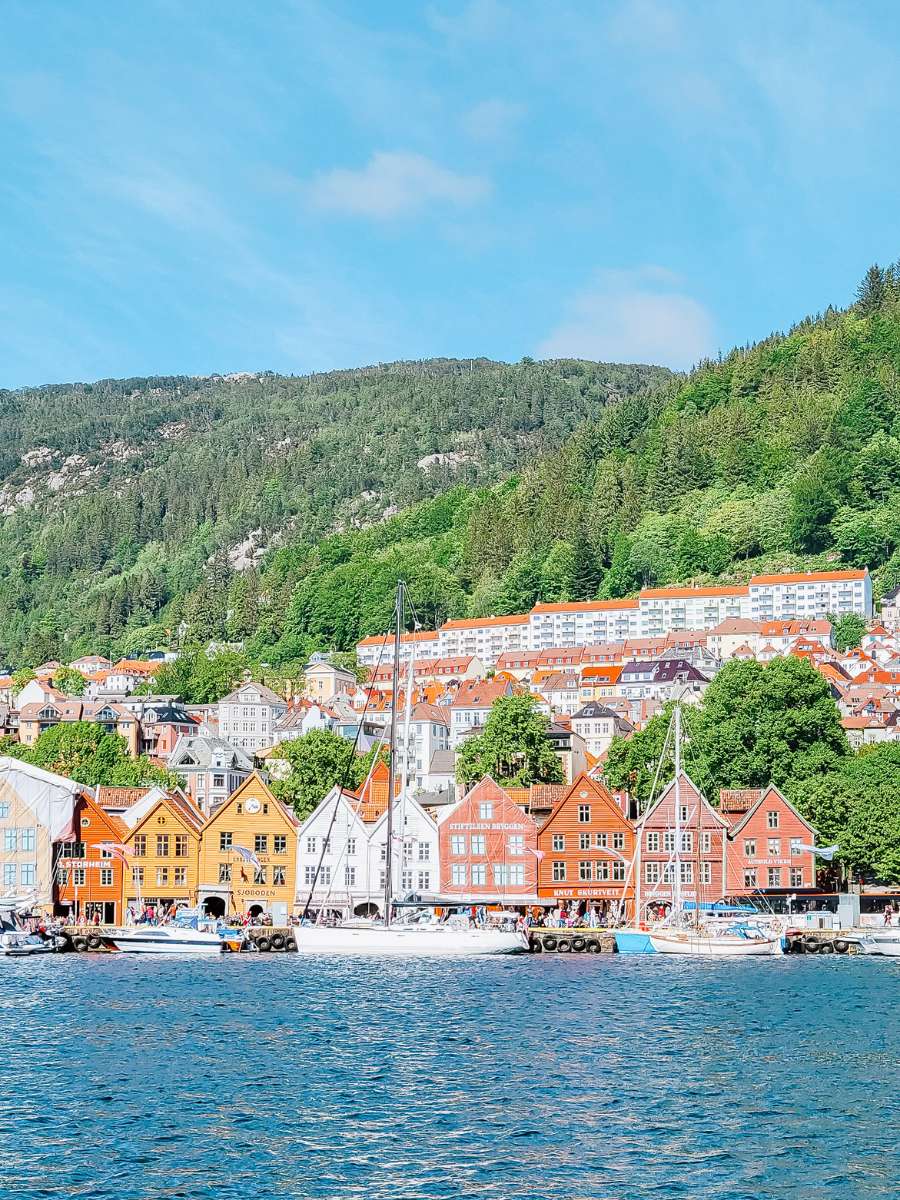 This area of town sits along the waterfront and the wooden buildings were once used as commercial buildings and warehouses for the fishing industry. Now though, you can stroll through the area and enjoy different shops and restaurants.
While the front of the buildings are what you'll recognize from pictures, be sure to stroll down the alleyways too! This whole area is lined with wooden planks, which gives it a special beauty. Plus, you'll find more unique shops and restaurants away from the main drag of the front street.
2. Explore Mount Fløyen
Mount Fløyen is the mountain that rises above the harbor of Bergen, and it is definitely a place you won't want to miss!
You can take the Fløbanen funicular to the top and enjoy the amazing views, a playground for the kids, a restaurant, ice cream, hiking trails, and more.
This is probably my favorite place in Bergen. It's covered in a beautiful Scandinavian forest, and it has a lake that's an easy hike down a paved road.
Mount Fløyen is a super popular place with both tourists and locals for enjoying beautiful weather, so don't miss it!
3. Take the Cable Car Up Mount Ulriken
You can also go up to Mount Ulriken, another mountain that surrounds Bergen.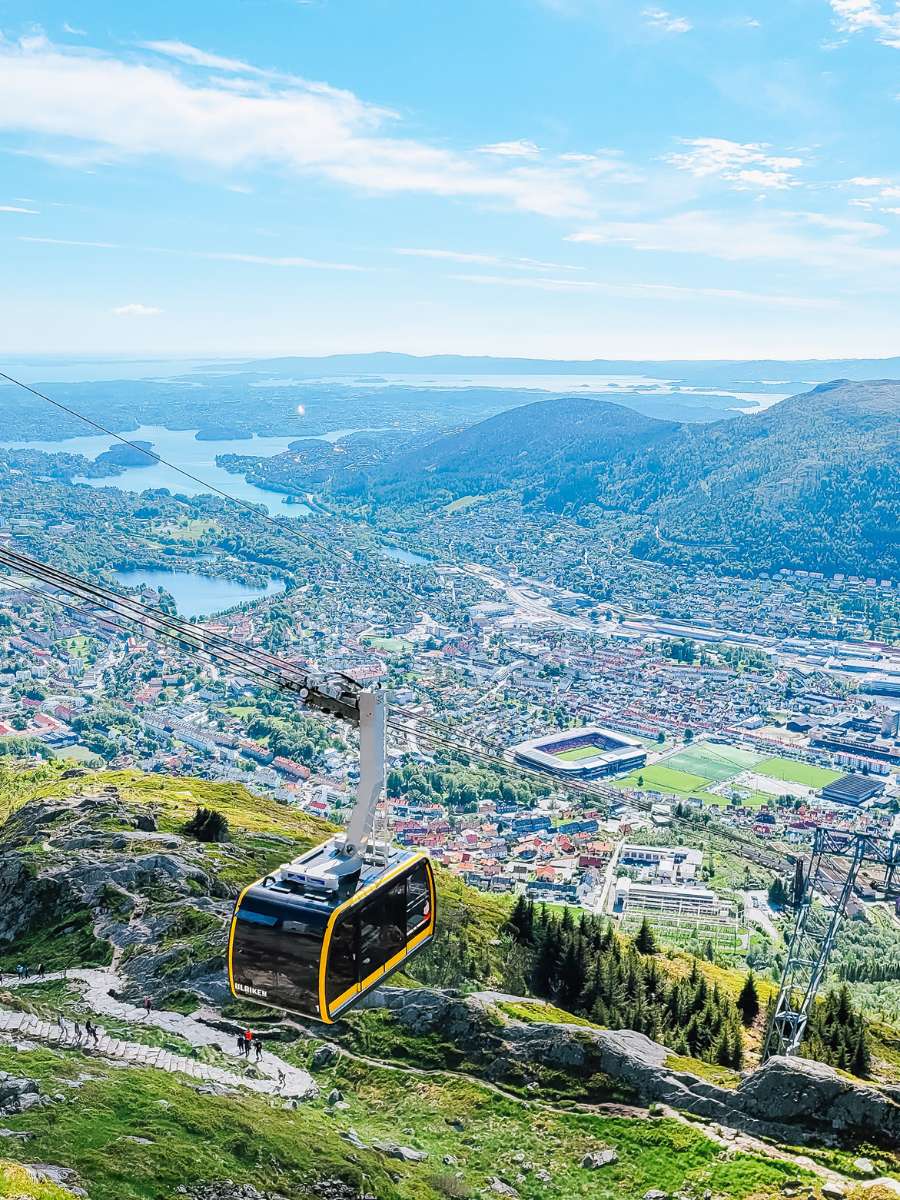 This mountain has a different feel than Mount Fløyen. Where Fløyen is covered in forest, Ulriken is covered in rocky outcroppings and scrubby brush. This means that you can get amazing views from all angles!
While you can hike to the top, the easiest way to get there is to take the Ulriken643 cable car to the top. Once there, you can explore the mountaintop with different hiking trails and enjoy the incredible views.
4. Eat at the Fish Market
The Fish Market in Central Bergen is a mainstay for the city. It's existed since the 1200s! So you'll definitely want to make a stop here.
You'll find the fish market right along the harbor in Bergen. During the summer there is an outdoor portion, but the rest of the year you can find vendors in the indoor portion called Mathallen.
You'll find fish merchants, shops, and restaurants where you can grab a bite to eat.
5. Visit the Old Bergen Museum
The Old Bergen Museum in Gamle Bergen will give you a taste of what life in Bergen used to be like.
This museum is an open air museum, where you can explore a small town that has been reconstructed with buildings dating back to the 18th century.
You can explore the homes of community leaders, go inside historic shops, and enjoy a theatrical production that takes place on the town square multiple times each day. They also have actors on-site to tell you all about Bergen's history.
And don't forget to wander around the outdoor spaces of this museum. It sits right on the fjord and has amazing views with beautiful green space you can enjoy.
YOU MAY ALSO LIKE:
6. Explore the Bergen Fortress
The Bergen Fortress is near the city center and has lots of sites for you to explore!
Entrance to the fortress is free, but you may have to pay an entrance fee for some of the museums within the Bergen Fortress.
Håkonshallen or King Håkon's Hall is one of the most popular things to see here. It's a royal hall that has been used both as a royal residence and a banquet hall, and it definitely gives you all the medieval vibes.
You can also climb Rosencrantz Tower while you are visiting the Bergen Fortress, which will give you some nice views of Bergen.
7. Visit the Norwegian Fisheries Museum
The Norwegian Fisheries Museum is a smaller museum that flies under the radar, but it is definitely worth visiting!
The fishing industry has been so important in the history of Norway and Bergen, and this museum will explain that history to you with various interactive exhibits.
Learn about how the population of different fish have changed through the decades, what life for a fisherman is like, how fish processing and packaging works, and more.
Plus, if you are traveling with kids, this museum has some great interactive elements that they will love too like a fishing game, boats they can climb inside, and a big computer game where they can "process" their own salmon.
8. Take a Fjord Tour
Bergen is called "The Gateway to the Fjords" because of its close proximity to some of Norway's most amazing fjords. So you'll definitely want to set aside some time to take a fjord tour while you are in Bergen.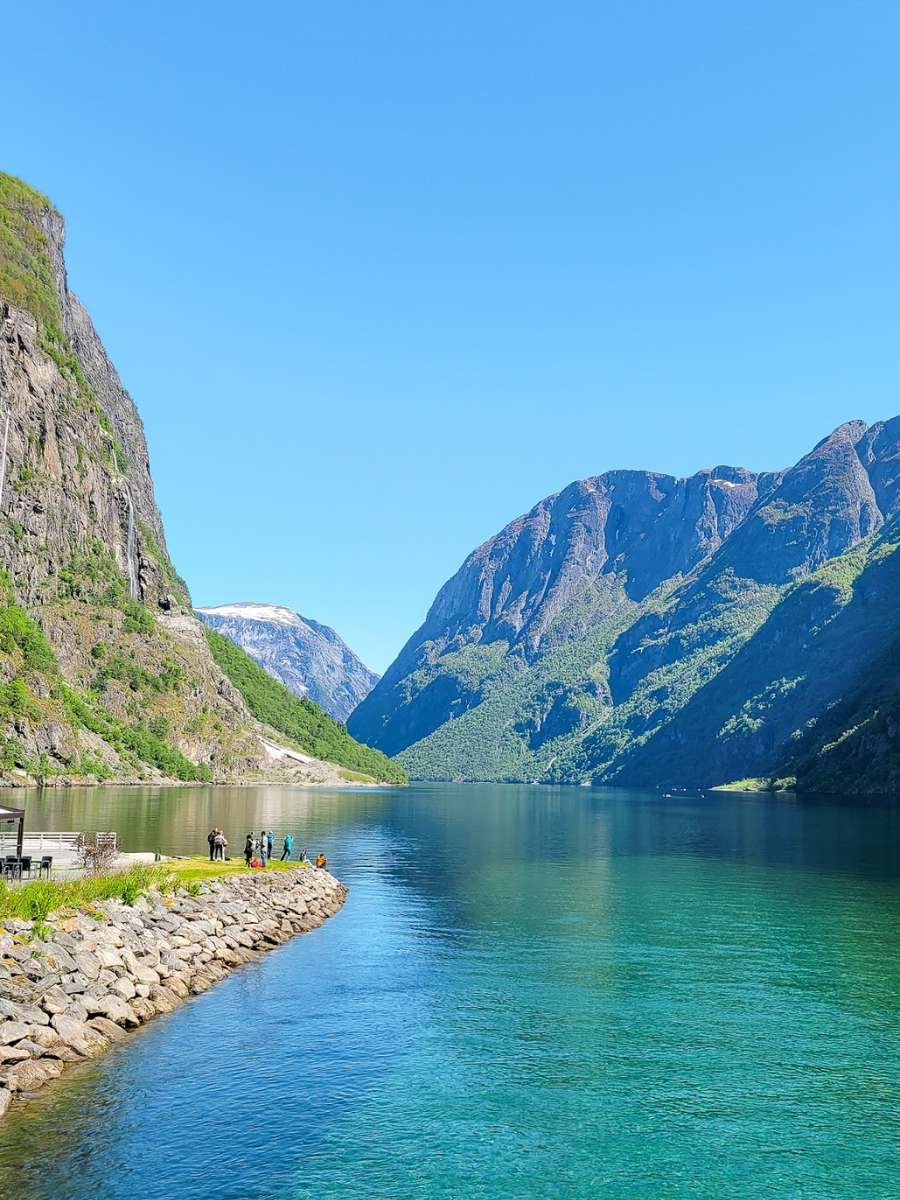 There are several different options for fjord boat tours you can take directly out of Bergen. But one of the most popular ways to see the fjords is the Norway in a Nutshell tour, which takes you to some of Norway's most famed fjords, including the Nærøyfjord.
You can either book your tour directly through them, or use their suggestions to book all of your own transportation tickets.
It will be less expensive to DIY the tour, but when booking through Norway in a Nutshell they will make sure all of your train/boat/bus tickets are perfectly timed. Note that it is not a guided tour though; they just make it easy for you to see everything!
The tour will take you out of Bergen on a train, and then you'll ride a bus to a boat dock where you'll depart on the fjord tour. After that you'll take a historic Flåm railway, before finally taking a train back to Bergen. It's a long day, but every aspect of this tour is incredible, not just the actual boat tour!
9. Visit the Fantoft Stave Church
Norway is known for its medieval stave churches, but many of them are out of the way of where many travelers go during their time in Norway.
In Bergen though, you can take the bus or the light rail (Bybanen) just outside the city to see the Fantoft Stave Church. You'll take either option to the Fantoft stop and then have about a 10 minute walk to the church.
While this church isn't the exact one that was originally constructed (it was rebuilt in 1997 after a fire), it is still one of the few historic stave churches that remain in Norway. Note that the Fantoft Stave Church is only open from mid-May to mid-September.
10. Hiking in Bergen
Bergen is such a beautiful area that you will definitely want to take advantage of the outdoor spaces and do some hiking! There are all kinds of options whether you are looking for a challenging trail or a light afternoon walk.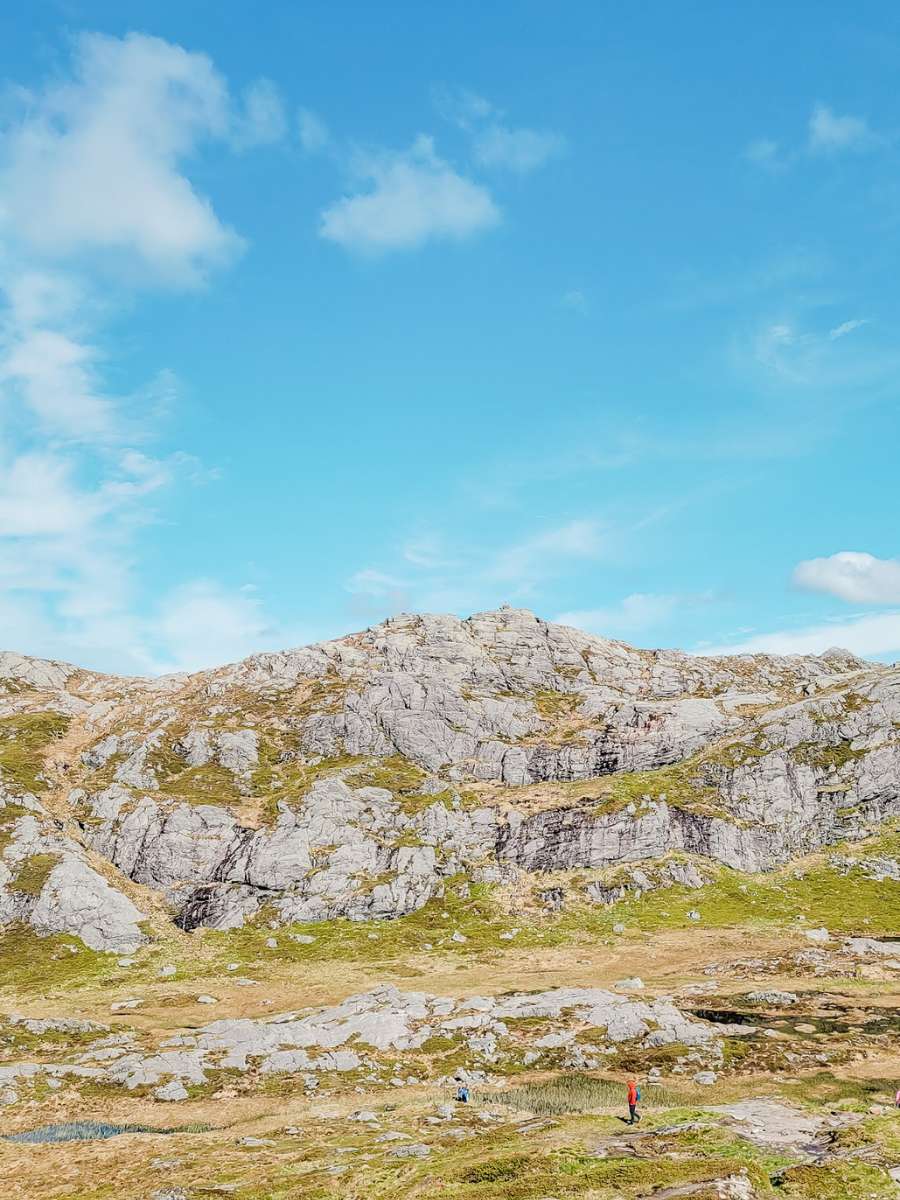 On top of Mount Fløyen, you can enjoy some of the easy mountaintop trails, including a short paved path to Skomakerdiket, a lake on top of the mountain.
On Mount Ulriken, there are all kinds of short trails you can enjoy on the mountaintop. And you'll be able to see them in all directions because of the lack of trees up here.
If you want something more challenging, you can also hike from Mount Fløyen to Mount Ulriken on a moderate trail that takes about 5+ hours to complete.
You could also choose to hike up either Mount Fløyen or Mount Ulriken. Both are extremely popular hikes in Bergen! To hike up Mount Fløyen you can leave from the city center near the funicular. It takes about one hour to get to the top.
To hike up Mount Ulriken, you'll start near the Montana Hostel or from the Ulriken Cable Car and choose a path up the mountain. These challenging trails take about 2 hours to complete.
Visiting Bergen should definitely be on your must-do list if you are visiting Norway. Norway is a vast country with all kinds of beautiful landscapes to see, but a trip to Bergen makes it easy to see some a variety of Norway's natural wonders and breathe some of the fresh mountain air.
ABOUT THE AUTHOR
Erin Burke is the creator of Flying Off the Bookshelf — a travel blog for bookworms. She writes about everything from US travel to theme park travel to world adventures, along with the books you can read that will take you around the globe. She is based in Huntsville, Alabama, where she lives with her husband and daughter.