Is Jordan Safe For Women Traveling Alone?
As your solo female trip to Jordan approaches, you'll probably ask yourself this question: Is Jordan safe for women?
I know I did. Two days before my flight to Amman, I honestly thought about canceling the whole trip. I'd already been trotting the world alone for two years, so why did the thought traveling solo in Jordan suddenly seem terrifying?
Whether you're considering making Jordan your next destination or have already booked your flights and are looking for reassurance on whether Jordan is a safe destination for women to travel solo in, I've put together this blog recounting what's it like to travel Jordan solo as a woman.
My Solo Trip To Jordan: The good, the bad, and the ugly (but mostly just the good and the bad)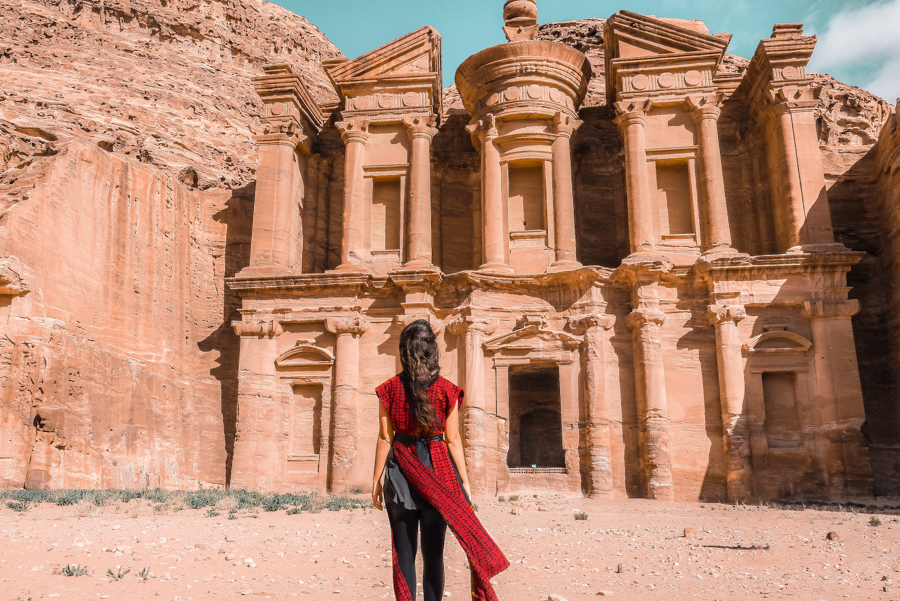 I couldn't believe it.
My guesthouse's owner had just offered me a full-board tour to Petra in exchange for a night together.
Do I really look that cheap?
At first glance, my experience in Jordan was disastrous. Not only had I just barely made it past immigration at the airport after being confused for a drug mule (a story I love telling now, but one that was pretty scary as it happened), but I had also gotten scammed by a taxi driver. To top things off, I was now being harassed by an old man with nowhere to run to in the middle of the night.
I had booked a room in a dodgy guesthouse without reading its reviews and was now beating myself over it.
I politely declined his offer and sneaked out of the guesthouse as soon as the sun rose, determined to find a better place to stay.
---
A recount of my experience traveling Jordan Solo
If you would have asked me if Jordan is safe for women traveling solo after my first day in the country, I would have unquestionably replied "no". Luckily, my trip got much better as soon as I moved to my new accommodation.
My new guesthouse was close to the city center and I had the luck to meet three other women traveling Jordan alone. Ayla a kickass girl who has seen more of the world than most people do in their lives, a Japanese girl who was backpacking the Middle East, and a Chinese woman on a solo stint around Jordan.
Meeting other women traveling Jordan solo brought my confidence back up. After getting heavily questioned at the airport, I felt as though solo female travel in Jordan was rare – something that turned out to be untrue as I got to explore the country further.
I spent the following days regaining my confidence as a solo female traveler, venturing out to explore Amman on my own. I went out for dinner to a small local restaurant alone and ate my weight in Jordanian pastries on the streets. I felt incredibly safe in and quickly concluded that the city is an amazing destination for women to visit alone.
I was starting to love Jordan!
---
I was never once harassed or catcalled when out and about in the city alone. I quickly realized that my bad encounter with that as*hole of a guesthouse owner should not ruin my outlook on Jordanians or get me to conclude Jordan is an unsafe destination for women. Most of the people were really friendly and eager to help whenever I asked for directions.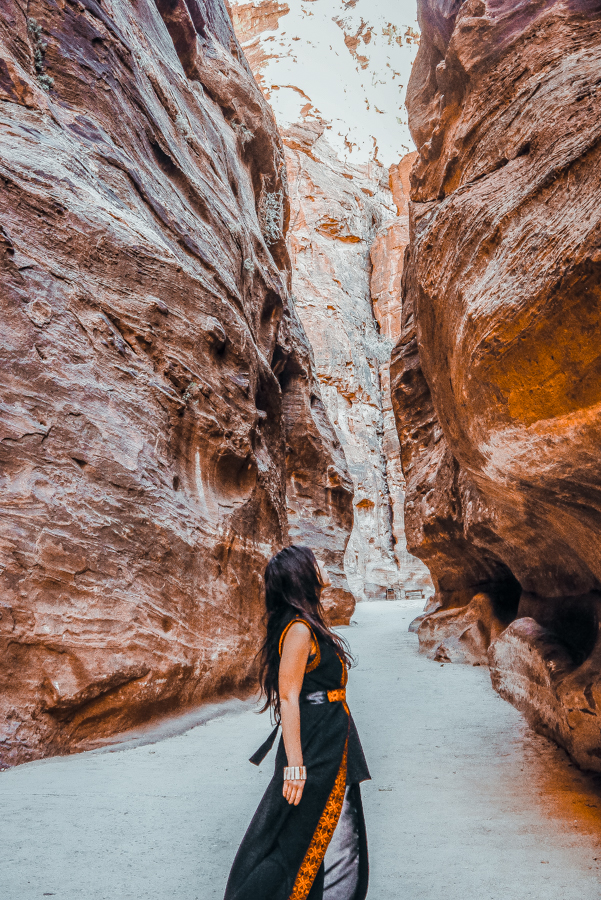 When I met Ayla, things got even brighter. We immersed ourselves in Amman's shisha scene and went on a day trip to Petra together. She had plans to travel further to Egypt with her sister, so we sadly parted ways after a few nights.
---
Traveling Jordan Alone Beyond Petra & Amman
Next up was a Workaway agricultural project near the border to Palestine. I hopped on a public bus that dropped me off at the border and from there I walked for two kilometers alone to the farm. I had zero incidents during the journey.
My short stay at the farm was wonderful as well. It was a very rural side of Jordan where people kept to themselves a lot but greetings were welcomed and prominent and I got the chance to meet four girls who were staying at the project as well. They were all traveling Jordan alone and had nothing but good things to say about their experiences.
On my last day in Jordan, I began walking towards the border when two men in a car stopped to offer me a ride. I hesitantly accepted and got to the border safely. I got stamped into Palestine feeling nostalgic and promising myself to tackle more Middle Eastern countries in the future.
---
So, Is Jordan Safe For Women To Travel To?
YES, I think Jordan is safe for women traveling solo, but we should still not let our guard down.
While I don't really have that much experience traveling the Middle East yet, I think it's safe to say that Jordan is probably one of the best destinations to get a taste of the region as a female solo traveler.
I took public transport, walked around the capital alone, both during the day and after dark, and hitchhiked shortly without any incidents.
One thing that amazed me was the number of solo female travelers I met during my brief stay in Jordan. I actually met more women traveling Jordan than males, which I thought was an incredible thing!
Tips For Staying Safe in Jordan When Traveling Solo
Avoid the guesthouse I stayed in like the plague. The name is Sun Rise Hotel – not only is the owner dodgy as hell, but they also illegally breed exotic birds on their terrace.
Check hotel reviews before booking anything, make sure to pay close attention to reviews written by other women.
Negotiate the price for a taxi before getting in. If there is a taximeter, make sure the driver doesn't set it up to start at a ridiculously high amount (it happened to me)
Call the police (or pretend you're going to) if you ever feel unsafe – Jordanians are incredibly scared of the police.
Try not to smile too much at men – it's considered flirting in Jordan. Be polite, but not overly friendly unless you are actually into a guy.
Buy a local sim card a the airport to keep in touch with family or friends back home and let someone know your travel plans. I recommend Orange.
Don't go to coffeehouses or bars alone – they are male "territories". Hookah bars are generally okay and filled with Jordanian women enjoying a smoke.
Have a backup story. If asked, try to avoid saying you are traveling Jordan alone. Some men might think that a woman traveling solo in Jordan is looking for more than just sightseeing. This doesn't mean that you will get assaulted or harassed while traveling Jordan. Rape is actually quite rare in Jordan, but telling someone that you are on your way to meet your husband at a restaurant or having a story about your husband and children back home helps (unfortunately. I dream of the day when we'll be respected just for being human beings).
Write these numbers down in case of an emergency:
Police. They take their job seriously in Jordan – 191
Paramedics – 199
Traffic and road police – 190 and 194
Here's my solo female travel guide for tips and inspiration for your solo trip to Jordan!
What Should Women Wear in Jordan?
Dress modestly, but that doesn't mean you need to wear a hijab or cover yourself from head to toe (except when you visit mosques). Jordanian women, especially in Amman, are incredibly stylish and their wardrobes are quite Westernized.
Form-fitting stuff is totally acceptable, but make sure you avoid wearing things like spaghetti tank tops and shorts outside of Petra. I wrote a thorough guide on what to wear in Jordan in this packing list.
Here's a list of packing essentials for women visiting Jordan:
Bring a sweater or hoodie. Jordan can get hot during the day and super chilly at night. If you visit during the winter, pack a jacket – Jordan can get really cold!
Pack a one-piece swimsuit or tankini for the Dead Sea. While it is a touristy area, I recommend wearing one to show respect and pairing your tankini with a cute cover-up.
And don't forget sunscreen! for obvious reasons. I do want to take the time to recommend bringing an eco-friendly sunblock to avoid harming the coral reefs around Aqaba and the Dead Sea.
Head over here for a complete women's Jordan packing list.
Travel Insurance for Jordan
I always recommend Safety Wing. It covers any accidents that could happen while traveling in Jordan, as well as things like stolen electronics and delayed flights. You can easily book it, extend it, and make claims online. Check them out here.
Read next:
How To Rock a Trip To Petra in a Day
Jordan Packing Guide For Women
23 Tips To Rock Your First Solo Trip
Disclaimer: My solo female travel guide to Jordan contains affiliate links. If you decide to purchase something through my links, I might earn a commission at no extra cost to you. This helps keep the blog sponsor-free and me traveling to bring you more free content every day, so thank you!