If it weren't for the fact that my father decided to make this neighborhood his home a couple of years back when he moved to Oaxaca for work, I doubt I would have ever had the opportunity to discover Jalatlaco.
This quaint little barrio sits a ten-minute walking distance from Oaxaca's city center. And yet, it struggles to get into guidebooks. Together with Xochimilco, Jalatlaco is the oldest neighborhood in Oaxaca and a stroll through its always feels like taking a trip back in time to Mexico's Colonial times.
If you are anything like me – you will fall in love with Jalatlaco's cobblestone streets, the numerous coffee shops to be found in every corner, and the abundance of colors that make this barrio my favorite spot in the city.
Jalatlaco is the perfect place to escape the noise and crows of Oaxaca's city center while still being able to absorb the charm that Oaxaca has to offer. With very few cars driving around and mostly locals to be seen going about their day, Jalatlaco managed to steal my heart the moment I set my eyes on it.
Things to do in Oaxaca's Hidden Neighborhood
Aside from visiting the church, there aren't any more touristic attractions in this quaint barrio. The charm in visiting, however, is found in exploring the numerous cobble-stone pathways that are lined with colorful houses and letting the time slowly pass by at the many family-owned coffee shops and vegetarian-friendly restaurants that are found in every corner.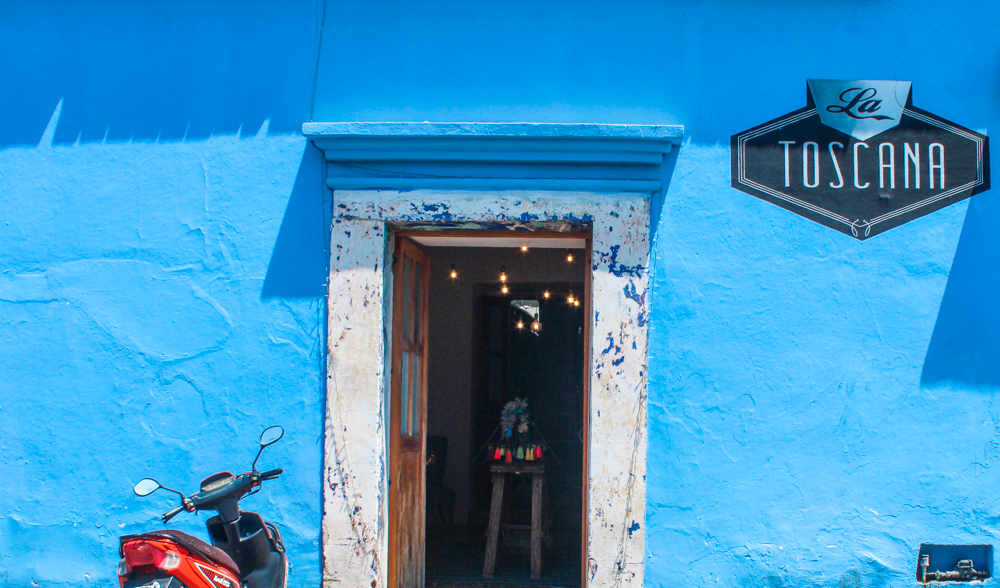 Where to eat in Jalatlaco
Mi María Bonita
My favorite restaurant in all of Oaxaca! Dating two generations back, this restaurant offers traditional Oaxacan dishes. Tortillas are handmade on the spot and their salsa recipe remains a family secret.
Did I mention its facade is gorgeous?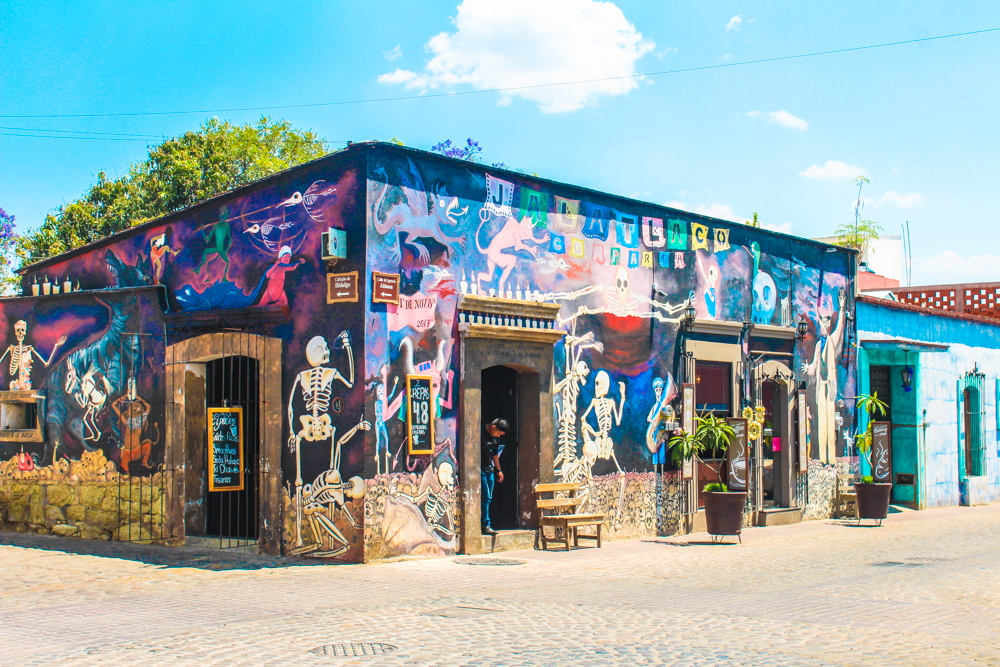 It's located right in front of the San Matias Temple, so you'll have no issues finding it!
Café Blasón
My favorite café in Oaxaca due to its reliable wifi and unbeatable prices. An Americano costs only $15 pesos!
If you are coming on a particularly hot day, you should know that ordering a cold version of any drink is always an option here!
El Bicho Pobre
A simple but lovely restaurant that offers traditional Oaxacan food. The name translates into "The Poor Insect".
El Agora
Located right in front of the main church, this quaint little coffee shop offers smoothies, coffees, and incredible Nutella crepes!
Pisa Pizza
Ha! You probably weren't expecting me to list an Italian restaurant in a Mexican food guide, but Pisa Pizza is my father's go-to place whenever I visit, so I'll include it! You'll be dining in a cozy little garden tucked away from the crowds. A must if you have been in Mexico for long and begin craving some authentic Italian pizza.
Café Xiguela
Offers coffee and a decent selection of vegetarian snacks.
Street Food
There are many food vendors bringing life into the otherwise empty and quiet streets of this barrio at night. From handmade ice cream to traditional tlayudas – take your pick and enjoy your meal while sitting at the church's court.
---
Where To Stay in Jalatlaco
Jalatlaco has gained popularity in recent years due to the opening of small hostels and boutique-style hotels. Its proximity to the city center of Oaxaca combined with its quiet surroundings and peaceful ambiance make it an ideal neighborhood to base yourself in while visiting Oaxaca City.
City Centro Hotel
Midrange luxury at its finest! This quaint hotel opened at the end of 2017, so everything is really new! If you love cactuses and pink, then this is the place for you! It has a small pool on the terrace and offers free bikes for guests to use. Find the best deals here.
Budget: Posada Mi Rosita
A more budget-friendly option but equally lovely. I used to stay here back in 2015 when my father moved to Oaxaca (his house back then was too small for him to host me, but we found this lovely guesthouse for me). Now, his house is much bigger, so I just stay with him whenever I visit Oaxaca. However, my time at Posada Mi Rosita back in the day was lovely, and I highly recommend it! Book here.
Hostel: $10.50 in a dorm
I haven't actually stayed here but I've heard nothing but good things about this hostel. If your budget is low or you are looking to meet other travelers while visiting Oaxaca, then this is a great option for you! A bed in a dorm starts at $10.50, but they also offer single and double rooms for those who want a bit of privacy. Book here.
Have you been to this neighborhood in Oaxaca? What did you think about it? Let me know in the comment section below!