I've officially found one of the prettiest hidden gems in Mexico and I never expected it would be on the coast of Huatulco. My little slice of paradise is called Cacaluta Bay and if you're into secluded beach paradises away from the crowds, you're going to fall hard for it, too!
It looks like this:
Table Of Contents
My Time in Cacaluta
How To Get To Cacaluta and back
Tips For Visiting Cacaluta Bay
Best Time To Visit
Finding Cacaluta
After spending a week in Oaxaca City, my boyfriend and I headed south to Huatulco in search for all the beach goodness.
It was Semana Santa in Mexico, a two-week long school holiday and the time of the year when beach destinations get filled with local tourism.
The majority of the popular beaches of Huatulco were, unfortunately, no different.
The crowds at La Entrega beach, one of the most popular beaches in Huatulco. It was one of those expectation/reality kind of moments.
Ugh.
On our way back from La Entrega beach, I began talking to our taxi driver.
"It's super crowded everywhere, huh?", he casually spurred out to break the silence.
"Yeah, we are a bit disappointed right now. Do you know a lesser-frequented beach around here?", I asked kinda hopelessly.
"All beaches in Huatulco are crowded right now. It's Semana Santa."
Sigh.
"But I do know a beach not far from the city. There are no restaurants or anything, though. It's a virgin beach and you have to walk through the jungle to get there."
My eyes brightened up as I blurbed out "tell me more."
Getting To Cacaluta: A Hike Through The Jungle
The next day, we set out to find Cacaluta Bay and the whole ordeal was a dream come true. We hiked through the jungle and past a lake which different species of birds made their hangout spot. If you are into bird-watching, then right there is another reason to not miss out on visiting Cacaluta.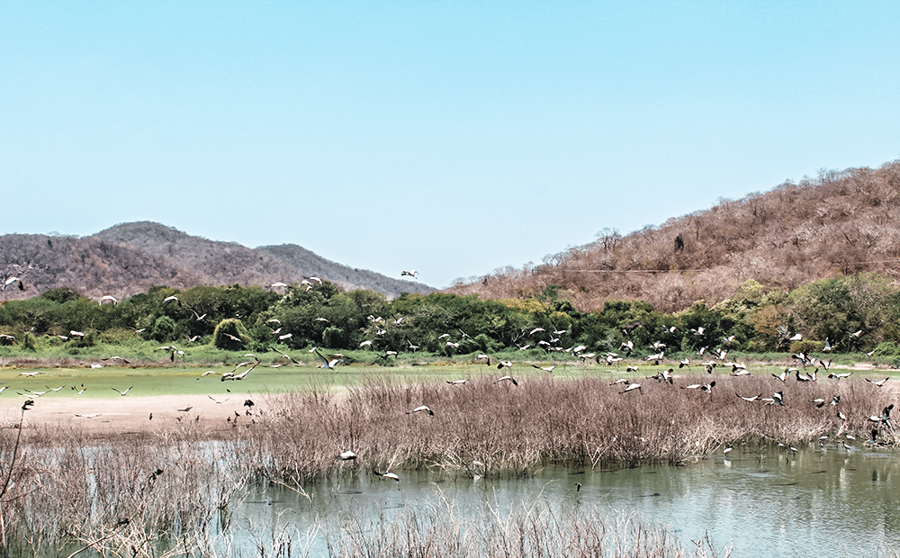 Fun fact: The name Cacaluta actually comes from Zapotec language. It translates into "the place where the blackbird stands" in honor of a large species of black bird that once lived in the jungle around the bay.
After one a half kilometer hike through the shaded jungle, we began spotting dunes of sand.
And then…
It was the epitome of a beach paradise and we had it all to ourselves!
We dropped our backpacks under a tree and jumped into the clear waters of Cacaluta Bay. I spotted a few manta rays and all kinds of fish – my favorite was a tiny version of spadefish!
The day was spent alternating between lying on the beach and swimming. A part of me wanted to ditch the rest of our Oaxaca itinerary to just like, stay at Cacaluta forever and learn to live off the land. That is, until I remember I'm addicted to wifi.
How To Get To Cacaluta Beach
Cacaluta is located about eight kilometers south of La Crucecita in Huatulco.
A few tours offer a quick visit to Cacaluta, but I'd definitely just do what we did and get there by land. It gave us the freedom to stay as long as we wanted without having to worry about anybody else's time.
Getting to Cacaluta by land is super easy and I'd consider the hike itself one of the best things to do in Huatulco. You can just hail a taxi on the street and ask to be dropped off at the entrance of Cacaluta. The taxi should charge you no more than $60 for the drive.
Your driver should know exactly where to drop you off, but just in case, you can find the map here.
The exact coordinates are: 15.734728, -96.159742
Next, you'll need to walk through the jungle for around half an hour. The start of the hiking trail looks like this: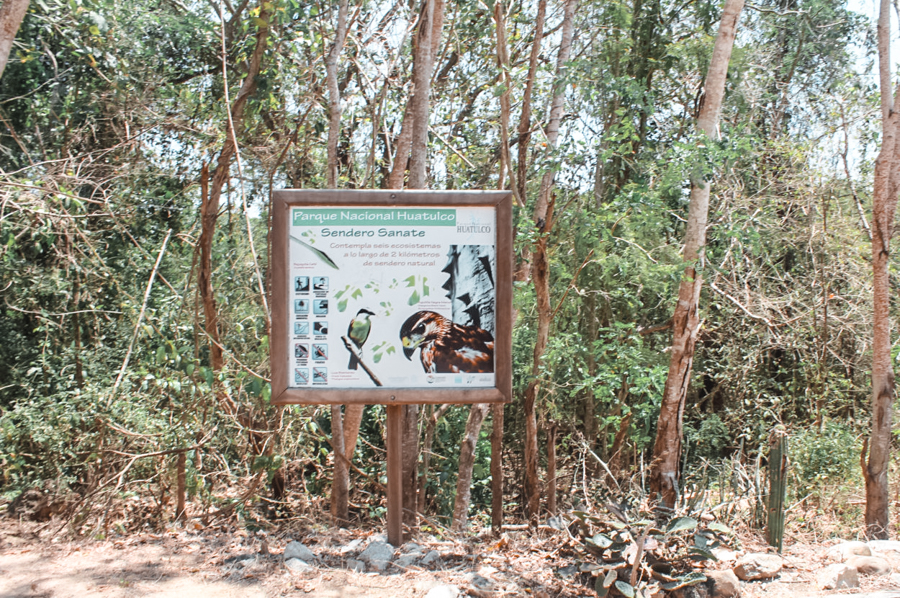 Overall, the trail was pretty well-marked and the jungle provided shade the entire way.
How To Get Back To Huatulco From Cacaluta
Getting back to Huatulco from Cacaluta is a bit harder than the other way around, but it's still doable. Just walk back the exact way you came from. Once you reach the road, walk one kilometer towards your right to reach Playa Maguey.
You'll find a taxi stand to take you back to the center of Huatulco at Playa Maguey. The walk to get there is short but not shaded at all, so make sure to bring a hat and lots of sunblock!
Tips For Visiting Cacaluta
Cacaluta is a virgin beach, there are no restaurants or any amenities at all. Pack a lunch and enough water!
Keep in mind that there are no lifeguards here!
The area next to the cliffs is shaded until 2 pm or so, and after that – nothing! If you want to stay longer, bring something to protect yourself from the sun like an umbrella or a beach tent.
You can also camp at Cacaluta – it's free! It's definitely one of the best things to do in Huatulco.
Best Time To Visit Cacaluta
Make your way as early as possible to up the chances of getting it all to yourself and avoid the midday heat. Moreover, the tide gets much stronger after 1 pm.
Have you ever been to Cacaluta Beach? If so, did you love it as much as I did?
If you know any other secluded beaches in Huatulco, let me know in the comments section below. I'd love to know!
Love this post? Save it for later on Pinterest!