Myanmar Packing List: A List of Essentials For A Trip To Burma
As your trip to Myanmar approaches, you'll inevitably ask yourself this question: What to wear in Myanmar?. I've put together a perfect Myanmar packing list that will make your trip to The Golden Land a breeze!
Way back in 2016, I spent a month traveling Myanmar and it quickly became my favorite destination in Asia. Given that I'd already spent more than a year in Southeast Asia, I didn't give my Myanmar packing list a second thought and just took whatever was acceptable to wear in Thailand or Cambodia.
Little did I know, however, that I should have spent slightly more time thinking what to pack for Myanmar because the country remains a bit more conservative than its eastern neighbor.
After leaving Yangon, where locals wearing short skirts and tank tops were not an uncommon sight, I quickly realized I needed to up my wardrobe game and ended up spending more than I'm proud of on replacing a few items in order to blend in a bit more. It made sense for me to write a thorough packing guide to Myanmar in order to make sure you learn from my mistakes!
Without further ado, here is my Myanmar packing list:
As usual, I don't include the obvious things like underwear and socks because I think that's a personal thing. I mean, I definitely recommend you to pack at least a week's worth of clean undies, but I am not going to make the list unnecessarily long by including things that are obvious.
CLOTHES TO PACK
Harem pants
No matter the time of the year, Myanmar gets HOT. You'll want to make sure shorts aren't part of your Myanmar packing list if you're female because the country still remains quite conservative with its attire. For that reason, harem pants will become your new best friends!
Not only will they keep you fresh and comfortable in the Burmese heat, but they'll also make sure you blend in with the local customs.
Maxi skirts (guys, you too!)
As I said before, the Burmese dress conservatively, but the country is just too hot to wear jeans! For girls, maxi skirts are another great solution as they will keep you fresh while still covering parts of your body that could potentially offend the local customs (plus, it will make visiting the many incredible temples in Myanmar so much easier).
As for guys, I don't recommend you going to Zara to purchase the latest trends in maxi skirts (unless that's your thing), but you'll be pleased to know that Burmese men love sporting their longyis, which are basically a Burmese, manly version of a maxi skirt and they looks like this: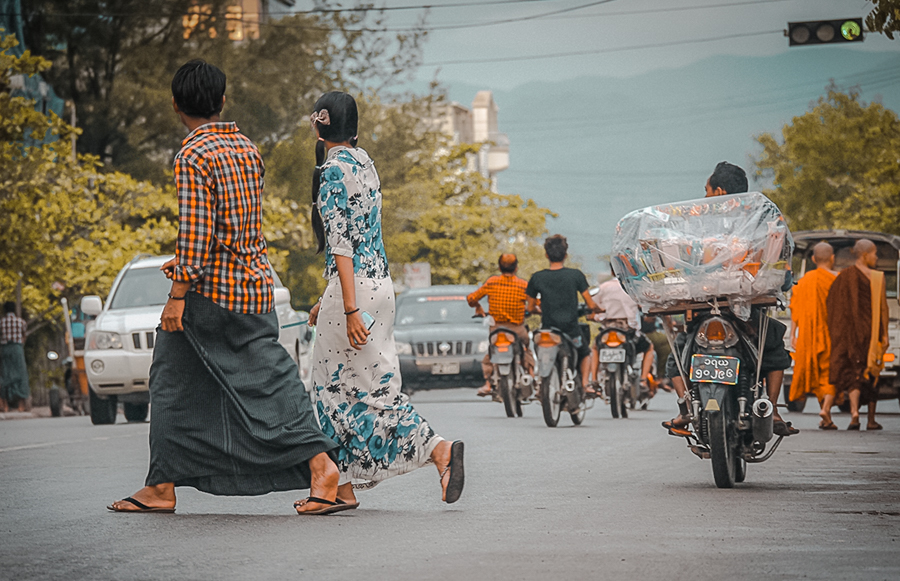 Every foreign man I met in Myanmar told me longyis are the best thing ever and how fresh they feel "down there" (okay…). Give them a try, they're as cheap as $2 and you'll find them everywhere in Myanmar.
Flipflops
Flip flops in Southeast Asia are a must, and Myanmar is no different. When you visit a temple (which will be a regular thing), you'll need to take your shoes off and flip flops make that a breeze.
Plus, if you're backpacking Myanmar, they are must-have items anyway as you don't want to be barefooted in hostel showers.
Avoid tank tops and opt for short-sleeved t-shirts
I've said this before, but just to make sure: the Burmese are conservative and showing too much skin is a sign of disrespect. I was walking with a monk friend in Mandalay Hill when he spotted two girls wearing spaghetti-straps. He began asking me "Why? Why do they do that?". He was so offended at the sight as they were visiting a holy place with utter disregard of the customs. Don't be that person.
If it gets too hot, you can always wear a tank top that covers your cleavage, but make sure to wrap a sarong around your arms.
Sarongs. Bring all the sarongs!
Sarongs are my #1 packing item in southeast Asia because they are so versatile. You can wrap them up around your legs or arms to cover yourself when entering holy places, they double as blankets on cold bus rides or even pillows when rolled up. They could even save you during an emergency as you could use them as bandages.
Plus, they're so light that they barely take up any space in my luggage. In short: sarongs = king.
Sweatshirt
Southeast Asians have a reputation for turning on the AC at its max on buses and airplanes. A light sweatshirt is a must if you plan on navigating Myanmar on public transport.
TOILETRIES + FIRST AID KIT
Toilet paper or wet wipes
You'll already know this if you've been to Southeast Asia before, but if you haven't: toilet paper is not really used much.
Instead, they use what travelers like to call a 'bum gun' (A.K.A a bidet). It's honestly too weird for me, and I couldn't really get used to it even after a year in Southeast Asia. Toilet paper won't be provided for you outside of your hotel, so make sure several rolls of toilet paper are right there at the top of your Myanmar packing list.
Anti-bacterial handwash
Useful to wash your hands before eating or when soap isn't provided at public restrooms (a very common occurrence in Myanmar).
Mosquito repellent with DEET
Mosquito repellent is a must even in big cities – they are vicious! Aside from mosquito spray, I also recommend packing a few of these mosquito repellent bracelets for double protection.
Sunscreen
Myanmar is close to the equator and sunscreen is a must. Pack a hat as well if you're prone to sunburn!
Imodium
I have quite a strong stomach. I grew up eating street food from Mexico City and my body developed super strong antibodies, but Myanmar managed to give me a hard time.
The food there is so delicious that it was worth every second I spent in the toilet (did I just share too much?). Imodium is a must when visiting Myanmar no matter how strong a stomach you think you have.
TECHNOLOGY
Camera
Myanmar is stunning and you'll definitely want to bring a camera with a few extra SD cards.
Universal travel adapter
Plugs in Myanmar come in all shapes and sizes, ranging from type C, D, F and G with a standard voltage of 230 V. To make sure you can charge all your electronics, pack a universal travel adapter like this one. It will come in super handy on future trips too!
Portable charger (especially if you'll be off-grid for a while at Inle Lake)
You'll need a portable charger to be able to charge your phone in remote places. I use this one from Anker.
ACCESSORIES + OTHER REALLY USEFUL STUFF
Purifying Water Bottle
Drinking from the tap in Myanmar is a risky business and while bottled water is cheap, you'll likely need several liters a day as you'll be walking long distances in the heat. Plus, buying plastic bottles contributes to contamination.
Enter: The GRAYL, a bottle that purifies water in a matter of seconds by eliminating bacteria, viruses, and chemicals. It's not only a more environmentally-friendly option, but you'll also be saving tons of money in the long run with it. This would be my number #1 essential in a Myanmar packing list.
I got it as a Christmas present from my boyfriend and I've used it in Mexico and Africa to drink both from the tap as well as rivers and it always works like a charm!
Lightweight flashlight
You'll need one if you are doing the Inle Lake hike as well as in areas of Bagan. I recommend this one by BYBLIGHT because it's very light and small.
Daybag
This 10 Liter Backpack from Quechua is compact, resistant, and waterproof. My first backpack ever was from Quechua and I have stood behind the brand ever since due to their amazing value for money products. You can get yours at Amazon.
Microfiber Towel
I think normal towels are a nightmare to bring because they take ages to dry up and if you take a shower before leaving your hotel/hostel, you'll are stuck with a moist towel that you don't want to mix in with the rest of the items in your bag.
Microfiber towels are a traveler's best friend because they dry really fast and are really thin which means they won't take up much space in your luggage.
There are many brands available nowadays, but I recommend this one from Youphoria.
Packing Cubes
Packing cubes will not only help you keep things organized, but they will also compress your items. I used to think packing cubes were a gimmick until I actually tried them and DAMN! They really do make a difference. I love these ones from Ebags.
BOOKS
There are so many books about Myanmar that I'd love to recommend in this packing list. The Glass Palace, Letters from Burma, and A Fortune-Teller Told Me are just a few examples of must-read books in order to understand the country better.
TRAVEL INSURANCE FOR MYANMAR
If you already have travel insurance, make sure you read the terms carefully to make sure it'll cover you in a country like Myanmar. If you don't have insurance yet, or the one you have won't cover all your needs, I highly recommend you check out Safety Wing, which starts at only $45 a month.
It's super flexible travel insurance designed by travelers that you can book online in just a few minutes. They let you extend or add countries online, so if your plans change or you decide to hit up another country after visiting Myanmar, all you need is wifi to adjust your insurance needs – this is perfect for backpackers that are making travel plans on the fly while in Southeast Asia.
I hope you found my Myanmar packing list useful! If I missed anything, please let me know in the comment section below! 🙂
READ NEXT: All The Reasons Myanmar Will Steal Your Heart Forever
Disclaimer: My Myanmar packing list contains affiliate links. This means that, if you decide to purchase something through my links, I might earn a commission at no extra cost to you. This helps keep the blog sponsor-free and me traveling to bring you more free content every day, so thank you!