The Ways In Which Myanmar Will Steal Your Heart Forever
Edit: I wrote this post in 2016, two months before the current unrest in Myanmar began. As much as I loved the country, please know that I do not support the genocide against the Rohingya. I'm against boycotting countries, because honestly if we boycott one, we'd have to boycott them all (including our own, so we might as well move to the Moon).
Whether visiting Myanmar is ethical or not is a huge debate right now which I can't quite seem to decide which side I'm on. Some argue that our tourist dollars help fund the genocide, while some believe we should support the locals by visiting. Still, I honestly loved my time there, and while I will personally stray away from the country for a while, the decision to visit Myanmar at this time is yours to make.
---
Myanmar, dubbed "the Land of Golden Pagodas" is a country that has been making headlines recently for its rich culture, glittering stupas, authenticity, lush mountainous landscapes and hospitality. While it was closed off to tourism until recently, its infrastructure has seen a grand improvement and more and more travelers have headed into this mysterious land that manages to impress even the most well-traveled!
If you haven't been and still need convincing, I leave you with the ways in which Myanmar stole my heart – just as it will steal yours, too!
1. THE PEOPLE
Burmese hospitality really amazed me. Locals will approach you not to try to sell you anything, but to actually have a chat and practice their English.
During my time there, I took the third class 15 hour-long train to travel to Yangon from Mandalay. I was the only foreigner there, and the local passengers were fighting over who would get to share their snacks with me.
2. THE COLORS
Myanmar comes in colors. Saffron-tainted robes worn by monks and pink ones with orange touches sported by thilashins add a gorgeous touch to the beautiful backgrounds of endless lists of temples and natural sights that the country offers.

3. THE FACES
Myanmar was closed off to tourism for quite some time until now. Which means that Western influences have not yet crept in. Jeans are an uncommon sight and instead, you will get to see men wearing longys and women dressed in beautiful dresses. Another common tradition that many Burmese love flaunting is thanaka, a natural paste they apply on their faces to provide protection from the sun as well as a beauty signature!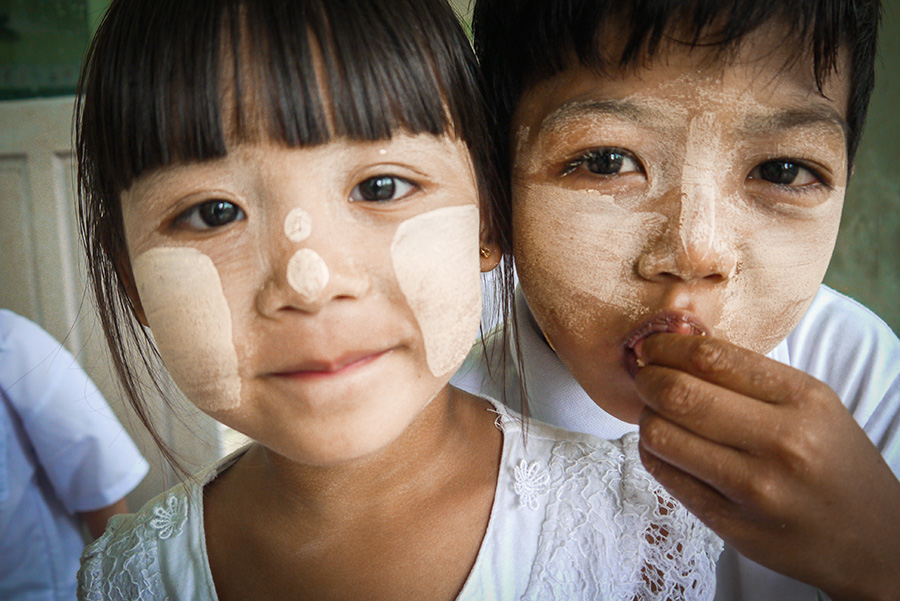 4. THE ANCIENT PAGODAS, TEMPLES, AND SIGHTS
I have spent a fair share of time in Southeast Asia, and nowhere else have I witnessed such magnificent pagodas as the ones you'll get to see on your Myanmar itinerary. The artistry of these sites is a perfect example of Burmese craftsmanship, which will not fail to amaze you! A perfect example? The ancient site of Bagan (which you can explore on a bicycle, e-bike, or even witness a birds-eye view from a hot air balloon!)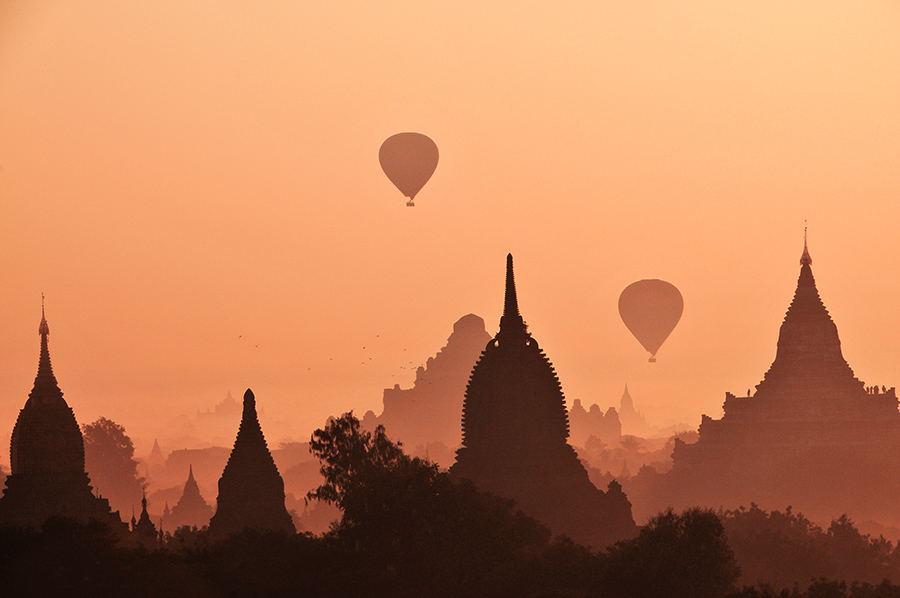 5. THE REAL EXPLORING
There isn't a country in Southeast Asia that still feels as raw and unexplored as Myanmar does. Even if you follow the recently-created tourist trail (Inle Lake, Kalaw, Hpa An, Bagan, Mandalay and Yangon) – you will still feel as though there is so much left to uncover.
The tour trek from Kalaw to Inle Lake takes three days, of which a large part you will spend hours without crossing another group of tourists and you will get to see villages that still feel as though they were from the past.
A guy I met, who has been living in Yangon for nearly a decade and spent a good share of his life exploring Asia, told me "Myanmar is now what Thailand was forty years ago". If you are the kind of person who enjoys getting off the beaten track and getting closer to a culture, then Myanmar is the country for you!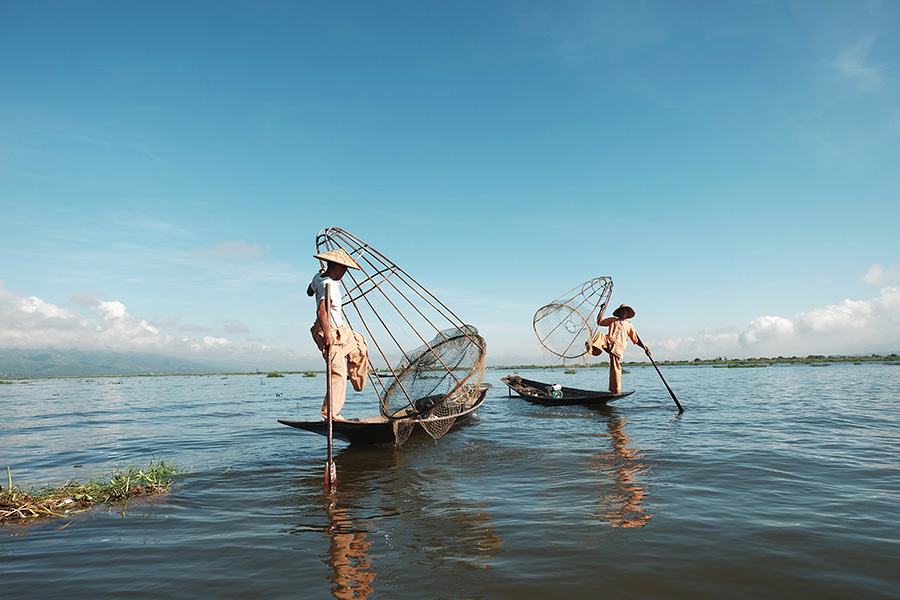 6. THE FOOD
Think of Burmese cuisine as a gateway between India and Southeast Asia. A staple dish in Myanmar is its salads, which are not what you might imagine! Often, you get a plate of rice and then top it with different flavors which are offered buffet-style at tea shops – it can be anything from curry, to potatoes and more! My favorites were the lemon salad (red onions and lemon), Tofu Thohk (tofu) and the tea leaf salad. If you have a bit of a sweeter tooth – you can taste the wide variety of pancakes here (tip: try the banana one!), a tradition they picked up during the period they were colonized by the Brits.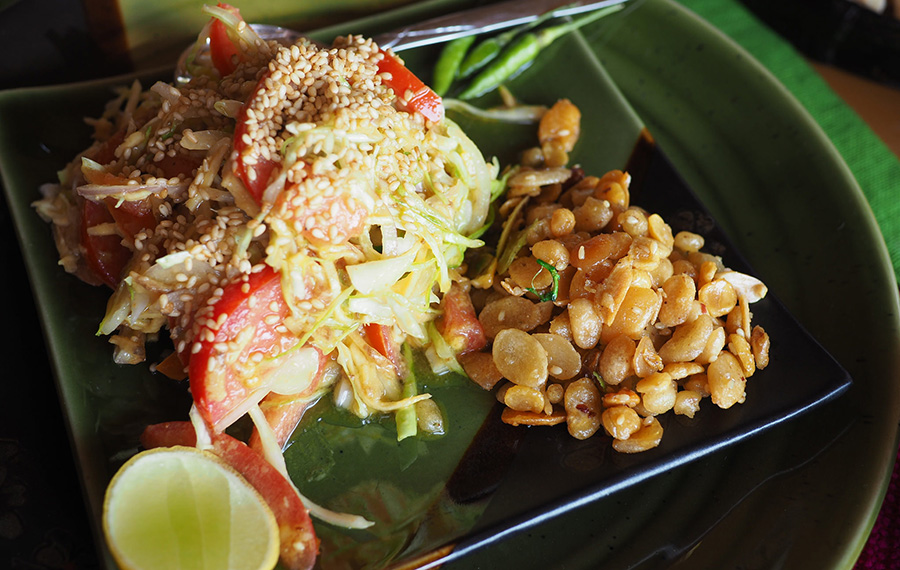 Photo via Maman Voyage
7. THE TEA
You can't have been a British Colony if your tea is not spot on. Anywhere you go, you will be offered cups of tea. Moreover, a go-to place in Myanmar is tea shops, which are the hang-out spot for the Burmese before, during, and after work (think of what cafés are like in Europe). There are also teas specialized for those who love sweet flavors and a bit more consistency for their drinks – try yeay tea, which is sweetened with condensed tea (I became an addict).
Fun fact: Tea is not only a drink in Myanmar but also a dish! Do not leave without trying tea leaf salad, the most popular Burmese dish, consisting of sour leaves mixed with cabbage, tomatoes, and nuts.
8. THE BEACHES
A gorgeous beach with azure clear water will likely not be the first thing that will pop to mind when thinking of Myanmar, so this might come as a surprise to many (me included!). Myanmar boasts some of the most beautiful beaches in Southeast Asia, which still remain hidden gems (this means you will likely get to have little pieces of sea paradise for yourself *wink wink*!)