How To Rock a Trip To Petra In a Day
On my third night in Jordan, a New Zealander named Ayla arrived at my hostel. Her airline had lost her luggage, and we made it a mission to spend the following day exploring Amman in search of new clothes for her to wear.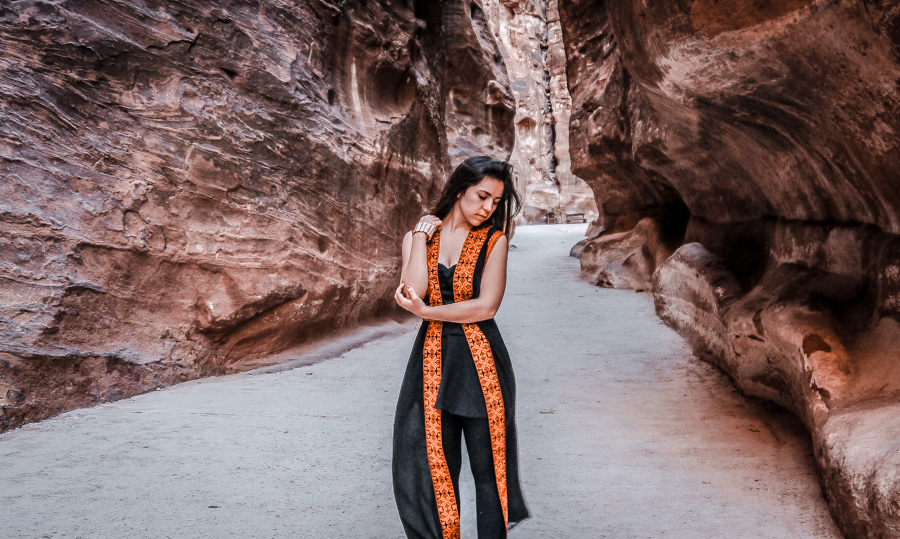 Both our travels in Jordan had started off pretty badly, but things for both of us began brightening up when we decided to become partners in crime during our Jordanian odyssey.
She bought a few t-shirts at a local market, we ate our way through Amman and quickly decided to join forces and head to Petra the following day together. During our market hauls, we came across a few gorgeous embroidered cover-ups, and we decided to buy them to take pictures in Petra the next day.
And so, the next morning, we headed over on a day trip to the ancient capital of the Nabateans. While we both only had time to make the most out of our visit to Petra in a day, we managed to explore and see all the highlights in our list.
VISITING PETRA IN A DAY
Nestled between sandstone mountains lies Petra, a place dubbed the "Rose City" due to the color of the stone which it was carved out of.
Once a lively trading hub and the capital of the Arab Nabataeans as early as the 6th century BC, it was later on occupied by the Romans in AD 106, who expanded the city even further until it was largely destroyed by an earthquake and was left abandoned after Saladin's conquest of the Middle East.
For a very long time, Petra was forgotten by the Western world, until Swiss explorer Johann Ludwig Burckhardt visited, disguised as an Arab. Today, it is one of the seven New World Wonders, one which still holds so many mysteries left to be uncovered.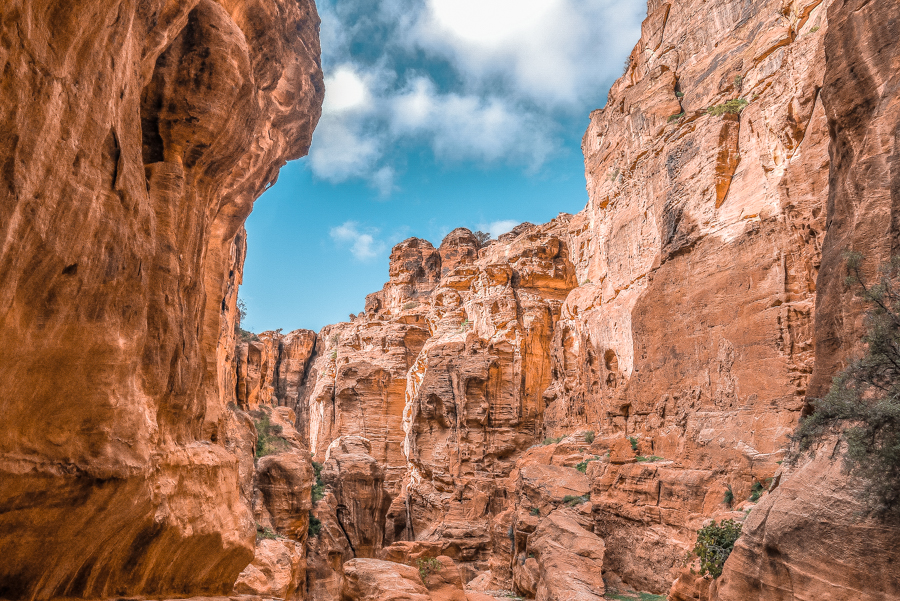 While most guides recommend at least two days to get the most out of Petra, I felt very satisfied with how much I got to see and do in just a day. I do wish I would've lingered a bit longer to experience a Petra by Night walking tour, but overall I feel I made the most out of my day in Petra.
If you also have a tight schedule in Jordan, here's a quick guide to help you plan and rock your trip to Petra in a day as well as the best tips for visiting Petra for first timers.
THINGS TO SEE IN PETRA
EL SIQ & THE TREASURY
Before actually getting to the main sights of Petra, you must walk through a two-kilometer-long narrow gorge known as El Siq.
As you walk through the orange gradient walls, you will feel as though you are about to uncover Petra as did its first explorers back in the day!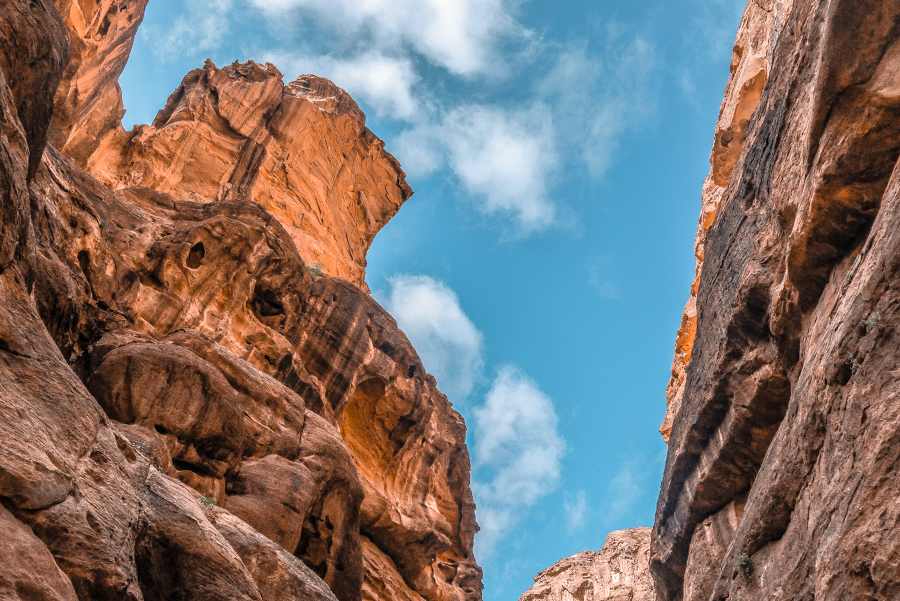 At the end of the gorge, you will begin getting tiny glimpses of the Treasury, a temple carved out of sandstone by the Nabateans.
Originally, built as a mausoleum and crypt during the 1st century, the Treasury is locally known as the Al-Khazneh.
This will be your first stop, and interestingly, I noticed there were many visitors hanging out here and leaving afterward, not realizing that the treasury is actually just the doorway to the rest of Petra.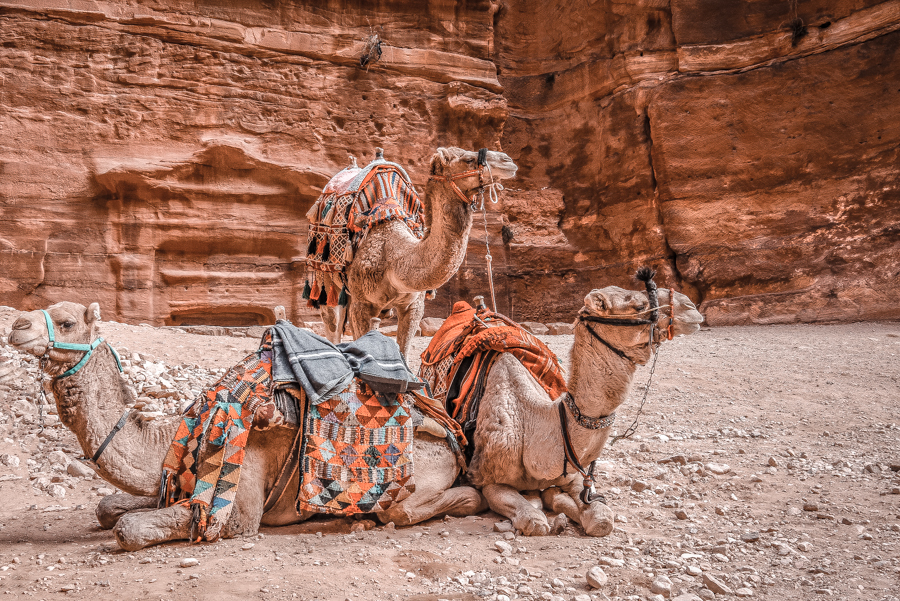 HIKE TO THE MONASTERY
The Monastery was my favorite sight in Petra. It boasts a facade carved out of sandstone and the journey to it involves a pretty cool hike.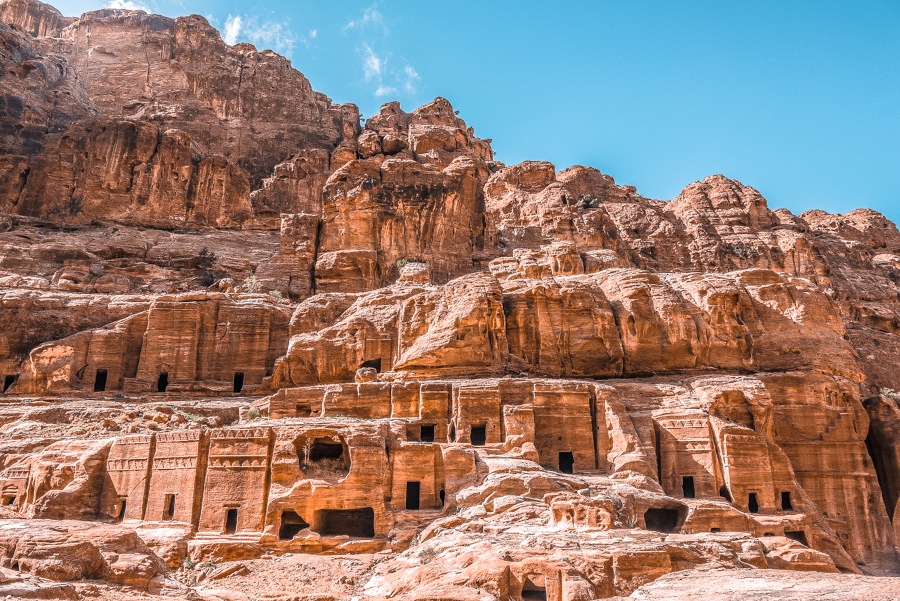 There are two ways to get there: the first one being by foot, the second one by camel or donkey. Please don't ride the animals. They are often abused by their owners and carrying tourists up and down all day is very exhausting for them.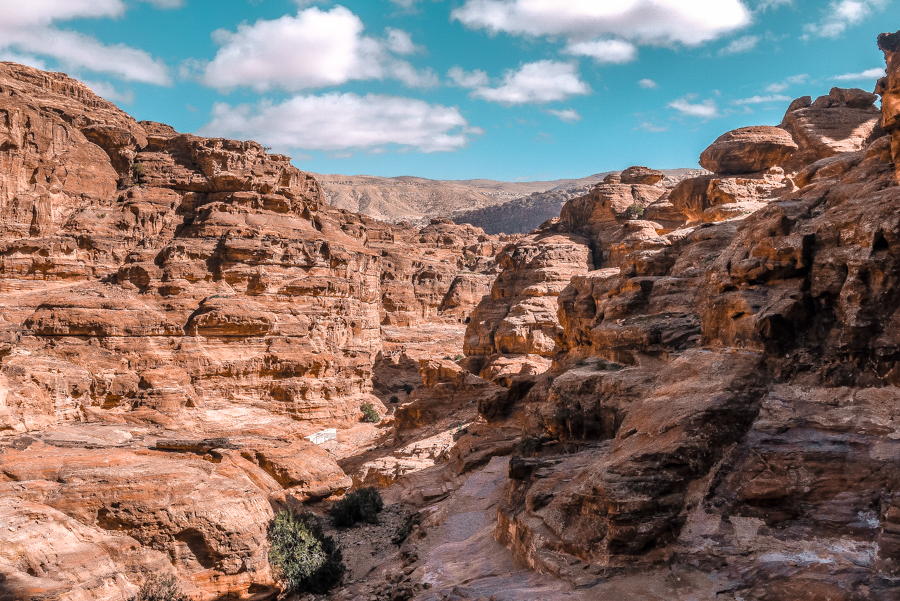 The way up takes roughly an hour on foot, but it is perfectly doable (I did it without much effort and my physical condition isn't exactly at its best right now). The hike is truly a treat – you will pass by Bedouins drinking tea, amazing landscapes filled with sandstone carvings, ancient Roman pillars, and ridiculously beautiful desert scapes as far as the eye can see.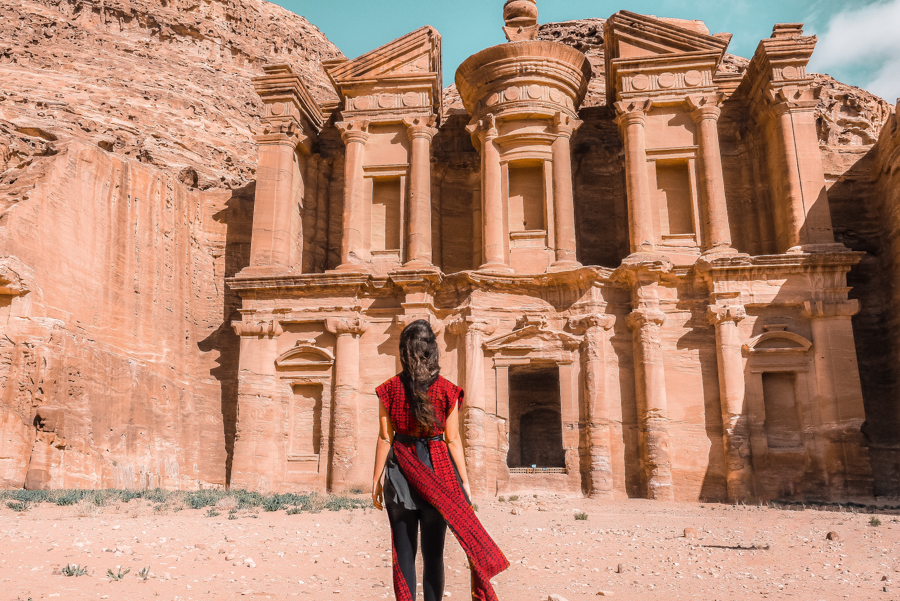 DRINK A COFFEE IN FRONT OF THE MONASTERY
This was my absolute favorite moment of the day. After the exhausting hike, we were so pleased to find that there are a few small local (and very decently priced) Bedouin cafés overlooking the Monastery.
Sitting there and relaxing while soaking in the views of sandstone mountains on one side and the magnificent Monastery on the other was a highlight for me!
SHOP AND TRADE
One of the amazing things about Petra is getting to shop from authentic Bedouin families.
As you walk through, you'll feel overwhelmed with all things pretty like rugs hung on the side of a decaying structure, carved-out camel figurines, bracelets made out of stone beads, and so much more!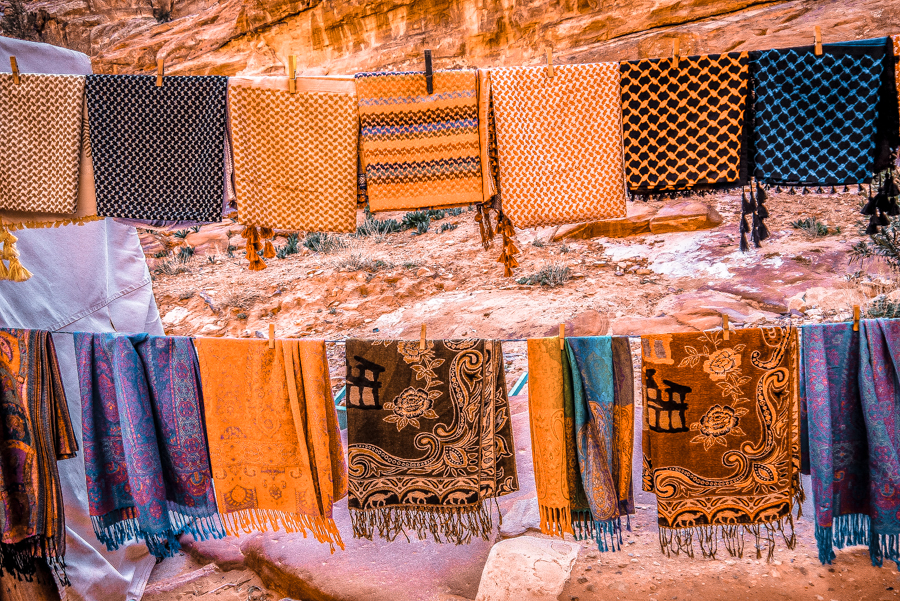 For Bedouins, trading "x" thing for another is still a common practice. I exchanged my shoes (oops), a dress, and a lantern for gorgeous handmade jewelry made by the girl in the image below.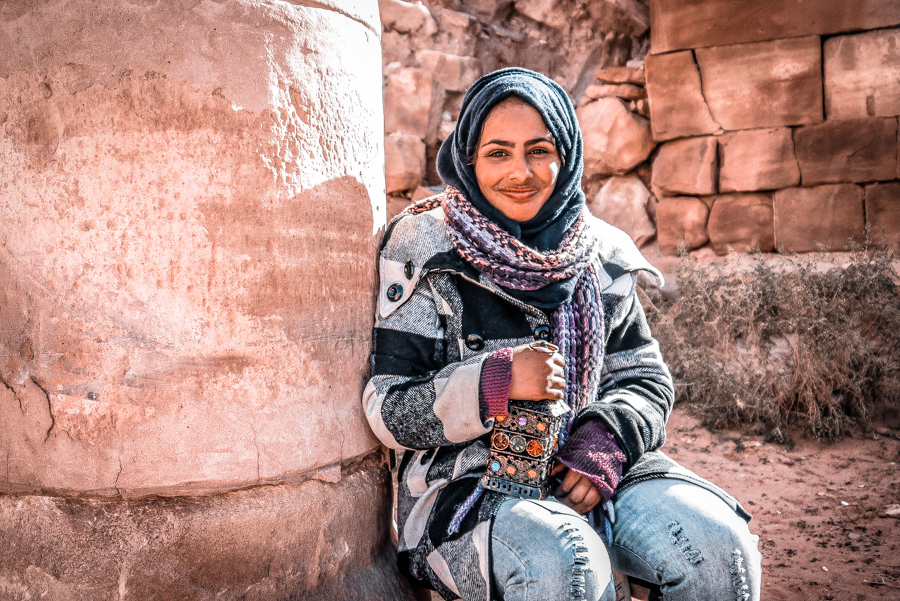 Bring trinkets from home that you don't use anymore and see what original gifts and souvenirs you can bring back in exchange for that old jacket that's been collecting dust in your wardrobe for a while!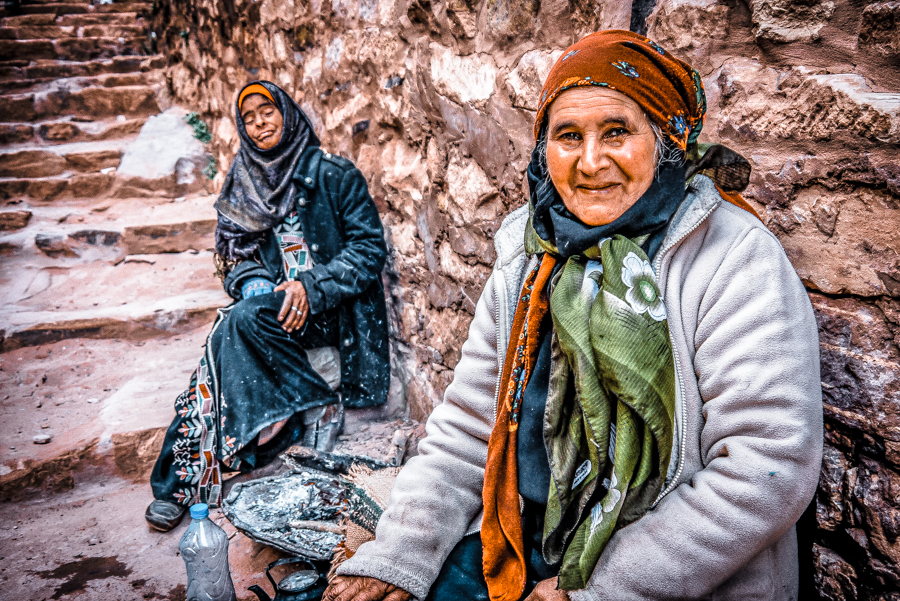 HOW TO GET TO PETRA FROM AMMAN
The easiest way to get to Petra is by booking a private tour from Amman. They usually start at $160 if they include your entrance fee to Petra.
You can also hire a taxi to drive you there, wait for you, and pick you up when you're done exploring Petra. These usually cost 60JD or so from Amman (ask your hotel/hostel to arrange it for you!)
If you'd rather visit Petra on a budget, you can always take a JETT bus for 11JD each way. It leaves early in the morning and will drop you off right in front of the entrance to Petra. The return bus leaves from the same spot at 5PM, giving you plenty of time to explore. Check their schedules and book your ride on their website.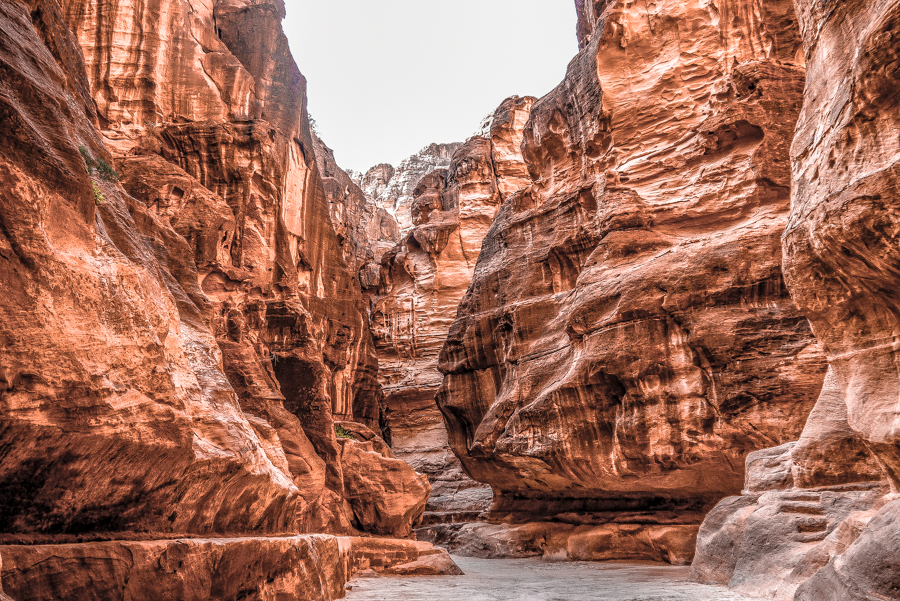 TIPS FOR PLANNING YOUR TRIP TO JORDAN
Get the Jordan Pass instead of a visa to save money BIG TIME. For $99, it includes a visa waiver (so the cost of your visa is included) AND entry to tons of attractions around Jordan (including Petra!).
As always, I recommend Safety Wing for reliable travel insurance to cover you Jordan. Healthcare in Jordan is the best in the Middle East, but clinics and hospitals are mostly concentrated in Amman. If something happens, you'll need to be evacuated and transferred to the capital, which could get really, really costly.
If you want a few packing tips for your trip to Jordan, check out my Jordan packing guide here.