It's impossible to describe Havana using only a few words. Beyond its gritty facade, you'll stumble across a wonderland of sounds and a riot of colors that will make you feel as though you've traveled back in time.
Earlier this year while traveling through the Mexican Caribbean, I decided to take the plunge and book a flight to the Cuban capital. Visiting Havana is something I'd meaning to do for years on end but kept pushing back for silly reasons.
The chance to see the real and untouched Cuba is now, or so I read on every travel website I visited. This couldn't be further from the truth. The change in Cuba is already taking place, and getting the chance to see how this incredibly misunderstood Caribbean gem is morphing itself is just as fascinating.
I've put together a Havana travel guide where I share ten invaluable tips and things you need to know before you board your flight to the fervent and ever-alive Cuban capital. Whether you're visiting Havana on a quick girls' getaway or making it the gateway to exploring Cuba further, you're going to want to take note!
KNOW HOW MUCH IT COSTS TO GET FROM THE AIRPORT TO HAVANA'S CENTER TO AVOID GETTING SCAMMED
The set price for a taxi from the airport to the city is 24 CUC.
There is a bus that goes from the airport to the center, too, but foreigners are not allowed to use it. Another option is to arrange a pickup with your hotel or casa particular (more on casas particulares further down on the post!), but the taxis at the airport are perfectly safe.
INTERNET IS A RARE LUXURY IN HAVANA
Internet access in Havana has grown in recent years, but it still remains a luxury. You'll be able to find it at big hotels and a few hot spots spread out around Havana, but in order to use the wifi at either, you'll need to purchase an internet card.
The easiest cards to get are the ones at hotels, but they'll cost a whopping $1 an hour. We were able to buy a few cards and chill out with our computers at Hotel Inglaterra, but they didn't allow us to stay for long. I work while I travel, so I needed a bit more time in the internet world and we tried our luck once again over at Hotel Plaza, which quickly became our go-to place for wifi. They had no issues letting us purchasing several internet cards and lingering there for a while.
The other option is to purchase regular internet cards that you can use at the many wifi hotspots all over Havana, but you'll usually have to queue up for several hours in order to get one. If you're in Cuba long enough, it might be worth the long wait. One of the most reliable places to get a card is at Museo de las Telecomunicaciones.
Wondering how to find a wifi spot? Just look out for dozens of locals sitting on the street with their phones in hand. There are so many around, and finding them isn't really hard. You can also download this app before arriving in Havana.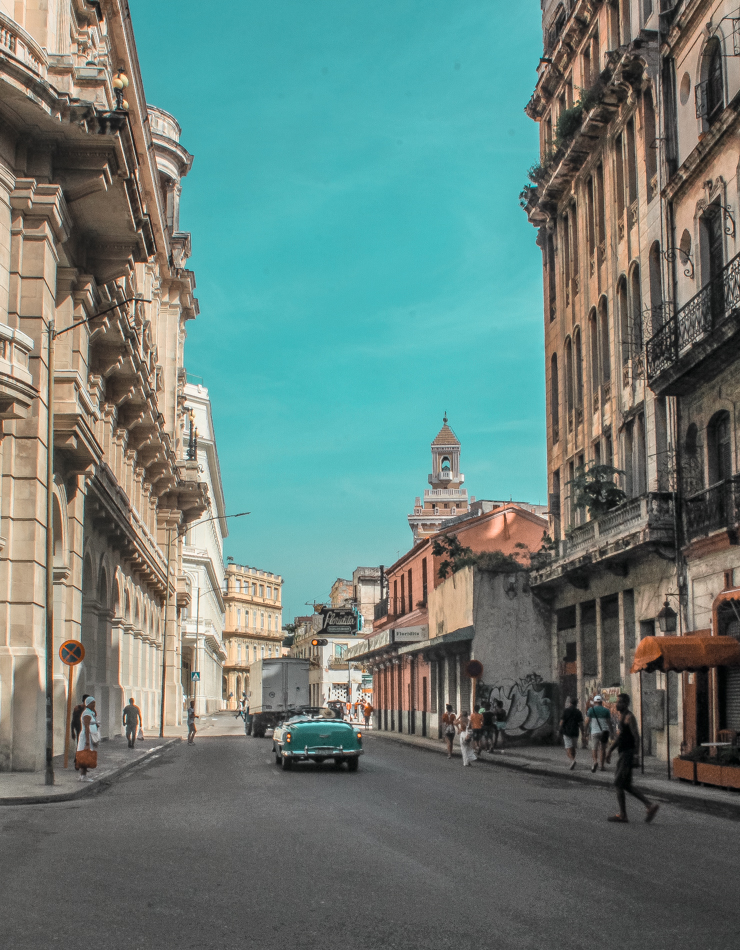 PLAN OUT THE FIRST FEW DAYS
I'm all for arriving at a place with zero plans and figuring things out along the way, but in Havana, this can be a little tricky due to the internet situation.
I'm not really into tours, either, so a great alternative is to get a local to plan your Havana itinerary. ViaHero makes this possible by hiring Cubans to create personalized itineraries packed with fun activities (some which you won't find in traditional guidebooks!).
It's a great way to make your trip to Cuba fun, safe, and authentic while still giving you a chance to explore independently. I've negotiated a 5% discount for all No Hurry To Get Home readers, just use code NOHURRYHOME when checking out 🙂
LEARN HOW MONEY WORKS IN CUBA
There are two currencies in Cuba. One is for locals (CUP), while the other one is for foreigners (CUC).
1 USD = 1 CUC
1 USD = 24 CUP
CUC is widely accepted anywhere, but you'll want to get your hands on a few CUP if you plan on using public transportation while in Cuba.
While I didn't experience this, I've heard from a few travelers in Cuba that a common scam is to pay using CUC, and get the change in CUP – so learn your bills and double check at all times!
I honestly wondered if this was really a scam, or if perhaps it was the fact that it can get confusing as hell, even for locals.
I purchased a mini pizza at a small restaurant once and the waitress got so nervous when I tried paying with CUC and spent a few good minutes trying to calculate the change in the local currency. She then apologized for taking so long and told me that a foreigner had just been there and she had given her the wrong change in CUP… $12 more than she was supposed to! Not even sure how that would happen, but it sounds like something I'd do, too (I suck at math).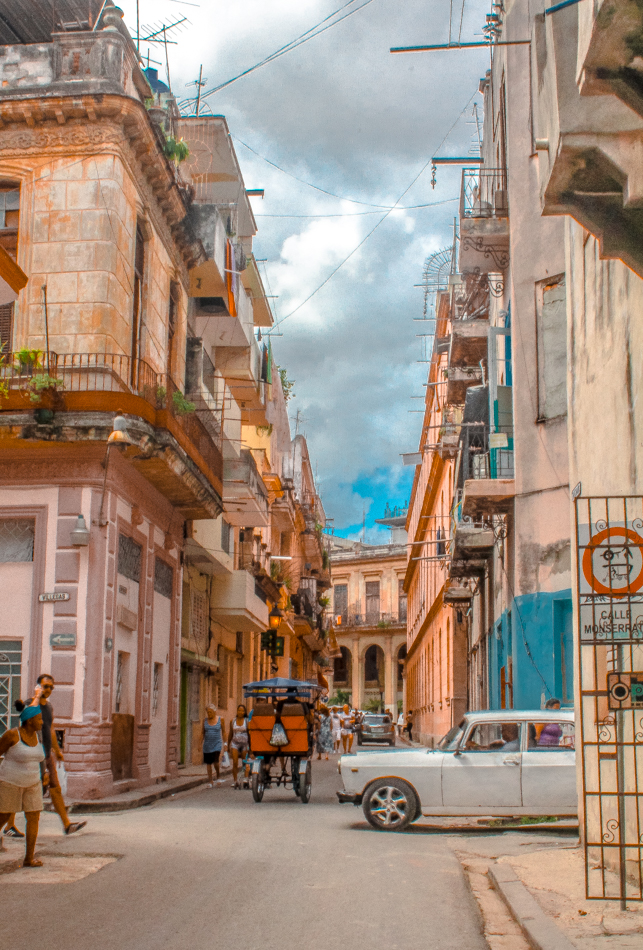 BRING HARD CASH
Many cards won't work at ATMs in Cuba, so bring enough cash to cover your expenses, preferably in Euros or Mexican Pesos for a better exchange rate.
If you do bring a card, make sure it's Visa, as it's the one that is most widely accepted in Cuba.
You'll be able to exchange your money at banks around the city center, and money exchange houses locally known as cadecas. Major hotels will also change your money and there is an exchange office at the airport in Havana as well, but the lines are often dreadfully long.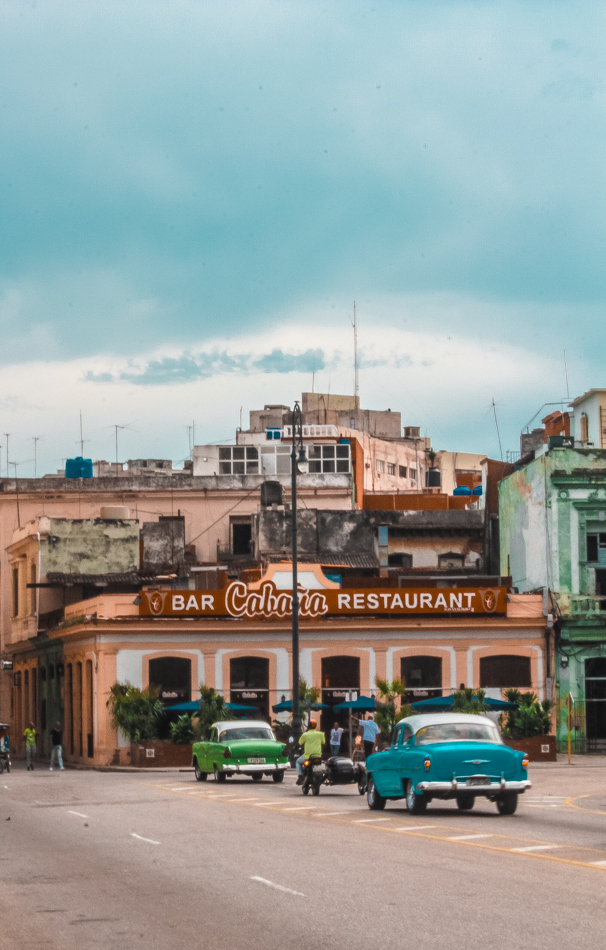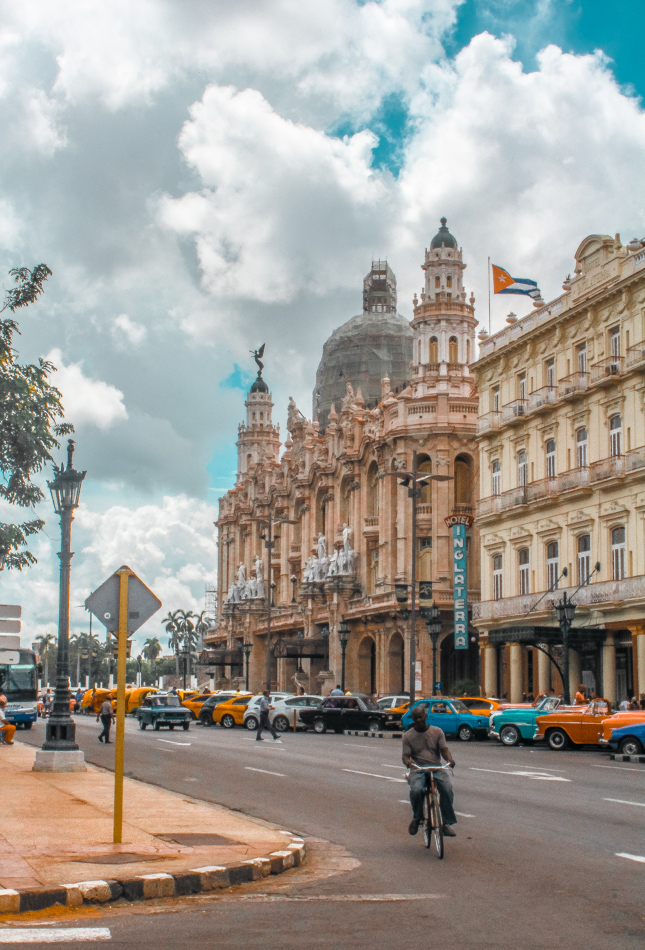 PACK A WATER PURIFIER
Our first day in Havana was a struggle. It was hot, we hadn't done enough research beforehand, and we were thirsty as hell. We sort of figured we could walk around and buy bottled water somewhere, but we were soon struck with the realization that there were no grocery shops in sight.
It turns out that there are quite a few supermarkets all over Havana, but they often come in the shape of hazy windows with no signs that look more like abandoned buildings. These shops are often understocked, and you have to make queue up and order whatever it is that you need.
I always travel with my GRAYL water purifier, but I forgot it for this trip and it made me realize how much I depend on it when I travel to countries where tap water isn't safe to drink. Having it would have made out time in Havana so much easier.
In case you don't know what the GRAYL is, it's basically a water bottle that purifies tap water in just a few seconds. Trust me, if you're traveling in Havana independently and staying at casas particulares rather than hotels, you'll be happy you brought it along.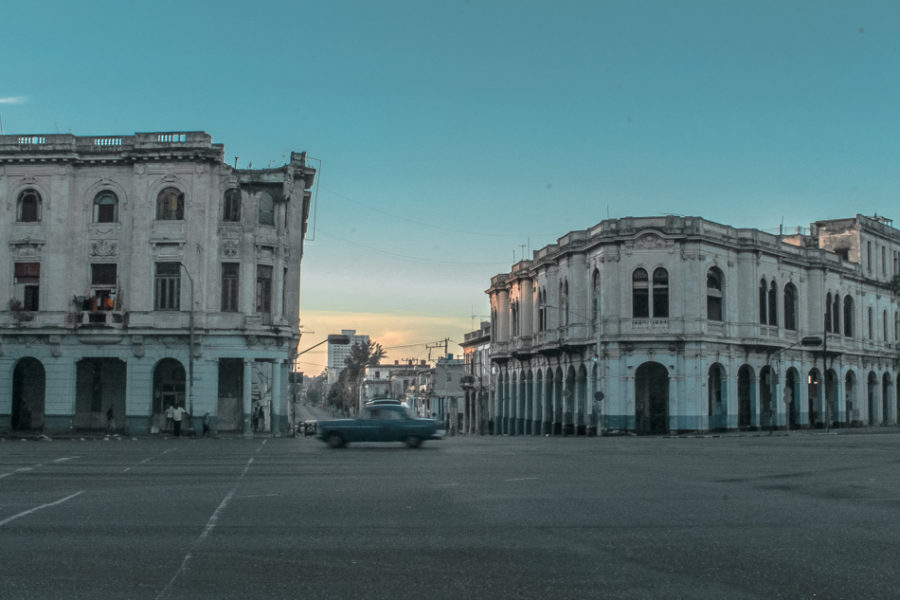 KNOWING A BIT OF SPANISH WILL GO A LONG WAY, BUT YOU CAN GET BY WITH ENGLISH
I found Cubans to be extremely inviting. In a country where wifi remains a rarity, human connections are still a thing. Getting the chance to talk to Cubans made my experience in Havana so much richer.
It will also come in extremely useful when going to shops (as mentioned above) and having to order something. Learning at least a few basics will make your time in Havana significantly easier.
Still, I was surprised to find that English was widely spoken by waiters, taxi drivers, and restaurant employees in the touristic areas of Old Havana, so you'll definitely be able to get by!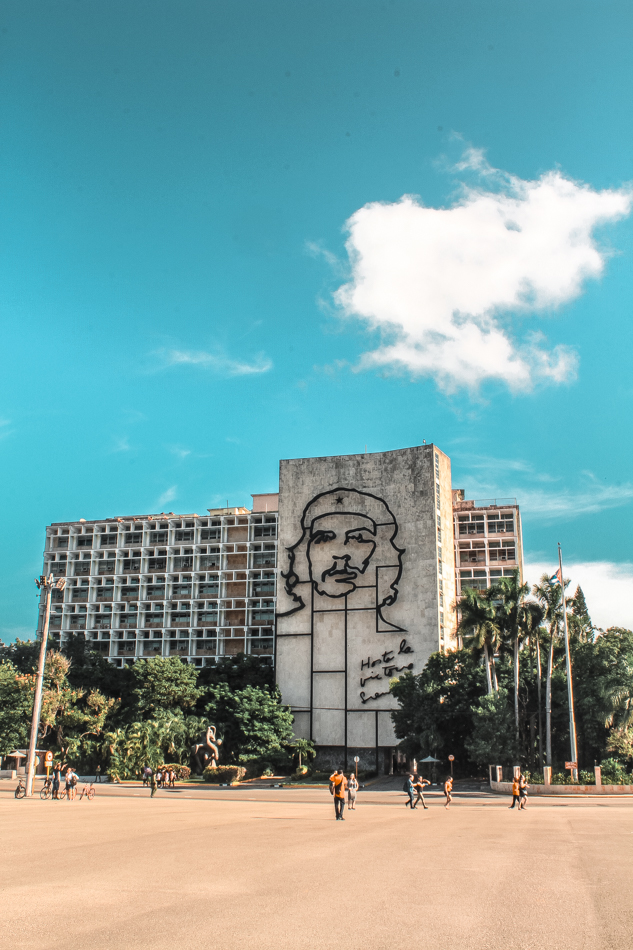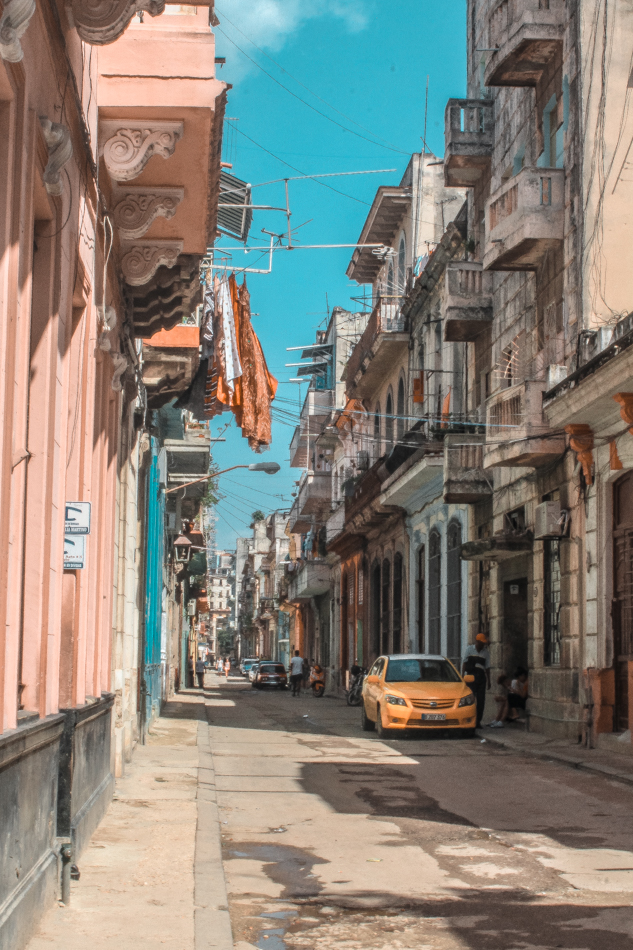 FOR A MORE AUTHENTIC EXPERIENCE, STAY AT A CASA PARTICULAR RATHER THAN A HOTEL
A few years back, staying at a government-owned hotel was the only accommodation option in Havana, but things in Cuba are rapidly changing.
Nowadays, Cubans are allowed to rent out rooms in their houses to foreign travelers, which you can easily book over at Airbnb. Staying at a casa particular is an amazing way to get an authentic taste of life in Havana, as you'll be sharing your space with locals that might just decide to share their favorite spots to dine, a Cuban cigar, or a cup of coffee (and while we're talking coffee… don't leave Havana without getting a taste of it! Cubans do a lot of things right, and their masterpiece might just as well be their strong doses of caffeine).
On our five-day stint to Havana, we stayed at a casa particular which made our time in Cuba feel more authentic. Our house was a massive property built in the year 1895 that was once the workshop of a famous Cuban sculptor and we only had to pay $7 for a night there!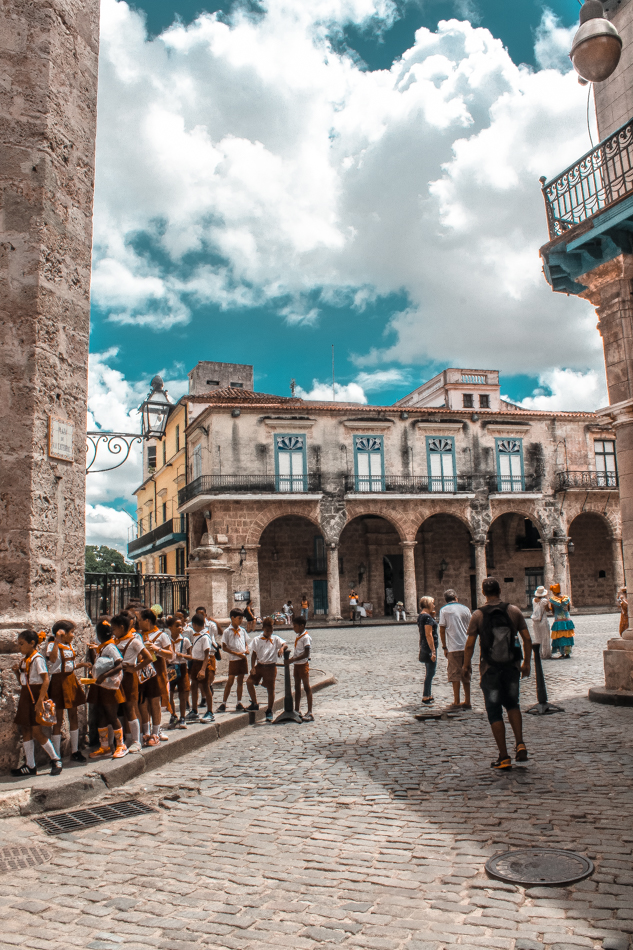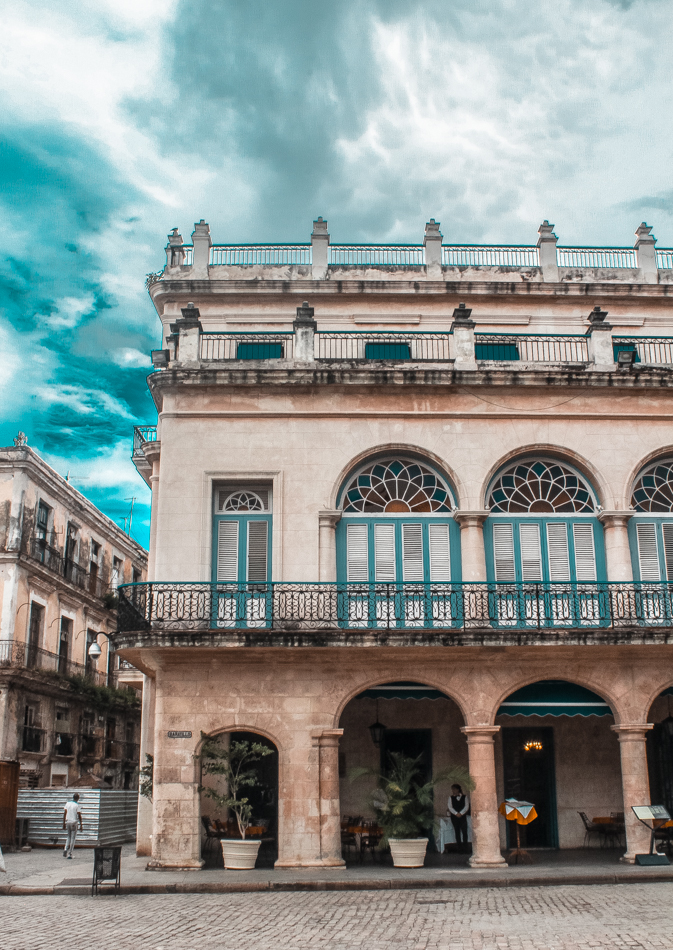 YOU'LL HARDLY FIND FAMILIAR BRANDS, SO BRING THE THINGS YOU CAN'T LIVE WITHOUT
Cuba is sadly still an embargoed country, which essentially means they don't get to trade much and the brands we are used to simply don't exist there. We were able to find a few Mexican brands here and there (for ridiculously high prices), but other than that, things were locally made.
Moreover, shops in Havana aren't easy to come by, and supermarkets are usually incredibly understocked, so bring everything you think you'll need during your trip to Havana – including snacks!
MAP THINGS OUT BEFORE YOUR FLIGHT
Again, internet in Havana isn't easy to come by, and chances are your casa particular won't have wifi available (even if advertised). Download an app called Maps.me (it'll work offline) and mark out where your hotel/casa particular is as well as a few basics like the Plaza Hotel (which sits at the most famous square of Havana and acts as a great gateway to the city's historical center), the bus station, and a few main attractions that you don't want to miss!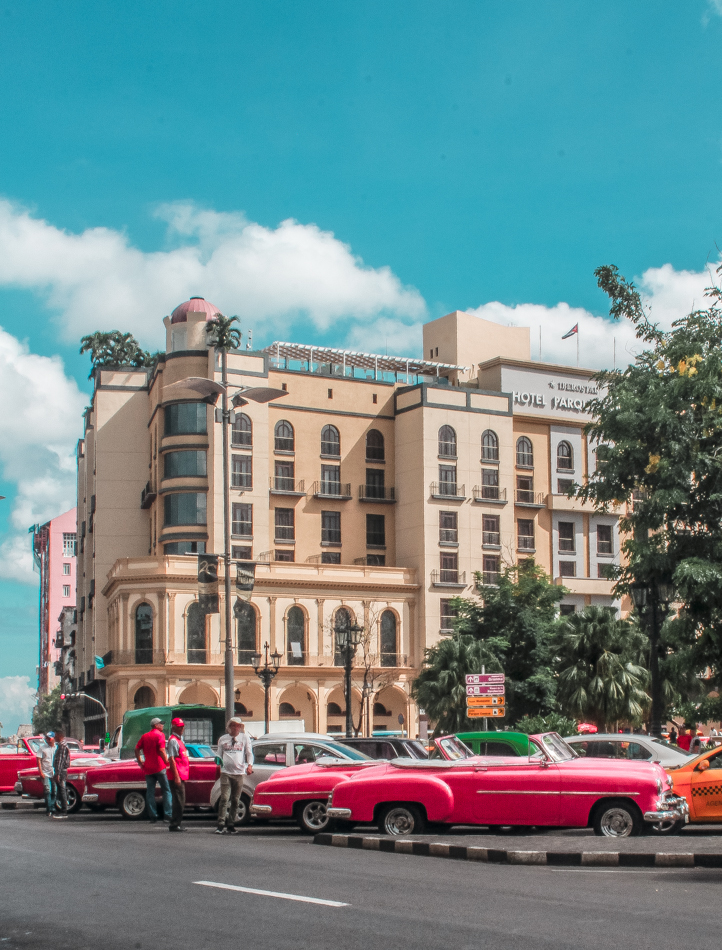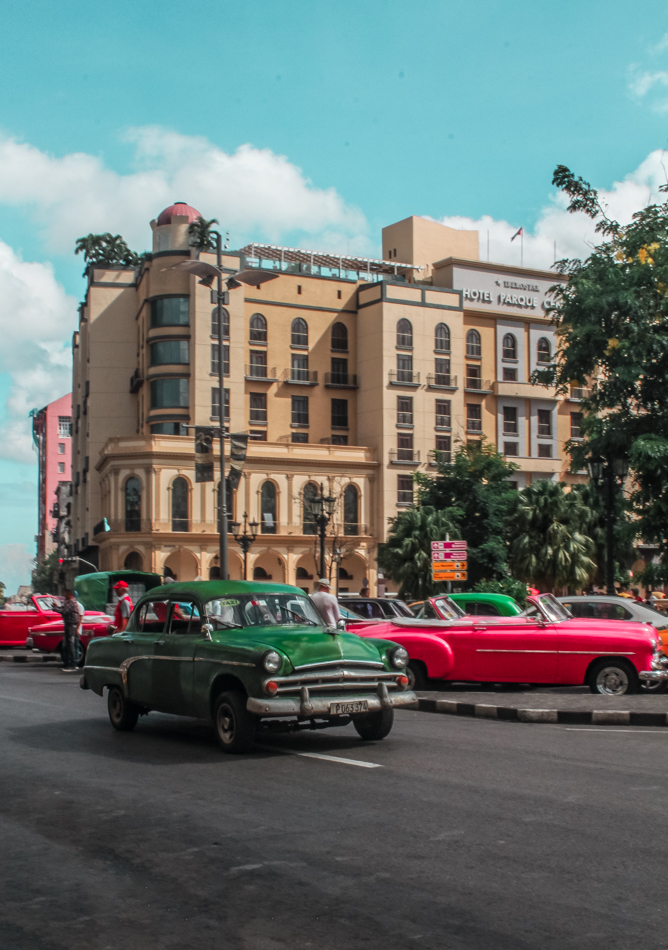 GET TRAVEL INSURANCE
Cuban healthcare is top notch, so I wouldn't worry much if you get ill during your trip to Havana *knocks on wood*, but you'll want to make sure your expenses are covered if anything were to happen.
Moreover, they do spot checks at the airport and you might need to show proof that you're insured. This is rare, but it does happen.
World Nomads covers most nationalities and over 150 adventure activities that most other insurance companies don't – you can easily book your insurance for Cuba online and even extend it or adjust the terms while you're already traveling.
Disclaimer: This post contains affiliate links. If you click through and make a purchase or sign up for a program, I may earn a commission at absolutely no extra cost to you.
WANT TO SAVE THIS HAVANA TRAVEL GUIDE FOR LATER? PIN IT TO PINTEREST!