So it's New Year's Eve and I'm nowhere near a party. Instead, I'm sitting in front of my desk writing down my goals. Uncool? Maybe, but this is exactly how I envisioned I'd be closing up the year! Plus, I've never really been cool anyway.
Also, you bet your ass I'm sipping rosé while writing this post.
---
2018 was all about getting my life back in order and slowing down.
I ended twenty-seventeen feeling absolutely lost in every single aspect of my life. Honestly, back then, I couldn't have imagined I'd be writing this just twelve months later.
This year, I decided to stop traveling full-time in order to start working as a freelancer again (and yet I still traveled for five months if you cram it all together, so kind of a cheeky thing to stay, really)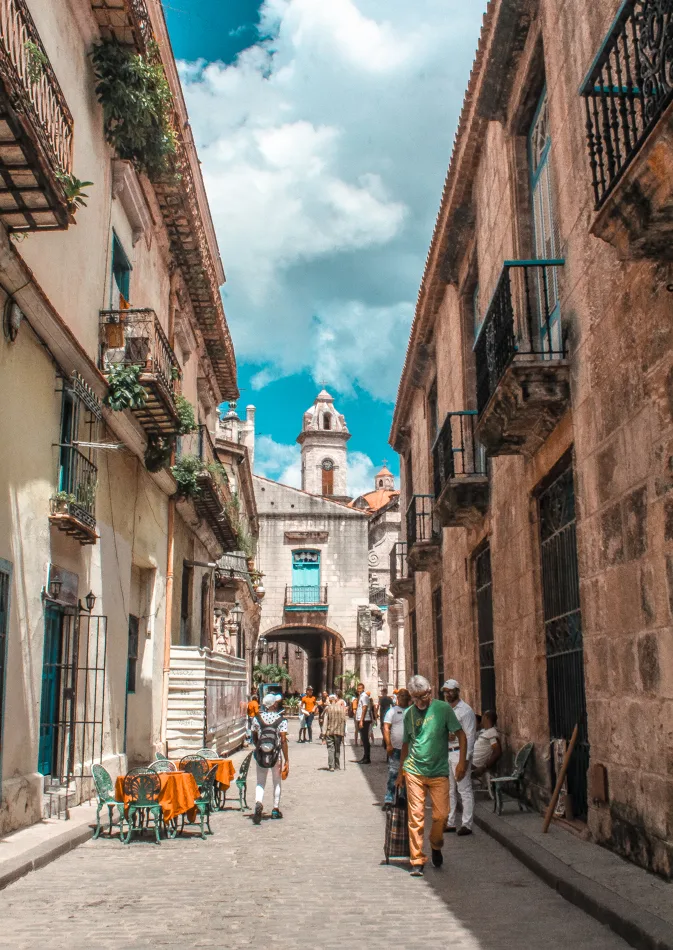 One of the highlights of 2018 was finally making it to Havana!
Not only did I launch my baby, No Hurry To Get Home, but I also built a business that gave me the chance to work with amazing fellow content creators who taught me so many things along the way. I also got to co-author a book in which I share a few short-but-sweet stories of life on the road.
All in all, 2018 was a freaking amazing year that surprised me in every step of the way.
Honestly, starting your own business is a lot like traveling – you head out into the unknown with as little or as much as you have and you awkwardly find your path along the way. I was incredibly lucky to get the chance to meet amazing people that guided me through the toughest parts (much like that person you ask what train you're supposed to take) and for that, I'm so, so thankful!
I'm expecting 2019 to be even better – I'm really going big this time! I've never been a goal-setting type of person – at least not the kind who writes things down, but last year I gave task lists a try and they um, sort of changed my life, so it felt super appropriate to make a yearly task list, too!
Plus, the fact that it will be awkwardly sitting on the blog for everyone to see will give me just enough pressure to make sure I don't get lazy.
⠀⠀⠀⠀Let's take a look at my goals for 2019!
⠀⠀⠀
⠀⠀⠀⠀⠀⠀⠀
Launch The Travelling Studio
People who have known me since forever think photography is my #1 love because that's pretty much what I spent my days doing since I was eleven years old.
And while it's definitely a passion of mine, graphic and web design always came first. Weird, right? When I was nine, I stumbled across a tutorial on how to make banners on an ancient program called Paint Shop Pro X and I sort of never looked back. Browsing for pictures online to MAKE ALL THE SPARKLY BANNERS was what actually introduced me to photography in the first place.
So yep.
2018 was the year of going back to my roots. I was put in the map by Marissa and things sort of snowballed from there. In fact, I ended the year working on a pretty kickass project for the legendary Christiane Northrup.
In 2019, I want to make a name for myself outside of word of mouth, and now that I have a pretty cool portfolio to actually brag about, it's time to put it out in the internet world for the world to see! That's what I'll spend my days doing between late February and March – Oh, and I plan on doing that in Bali!
Aside from just launching an online portfolio, I also have some pretty cool side plans for The Traveling Studio – so keep your eyes peeled because I'm way too excited about it!
Visit (at least) five new countries
I'm not really into counting countries, and I think that's a pretty obvious statement when you consider I've been to Morocco seven times. I love returning to places I love, but this year I want to focus on exploring new destinations.
This goal should be the easiest to achieve – Flights to Sri Lanka are booked, where I'll spend two weeks riding trains and hopefully spotting leopards at Yala National Park. Next on my schedule is a brand new country for me – Indonesia. I spent almost two years living in Southeast Asia and never made it to Bali, which is honestly kind of an odd thing for a millennial travel blogger to say.
Anyway, I plan on remedying that next year! I feel that I'll either love or hate Bali and I'm ready for either! I also plan on doing a short stint to Komodo Islands and um, maybe a few other things? There's a volcano nearby I'm dying to hike, but while in Bali, I mostly plan on working on The Travelling Studio, so we'll see what time allows!
Both Sri Lanka and Indonesia are two completely new countries for me, so that's 2/5 already!
I'm also toying with the idea to visit my dream destination: Borneo, but I'm more inclined to leave that for later when I have more time for it.
Further down the year, my boyfriend and I have plans to travel South America – on the top of our list are Colombia, Ecuador, Peru, and Bolivia!
I'd also love to explore more of Africa. A return to Zambia is on the map to get new Tonga baskets for my shop, Nomadik Market. If plans work out, I'll totally take the chance to visit a neighboring country, too – either Mozambique, Botswana or Namibia (or maybe all of them? We'll see how my work schedule and budget allow once the time comes!)

Throwback to my trip to Zambia in 2017!
Reach 50,000 No Hurry To Get Home Monthly Readers
Since August, my monthly readership has remained stale. As my workload grew, No Hurry To Get Home sadly had to take the back seat for a few months.
December always tends to be a slow month for freelancers, giving me plenty of time to give the blog some much-needed focus.
I re-branded it completely: partly because having a steady brand makes things so much faster to edit, write, and even create graphics, but also because I wanted No Hurry To Get Home to become a gateway for peeps to discover my web design services. This new look is the type of work I'm dreaming of creating for new clients in 2019, so it was sort of like hitting two birds with one stone!
I also created a fun Excel spreadsheet laying out how to improve existing posts – be it by re-vamping them to make sure they're up-to-date, working on SEO, or re-editing pictures to fit No Hurry To Get Home's new look.
Obviously, creating that spreadsheet overwhelmed me and instead of working on that checklist, I clicked on the close button and tried to forget about it – it terrified me and I didn't open it again until last weekend.
So yup, I spent the last three days of 2018 working on one of my biggest goals for 2019 – it feels pretty cool to get ahead of things!
In 2019, my aim is to write at least four blog posts a month – it will be a mix of useful guides to popular destinations that will have the potential to bring in traffic and income as well as fun stories in more off-beat places, which leads me to my next goal:
Take a creative writing course
I'm not a prolific blogger.
The thing is, there are days when words flow like water, and others when the best sentence I can think of is something along the lines of "omg, guys, this places was AMAZEBALLZZZZ".
It makes writing on a consistent basis a pretty hard task.
And while I think I've done relatively okay recounting stories like the time I almost died at Victoria Falls, I can't help but feel that my story-telling skills need a bit of work. I adore writing guides to places, but I want No Hurry To Get Home to be a blog that also connects to its readers with raw and fun stories.
I have so many ridiculous misadventures I want to write about, like the time I got attacked by tsetse flies in Tanzania or when I got stuck on a ferry in the middle of Lake Malawi for three days. Still, as soon as I start writing, I freeze and quickly decide to get back to it later – someday, maybe.
Learn German. Maybe.
So this has been a goal of mine since 2015 – one that I haven't managed to tackle. I've given an endless array of apps a go because I'm a pretty good self-learner, but with languages, it hasn't quite managed to do the trick. I know the words, I kind of understand the grammar, but when people talk to me, I just…. can't.
This year, I'm hoping to become sort of fluent in the language.
If you consider that my boyfriend of two years is German and that I've spent more than a year in the country, it's kind of ridiculous that I don't speak the language yet.
I've been researching a few intensive courses in Düsseldorf and I'm hoping to enroll in one for at least a month before the year ends. I don't expect to become fully proficient in 2019, because that's kind of unrealistic due to my travel and work goals, but being able to have short but sweet conversations by the start of twenty-twenty would be pretty damn cool.
Work out four times a week.
Oh, oh! Yep – there's always that one goal that doesn't get me as excited as the rest.
Here's a confession: I haven't had a proper workout since the summer of 2013 (when I became a fitness junkie for like, two whole months).
I mean, seriously, these were the type of posts I'd fill my Instagram feed with:
Side question: Has anyone else ever scrolled down their Insta feed to years earlier and cringed while doing so? Pretty sure I was a freakin' annoying 18-year old.
Ver esta publicación en Instagram
But yeah, despite my annoyingness, I still remember the great effects working out and eating well had on my overall mood.
Nowadays, my meals look more like this: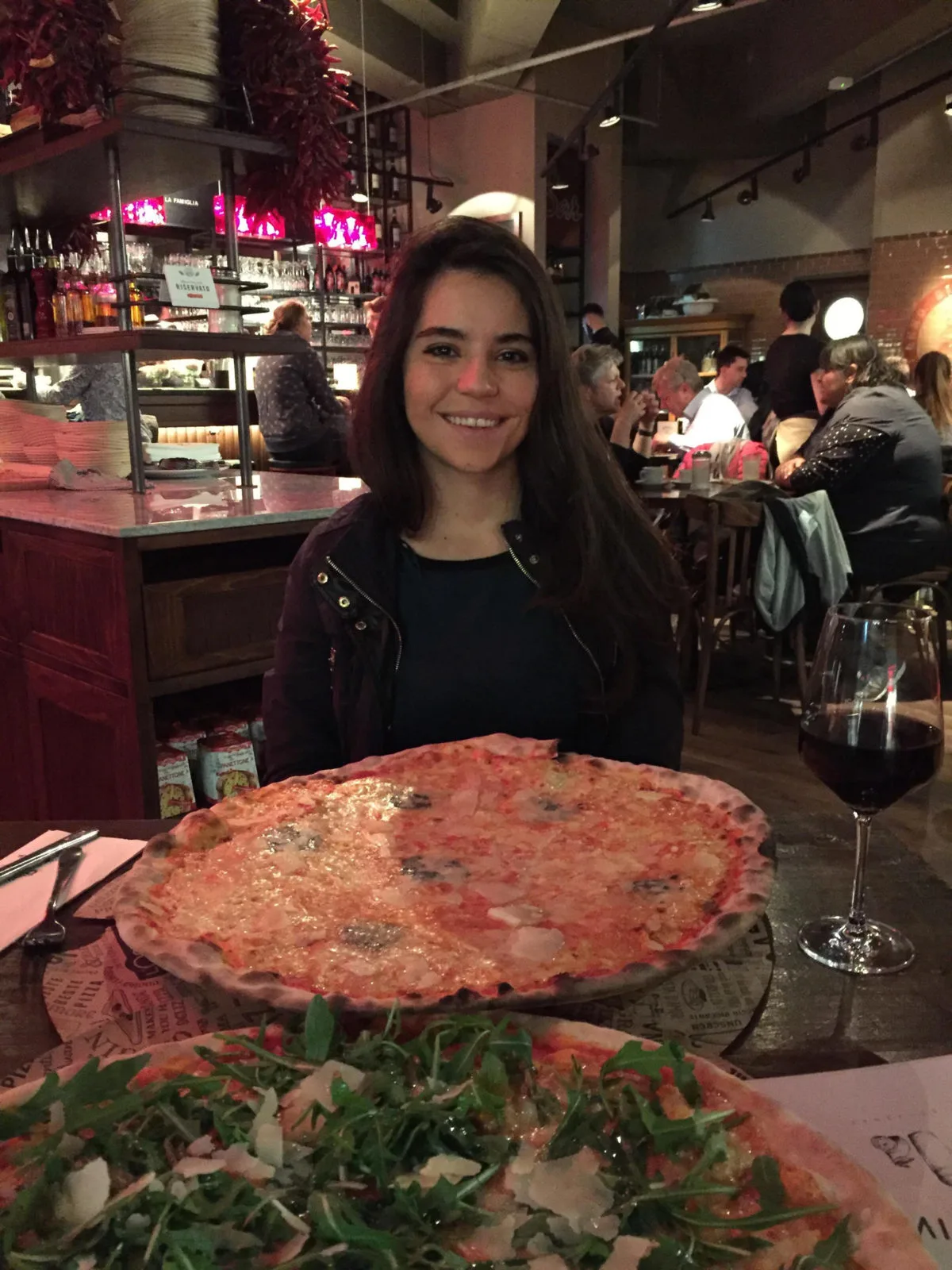 I'm hoping to get back to a more consistent and healthy lifestyle in 2019. While it will be a hard goal to achieve while traveling, I don't see a reason why I couldn't fit in a quick workout a few times a week even when on the road.
And when I'm not traveling, I'll stick to working out for at least an hour before starting work for a minimum of four times a week.
And that's it! It's past 12 already, so it's time to start tackling my goals! Here's to a kickass 2019!