Day of the Dead in Mexico City feels a little different than the rest of the country.
Even though the celebration revolves around death, it's everything but a gloomy affair. In reality, it's probably the liveliest time of the year to visit Mexico!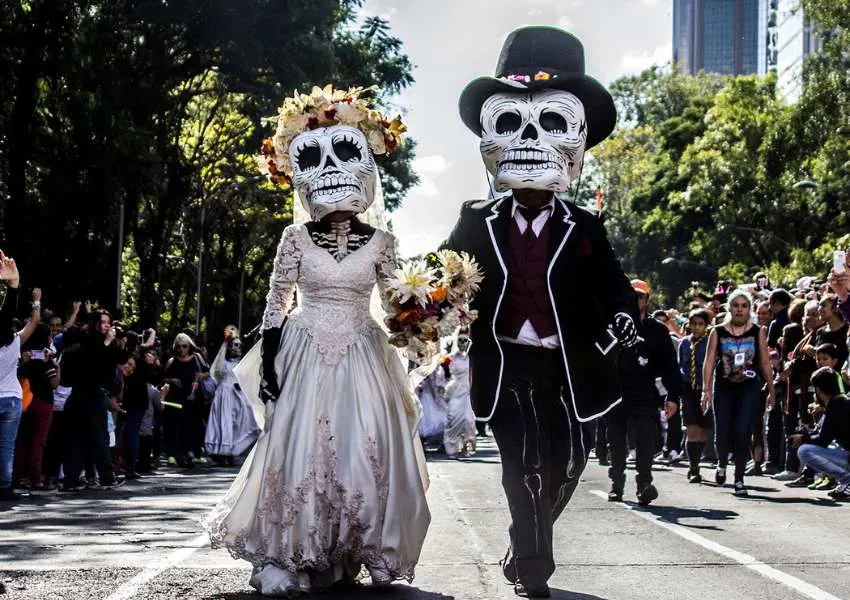 Yes, death is scary for us, too, but Day of the Dead is all about celebrating life rather than mourning. As Mario Benedetti once said: "After all, death is only a symptom of life".
If you're thinking of heading to Mexico City to celebrate Day of the Dead, I guarantee you'll be in for a real treat.
When is Day of the Dead in Mexico City Celebrated?
Day of the Dead falls on November 1st and 2nd, a date when the underworld opens and spirits are believed to visit their loved ones in the living world.
In Mexico City, however, Day of the Dead is more like a month-long love story, with festivities and events taking place all throughout October and well into November.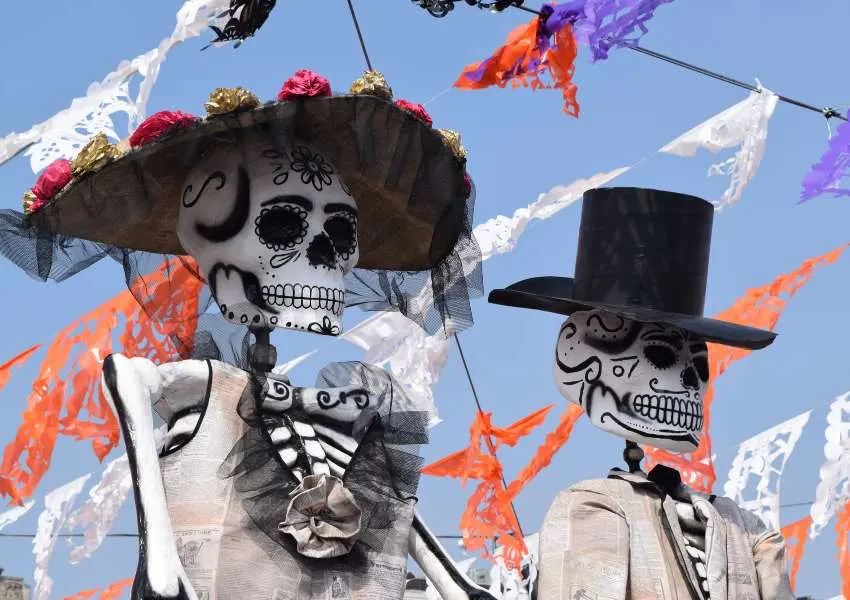 Why Celebrate Day Of The Dead In Mexico City?
While Day of the Dead in Mexico isn't as "traditional" as it is in other parts of Mexico, in recent years, the city has made a huge effort to implement it more into its cultural calendar.
All throughout October, you'll be spoiled for choice with wonderful things to do related to the celebration.
Think immersive experiences that will take you through Mictlán (the Aztec underworld), theater performances showcasing Mexican horror legends on a lake, skull-themed exhibitions, and so much more.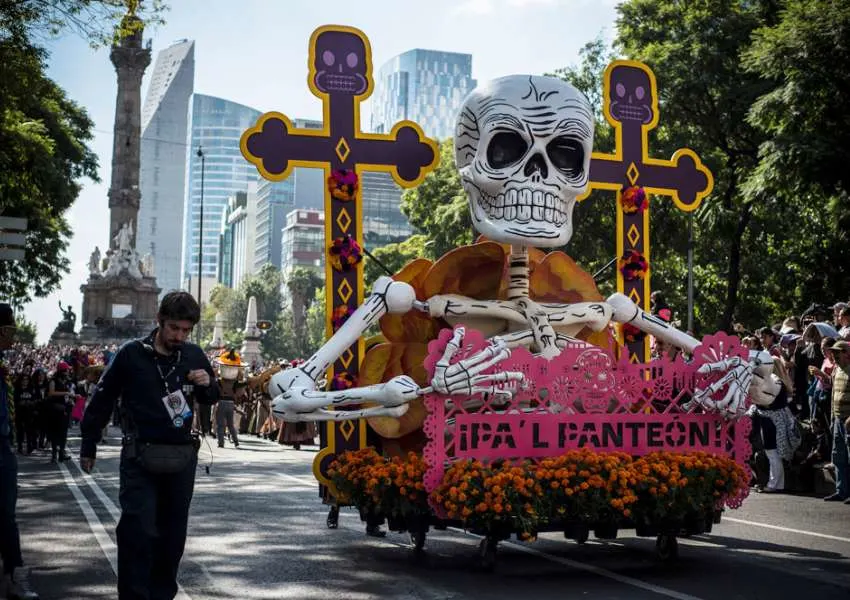 Don't be surprised if you find yourself getting overwhelmed with options, especially if you're the artsy type!
I'd describe Day of the Dead in Mexico City as artsy and classy with a modern twist to it. If you're looking to party and want a more traditional celebration, though, I'd opt to celebrate Day of the Dead in Oaxaca instead.
How Is Day Of The Dead Celebrated In Mexico City?
Starting in October, Mexico City becomes a playground for Day of the Dead-themed activities. A
As the main date approaches, the city gets blanketed with orange cempasuchil flowers, gigantic skulls, and colorful papel picado.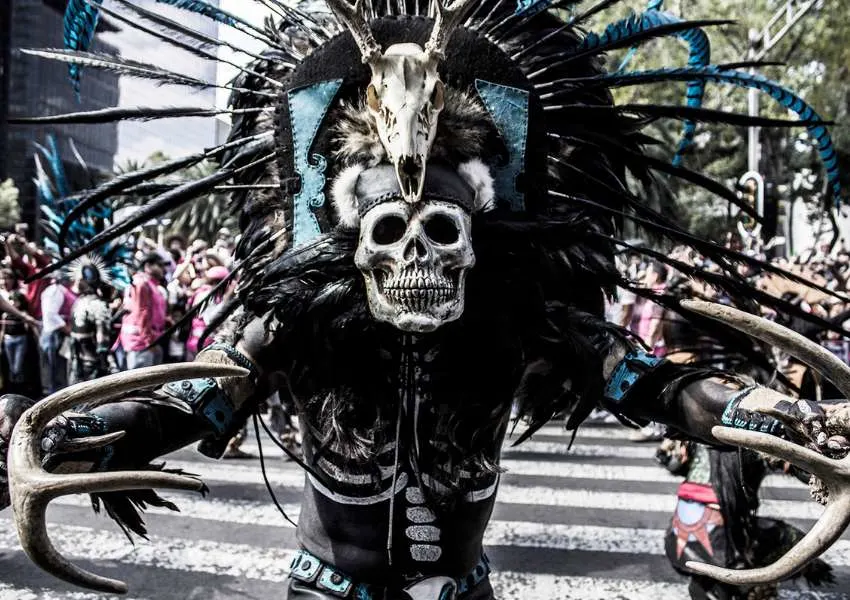 Is Day of the Dead in Mexico City like Halloween?
No, Day of the Dead and Halloween aren't the same, but Halloween is also huge in Mexico City. Mexico City locals LOVE it!
In fact, it's my favorite holiday of the year and has been ever since I was a little kid. Because my birthday falls on November 1st, I usually celebrate it by hosting a big Halloween party on the night of 31st (which I totally regret the next day when I feel like I am coming out from the dead myself for Day of the Dead).
Throughout October, you'll also be able to celebrate Halloween all over the city, be it by attending the many costume-themed nights held at nightclubs, joining the annual Horror Film Festival, or spending an evening getting spooked at Six Flags.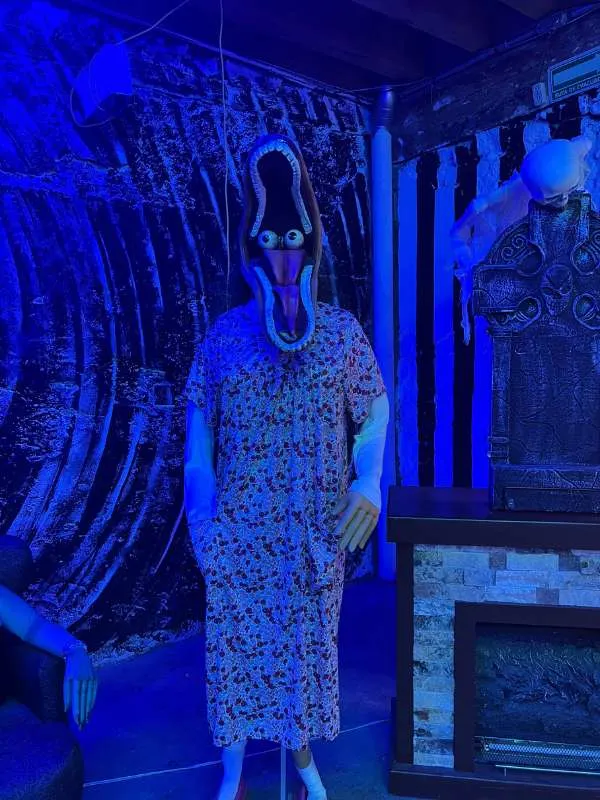 I guess that's what I love the most about Day of the Dead in Mexico City. There seems to be a Halloween vs Day of the Dead fight all over, but my response to it usually is: Why not both?!
Mexico City Day Of The Dead Guide: How To Plan Your Trip And How To Find The Most Local Celebrations
Mexico City Day Of The Dead: How Far Ahead Should You Book Your Accommodation?
Day of the Dead in Mexico City isn't as big for tourists as it is in places like Oaxaca or Pátzcuaro, so you don't really have to worry that much when it comes to planning ahead.
With the huge influx of tourism and digital nomads we've been receiving lately, though, I'm not sure how long that's going to last.
If you've got your heart set on celebrating Day of the Dead in Mexico City, perhaps it would be a good idea to start booking your tickets and accommodation now to stay on the safe side.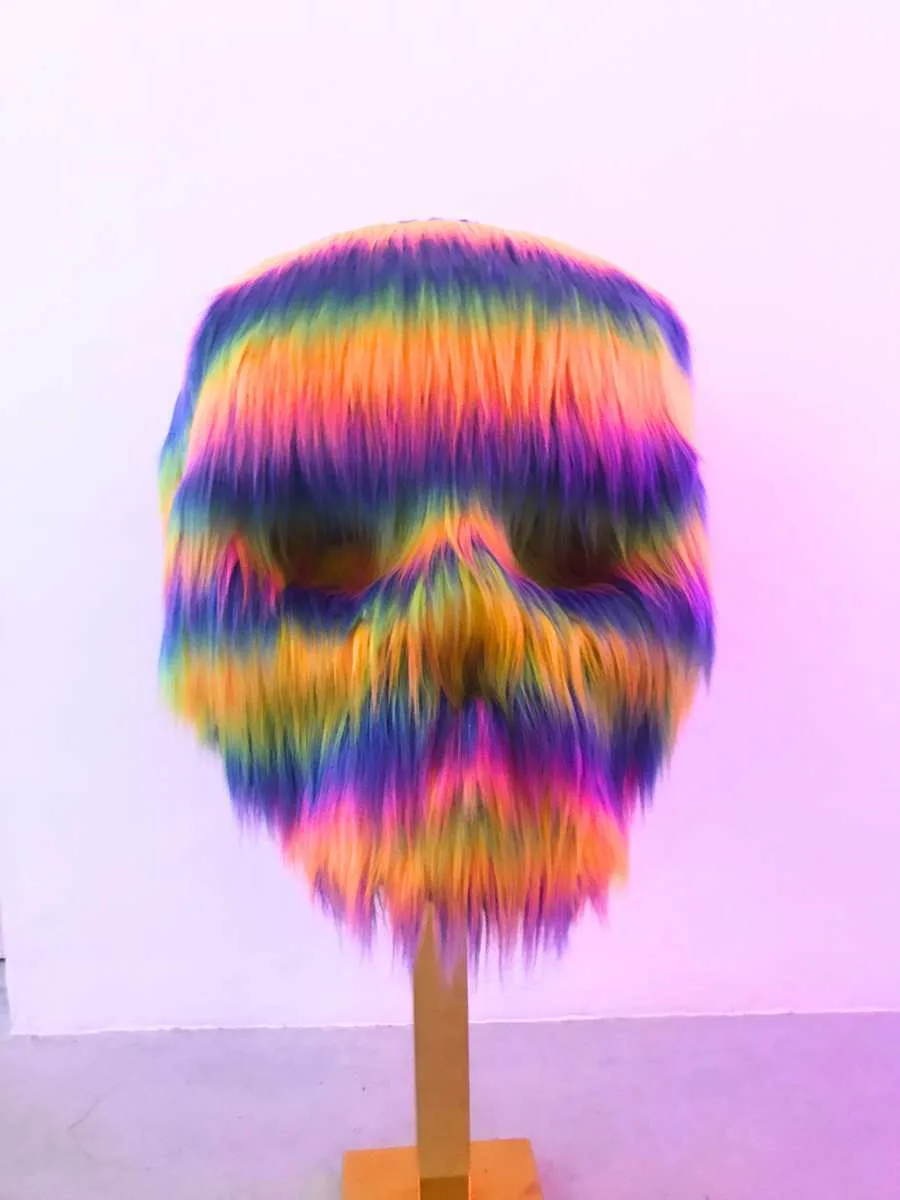 How Long Should I Be In Mexico City For Day Of The Dead?
At least a week before the actual festival and maybe a few extra days after. Here's the thing: The city doesn't announce the dates of the big Mexico City Day of the Dead parade until a few weeks before the actual event.
The Day of the Dead parade is probably the main reason you're even looking to celebrate Day of the Dead in Mexico City anyway (yes, I'm talking about the one you saw on James Bond!).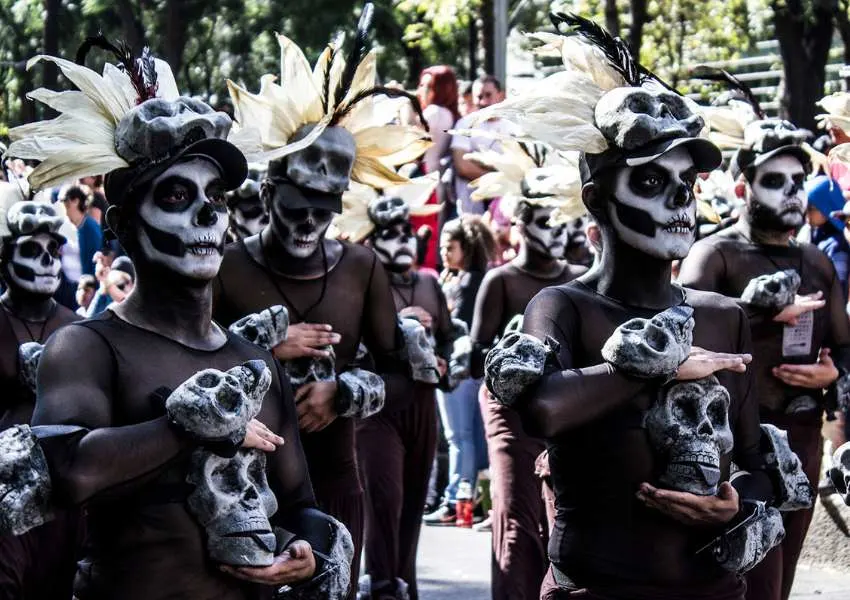 In 2021, the parade was held on October 31st, whereas the one before took place on November 1st.
If you want to book your flight and accommodation in advance, I recommend reserving at least from October 27th until November 4th to make sure you don't miss out on it no matter the date it ends up falling on. (I'll be updating this post with dates when they're announced!).
Plus, the city is a true treat throughout the entirety of October. It's my absolute favorite time to be in Mexico City.
You'll find a ton of Day of the Dead-themed events, museum exhibits, dining experiences, and so much more before (and even after) the main event.
You definitely want to stay in the city longer to experience this incredible time of the year in CDMX!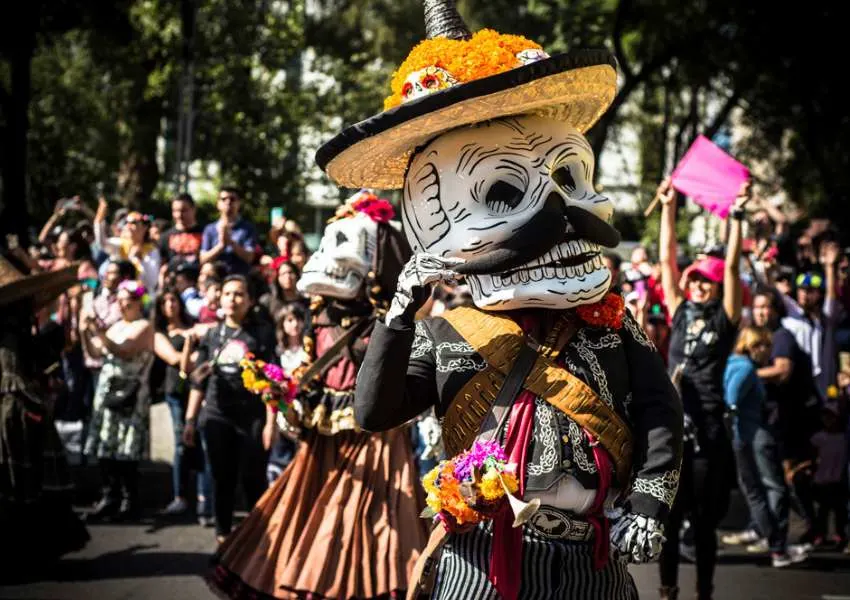 Mexico City Day Of The Dead Calendar Of Events
There will be plenty of amazing activities and things to do in Mexico City dedicated to celebrating Day of the Dead.
Unfortunately, it's too soon to know what will be going on in the city in 2023, but I can promise you something: there will be A LOT.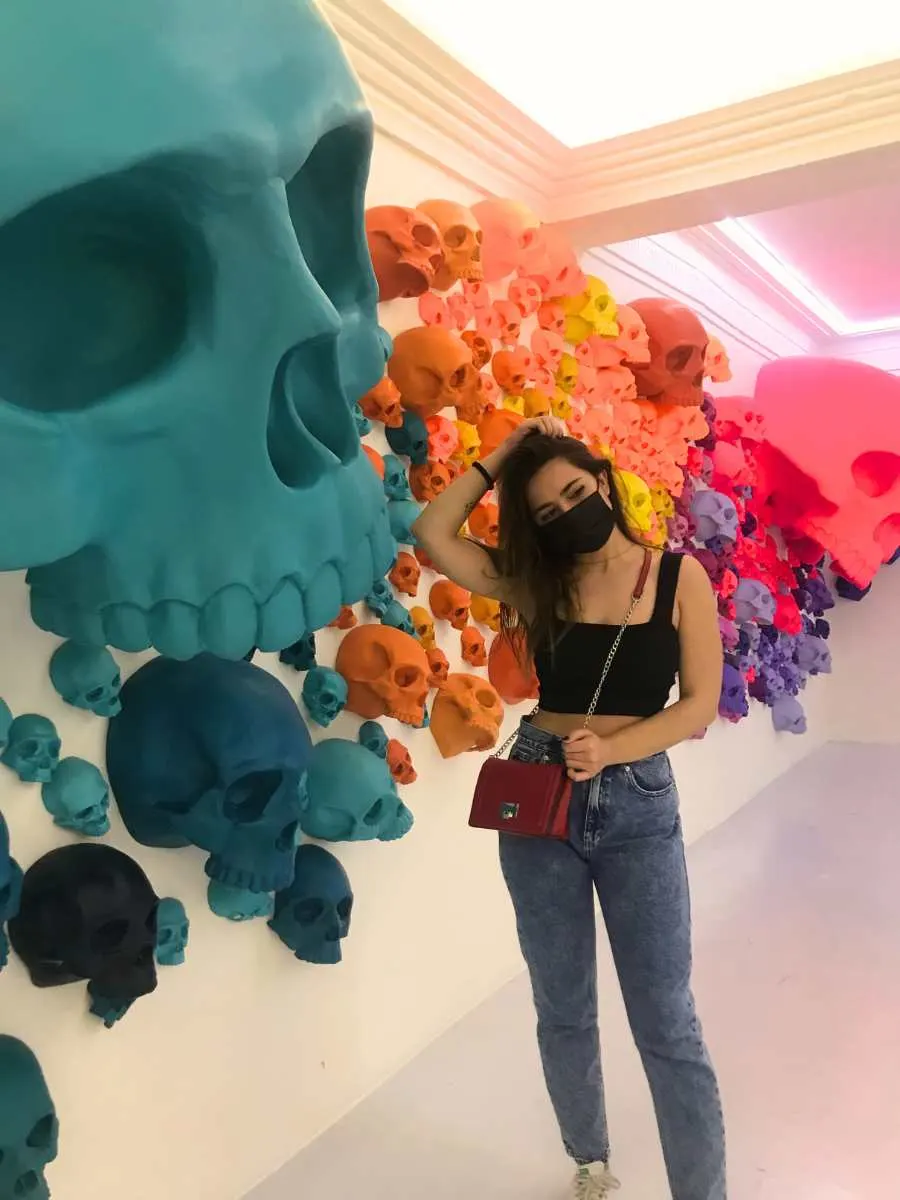 Please bookmark and check back on this post, especially as the date starts to approach. I will be updating you with every single activity in the city as soon as we hear about it.
Here are a few of the confirmed events so far that will definitely be taking place in Mexico City for Day of the Dead in 2022:
La Alumbrada at Mixquic
If you want a super local Day of the Dead experience, La Alumbra should be at the top of your list.
Mixquic is a neighborhood located south of Mexico City that hosts some of the most traditional Day of the Dead celebrations in the city.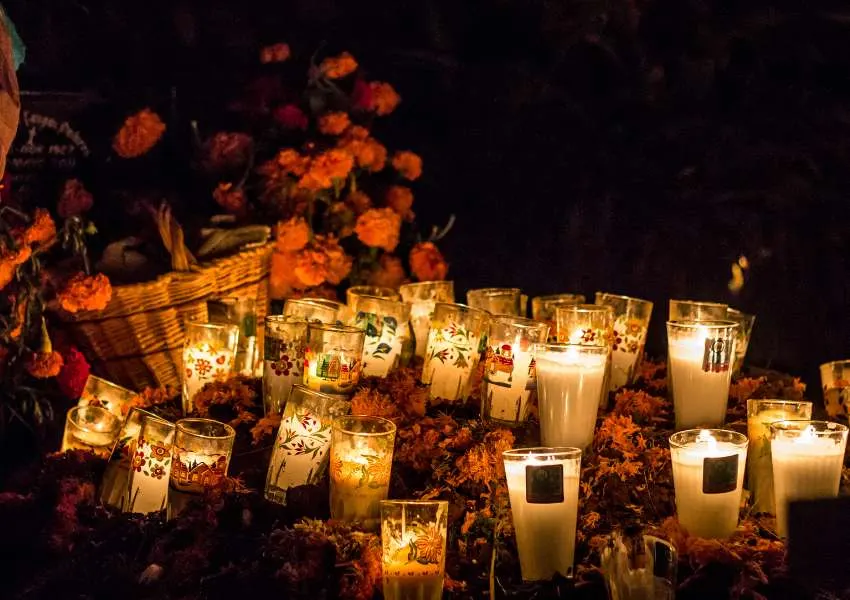 During La Alumbrada, all electricity in Mixquic is turned off, making its candlelit streets and cemeteries the only source of light available.
Throughout the night, you'll get to stroll the neighborhood's cobblestone streets, see colorful ofrendas, gorge on traditional Day of the Dead food, and take part in live entertainment and performances. Live mariachi music is a guarantee, too!
Date: TBA, but it usually happens on November 2nd
Price: Free, but bring cash along to buy street food and get your catrina face paint!
Where: See on Google Maps. I recommend taking an Uber.
Festival Chaman in Teotihuacan
A days-long festival held at the Teotihuacan Pyramids.
Throughout the festival, you'll be able to listen to Mexican legends and tales at night (not for the faint of heart!), see displays of ofrendas, and take part in various workshops (pan de muerto baking, papel picado-making, ceramics, and more!)
Date: TBA
Price: TBA
Where: Teotihuacan Pyramids
Boat ride through Xochimilco
Throughout October and November, you can take a trajinera ride through the canals of Xochimilco.
You can do this year-round, but during Day of the Dead season, they take a little twist and focus more on the spooky side of the canals.
Throughout the ride, you'll be able to listen to Mexican horror legends, visit the isla de las muñecas (a small islet that homes hundreds of horrifying dolls), and of course, drink to your heart's content!
After you get off the boat, make sure you also explore the rest of Xochimilco. This is a very traditional neighborhood in the south of Mexico City that brims with life and festivities during Day of the Dead.
Date: October and November
Price: Exploring Xochimilco is free. Xochimilco boat rides vary depending on the tour. I will be updating this section when we have more information.
Where: There are many embarkation points in Xochimilco, yours will depend on the tour you book.
La Llorona Xochimilaco
Hop on a boat under the moonlight to enjoy a theatrical and musical display at night. You'll get the chance to learn about the legend of La Llorona and other Mexican mythical tales over the ancient canals of Xochimilco! The play is an absolute delight for every single one of your senses. It's visually stunning and provides a wonderful insight into Pre-hispanic music and culture.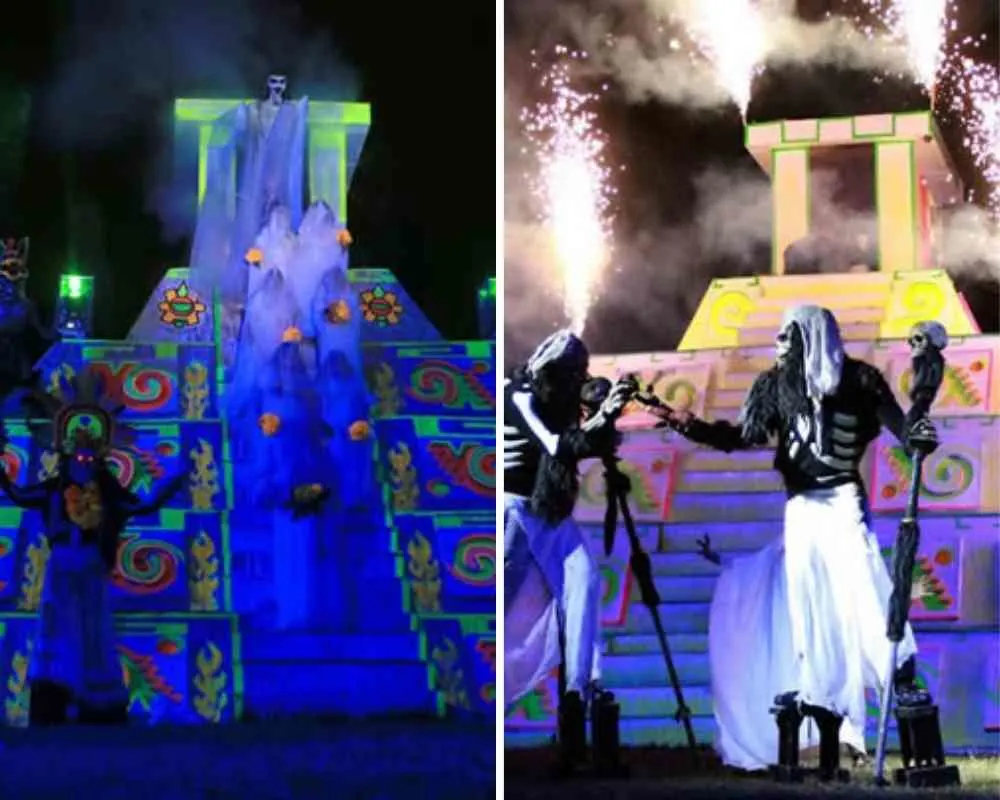 Date: TBA, but it usually happens throughout October and November. Price: Tickets usually cost around $30 USD, but I'll update you with the exact price soon.
It includes your boat ride to and from the stage. Moreover, if you have a lot of friends, you can also book an entire trajinera (boat) for up to 20 people.
Tickets: They're not available yet, but you'll be able to purchase tickets at the play's official website.
Where: Boats take off from Embarcadero Cuemanco. See on Google Maps.
Iluminando Almas (Illuminating Souls)
Stroll through Chapultepec Park at night at this Day of the Dead event. The experience is called Illuminating Souls and will focus on highlighting traditions of the date that date back to pre-Hispanic times.
During the night tour, you will be able to see altars, floral arches, offerings, musical shows and much more.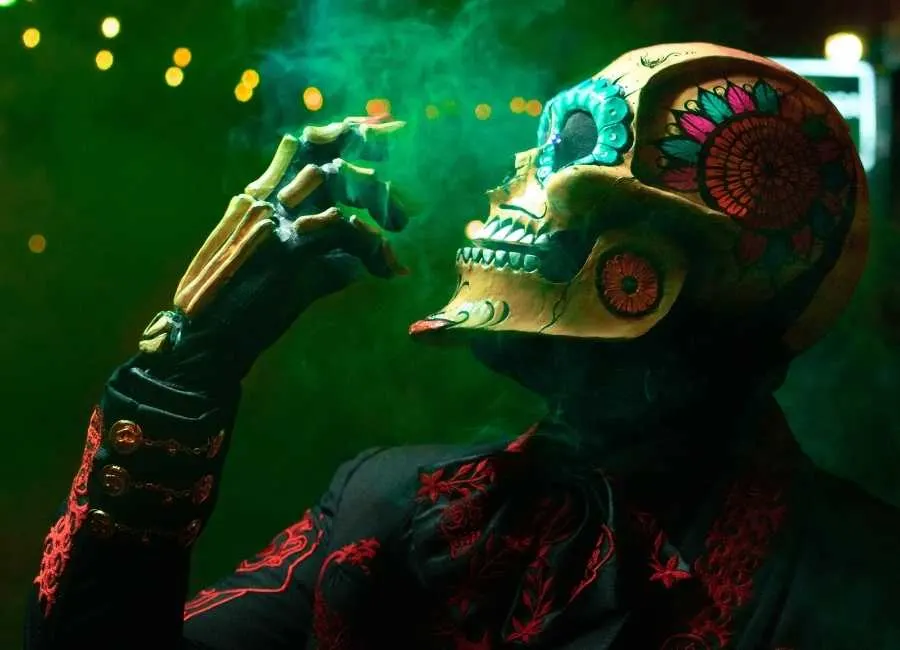 Pan de Muerto and Chocolate Festival
Spend the day enjoying the flavors of Day of the Dead at this gastronomic festival that brings together the best recipes.
As expected, pan de muerto in all its forms is the star of the festival, but you will also find different chocolate delicacies that pair perfectly.
Day Of The Dead Parade in Mexico City
The Day of the Dead Parade in Mexico City is what put the capital on the map as a destination to celebrate Day of the Dead.
The festival was made famous thanks to its appearance in the James Bond movie. Sort of. Here's a confession: The festival didn't even exist before the movie.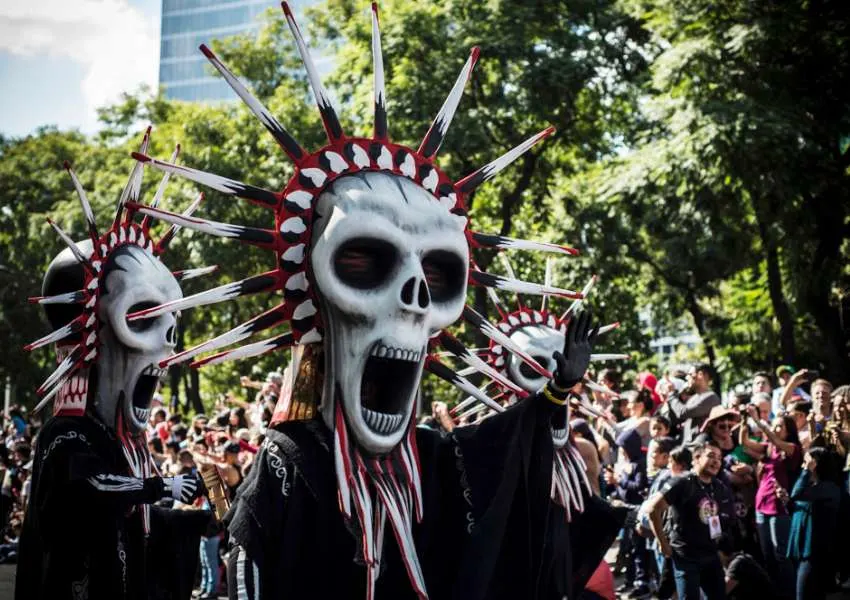 It was actually more of a product that came out of it. After the film's success, the government decided to re-create the festival, and it has since become a beloved tradition in Mexico City.
Tips For The Day Of The Dead Parade
The festival covers almost 9 kilometers, starting in Zocalo (the main plaza) and finishing in the Chapultepec area. It usually lasts about 5 hours.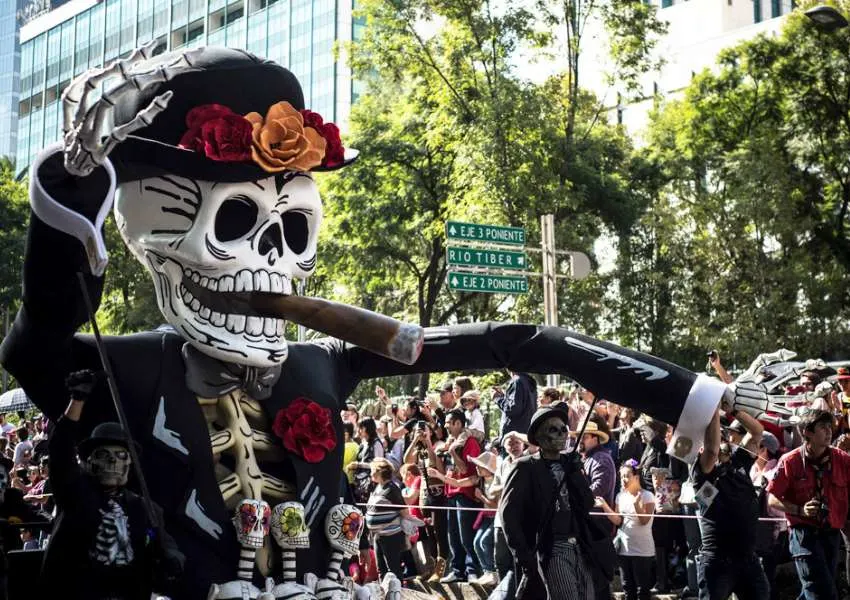 My only recommendation is to get to Zocalo a few hours before the parade begins because it gets extremely crowded and you may not be able to grab a good spot otherwise.
Day Of The Dead Parade in Mexico City Dates
TBA, but it usually happens between October 31st and November 2nd on the last Saturday of October or the first Saturday of November.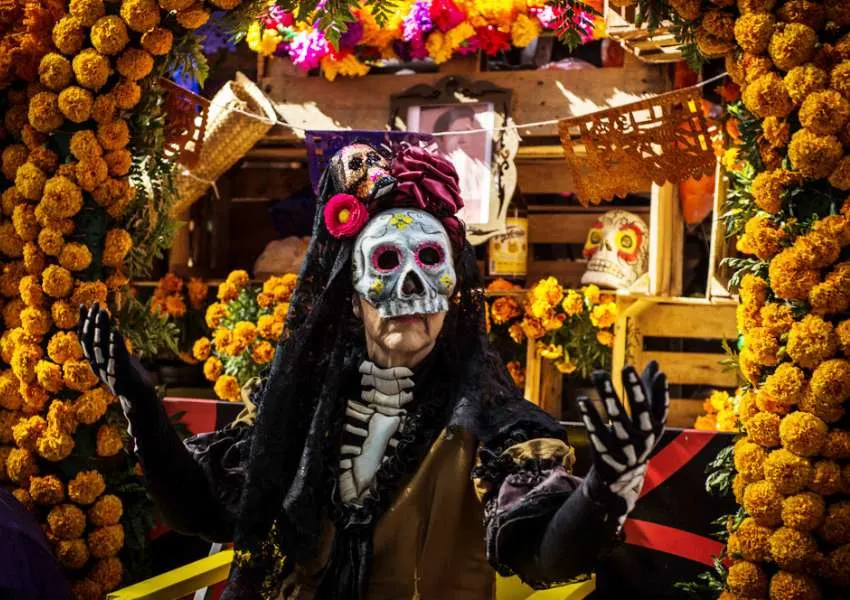 Day of the Dead Symbolism
In order to fully get the experience, there are some Day of the Dead-specific terms and symbolism worth learning:
Ofrendas — Altars set up for the deceased. They usually have photos of the deceased person as well as their favorite food, drinks, and items. These are meant to welcome them when they come back from the dead during Day of the Dead!
Pan de Muertos — A type of bread only served during Day of the Dead. It's a sweet bun decorated with bone-shaped pieces. The term literally translated into "Dead's Bread".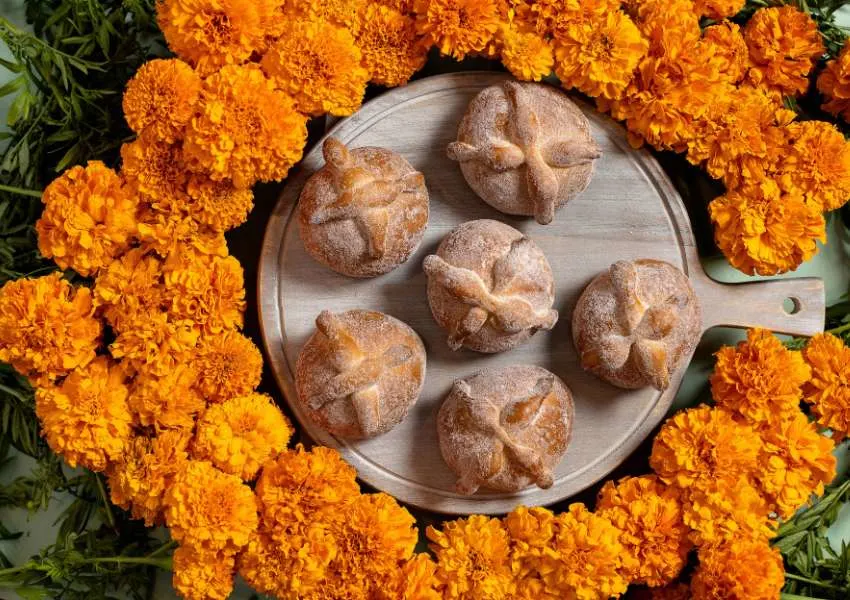 Catrina – An emblematic character that represents Day of the Dead. She's a tall, think and classy skeleton lady created by artist Jose Guadalupe Posada.
Mictlán – The underworld in Aztec mythology.
Calaveras — Skulls
Cempasuchil — An iconic marigold flower used to decorate ofrendas on Day of the Dead. During October, plenty of avenues and streets get blanketed by orange cempasuchil flowers to welcome Day of the Dead in Mexico City.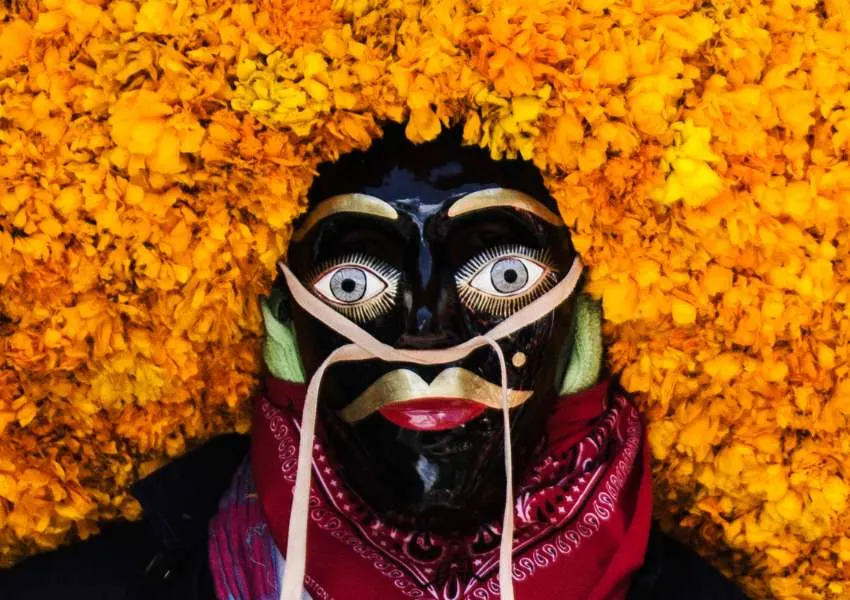 Safety In Mexico City During Day Of The Dead
I don't think there are any extra precautions you need to take in Mexico City during Day of the Dead than the regular ones. Just be aware of pickpocketers during the parade as it gets extremely crowded.
Take a look at my safety guide to Mexico City to learn how to stay safe in Mexico City during Day of the Dead!
Where to Stay in Mexico City for Day of the Dead
There are plenty of accommodation options in Mexico City for all budgets. Here's a few of my recommended ones:
NIMA Local House – This option is a favorite for digital nomads visiting Mexico City. It's located in a colonial house in the heart of the Roma Norte, which is a very safe neighborhood just a few blocks away from where the parade starts. Check rates here.
Uma Casa – A family-owned house with beautifully decorated rooms. It's located in Lomas de Chapultepec, a neighborhood that is close to everything but also in what feels like a forest, so you will feel like you are away from the noise of Mexico City, all while being very close to everything. It has a wellness feeling to it, so this is perfect if you want to be able to take breaks from the city without having to go far! Check rates here.
Selina Hostel – A great option for those visiting Mexico City for Day of the Dead on a budget or who want to stay in a place where they can make friends to make the most out of their visit. Check rates here.
Final Thoughts on Day of the Dead in Mexico City
Celebrating Day of the Dead in Mexico City is a truly unique experience that mixes the ancient with the modern.
Even though it's actually a pretty new destination to celebrate Day of the Dead, Mexico City sure knows how to do it right.