Grutas Tolantongo: How to Visit Mexico City's Hot Springs (Sort Of)
Want to visit the famous Mexico City hot springs? Here's your guide to Grutas Tolantongo!
Nestled in the lush canyons of Hidalgo, this natural paradise is home to stunning hot springs that offer a rejuvenating and relaxing experience like no other.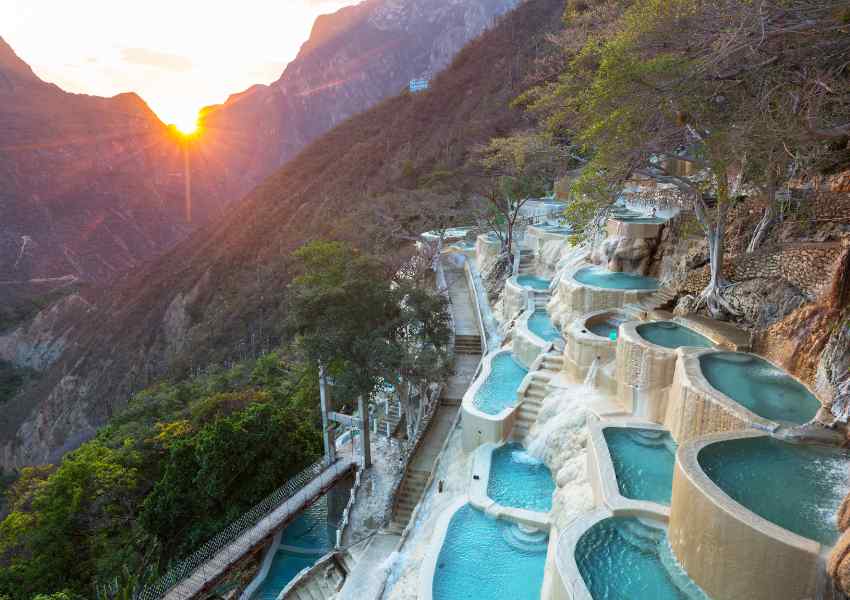 Even though they're commonly known to foreigners as Mexico City hot springs, they're located outside the city but are still pretty easy to visit on a day trip with proper planning!
In this blog post, we will explore the beauty of Grutas Tolantongo, from how to get there to what to do (yes, there's plenty to do here aside from soaking in the hot springs!)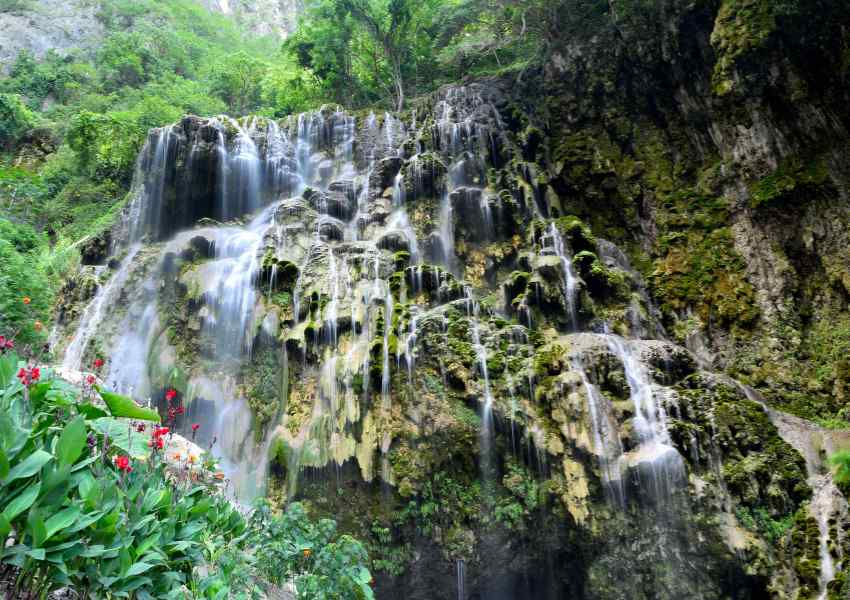 Are there hot springs in Mexico City?
While you won't find natural hot springs within Mexico City's metropolitan boundaries, Grutas Tolantongo is probably the one you're searching for information about!
Grutas Tolantongo has gotten super popular in recent years and thanks to the fact that these hot springs are close to Mexico City, they've become a pretty popular destination in most people's Mexico City itinerary.
These thermal waters are situated in the state of Hidalgo, a scenic drive from the capital.
Distance: Approximately 200 kilometers (124 miles) from Mexico City.
Travel Time: Around 3 to 4 hours by car.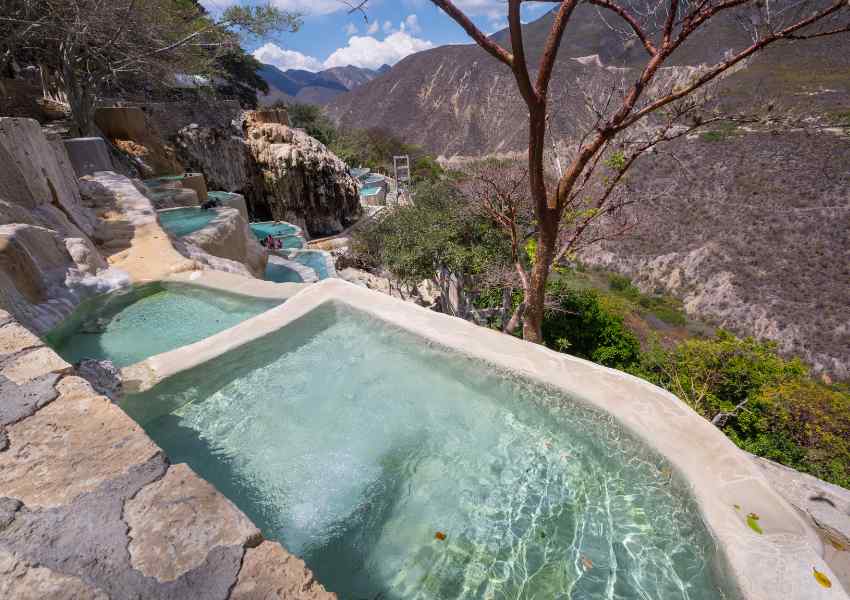 These hot springs near Mexico City are part of a larger complex that includes:
Thermal pools
A river
Waterfalls
Hiking trains
Steamy caves
A tunnel through which warm sulfurous water flows
Zipline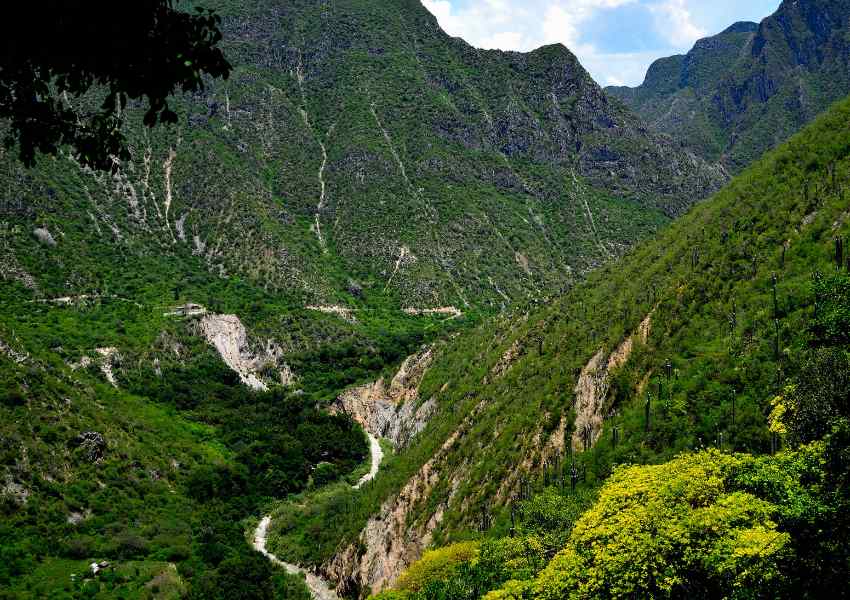 Where are Grutas de Tolantongo? Mexico City's Hot Springs
If you're seeking the Grutas de Tolantongo, you'll find them nestled in the Mezquital Valley of Hidalgo State, central Mexico.
This geothermal wonder is about a 3-hour drive north of Mexico City.
Your journey will take you through some winding mountain roads, as the hot springs are located in a canyon.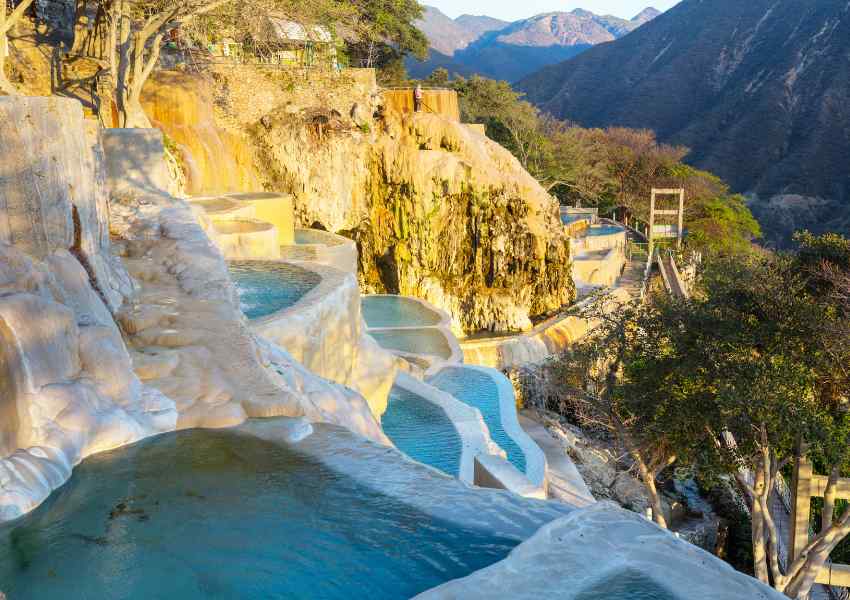 Here's a quick snapshot to help you plan:
State: Hidalgo
Nearest town: Ixmiquilpan, about 17 miles (27 km) away.
Driving distance from Mexico City: Roughly 124 miles (200 km).
To make your travel planning smoother:
Via Car: Best route via Highway 85.
By Bus: Buses available from Mexico City to Ixmiquilpan, then taxi or local buses to the springs.
Private Tours: If you want to visit these hot springs from Mexico City without having to worry about anything, the easiest way is to book a tour that includes transport from Mexico City and back.
Can you Visit the Hot Springs from Mexico City as a day trip?
Absolutely! You can make a day trip to Grutas Tolantongo hot springs from Mexico City.
The journey by car can take about 3 to 4 hours one-way, depending on traffic and road conditions.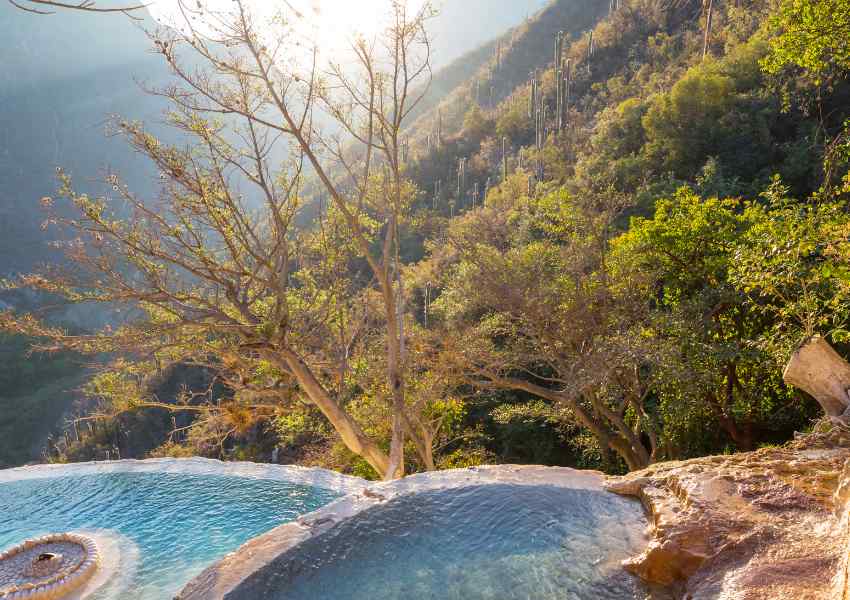 Here's what you need to know:
Distance: Approximately 200 kilometers (124 miles) one-way.
Travel Time: 3-4 hours by car or bus.
Opening Hours: 8 AM – 6 PM for day visitors.
Note that weekends and holidays can be particularly busy, so if possible, aim for a weekday visit.
While public transportation is available, it may limit your time at Grutas Tolantongo due to the bus schedules.
If you're pressed for time or prefer a more laid-back experience, staying overnight at one of the nearby accommodations could be a more relaxing option.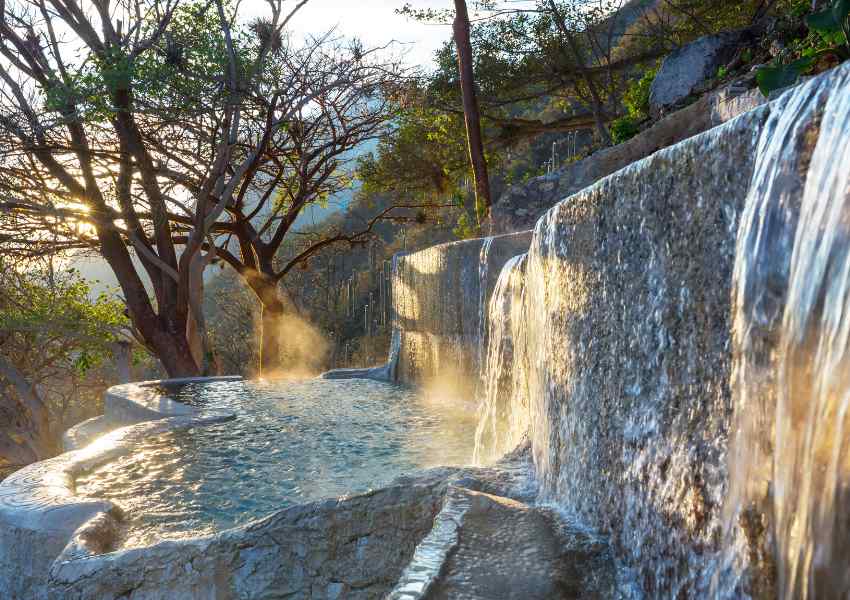 As a tip, the best way to visit these hot springs near Mexico City as a day trip is by booking a tour that includes transportation.
This way, you won't have to worry about driving or sticking to bus schedules.
You may also like:
How to Get to Grutas de Tolantongo Hot Springs from Mexico City
Getting to Grutas de Tolantongo from Mexico City involves a few straightforward steps.
You'll primarily make your way to the closest airport and then choose your mode of ground transportation.
Closest Airport to Grutas de Tolantongo
The nearest airport to Grutas de Tolantongo is Aeropuerto Internacional Benito Juárez (MEX), located in Mexico City.
From there, you have a couple of options for ground transport:
Bus
If you come from Mexico City, first you should go to the Central del Norte and take a bus at platform 7 or 8 of the OVNIBUS or FLECHA ROJA line directly to the city of Ixmiquilpan, Hidalgo.
Once you reach Ixmiquilpan, take a shared taxi to the municipal market of Ixmiquilpan, "Mercado Morelos", passing by the Garden and the Municipal Presidency.
Then head north of the city, crossing the "Mercado Morelos".
Next, you should locate the "San Antonio" parking lot where the base of direct minibuses to Grutas Tolantongo is located.
Car Rental
Renting a car in Mexico City gives you the flexibility to drive directly to Grutas de Tolantongo, which is about a 3 to 4-hour drive north of Mexico City. The drive takes you through scenic mountains and countryside.
Tours
There are plenty of tours available to the hot springs from Mexico City.
In my opinion, this is the best way to visit them so you don't have to stress about arranging transport.
Visiting Las Grutas de Tolantongo
Here's what to expect when visiting these hot springs near Mexico City:
What to Expect
Thermal rivers: Bask in the warm waters with a view of the canyon.
Hot springs: Unwind in the natural pools embedded in the cliffside.
Tunnel and caves: Explore the steam-filled tunnels and caves.
Hours vary by season, so check the schedule beforehand. I recommend arriving as early as possible to beat the crowds and maximize your day.
Lockers and changing facilities are available, making it easy to switch between activities.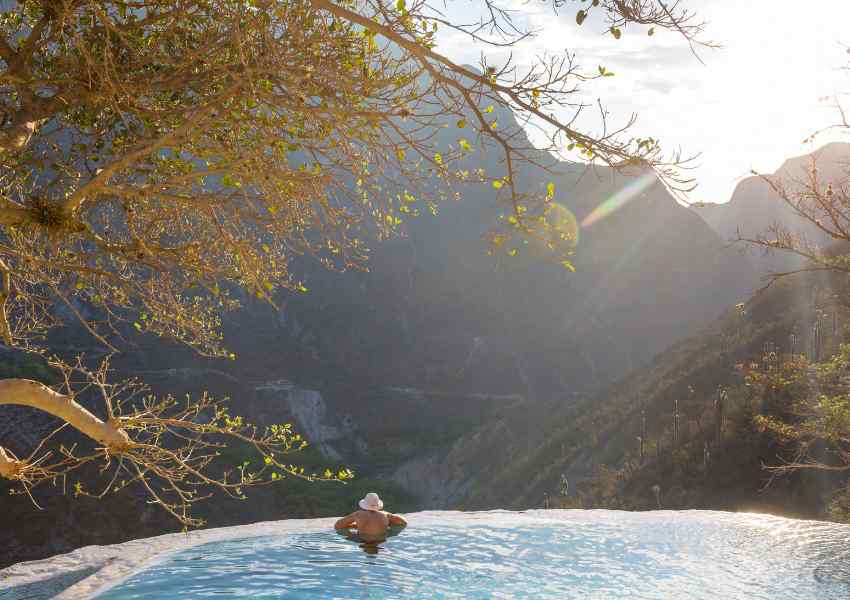 Essentials
Towel and change of clothes: Stay dry after your dips.
Snacks and water: Keep energized and hydrated.
Sunscreen and hat: Protect yourself from the sun.
Where to Stay in Grutas de Tolantongo
If you have enough time and want to spend the night in Grutas de Tolantongo, it's possible!
Hotels
When considering a hotel stay, you can choose from a few options that offer basic comforts and amenities. The most prominent options are:
Hotel Grutas
Situated within the park, it provides direct access to the hot springs.
Rooms come with a choice of beds and include a private bathroom.
La Gruta Hotel
Also within proximity to the hot springs, this hotel offers similar facilities with different room configurations.
Camping
If you prefer sleeping under the stars, camping is a great choice.
The main camping grounds in Tolantongo allow you to rent a tent or bring your own.
Tent Rental: Available at the park. Tents come in various sizes and can often accommodate up to four people.

Price per tent: $150 MXN (about $7 USD)
Personal Camping: You can set up your tent at designated areas with access to public restrooms and showers.
If you decide to camp in the hot springs, you can't reserve online but you can book your spot at the park's entrance. Please note you'll need to pay two daily fees for the park entrance too.
Moreover, they also sell camping items there in case you forget something or don't want to worry too much beforehand.
| | |
| --- | --- |
| Blanket | $140.00 MXN |
| Mattress | $150.00 MXN |
| Wood | $70.00 MXN |
| Coal | $80.00 MXN |
| Ice | $50.00 MXN |
| Nails | $15.00 MXN |
| Candados (1 pza.) | $35.00 MXN |
| Lamp | $50.00 MXN |
They also rent things such as grills, chairs, and more.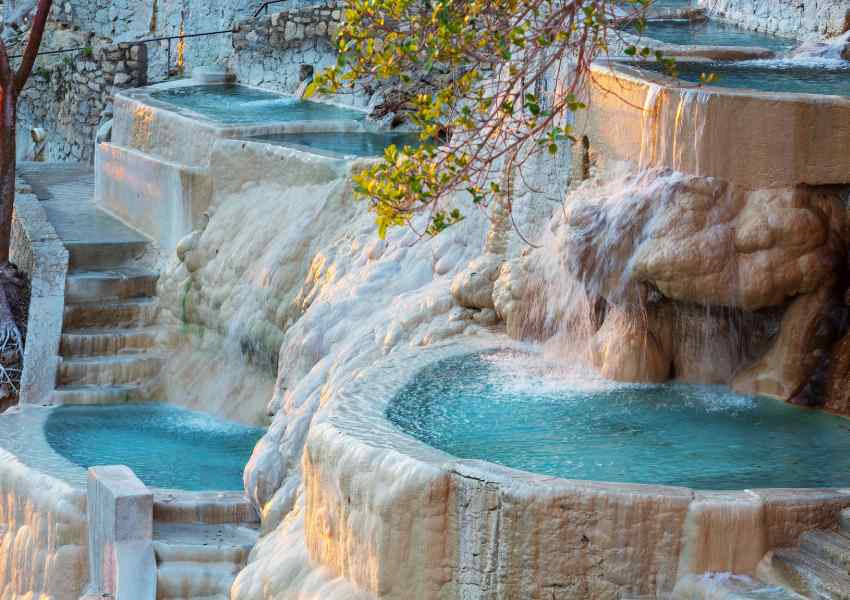 What to Pack for Grutas de Tolantongo
When you're gearing up for a day at Grutas Tolantongo, packing right can make all the difference.
Here are some essentials to bring along:
Swim Gear
Swimsuit: A must-have for soaking in the thermal waters.
Water shoes: Protect your feet from rocky surfaces.
Towel: Quick-dry towels are best for multiple dips.
Sun Protection
Sunglasses: Keep the glare out of your eyes.
Sunscreen: Water-resistant with a high SPF to shield your skin.
Hat: A wide-brimmed hat for extra shade.
Health & Hygiene
First Aid Kit: Include waterproof bandaids and antiseptic.
Insect Repellent: Fend off any unwanted pests.
Toiletries: Toothbrush, toothpaste, and deodorant to stay fresh.
Comfort Items
Change of clothes: Stay comfortable after a day in the water.
Snacks and water bottle: Stay energized and hydrated.
Miscellaneous
Camera or phone: Capture the stunning scenery (waterproof case recommended).
Cash: Not all vendors accept cards.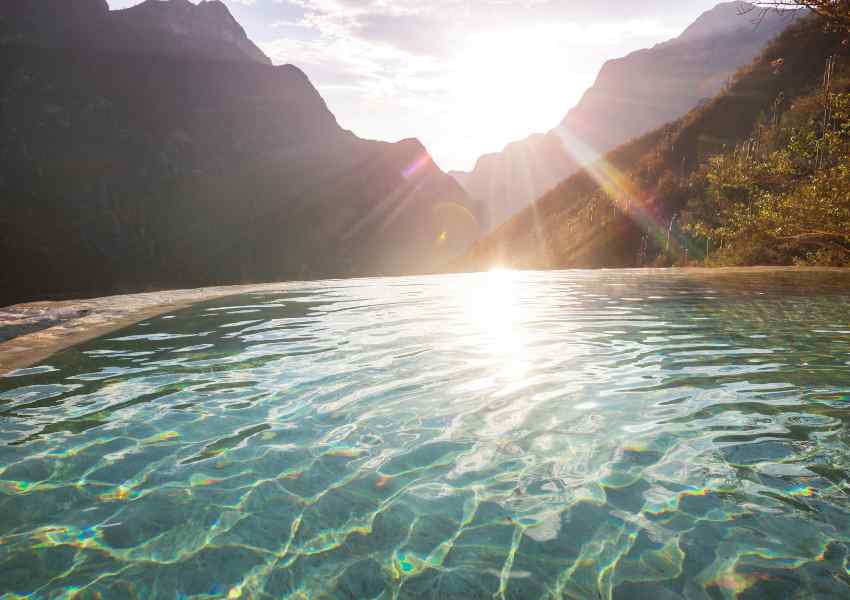 How much does it cost to visit Grutas de Tolantongo?
Visiting Grutas de Tolantongo, you'll encounter various fees for entrance, accommodations, and amenities.
It's important to consider that prices can change, so you should check the official website or contact the park directly for the most current information.
Entrance Fees:
General Admission (Day Pass): $180 MXN (about $10 USD). They only accept cash.
Parking: $30 MXN (about $2 USD).
This day pass grants you access to the hot springs, the river, the pools, and the Tolantongo caves.
Accommodations (Per Night):
Hotel Rooms:

Standard Room: $800 – $2800 MXN (approx. $50 – $230 USD)

Camping:

Tent rental: $150 MXN (about $5 USD). Fits 4 people.
Additional Amenities:
Locker Rental: $150 MXN (about $8 USD)
Parking: $30 MXN per day (roughly $2 USD)
Remember to bring Mexican pesos since it's the most accepted currency on-site.
You can also save moeny by planning your visit during weekdays as weekends and holidays might experience higher prices due to increased demand.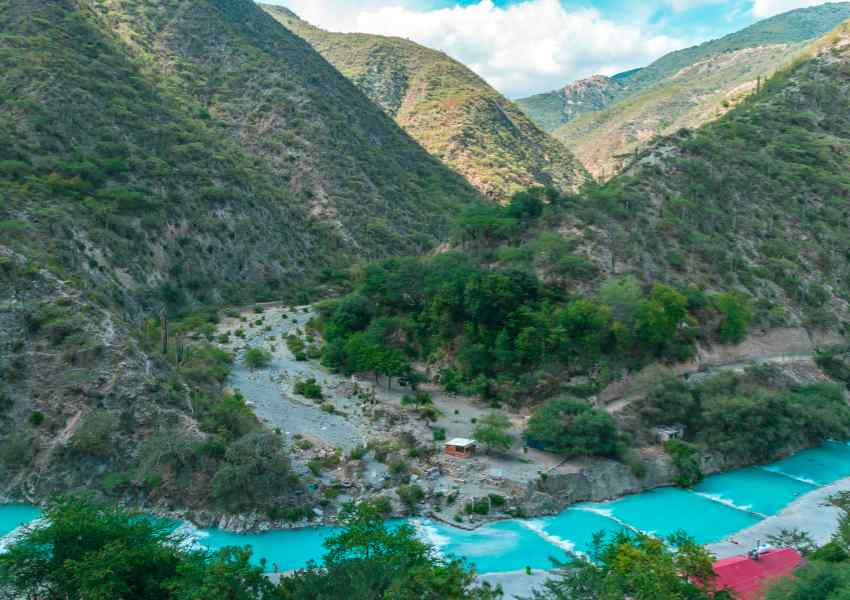 Things to Do in Grutas de Tolantongo
Aside from the famous hot springs you've probably seen in photos, Grutas de Tolantogo is part of a big natural area and you'll find plenty of things to do!
Swimming in the Hot Springs: Submerge yourself in the natural, warm thermal pools. Their turquoise waters are perfect for a peaceful swim.
Waterfalls: There are some pretty cool waterfalls withing the park too!
River Exploration: Gently float down the Tolantongo River. Its warm currents are inviting and the scenery is stunning.
Tunnel and Cave Visits: Venture through the steamy tunnel or explore the cave where the hot springs originate.
Ziplining: For the thrill-seekers, soar over the beautiful landscape on a zipline. This activity has an additional cost.
Hiking Trails: Surround yourself in nature by hiking the trails around the area for spectacular views of the canyon.
Walk over a suspension bridge: There's a suspension bridge with gorgeous views of the forest below.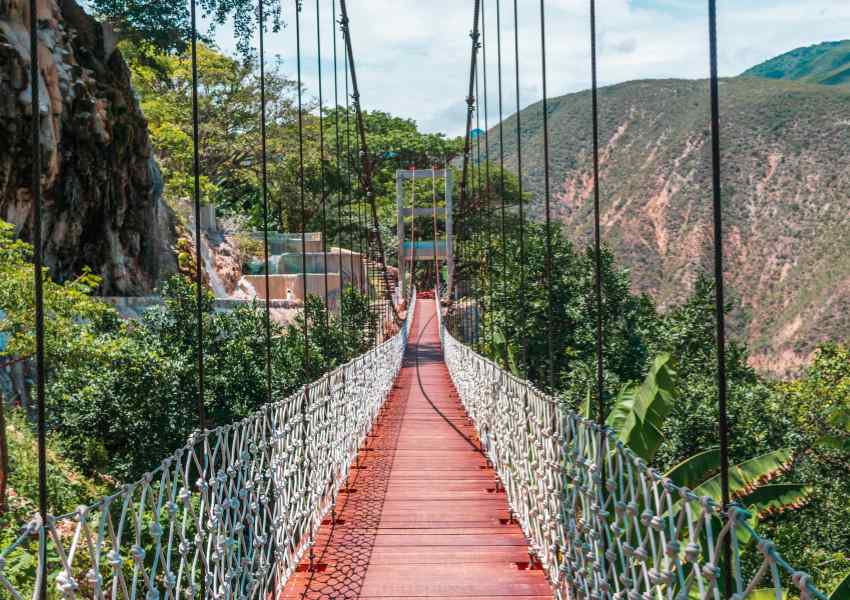 Best Grutas de Tolantongo Tours
This private tour from Mexico City to the Grutas de Tolantongo, where you can soak in thermal hot springs surrounded by stunning landscapes and explore underground caves and spectacular waterfalls.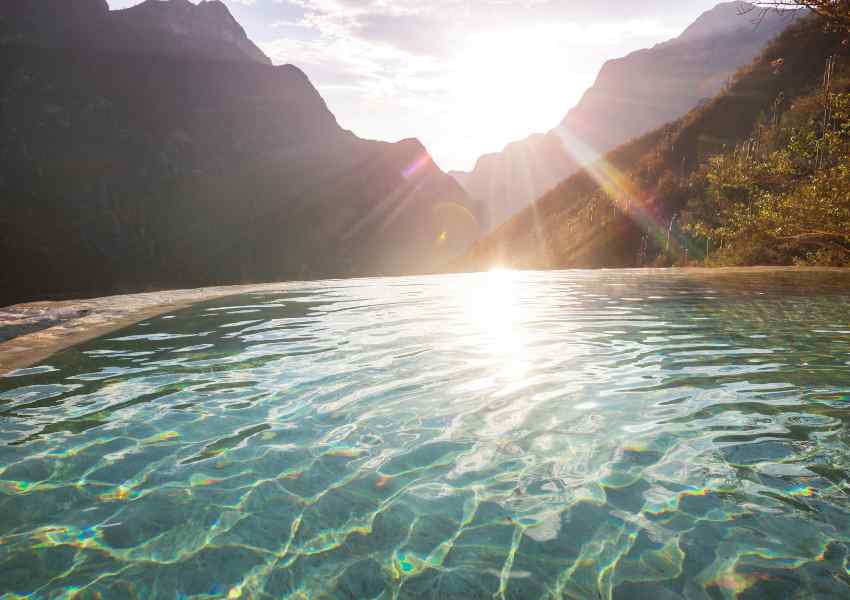 With one or two-day tour options available, you can enjoy a personalized experience in private air-conditioned transportation, customize the sightseeing itinerary to suit your interests, and take a break from Mexico City's hustle and bustle. BOOK HERE.
This full-day private tour to Grutas Tolantongo offers a personalized experience with a private guide and driver to and from Mexico City.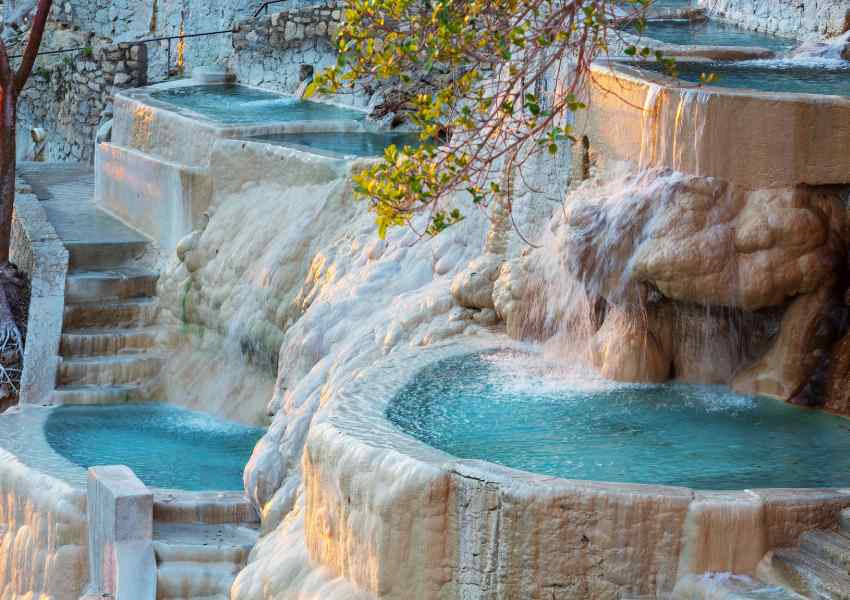 The tour includes a coffee start, exploration of caves, lunch in Ixmiquilpan, and a visit to Tolantongo for swimming, ziplining, and more. BOOK HERE.
This full-day tour offers a 14 to 16-hour odyssey to Tolantongo's aquatic wonders, with a meticulously planned itinerary tailored to suit diverse needs.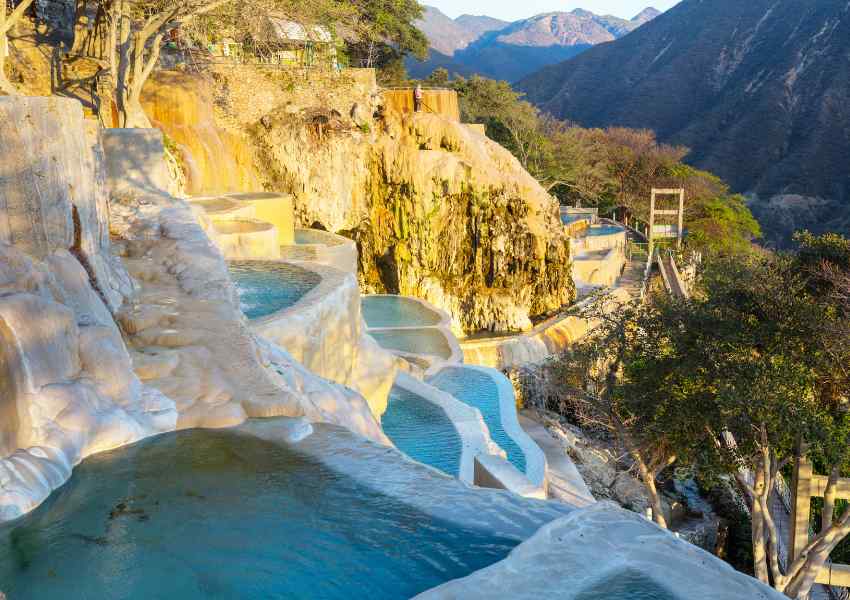 Enjoy the tranquility of Tolantongo, guided by top-notch English-speaking guides, and travel comfortably in spacious transportation.
Explore San Cristobal, Tolantongo, and the Angel of Independence River, indulge in river relaxation, cave exploration, and savor Mexican delicacies for a full day of fun and adventure. BOOK HERE.
Grutas de Tolantongo: Mexico City Hot Springs Conclusion
Grutas Tolantongo is a must-visit destination for anyone seeking a tranquil escape and a unique hot spring experience and a break from Mexico City.
Whether you're looking to unwind in the warm waters, explore the natural beauty of the canyons, or simply bask in the serenity of this hidden oasis, Grutas Tolantongo is a wonderful trip.