The Best Restaurants in San Miguel de Allende
The restaurants in San Miguel de Allende are a foodies dream.
With cuisine that was named an intangible heritage of humanity by UNESCO in 2010, it's no surprise that food enthusiasts flock to Mexico to entice their taste buds while getting the chance to soak up the cultural and art treasures Mexico has to offer.
After my trip to Mexico's colonial dreamland and following the recommendations of Mirtha, my Airbnb host as well as some personal finds, I've rounded up the best restaurants to eat in San Miguel de Allende.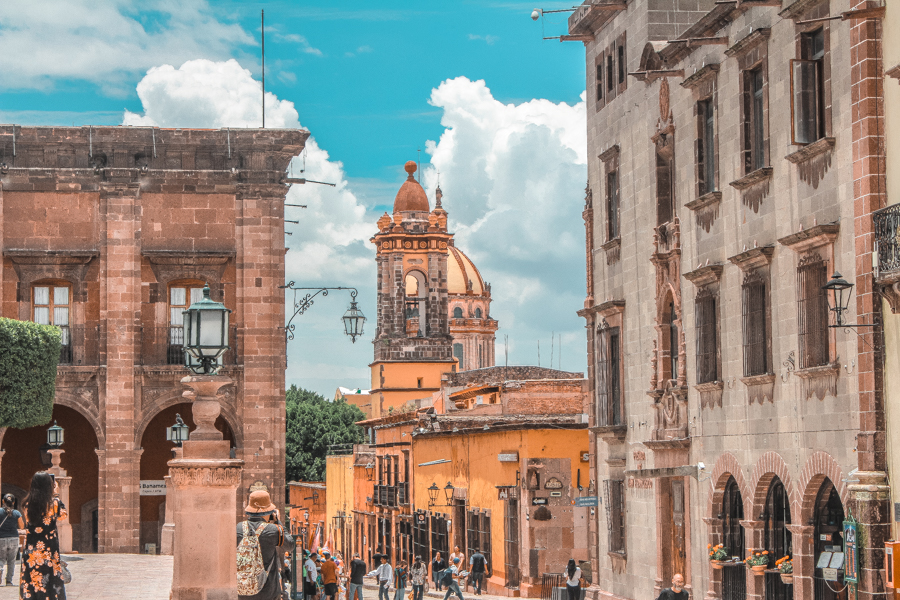 Here are the best restaurants in San Miguel de Allende:
BREAKFAST
Café de Juan Etc.
The best place to grab a coffee in San Miguel. It's a small café that most wouldn't really notice as its facade fails to show the magic you'll find inside (think of it as the Narnia of coffee houses!)
If you're into music and cinema, you'll find yourself at home here. Although the café is quite aloof when it comes to sticking with its official opening hours, it's worth the wait.
Address: Relox 37, San Miguel de Allende
Café de la Parroquia
Set one block away from the main church. Delicious breakfasts, excellent ambiance, and affordable prices.
Address: Jesús 11, San Miguel de Allende
Villa Santa Mónica
An upscale buffet-style restaurant set in the middle of a beautiful garden to get away from the bustle and hustle of San Miguel de Allende while live harp music plays in the background.
Address: Baeza 22, San Miguel de Allende
Teatro Santa Ana Café
Set in a gorgeous colonial building, this coffee shop and library is the hangout spot for the intellectual crowd of San Miguel.
While here, check out the adjacent library as well, it's a really inspirational place for those who like to pair their morning coffee with a good book. There's also a cute little theatre inside where unique performances and art cinema are shown on a regular basis.
Address: Insurgentes 25, San Miguel de Allende
Buen Día Cafe
Set on the alley that takes you down to the crafts market of San Miguel, this coffee shop is the perfect place to chill or grab a coffee and breakfast.
Prices are very reasonable, the coffee is top-notch, and the breakfasts are delicious and come with a side of homemade marmalade spread over artisanal bread.
Address: Callejón del Pueblito 3, San Miguel de Allende
YOU MAY ALSO LIKE:
El Café de la Mancha
Great place to drink coffee paired with San Miguel's famous churros (a must-try snack for sweet-toothed foodies while in town!).
Address: Recreo 21, San Miguel de Allende
Burrito Café
Set in San Miguel's trendy area on Celaya road, this cozy café is a great place to explore the town's modern area. Although the avenue is lined by an array of restaurants to choose from, I found Burrito Café an incredible option for a chilled-out breakfast. For just $75 (MXN), you get a filling dish of your choosing (Mexican-style, of course), a plate of fruit, bread, and a cup of joe.
Address: Salida a Celaya 10, San Miguel de Allende
LUNCH
La Azotea
La Azotea is one of the most classic spots to eat in San Miguel. Set on a rooftop terrace right in the center of town and offering all kinds of authentic Mexican food, it boasts an incredible view of the cathedral's dome. After dark, it turns into the city's go-to bar for San Miguel's young crowd.
Address: Calle Umaran 6, San Miguel de Allende
Casa de Aves
Set in San Miguel's countryside, this tranquil lake-side restaurant is a quick getaway from the city center and the perfect place to enjoy great food surrounded by unbeatable vistas.
Address: San Francisco 21, San Miguel de Allende
Mikka Sushi
I know. You're probably wondering why someone would travel to Mexico only to eat Japanese, hear me out for a second here. Us Mexicans are perpetually angry over the fact that people abroad think of Mexican food like nachos, chili con carne (what even?!), and plasters of cheddar cheese with avocado slammed inside a hard shell tortilla.
While it's completely understandable that we get so offended over how our cuisine has pretty much been butchered by the likes of Taco Bell and Chipotle, we have sort of, um, done the same to Japanese food.
We've created sushi rolls filled with cream cheese and avocado, we have Mexicanized Japanese sauces by adding a myriad of spices to them, we have spicy versions of rice bowls and have "mangoed" the hell out of several recipes.
So, nope. You won't be eating Japanese food, you'll be trying out Japanese dishes with a very Mexican twist!
Address: Salida a Celaya 51, San Miguel de Allende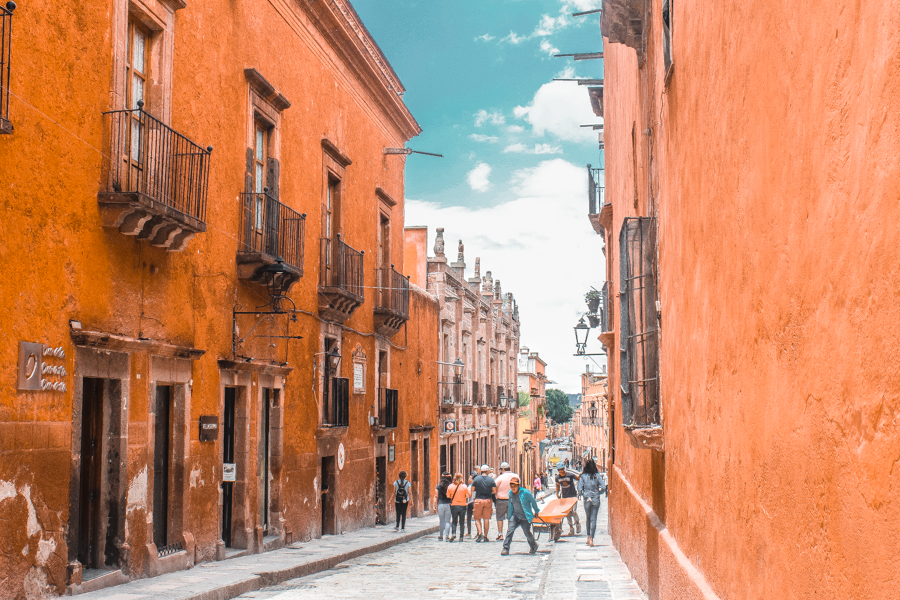 The timeless colors of San Miguel de Allende are always a treat!
DINNER
Hecho en México
This little gem is one of the most timeless places to eat in San Miguel de Allende. It hosts an array of live music and a great atmosphere during Fridays and Saturday nights that you can pair with an authentic Mexican meal.
Address: Ancha de San Antonio 8, San Miguel de Allende
La Posadita
Set at the side of San Miguel's emblematic cathedral, this rooftop restaurant is the ideal place to watch the sun setting while lights illuminate the town's main plaza. Lit by candles at night, it's the perfect place to enjoy food typical to Guanajuato with a spectacular view of the main church to backdrop the evening.
Don't forget to try their infamous tamarindo margaritas, which come in enormous glasses that last the entire evening.
Address: Cuna de Allende 13, San Miguel de Allende
La Crepe
A very refined spot that serves all kinds of crepes for all pallets with a great view to pair. As the sun disappears from the horizon, candles are lit to create a romantic atmosphere.
Address: Zacateros 45 y Pila Seca 19, San Miguel de Allende
THE BEST BARS TO GRAB A DRINK IN SAN MIGUEL DE ALLENDE
Hank's Bar
Set half a block from the main square in San Miguel, Hank's Bar boasts a friendly atmosphere with local and international musicians playing live music during the evenings. Great place to grab a drink in a lovely New Orleans-style bar where San Miguel's expat crowd loves to hang around.
Address: Hidalgo 12, San Miguel de Allende
Mamma Mia
Mamma Mia is home to one of the most popular look-out spots to watch the sun go down in San Miguel de Allende. Friendly atmosphere and live music add life to the already wonderful atmosphere of Mamma Mia.
Address: Umaran 8, San Miguel de Allende
Pueblo Viejo
Set right next to Mamma Mia and a popular spot for Mexican and international tourists alike to come and grab a drink while soaking up live Andean music played during the evenings.
Address: Umaran 6, San Miguel de Allende
El Tupinamba
El Tupinamba is a cozy bistro-bar serving scrumptious Spanish food. Every day, a different event takes place, be it live flamenco shows livening up the bar's bohemian vibe, blues bringing in rhythm into San Miguel's already lively evenings, thorough wine-tasting sessions, and much more! Check their event schedule here.
Address: Zacateros 45, San Miguel de Allende
Are there any other great restaurants in San Miguel de Allende that I didn't list? Let me know in the comment section below! 🙂
More Mexico travel inspiration:
The Best Neighborhood in Oaxaca