Set on the slopes of Mount Kilimanjaro, the sleepy town of Moshi is the getaway for climbers looking to reach Africa's roof.
I based myself in Moshi for a week, without *ahem* actually climbing mighty Kilimanjaro. At first glance, there aren't a plethora of things to do in Moshi, but once you dig a little deeper, this low-key destination is a wide entryway to the rich cultural sphere northern Tanzania has to offer.
Here are six fun things to do in Moshi:
Grab a beer with views of Mount Kilimanjaro at the Old Railway Station
Ironically, the best views of Mount Kilimanjaro are not found in Tanzania. Instead, the iconic picture of Kili you probably know and love is usually shot from Amboseli National Park in Kenya.
I was incredibly disappointed when I arrived in Moshi only to realize the town that is known as the gateway to Kilimanjaro didn't boast spectacular views of it, but it was thanks to Liesbeth from Lily's Travel Plans that I learned about a spectacular place to sit back and grab a beer with a kickass view of Africa's rooftop.
There's an old railway station in Moshi that has been abandoned for decades. Moshi's creative locals decided to turn the ticket booth into a bar where you can come, grab a chair amid the rails, and stare at Mount Kili on a clear afternoon.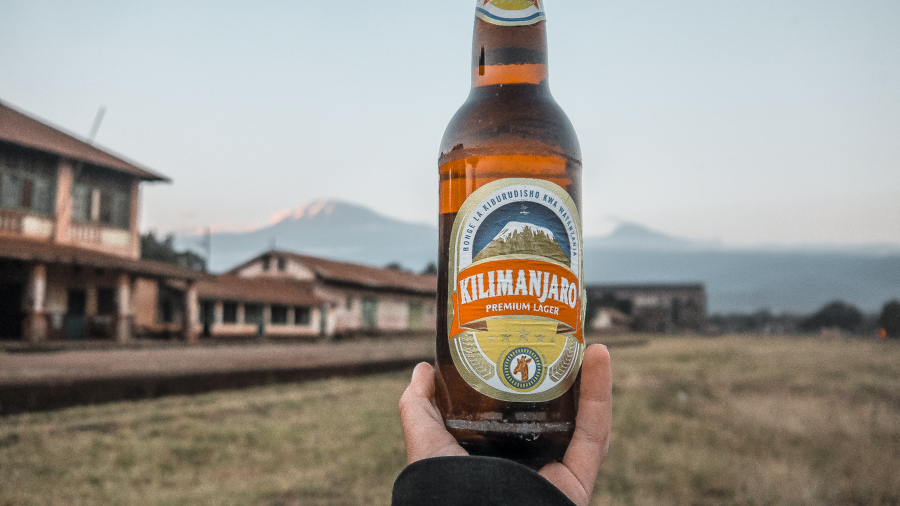 Kilimanjaro… if you can't climb it, drink it!
Swim at Kikuletwa Hot Springs
One and a half hours away from Moshi, past a gravel road lined by bush and glorious acacia trees, you'll stumble across my favorite place in the Arusha region and one of my favorite things to do in Moshi: Kikuletwa Hot Springs.
Hidden amid fig trees, Kikuletwa is a little oasis of crystal-clear waters in the middle of an otherwise arid landscape. Despite the name, the water isn't actually hot, but instead, it boasts a lovely warm temperature that will get you refreshed from the African heat.
There's also a swing in case you feel in the mood to plunge into the turquoise pool Tarzan-style!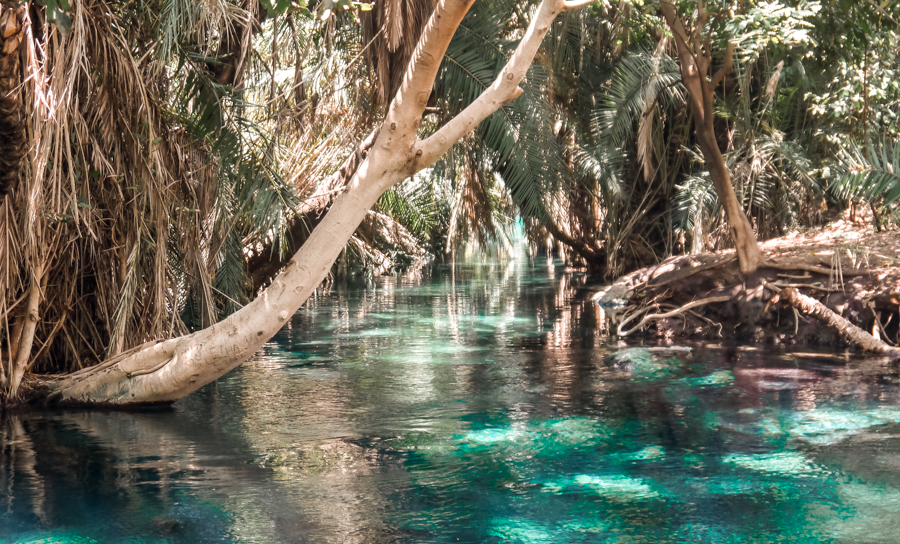 Explore Maasai Villages
The Maasai are one of Africa's most iconic tribes, and Moshi is one of the places they call home.
While in town, you'll undoubtedly spot Maasai sporting their bright red shukas, but there's also the chance to get more personal with the tribe by arranging a homestay at the Maasai villages around Moshi.
I'd definitely advise you to research the project you'll be visiting thoroughly, as many villages in the area (especially those on the way to Serengeti) tend to be fake. You can read about my experience with the Maasai in this post.
Meet rescued apes
Set on the slopes of Mount Kili, Kilimanjaro Animal Crew was opened to create a safe place for rescued animals in Tanzania. If you love animals, a day trip to this sanctuary should be right at the top of your list of things to do in Moshi.
While here, you'll get to go on walks around the farm with wild monkeys who don't mind tracking your footsteps, as well as meet the other rescued animals that reside here.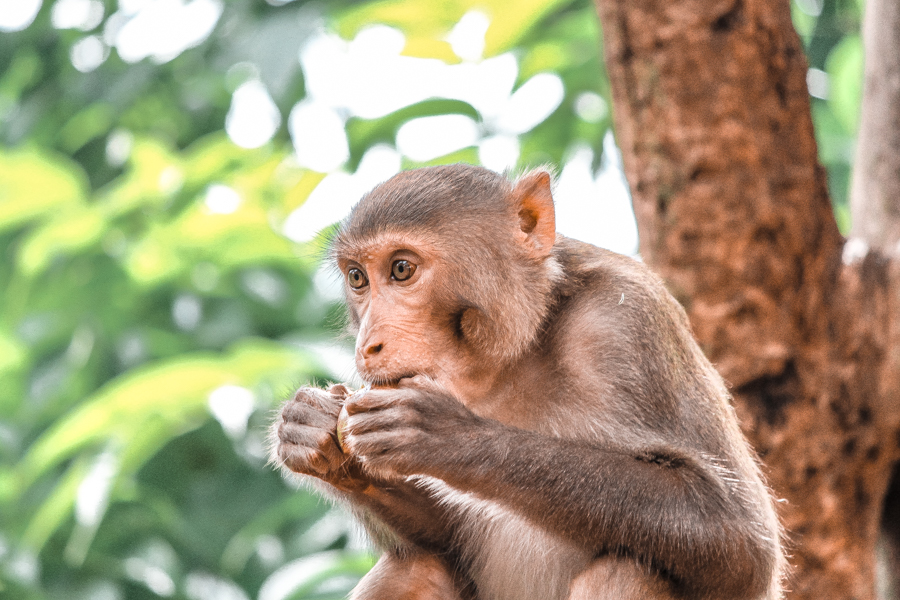 Go on Safari at Tarangire National Park
Tarangire is far less visited than its neighboring rivals for reasons I have yet to comprehend. If you're traveling to Tanzania on a budget and a safari in Serengeti is a strain on your wallet, then Tarangire is an incredible choice.
Tarangire boasts the largest concentration of elephants in the world, and it's also home to more than 700 tree-climbing lions. There's a gigantic waterhole close to the entrance, where giraffes, lions, zebras, and wildebeest gather to drink water, creating a scene straight out of the Lion King.
Arranging a private tour to Tarangire is easy on the wallet, with prices starting at $175 for a day trip (although I met a girl who got it down to $150).
Note: Tarangire is only worth visiting between June and October, as the animals migrate out from November to May and there won't be much to see during those months.
Dance the night away
Despite Moshi's small size, the town is a haven for those who love a good night out. Pamoja Bar is a favorite among expats and seasonal volunteers, and karaoke nights are the norm here. Malindi Club is another popular place to grab a beer and dance to the beat of Tanzanian music, and Fridays are host to local musicians and live music.
If you'd rather grab a drink in a more quiet atmosphere, then head to Peter's Club and Kool Bar (they're right next to each other), both which are open daily and host an array of drinks and local food.
Tips for traveling to Moshi
→ As far as healthcare in Moshi goes, I found it incredible. I had a malaria scare while in Moshi, so I headed to Mawenzi Regional, a public hospital that exceeded my expectations. While the facade looked gritty, the lab was incredibly well-equipped and clean. I got tested for malaria and they didn't charge me a dime, although first-timers have to pay to register in the Tanzanian health care system (8000 TZS, which is less than $4!). I was tested by a very professional doctor and got results immediately. I highly recommend this place.
→ I stayed at Kilimanjaro Backpackers Hostel while in Moshi and absolutely loved it. The hostel was gorgeous, the wifi was quite decent, and it's located in the best area in town and just a short walk away from Moshi's bus station.
The pictures online look terrible, but it was a really nice treehouse-style hostel that offers both dorms and private rooms for very low prices (single rooms for $10, double rooms for $20, and 4-person dorm beds for either $6 or $8). If you're bunking in a dorm, I recommend you pay the $8 as the cheaper ones are located on the first floor and natural light doesn't come into the room.
→ Tap water in Tanzania isn't safe to drink, but you can buy water bottles in the numerous local shops in town for as low as 500TZS or get yourself a GRAYL purifying water bottle. It eliminates bacteria and viruses from water in a matter of seconds and it'll allow you to drink from the tap and reduce your plastic waste while in Moshi.
→ If you're going on safari while in Africa, check out my safari packing list, too!
→ If you're still on the lookout for travel insurance for your trip to Tanzania, I highly recommend World Nomads.
Disclaimer: This post contains affiliate links. This means that, if you decide to purchase something through my links, I might earn a commission at no extra cost to you.