24 Best Beach Towns in Spain You've Got to Visit
Wondering what are the best beach towns in Spain? Find out on this post!
It's not exactly a secret that Spain is home to some of the most beautiful beaches in Europe, and there are so many incredible destinations in Spain you can head to in order to enjoy some serious sun, sand, and sea.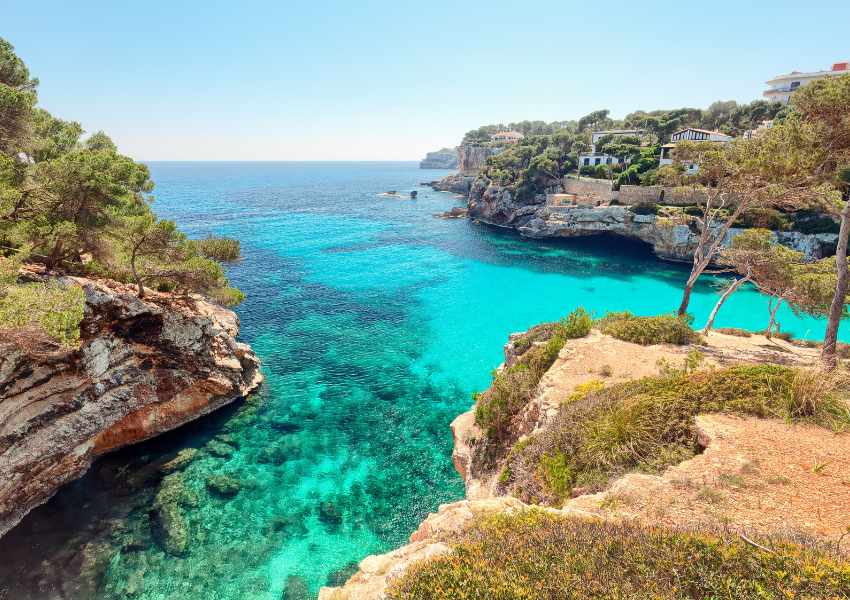 Even though Barcelona and Ibiza may pop to mind when you think of beach destinations in Spain, there are so many options to choose from if you know where to look.
From hidden gems to popular places, here is a list of the best beach towns in Spain according to top travel bloggers.
25 Best Beach Towns in Spain
1. Xabia or Javea
Javea, or Xabia in Valenciano, is an amazing beach town in Spain and the perfect day trip from Valencia.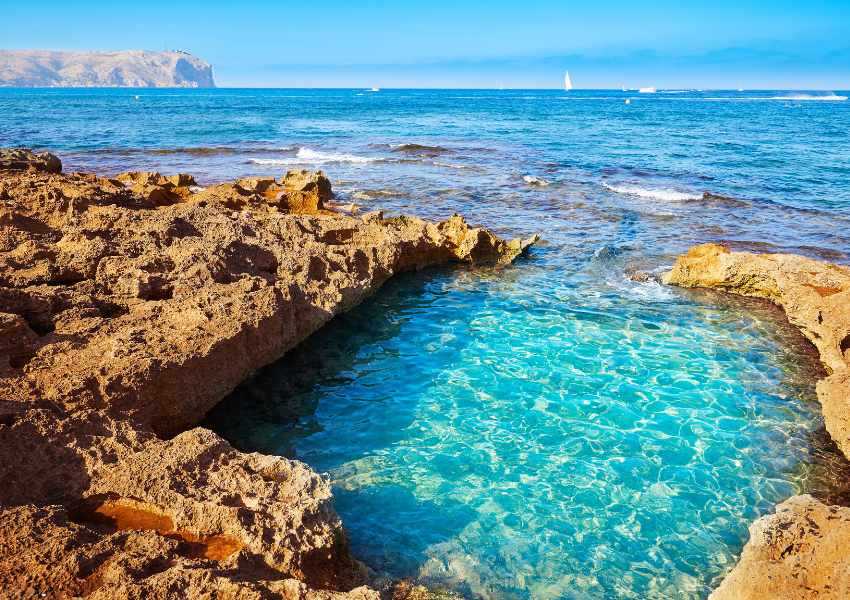 This small town, situated almost halfway between Valencia and Alicante, has a large British community while still keeping its Spanish flair.
The Old Town has a variety of amazing restaurants and bars for you to enjoy some traditional Spanish tapas, all while being surrounding by historical Spanish buildings.
On the boardwalk, you can spend the day shopping and enjoying a cocktail with views of the Mediterranean. Families and friends alike will enjoy relaxing in the city beach, called El Arenal.

However, the town of Javea is most appealing due to its hidden natural beaches close to the town.
These natural beaches, called 'Calas' (most similar to 'creeks' in English) usually involve a tiny bit of a hike down to reach them and are a bit rocky, but with crystal clear turquoise water.
In the summer, all the locals from neighboring cities are coming to the Calas to picnic and spend a day in the sun.

Besides the beaches, Javea also has many places for hiking, such as the national park of Montgò.
You'll discover countless trails on the mountainous terrain, all with spectacular views over the Mediterranean. Heads towards the Cap de Sant Antoni to see the rocky cliffs and a lighthouse right on the sea.
Recommended by Jori of The Tejana Abroad
2. Mojácar
Mojácar is found in the Almeria region of Andalucia Spain and is a village in two parts.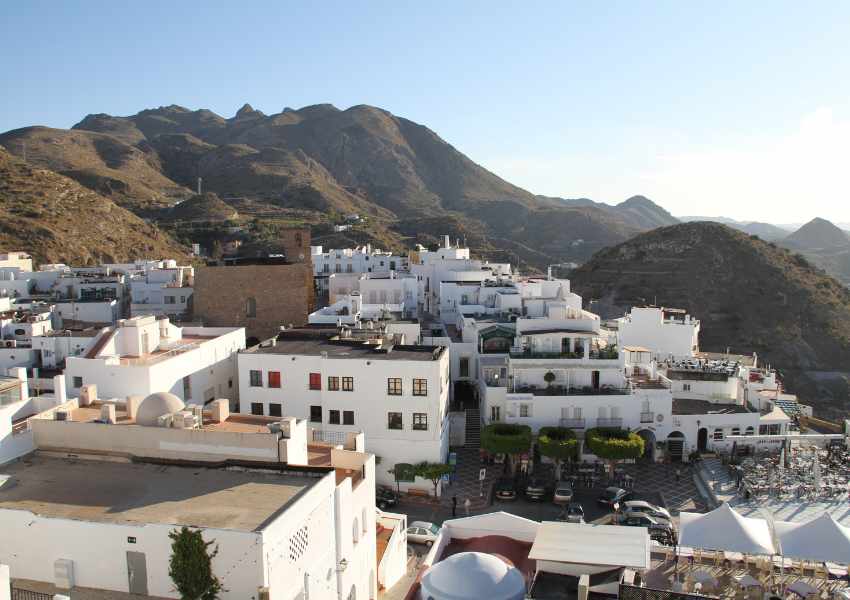 The first Mojácar Pueblo is an Andalucian white village perched on a hilltop with magnificent views over 17 km of pink sand beach on the Mediterranean.
Mojácar Playa the beach has everything you could wish for on a holiday. It has many chirinquitos where you can enjoy tapas and a drink for next to nothing.
With everything from traditional Spanish cuisine to a Full English breakfast, fabulous Indian food, and Moroccan tagines all your food desires will be taken care of.
For most of the year, the Playa is virtually deserted and there is always a spot free from any crowds just to enjoy the peace and beauty of the sea.
There are play areas for the kids and activities can be arranged to go camel riding, kiteboarding, stand-up paddles boarding as well as snorkeling and scuba diving.
If you enjoy more extreme sports you can go quad riding in the Tabernas Desert the only desert in Europe.
You can Buggying or caving in the nearby mountains. But you can also play a relaxed game of Golf at one of the many golf clubs in the area.
When you get tired of all the beach activities head up to the Pueblo to Plaza Nueva and the Mirador and enjoy a breathtaking sunset from the Mirador while you drink a Tinto Merano and enjoy some fine Spanish food.
From there, you can admire the views over the Sierras de Cabrera, Bédar, and Almagrera, as well as the nearby towns and the river Aguas.
Recommended by Faith of XYU And Beyond
3. Alcudia
The small town of Alcudia and the associated port and seaside resort of Port d'Alcudia are located about 50km from the capital Palma on the Mediterranean island of Mallorca.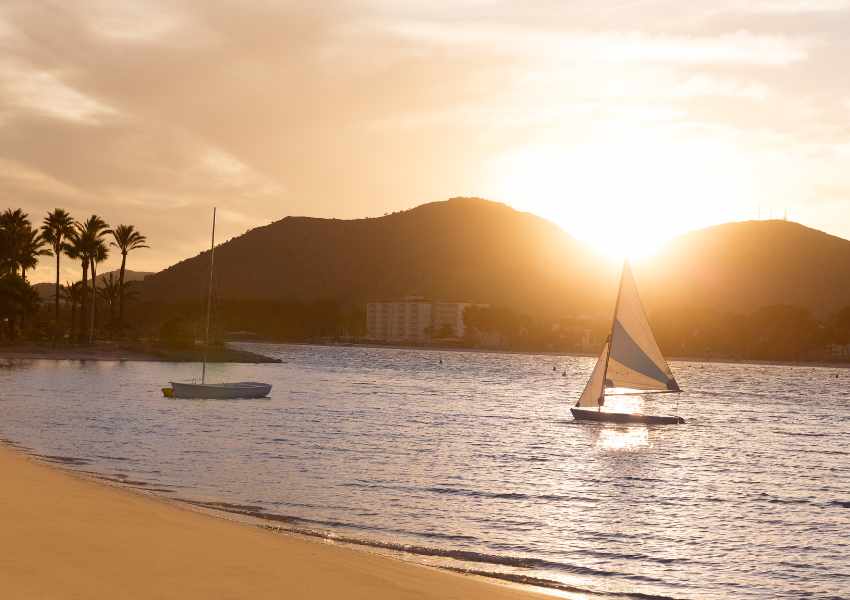 The historic center of Alcudia is ideally located on a mountain saddle between the bay of Pollença and the bay of Alcúdia.
This short distance of 2km between the beautiful sandy beach of the vibrant tourist resort and the picturesque, dreamy old town, makes Alcudia a perfect vacation destination.
The old town, encircled by a city wall, is car-free. Along the 1.5km long and 6m high city wall, which is partly accessible, there are 26 watchtowers and a multitude of gates.
The town's landmark is the parish church of Sant Jaume, which is integrated into the wall. It was rebuilt in the 19th century, but its bells are still those of the old church and therefore the oldest in Mallorca.
On the footpath between the two parts of the town, there is an archaeological site that proves that Alcudia was inhabited before about 2000 BC.
Port d'Alcudia offers a 10-kilometer-long sandy beach with all the activities you could wish for. Whether diving, snorkeling, or a boat trip to watch dolphins, the marina Alcudiamar and the many tour providers along the popular waterfront really offer everything.
For an outstanding view of Alcudia and all the surrounding bays, the hike up Talaia d'Alcudia (444m), the highest elevation on the peninsula, is worthwhile.
Recommended by Linda of Hiking The Alps
4. San Sebastian
Do you know which city in Europe officially holds the best urban beach? Do you know which city has the highest number of Michelin-star restaurants in Europe?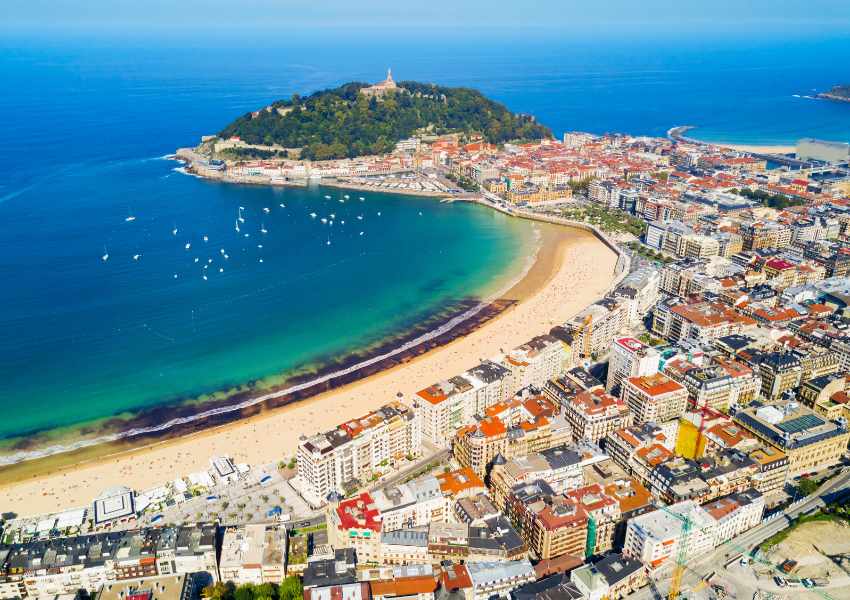 The city is in Spain. But it is neither Barcelona nor Valencia or Malaga. It is San Sebastian in the Basque Country in northern Spain.
Gorgeous San Sebastian is among the most beautiful beach towns in Spain. Spanish and French aristocracy and celebrities of the 19th and the beginning of the 20th centuries knew that well.
They enjoyed spending their summers there. Like Coco Chanel and Queen Maria Christina, for instance.
Belle Époque architecture, historic hotels, spectacular beaches, fabulous food, and top-notch Michelin-star restaurants make San Sebastian a top destination in Spain and beyond.
The shell-shaped and white-sandy La Concha beach in San Sebastian was named several times the most beautiful urban beach in Europe.
San Sebastian is a world-renowned gastronomy destination in Spain. It has the highest number of Michelin Starr restaurants per capita in Europe.
Late Anthony Bourdain raved about pintxos in Ganbara restaurant in San Sebastian.
And, Arzak restaurant in San Sebastian is always on the list of the world's 50 best restaurants.
San Sebastian is also on the famous Camino de Santiago del Norte route. And San Sebastian is not only for rich and famous.
So, if you like adventure, long-distance treks, lovely beaches, and first-class food, prepare your Camino de Santiago packing list and visit San Sebastian on your way to Santiago de Compostela.
Recommended by Milijana of World Travel Connector
5. Nerja
Nerja is a lovely town in Andalusia, only 1h away from Malaga. This white town is full of charm, where pretty beaches overwhelm the soul.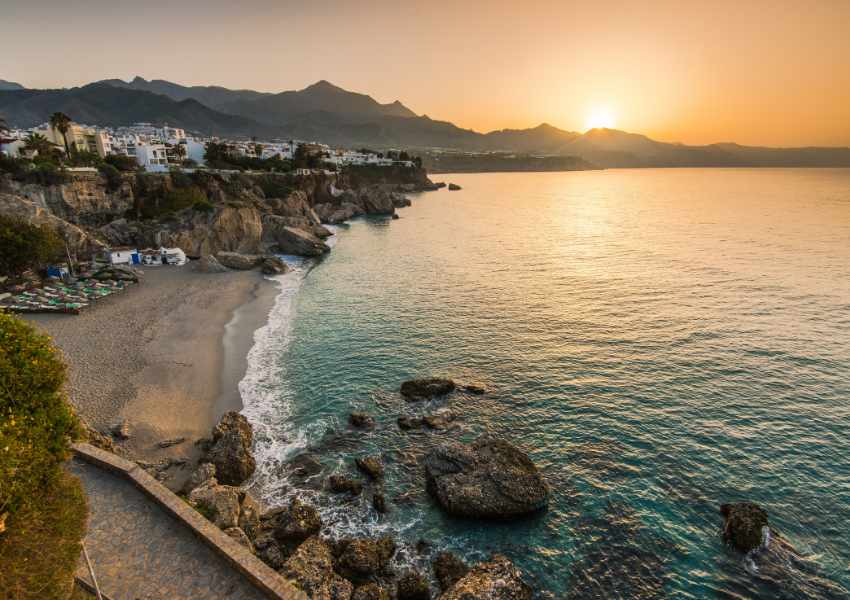 Just above Nerja shines Frigiliana, another white town and one of the cutest in Spain. Its stunning views towards the sea and cobblestone streets will simply enchant you.
Nerja is easily reachable from Malaga, considering the direct bus from the center.
The most popular attraction of Nerja is the caves, which lie in its proximity. These fascinating caves are pretty large and sometimes even host concerts. Existing for ages, Nerja caves were re-discovered in 1959.
Balcon de Europa is the main viewpoint in the town, where many concerts and events happen. Offering stunning views, it leads to Calahonda beach. This central beach is very pretty, but small.
The most popular beach in the area is Burriana with several beach bars and a lot of facilities.
It's the sand beach, where many people enjoy volleyball. Maro Beach is very delightful, stretching close to the Nerja caves.
The amazing hike along the Rio Chillar passes through Cahorros Natural parks and lovely waterfalls.
Wandering around the historic center of Nerja is just enchanting while admiring local churches.
El Salvador Church at the Balcony of Europe covers the stunning frescoes inside. The cute shops, restaurants, and bars offer the perfect break.
Recommended by Gabi of Under Flowery Sky
6. Torrevieja
Torrevieja is a town on Spain's Costa Blanca Mediterranean coast.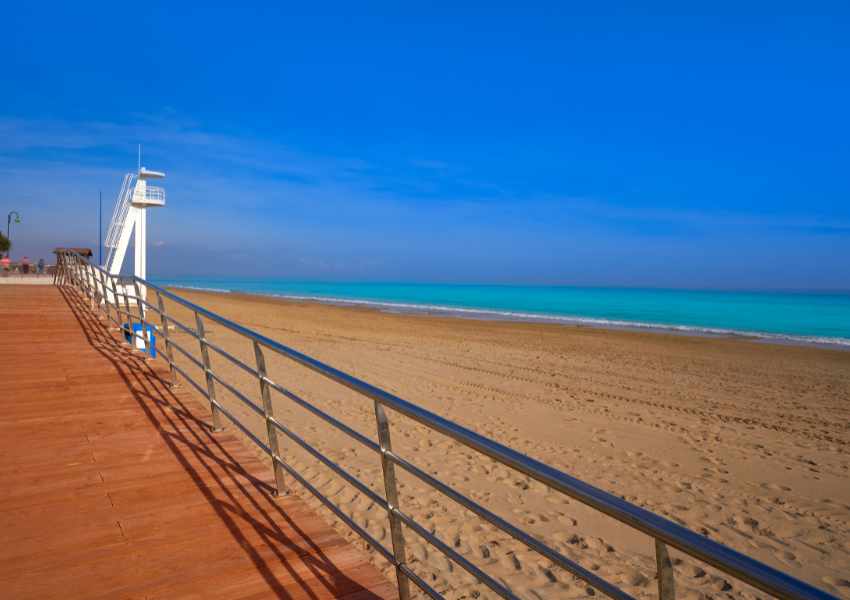 Located between the sea and saltwater lagoons, the town has been producing salt for export since Roman times.
While often overlooked in favor of some of the larger and brasher tourist resorts in the region, Torrevieja has smartened its image considerably in recent years to become a destination worthy of a visit at any time of the year.
Arguably the nicest part of Torrevieja is the seafront promenade, stretching the length of the town's water edge.
This palm-lined pedestrian walkway meanders past several sandy beaches, including sheltered coves that are great for kids and swimming, as well as a good selection of bars and restaurants to relax in and enjoy the sea views.
These beaches are just the start though – explore more of the surrounding area around Torrevieja for some of the best golden sand beaches in all of Spain, ranging from busy tourist spots to more secluded and natural locations.
Away from the beach, Torrevieja is home to a large water park, shopping centers, theatres, cinemas, and a fairground, all of which are perfect for keeping you entertained during your stay.
No trip would be complete without a visit to the pink salt lakes to see the salt-making process up close.
These can be reached on a fun tourist land train from the town center which includes a multilingual guided tour during the journey.
If you're lucky, you may even find flamingos.
Recommended by Rachel of Costa Blanca Kids
Don't forget to get travel insurance for your trip! As always, I recommend Safety Wing for great prices and coverage abroad. It starts at only $45 USD per month and will have you covered with everything you may need during your trip! Check them out here.
7. Fuengirola
Fuengirola is a great seaside town in the South of Spain.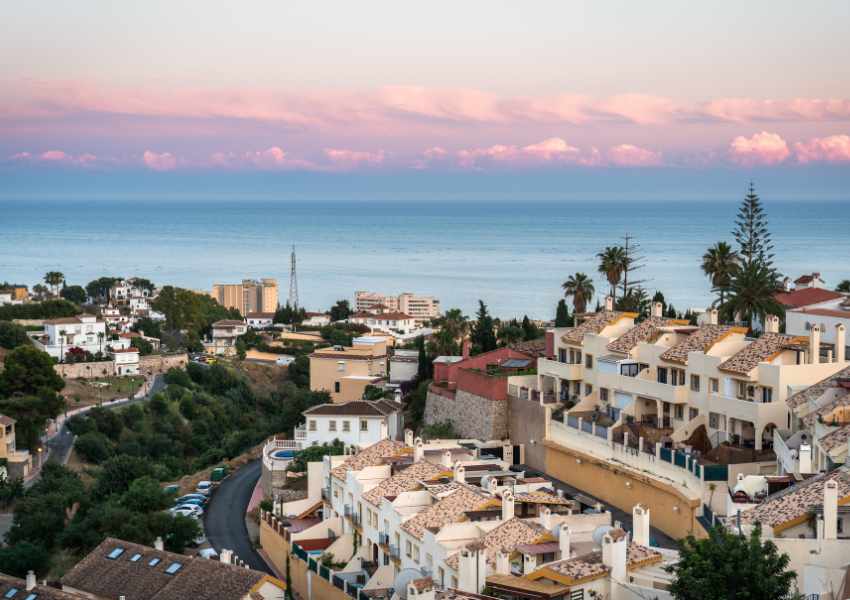 Because it's a town, it has a much more local atmosphere than the nearby resorts of Torremolinos or Benalmadena, which get packed in summer with holidaymakers.
There are several beaches in Fuengirola, as well as a marina from where you can go on a boat tour to spot dolphins in the wild.
This is a great area with plenty of marine wildlife, which makes spotting dolphins very common. Sometimes, you can even see them from the beach.
Fuengirola is a great place to visit for families with children. The bay between the center of Fuengirola and Los Bolices has shallow and calm waters, which make it safe for children.
There is also a playground on the beach, as well as pedalo boats which can be hired.
All the beaches in Fuengirola have a lifeguard service in season, as well as facilities such as showers, toilets, and plenty of beachfront restaurants and chiringuitos.
Besides the beach, there are plenty of things to do in Fuengirola. The Sohail Castle, which offers great views over the coast and the city is free to visit.
This is a Moorish fortress that hosts a Medieval Festival each August. From the castle, you can try the zip line over the river and stop directly on the beach.
Another great place to visit in Fuengirola is the Bioparc, an eco-park and animal sanctuary that also focuses on a breeding program for endangered species.
If you like history, you should visit the Roman ruins at Finca del Secretario, an archaeological site dating from the 1st century, of a Roman villa and a fish factory.
Recommended by Joanna of Andalucia In My Pocket
You may also like:
8. Corralejo
Corralejo is an amazing beach town to visit in Spain since it has lovely weather all year round.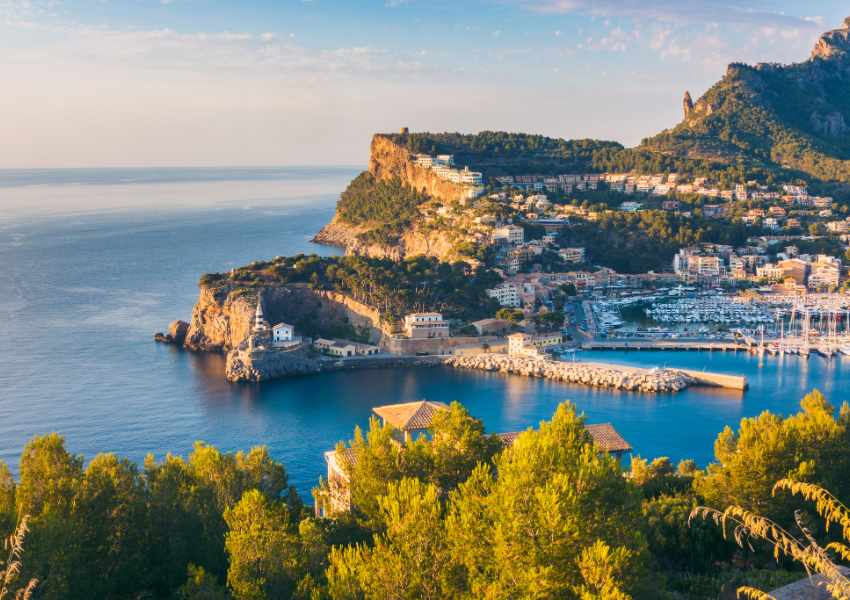 The town is adjacent to a vast area of sand dunes where you can find some of the best beaches in Fuerteventura.
Moreover, one of the best locations on the island to see strange white algae fossils on the beach which look like popcorn is in Corralejo.
So, wander from Playa del Medio to Playa de la Barreta to find those unique forms between the sandy beaches of Corralejo.
In fact, this beautiful town has more than 10 beaches which are a mixture of sand, white algae fossils, and volcanic rocks.
Therefore, every traveler can find amazing spots to swim, explore the unique coast or try delicious Spanish cuisine in one of the nearby restaurants.
Also, it's very easy to go on a day trip from Port de Corralejo to Lanzarote or the nearby Isla de Lobos. Just book a water taxi from Corralejo to see pristine beaches on a tiny volcanic island or take a ferry to the southern coast of Lanzarote.
Corralejo is undoubtedly one of the best beach towns in Spain due to its diversity and proximity to many amazing attractions.
Moreover, many annual events like the swimming competition to Isla de Lobos will offer you an unforgettable holiday so don't wait to book your trip to Fuerteventura – the island of beautiful sandy beaches.
Recommended by Paulina from the UK Every Day
9. Port de Soller
Port de Soller is a picturesque seaside town on the northern coast of Mallorca island.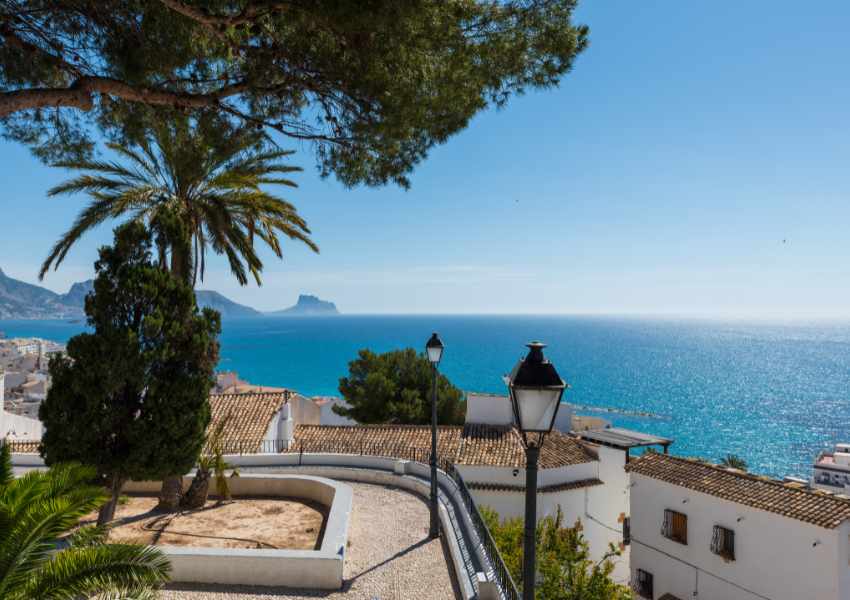 It is known for its beautiful natural setting and has a palm-tree-lined beach with golden sands and clear turquoise water.
It's a quintessential Mediterranean beach holiday town that should be a part of every Mallorca itinerary.

Since Port de Soller lies on the shore of a sheltered bay, the water there is very calm, which makes it one of the best beach towns in Spain for families with kids.
You can rent sunbeds and parasols for a relaxing day at the beach or hire a kayak or a stand-up paddle board to explore the scenic bay.

The waterfront promenade of Port de Soller is lined with numerous restaurants to suit all tastes and budgets.
Since the town is also a fishing harbor, it's an excellent place to eat freshly caught seafood and fish.

As Port de Soller is surrounded by towering mountains, there are several hiking trails to explore as well.
In the Soller Nature Reserve, you can find a variety of uncrowded trails with pristine nature and panoramic views of the coast. For the best sunset view, head to Cap Gros lighthouse.

Port de Soller is also known for its historic wooden tram which connects it to the neighboring town of Soller.
The journey to Soller takes you through scenic landscapes and citrus orchards and only takes around 15 minutes.
Recommended by Marjut Jogisoo of The Smooth Escape
10. Altea, Costa Blanca
The Costa Blanca, on Spain's east coast, is home to several of the best beach towns in Spain. But, there is something special about Altea.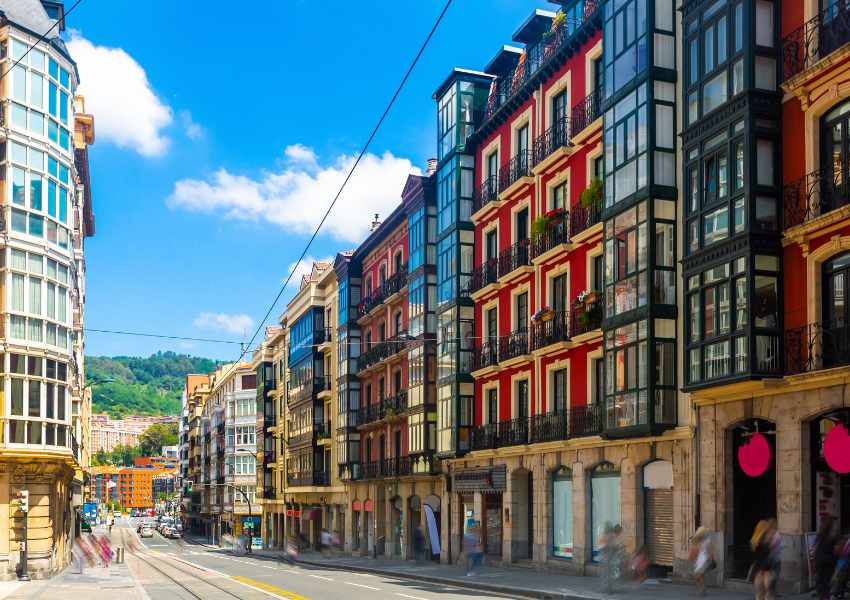 Altea has two distinct parts you shouldn't miss: the old town and the beach area.
The old town is centered around a very photogenic church with beautiful blue and white tiled domes.
Whitewashed houses line the narrow, cobblestone streets, giving the old town its unique charm.
The old town is best visited in the early evening when the small boutiques are still open, and the dim evening light adds to the atmosphere.
You can enjoy drinks on several terraces and there is a good selection of cozy restaurants, offering a mix of Spanish food and international cuisine.
In contrast, the beach area boasts a long, wide promenade and several pebble beaches.
The beaches are perfect to cool off during a warm summer day or to enjoy some water sports such as jet skiing, stand-up paddleboarding, or sailing.
The long promenade is great for a stroll and popular with both tourists and locals. It is lined with shops, bars, and restaurants.
Start your day on the promenade with breakfast by the beach, or end it with a cocktail after you've had dinner in the old town.
Recommended by Sanne of Spend Life Traveling
11. Bilbao
Bilbao is in the Basque country in northern Spain.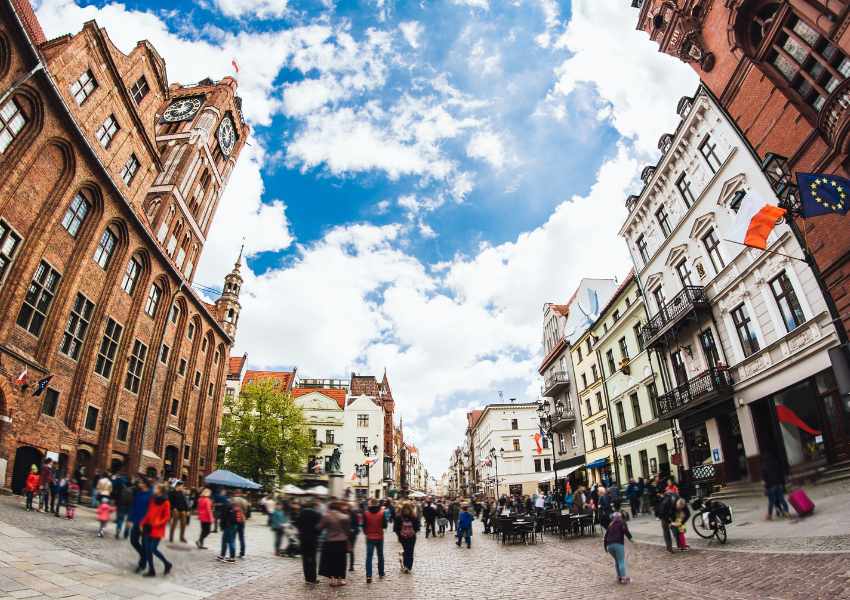 It is best known for its Guggenheim Museum and old town but there are also several beaches close by making this a perfect place to combine beach and culture.
The closest beach to the city is Las Arenas beach with Ereaga beach and Arrigunga beach close by. All these beaches are easy to get to using the metro.
A bit further away the beaches get wider, larger and more impressive.
However, it is worth noting that many of these have a small section of the beach which is for nudists so look into which end of the beach you want to go to!
This applies to beaches such as Playa Gorrondatxe and the best swimming beach in the area, Gorlizeko Hondartza.
Most days it can be quite windy and the waves rolling in from the Atlantic Ocean mean many of the beaches are perfect for water sports.
Surfing is popular with Sopelana being the best surfing beach close to the city.
After a day at the beach, it is time to explore the town. Even if you are not into art, the Guggenheim Museum building is a must-see.
It should at least be appreciated from the outside.
Admire the architecture before heading over to the old town to explore its churches and squares and be sure to stop at one of the small cafes for pintxos, the Basque version of tapas.
Recommended by Kristin of Scotland Less Explored
12. Benidorm
Benidorm is certainly one of the most famous and best beach towns in Spain.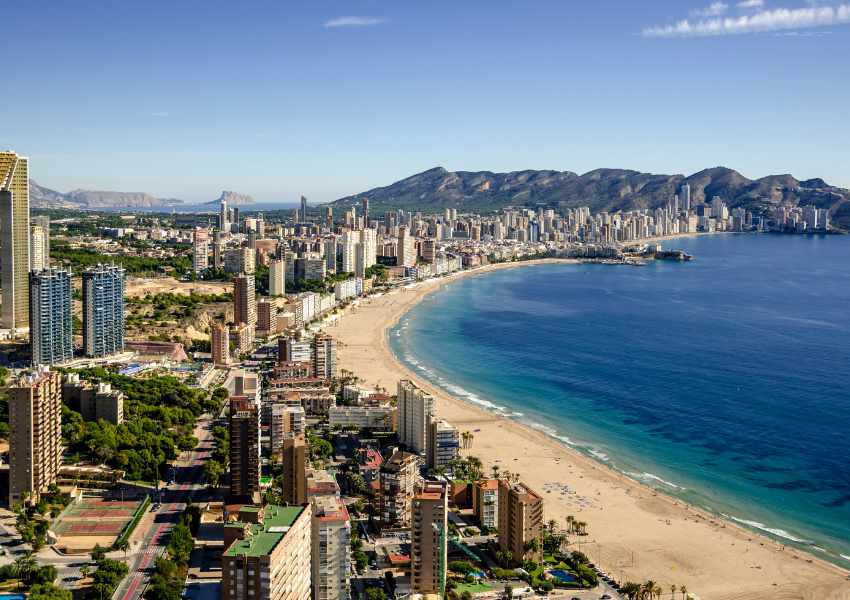 This metropolis is located on the Costa Blanca and is often called "Little Manhattan" due to its high density of high-rise buildings.
During the summer months, Benidorm is packed with tourists from all over the world, but if you go outside the main tourist season, you can get really cheap bargains for a beach vacation.
The beauty of Benidorm is that there is no winter. The temperatures are pleasant all year round and there is plenty of sunshine.
Benidorm is famous for its beautiful sandy beaches, which are perfect for a vacation.
In the center there is even a romantic old town where the so-called "Mediterranean balcony" leads directly to the azure sea. But that's not all! Benidorm is also perfect for those who like to party.
In the many restaurants and bars you can enjoy delicious tapas and drinks, and in the clubs you can party until the early hours of the morning.
In addition, there are numerous amusement parks around Benidorm that provide tons of action.
Nature lovers will also enjoy the region around Benidrom. Nearby is the Sierra Helade National Park, where you can take beautiful walks along the cliffs.
Other beautiful highlights of the area that can be visited on an excursion are the colorful Villajoyosa, the white town of Altea and the beautiful coastal town of Calpe.
Recommended by PlacesofJuma
13. Las Palmas de Gran Canaria
Las Palmas de Gran Canaria is one of the best beach towns in Spain to visit for a memorable vacation.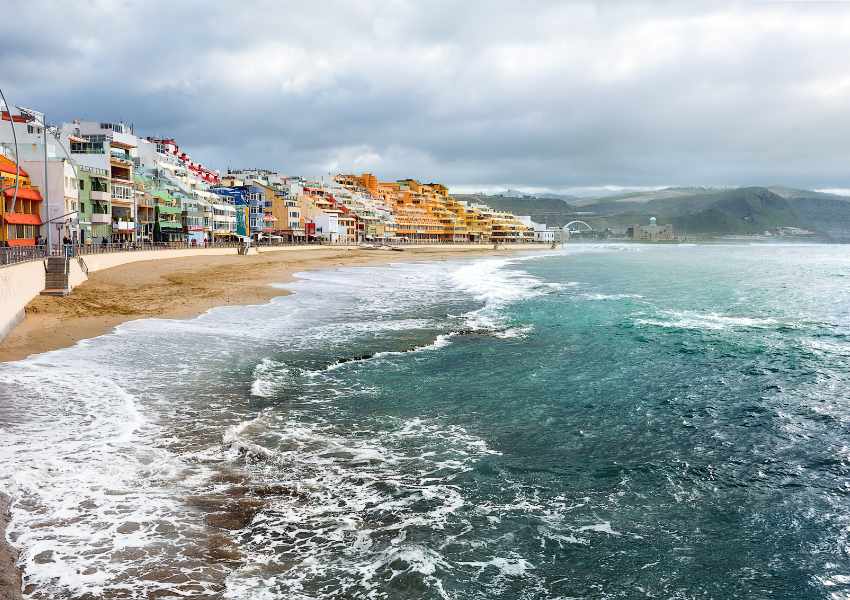 It is located on the island of Gran Canaria and offers a wonderful mix of natural beauty, culture, and entertainment.
The town is home to some of the most beautiful beaches in all of Spain, with crystal clear waters and golden sand that stretches for miles.
There are also plenty of activities to enjoy such as surfing, kayaking, or simply relaxing while taking in the stunning views.
Las Palmas de Gran Canaria is an ideal destination for a beach holiday that will be remembered for years to come!
And the best beach in Las Palmas de Gran Canaria is the Las Canteras beach, possibly one of the most beautiful beaches in the Canary Islands.
Popular with both tourists and locals alike, this beach is known for its white sand, crystal clear waters, and stunning views.
Whether you are just visiting Las Palmas de Gran Canaria for a day or staying longer, you should add this beach to your itinerary.
Las Canteras beach is considered to be the most important beach in Las Palmas de Gran Canaria because it offers a variety of activities such as swimming, surfing, snorkeling, and sunbathing – all this while being close to plenty of restaurants and shops.
Additionally, there are many cultural events that take place on the beach throughout the year such as music festivals and concerts.
The mix of fun city vibe and an urban beach makes Las Palmas de Gran Canaria one of the best beach towns in Spain.
Recommended by Bea of Pack Your Bags
14. Port de Pollença
Located in the northern part of Mallorca's Serra de Tramuntana mountain range, a UNESCO World Heritage Site, Port de Pollença is an unmissable tranquil beach town in Spain.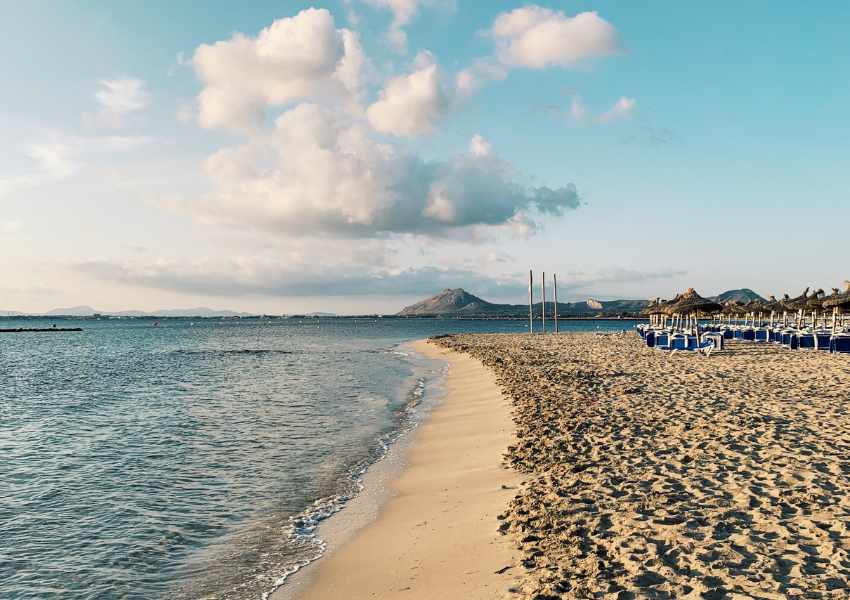 This laid-back town was originally a tiny fishing village and only became a popular vacation spot in the 20th century, beloved by wealthy families as well as artists, poets, and writers such as Agatha Christie and Atilio Boveri.
Its beaches with their crystal-clear water, the mountainous backdrop, the lovely Pine Walk promenade, and the abundance of cafes and restaurants make it an ideal beach town.
In and around Port de Pollença, you can take short boat trips, engage in water sports, and even go hiking in the nearby Boquer Valley.
If you're planning a Mallorca itinerary without a car, a short bus ride can take you from Port de Pollença to the beautiful viewpoint of Mirador Es Colomer and the dreamy beach of Platja de Formentor, though a vehicle can get you all the way to the Formentor lighthouse at the end of the stunning Formentor peninsula.
A variety of tourist-friendly accommodation options is available in this delightful beach town, from seaside hotels to apartments to villas, but you can also visit Port de Pollença as an easy day trip from Palma de Mallorca, situated only a 75-minute bus ride away.
Recommended by Or from My Path in the World
15. Barbate
Barbate is a small town of about 23,000 inhabitants on the Costa de la Luz in southern Spain.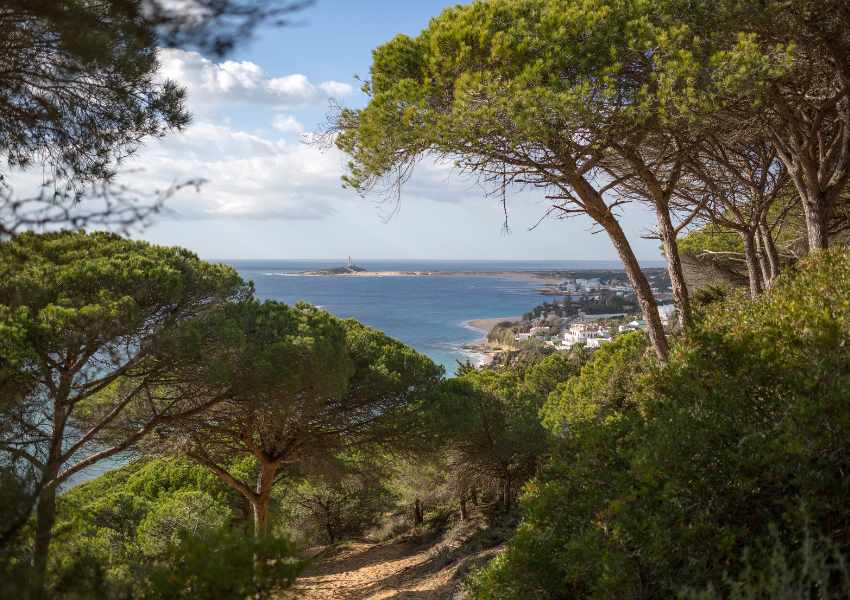 You have probably never heard of it, which is exactly the reason why you should go.
Barbate is still relatively untouched by foreign tourism and you can still experience an authentic local vibe here.
While the town center lacks some charm compared to other Andalusian villages, that is completely made up by the area that surrounds Barbate town.
Here you can find some of the best beaches in the whole of Spain and the fabulous La Brena Y Marismas del Barbate Natural Park.
The best beaches in the area are Playa Del Carmen because of its location right in the center of Barbate, this stretch of beach is the most touristic and is backed by a lovely promenade with excellent restaurants and cozy cafes.
A little further out you can find the magical, almost deserted, beaches of Canos de Meca and Playa Faro de Trafalgar with the enchanting Trafalgar lighthouse from which you can watch otherworldly sunsets.
If you want to visit the park, the best way to do is, is by hiking the cliff trail that leads from the main road in Barbate to the Mirador Torre del Tajo.
Aside from the park and the beaches, there are a lot of great day trips that can be done using Barbate as a base.
The city of Cadiz is only 50 minutes away by car and the lovely hilltop town of Vejer de la Frontera can be reached in only 15 minutes.
Contributed by Annelies from Travelers & Dreamers
16. Alicante
Alicante is a charming Spanish beach town found on the famous Costa Blanca coastline in Southeast Spain.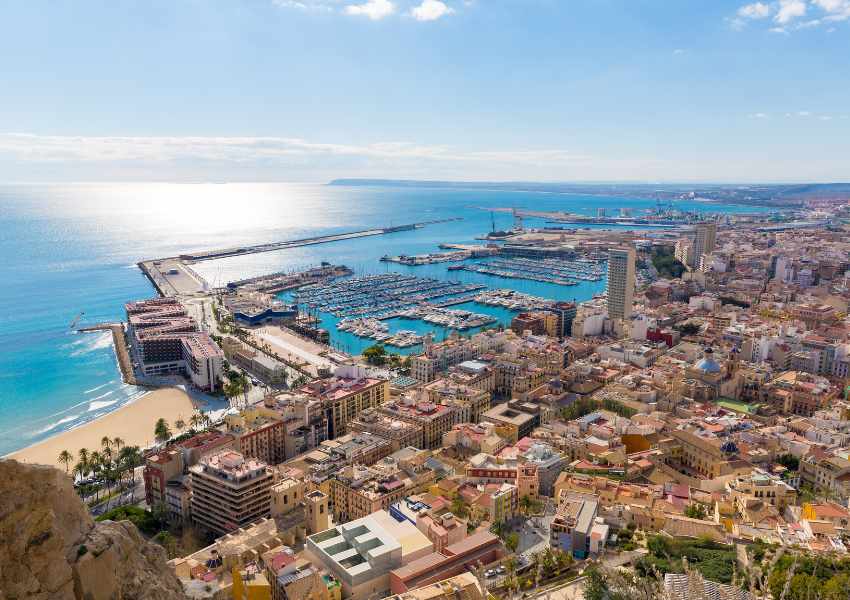 Many visitors arrive every year, however, the town has been able to maintain its authentic Spanish charm.
Alicante has many beaches to enjoy, so you will never have trouble finding your own spot of paradise.
The nearest beach, Playa Postiguet, is just minutes away from the center of the town.
There are beachside cafes and restaurants, and water activities are offered in the summer months.
There are many things to do in Alicante to complement enjoying the beach. Visit the most famous landmark in town, the castle of Santa Barbara (Castillo de Santa Barbara).
Enjoy amazing panoramic views over Alicante and the surrounding coastline.
You can walk to the summit (not advised in the midday sun) or take an elevator from close to Postiguet Beach.
After working up an appetite take a stroll along the marble-tiled floor of Esplanada de Espana.
Go in the evening to explore the night markets, where locals sell their arts and crafts.
During the day the palm trees lining the street offer shade and a place to sit and watch the world go by.
When it comes to dining, Alicante has many options.
Dine in one of the upmarket harbor restaurants, or head to "100 Montaditos" and try a plateful of small dishes starting at $1 each.
A great day trip from Alicante is a visit to Tabarca Island.
Tabarca Island is a protected marine reserve and is only a 60-minute ferry trip from Alicante.
A favorite activity to do on the island is snorkeling, the calm and clear waters offer the best opportunity to see the marine life up close.
Recommended by Wes of Walkabout Wes
17. El Puerto de Santa María
El Puerto de Santa Maria, Cadiz, is a great destination for anyone looking for Andalusian charm and spectacular beaches in one place.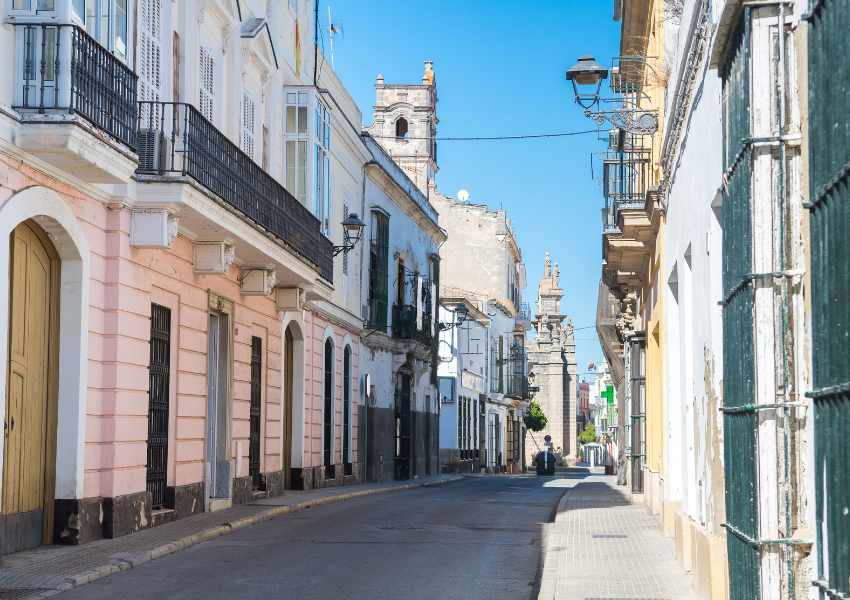 The town is part of the Sherry Triangle which makes it perfect for sherry lovers and you can visit the Osborne factory and wine cellars with a tasting tour.
This is truly one of the best things to do in El Puerto de Santa Maria, but you can also visit opulent palaces in the historic center, explore the Castillo de San Marcos, and have tapas at Plaza de España with views of the splendid Iglesia Mayor Prioral church.
El Puerto de Santa Maria is popular among locals from both Seville and Cadiz to go on a beach vacation and to go partying as the little coastal town boasts an energetic night scene, especially in the summer months. There are also a whole lot of exquisite tapas bars and restaurants with locally produced food.
If you fancy a day trip, it is a short ferry ride across the bay to Cadiz which is full of historical sites and even more beaches to explore.
Other cities nearby are Jerez de la Frontera and Seville which also hold the closest airports to El Puerto de Santa Maria.
Recommended by Linn of Amused by Andalucia
18. Barcelona
If you're planning a vacation to a beach town in Spain, then you'll definitely want to visit Barcelona!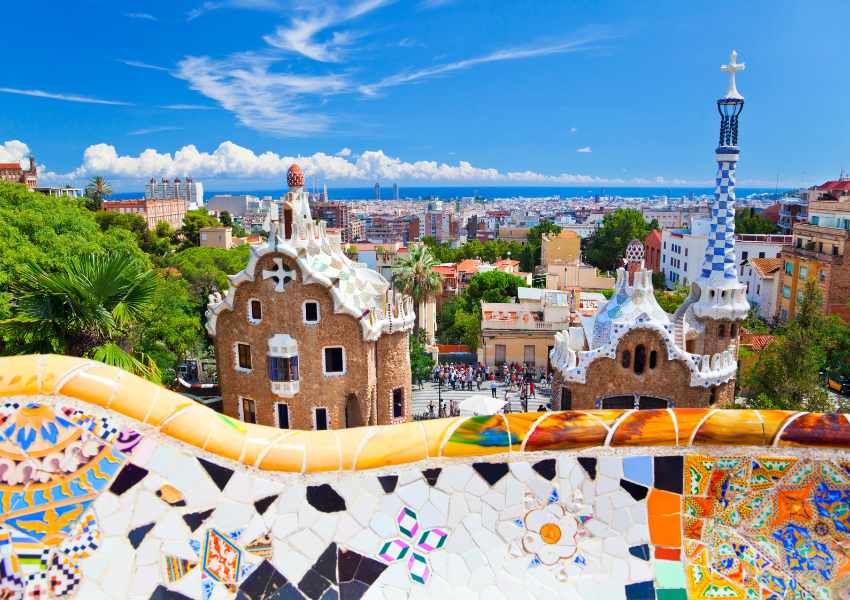 Barcelona is located on Spain's Mediterranean coast and has plenty of amazing beaches for you to enjoy along with the city's incredible array of attractions.
One of the most popular (and busy!) beaches in Barcelona is Barceloneta Beach.
This beach is located close to Barcelona's Gothic Quarter and the Parc de la Ciutadella. It's easy to get here since it is close to the Barceloneta metro stop.
There are a string of beaches one after another, so you can walk along the beaches to your heart's content!
Whether you want to play beach volleyball, go for a swim, or just work on your tan, you'll find a beach in Barcelona that's perfect for you.
But there's a lot more to enjoy in Barcelona besides its beaches!
Barcelona has plenty of top-notch attractions that you'll want to check off of your bucket list.
Barcelona is famous for its fantastic architecture, especially the unique works of architect Antoni Gaudí.
You'll definitely want to visit Parc Güell and the basilica of La Sagrada Familia, two of his most iconic works (If you want to tour the basilica, you'll want to get your tickets in advance!)
Be sure to take some time to explore La Rambla, the most famous street in Barcelona.
This pedestrian boulevard is a mélange of shops, bars, cafés, some of the best Barcelona street food, hotels, museums, and the famous food market, La Boqueria.
La Rambla is a great place to relax and do some people-watching, or even take in a flamenco show!
Moreover, there are also plenty of amazing day trips from Barcelona or you can follow this 2-day Barcelona itinerary for ideas on what to do!
Recommended by Lisa of Waves and Cobblestones
19. Estepona
Estepona is one of the most beautiful coastal towns in Malaga. It is often referred to as the garden of Costa del Sol.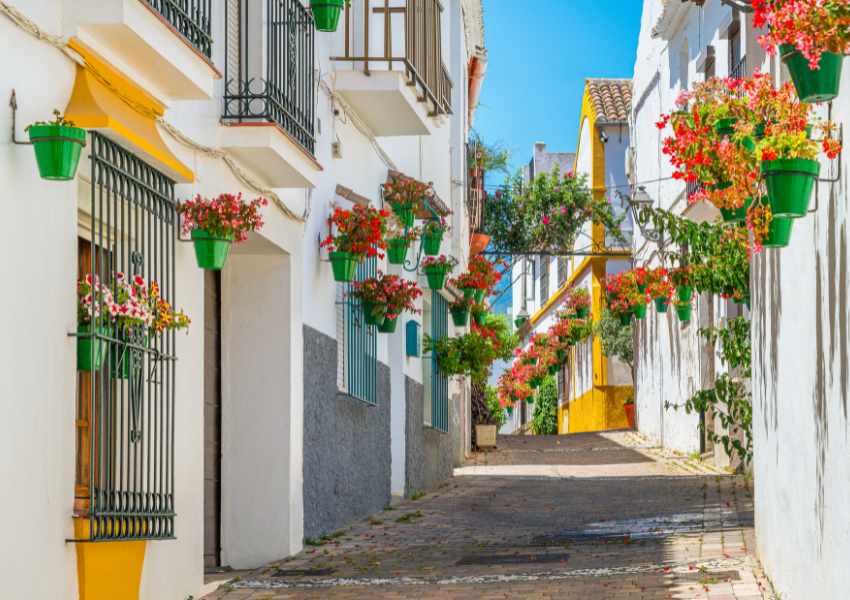 It has incredible sandy beaches, picturesque streets, and attractions for any traveler.
One of the best things to do in Estepona is to explore its historic center, home to cobblestone streets, whitewashed buildings with flowers and plant pots hanging down the walls, and street art.
You can visit the Estepona tourism office or go to the website to check out one of the walking routes you can do depending on your interest (street art, sculptures, poetry, or pretty streets).
Apart from exploring the old town of Estepona, head to one of the many beautiful beaches in Estepona.
La Cala and La Rada Beach are the most accessible as they are next to the center; however, you might also want to check out Playa del Cristo.
Sunbathe, do water activities, or enjoy the sunset on one of these beaches.
No matter which one you visit, you can contemplate beautiful views of Gibraltar and the African continent.
If you visit Estepona with kids, there are also many incredible activities to do with the family.
For example, you can go to Selwo Aventura, a fantastic safari just outside Estepona town.
Overall, Estepona is a fantastic coastal town; no matter if you visit it in summer or winter, you have plenty of things to keep you entertained.
Recommended by By Cristina of My Little World of Travelling
20. Sitges
When you picture the Spanish region of Catalonia, you probably immediately think of the Catalan capital, Barcelona.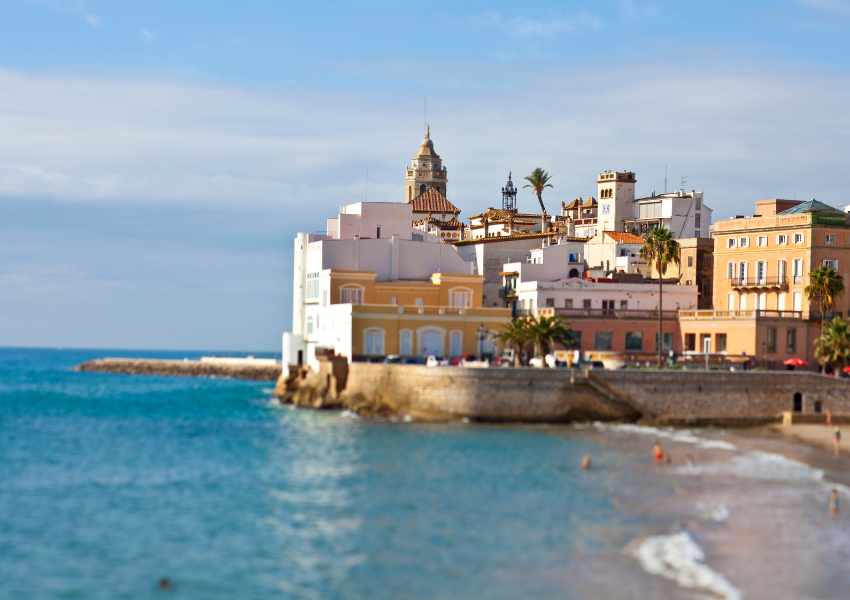 However, what many people don't actually know is that there are many more great coastal towns to discover in the region.
One example is the small coastal town of Sitges, about a half-hour drive from Barcelona.
With its ideal location and good train connections, you can easily plan a day trip to Sitges or spend more time here.
The small town offers a peaceful atmosphere, and its architecture is somewhat reminiscent of a typical Mediterranean fishing village.
Stroll through the town's streets and be enchanted by the picturesque landscapes.
Sitges is not only the ideal destination for those who like it quiet. The city is considered the unofficial capital of the LGBTQ scene in the region.
That means you'll also find plenty of fancy colorful bars and clubs to hang out and meet new people.
If you're more into the artistic side of things, you won't go wrong in Sitges either. Especially lovers of architecture and art will find many places worth seeing.
But the most important sights of Sitges are of course the beaches.
Directly in the city center, there is an extensive coastal promenade where you can walk along and admire the view of the deep blue Mediterranean Sea.
Sit down on one of the terraces and enjoy a cool drink or try some delicious Catalan tapas.
Recommended by Vicki of Vicki Viaja
21. Marbella
You can find one of the best beach towns in Spain on the Costa del Sol.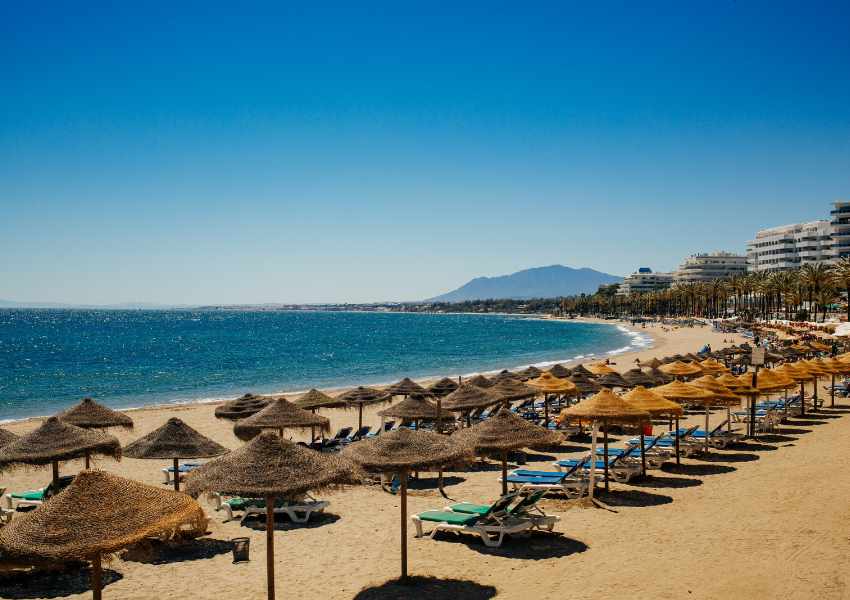 Beautiful Marbella sparkles with 325 days of sunshine per year. This famous resort town is home to some of the highest-quality properties in Europe, four marinas, and fourteen golf courses.
But it's the beach scene that's the real draw.
In Marbella, you'll find 23 pristine beaches hugging 18 miles of the Mediterranean coastline.
Not only is this selection of excellent beaches in Marbella perfect for beach lovers, but they are award-winning.
Marbella's beaches receive recognition for being so clean and respecting their natural surroundings.
El Faro Beach is the central beach you'll visit, just west of the Marbella port. Playa El Faro is relatively small (700'x60'), but it's inviting, sheltered, and calm.
It's also conveniently located close to many of Marbella's hotels and other attractions. It's a great place to stroll on the boardwalk to enjoy scenic views.
In addition to the beach clubs, you'll want to visit the world-class museums and galleries, fascinating architecture, health & beauty clubs, and the rich nightlife Marbella offers.
It's also home to a charming old town filled with old churches and cobblestone streets.
When you visit Marbella, you'll have many options for ocean-view dining and luxury stays. In fact, it's known as one of the most luxurious places to visit in Spain.
And if you really want to indulge yourself, head over to the Puerto Banús district.
There, you'll find luxurious fashion brands, a yacht-filled marina, and upmarket bars.
Perhaps the best thing about Marbella is that it's not overrun with tourist attractions.
Visit this seaside town to relax on the beach, enjoy retail therapy, and immerse yourself in the enchanting culture of Southern Spain.
Recommended by Jackie Gately of Enjoy Travel Life
22. Valencia
Located on the Mediterranean Sea, Valencia is one of Spain's top seaside towns.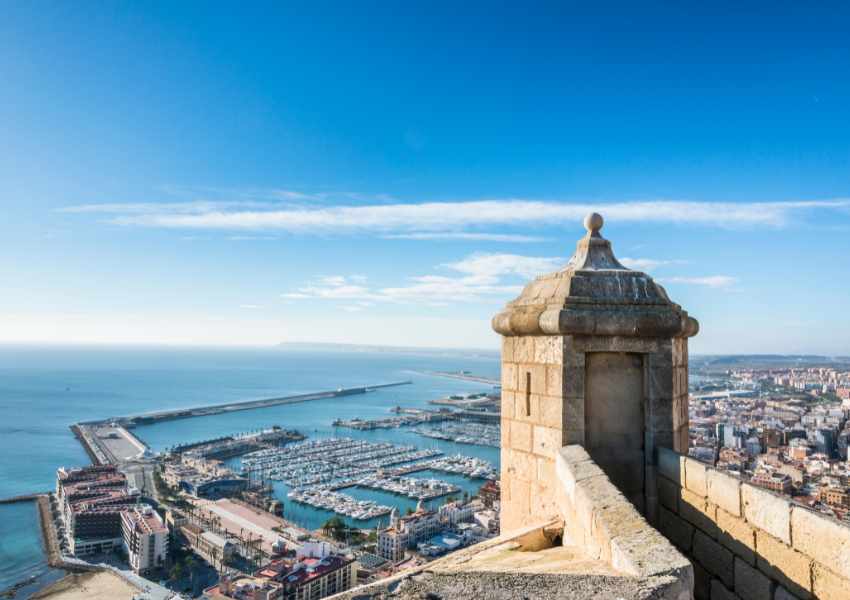 It has the perfect combination of sandy beaches, arts and culture, and delicious food.
Valencia's main beach is Playa de Las Arenas, sometimes called El Cabanyal.
This wide beach bustles with water sports enthusiasts enjoying stand-up paddling, windsurfing, and bodysurfing.
Hotels, bars, and restaurants line the promenade and make for a lively atmosphere.
If you want a more relaxing beach, head north to Playa de la Patacona. Complete with swaying palm trees, the vibe here oozes tranquility.
Since it's a little further from the port, the water appears more clear and blue, perfect for swimming.

The city offers much more than beautiful beaches, and the city has a mix of the old and the new, making a weekend in Valencia a must!
Inside the ultra-modern buildings of the City of the Arts and Sciences, you'll find cultural venues for a planetarium, an IMAX Cinema, and even a botanical garden.
In the historic old town, the impressive Valencia Cathedral boasts having a chalice used by Jesus at the last supper.
Walk up the bell tower for wonderful views of the city. Nearby visit the La Lonja de la Seda.
A marvelous example of Valencian Gothic architecture, this 15th-century UNESCO site once housed the Silk Exchange.
In the same square, you'll find the Central Market, a haven for foodies. Here you'll find fresh produce, regional spices, and some of the best food in Valencia.
But you'll have to go elsewhere to find the number one specialty, Paella. Don't leave without trying the city's most famous dish!
Recommended by Denise of Chef Denise
23. Malaga
Malaga is one of the best beach towns in Spain. The city lies along the Costa del Sol and sits in a bay looking out to the Mediterranean Sea in the south of Spain.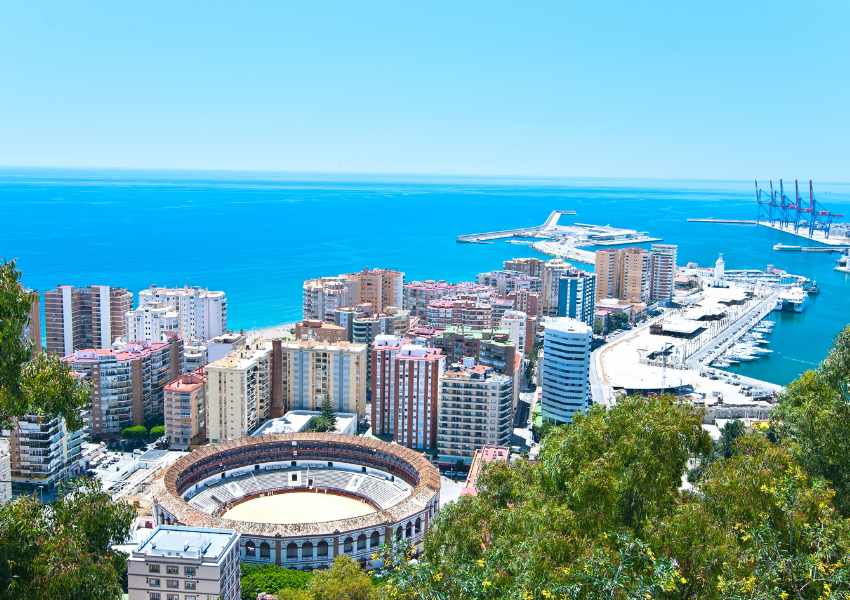 Its beaches are long, sandy, and dotted by palm trees. Plus, they're quickly and easily accessible from the city, with lots of great restaurants and bars nearby.
Pablo Ruiz Picasso Promenade is just a five-minute walk from Malaga's downtown area and cultural center.
The promenade is bordered by numerous restaurants and bars on one side and the beach on the other.
Some of the beaches accessible from the promenade include La Malagueta, Banos del Carmen, and Playas del Palo.
La Malagueta is the closest beach to Malaga's city center.
Order tapas and a drink from one of the many chiringuitos, or beach bars, here, and watch the fishermen out at sea.
This man-made beach offers lounge chairs and beach umbrellas to rent, showers, toilets, a children's play area, and disabled access.
The two busiest beaches in Malaga tend to be La Malagueta and La Caleta.
However, if you visit during the spring, the weather is still warm, with average highs in the 60s to 70s, and the beaches won't be too crowded yet.
Recommended by Clarice of The Celver Westwind.
24. Girona
A smaller city in northeastern Spain, Girona is the perfect combination of beaches, history, and culture.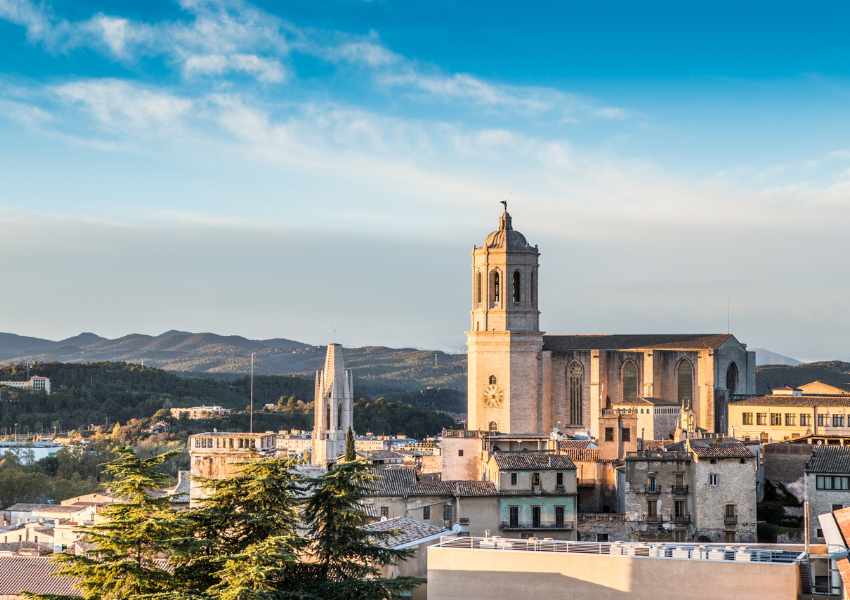 While it's not as well-known for its beaches as other Spanish coastal towns, Girona's proximity to the pristine Costa Brava coastline is a major draw for beach lovers.
The Costa Brava boasts over 200 kilometers (124 miles) of beaches, from secluded coves to busy resorts.
With Girona as your base, you can easily explore the coastline and visit some popular beaches like Platja de Lloret or quieter beaches like Platja de Sant Pol.
In addition to the beaches, Girona's Old Town is a UNESCO World Heritage Site with streets, ancient walls, and Gothic churches that are as timeless as they are beautiful.
The Museum of Jewish History gives a deeper dive into the city's medieval Jewish community, while the local Museum of Art showcases amazing works of art by Catalan artists.
For foodies, Girona is flooded with restaurants that offer traditional Catalan dishes like fideuà (Catalan paella with pasta) and escalivada (Catalan roasted vegetables), with plenty of bars to choose from as well.
You also can't miss checking out the Girona Cathedral, a church with a baroque facade that was also one of the filming locations for season 6 of the wildly popular show Game of Thrones.
All in all, you can't go wrong with Girona. With its golden beaches, charming Old Town, and amazing eats, there's something for everyone in this Spanish gem of a city.
Recommended by Wayfare With Pierre
Final Thoughts on the Best Beach Towns in Spain
There are tons of amazing destinations on offer so choosing the best beach towns in Spain can get tricky!
While it would be impossible to visit them all unless you are actually moving to Spain, you can pick a few out of this list depending on what fits your travel plans best and create a beach-hopping itinerary through Spain.