The Ultimate Barcelona Street Food Guide: 11 Dishes To Try + Where To Find Them!
Are you a foodie and want to know about Barcelona street food? Barcelona is a vibrant and colorful city with a rich culinary tradition.
One of the best ways to experience the local flavors and culture is through its street food.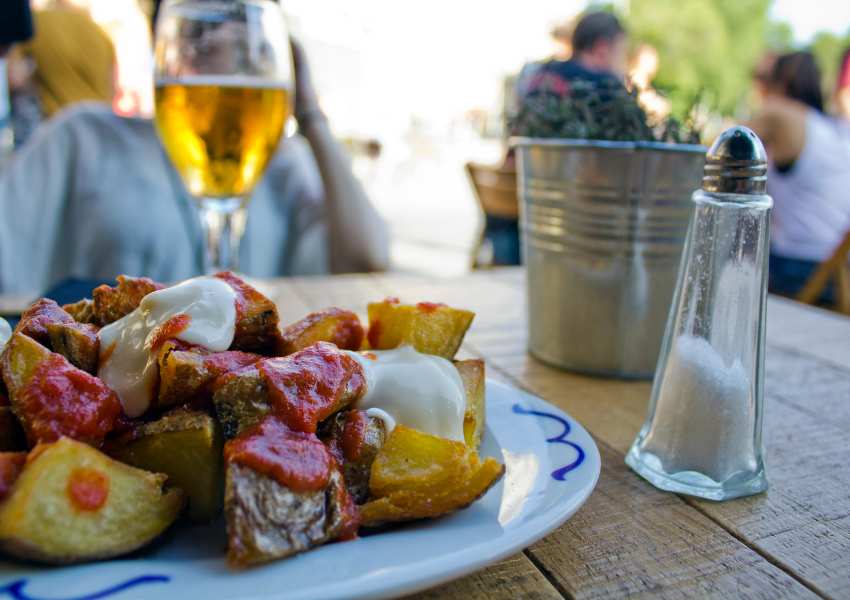 From savory snacks to sweet treats, the city's streets are packed with delicious options for foodies of all kinds.
In this blog post, we'll take a closer look at some of the best Barcelona street food.
Barcelona's Street Food Culture
Wandering through the bustling markets and eclectic food trucks, you'll find a diverse array of delicious Barcelona street food to indulge in.
From traditional Spanish dishes to innovative fusion cuisine, there's something for every palate.
Start your food journey at La Boqueria, one of the city's most famous markets.
Here, you can sample fresh local produce, flavorful cured meats, and mouthwatering cheeses.
Another must-visit spot is the trendy El Raval neighborhood. Here, food trucks and small stalls line the streets, serving scrumptious sandwiches, tasty tapas, and artisanal street snacks.
Finally, don't miss out on the numerous outdoor food festivals that take place throughout the year and offer some of the best Barcelona street food you'll find around.
Events like Van Van Market and Palo Alto Market bring together a fantastic selection of street food vendors, offering you an extraordinary opportunity to indulge in Barcelona's culinary delights.
Famous Barcelona Street Food Dishes
Even though street food may not be the first thing that pops to mind when you think of Barcelona, you'll be pleased to know it is a thing here!
Here are some of the most famous Barcelona street food dishes you'll be able to find almost anywhere in the city:
1. Pintxos
These small snacks, presented on bread and topped with various ingredients, are held together with a toothpick.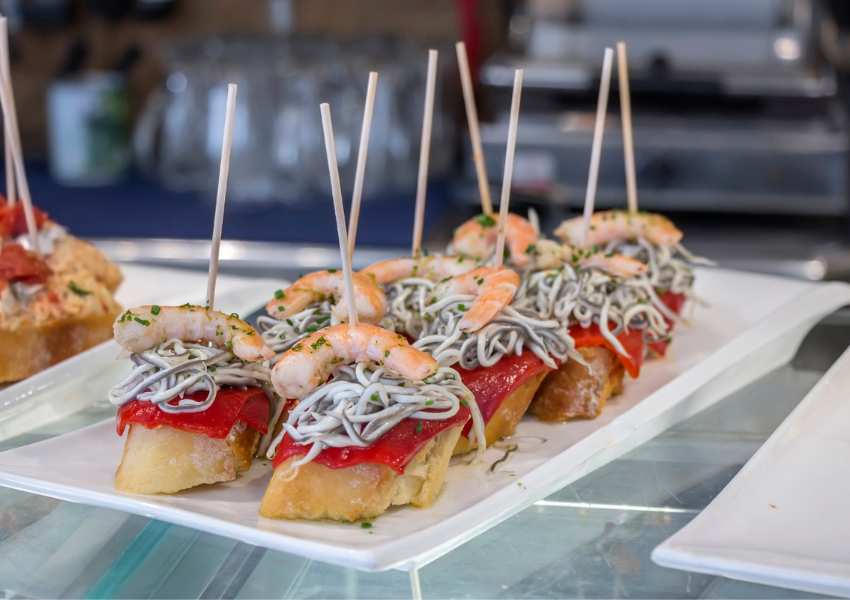 The variety of toppings is almost endless, but you'll often find them with ham, seafood, or cheese.
2. Bocadillos
Bocadillos, or Spanish sandwiches, are a classic Barcelona street food.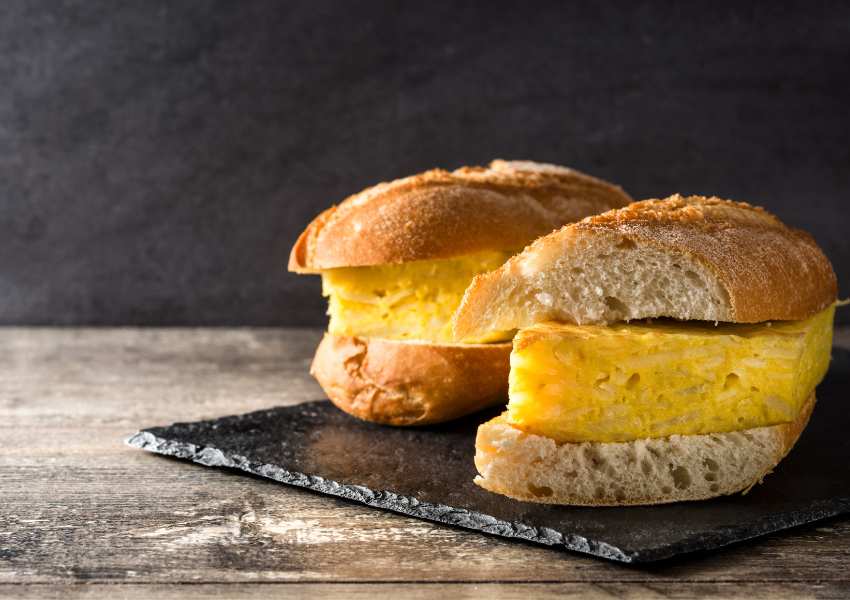 Made with crusty and fresh baguettes, these sandwiches are filled with delicious combinations of meats, cheeses, and vegetables, making them the perfect grab-and-go meal.
3. Entrepà
Another popular sandwich in Barcelona is entrepà.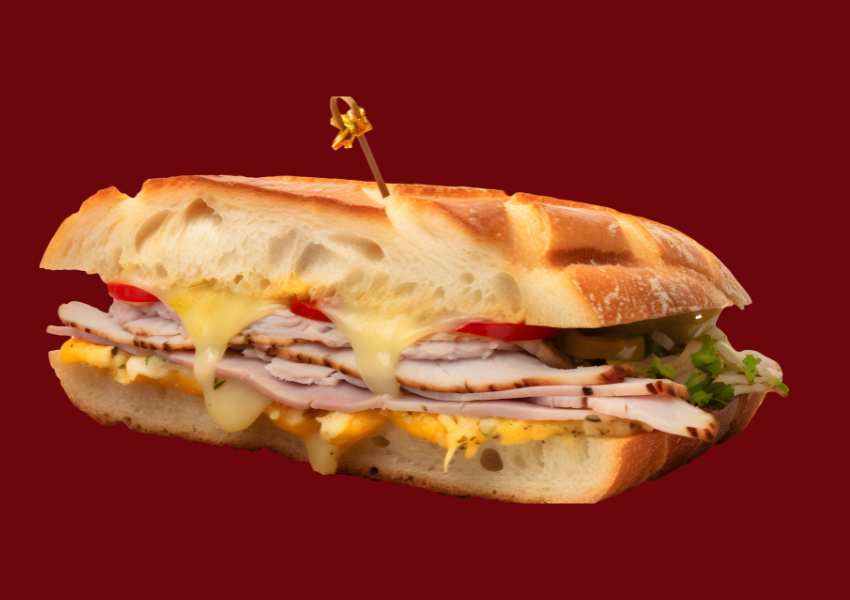 Typically made with small, round bread rolls, these bite-sized delights are filled with traditional Catalan ingredients such as sausage, cheese, and even omelets.
Don't forget to get travel insurance for your trip! As always, I recommend Safety Wing for great prices and coverage abroad. It starts at only $45 USD per month and will have you covered with everything you may need during your trip! Check them out here.
4. Tapas
Small and shareable dishes and tapas are a must-try for anyone looking to experience Barcelona street food.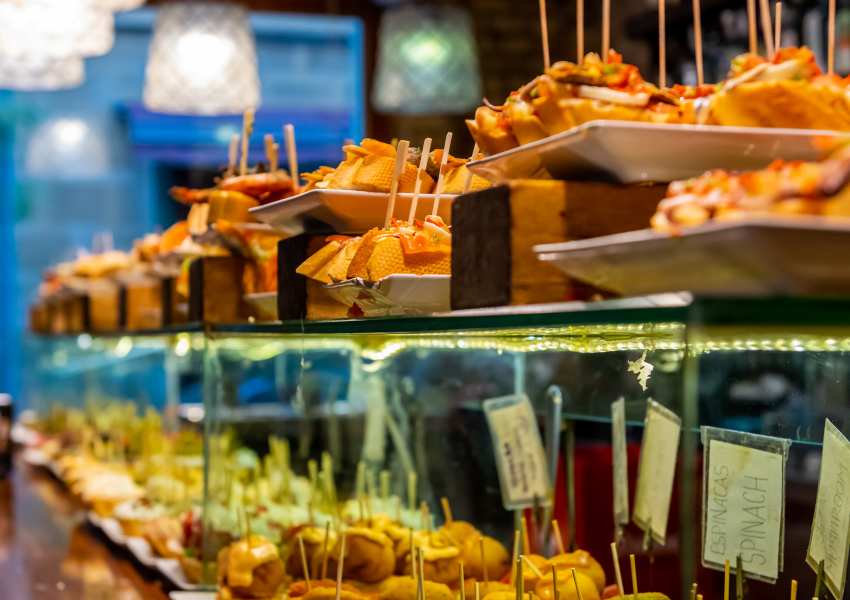 Get a taste of the city's best flavors by ordering an assortment, which could include dishes such as garlic prawns, marinated olives, or fried calamari.
5. Patatas Bravas
Satisfy your craving for something crispy and savory with patatas bravas.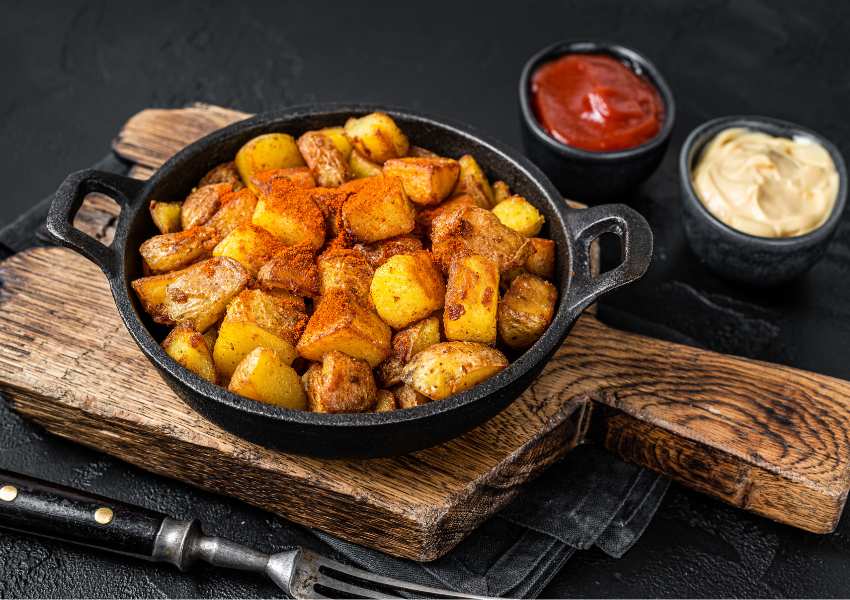 These fried potatoes, served with spicy bravas sauce and a generous dollop of aioli, may become your new favorite comfort food.
Tortilla de Patatas is one of the most popular Barcelona street foods.
Sample one of the most well-known Spanish dishes, tortilla de patatas, while exploring the streets of Barcelona. This thick, hearty omelet is made with potatoes and onions and is often enjoyed both hot and cold.
6. Bikini Sandwitch
Don't let the unique name fool you, the bikini sandwich is a universally beloved grilled sandwich. It's a popular Barcelona street food and not something you wear.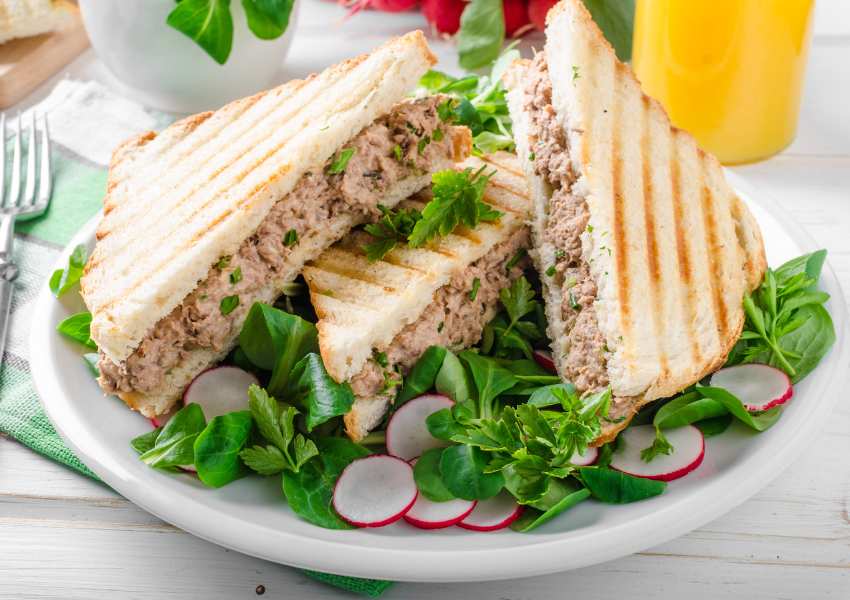 This simple, yet satisfying treat consists of thin slices of ham and cheese, toasted to perfection.
7. Croquetas
Bite-sized bliss awaits with croquetas.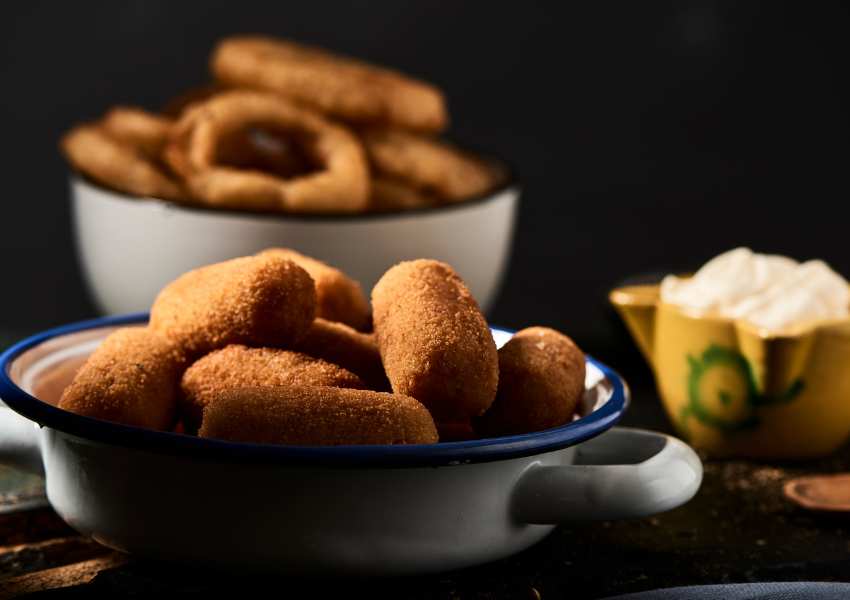 These deep-fried morsels, filled with ham, cheese, or fish, are crisp on the outside and creamy on the inside, making them an irresistible dish to sample when testing out Barcelona street food.
8. Empanadas
Grab the perfect food for on-the-go, empanadas.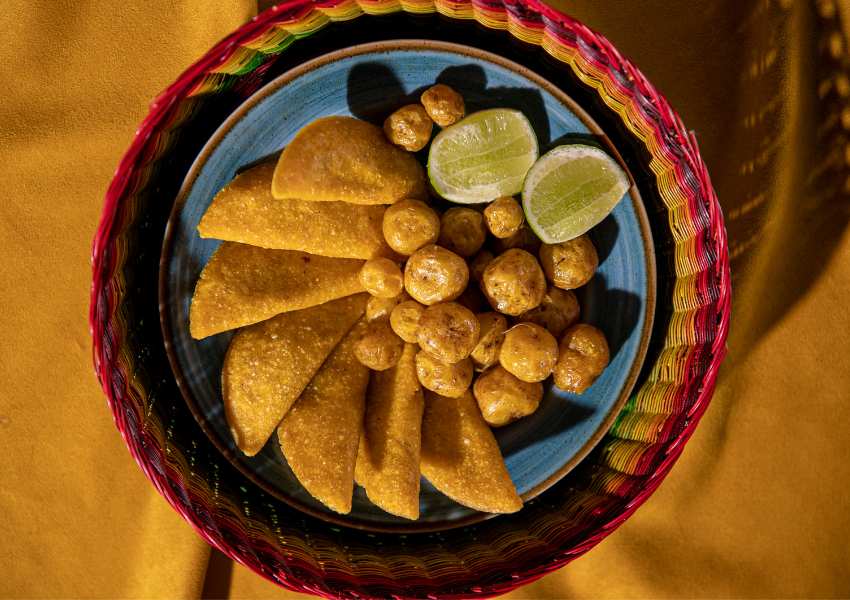 These pockets of flaky pastry, filled with meat, fish, vegetables, or even sweet ingredients, are a versatile option to satisfy your hunger.
9. Falafel
A nod to the city's cosmopolitan atmosphere, falafel is a prominent Barcelona street food.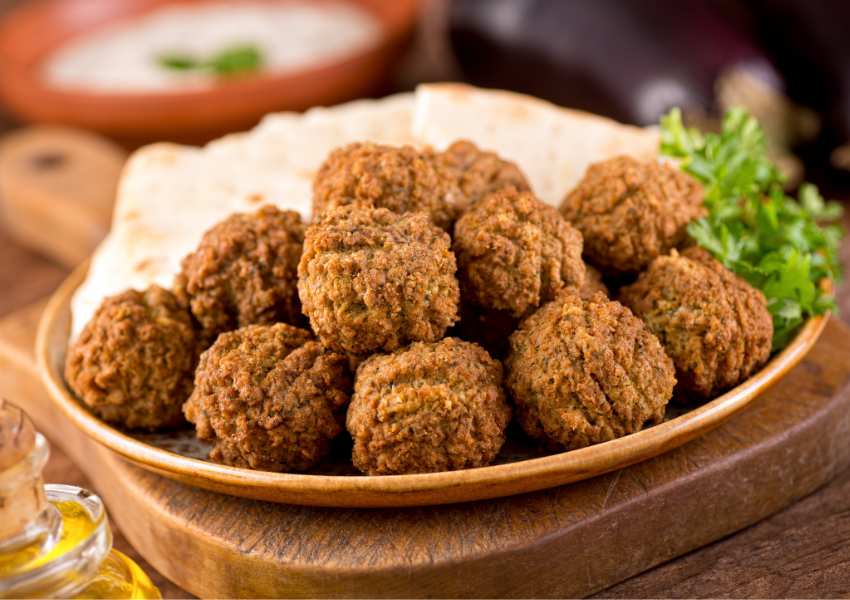 Made of ground chickpeas, herbs, and spices, these deep-fried balls are a delicious option for vegetarians and carnivores alike.
10. Ceps
To experience a true local delicacy, try ceps, or wild mushrooms. Often found in plazas and food markets during the fall season, these mushrooms are cooked and served with aromatic herbs, garlic, and olive oil.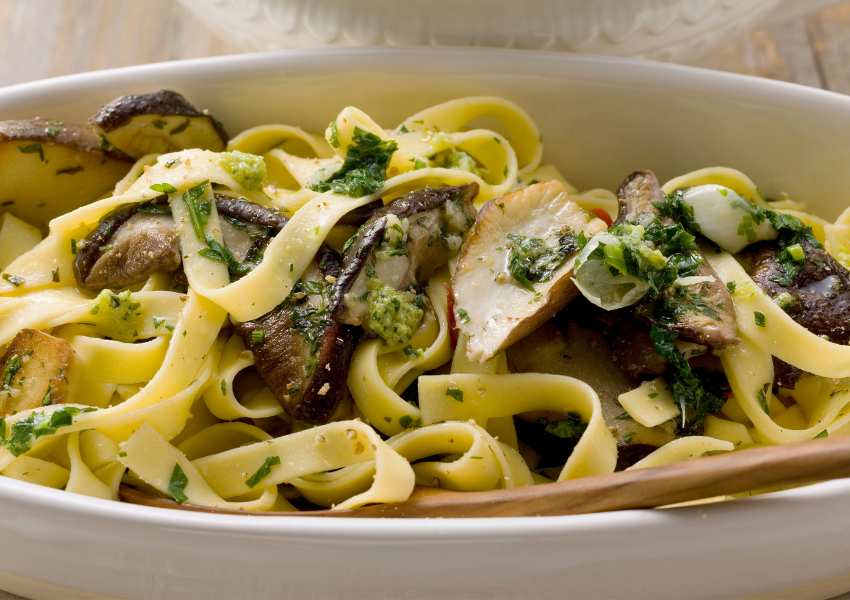 Enjoy the earthy, distinctive flavor that is hard to find anywhere else.
Street Food Markets in Barcelona
Mercat de la Llibertat
Located in the charming Gràcia neighborhood, this historical market offers a variety of high-quality local products. Make sure to try some delicious and freshly prepared tapas while you're there!
La Boqueria
No visit to Barcelona is complete without checking out La Boqueria on the famous La Rambla street.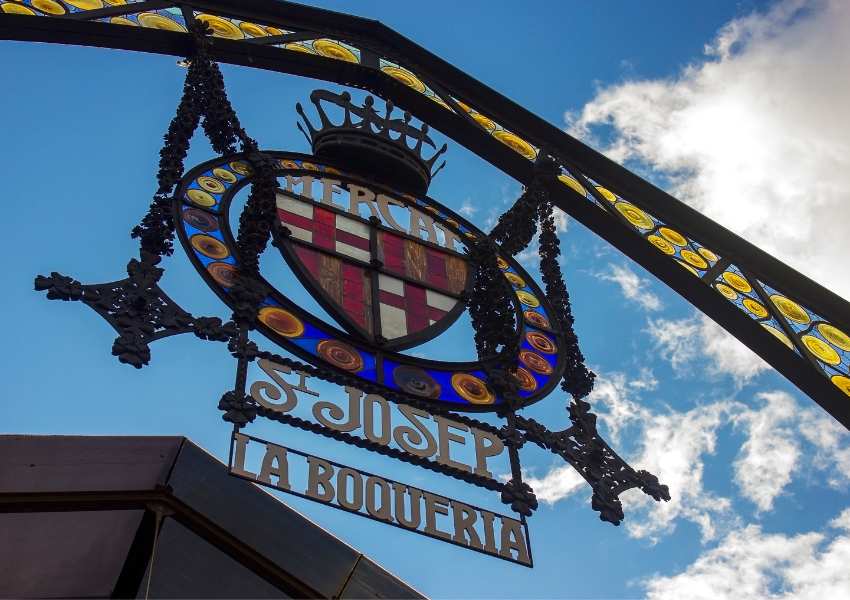 As one of the most popular street food markets in Barcelona, you'll find an array of options, from fruit smoothies to tasty jamón. Don't forget to try the traditional Spanish omelet!
Mercat de Sant Antoni
Explore the cozy and modern Mercat de Sant Antoni where you'll find a mix of local and international flavors.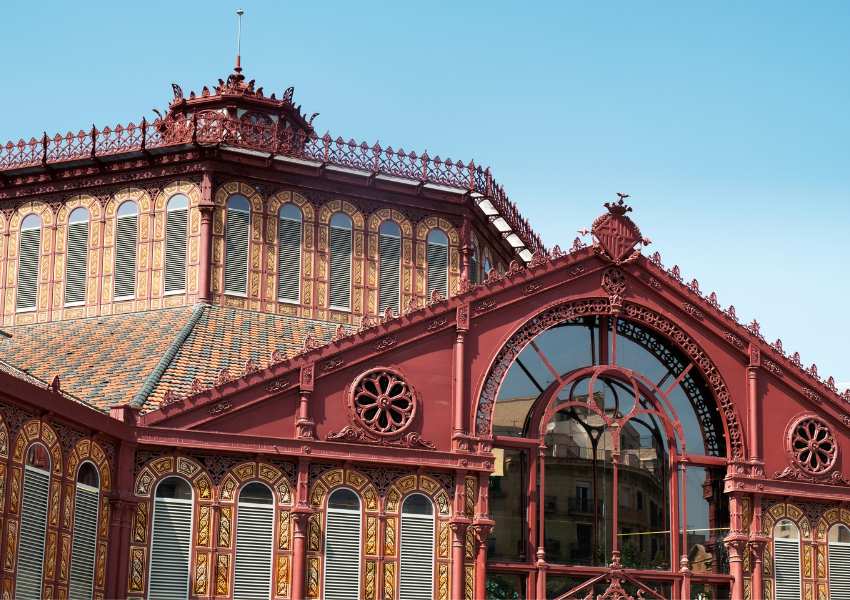 Here, you can enjoy an empanada or grab some fresh fruits and baked goods. This recently renovated market has something for every palate.
Van Van Market
This street food event runs periodically throughout the year, showcasing various food trucks with diverse global cuisine options.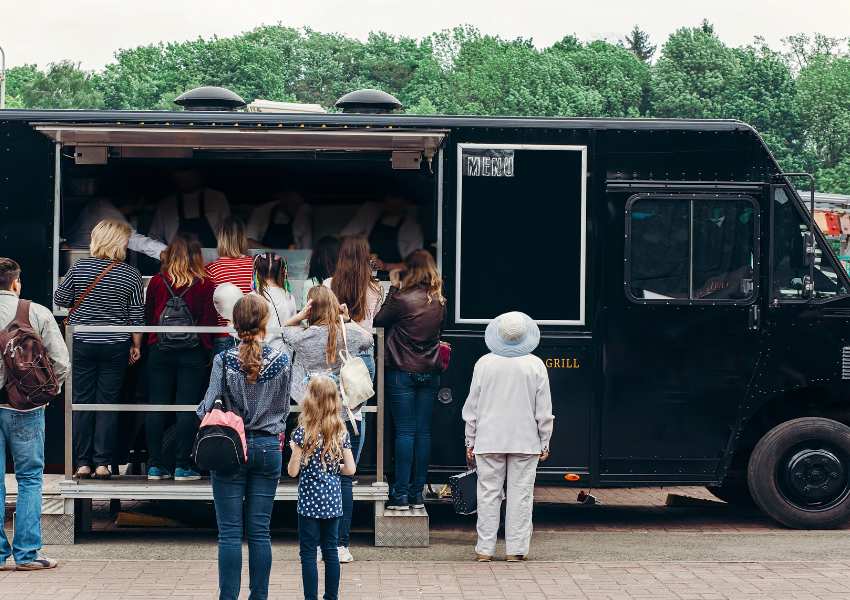 From juicy burgers to scrumptious Asian delicacies, there's always something new to discover.
Palo Alto Market
Held monthly in an artistic garden venue, this market serves innovative dishes alongside live music and craft stalls. The modern design, beautiful atmosphere, and delectable bites make this market a must-visit.
Eat Street
For a true street food aficionado, don't miss out on Eat Street.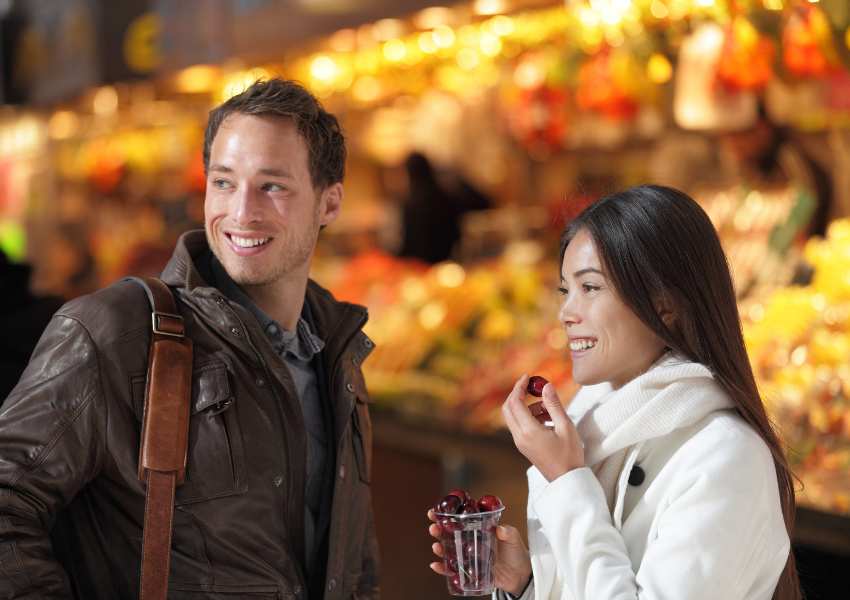 This rotating market event celebrates Barcelona's food scene by inviting local chefs to cook unique dishes using local ingredients.
You may also like:
Barcelona Street Food Tours
Short on time and want to experience the best that the food scene in Barcelona has to offer? These tours are a great option!
The Barcelona Walking Food Tour with Secret Food Tours is a tapas food tour that takes you to local eateries to try Iberian ham, paella, cheese, churros, and local wine.
The small group tour includes a guide who will translate menus and show you the best local haunts.
At the end of the tour, you'll enjoy a Secret Dish that will be revealed on the day of the tour.
It's the perfect choice for foodies visiting Barcelona, with no language barriers and food and wine tastings included.
The Tastes and Traditions of Barcelona Day Food Tour is a culinary-focused tour that takes you to the El Born and Barceloneta areas to experience the city like a local.
You'll visit the Santa Caterina Market to shop for cured meats and cheeses, enjoy tastings at over a dozen authentic Catalan establishments, and have a home-cooked lunch of paella at one of Barcelona's oldest restaurants.
The tour starts with a glass of cava and a sandwich and is perfect for food lovers looking for a less-touristy visit to Barcelona.
Barcelona Street Food: Conclusion
Barcelona street food is an exciting and delicious way to experience the city's culture and cuisine.
Whether you're in the mood for savory snacks or sweet treats, there's something to satisfy every craving.
From the famous churros to the lesser-known but equally delicious fideuà, the streets of Barcelona are full of surprises and delights.