Is Chefchaouen Worth Visiting? Here's The Answer!
Is Chefchaouen worth visiting? You're probably wondering if the Blue City is worth the hype and on this post, I'll share the answer!
Known for its picturesque blue buildings, Chefchaouen has become a popular destination for tourists seeking a one-of-a-kind adventure.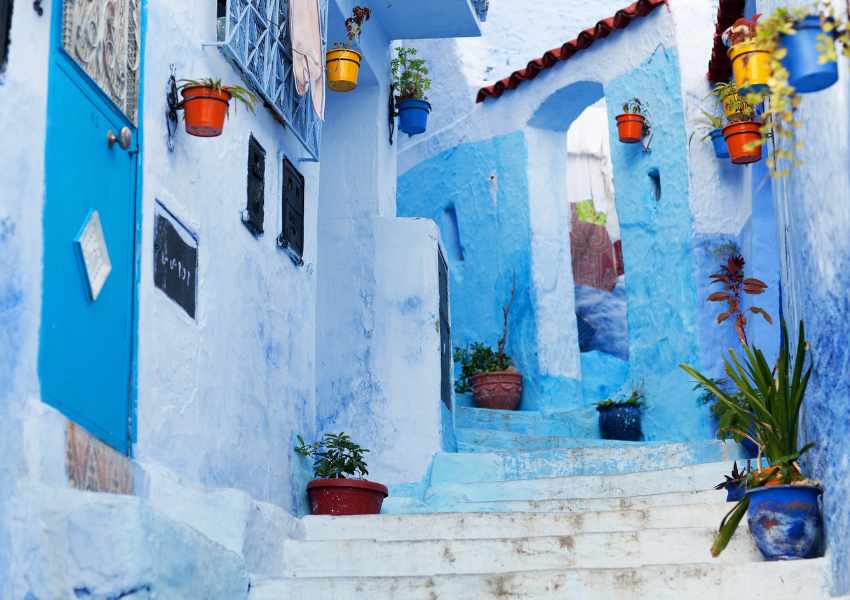 However, with so many destinations to choose from, you may be wondering if Chefchaouen is worth visiting.
In this blog post, I'll explore the reasons why Chefchaouen should be on your travel list and what you can expect during your visit, but just a spoiler: It definitely is!
Is Chefchaouen Worth Visiting?
Yes! It's Chefchaouen 100% worth visiting.
I've traveled the country multiple times and even though there are plenty of beautiful cities in Morocco, Chefchaouen is definitely the prettiest one.
Not only does it look EXACTLY the way it does in the pictures, but the atmosphere here is calmer compared to bigger places like, say, Marrakech.
Below, I'll share each and every one of the reasons why Chefchaouen is worth visiting as well as why you'll fall head over heels in love with it!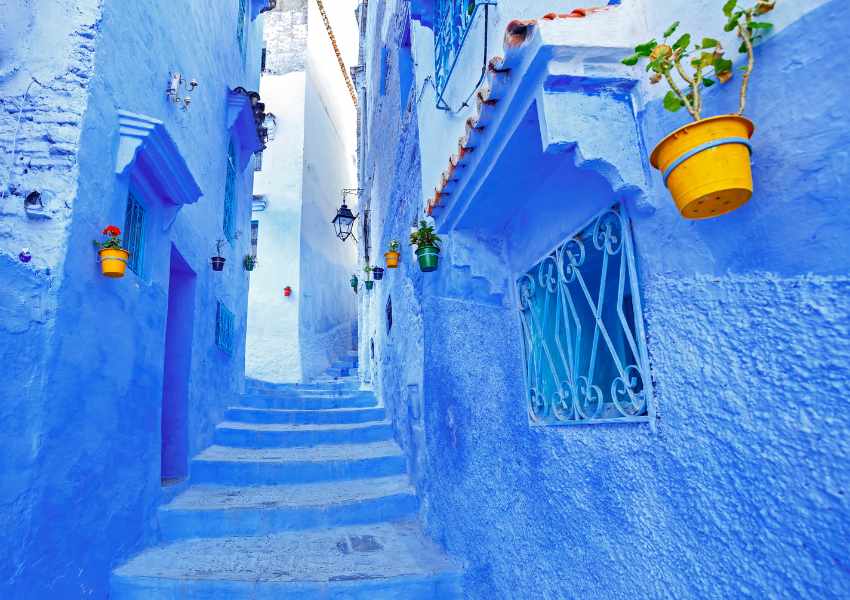 Reasons Chefchaouen is Worth Visiting
Is Chefchaouen Worth Visiting? A Quick Guide to Morocco's Blue Pearl
1. It looks just like the pictures
You might have seen countless photos of the blue city, Chefchaouen, on social media and wondered if it really looks that stunning in person.
Well, the good news is, it does!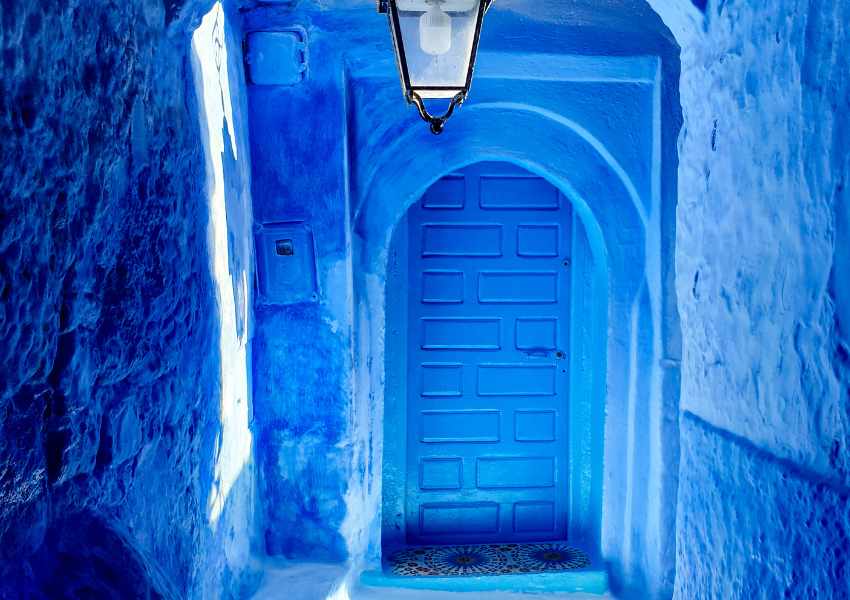 As you wander through its narrow blue-painted streets, you'll find yourself just as mesmerized as you were by the pictures.
The unique blue hue that covers the city's walls adds a sense of charm and tranquility that you won't find anywhere else.
As you stroll along the cobbled streets, you'll be charmed by the vibrant blue shades, which range from light, sky-like hues to deep, rich oceanic tones.
You'll also be dazzled by the fascinating architecture, which mixes traditional Moroccan design with Andalusian influences.
Not only is Chefchaouen a visual delight, but it also offers plenty of opportunities for exploration.
As you meander through the city's labyrinth of streets and alleys, you'll come across gorgeous doorways, hidden courtyards, and lovely little shops selling traditional crafts and souvenirs.
2. The Mountains Around It
Chefchaouen is nestled in the Rif Mountains of Morocco, and that's a major part of its charm!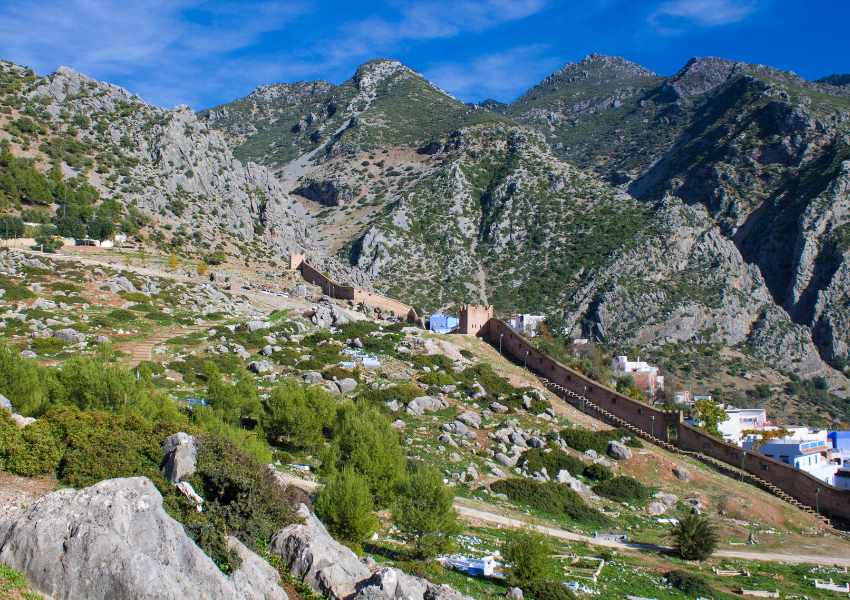 The landscape around Chefchaouen is breathtaking and diverse. Rolling hills give way to rugged peaks which you can hike to admire amazing views.
The area is home to a variety of flora and fauna, making it a haven for nature enthusiasts.
The climate is mild throughout the year, which makes it perfect for outdoor activities like hiking, mountain biking, and birdwatching.
One popular hike is the trek to the Spanish Mosque. This short walk takes you up a hillside to a small, abandoned mosque overlooking the entire city.
Another option if you're keen on hiking is the hike to the Akchour waterfalls in Talassemtane National Park.
This picturesque park is located just a short drive from Chefchaouen and offers several well-maintained trails that lead to beautiful waterfalls and natural pools.
3. The Shopping
In Chefchaouen, you'll find a unique shopping experience that's hard to come by in other destinations.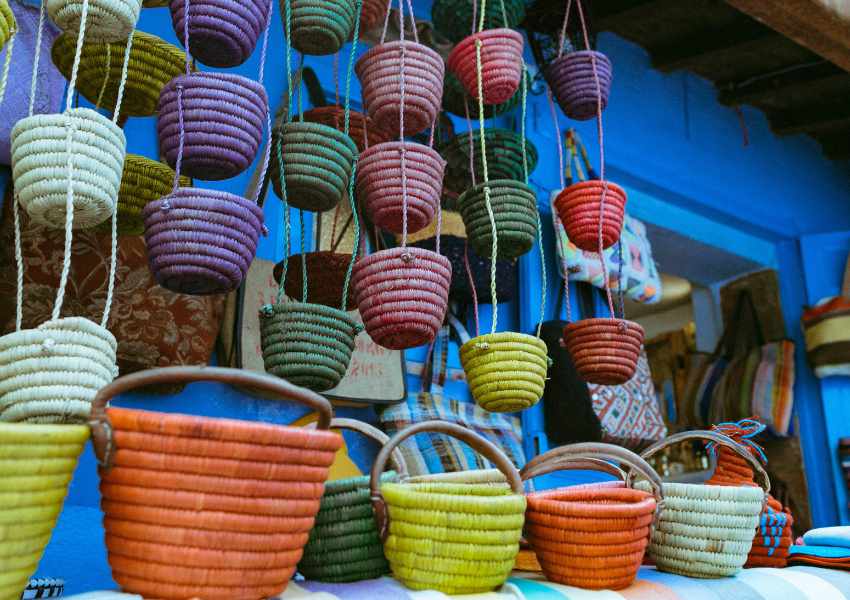 Strolling through the picturesque blue streets dotted with small shops, you'll be able to pick up authentic Moroccan items like handwoven rugs, traditional clothing, and intricate pottery.
Haggling is an essential part of the shopping experience, so embrace the opportunity to negotiate with vendors and you'll walk away with some great deals.
Visiting the local food markets is another shopping highlight in Chefchaouen.
Treat your taste buds by exploring the delicious array of local produce, spices, and freshly baked goods.
It's a fantastic opportunity to sample traditional Moroccan flavors and learn about the ingredients that make up the country's cuisine.
4. The Medina is Gorgeous
As you step into the vibrant medina of Chefchaouen, you'll instantly be captivated by its charm.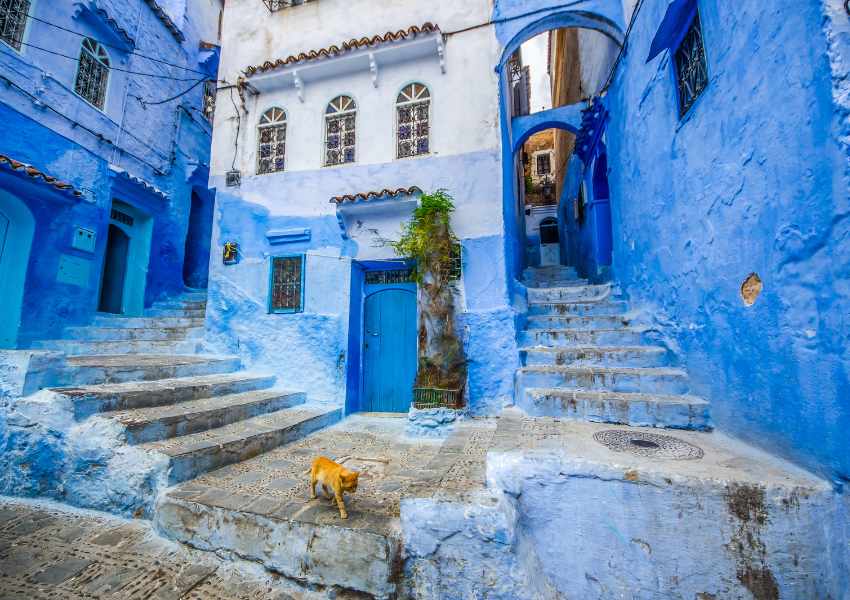 The different shades of blue that adorn the walls create a sense of serenity, making you feel like you're walking inside a painting.
Wandering through the maze-like narrow streets, you'll notice that every corner is picture-perfect.
Tip: Don't miss out on the chance to visit the historical Kasbah which dates back to the 15th century. Located in the heart of the medina, this fortress serves as an important landmark, providing a glimpse into the rich history of the city.
In the evening, the medina comes alive with vibrant street food stalls offering delicious Moroccan delicacies.
5. It really is very blue
When you visit Chefchaouen, you'll immediately notice that it's incredibly blue.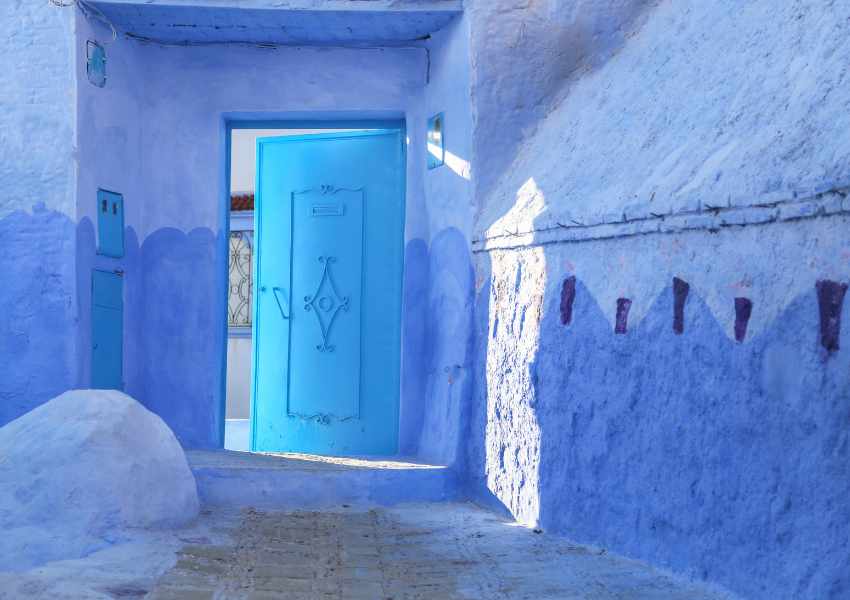 If you're a fan of unique visuals, you'll be thrilled as you wander through the winding streets.
The blue-washed buildings create a magical, dreamy atmosphere, perfect for taking incredible pictures or getting some serious creative inspiration.
6. It's Very Safe
As a popular tourist destination, local authorities work hard to ensure the well-being of both visitors and residents.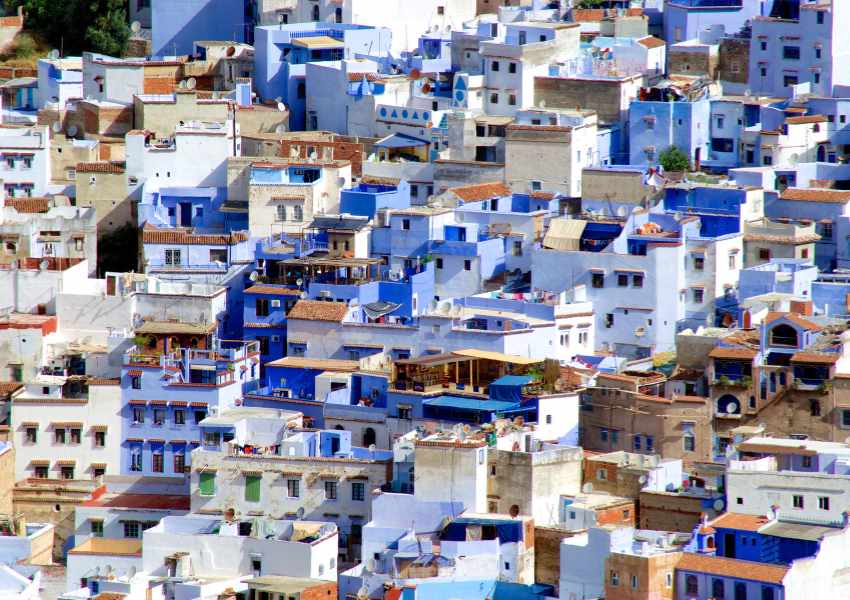 While exploring this picturesque town, you can feel at ease as you wander its charming blue streets.
To keep crime rates low, the city has installed CCTV cameras in many locations.
Also, you'll often come across local police officers who are friendly and happy to help if needed.
Of course, this doesn't mean you should neglect your own safety precautions – always keep your belongings secure, and don't let your guard down completely.
7. There's not a lot to do, so you can relax a lot
As you wander through the charming blue alleys, you'll quickly realize that there isn't an overwhelming list of things to do in Chefchaouen. And that's precisely the appeal.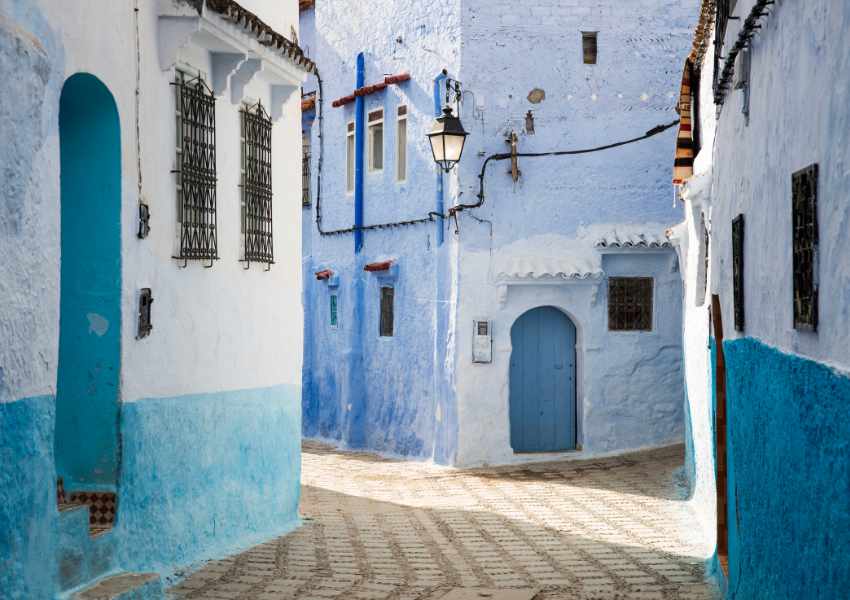 The laid-back atmosphere in Chefchaouen encourages you to slow down, allowing you to fully immerse yourself in the beauty of its winding streets and vibrant architecture.
Where to Stay in Chefchaouen
Interestingly, one of the most enjoyable activities in Chefchaouen is simply enjoying your accommodation!
While there are numerous outdoor activities to partake in, staying in a blue and white riad is undoubtedly a memorable experience.
Below are my top recommendations for riads in Chefchaouen, catering to every budget.
Riad Cherifa $$$
For a luxury stay, Riad Cherifa is a great option located in the provides heart of Chefchaouen.
The rooms are decorated to match Chefchaouen's aesthetic and there's a beautiful rooftop terrace where you can get incredible views of the city.
BOOK YOUR STAY AT RIAD CHERIFA
Casa La Hiba $$
Casa La Hiba is a popular choice for those on a mid-range budget, and it's definitely a great bang for your buck.
The riad to showcase straditional Moroccan decor. The rooms are super comfortable, with private bathrooms and a range of amenities, including air conditioning and free Wifi.
BOOK YOUR STAY AT CASA LA HIBA
Dar Mounir $
For those on a budget, Dar Mounir is an excellent option. Here, you'll find traditional Moroccan architecture, a gorgeous central courtyard, and a beautiful rooftop terrace with views of the surrounding mountains.
The rooms are cozy and come equipped with basic amenities.
How to Get to Chefchaouen
To get to the charming city of Chefchaouen, you must first reach Morocco. The closest airports to Fez are Tetouan (TTU) Airport, Tangier (TNG) (85.6 km), and Fes (FEZ) (140.1 km).
Once in Morocco, you have several transportation options to reach Chefchaouen:
Bus: The most common and affordable way to get to Chefchaouen is by taking a bus. CTM and Supratours are reputable bus companies that offer comfortable and reliable service.
Car: Renting a car allows you to explore Morocco at your own pace. You can rent a car at the airport or major cities. The drive from Casablanca to Chefchaouen takes approximately 5 hours, while from Marrakech, it takes about 7 to 8 hours.
Private Taxi: You can also hire a private taxi, known as "Grand Taxi," that can take you directly to Chefchaouen. Although more expensive, it is a comfortable and fast way to reach the city, especially if traveling with a group and splitting the cost.
Train: While there is no direct train to Chefchaouen, you can take a train from Casablanca or Marrakech to Tangier or Fez. The train ride is about 5 hours from Casablanca and 7 hours from Marrakech. From Tangier or Fez, you will need to either take a bus or hire a taxi to reach Chefchaouen.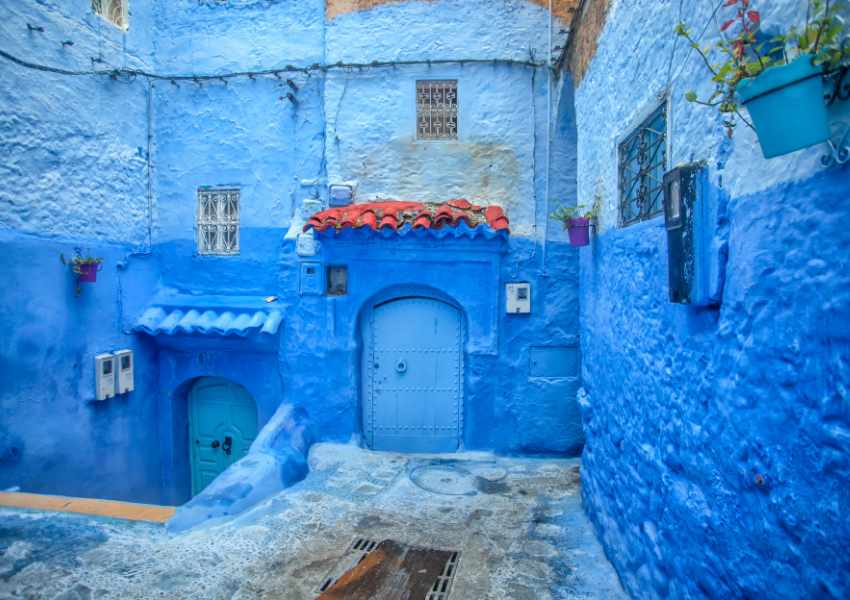 Best Time to Visit Chefchaouen
The best time to visit Chefchaouen is dependent on your preferences and what you want to experience during your stay.
Spring, which spans from March to May, offers a pleasant climate with mild temperatures ranging from 14°C (57°F) to 25°C (77°F).
This season provides an ideal atmosphere for exploring the city and its surroundings, with beautiful flowers blooming and adding a splash of color to the already vibrant blue streets.
However, spring can also bring some rainfall, so it's advisable to pack an umbrella.
Summer, from June to August, is the busiest time for tourism in Chefchaouen, with temperatures reaching up to 29°C (84°F). If you don't mind the heat and crowds, this season offers a lively atmosphere with several local festivals taking place.
It's an excellent opportunity to mingle with locals and immerse yourself in Moroccan culture. However, be prepared for occasional rainfall and wear sunscreen when out and about.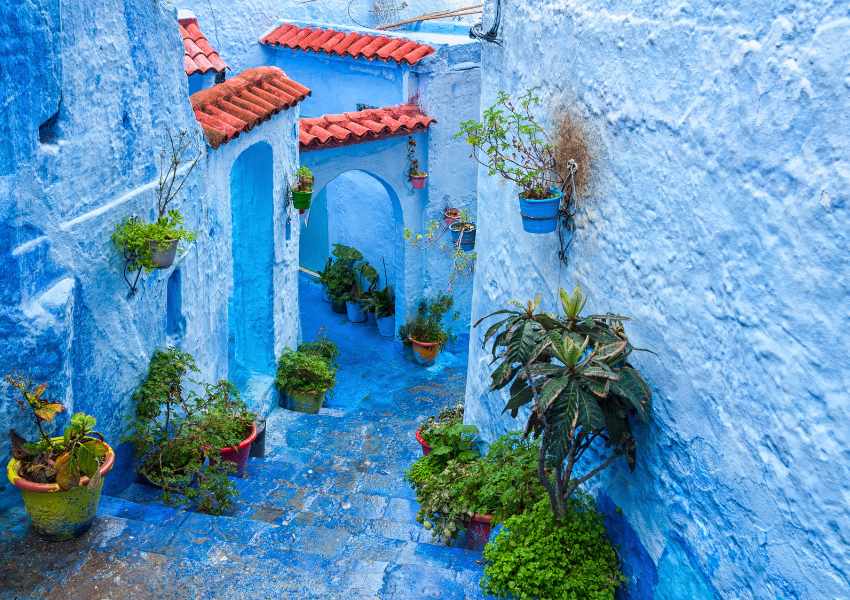 Autumn, from September to November, is another great time to visit Chefchaouen.
The temperature gradually cools down from the peak summer heat, ranging between 17°C (63°F) to 28°C (82°F), providing a pleasant atmosphere for outdoor activities.
With fewer crowds and a more relaxed pace, this season is perfect for enjoying a peaceful vacation.
Winter, from December to February, is the least popular time for tourists, but it can still be a delightful experience.
With temperatures ranging from 7°C (45°F) to 18°C (64°F), you'll need warm clothing for chilly nights but can still enjoy sightseeing and shopping during the day.
Winter also offers an opportunity to see the snow-capped peaks in the surrounding Rif Mountains.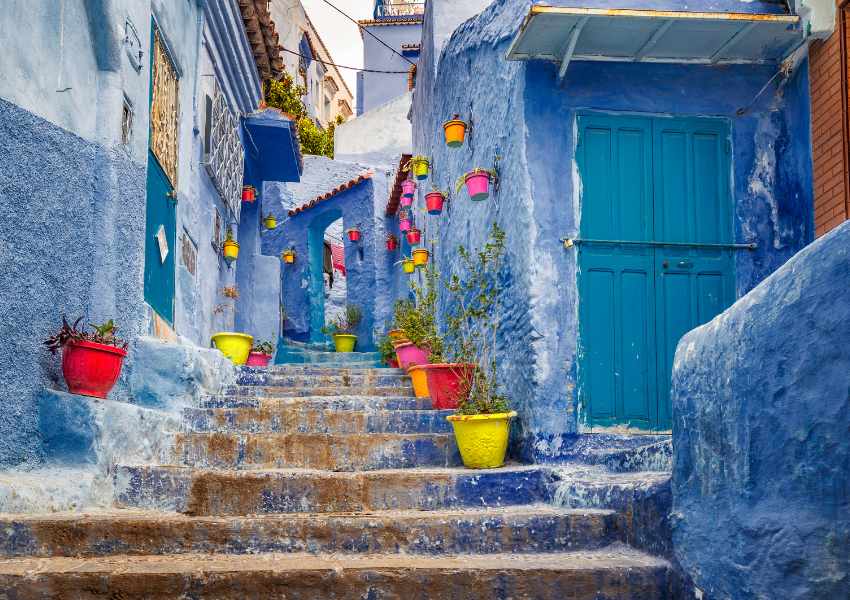 Wrapping Up: Is Chefchaouen Worth Visiting?
In conclusion, Chefchaouen is undoubtedly worth visiting for those seeking a unique and unforgettable travel experience.
From its stunning mountain views to its vibrant blue and white architecture, the city offers a wealth of natural and cultural attractions to explore.
Whether you're interested in hiking, shopping, or simply enjoying the local cuisine, Chefchaouen has something to offer for everyone.