Things to Do in Chefchaouen: 11 Can't Miss Activities in the Blue City
Looking for things to do in Chefchaouen? Here's everything you must do in Morocco's Blue City!
Perched high up in the Atlas mountain, Chefchaouen blue-shaded medina is bound to steal anyone's heart and one of the best cities to visit in Morocco.
With walls featuring different shades of blue and an endless array of artisan shops to browse through, this little mountain town was the first destination in Morocco that I ever set foot on.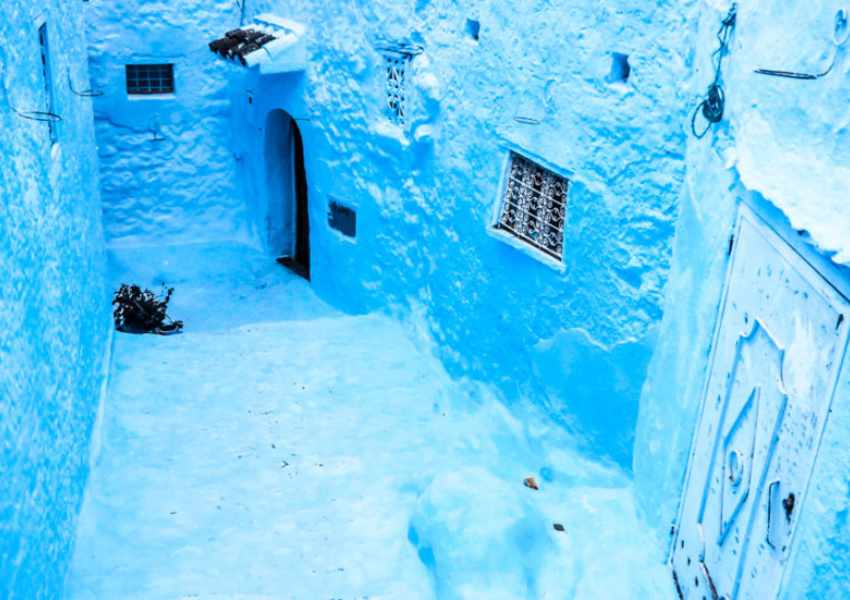 Fast forward a few years later, and I returned only to fall in love with it all over again!
If you're lucky enough to be traveling to Morocco soon, make sure not to miss this gem of a place.
Here are some of the best things to do in Chefchaouen that you can't miss when you visit Morocco's Blue City.
Things to Do in Chefchaouen
1. Kasbah Museum
Located near the central square, the Kasbah Museum offers a fascinating glimpse into the history and culture of this beautiful blue city.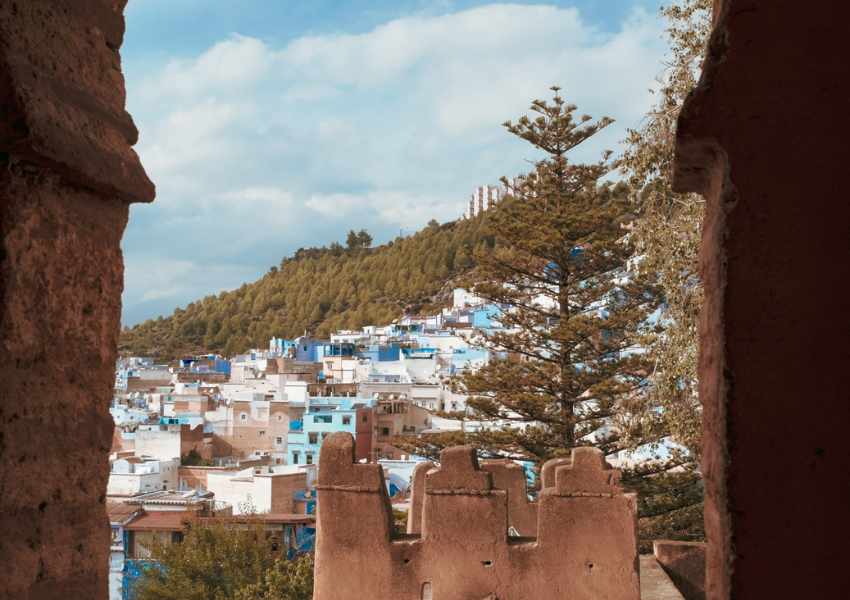 It's definitely one of the best things to do in Chefchaouen if you want to learn about its past.
Upon entering, you'll find yourself surrounded by charming gardens that feel miles away from the bustling streets.
Here, you can take a stroll, snap some seriously gorgeous photos, and take a break before delving into the museum itself.
Inside, you'll find a wide array of artifacts, including ancient pottery, textile works, and intricate wood carvings.
As you make you way through the exhibits, you'll gain a deeper understanding of the region's rich heritage, including its influences from Andalusian, Moorish, and Amazigh cultures so you can get a better understanding of Chefchaouen.
2. Spanish Mosque
Just a short hike away from Chefchaouen, you'll find the historical Spanish Mosque.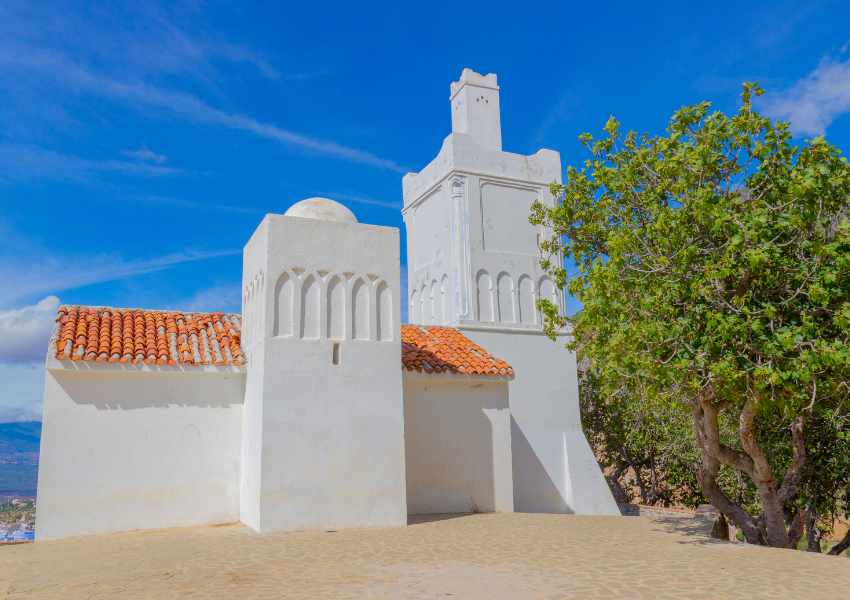 As you make your way there, you'll wander through picturesque landscapes that'll have you reaching for your camera every step of the way.
Once you reach the actual mosque, you'll be greeted by the charming whitewashed building, located on a hill with spectacular panoramic views of the blue city.
The mosque itself is a testament to the interesting blend of cultures and architecture of the region, which makes it one of the most interesting things to do in Chefchaouen as it combines nature and beautiful architecture.
While the mosque isn't active for prayers anymore, it's still an exceptional site to learn about the history of the city. It also happens to be a great spot to catch a sunset!
3. Wander the Blue Streets
One of the best things to do in Chefchaouen is to simply get lost in its maze of blue walls!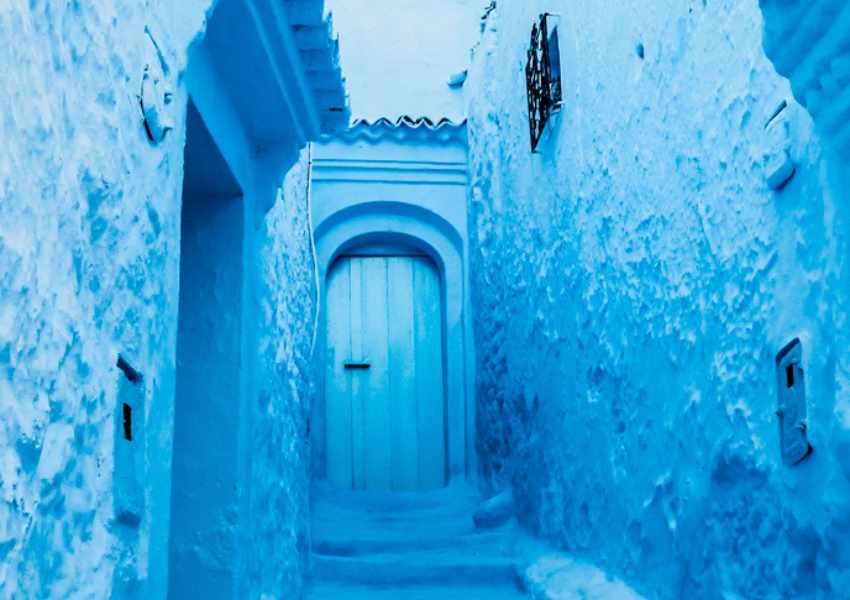 Not only is every single corner an Insta-worthy moment, but you'll also be able to observe the intricate architectural details of the traditional Moroccan buildings.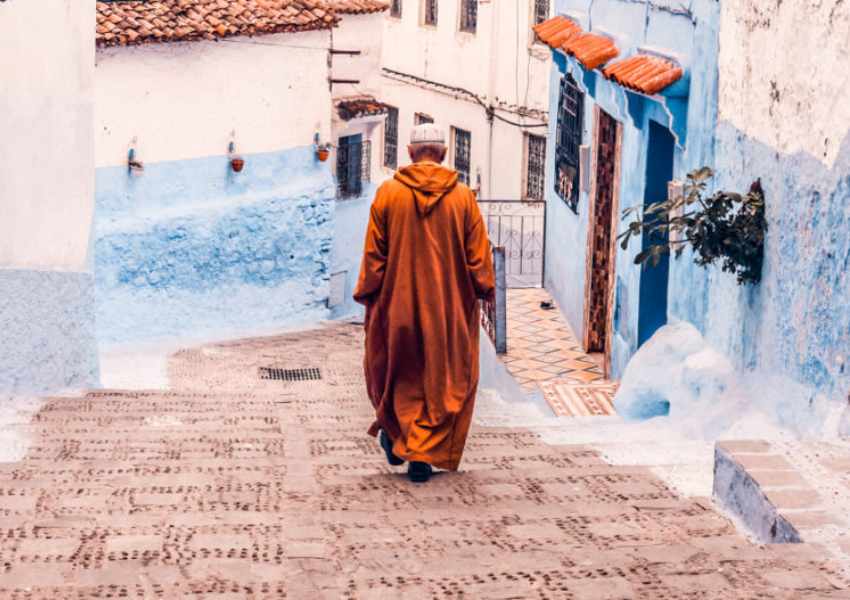 However, don't forget to step inside the local shops and markets where you can find a wide range of products from colorful ceramics and leather goods to handwoven textiles and fragrant spices.
4. Try the Local Cuisine
Eating your way through Chefchaouen is one of the best ways to get to know the city!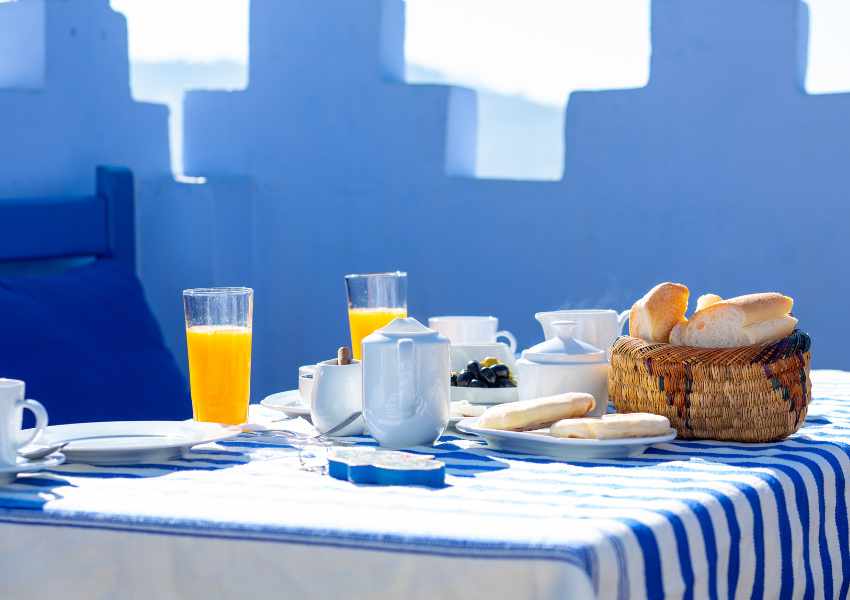 You'll be amazed by the array of flavors and unique dishes the city has to offer.
One dish you definitely shouldn't miss is the famous tagine. This slow-cooked stew, typically made with chicken, lamb, or beef, offers a mouthwatering mix of spices and vegetables.
Couscous, another traditional Moroccan dish, is also a must-try. This popular dish is made from steamed semolina grains, topped with an array of vegetables, meat, and a flavorful broth.
While strolling through the streets, you'll likely come across many vendors selling mouthwatering street food.
Keep an eye out for freshly baked Moroccan bread, or khobz, which is perfect for dipping in your tagine or enjoying on its own.
For a sweet treat, make sure to taste some sfenj, a deep-fried doughnut-like pastry, sprinkled with sugar.
Take some time to visit Chefchaouen's local markets to enjoy the freshest produce and sample the outstanding cheeses, olives, and honey at various stalls.
If you're in the mood for a lighter snack, pick up some freshly roasted nuts or dried fruits for a crunchy and satisfying bite.
In Chefchaouen, you'll also find a variety of tea houses where you can sip on traditional Moroccan mint tea.
This staple beverage, made with fresh mint and green tea, is the perfect way to relax and take in the city's vibrant atmosphere.
You may also like:
5. Outa El Hammam
Outa El Hammam is a charming square situated in the heart of Chefchaouen where you can immerse yourself in Moroccan culture.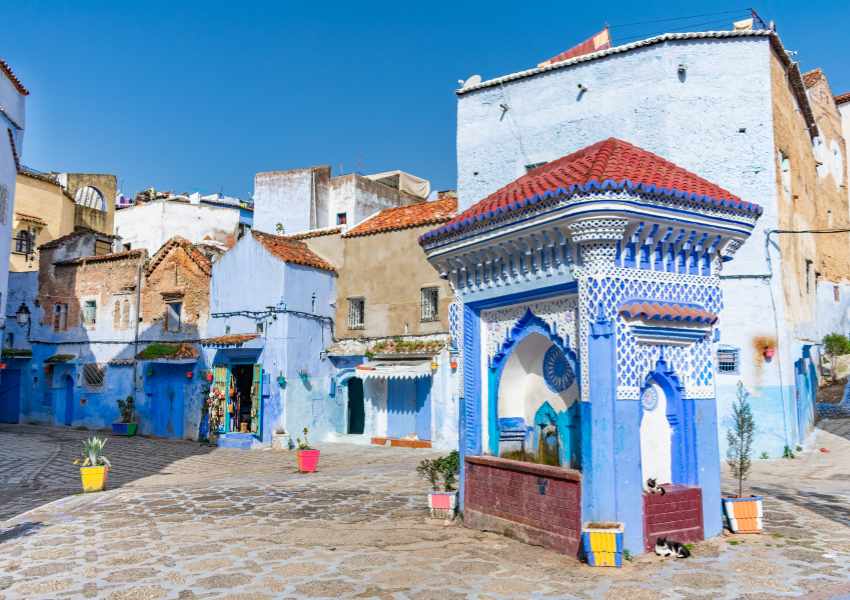 The lively atmosphere, coupled with the distinctive blue buildings, makes it a must-visit spot on your Chefchaouen itinerary.
As you stroll around the square, you'll find plenty of café terraces to sit and relax.
Grab a glass of Moroccan mint tea and watch the world go by. Don't forget to try the local delicacies like bissara or harira at one of the food stalls, which you'll find scattered throughout the area!
6. Souika Neighbourhood
This area is a treasure trove of unique experiences, making it a must-visit spot during your time in the city. It's also a great place to do some serious shopping!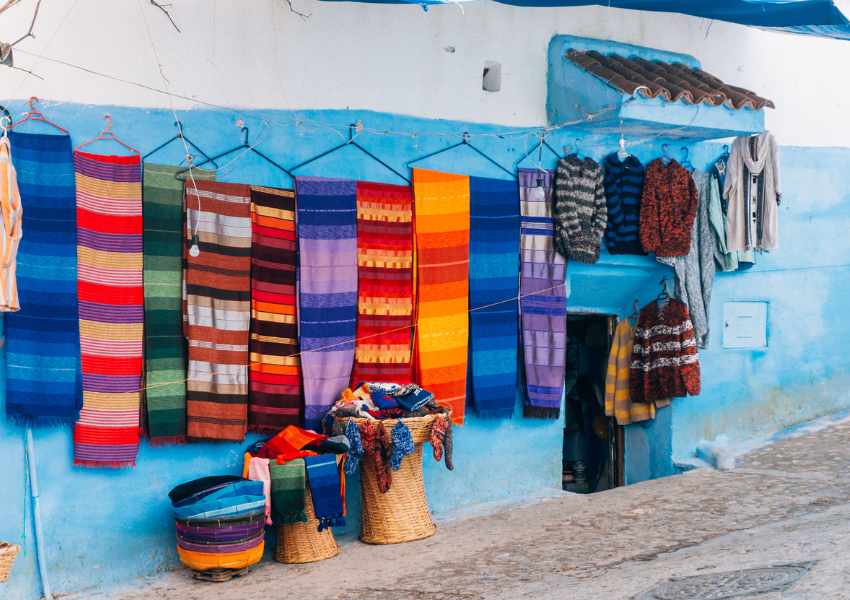 Start your day by exploring the various artisan shops that line the streets., where you will find a wide variety of handmade items such as pottery, textiles, and traditional Moroccan clothing.
Don't be shy to haggle with the shopkeepers; it's customary here and could save you some money.
If you get hungry, treat your taste buds to local Moroccan cuisine, as the Souika Neighbourhood boasts an array of dining options, ranging from street vendors to quaint restaurants.
Moreover, make sure to try some traditional dishes like tagine, a slow-cooked stew, and mouthwatering pastries accompanied by a refreshing glass of Moroccan mint tea.
7. Bouzafar Mosque
Nestled on a hilltop, this quaint mosque offers a spectacular view of the entire blue city and the surrounding mountainous landscape.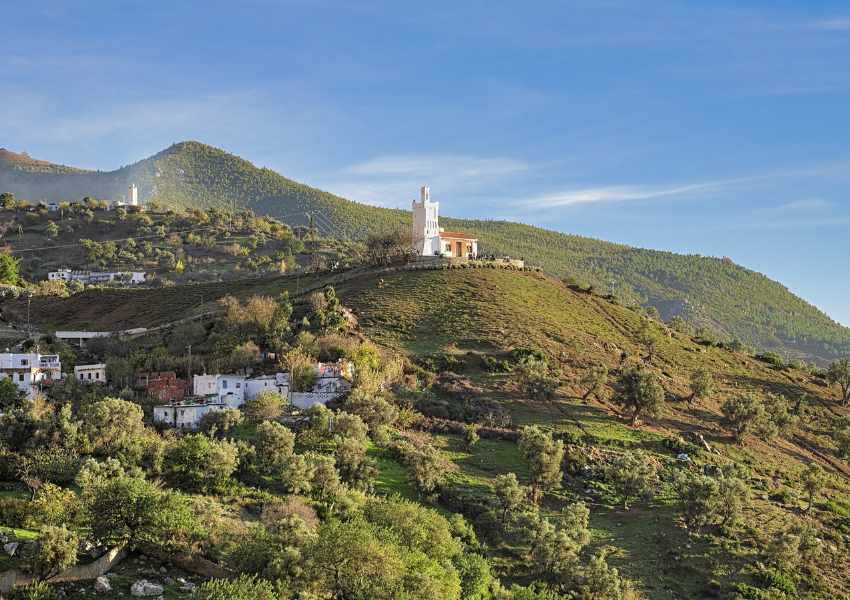 It's the perfect spot to enjoy the sunset and take some amazing photos.
While you're making your way to the mosque, be prepared for a bit of a hike.
The route is steep but manageable, and it's just a 15-minute walk from the Medina. When you reach the top, trust me, the picturesque vista you'll encounter will make it all worth it!
Though you might not be able to enter the mosque if you're not Muslim, the exterior architecture with its unique octagonal minaret is still quite mesmerizing.
Take some time to appreciate the beauty of this monument, which is a harmonious blend of Andalusian and Moroccan styles.
As the sun begins to set, make sure you have your camera ready! The golden light falling on the blue buildings creates a surreal scene perfect for photos.
Outdoor Things to Do in Chefchaouen
One of the best things about visiting Chefchaouen is that, even though the town's blue walls are the stars of the show, there's plenty to do in the mountains that surround it.
If you've gotten your fill of all things blue and still have time to explore, here are a few outdoorsy things to do in Chefchaouen (or near it!):
8. Hiking Jebel El Kelaa
Jebel El Kelaa is a mountain range that has rocky, fortress-like peaks that soar to a height of more than 2,000 meters. It's just outside of Chefchaouen and very easy to reach.
The name "Jebel El Kelaa" means "Mountain of the Fortress" in Arabic and is aptly named due to its rugged terrain, steep cliffs, and deep valleys, which are dotted with small Berber villages that have been inhabited for centuries.
The area is home to a wide variety of flora and fauna, including cedar and oak trees, wild boars, and Barbary macaques.
As one of the city's natural treasures, the journey to the summit of Jebel Al Kelaa is one of the most magical things to do in Chefchaouen.
Before you set off on this hike, ensure you have the essentials: comfortable hiking shoes, water, and snacks. It's also a good idea to start the hike early in the morning, so you can avoid the scorching sun at midday.
The trail begins in the town of Chefchaouen, meandering through the lush greenery and serene landscapes of the Rif Mountains.
You'll be amazed by the delightful shades of blue that the nearby buildings offer – a sight that's unique to this region.
It takes anywhere from 6-8 hours round trip to summit Jebel El Kelaa.
9. Waterfalls Akchour
The Waterfalls of Akchour are a set of natural waterfalls that are formed by the Oued Farda river.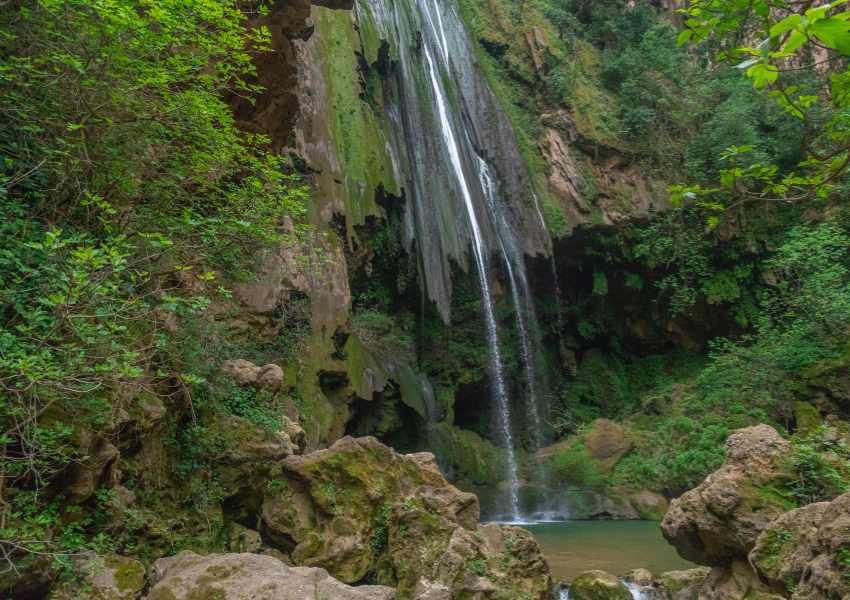 The river cascades over a series of rocky ledges and flows into a series of stunning emerald-green pools below.
Start by taking a 30-minute taxi ride from Chefchaouen to the entrance of Talassemtane National Park.
From there, prepare to hike through the picturesque terrain for about 2 hours till you reach the stunning waterfalls. Remember to wear comfortable shoes and pack some snacks and water for the journey.
Once you arrive, you'll find two waterfalls, the smaller Akchour waterfall and the larger one, God's Bridge (Pont de Dieu).
Tip: During the hike, keep your eyes open for the diverse flora and fauna that call this area home.
You might spot wildlife like Barbary macaques, unique bird species, and even some endearing tiny frogs if you're lucky!
10. Ras El Maa Waterfall
This beautiful spot is just a short walk from the city's bustling medina. You'll be greeted by the sound of rushing water and the sight of locals washing their clothes in the river.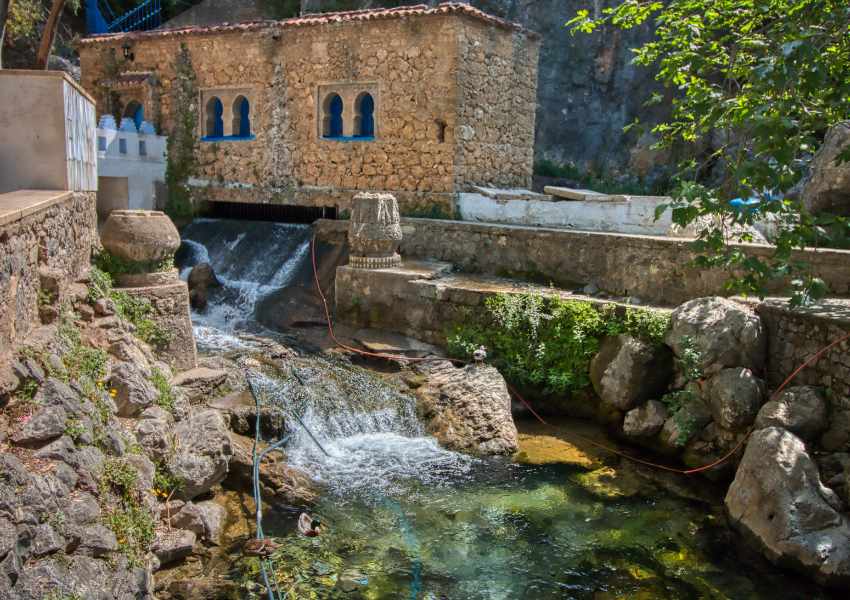 To get to the waterfall, simply follow the signs from the medina. The walk takes about 10 to 15 minutes, and it's a great chance to explore the picturesque blue streets of Chefchaouen along the way.
As you approach the waterfall, the landscape changes, and you'll find yourself surrounded by lush greenery.
One of the best times to visit Ras El Maa Waterfall is in the early morning or late afternoon when the area is less crowded.
Keep in mind that the path to the waterfall may be a bit uneven in some areas, so it's a good idea to wear comfortable shoes.
11. Talassemtane National Park
A trip to Talassemtane National Park is one of the best things to do in Chefchaouen, especially if you love nature.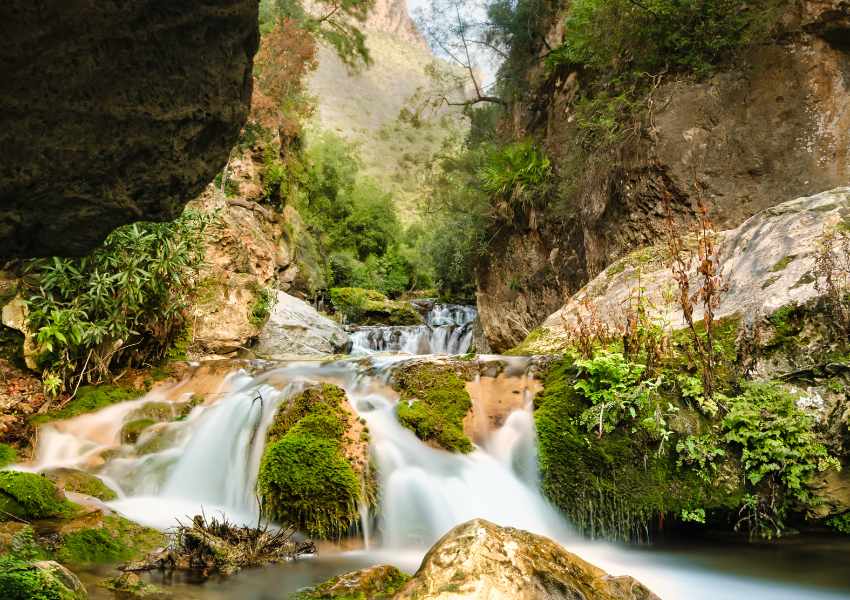 This stunning park, established in 2004, spans over 147,000 hectares and is perfect for adventurers.
As you explore the park, you'll encounter lush green landscapes, rugged mountain terrains, and crystal-clear waterfalls.
The diversity of flora and fauna will amaze you. Keep an eye out for endangered species like the Barbary macaque and the Atlas cedar.
There are several hiking trails for you to choose from, catering to a range of fitness levels and interests.
Some popular trails include the Akchour Waterfalls, the Oued Laou Valley, and the God's Bridge.
While hiking, don't miss the opportunity to interact with the locals who live within the park.
Remember to carry plenty of water, snacks, and sunscreen when you venture out into the park. It's always better to be prepared and free up the entire day for this activity, as some trails may take longer to complete than anticipated.
Where to Stay in Chefchaouen
Funnily enough, one of the best things to do in Chefchaouen is enjoying your accommodation!
Even though there's plenty to do outside, staying in a blue-white riad will definitely be a highlight of your trip. Here are my top recommended riads in Chefchaouen for every budget:
Riad Cherifa $$$
For a luxury option, Riad Cherifa provides upscale accommodations in the heart of Chefchaouen.
Here, you'll enjoy beautifully decorated rooms, a charming rooftop terrace, and excellent service – all wrapped in spectacular Moroccan architecture.
Casa La Hiba $$
If you prefer a mid-range spot, Casa La Hiba is a popular choice.
The riad to showcase straditional Moroccan architecture and the rooms are spacious and comfortable, with private bathrooms and a range of amenities, including air conditioning and free Wifi.
Dar Mounir $
Located in the heart of the medina, Dar Mounir features traditional Moroccan architecture and decor, with a central courtyard and rooftop terrace that offers stunning views of the surrounding mountains.
The rooms are clean and cozy, and come equipped with basic amenities such as free Wi-Fi and private bathrooms. The riad also offers a complimentary breakfast each morning.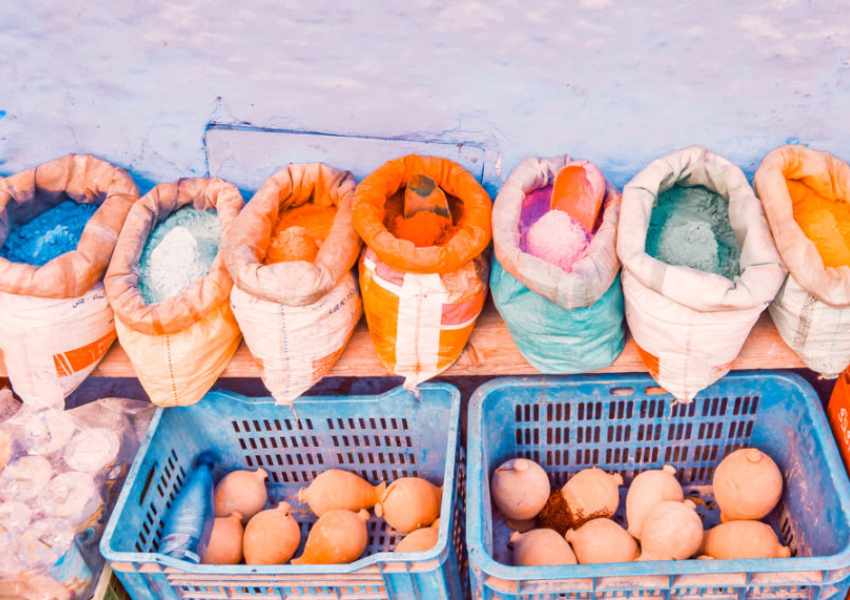 How to Reach Chefchaouen
To reach the picturesque city of Chefchaouen, first, you'll need to get to Morocco. The closest airports to Fez are Tetouan (TTU) Airport, Tangier (TNG) (85.6 km), and Fes (FEZ) (140.1 km).
Once in Morocco, you have a few options to get to Chefchaouen:
By Bus: The most common and affordable way to reach Chefchaouen is by taking a bus. CTM and Supratours are reputable bus companies providing comfortable and reliable service.
By Car: Renting a car gives you the freedom to explore Morocco at your own pace. You can rent a car at the airport or in major cities. The drive from Casablanca to Chefchaouen takes approximately 5 hours, and from Marrakech, it takes about 7 to 8 hours.
By Private Taxi: Another option is to hire a private taxi, known as "Grand Taxi," that can take you directly to Chefchaouen. This is a more expensive alternative, but also a comfortable and fast way to reach the city, especially if traveling with a group and splitting the cost.
By Train: While there's no direct train to Chefchaouen, you can take a train from Casablanca or Marrakech to Tangier or Fez. The train ride is about 5 hours from Casablanca and 7 hours from Marrakech. From Tangier or Fez, you'll need to either take a bus or hire a taxi to reach Chefchaouen.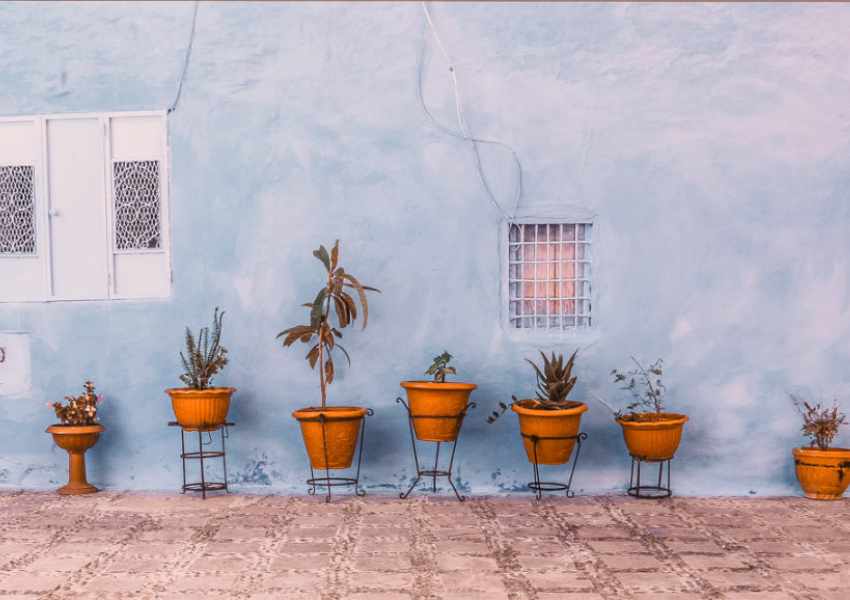 Best Time to Visit Chefchaouen
The ideal time to visit Chefchaouen depends on what you want to experience during your time there.
Spring (March to May) is a lovely time to visit Chefchaouen, as the temperatures are generally mild, ranging from 14°C (57°F) to 25°C (77°F).
This season offers comfortable weather for exploring the city and its surroundings, with blooming flowers adding a burst of color to the already vibrant blue streets.
However, keep in mind that spring can also bring some rainfall, so pack an umbrella just in case.
Summer (June to August) is the busiest time for tourism in Chefchaouen, with temperatures reaching up to 29°C (84°F).
If you don't mind the heat and crowds, summer offers a lively atmosphere, with several local festivals taking place.
This is a great time to mingle with locals and immerse yourself in Moroccan culture. Be prepared for occasional rainfall and wear sunscreen when walking around the city.
Autumn (September to November) is another fantastic time to visit Chefchaouen, with temperatures gradually cooling down from the peak summer heat.
This season sees temperatures ranging between 17°C (63°F) to 28°C (82°F), providing a pleasant atmosphere for outdoor adventures.
As tourism slows down, you'll enjoy fewer crowds and a more relaxed pace.
Winter (December to February) is the least popular time for tourists, though it can still be an enjoyable experience.
With temperatures ranging from 7°C (45°F) to 18°C (64°F), you'll need to bundle up for chilly nights, but can still enjoy sightseeing and shopping during daylight hours.
Winter also offers a chance to see snow-capped peaks in the surrounding Rif Mountains.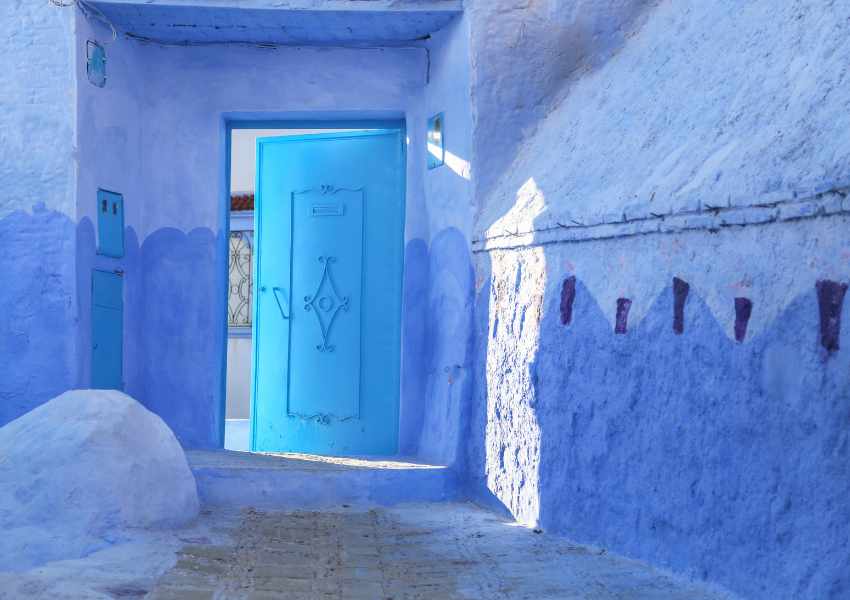 Things to Do in Chefchaouen: Conclusion
From exploring the blue-washed streets to hiking in the surrounding mountains, there is no shortage of things to do in Chefchaouen.
Whether you're interested in history, culture, or natural beauty, this charming town has something to offer everyone.
So if you're planning a trip to Morocco, be sure to add Chefchaouen to your itinerary and discover the magic of the Blue City for yourself.