25 West Coast Weekend Getaways for the Ultimate Escape
Looking for the best West Coast weekend getaways? We've got you!
Whether you're a local looking to escape the hustle and bustle of city life or a visitor hoping to experience all the beauty and adventure that this region has to offer, we've got you covered.
From stunning national parks and scenic coastal drives to charming small towns and world-class wineries, here are some of the best West Coast weekend getaways as recommended by travel bloggers!
West Coast Weekend Getaways
1. Palm Springs, California
With an average of 350 days of sun, Palm Springs makes for one of the sunniest West Coast weekend getaways.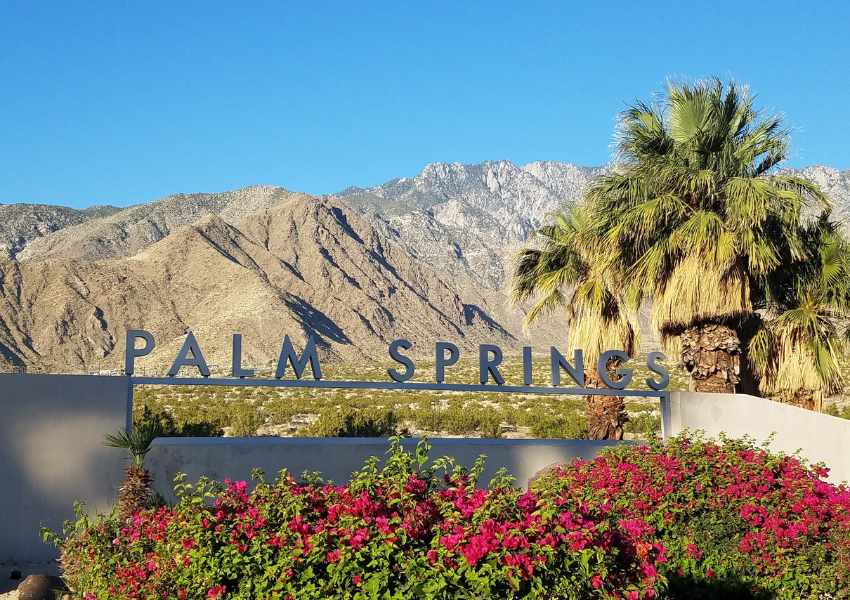 Some things to do in Palm Springs include:
The Palm Springs Aerial Tramway travels 2.5 miles on the world's largest rotating tram car to 8,516 ft up Mt. San Jacinto. The view is stunning both during the day and night.
Dining opportunities abound in Palm Springs, and restaurants are attracting renowned chefs. This is a great city to dine alfresco.
If you are a hiker, there are 60 miles of trails within the city limits. There are all levels of challenges.
The majority of the retail stores are privately owned. Thus, if you are looking for unusual gifts, you will find them.
A unique tour is a self-guided tour through the Windmill fields. It is an activity the whole family will enjoy.
VillageFest, held every Thursday night, attracts thousands of visitors who meet local artists, learn about our organizations, and dine from the many food trucks.
With over 72 small boutique hotels, one can find the environment that suits your ideal for the perfect place to call home. Many visitors opt to experience the modernist style popular in the 50s and 60s—most of them located within walking distance from downtown.
With the Season approaching, a gentle reminder: if you have a favorite hotel, restaurant or would like to journey to the top of Mt. San Jacinto, make your reservations before you arrive to ensure you will not be disappointed. Palm Springs is no longer a sleepy desert town.
Recommended by Kathy Condon of www.PalmSpringsInsiderGuide.com
2. Utah National Parks
Utah is a wonderful state, full of beautiful and lush areas as well as striking desert landscapes. Its varied environments make it one of the most interesting places to explore, which means is one of the coolest West Coast weekend getaways out there!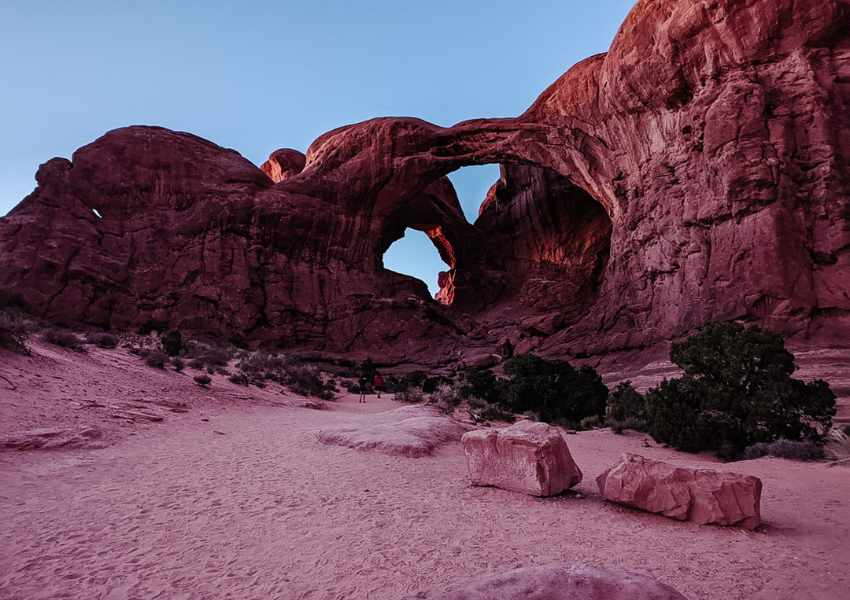 There are five national parks in Utah, which makes it a highly favored getaway destination for outdoor enthusiasts. If you enjoy spending time in nature hiking, biking, or rock climbing, this state is a playground just waiting to be explored.
Moab is a unique city in Southern Utah because it has such close access to two amazing national parks. In Arches National Park, be sure to spend time hiking to Delicate Arch, the famous image on the Utah license plate. Other fun areas of the park to explore are the Sand Dune Arch and the Windows Area.
In Canyonlands National Park, Mesa Arch is a short and easy hike that everyone can enjoy. If you're looking for more of an outdoor adventure, consider renting a jeep to drive the White Rim Road.
Outside of the national parks, there are lots of fun things to do in Moab. Corona Arch and Jeep Arch are two fun hikes outside of the national parks. You can also enjoy white water rafting, canyoneering, and off-roading.
Recommended by Candice, GS Ginger of www.csginger.com
3. Lower Antelope Canyon
There are many great West Coast weekend getaways and Lower Antelope Canyon is definitely one of them.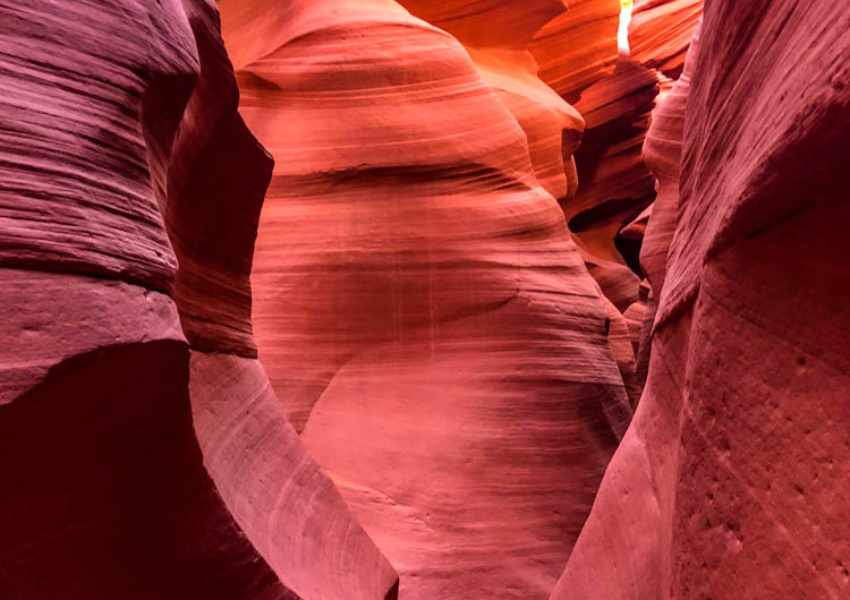 Arizona has many slot canyons – the most famous being the Lower and Upper Antelope Canyons. You can base yourself in Page, Flagstaff, even Sedona for a weekend trip to the canyon.
Lower Antelope Canyon can get quite crowded due to its popularity. This Canyon is on Indian tribal land and can be seen only with a tour led by a Navajo guide.
You need to be comfortable in small spaces and fit to climb steps. When you reach the area, you can hardly imagine that a few steps down the stairs will take you into a magical chamber. You see rock formations that have been carved out over thousands of years by nature.
Colours on these rock formations change with the way sunlight filters in as you go deeper in the canyon.
The top parts of the rocks can glow to yellow and orange shades when the sunlight falls on them directly. And the bottom parts take on darker red and purple hues with the filtered light. Our guide stopped several times to point out interesting and funny shapes that the rocks had taken.
If time permits, you can take tours to cover both Upper or Lower Antelope Canyon, but I would say that the Lower Antelope Canyon is the more interesting one out of the two.
Recommended by Shweta Singhal Travel Blogger of Zest In A Tote
4. San Diego, California
One place that is never a bad destination for West Coast weekend getaways is San Diego.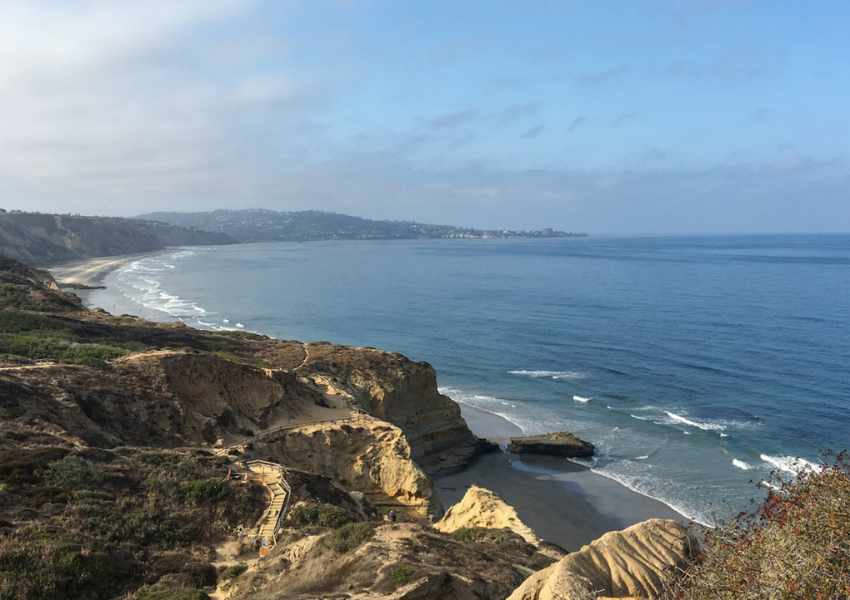 Known for its relatively stable year round temperatures and more often than not sunny days, the city beckons to visitors from all over the world. And while you won't be able to see the entire city and all that it has to offer in a single weekend, there's certainly no shortage of activities to fill your itinerary.
For example, whether you're keen on surfing, boogie boarding, or simply enjoying the coastal views, a must-do activity during your stay is to spend time at the local beaches. Or, if you prefer to admire the ocean scenery from above, embark on a light hike at Torrey Pines. The nature reserve offers visitors a few easy to moderate trails that are suitable for everyone, including little ones.
Afterward, you can wander through the various neighborhoods and sample some of the city's culinary delights, such as fish tacos and gourmet desserts!
And to cap off your day in the best way possible, head to Sunset Cliffs to catch a spectacular view of the sunset as it dips below the ocean horizon. So, if you're keen on a relaxing weekend getaway, there's hardly a better place than beautiful San Diego.
Recommended by Kristin of Global Travel Escapades
5. Disneyland, California
If you are looking for a fun short getaway on the West Coast, consider a weekend in Disneyland. Time spent at Disneyland and California Adventure is guaranteed fun!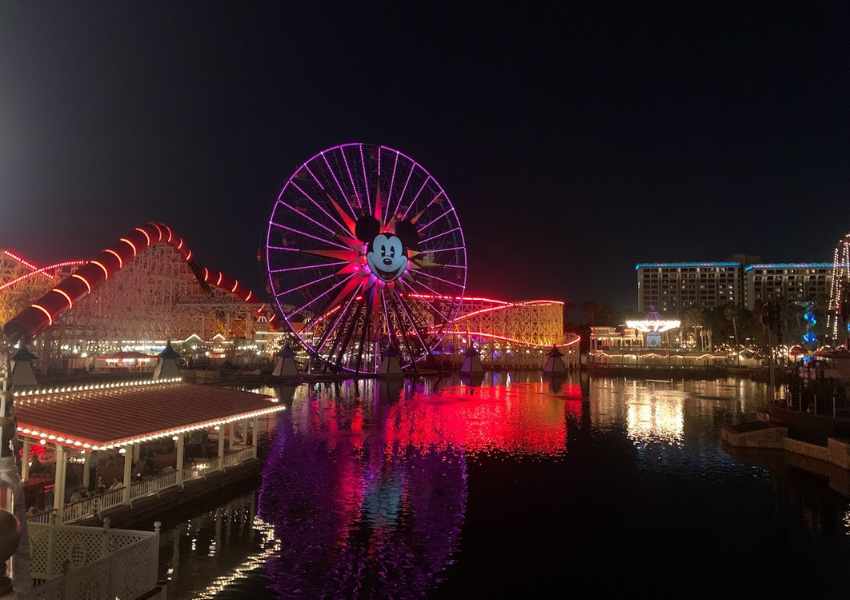 The parks aren't large, so a weekend is plenty of time to explore both of them and not feel rushed. Purchase a 2-day park hopper ticket so you can maximize your weekend and bounce back and forth depending upon wait times, crowd levels, and which park you enjoy more.
You won't have to worry about finding things to do as just being in the parks will provide rides, shows, great restaurants, and plenty of entertainment.
Book a stay at one of the Good Neighbor hotels nearby, and a car will be unnecessary – just walk to the parks each morning and evening (or Uber if you find yourself exhausted after a day of walking!).
In fact, choosing a close hotel will even allow you a chance to go back and rest or enjoy a swimming break in the afternoon. This is a terrific option for younger kids who can easily get overstimulated with a full day of Disney fun. So, pack your bags, grab your Mickey ears, and head off to enjoy a magical weekend in Anaheim, CA.
Recommended Pam Howard of Our Adventure is Everywhere
6. Leavenworth, Washington
If you're looking for a European weekend getaway but don't have a passport, check out Leavenworth, Washington!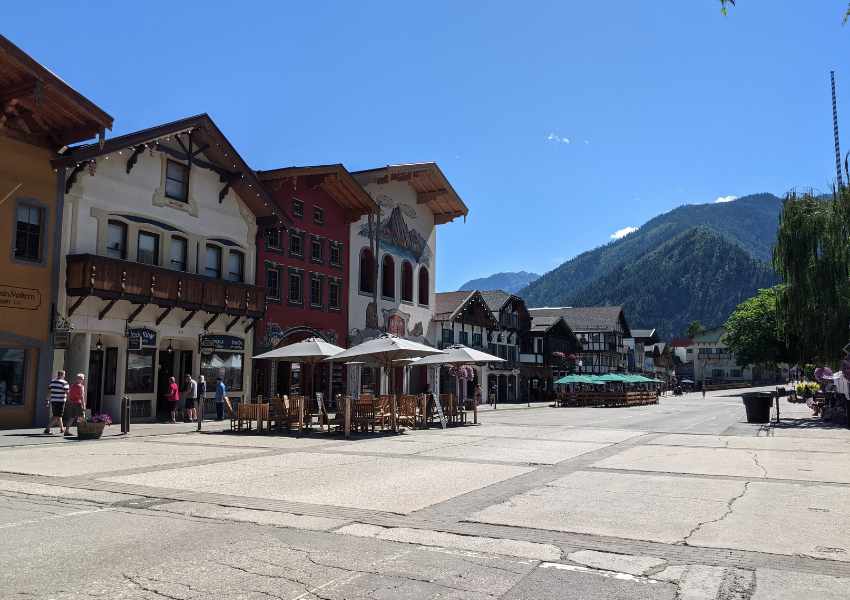 This little Bavarian-themed town is nestled in the North Cascades, making you feel like you are smackdab in the Alps, but in reality you're only under 3hrs away from Seattle, making it one of the easiest West Coast weekend getaways.
Everything from gas stations, hotels, and even Starbucks have some sort of Bavarian camouflage to keep this town's ambience confluent. Restaurants make sure to serve German soft pretzels and schnitzel, horse drawn carriage rides are driven by people in dirndls or lederhosen, and you won't have a problem finding a pint of local beer.
Gift shops galore line pedestrian-only streets where you'll find unique stores like a two-story Christmas store, a cheese monger shop, or a nutcracker store which is also a museum with over 9,000 nutcrackers on display!
Thrill seekers will stay busy with activities like Washington State's only alpine coaster (where you can reach speeds of up to 27mph!), ziplining, river rafting, or skiing.
Wine enthusiasts will make it a challenge to try over 20 of the wine tasting rooms in town.
Families will enjoy taking their kids to the reindeer farm, mini-golfing, or playing on the beach by the river.
In the summer, one of the best things to do is tube float down the Wenatchee River. Let the cooling river take you downstream as you relax in the hot sun, drifting under towering mountains and past various wildlife.
In the winter, Leavenworth becomes Christmastown, with the buildings dressed in fresh garland and twinkling lights, carolers singing in the gazebo, and of course, a chance to meet Santa.
Accommodation options range from campgrounds and cabins by the river, to Bavarian lodge-like hotels, to a luxury adults-only resort.
Leavenworth will undoubtedly keep you busy all weekend and leave you wanting to stay longer.
Recommended by Travel Compositions
7. Cannon Beach, Oregon
If you're looking for outdoor adventure, relaxing beach time, and lots of opportunities to take photos, look no further than Cannon Beach on the Oregon Coast!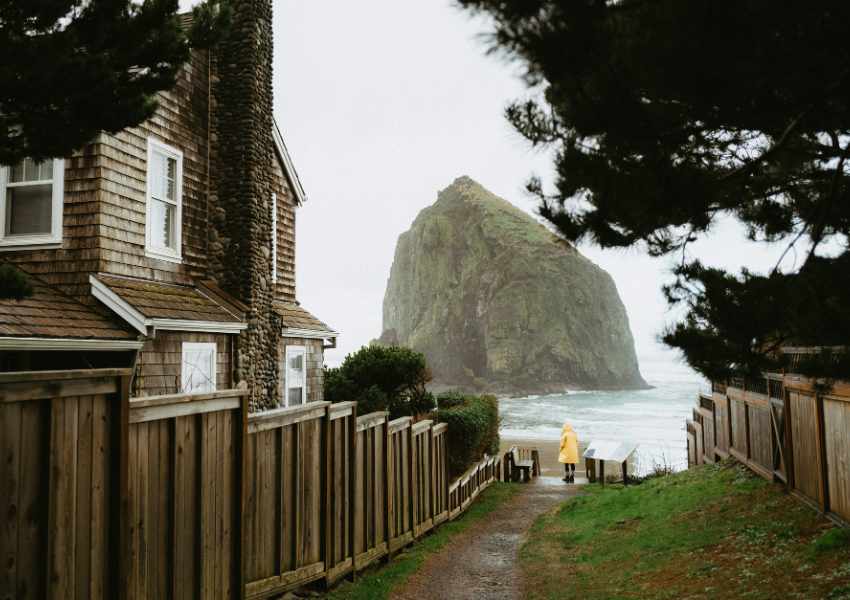 This region in the Pacific Northwest encompasses famous landmarks like Haystack Rock, Ecola State Park, and underrated coastal hikes around every corner.
Because there are so many things to do in Cannon Beach, we recommend staying at least a weekend, but a long weekend would be best (4-5 days) to get a good sampling of the area.
The easiest way to get around Cannon Beach is by car. You won't particularly need one in town (the main downtown area is very walkable) but if you want to explore state parks and hikes nearby, you'll need your own car. If you are flying in to visit Cannon Beach, we recommend flying into Portland International Airport (PDX), renting a car, and taking the 2-hour scenic drive west to the coast.
For accommodations, there are plenty of hotels in Cannon Beach to choose from, ranging from luxurious to affordable stays. You can also opt to bring your trailer or tent and go camping in state parks nearby too.
Some of the highlights of a trip to Cannon Beach include walking along the beach, watching the puffins (in season from April – July), taking a Goonies tour at Ecola State Park, and trying the famous Saltwater Taffy in town! A trip to Cannon Beach is fairly cheap for a weekend getaway – you can expect to spend your budget on accommodations, gas, park entry fees, and lots of delicious food in town.
Recommended by Emily of the The Mandagies
You may also like:
8. Hermosa Beach, California
Hermosa Beach is one of the best West Coast weekend getaways because it is an upbeat coastal town with a unique blend of sun, beach activities, and fun!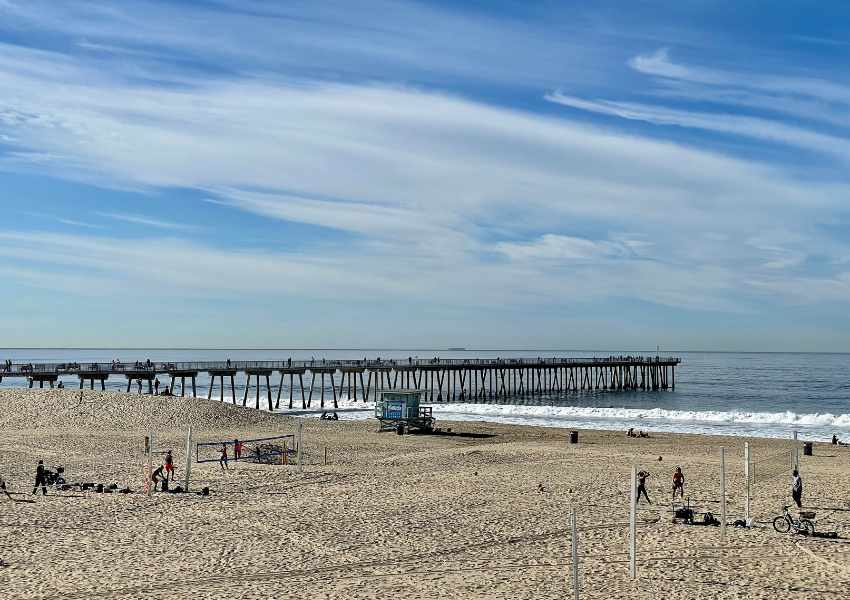 Located about 20 minutes south of the Los Angeles International Airport along the coast, the City of Hermosa Beach is an easy place to travel to for a weekend getaway. Hermosa Beach is part of the South Bay, where there are tons of fun things to do.
Once you are in Hermosa Beach, get ready to enjoy the weekend. Start your day with brunch at Martha's, a popular local breakfast spot just off the beach.
After you enjoy a delicious breakfast, it's time for beach time! The wide beach is large enough for sunbathers to stretch out and enjoy themselves without feeling like they need to be close to their neighbors. People love to walk on the beach or play a game of beach volleyball because the sand is so soft.
While hanging out on Hermosa Beach, you might try standup paddleboarding or playing in the waves.
For those who prefer land activities, head to Hermosa Cyclery, just off Pier Avenue, where you can rent a bike and head north to check out Manhattan Beach or south to Redondo Pier. Alternatively, you might enjoy shopping at the local boutiques on Pier Avenue. There are cute stores in Hermosa Beach!
If you ventured out on a bike ride, head back to Hermosa Beach in time for a fantastic sunset. Vista, at the corner of Pier Avenue and the Strand, is a great place to sit outside, sip a cocktail, and watch the sunset!
Try restaurants like RYLA or Bottle Inn, a local favorite for dinner. After dinner, head back to Pier Avenue for a vibrant nightlife scene. The bars and clubs along Pier Avenue offer live music, DJ sets, and a lively atmosphere.
Whether you seek relaxation, adventure, or a bit of both, Hermosa Beach has it all, making it one of the best weekend getaways on the West Coast.
Recommended by Michelle of The Trav Nav
9. Seattle, Washington
Seattle, Washington is one of the best destinations for West Coast weekend getaways.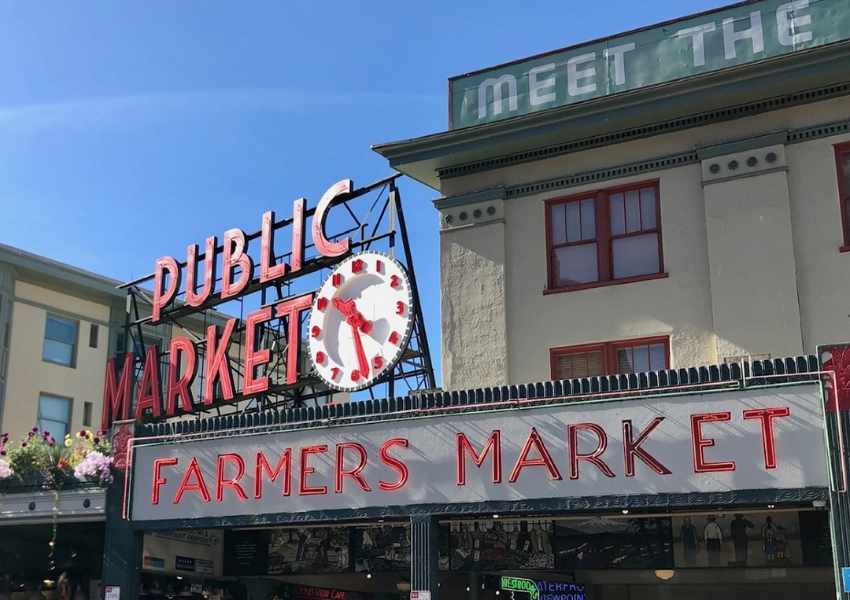 Seattle has a great public transportation network, so if you don't want to rent a car, you'll still have a great time exploring the Emerald City.
You may not be able to see all the top attractions in Seattle in just a weekend, but you can definitely knock quite a few items off of your travel bucket list!
One of the most iconic buildings making up the Seattle skyline is the Space Needle. Its unique shape has made it a symbol of the city. Take a high-speed elevator up to the top and enjoy panoramic views of Seattle, the harbor, and mountains in the distance. You can even enjoy a cocktail in the lounge at the top!
The second must-see place to visit in Seattle is the Pike Place Market. It's a feast for the senses – vibrant fresh produce, beautiful handmade arts and crafts, and the hustle and bustle of the famous fishmongers tossing around giant fish! There are plenty of places to eat in and around the market, so you're sure to find something to satisfy your taste buds.
Art lovers will enjoy visiting the Seattle Art Museum or strolling through the Olympic Sculpture Park. Don't miss the Chihuly Garden and Glass, where you can admire the fabulous vibrant blown-glass creations by renowned glass artist Dale Chihuly.
No matter how you choose to spend your weekend in Seattle, you're sure to have a wonderful experience!
Recommended by Lisa Garrett of Waves and Cobblestones
10. Highway 1
Highway 1, also known as the Pacific Coast Highway, is an iconic coastal road that stretches along the western edge of the United States.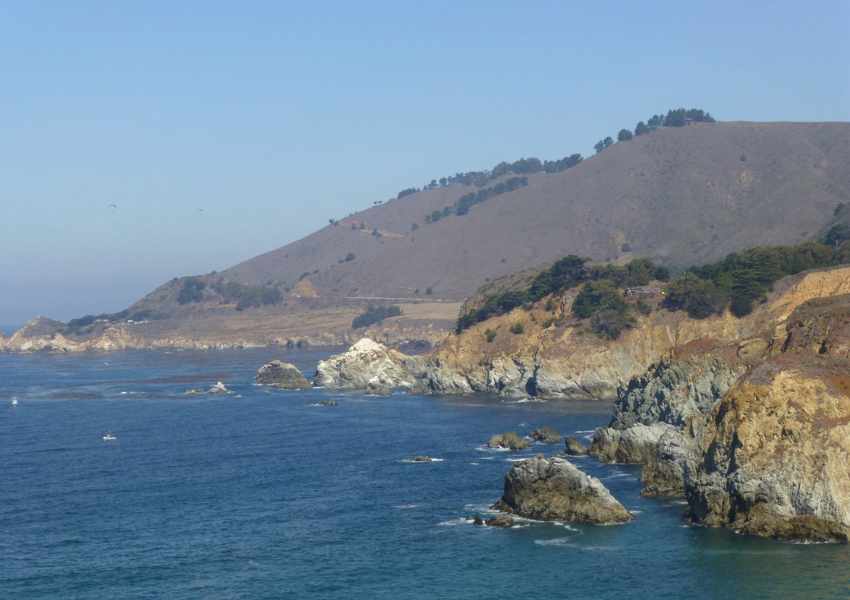 Offering breathtaking views, diverse landscapes, and a wealth of attractions, it's a top choice for West Coast weekend getaways.
Winding its way from Southern California to Northern Washington, this highway presents travelers with a mosaic of experiences. From the rugged coastline of California's Big Sur to the lush forests of Oregon and the charming towns of Washington, Highway 1 has it all.
One of the reasons why it's a preferred weekend escape is its accessibility. Whether you're a nature enthusiast, a foodie, or a history buff, there's something for everyone. Explore California's vibrant beach cities like Santa Monica, take in the vibrant arts scene of Santa Barbara, or sample world-class wines in Oregon's Willamette Valley.
The road's coastal views are a continuous source of awe. As you drive, you'll be treated to panoramic vistas of the Pacific Ocean, dramatic cliffs, and pristine beaches. There are ample opportunities for hiking, picnicking, and simply basking in the beauty of the Pacific coastline.
Recommended by Victoria of Guide Your Travel
11. Las Vegas, Nevada
Las Vegas is without question one of the best West Coast weekend getaways as a visit to "Sin City" is always a good time.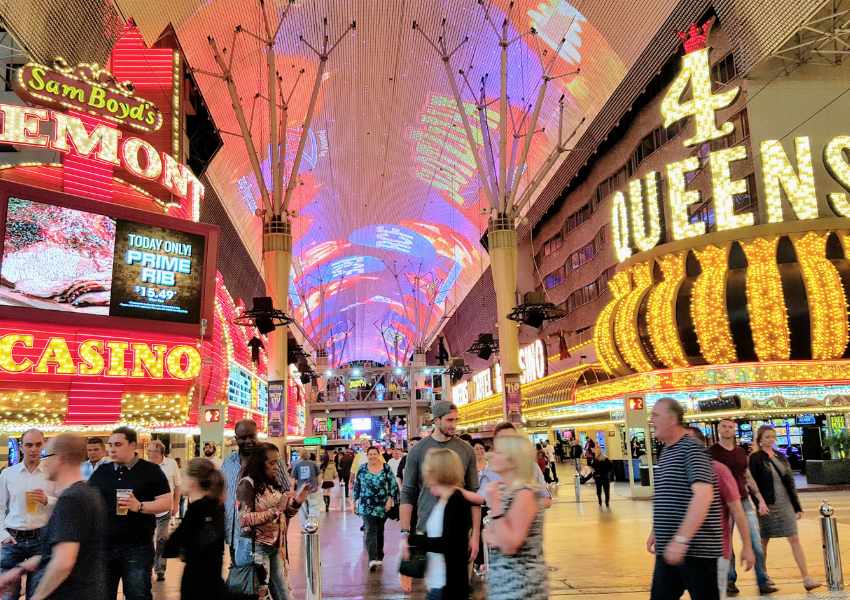 If you want to party and hit the casino for a bit of weekend fun, there is no shortage of good hotel casinos in Las Vegas including the Venetian (a Venice inspired hotel where you can even get a gondola ride) and Caesars Palace (a Roman themed hotel which is known for hosting some of the best shows on the strip!)
If you are visiting for the first time, Fremont Street is a must do while in Vegas for the "Freemont Street Experience": a street in Old Vegas lined with iconic older style Vegas casinos, lots of free entertainment including live music and performers like Elvis impersonators.
Fremont Street is also a good choice for visiting Vegas on a budget as food, gambling and accommodation in downtown Vegas is significantly more affordable. Four Queens Hotel and Casino sometimes offers rooms for as little as $60 a night with no resort fees.
Don't miss the chance to visit some of the world's best buffets and restaurants while in Vegas including seeing Gordon Ramsay Hell's Kitchen live at Caesars Palace. It is advisable to book ahead of time as it is frequently booked out.
Las Vegas is a great weekend escape for couples as well as groups of friends. If you are feeling spontaneous you might like to get hitched in the A Little White Wedding Chapel with a ceremony performed by Elvis.
It is also recommended to make a day trip to go hiking in Valley of Fire State Park as it is one of the most picturesque areas in the USA and only an easy 1-hour drive away. If you aren't traveling with a car, taking a tour to Valley of Fire State Park is also possible.
Recommended by: Couple Travel The World
12. Bryce Canyon National Park
Bryce Canyon is one of the best National Parks for West Coast weekend getaways as it is a relatively small National Park meaning it is possible to tick off the best attractions in only 2 days!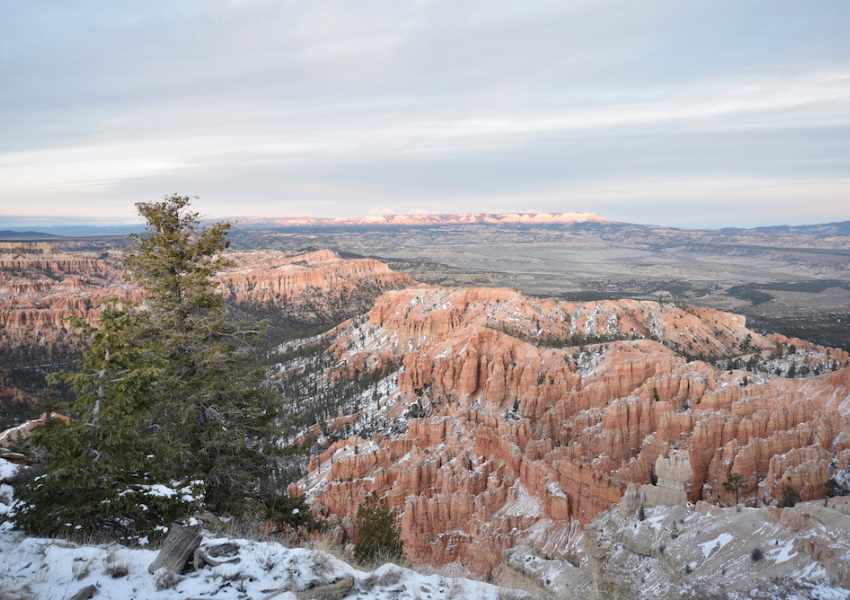 The most popular trail to complete is the Queen's Garden Trail which is a hike of moderate difficulty in and back out of the canyon.
It takes around 3-4 hours to complete and gives you the opportunity to see Bryce's famous hoodoos including Thor's Hammer up close and personal. You can add to the difficulty of this hike by including the Peekaboo trail into the loop which adds an extra 2 hours of hiking.
A second day of exploring Bryce would include hiking the Rim trail, Mossy Cave Trail and the Bristlecone Loop.
There are some good country inspired restaurants in Bryce Canyon including Ebenezer's Barn and Country show, a country dinner and show experience, which is on until the end of October each year.
If you feel like BBQ, there is also a great BBQ restaurant a short drive from Bryce Canyon called I.D.K BBQ in Tropic, Utah.
Bryce Canyon is beautiful all year round, with the best time to visit being from September to early November, to beat the summer heat and crowds and the extreme winter. Bryce is located at a high altitude so it gets very cold after November each year.
There are plenty of great places to stay near Bryce Canyon for a weekend trip. You can camp inside the park at the Sunset Campground (open until 31 October) and the North Campground (open year-round).
If you prefer not to camp, the best and most affordable place to stay nearby is the Best Western Plus Bryce Canyon Grand Hotel which has clean and comfortable rooms with a decent buffet breakfast included in the rate.
Recommended by Utah Vacationers
13. Sedona, Arizona
Located in Northern Arizona, you can reach Sedona by first flying into Phoenix's Sky Harbor International Airport. Sedona is about a two hour drive North from Phoenix.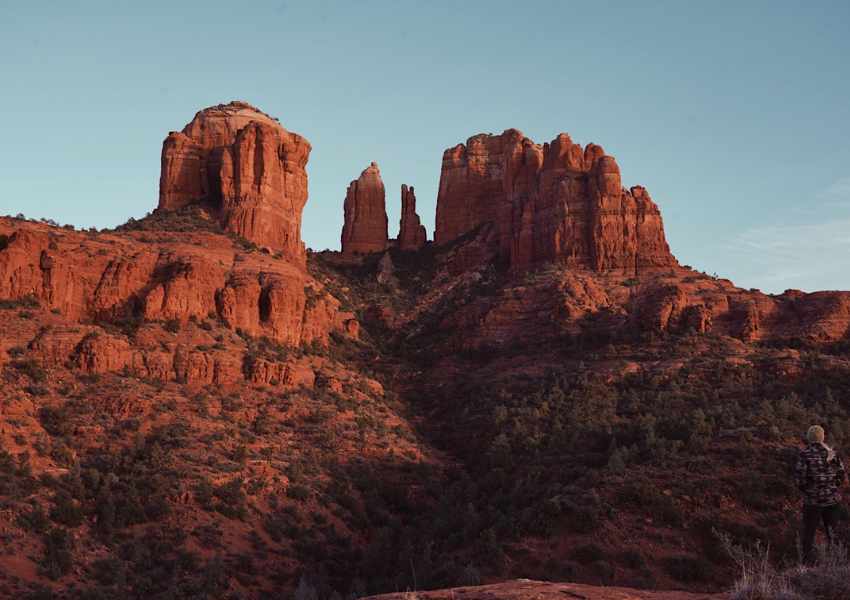 Sedona makes for great West Coast weekend getaways because the town is very compact and small so you can do a lot in just two days.
Most hiking trailheads are within a 15 minute drive of the town center and the red rock beauty surrounds you. Many trails are relatively short in length, so you can hit a few in one day.
There is a magic in Sedona, there are even so-called spiritual vortex spots around town. These vortexes are supposed to hold a center of energy and are thought to be healing, inspiring, and meditative.
Find your peace relaxing at the downtown area shopping or dining, or on the trails.
Some of the best hikes are to Cathedral Rock, Merry Go Round Rock, The Subway Cave, Devil's Bridge, Doe Mountain, and the Soldier's Pass Trail. Red Rock Crossing also makes for a great sunset spot.
Or join an off roading or popular Pink Jeep Tour to get your adrenaline pumping and sightsee in a unique way!
Head to the Coffee Pot Restaurant for breakfast one morning and choose from their selection of 101 omelettes! And go to the Hideaway House to enjoy a happy hour outside with an amazing view of the red rocks.
14. Lake Tahoe, California and Nevada
If you are dreaming of West Coast weekend getaways that includes forests covered mountains that surround an impossibly blue lake, then Lake Tahoe should be at the top of your list.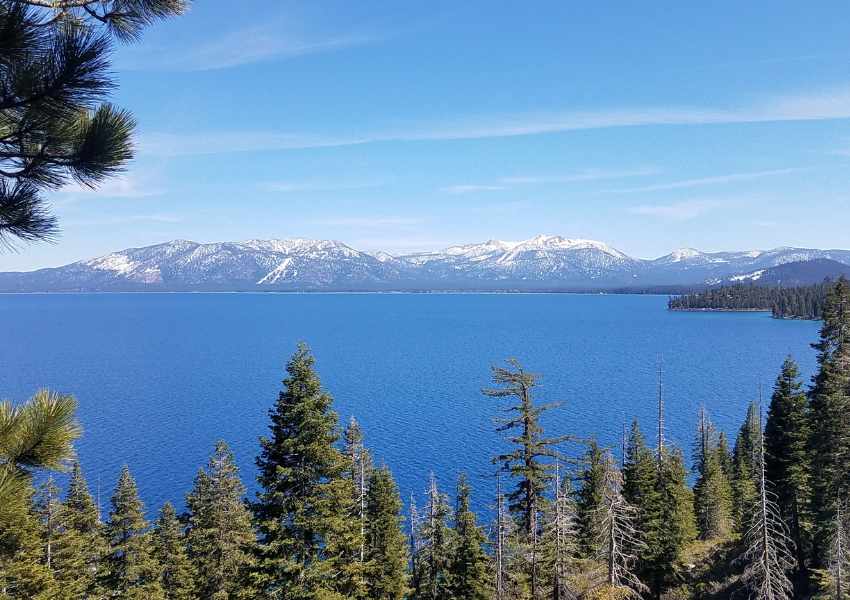 Whether you visit during the summer or winter, you will have a tough time choosing from the countless options for recreation and entertainment.
During the warm summer travel season, you can tie up your hiking boots and hit the Rubicon Trail, which snakes along Emerald Bay, or trek up to Mount Tallac's peak for breathtaking lake views.
Summer is also watersport season, where you can go water skiing or rent a paddle board to explore Sand Harbor's natural underwater rock garden.
The fun continues during the summer as it's concert season at the lake's south shore amphitheaters, and the local breweries will have their patios open to relax with a pint.
With the colder winter weather comes a blanket of snow covering the mountains and flocking the pine trees.
This time of year also signifies that Lake Tahoe's 15 ski resorts will be open for carving up the slopes.
If you are traveling with kids, Tahoe is also home to some amazing snow parks for a day of tubing or sledding.
If you decide to visit Lake Tahoe during the winter, the best place to stay will be in North Lake near the ski resorts, where you can book a charming cabin in the woods.
You can also opt to book a room in the Heavenly Village, where you will have direct access to the gondola to ski, and you will only be a few blocks from the nightlife on the casino strip.
If you are planning a romantic getaway or a family vacation, Lake Tahoe is the perfect place, no matter what season you plan to visit.
Recommended by Gabriel of Chef Travel Guide
15. Paso Robles, California
If you are looking to soak up the sun while enjoying some of the best wine in the country, you'll want to plan a weekend getaway to Paso Robles, CA.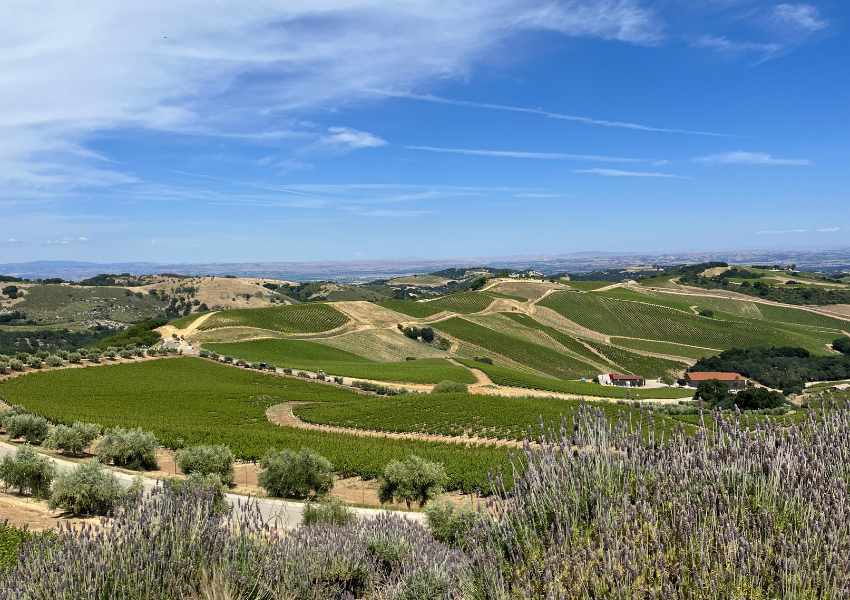 This destination – which is located in California's Central Coast region – is home to over 200 wineries.
The natural landscape is also incredibly scenic, and the idyllic downtown area is well-worth a visit. It's fairly small, so two days is the perfect amount of time to spend in Paso.
There's plenty of amazing wineries in the area, but one spot worth highlighting is Daou.
Not only will you enjoy delicious wine, but the winery – which sits at an elevation gain of 2,200 feet – has the most breathtaking 360 degree views of the area.
If you're thinking of visiting multiple vineyards during your getaway, you can also consider doing a wine tour of the region. This allows you to sit back and not have to worry about the hassle of driving!
Of course, there's more to Paso Robles than wine. One of the more unique attractions in the area is Light at Sensorio, an interactive outdoor evening exhibit. Spend time walking through the property to see the spectacular light installations! Additionally, those looking to really relax can't miss Franklin Hot Springs, which is just a 10 minute drive from downtown.
Recommended by Kyra of Sea to Sequoia
16. Oceanside, California
Located in northern San Diego County, Oceanside makes for the perfect California beach getaway any time of year.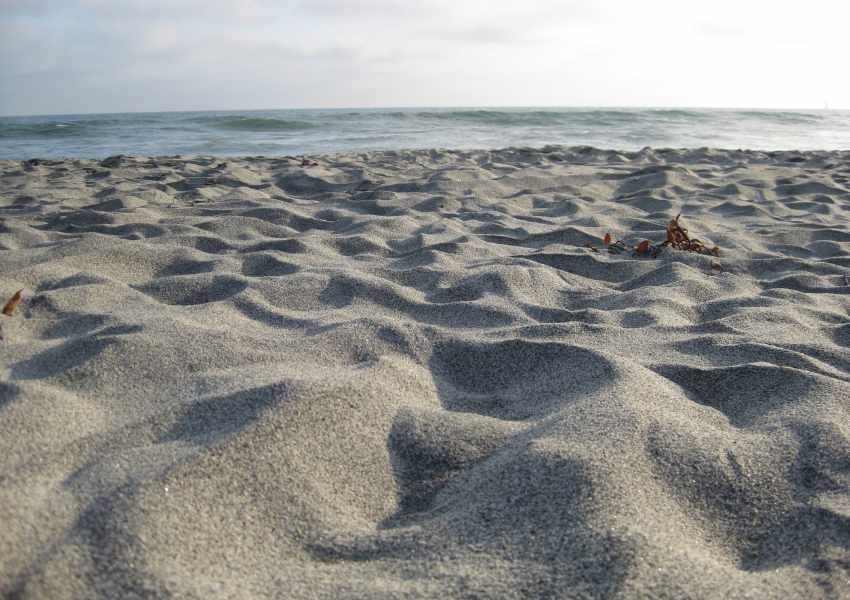 With plenty of hotels and vacation rentals located on or near The Strand, you can be steps away from the sand and sea. Plan to walk, blade, bike, or jog along The Strand to the Oceanside Pier.
Then head out to the end to get an expansive view of the Pacific Ocean, enjoy watching locals fish, and spot surfers catching a wave.
When you're ready for a bite to eat, consider stopping at Brine Box on the end of the pier for some of the freshest seafood around.
If you're looking for more adventure on your getaway, consider hitting the waves yourself with a surf lesson or rent a boogie board and feel like a kid again. Once you've tired from your time in the ocean, stop by the California Surf Museum and explore
Grab dinner at ZigZag Pizza close to the beach, Angelo's for no-nonsense burgers, salads, and gyros, or if you are looking for great Chinese food away from the tourists, stop by China Fusion.
Wherever you eat, make sure to save room for a hand pie (or two!) from High Pie. Housed in the well-known "Top Gun House" in Oceanside, High Pie mixes a bit of nostalgia and pastry together to create the perfect after-dinner treat. Watch the sunset while snacking, and you've just completed the perfect day in paradise.
For a longer stay, consider venturing out to the nearby towns of Carlsbad or Encinitas, visit the Mission San Luis del Rey, or take a whale-watching tour that departs from the Oceanside marina.
Oceanside is the perfect place to relax and unwind but also has plenty of activities for adventure enthusiasts. A dream getaway as a solo traveler, couple, friends, or with the whole family.
Recommended by Maggie of Parks Family Travel
17. Channel Islands National Park, California
Channel Island National Park is a perfect weekend getaway on the West Coast.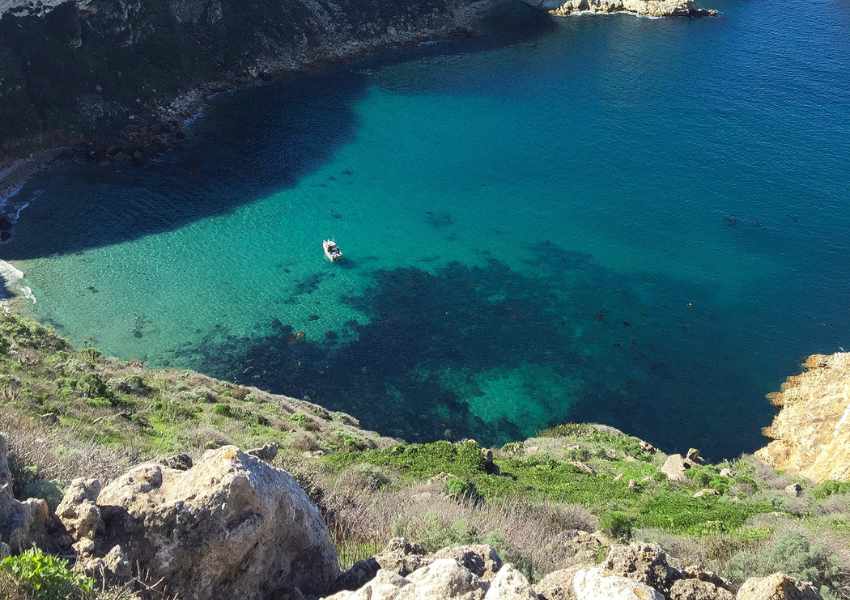 The park is a great spot if you are into hiking, camping, and wildlife viewing. Keep your eyes peeled for dolphins, seals, sea lions, island foxes, and whales in the winter.
Most people visit Channel Islands on a ferry from Ventura or Oxnard harbors near Los Angeles. A round trip ferry ride starts at $63 per person and takes at least an hour each way. The park admission is free.
The national park consists of 5 islands, and it is impossible to see them all in one day. Start your exploration at Scorpions Anchorage on Santa Cruz Island. Get ready for an adventure packed visit: hiking, wildlife viewing, kayaking, and snorkeling are main activities on this island.
You can explore other islands by buying separate tickets. Get them in advance since the ferries often sell out.
All islands have something to explore: you can visit Anacapa Lighthouse, enjoy Santa Rosa's beaches, hike on Santa Barbara's rugged terrain, or see sea lions on San Miguel.
If you camp, you can take advantage of the inter island shuttle ferry. Check its schedule and plan your weekend getaway around it. Overnight campers can enjoy stargazing and midnight hikes.
Channel Islands have very limited tourist amenities. Some islands have water but most require you to bring all of the supplies with you. Expect to be fully disconnected from civilization while visiting this park.
Recommended by Anastasia of Travel Realist
18. San Francisco, California
Nestled along the coast of northern California, San Francisco is a bucket list destination and home to numerous iconic landmarks like the Golden Gate Bridge, Alcatraz Island, Lombard Street, and many more.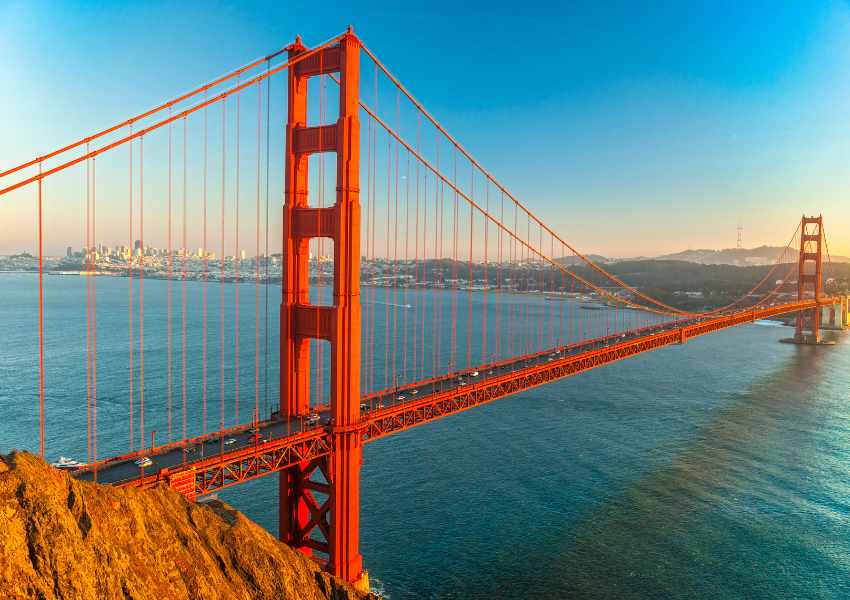 However, what makes San Francisco the perfect West Coast weekend getaway is how accessible the city is.
There are multiple international airports in the area. So getting to San Francisco from anywhere around the country is a breeze. Also, you don't need a car when visiting San Francisco. The city is very walkable and offers numerous options for public transportation, including its famous cable cars!
There is so much to do and see in this incredible city. Some of the must things to do are to visit the historic Chinatown, the largest outside of Asia, experience Bay views from the Golden Gate Bridge, devour a bread bowl from Fisherman's Wharf, and gaze upward at Lombard Street, the most crooked street in San Francisco.
If there is time, take the ferry across the Bay to Sausalito. This charming and quaint town has some of the best views in the Bay Area. Stroll along Bridgeway Promenade and browse the boutique shops and cafes. Enjoy lunch at one of the many waterfront restaurants that boasts epic views of the San Francisco skyline and the Golden Gate Bridge.
Recommended by Alisha of Travel Today Work Tomorrow
19. Arcata, California
Arcata, California is truly one of the most underrated West Coast weekend getaways. This hidden gem is tucked away in Northern California in the middle of the redwoods along the coast.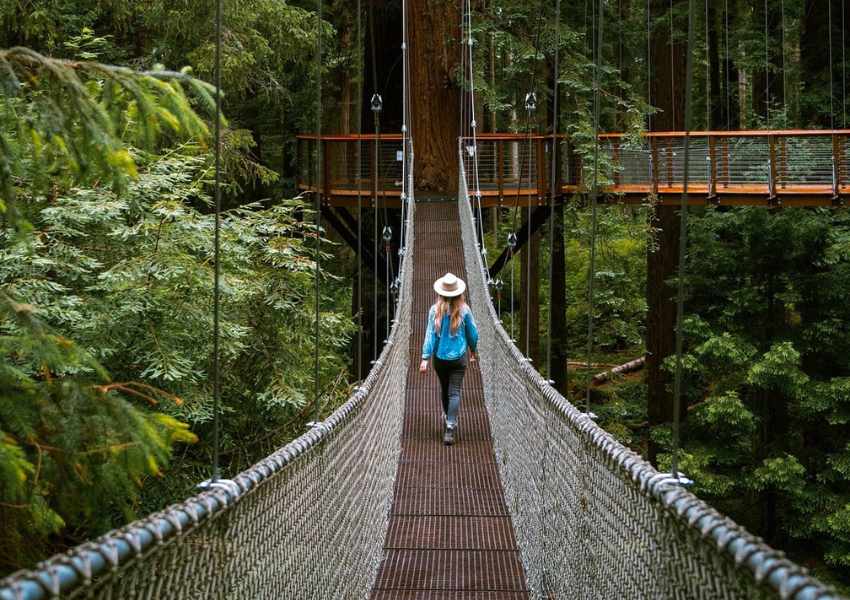 The surrounding areas allow visitors to experience so much good food, nature, and activities without the crowds of other getaway destinations.
With nearby views of Redwoods, the coast and dunes, there are lots of outdoor opportunities.
For stunning landscapes close by, be sure to check out the Arcata Community Forest to hike through towering redwoods. For a more unique experience, head to the Redwood Skywalk at Sequoia Park Zoo to walk in a redwood forest on suspension bridges 100 ft off the ground. And make sure to head to the coast to check out the Samoa dunes and many scenic beach pull offs.
In the city, you can enjoy great wine, seafood, farmers markets and soaking tubs! Go sit by a fire at Septentrio Winery, grill your own oysters at Humboldt Bay Social Club, and soak and sauna at Finnish Country Sauna & Tubs at Cafe Mokka. Or enjoy private forest tubs if you stay at The Front Porch Arcata!
If you are there on a Saturday, you don't want to miss the Arcata Plaza Farmers Market. Humboldt California is known for exceptional produce and farms. And you will be missing out if you don't get a pastry or olive bread from Cafe Brio!
Arcata California is such a beautiful place to spend time. Whether it's on a Redwoods road trip or as the main destination. A small county airport makes it easy to arrive from anywhere. And with mild temperatures year round, you can plan a trip for any season.
Recommended by Melissa Miller of Miss Rover
20. Santa Barbara, California
Santa Barbara is the perfect West Coast weekend getaway. What is better than a magical blend of natural beauty, wine country, and relaxation?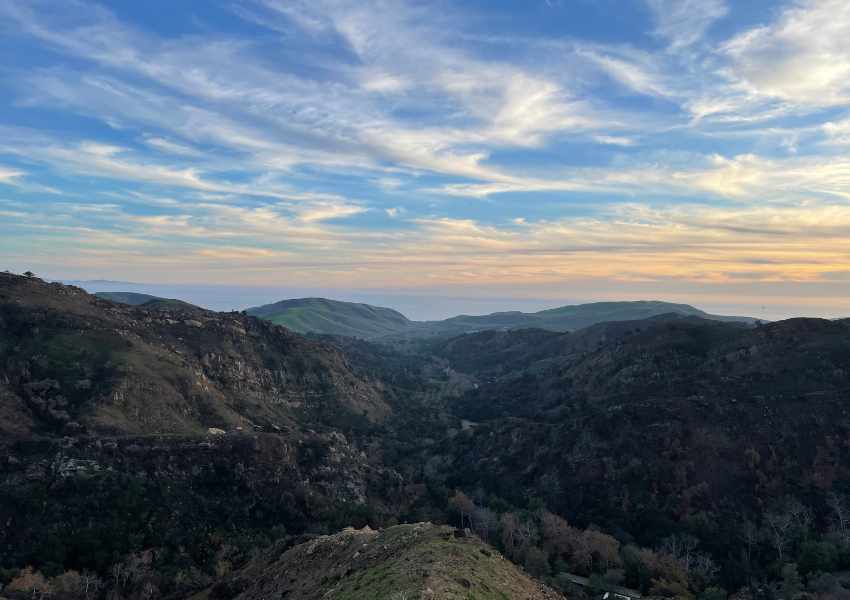 Nestled on the picturesque California coast there is a beach for every type of beachgoer in Santa Barbara. Butterfly Beach is perfect for those looking for stunning views and the opportunity to relax or have a romantic day at the beach. For those seeking more activity, East Beach is the go-to spot for active beachgoers. Its 4-miles of sand is ideal for beach volleyball, paddleboarding, and even windsurfing. Plus, it's easily accessible as it's conveniently located near Stearns Wharf and downtown Santa Barbara.
Likewise, the outdoor adventure does not end there. Take in the beauty of Santa Ynez Mountains via horseback riding or a hike. The options for outdoor adventure in Santa Barbara are endless.
Santa Barbara is also the perfect West Coast weekend getaway for wine and food aficionados. Being home to 300 wineries, Santa Barbara offers over 10,000 wine grape varieties. There's a wine and winery for every taste bud and vibe.
Similarly, Santa Barbara's is known for its farm-to-fork dining philosophy. Whether you're dining at a chic downtown bistro or a quaint family-owned eatery, you'll find a commitment to sourcing local, organic ingredients to create dishes that highlight the region's agricultural richness. Plus, seafood lovers are in for a treat as Santa Barbara's proximity to the Pacific Ocean offers the opportunity to savor some of the freshest classic seafood dishes, like lobster rolls, oysters, and even the internationally renowned Santa Barbara Sea Urchin.
No matter if you're looking for relaxation, adventure, or delicious food and/or wine, Santa Barbara makes the perfect weekend getaway on the West Coast.
Recommended by Marquita of Marquita Travels
21. Los Angeles, California
Los Angeles, often known as the City of Angels, is an ideal destination for a West Coast weekend getaway. Whether you're seeking the glitz and glamour of Hollywood or the tranquil beauty of its hidden gems, LA has something for everyone.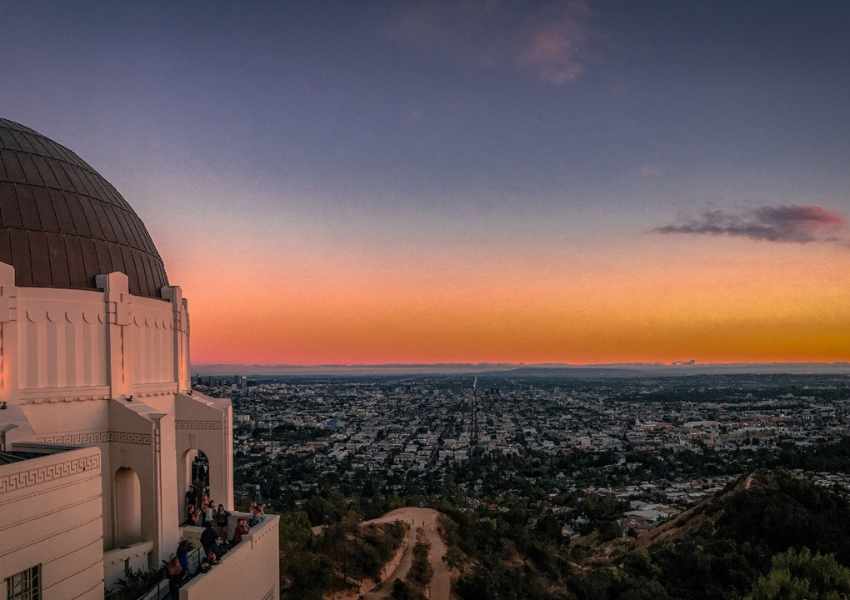 In the heart of the city, you'll find the iconic Griffith Observatory, offering celestial wonders by day and stunning city views. But don't stop there—LA has a wealth of equally captivating attractions.
For those who love art and culture, the Getty Center is a must-visit. This architectural marvel houses an impressive art collection, including works by Van Gogh and Monet. Best part? Wander through its beautifully landscaped gardens and enjoy the serene atmosphere.
Nature enthusiasts can head to Runyon Canyon. This hidden gem offers a peaceful escape from the city's hustle and bustle. Hike its winding trails and be rewarded with breathtaking views of LA's skyline.
Disneyland Park, while technically located in Anaheim, is just a short drive from the city—a place where cherished memories with your loved ones come to life. Its enchanting atmosphere and a world of imagination make it a must-visit for families and those young at heart.
Of course, no LA getaway is complete without a visit to its beautiful beaches. From the iconic Santa Monica Pier to the laid-back vibes of Venice Beach, the city's coastline offers endless opportunities for relaxation and fun in the sun.
LA's dining scene is a treat in itself. From trendy food trucks to upscale restaurants, the city has a diverse culinary landscape. Savor mouthwatering tacos in East LA, feast on gourmet cuisine in Beverly Hills, or try the eclectic dishes of Grand Central Market.
Los Angeles, with its diverse attractions, stunning landscapes, and vibrant culture, stands as the ultimate weekend getaway destination for everyone.
Recommended by Gladis of Happiness On The Way
22. Yellowstone, California
Yellowstone National Park is an incredible West Coast getaway! In fact, with just 2 days in Yellowstone National Park, you can enjoy waterfalls, stunning canyons, wildlife, and geothermal features this incredible park has to offer!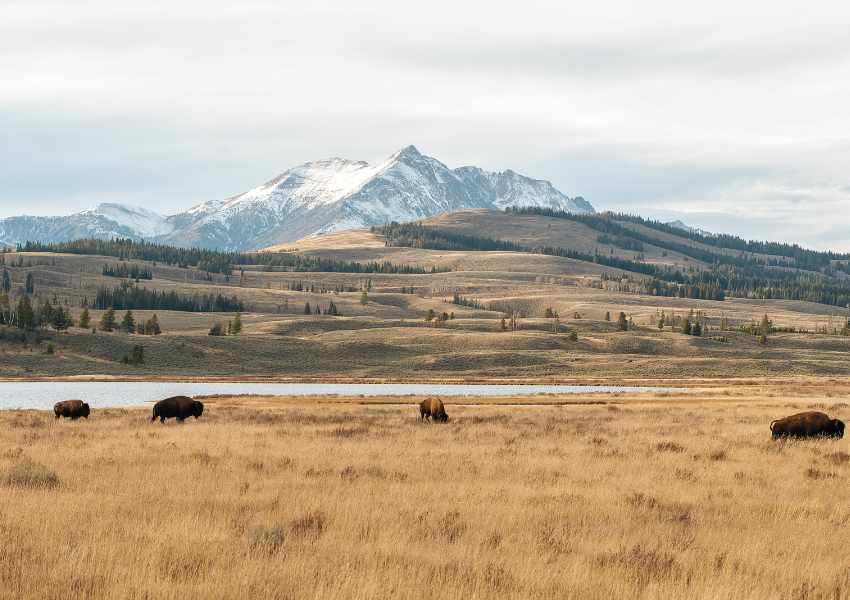 Located mainly in Wyoming, start your weekend at Yellowstone National Park on the lower loop. You will find attractions, including Old Faithful, a geyser that can shoot 150 ft into the air about every 90 minutes, Grand Prismatic Springs, and Hayden Valley.
On your second day in Yellowstone National Park, head to the upper loop to enjoy a more mountainous landscape along with valleys full of buffalo and elk. Depending on the season, you also have the opportunity to see bears, wolves, coyotes, and a variety of birds. Next, head to Mammoth Hot Springs. If you love spotting wildlife, this is a hot spot for seeing Elk as well! Climb the boardwalk to see the unique white terrace geothermal activity that has been around for hundreds of years!
When planning a short getaway, it is best to get accommodation inside the park or just outside the West, South, or North entrance gate. Additionally, make sure to follow safety measures and keep a very safe distance away from wildlife.
Recommended by Sam Opp of Find Love and Travel
23. Death Valley National Park, California
Find solace in Death Valley National Park, where you're weekend getaway may make you feel like you've stepped onto the surface of Mars.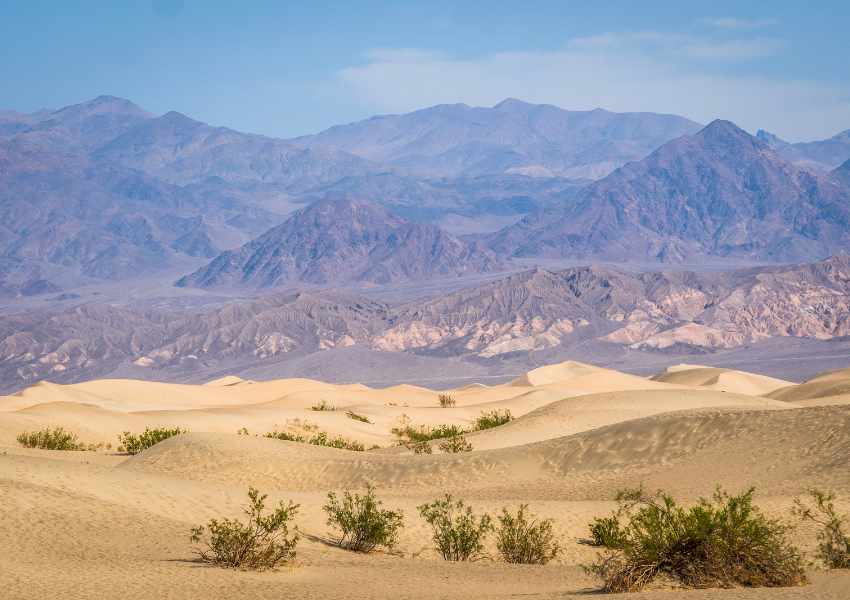 As you venture deep into the desolate desert, you're greeted by vast expanses of rugged vistas, sand dunes, and badlands that stretch as far as the eye can see.
The easiest way to tour Death Valley is to start from Las Vegas or Los Angeles by car via a road trip showcasing the American Southwest's stunning landscapes.
Lace up your boots and hit the hiking trails that wind through canyons and lead to hidden oases. Amazing views await you at places like Zabriskie Point, Badwater Basin, and Dante's View, where the vibrant colors of the desert come alive during sunrise or sunset.
Take a scenic drive through Artist's Palette, or for the adventurous, explore the far backcountry of the mysterious Racetrack Playa, known for its moving rocks. The park has many natural wonders found nowhere else, like the Ubehebe Crater and the surrealistic terrain of the Devil's Golf Course.
As one of the largest parks in America, one day is definitely not enough for Death Valley. However, a weekend getaway gives you enough time to experience the park's most unique features.
After a day of adventures, unwind at one of the park's many campgrounds, where you can stargaze under some of the clearest night skies in the country.
Just make sure to fill up your gas tank before entering the park. As services are limited, the one gas station inside the park may be one of the most expensive in the country.
Recommended by Catherine of Nomadicated
24. Pebble Beach, California
Planning a relaxing weekend getaway to the California Coast? If the thought of amazing coastal views and pristine beaches piques your interest, then you will absolutely love discovering things to do in Pebble Beach along the 17-Mile Drive—home to one of the most scenic drives in the world.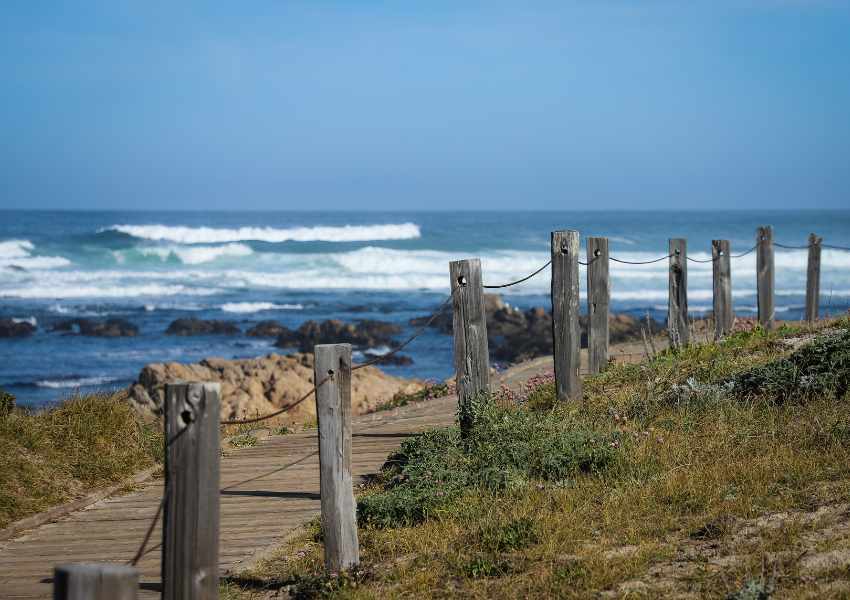 Note * There is an entrance fee to access the Pebble Beach community and coastal drive.
As you plan your day leisurely exploring and taking pictures along the Pebble Beach coast, be sure to include these stops along the way:
Spanish Bay Beach
Restless Sea
Point Joe
China Rock
Bird Rock
Fanshell Beach
Cypress Point Lookout
Crocker Grove
The Lone Cypress at Pebble Beach
Ghost Trees at Pescadero Point
After meandering along 17-Mile Drive, you may wish to think about golf next. Did you know that the legendary Pebble Beach golf courses are open to the public? There is even a 9-hole course designed by Tiger Woods.
After a day of driving—on the golf course and along the coast—pamper yourself with a stay at the 5-star retreat of Pebble Beach Spa. It makes for the perfect weekend getaway!
Recommended Jolayne of simplyjolayne
25. Bend, Oregon
Another great option when looking for West Coast weekend getaway is the city of Bend, located in the heart of Oregon.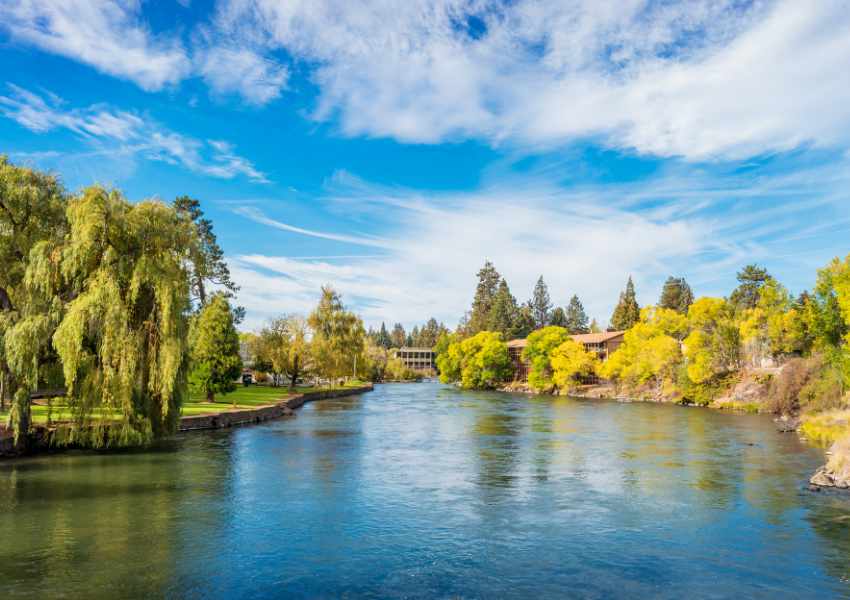 Bend is a mecca for outdoor enthusiasts, with endless opportunities for hiking, mountain biking, skiing, and more. Take a scenic drive along the Cascade Lakes Highway, stopping at picturesque lakes and waterfalls along the way.
For a more urban experience, explore Bend's vibrant downtown area, filled with craft breweries, art galleries, and boutique shops. In the evenings, enjoy a delicious meal at one of the city's farm-to-table restaurants or catch a live music performance at one of the local venues.
With its stunning natural beauty and vibrant cultural scene, Bend is the perfect destination for a West Coast weekend getaway.