17 Hidden Gems in San Diego You Have to Check Out
Are you looking for the best hidden gems in San Diego?
Southern California is a popular destination and is most widely known for theme park vacations and beautiful beach days. San Diego has all of that but also little hidden gems visitors and locals don't always hear about.
There is everything from secret swings and bridges to less populated areas of Seaport Village and Balboa Park.
Take a look at the following hidden gems in San Diego and put together the perfect itinerary.
Hidden Gems in San Diego
1. La Jolla Secret Swing
When you hear about the San Diego hidden swings, people are talking about the one in La Jolla. There used to be other swings, but they had to be taken down for safety issues.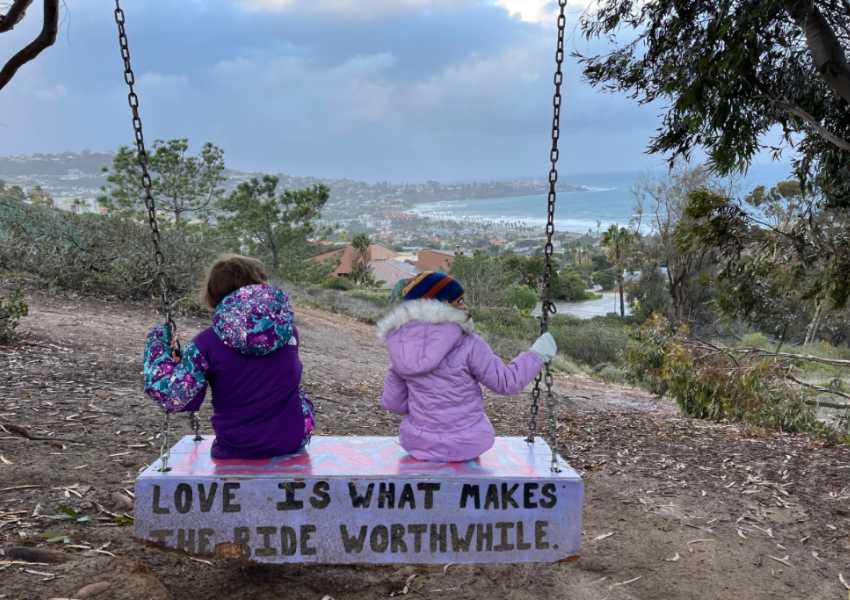 The La Jolla Secret Swing is located in the beautiful coastal neighborhood of La Jolla.
Drive to the Scripps Aquarium (which is a must-see for its amazing seahorse collection), and walk to the back of the parking lot.
You'll see a faint dirt path up the hill. It looks steep but it's not too hard to climb up. Just be aware that it gets very muddy and slippery on San Diego's rare rainy days.
The path is not long at all but is totally worth the detour. You'll be rewarded with a breathtaking view of the surrounding ocean and seaside cliffs.
My husband and I were able to easily fit both of us and our 2 daughters on the bench of the swing. The girls had so much fun, they didn't want to leave, but there was so much more in La Jolla to explore.
2. Sunny Jim Cave
Another captivating hidden gem in La Jolla is the Sunny Jim Cave. This unique cave can be accessed through a small store, and a winding staircase of 145 steps takes you down to the cave's entrance.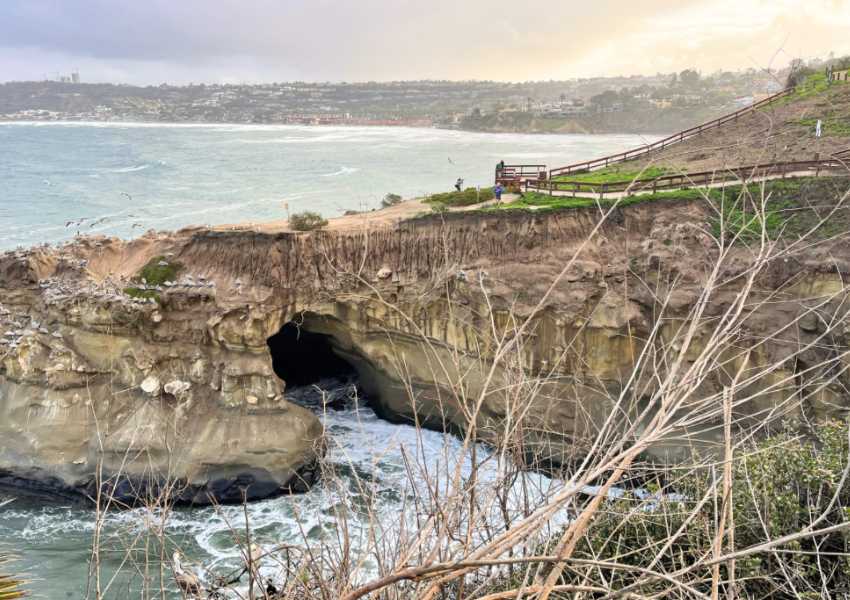 There's a small fee the store charges to walk down into the cave, but it's totally worth it if you haven't been.
Inside are natural rock formations and a cave opening that looks like a head. The cave was dug in the early 1900s and used to smuggle whiskey during the prohibition. Most people visiting the La Jolla beach area have idea it's there.
3. The Inn at Sunset Cliffs
For a hidden gem that offers relaxation and luxury, look no further than The Inn at Sunset Cliffs.
The Inn is a charming boutique hotel that provides a day pass option for visitors to enjoy their pool facilities. For just $10, you can spend a day lounging by the pool, sipping refreshing drinks, and taking in the stunning panoramic views of the ocean.
The Inn at Sunset Cliffs is the perfect hidden retreat for those wanting an ocean-view pool party without the cost of staying in a hotel.
While you're at Sunset Cliffs stop by the Glider Port nearby to watch people hang gliding and paragliding. There's a small cafe with tables looking over the ocean and down to La Jolla Shores.
4. San Diego Bridges
San Diego is not only known for its beautiful beaches but also for its unique bridges.
Two notable hidden spots are the Spruce Street Suspension Bridge and the Musical Bridge with its crab carillon.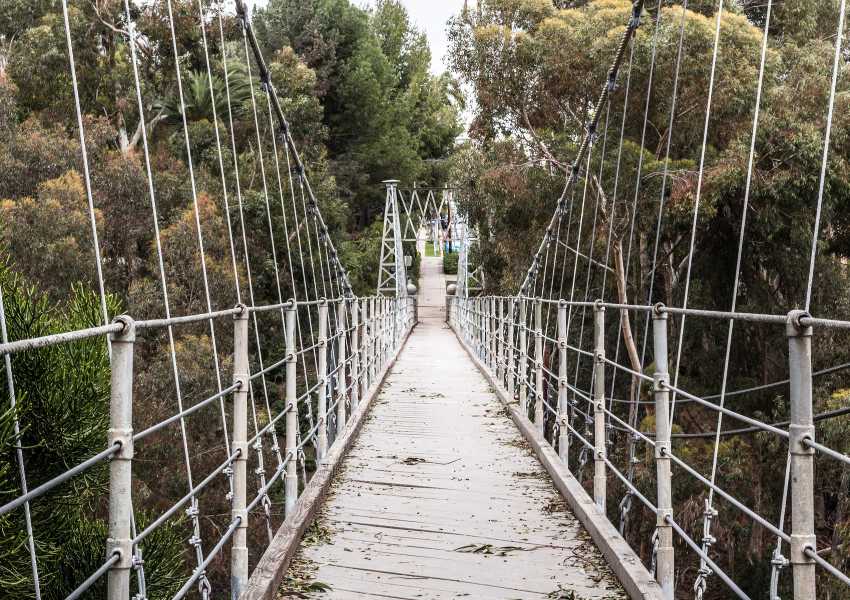 The Spruce Street Suspension Bridge is suspended by cables in cement slabs. It goes over a deep canyon and can sway if the wind is too strong.
The Musical Bridge, officially named the 25th Street Pedestrian Bridge, is whimsical and fun.
Chimes are attached to the rail, and you can make music if you bring a ruler or a stick with you as you cross.
Exploring these hidden bridges adds a touch of adventure and artistry, and is definitely off the beaten path.
5. Australian Garden
Tucked away within the vast Balboa Park is a hidden gem known as the Australian Garden.
This serene and lesser-known spot offers a quiet escape in San Diego city. As you wander through the garden, you'll find a diverse range of native Australian plants.
The plants were gifted to the city of San Diego by Australia in 1976. It's part of the Gold Gulch hiking trail in Gold Gulch Canyon just behind the Balboa Park Organ Pavilion. Search for the Gold Gulch parking lot, and your GPS will take you straight there.
I honestly didn't know this area existed in Balboa Park for the longest time, but that's the beauty of Balboa Park. You can wander around a bunch of times and always find something new and interesting- including an archery range!
YOU MAY ALSO LIKE:
6. Harper's Topiary Garden
Nestled in a residential neighborhood of San Diego, Harper's Topiary Garden is a hidden treasure waiting to be discovered.
This enchanting garden has sculpted shrubs and trees shaped into whimsical and intricate designs. The topiaries at Harper's Garden form everything from animals to geometric shapes.
You can either drive by or park in the neighborhood and walk by the hillside garden.
Strolling by this hidden gem feels like falling down a rabbit hole into Wonderland. It's a must-visit spot if you love art or nature, or both!
7. Canfield Wright House
If you love architecture, this hidden gem is for you.
The Canfield Wright House was designed for an oil tycoon in the early 1900s by architect John C. Austin. It's a historic home with stunning craftsman-style architecture and beautifully landscaped gardens.
The house is privately owned but has been added to the city's list as an official historical structure. You can drive by to see the amazing exterior and daydream about the sunset ocean views the homeowners enjoy.
Walk around the neighborhood to fully admire the charm and elegance of the Canfield Wright House, adding a touch of history to your exploration of San Diego's hidden spots.
8. Eagle and High Peak Mine
Julian is by far one of the best day trips from San Diego. Drive just east of San Diego city to this small mountain town where you can enjoy Mom's famous apple pie and explore boutique shops.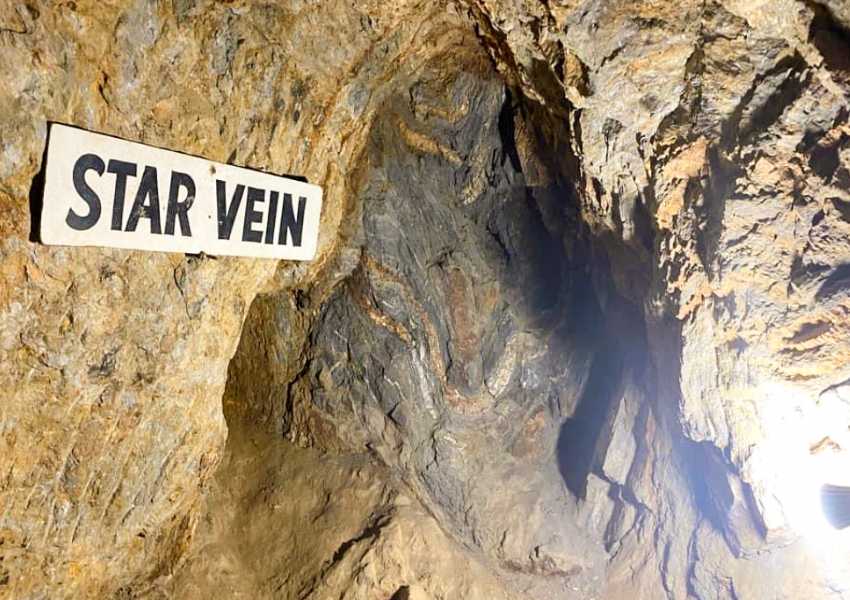 Most visitors don't know about the hidden gem of Eagle and High Peak Mine. This historic mine lets you step back in time and experience the gold rush era.
Kids can pan for gold and pick out a souvenir from the rock shop. Eagle and High Peak Mine have 1,000 feet of tunnels with quartz veins and are a really cool thing to see. The guided tour teaches you about the mining techniques used in the 1870s.
Don't forget to eat some Julian apple pie before heading back down the mountain. It really is that good.
9. 1895 Looff Carousel San Diego
Seaport Village is a popular waterfront shopping area in San Diego. Hidden within the area is the Looff Carousel from 1895.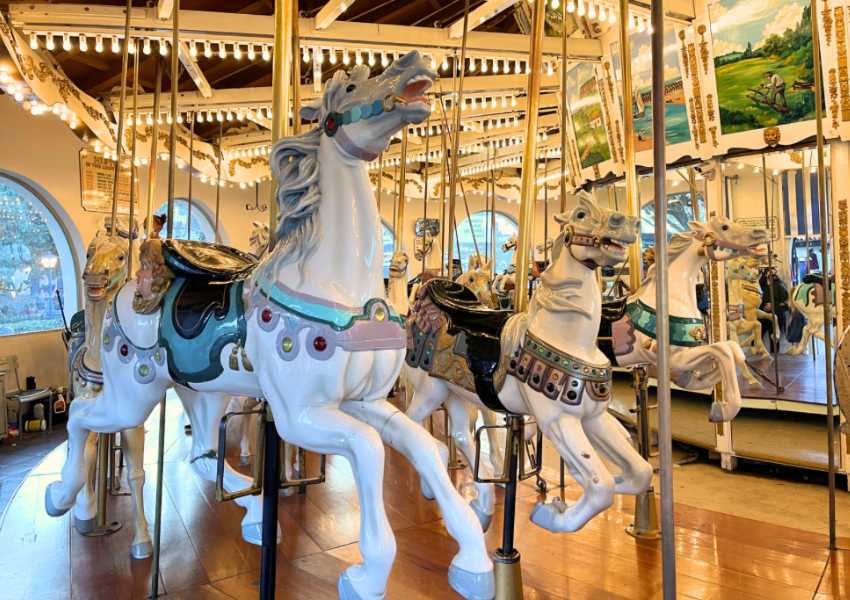 This vintage carousel was created by Charles I.D. Looff. It has beautiful hand-carved wooden animals.
It may not look shiny and new, but that's part of the nostalgia. A plaque describes its fun history, and it's still fully functional. No one expects a ride to be among the shops and restaurants in Seaport Village.
Take a spin then stop by the Seaport Fudge Factory for a unique treat. My favorite is the churro sundae- yum!
10. Self Realization Fellowship Encinitas Temple Meditation Gardens
Just north of San Diego in Escondido is the Self Realization Fellowship Encinitas Temple Meditation Gardens. They provide a serene and hidden sanctuary for relaxation and reflection.
Hours are Tuesday through Saturday from 9 am-5 pm and Sunday from 11 am-5 pm. Visitors can walk along the pathways, find a quiet spot for meditation, or simply sit and enjoy the serene surroundings.
The Meditation Gardens is a beautiful hidden gem in San Diego with ocean views, a variety of plants, and multiple koi ponds.
You're encouraged to pray, study, or just find a quiet spot to soak it all in.
11. Annie's Canyon Trail
If you have never been hiking in a slot canyon, Annie's Canyon Trail is for you. This trail is a hidden gem in the San Elijo Lagoon Ecological Reserve in Encinitas.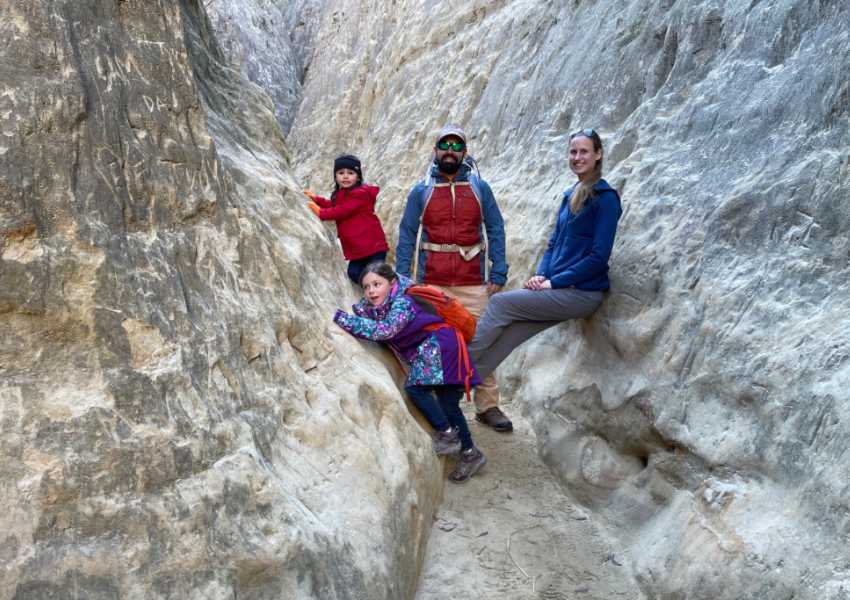 The hike is easy and the narrow slot canyon is a short but fun family adventure with a ladder to help you climb up to the lookout point.
Even though Annie's Canyon Trail is a lesser-known hiking spot, parking is in a residential area and the one-way traffic through the slot canyon can get backed up mid-morning.
Go early to beat the crowds and beat the heat. Keep in mind slot canyons can be dangerous when it rains so always check the weather before your hike.
12. The SS Monte Carlo Shipwreck
Off the shores of Coronado is a hidden treasure, the SS Monte Carlo Shipwreck. This ship was a gambling ship during the Prohibition in the 1930s.
It crashed ashore on Coronado Island in 1937. No one claimed it because it was illegal to gamble on shore, so the wreckage was just left there.
Over 80 years later it is still partially buried in the sand. You can see the rusted hull when the tide is low. History buffs love to dig into the history behind this ship and other gambling and prostitution ships similar to it from the Prohibition era.
If you like finding hidden treasures, then the SS Monte Carlo Shipwreck needs to be on your list.
13. Ho Chi Minh Trail
If you like adventure, then the Ho Chi Minh Trail is a must.
This hidden gem is a little-known coastal hike. It takes you along the cliffs of La Jolla with amazing ocean views.
Be prepared for some rock scrambling and narrow pathways as you make your way along the trail. The Ho Chi Minh Trail is a more challenging hiking option, it's really fun to climb down to the beach.
Just a heads up, the beach it takes you to is Blacks Beach which is a clothing-optional beach in San Diego. A lot of hikers make their way through this area from one trail or another, you just need to know you might see a bit more than you want from beachgoers in this spot.
14. Stein Family Farm
The Stein Family Farm is a historical landmark in National City.
This historic farm gives you a glimpse into rural life in the past. As a farm house from the 1800s, the city's historical society has turned this gem into a museum.
It has a beautiful Victorian style and is currently run by volunteers and off of donations.
Explore the farm's gardens, learn about sustainable farming practices, and interact with farm animals.
15. Swamis Beach Encinitas
Secret beaches in San Diego
In north county San Diego, the city of Encinitas has a secret beach called Swamis Beach.
It's a hidden gem very popular with surfers, but the beach access hides it from everyone else's radar.
You'll need to park at the top of the bluffs and take a long staircase down to the beach. It's totally worth the trek, especially if you're looking for tide pools at low tide!
Just south of Swami's beach is San Elijo State Park with campgrounds and other more frequented beaches.
16. Sharp Coronado Labyrinth
Another one of the hidden places in San Diego is at the Sharp Coronado Hospital. This hidden gem is the Sharp Coronado Labyrinth.
It's not a maze of hedges you can get lost in, but a labyrinth with circular paths towards the middle. As you walk its winding paths, it's supposed to help your mind relax and find peace.
This labyrinth is a peaceful and meditative space meant to help patients, but is open for anyone to come end enjoy it.
17. Queen Califia's Magical Circle
Queen Califia's Magical Circle is located in Escondido's Kit Carson Park.
This hidden gem has 9 large mosaic sculptures that command your attention.
Created by renowned artist Niki de Saint Phalle, the mosaic sculptures are of mythical creatures and magical beings.
It's such a creative and fun part of the park to explore.
Summary of Hidden Gems in San Diego
When you visit San Diego, take a look at some of these hidden gems off-the-beaten-path.
From secret swings and hidden caves to tranquil gardens and historic sites, these hidden spots offer a rewarding sense of adventure
Many of San Diego's hidden gems are close to or within main tourist locations, but in a lesser known corner just waiting to be discovered.
Author's Bio: Katie Restrepo is a Disney-obsessed bookworm who loves to explore with her husband and their two girls. She loves exploring her home city of San Diego which always surprises her with new, fun discoveries. Her blog, Family Travel Folio, helps and inspires parents to travel with their kids from Camping to Disneyland and everything in between.