7 Top Historical Places in Ireland to Visit
With a history that dates to the last Ice Age, it is little wonder that there is an abundance of historical places in Ireland to visit.
From ancient monuments to early Christian monastic sites and medieval castles, you will never be short of historical sites to visit in Ireland.
Discover 7 of the best below and decide which are going on your bucket list for Ireland.
Best historical places in Ireland to visit
No matter where you visit, you will always stumble across historic sites in Ireland. And each vary in type, size and worthiness for visiting.
We're going to share with you our recommendations for the best ones, including some of the most famous historical monuments in Ireland and some of the best medieval castles to add to your itinerary.
These will help you decide which ones to visit on your next trip to the beautiful island of Ireland.
1. Kilmainham Gaol, Dublin
One of the best historical places in Dublin to visit is Kilmainham Gaol. This former prison is now a museum and tourist attraction that welcomes tens of thousands of visitors every year who come to learn about its place in Irish history and some of its former inmates.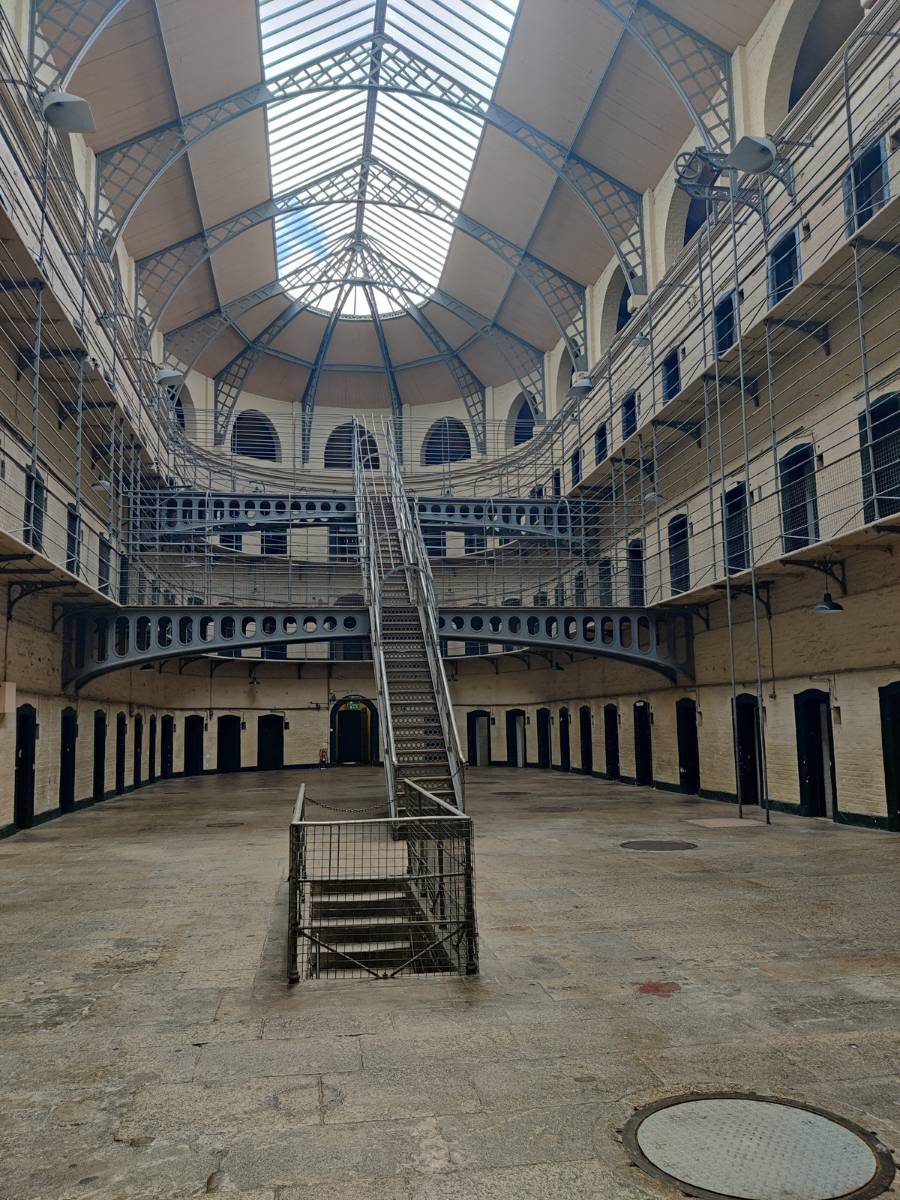 Built in 1796 as a replacement for the original prison in Dublin, Kilmainham Gaol is located just outside of the city centre but is easily accessible via both public transport and any Dublin sightseeing bus tour.
Kilmainham Gaol was intended to replace the former dungeon-like prison in Dublin. Originally, cells were designed to house one inmate, but that soon changed thanks to over-crowding and an influx of prisoners, particularly during the time of the Great Famine in the mid-1800s.
Segregation of prisoners did not occur and men, women and children, up to 5 per cell, were expected to share the dark cells, with only one candle for light and heat per fortnight.
After the Great Famine, the East Wing was opened, intended to provide better conditions for inmates and to afford prison officers a 360-degree view of each cell. It is this part of the prison that is most famous.
After the Easter Rising in 1916 and subsequent years during the fight for independence, the prison housed some famous, political inmates including Eamon de Valera who would go on to become President of Ireland.
Entry to Kilmainham Gaol is by guided tour only, tickets for which can be bought from the OPW site. If you are spending 3 days in Dublin, then allow a morning to visit this historical site and to spend time in the museum which houses an informative collection of artefacts and exhibitions about Ireland, its struggle for freedom and the 1916 Easter Rising.
How to get there: Kilmainham Gaol is located in the Kilmainham area of Dublin, 4km from O'Connell Bridge in the city centre. It can be reached via car (approximately 15 minutes), by public transport (by bus or via the Luas), or on foot (50 minutes walk).
2. Glendalough, Wicklow
One of the popular historic sites in Ireland that draws many visitors to the island is the early Christian monastic site at Glendalough. Located in beautiful surroundings in County Wicklow, this site is a popular destination with visitors.
Sitting in a glacial valley, Glendalough monastic site was founded by St Kevin in the 6th century. The descendent of one of the ruling families of Leinster, Kevin studied under the care of three holy men as a boy. Later as a priest, he returned to the area with a small group of monks to found a monastery.
Glendalough flourished as a monastery for centuries until the 13th century when the diocese of Glendalough and Dublin were united, after which its status declined. The site was ruined by English forces in the 14th century and what we see today are the remains of the once famous Christian site.
The site of Glendalough is probably most famous for its Round Tower, standing 30m high. There are also ruins of several churches and chapels, many dating to between the 10th and 12th century.
In the graveyard, visitors can see St Kevin's Cross, a plain cross carved from a single piece of stone, and that is an example of a High Cross.
Away from the main monastic site are hiking trails towards the Lower and Upper Lakes of Glendalough and visitors can also see one of Ireland's best waterfalls nearby, the Poulanass Waterfall.
Glendalough is a popular site, so arriving early is essential, especially during peak tourist season, to ensure you can get parking if travelling by car. Entry to the site is free, parking is payable and entry to the visitor centre is also payable. Pre-booking is not essential.
How to get there: Glendalough is in County Wicklow, a drive of just over 1 hour from the centre of Dublin. It is reachable by public transport, but this journey is over 2 hours. If you are not hiring a car in Ireland, then the best way to visit this site is via a day trip from Dublin.
YOU MAY ALSO LIKE:
3. Kilkenny Castle, Kilkenny
When it comes to historical Irish landmarks, Kilkenny Castle is a popular place for visitors to the southern half of Ireland. Dating from the late 12th century, it is located at a meeting point of the River Nore and several roadways.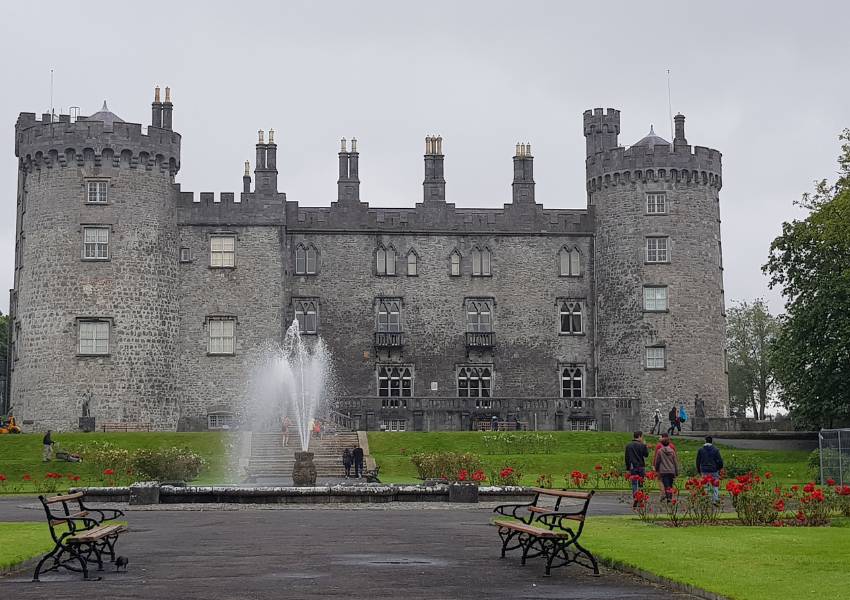 A castle has been located in Kilkenny since the mid-12th century, with the first one most likely constructed from wood by Richard de Clare, one of the first occupying Norman lords in Ireland.
The current castle building was constructed by Richard de Clare's heiress daughter Isobel and her husband, William Marshal, who played a large part in establishing many buildings across this region of Ireland.
The castle went on to become the seat of the famous family, the Butlers of Ormonde, and it remained in the same family until 1967 when it was sold to the state for £50. In the 20th century, extensive restoration took place and the castle welcomes visitors from across the globe every year.
Visitors can join guided tours of the castle, or self-guide themselves through the castle. There are lots of rooms on display to visitors including drawing rooms, dining rooms, and the incredible picture gallery room with its red walls and high-vaulted window ceiling.
Outside there are grounds to be enjoyed, with walks along the river and manicured rose gardens around a fountain.
Entry to Kilkenny is payable and there are lockers to store bags and coats. It also has pretty tearooms to enjoy refreshments after your tour.
How to get there: Kilkenny Castle is located 1 hour and 40 minutes' drive south of Dublin City Centre. Alternatively, you can take a bus from Dublin, a journey of just over 2 hours depending on the bus company.
4. The Rock of Cashel, Tipperary
One of the most famous historic landmarks in Ireland is the Rock of Cashel. Located in the town of the same name, it is the most popular thing to do in County Tipperary and is often one of the main reasons people visit Ireland.
Situated on a rocky hill overlooking the town, this incredible site is visible for miles around. The site stands on what was once the traditional seats of the Kings of Munster who handed it over to the church in the 12th century.
The site grew as a religious site and an Abbey and chapels were built there. It continued to flourish until Cromwellian forces ransacked it in the mid-17th century.
Today, visitors can enjoy the Rock of Cashel, either self-guided or by joining a guided tour, which is the only way to enter Cormac's Chapel.
The abbey is roofless which adds to its wonder, there is a small Round Tower on the site at the rear of the abbey, and there are several examples of High Crosses in the graveyard surrounding the site.
Note that there is no parking at the Rock of Cashel, but there is a municipal, payable public car park at the foot of the Rock of Cashel with a 200-meter walk uphill to the entrance. Entry is payable and tickets can be booked ahead of time on the OPW Heritage site, advisable if visiting during the busy summer months.
When it comes to historical places in Ireland to visit, the Rock of Cashel is a must.
How to get there: The Rock of Cashel is located approximately 2 hours from Dublin. It is reachable by public transport but as the journey is often over 3 hours, this is another popular place to visit on a tour from Dublin if you are without a car in Ireland.
5. Bru na Boinne, Meath
One of the most ancient sites in Ireland that can be visited by members of the public are the passage tombs at Brú na Bóinne in County Meath.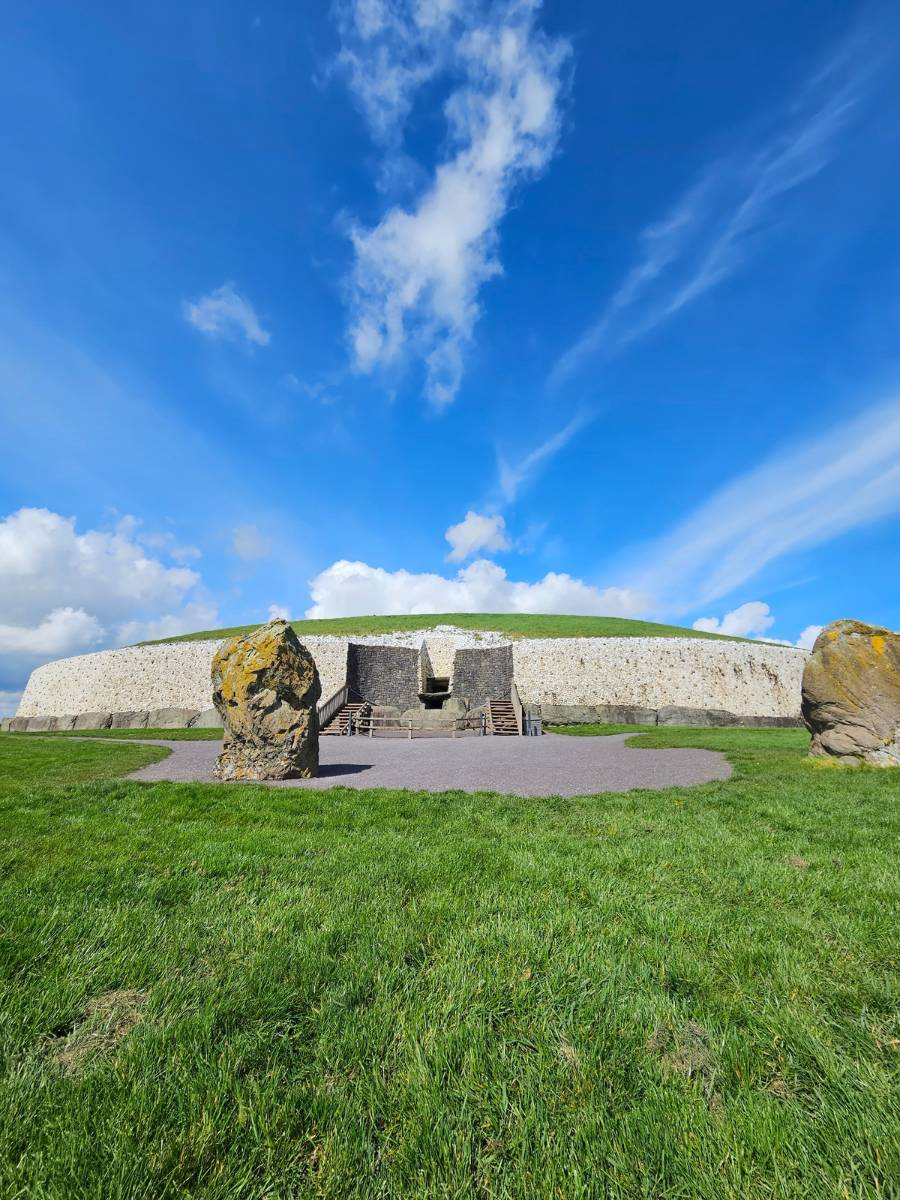 Home to one of the most famous monuments in Ireland, Brú na Bóinne is also one of the oldest historic sites in Ireland. You will find the passage tombs of Newgrange, Knowth and Dowth in the valley.
Constructed during the Neolithic period around 3200 BC, this system of passage tombs is older than both the Pyramids of Giza and Stonehenge in England. It is also a UNESCO World Heritage Site.
Those wishing to visit one of Ireland's most ancient monuments can only do so via a guided tour from the Brú na Bóinne Visitor Centre and numbers are limited each day due to its status as a UNESCO site.
Joining a tour at the Visitor Centre, visitors first make their way by bus to Knowth, considered the second important passage tomb of the site.
A tour guide explain what passage tombs are and show visitors the various Neolithic art and decorations that adorn the kerbstones surrounding the passage tomb cairns. The tombs at Brú na Bóinne contain two thirds of all megalithic artwork in western Europe, most of which is at the Knowth Passage Tomb.
After enjoying Knowth, visitors are transferred to Newgrange, the most famous of them all. There, a tour guide brings small group into the interior of the passage tomb, where the phenomenon of the illumination of the passage during the winter solstice is explained and demonstrated.
As mentioned, visits to the passage tombs at Brú na Bóinne can only by done via guided tour from the Visitor Centre and tickets, which are payable, should be booked online ahead of visits to avoid disappointment, particularly during peak tourist times.
How to get there: The Brú na Bóinne Visitor Centre is located 50 minutes north of Dublin City Centre by car. By public transport, the journey varies from 1.5 hours to 2.5 hours depending on the time of day of your departure from Dublin.
6. Blarney Castle, Cork
When visitors to the Emerald Isle are putting together their itinerary, they often include one of the other most famous sites in Ireland, Blarney Castle.
Blarney Castle is located in County Cork, around 20 minutes' drive from Cork City and attracts visitors from across the world who come to see the castle and to kiss the Blarney Stone. It is one of the best things to do in Cork.
Legends says that those who kiss the Blarney Stone will be bestowed with the gift of the gab and never be lost for words. Whether this is true or not, it is one of the main reasons Blarney Castle welcomes hundreds of thousands of visitors each year, many of whom climb more than 100 steps to reach the top of the castle where the famous stone is located.
Apart from the Blarney Stone, visitors can enjoy seeing inside the ruined castle as they descend to the ground. And site at Blarney Castle is home to extensive grounds that are perfect for exploring after climbing to the top of the castle.
The grounds have many gardens including a poison garden, fern garden, arboretum, and they also include two small waterfalls, a fairy garden for those visiting with kids, and a café located in the stable yard.
The grounds of Blarney Castle are extensive, and visitors should allow at least half a day to explore them. Entry to the site is payable and there is a car park at the castle which gets busy at peak times.
It is advisable to climb to the top of the castle to kiss the Blarney stone before exploring the grounds and arrive early to avoid the tour buses. Also, remember to purchase your photo of you kissing the stone at the bottom of the castle. It is not available to purchase at the gift shop at the entrance to the site!
How to get there: Blarney Castle and Gardens are located around a 3-hour drive from Dublin, or 20 minutes from Cork City. You can reach Blarney Castle from Cork City by public transport, a journey of around 30 minutes.
7. Clonmacnoise, Offaly
Another of the historical landmarks in Ireland to consider visiting is Clonmacnoise, another early Christian monastic site located in County Offaly.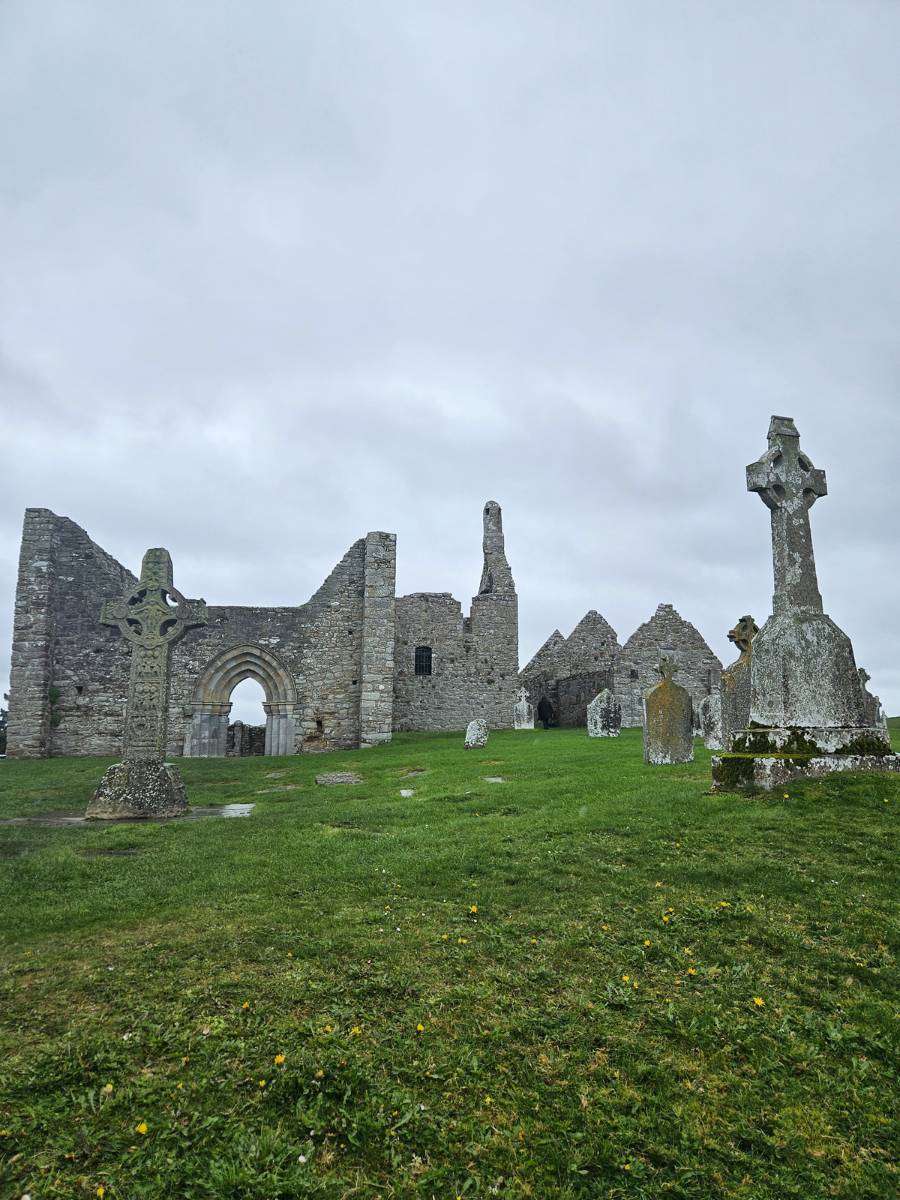 Close to Athlone, Clonmacnoise sits on the banks of the River Shannon and was founded by Saint Ciaran at a major crossing point where east met west along the Esker Riada. Saint Ciaran was from Roscommon and together with the first crowned High King of Ireland, Diarmait, built the first church on the site.
Clonmacnoise grew from that first wooden church into a sprawling monastery that was a major centre of religious learning and craftsmanship, particularly between the 9th and 11th century.
Despite being raided and attacked many times by native Irish, Vikings and later by the Normans, it was rebuilt each time.
Clonmacnoise fell into decline by the 13th century, partly due to attacks by Vikings and Normans and partly due to the rise of Athlone as a main trading town in the late-12th century. In the mid-16th century, English forces looted Clonmacnoise for the final time, leaving it to ruin.
Today, visitors to this historical place in Ireland can see the ruins of several churches, two round towers, a collection of Early Christian grave slabs and three High Crosses which are housed in the Visitor Centre to protect them. Replicas stand outside in the places where they once stood.
Clonmacnoise is payable to enter and there is a car park at the entrance. Visitors can wander the site at their leisure and there is an audio-visual presentation on the site and its history which is very informative.
How to get there: Clonmacnoise is located west of Dublin, between 1.5- and 2-hours' drive, depending on traffic. It cannot be reached by public transport.
Conclusion
There are many historical places to visit in Ireland no matter where you are or your interests, but these are among the most popular and most visited by tourists and locals alike.
From medieval castles to Neolithic monuments, Ireland is awash with historic sites and the difficult part is choosing which one to visit.
ABOUT THE AUTHOR
This post was contributed by Cath, author of Travel Around Ireland, a site dedicated to helping people plan their perfect trip to Ireland. Cath is an Irish expat who returns to Ireland annually to visit family and explore the country with her family.