NYC Instagram Spots as Told by Top Travel Bloggers
Wondering where to find the best NYC Instagram spots? We've got you!
New York City is full of incredible photo spots and locations, but if you want to make sure you tackle the best of them during your trip, we put together a list of the best NYC Instagram as recommended by top travel bloggers from all over the world.
Best NYC Instagram Spots
1. The Flatiron Building
Found at 175 Fifth Avenue, the Flatiron is an iconic landmark and one of the most photogenic NYC Instagram spots.
Opened way back in 1902, the Flatiron Building gained fame and glory as one of the city's first skyscrapers.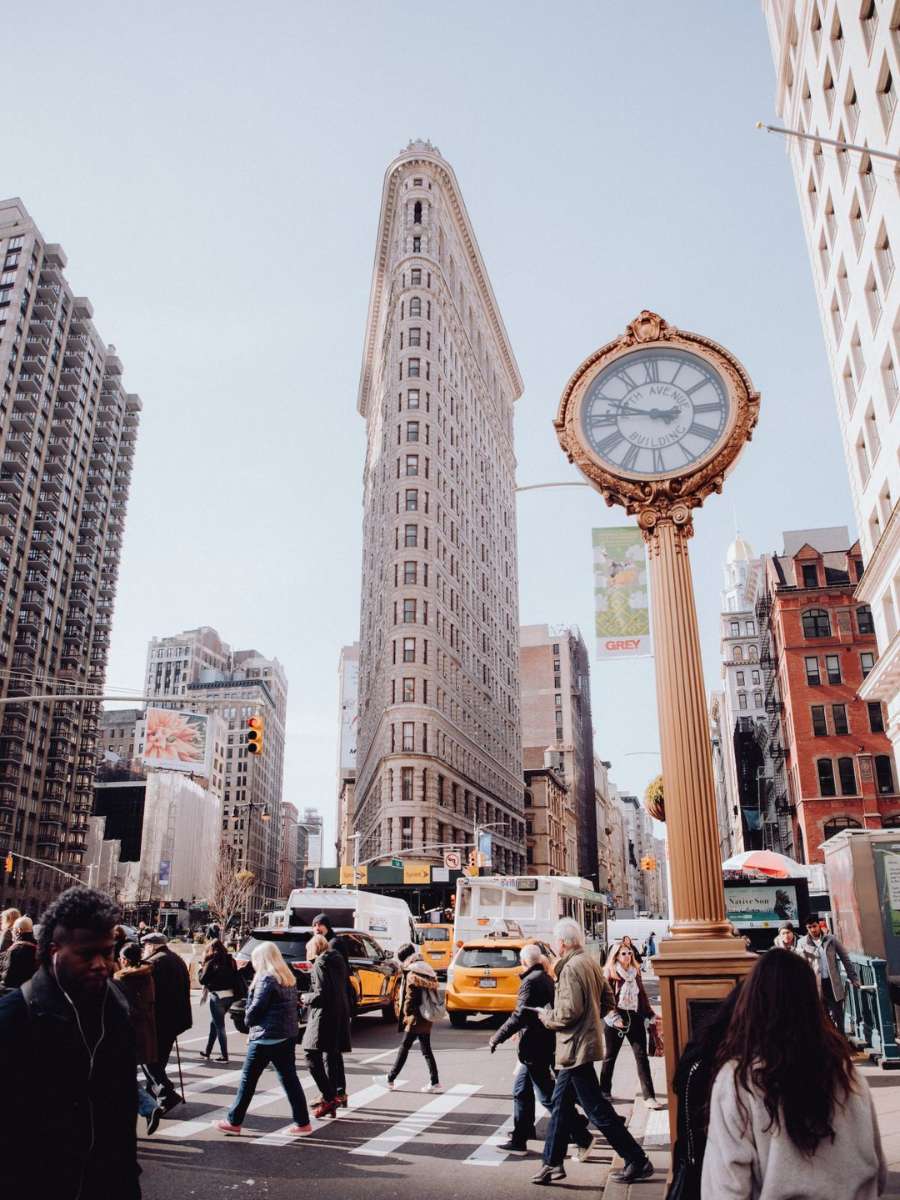 It was also the very first steel building whereby the construction was visible to the public. This 22-story, 285-foot-tall structure is located in the heart of Manhattan next to Madison Square and Madison Square Park.
It gets its name due to its distinctive shape resembling a flat iron that was commonly used in the 20th century. Take a closer look and notice that the building's exterior comprises an intricate mix of brickwork, terra-cotta, and limestone with opulent sculptures and carvings.
Its central location, striking features, and its unique shape has made it a popular destination for visitors and photographers alike. It is also popular because it has been featured in a number of blockbuster movies the likes of Spider-Man, Armageddon, and The Day the Earth Stood Still.
The best spots to get a good photo are at 23rd Street and Fifth Avenue, as well as from Madison Square Park.
If the crosswalk area is really busy, move over to the cement blocks. Another tip is to shoot from a low angle so that you can get the entire building in the background. A stop at the Flatiron Building should be on every USA travel bucket list.
Recommended by Rai of A Rai of Light
2. The Oculus
Easily one of the best NYC Instagram spots, the Oculus is a modern architectural wonder that sits at the heart of the new transportation hub at the World Trade Center.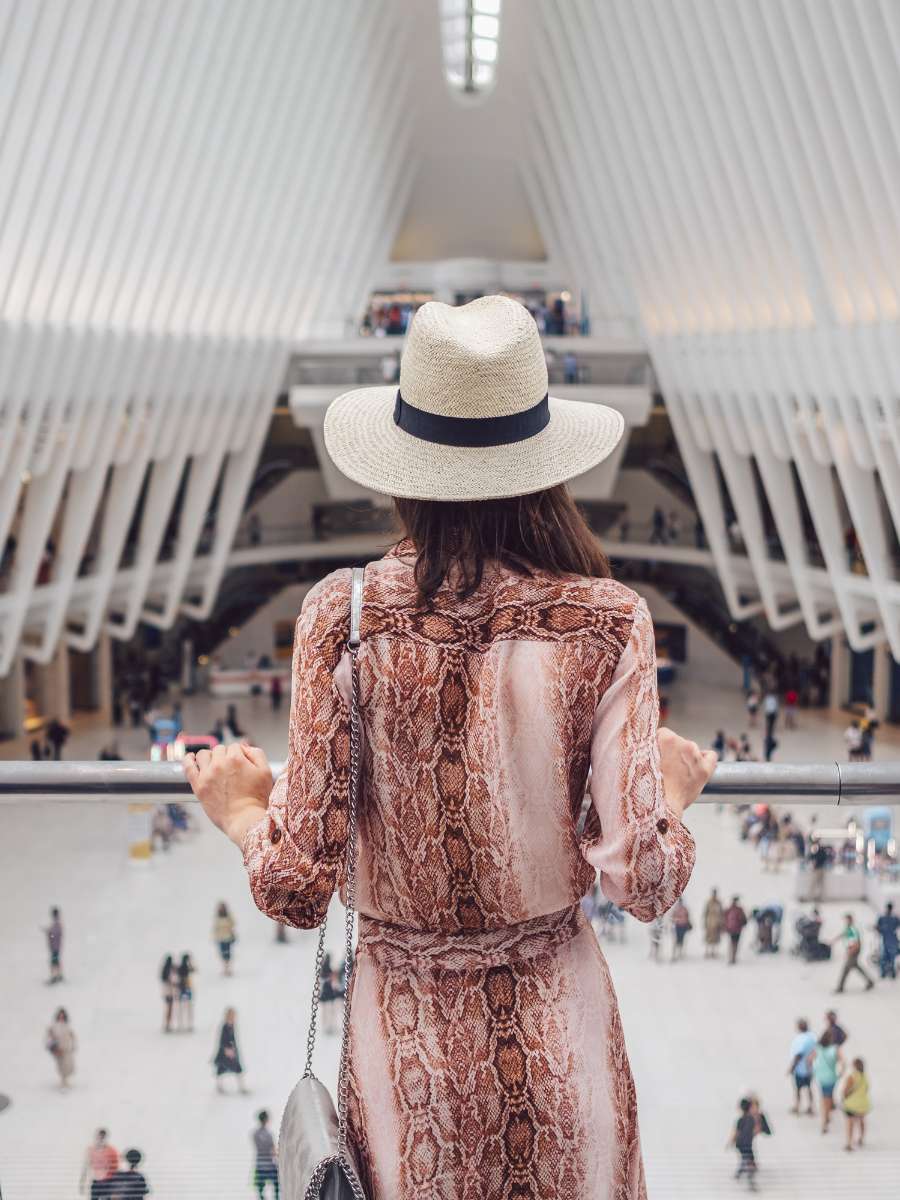 Therefore, it can easily be visited either before or after a stop at the 9/11 Memorial and Museum.
It was also designed by Santiago Calatrava, who wanted the symmetrical, white steel and glass lines of the building to resemble a dove with outstretched wings.
However, before you step inside, take a walk around the exterior and get some incredible shots of the building before stepping inside.
Also, if you can, try and visit in the evening when the white interior of the building stands in sharp contrast to the darkness of the sky.
Additionally, try to stop by one of the best free things to do in NYC as late as possible so that you can avoid the crowds.
This way you can easily take a photo on the platform that sits in the middle of the structure and that looks out over the atrium.
But, for a totally different perspective, head to the bottom floor and take some photos of the Oculus from this vantage point too.
Recommended by Kelly of Travel New York Now
3. Friends Apartment Building
What says New York City better than taking a picture by one of the city's well-known landmarks?
One that is widely known is the "Friends Building" also known as the "Monica's Apartment" building!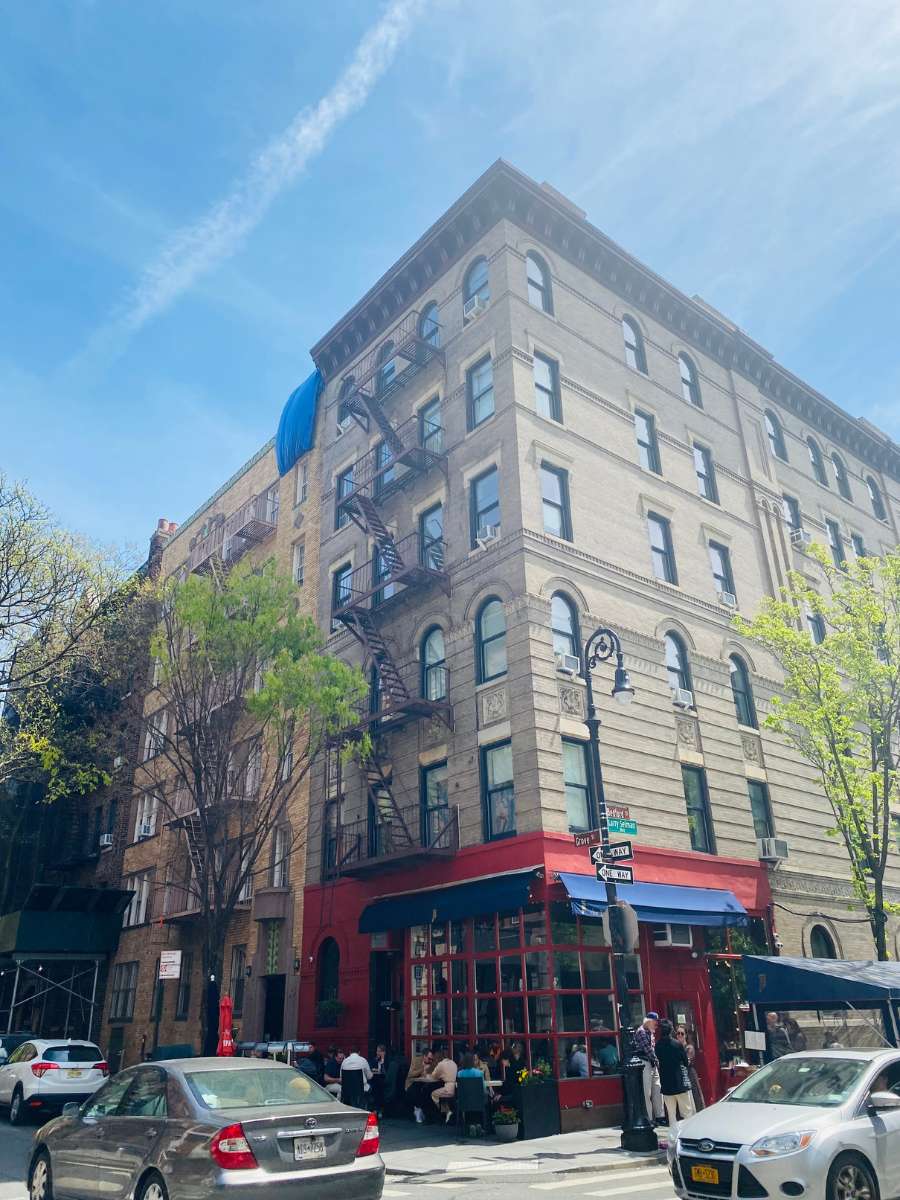 Located at 90 Bedford Street, this building has become an iconic symbol of New York City thanks to its prominent role in the popular TV show "Friends."
The building's red brick facade and distinctive fire escape have been immortalized in countless photos and postcards, and the street corner where it stands has become a popular tourist destination for fans of the show.
In fact, visitors from all over the world come to snap a picture in front of the building and relive some of their favorite moments from the show.
While the Friends building is a beloved landmark in New York City, it is also a fully functioning residential building with actual tenants living inside.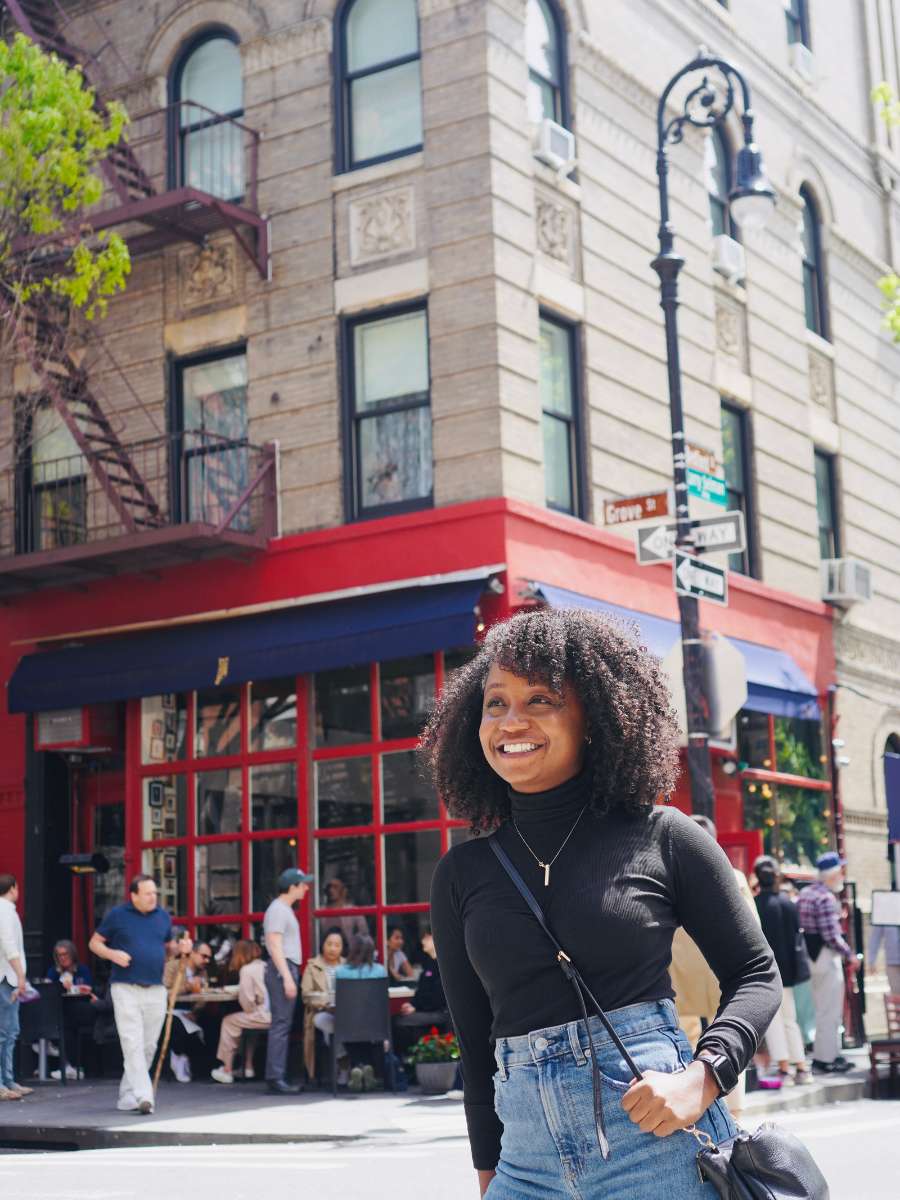 The building's exterior may be famous, but the inside of the apartments look nothing like the sets from the show.
However, the residents of the building have come to embrace their building's fame and often interact with fans who stop by to take pictures or simply admire the iconic structure.
One thing to point out is that "Perk" does not actually exist, so the coffee shop at the bottom of the building is different (but is still painted red).
Photo Tip: To get the best shot, wait until the traffic dies down a bit, then stand right in the middle of the intersection in front of the building. I recommend trying to get in front of the corner of the cafe at the bottom of the apartment for the best angle / most iconic view.
Recommended by Christen of Travel Wander Grow
YOU MAY ALSO LIKE:
4. The Color Factory
The Color Factory in New York City is the ultimate destination for anyone looking for some Instagram-worthy shots!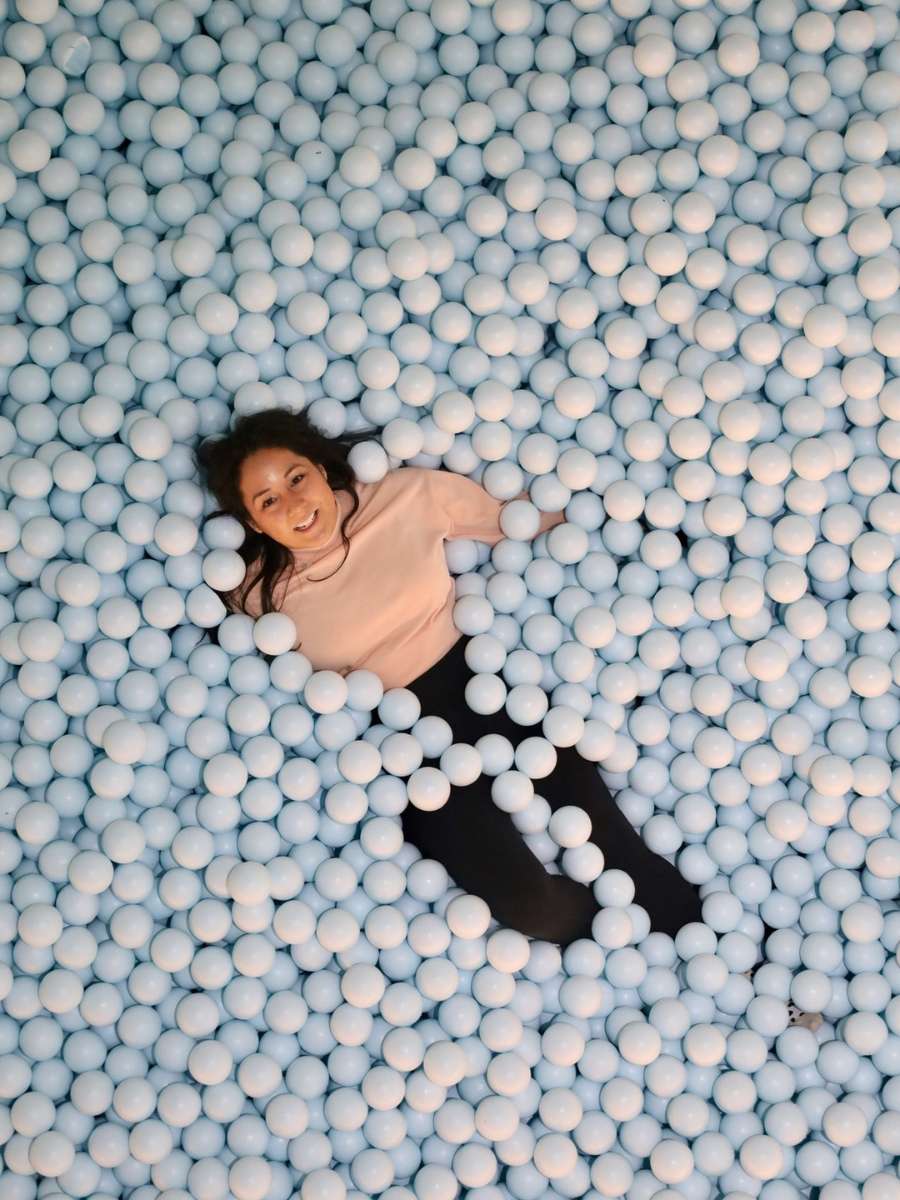 This vibrant and interactive museum is the perfect spot to snap some fun and colorful pictures for your feed. From a giant ball pit to a rainbow room and gold disco room. Around every corner is an adventure waiting to be captured.
The Color Factory takes you through a series of rooms, each featuring an artist from all over the world. Throughout your experience you will see, smell, taste, and hear each exhibit while learning unique lessons throughout. The Color Factory is so much fun and the perfect place to visit in NYC no matter what the weather might be!
One thing that makes this entire place so unique, is the built in cameras ready to be used! You don't need to worry about who will take your photo or how to prop up your phone for the ultimate selfie.
The Color Factory thought of it all and installed cameras in every room. You can take as many shots as you'd like, and all digital downloads are included in the cost of admission.
Tips to get the best photos at the Color Factory? Start by dressing appropriately! You will want to wear something comfortable, but also colorful to pop against the fun backgrounds.
Make sure you grab shots from every camera. The cameras are set up all throughout the museum and each have a unique angle or perspective. Also, don't be shy and take as many photos or retakes as you wish!! Try out different poses and silly shots or some fun candids.
Recommended by Julie Dameron of Family Trips and Travels
5. Times Square
One of the most instragrammable places in New York City is Times Square.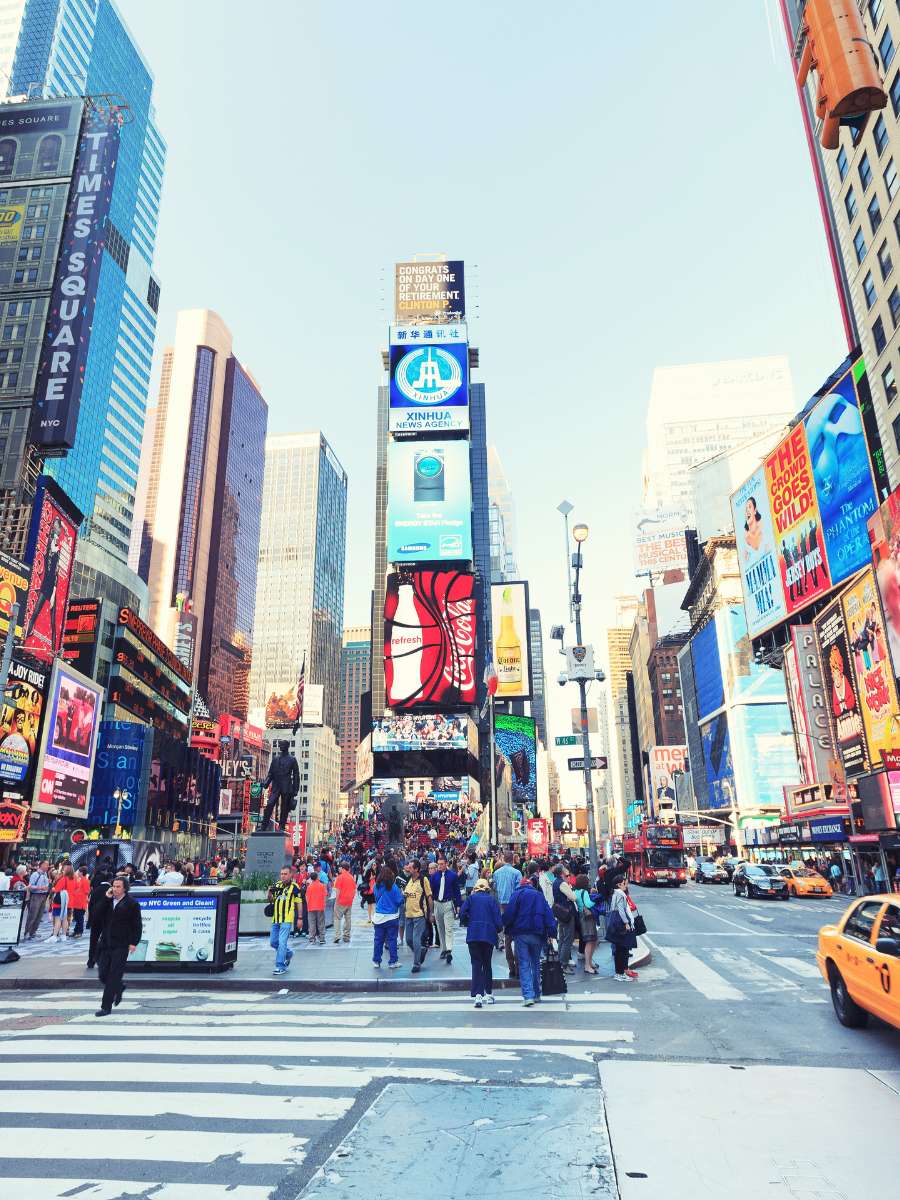 This small square surrounded by towering, shimmering billboards – some the largest in the world – is an iconic image of the city. It's a must-visit spot to take colorful selfies, including with your dog if you're visiting New York City with your dog.
It can actually be difficult to take photos at Times Square, due to the ever-present crowds. It's best to take photos down low, pointing up towards the surrounding billboards.
Otherwise, embrace the people as part of the background of your photo.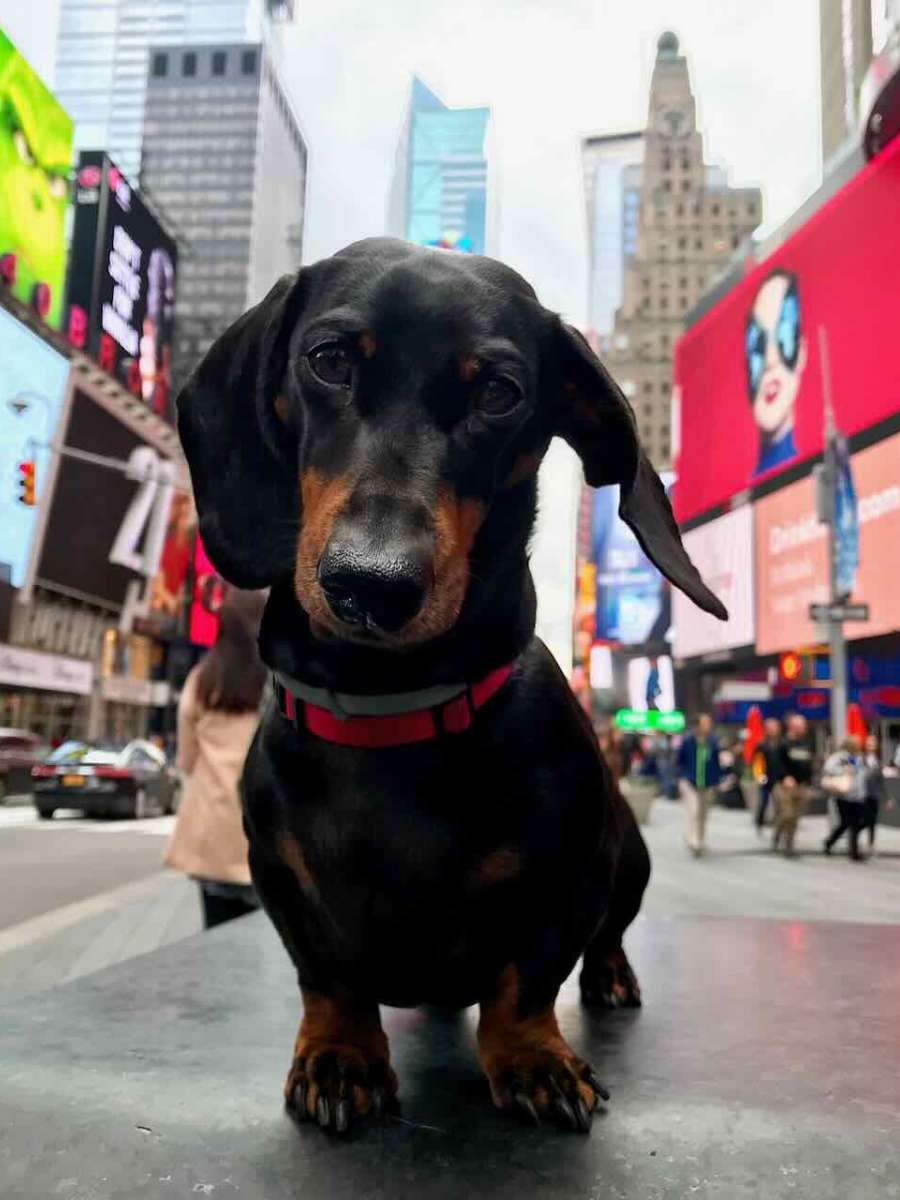 Now, I'm not necessarily recommending you spend long at Times Square, at least the immediate intersection, unless you're planning on queueing at the Times Square TKTS Booth for discount Broadway tickets.
The square itself is rather underwhelming and tends to attract scam artists. If you get a photo with one of the many costumed mascots around, make sure you negotiate a tip upfront.
However, there are plenty of things to do in the surrounding district, from taking in a Broadway show, to joining the audience of a late night talk show, or hitting the shops.
And if you're in Times Square as midnight is about to strike, look up to take in the Midnight Moment, a synchronized billboard art display that starts at three minutes to midnight.
Recommended by Shandos Cleaver of Travelnuity: Dog-Friendly Travel
6. Summit One Vanderbilt
You can't beat the Summit One Vanderbilt when searching for the most instagrammable places in NYC. Not only is it one of the best things to do in NYC, but it is also one of the city's best viewpoints.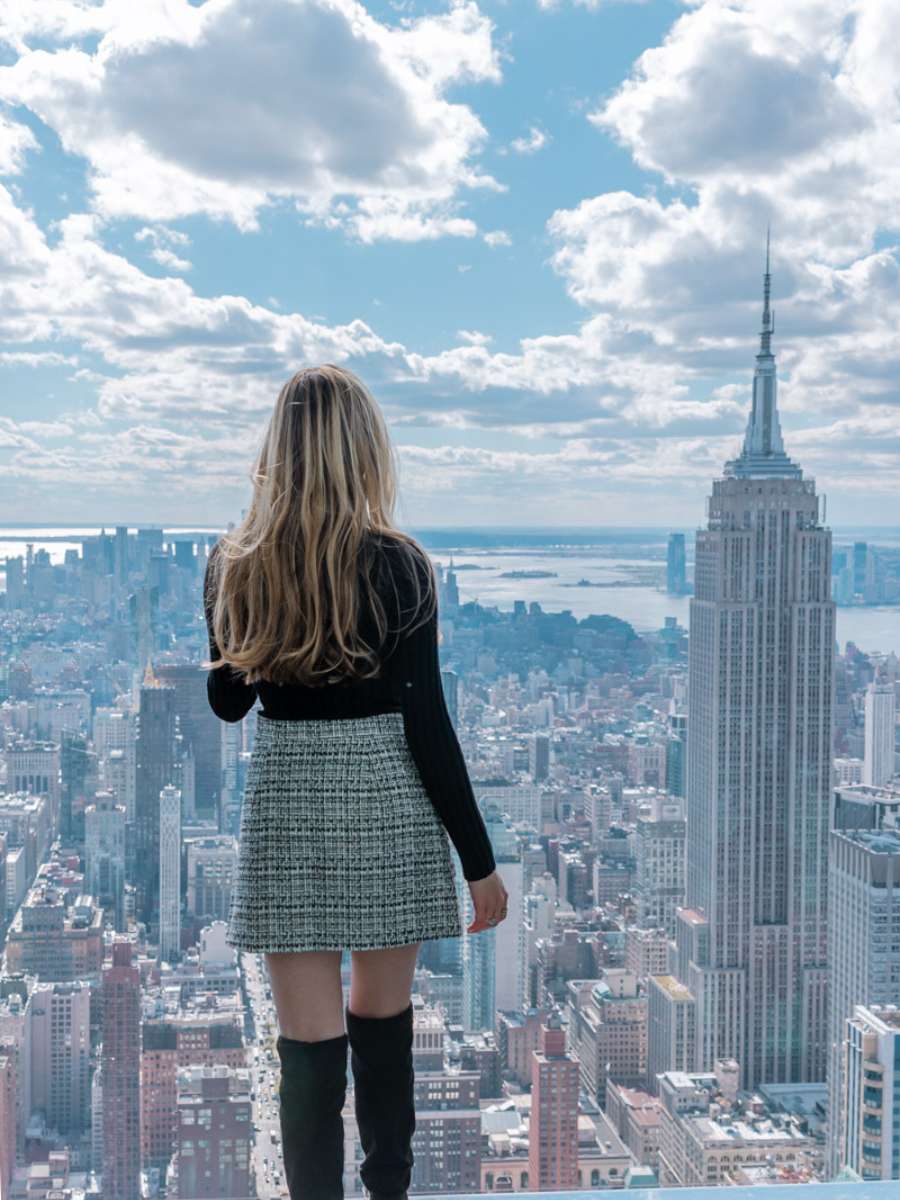 One of the best landmarks in New York, the Summit One Vanderbilt, has gained a reputation online for having opportunities to take a multitude of extraordinary photos while you visit.
The building is most known for its incredible observation deck with views of New York City, which provides a scenic backdrop.
Plus, throughout the building, there are many rooms with unique features. These features provide photo opportunities that can't be replicated elsewhere.
For example, discover the "Unity" Room, where your face takes form in the space of digital clouds.
Or, the "air at night" room where the sun sets. This room becomes a beacon of light visible to all of New York City. – This provides those desirable, glowy sunset hour images.
Or even, the "Transcendence 2" room where you will peer down to seemingly boundless space and find 30,375 square feet of mirrors, which makes for a trippy illusion style of photo.
The Summit One Vanderbilt is an impressive experience, even without a camera, but if you're looking to shoot a lot of content all in one place, this is the destination to visit.
Recommended by Sam Opp From Find Love & Travel
7. St. Patrick's Cathedral
Looking for an iconic Instagram spot in New York City? Then a stop at St. Patricks Cathedral is a must for all travelers looking to capture the essence of one of New York's architectural gems. The beauty and history of this stunning cathedral make it a popular spot for a photo op.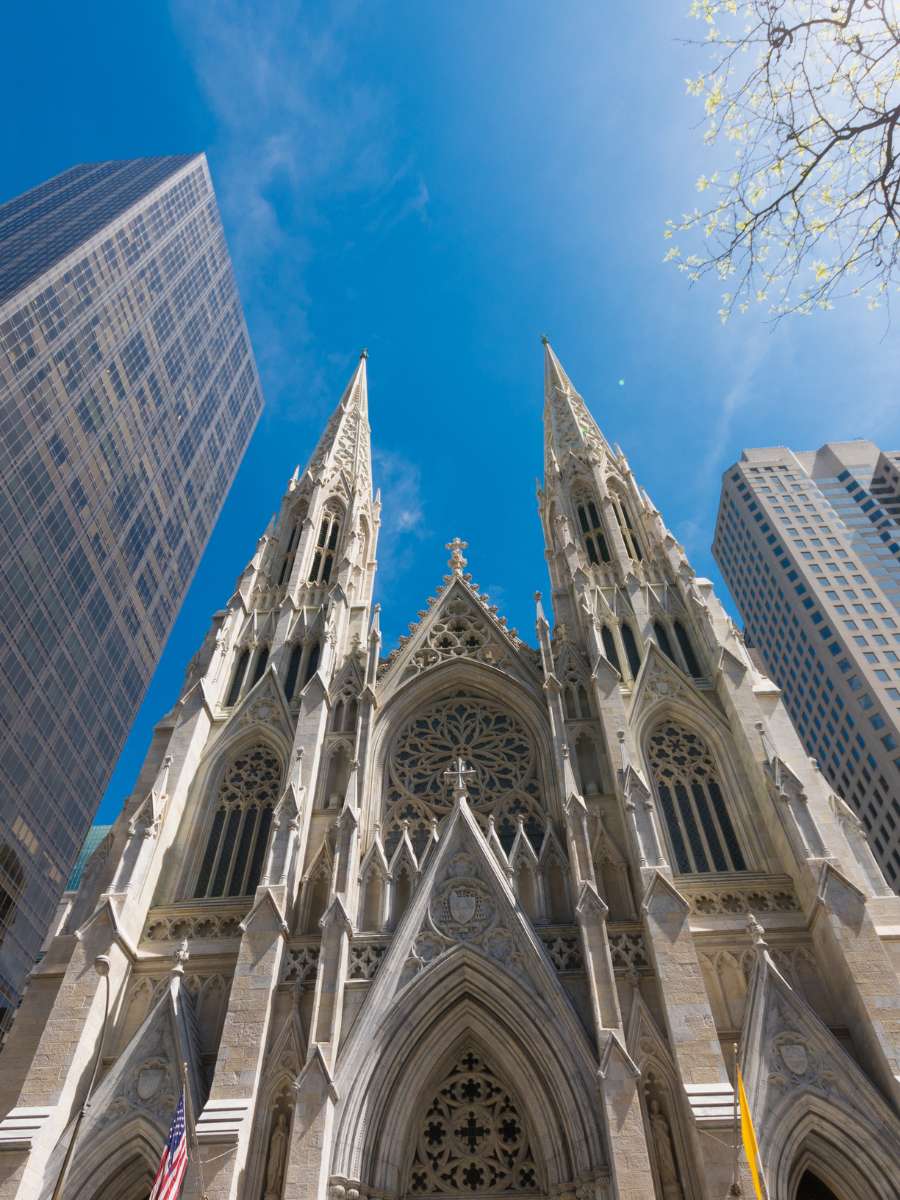 Located on Fifth Avenue between 50th and 51st Streets, and just a 2-minute walk from Rockefeller Plaza, St. Patrick's Cathedral is a Roman Catholic that has had four papal visits.
It is a masterpiece that is world-recognized for its Gothic Revival architecture with soaring spires, intricate carvings, stunning stained-glass windows, mosaics, richly decorated marble, and gold leaf accents. You can even see some similarities to the Duomo in Milan, Italy.
Ready for some photography tips? As you know, popular places mean there will be extra people in your photos. So, try these suggestions for Instagram-worthy content:
Zoom in and capture the details and architectural features of the Cathedral.
Experiment with a wide lens to get a full view of the interior.
When photographing the exterior, capture from across the street and opt for a time early in the morning when there are no visitors. Or don't mind the crowds, it will make the visual more authentic!
Another great time for capturing photos is during golden hour.
Because the cathedral is tall, it can be seen from far away. Try combining a shot with landmarks in the city for a unique perspective.
Capturing an Instagram-worthy photo is about combining your personality through a pose with your creativity through a lens.
Recommended by Tanya Taylor from Travels and Treasures
8. Top of the Rock
In a city full of Instagrammable spots, the Top of the Rock still stands out in New York City. The "Top of the Rock" is the observation deck at the top of the Rockefeller Building in Manhattan.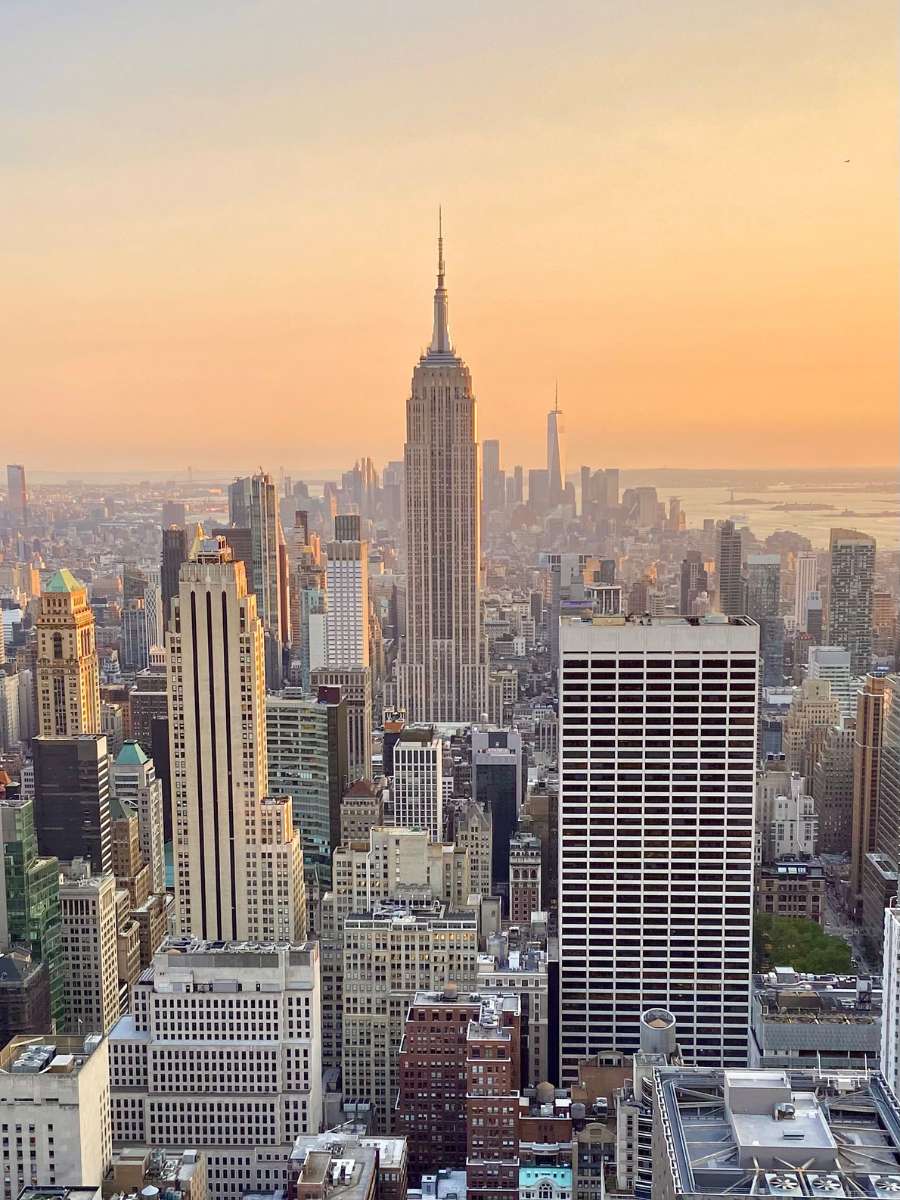 While there are many observation decks on skyscrapers in Manhattan, this one is particularly appealing due to its direct view of the Empire State Building and lower Manhattan.
The Rockefeller Building is known for being the home to NBC. Many notable shows are filmed here, like Saturday Night Live, NBC Nightly News, Late Night with Seth Myers, and the Tonight Show with Jimmy Fallon (and literally a hundred more).
Needless to say, the building is a pretty big deal. But perhaps nothing is more special about the building than the view from the top. It's a 360-degree view observation deck 70 stories in the sky.
While the south side looks towards lower Manhattan, the north side looks towards Central Park and Billionaire's Row, a collection of freakishly slender buildings that you can't even imagine how much it costs to buy a condo in.
For the best Instagram photos, book a ticket for sunset and watch the sky turn orange over Manhattan. There are a series of windows indoors (before going outside) facing south that make for epic photos as you gaze upon the Manhattan skyline.
Access to the Top of the Rock is from Rockefeller Plaza. Tickets are checked at the ground floor before you're taken up the super-fast elevator to the observation deck.
Top of the Rock is open daily from 9 AM till 11 PM and costs $40 per person for a standard ticket or $85 for an "Express Pass." The Express Pass basically means you get to skip the main queue and get up to the top faster. Enjoy the view!
Recommended by Chris Heckmann of aroundtheworldwithme.com
9. The Vessel
If you're looking for the best Instagram spots in New York City, you have to include the Vessel! Located near Hudson Yards, the 6 story, honeycomb-shaped structure is made up of 154 flights of stairs, 80 landings, and almost 2,500 steps and is also referred to as "The Beehive."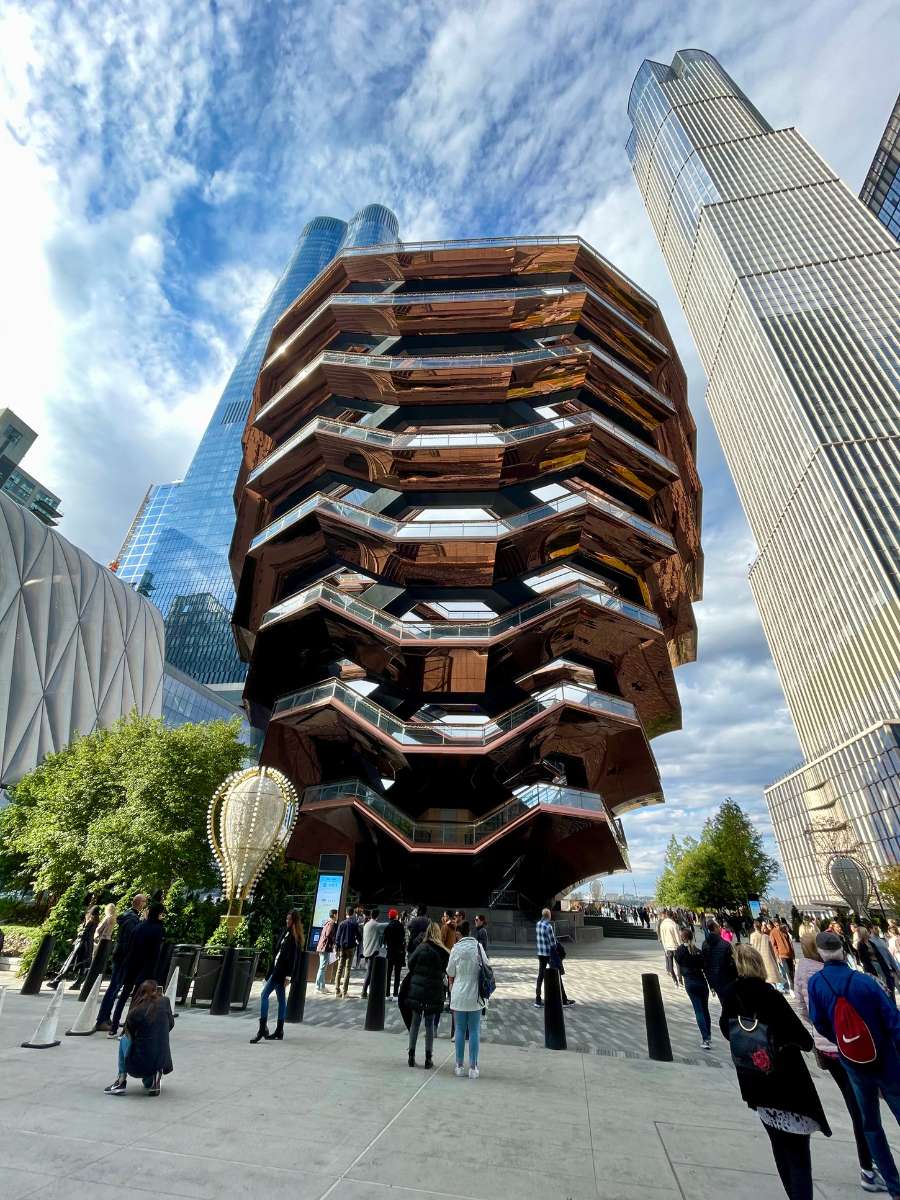 Although this architectural wonder is no longer open to the public to climb, it makes the perfect backdrop for your Instagram photos. The upside to not going up into the Vessel means this is one of the best free Instagrammable spots in NYC! Hudson Yards is a great shopping area and often has other fun photo spots depending on the season.
From Hudson Yards, you can easily access the Highline or hop down to Chelsea Market, which are also super Instagrammable locations in the city.
Photo Tips: Take some time to scope out the area so you can decide on your favorite angle and framing for your photos too. Bring your tripod to get the entire structure in the frame and of course, be sure to get there early to avoid the crowds.
After you get the perfect shot, all that's left for you to do is share your NYC adventures. Grab your favorite vacation caption and inspire your friends, family, and followers to plan their very own trip to the Big Apple!
Recommended by Julie Thorne of More Than Main Street
10. Brooklyn Bridge
The Brooklyn Bridge is an iconic photo spot in New York City. Not only can you pose in front of the bridge from the street in Brooklyn, but you can also snap an incredible Instagram-worthy picture from the bridge itself.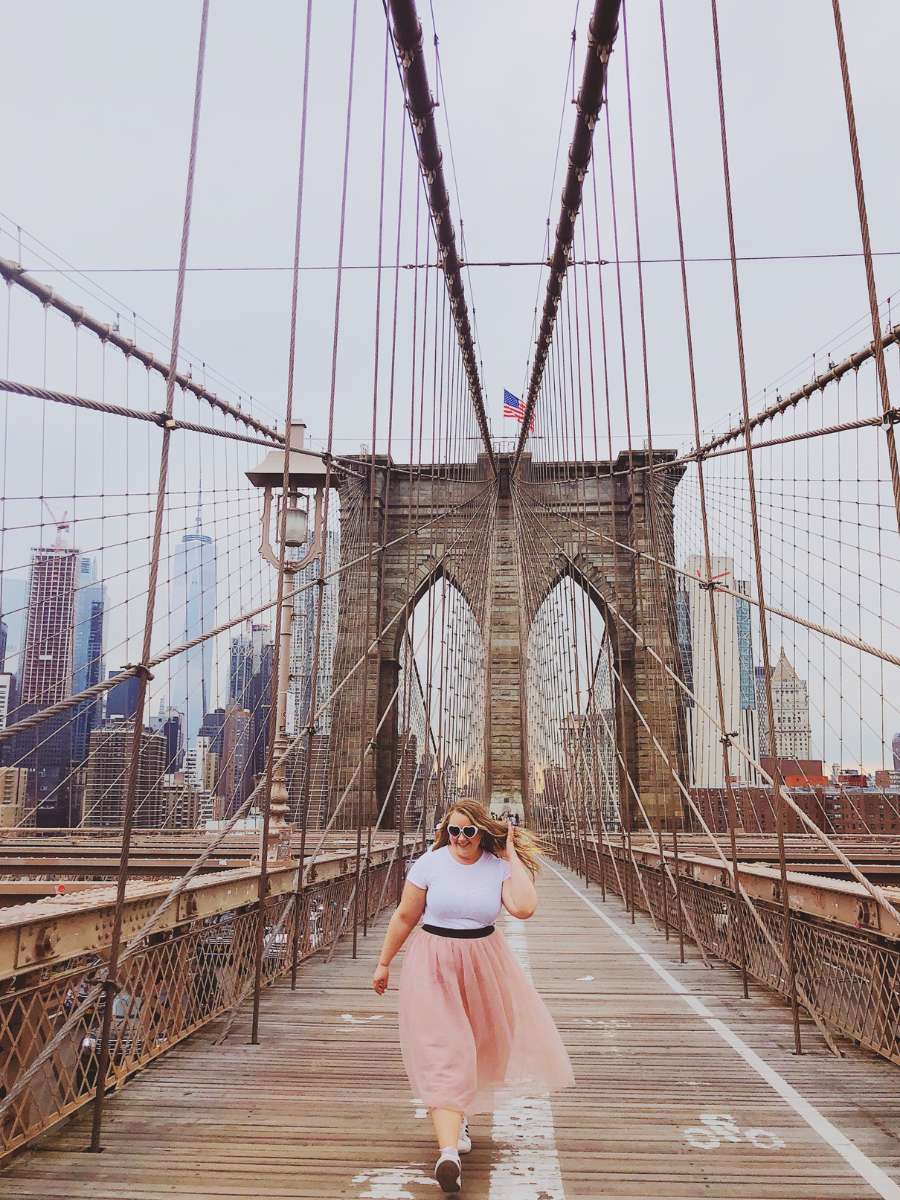 Before hitting the bridge, check out the Time Out Market in DUMBO and grab another photo-worthy prop at Essa Bagel or a New York slice of pizza. Start at the Brooklyn side of the bridge and walk the one-mile path toward downtown Manhattan. With the stone tower in view, turn around and snap a few pictures against the backdrop.
IPhone Photography Tip: to snag a photo without passersby during a busy time on the bridge, use the Live photo option and stay still while posing for the shot.
Then on your phone, switch from live to long exposure in the top-left corner of the photo. Everyone moving will become a blur and you will appear as the solo focus of your photo!
As you make your way closer to Manhattan, you can snap a few more pictures with the city rising behind you. Play around with angles, and don't forget to incorporate the suspension cables this New York City landmark is known for.
Recommended by Michele of Adventures Abound
11. Grand Central Terminal
The Grand Central Terminal in New York City is the most beautiful train station in the world. It's a popular spot among both locals and tourists.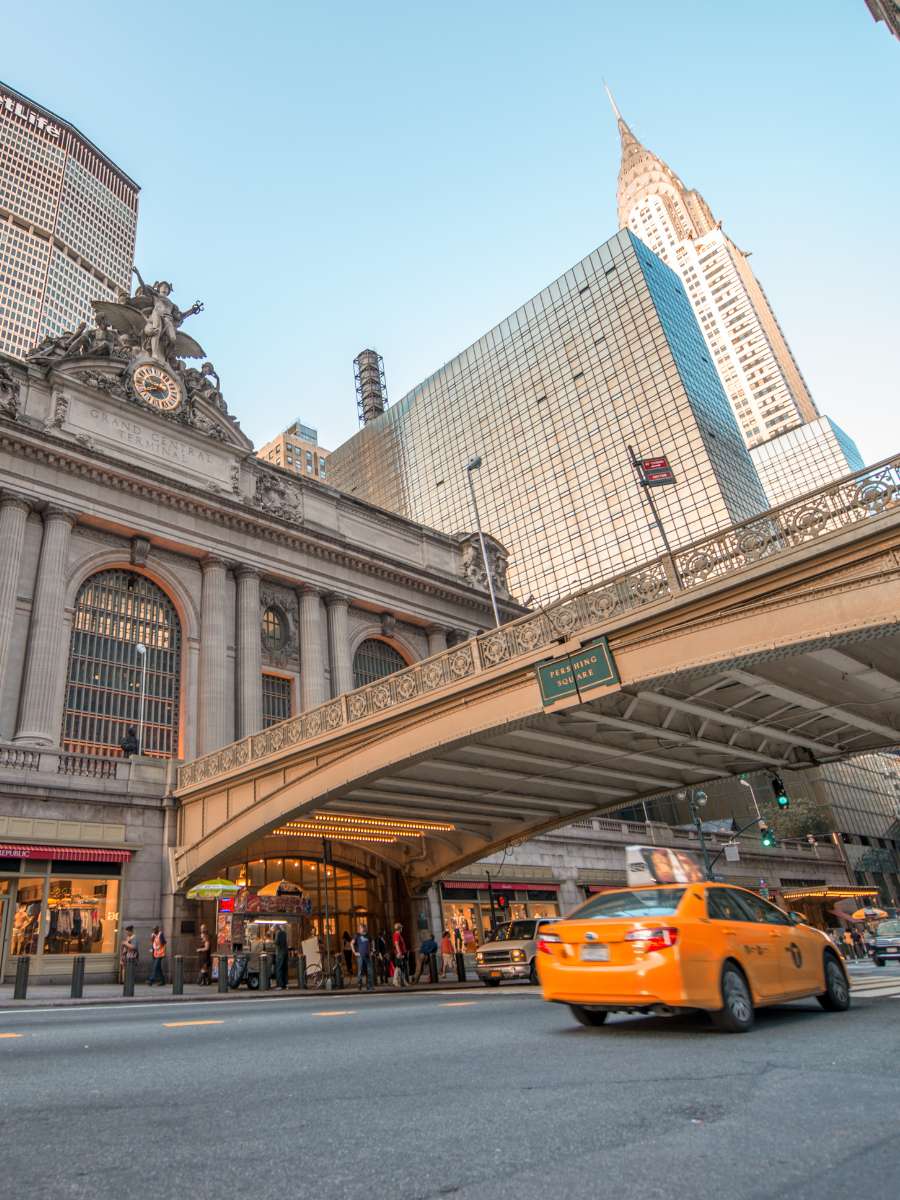 The structure and architecture of the Beaux-Arts style is a marvel to visitors. Its vibrant energy, rich history, and beautiful aesthetic make it a perfect place for Instagram-worthy photographs like Sedona.
The construction of this building started in 1903 and lasted for ten years until 1913. The terminal is spread across an area of 48 acres.
The lavish chandeliers and giant clocks perfectly showcase the extravaganza of this place. The 43-meter-high ceiling of the Main Concourse is decorated with constellations.
This makes it a favorite backdrop for photographers. The striking designs with golden paint on the bluish background make the subject stand out. Medieval French aesthetics are prevalent throughout the building.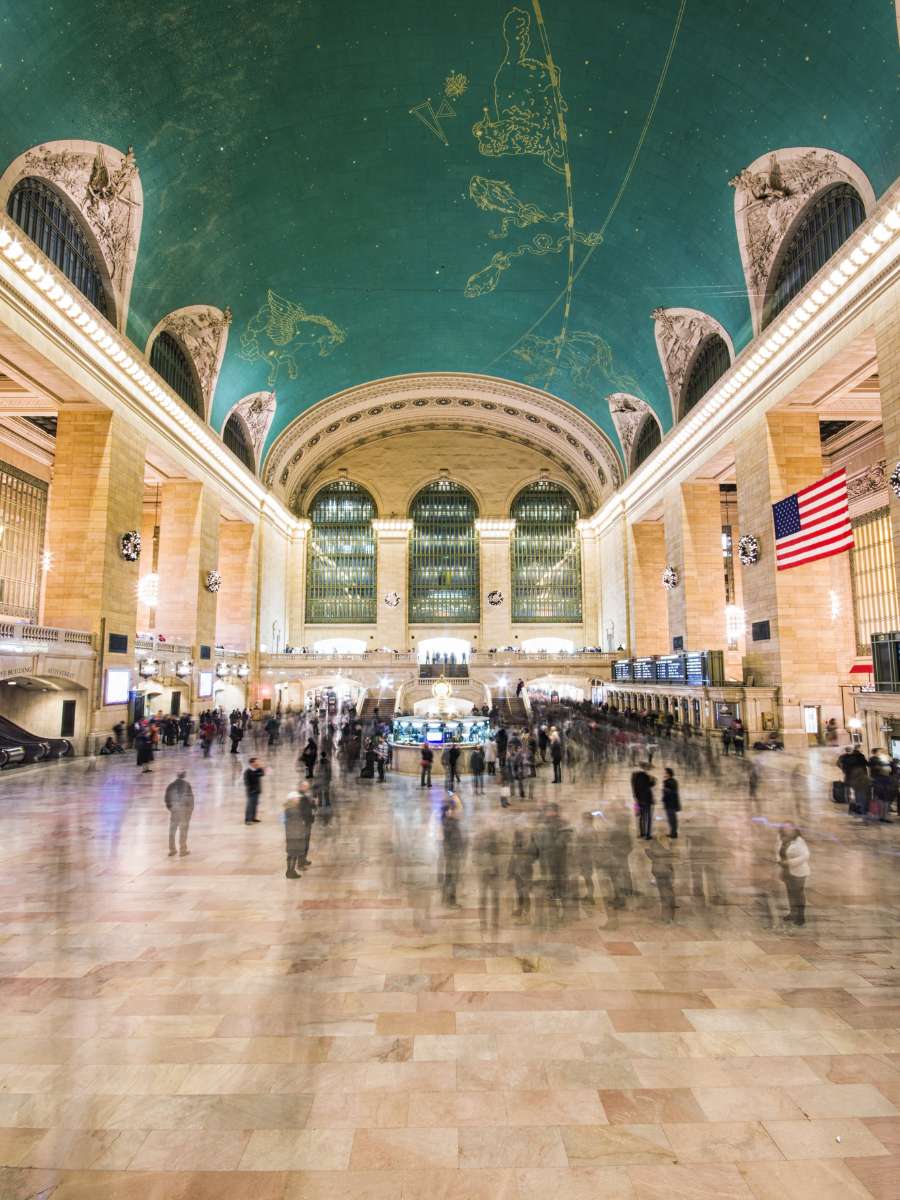 The station has many hidden platforms and rooms that serve great photo-worthy surroundings. For example, the Whispering Gallery is a separate room known for its acoustic abilities.
The curved archways here are specially designed to deflect sound and transform it into a whisper. A click in front of these arches is necessary when visiting Grand Central Terminal.
The main clock of the terminal at the center is another excellent spot for clicking pictures. The huge windows in Vanderbilt Hall allow you to click photos under natural light.
The timeless beauty of this place makes every corner of this terminal photogenic. Tripods are not allowed inside. Avoid the crowds and have a hassle-free photoshoot by visiting late at night or early morning.
Recommended by Ruma Dey Baidya of The Holiday Story
12. Little Island
Little Island is a small but immensely Instagrammable park located in Hudson River Park in NYC, near the High Line and overlooking the Hudson River.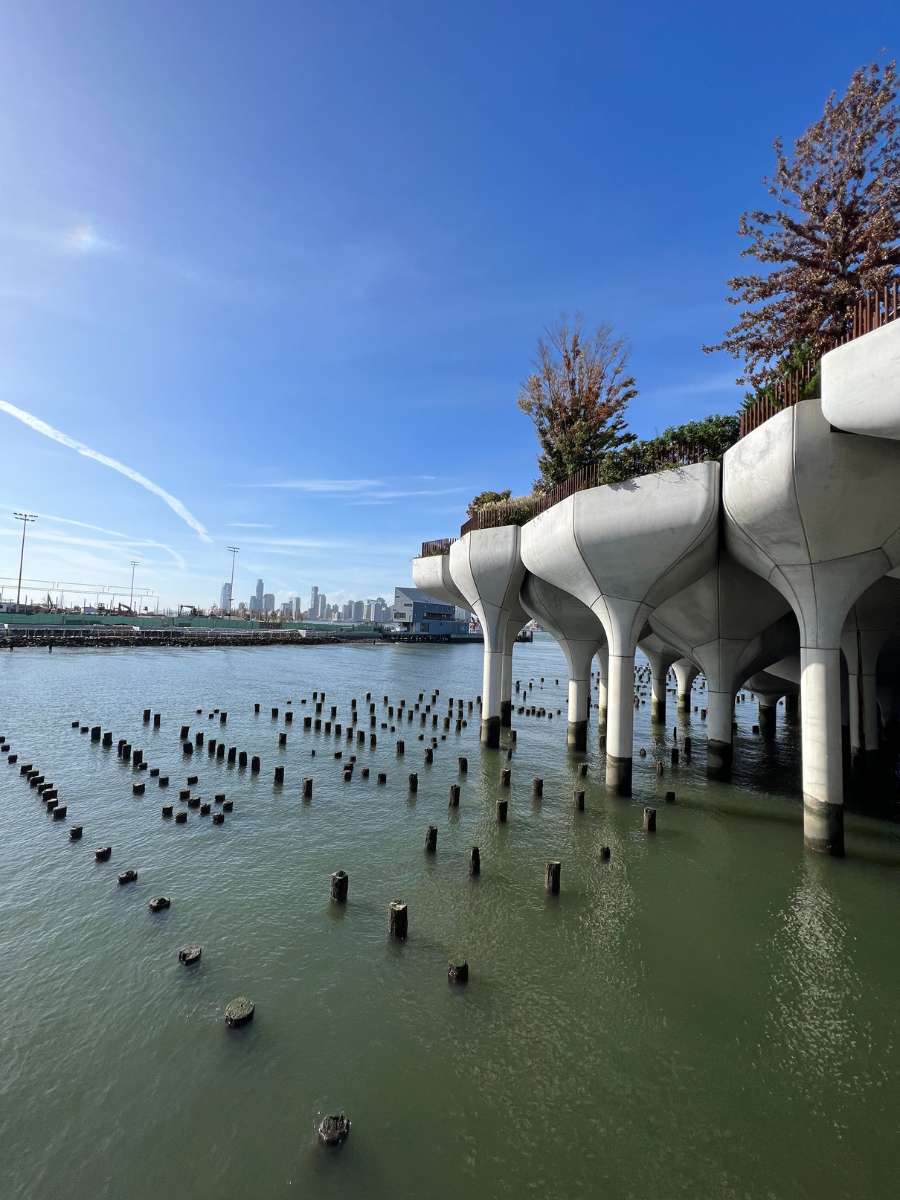 When you cross the street and walk under the photo-worthy bridge, you'll feel as if you've left the city and entered into a small waterfront oasis.
From the bridge, to the pier and skyline views, to the short hikes up to the viewpoint, there are so many photo ops to discover in a relatively small area. The park was designed as an artistic area where visitors can be immersed in art and nature.
You can find musicmakers throughout the park, a playground, and flowers and trees with landscaping elements like rocks. There's also a food truck with tables with colorful shade umbrellas where you can eat ice cream, get drinks for happy hour and more.
Try going for sunset or sunrise photos. The more you explore this amazing park, the more photo ops you'll discover with far-off views and nearby elements.
Little Island also hosts events, yoga and pop-ups with artists and more, so be sure to check online to see if there are any coming up to add even more photo opportunities to your visit. This is algo a great spot if you're looking for non-touristy things to do in NYC.
Make sure to bring a wide-angle lens for the viewpoints, and if you want to capture far-off views bring a zoom! In addition, for those sunset and nighttime photos, bring a remote shutter and your tripod.
Recommended by Sarah Simon of Mikukapup's Travels
13. The Manhattan Bridge view from DUMBO
The Manhattan Bridge may not be as popular as the Brooklyn Bridge, but it is just as magnificent! Completed in 1909, the Manhattan Bridge is a suspension bridge that connects Lower Manhattan and Downtown Brooklyn.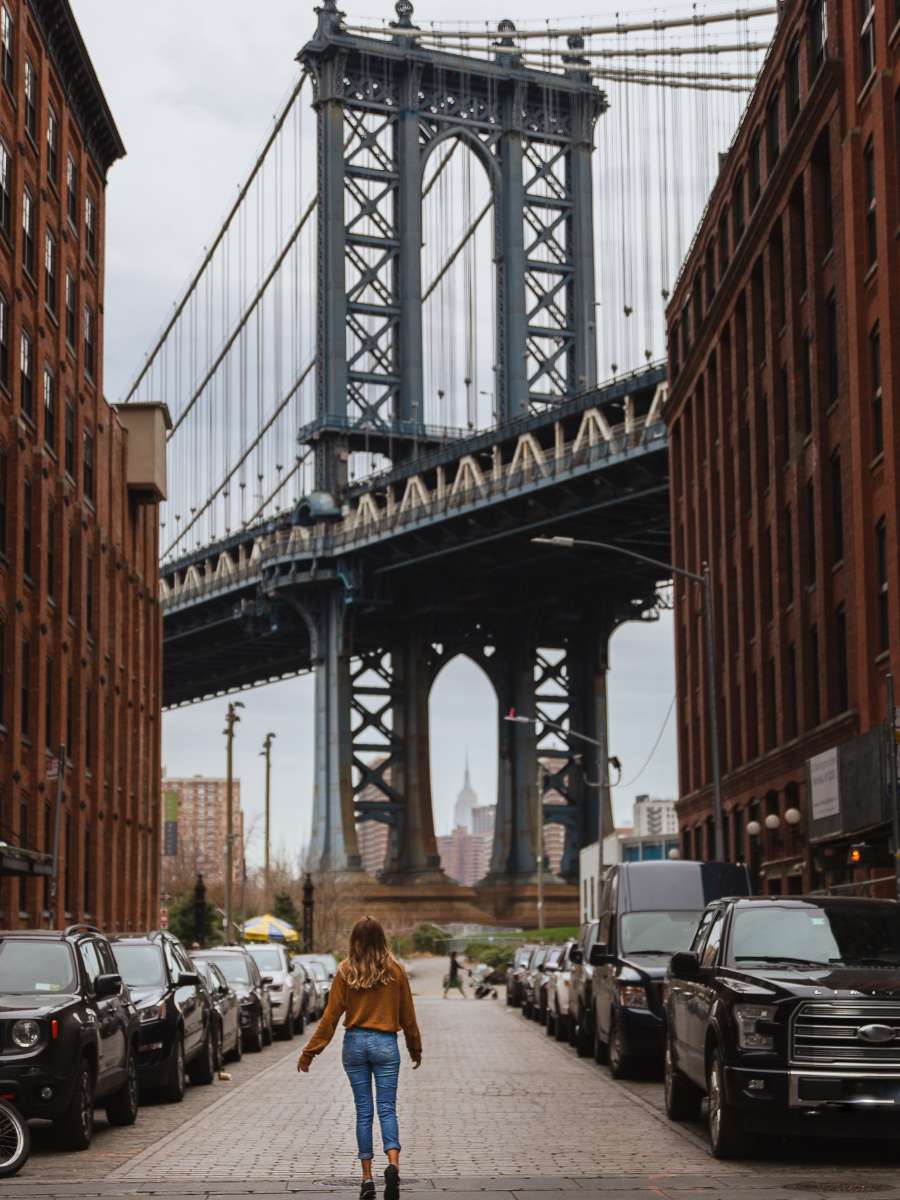 The Manhattan Bridge has inspired the name of the popular Brooklyn neighborhood DUMBO. "DUMBO" stands for Down Under the Manhattan Bridge Overpass and is one Instagram photo spot that is definitely worth adding to your New York photo list.
In DUMBO, there are a number of picturesque views of the Manhattan Bridge, but the best location is on Washington St. between Front St. and Water St.
A stunning view of the bridge can be seen from this location, as the bridge exactly lines up with the street. This spot is ideal for taking group pictures with the bridge in the background, classic New York street photography, or striking that perfect Instagram pose.
You might need to exercise patience if you're hoping to get the perfect Instagram photo at this site because it has grown to be a popular location.
You might also wind up with some vehicles in your photo because Washington St. is a public street that is also open to traffic. Vehicles do park and drive along the street. There are times, however, when Washington Street is closed to traffic and the street becomes a public space for pedestrians which can be ideal for taking photos in this popular spot.
Even though Washington Street provides the most photogenic spot, be sure to explore the rest of DUMBO as you can always see the magnificent Manhattan Bridge in the distance from everywhere in DUMBO.
Take a stroll to Pebble Beach or John Street Park for even more picture-perfect backdrops with breathtaking Manhattan Bridge views, making it a perfect Instagram spot in New York City.
Recommended by Toronto to Anywhere.
14. Bow Bridge in Central Park
Central Park is one of the most picturesque locations in New York City and is full of fantastic locations for Instagram photos. A popular favorite is the Bow Bridge, a stunningly beautiful and romantic bridge with a fascinating history that offers many wonderful possibilities for taking photos.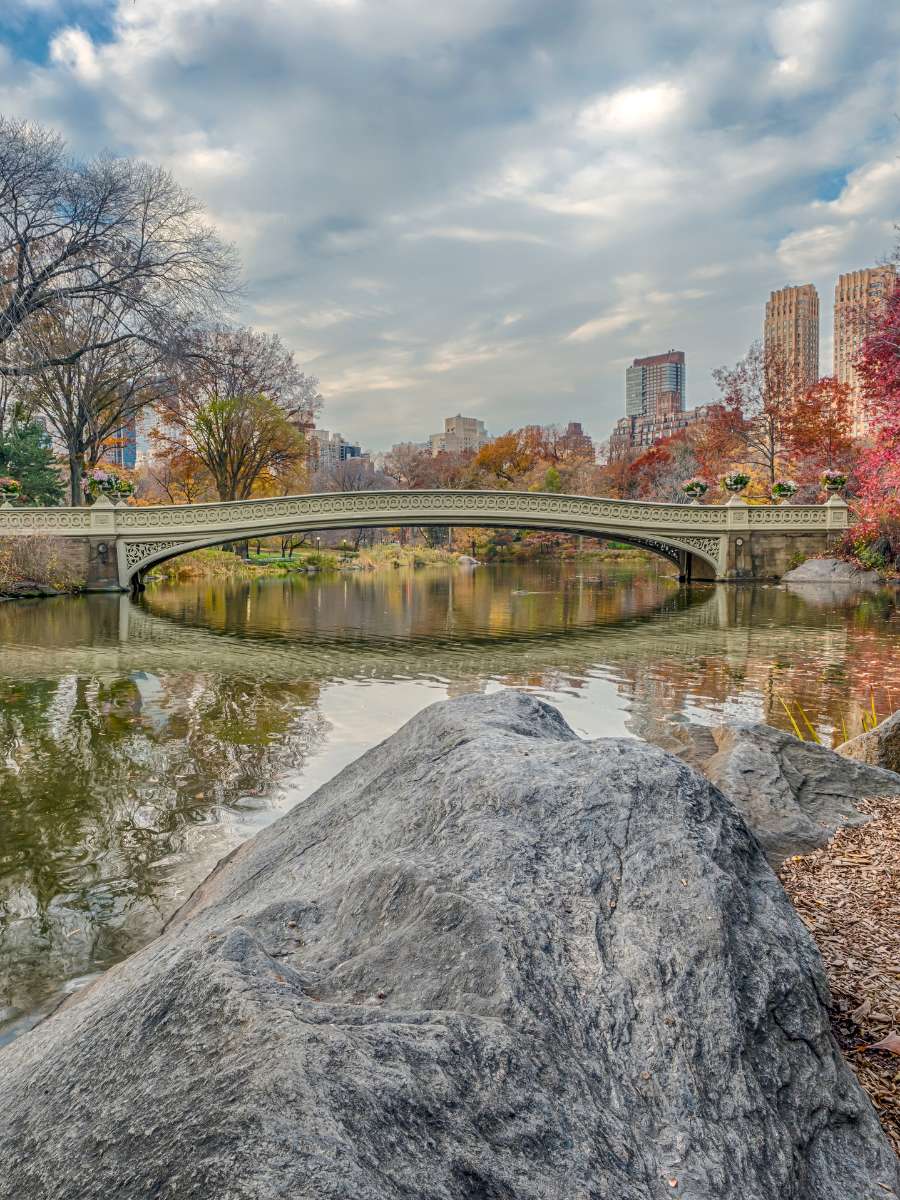 Built in 1862, the bridge is the oldest cast iron bridge in Central Park. It's one of the most iconic locations in Central Park and is known for its elegant design and beautiful sweeping arches. It has been the setting for several films, including The Way We Were and Manhattan.
The bridge provides a unique perspective of the park as well, with breathtaking views of the surrounding landscape and the city skyline. It's a popular spot for engagement and wedding photography, with many couples choosing to have their photos taken at various places on the bridge, with the beautiful backdrop of the park behind them.
For a little bit of a workout, you can rent a boat and row around the lake and right under the bridge. This location offers one of the best angles for taking photos, as it's the perfect spot to capture the bridge's stunning arches reflecting on the calm water of the lake on a sunny day.
The Bow Bridge is one of the most beautiful and romantic spots in Central Park, offering many incredible photo opportunities. Its stunning architecture, rich history, and unique perspective make it a must-visit location for anyone looking to capture the beauty of New York City.
Recommended by Tammi of Wander Healthy
15. Roosevelt Island
Roosevelt Island may not be the first place that comes to mind when you think of iconic New York City skyline views. But if you're looking for a unique vantage point to capture stunning photos of the city, then this spot is definitely worth visiting.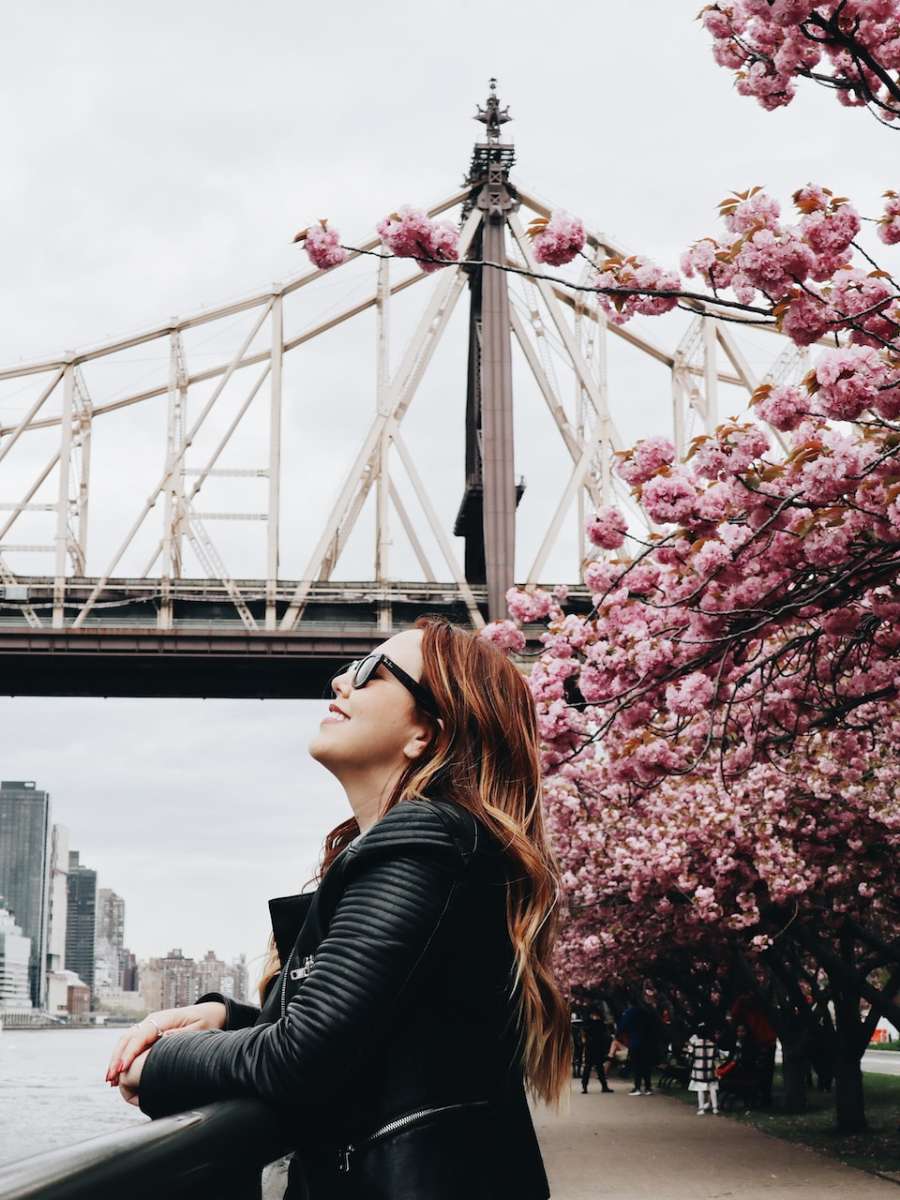 Nestled between Manhattan and Queens, Roosevelt Island is a little-known gem that offers some of the most awe-inspiring views of the city. And the best part? You can enjoy them without the usual crowds and the hustle and bustle of other popular spots.
To get there, take the Tramway from Manhattan, a quick 5-minute ride that's an attraction. Once you arrive, you'll be greeted by panoramic views that will take your breath away.
From the Empire State Building to the Chrysler Building and beyond, Roosevelt Island offers an unobstructed and stunning perspective on some of the city's most iconic landmarks.
Best Photo Tips:
For the ultimate photo op, head to the walkway lined with trees that runs alongside W Loop Rd. In the spring, you'll be treated to the stunning sight of cherry blossoms in full bloom. And even if you visit at a different time of the year, the view is still worth the trip.
To make the most of the light, go in the morning, and remember to venture down to Franklin D. Roosevelt Four Freedoms State Park for yet another fantastic photo spot.
Whether you're a professional photographer or just someone who loves snapping Instagram-worthy shots, Roosevelt Island is a hidden treasure worth visiting. So grab your camera, hop on the Tramway, and get ready to capture some of the most breathtaking city views you've ever seen.
Recommended by Bridget from Bridget Gutierrez Travels
16. Liberty Island
When looking for the best Instagram spots for your trip to New York City, visit Liberty Island. There are few landmarks in the world that are as iconic as the Statue of Liberty.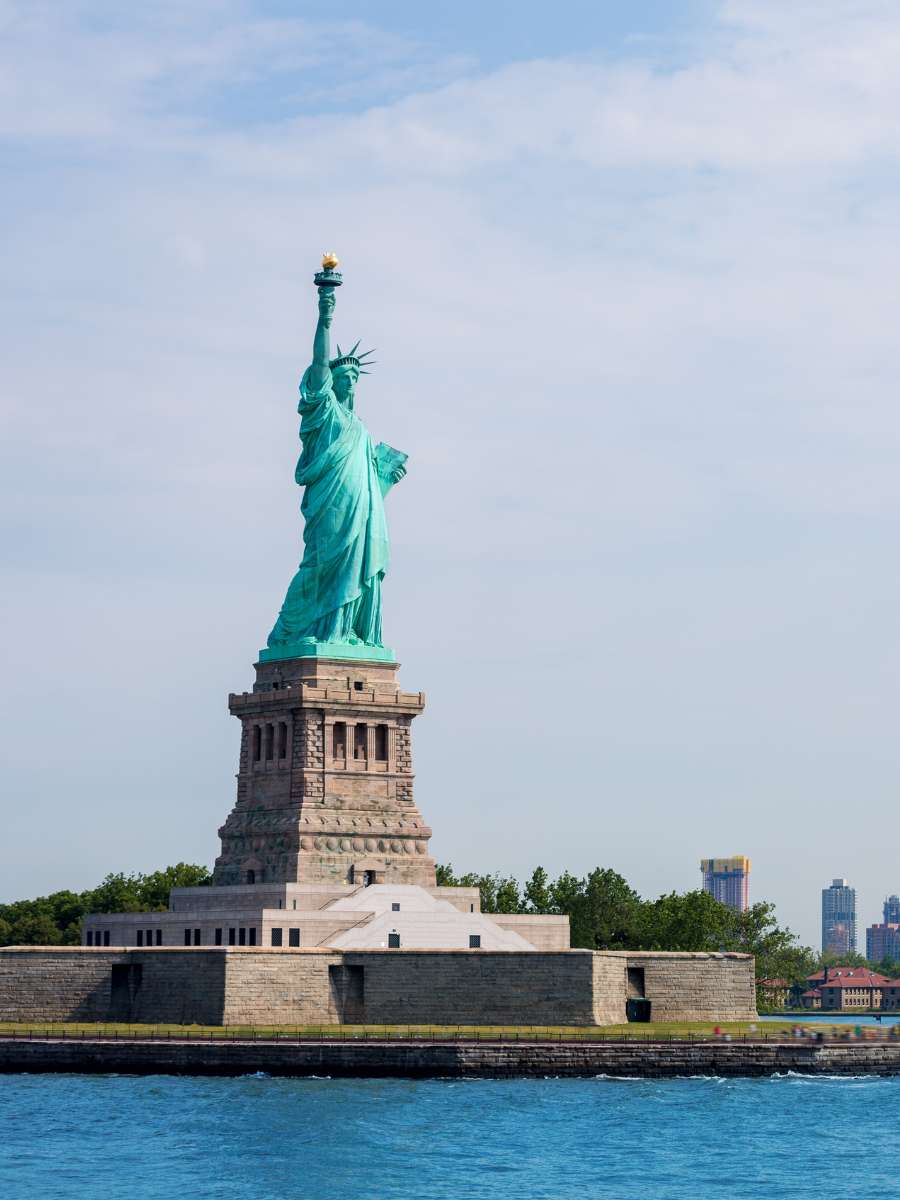 Not only is it a symbol of freedom and democracy, but it's also a stunning piece of artwork with intricate details that make for a visually striking photo. One of the most recognizable landmarks in the world, it's an instant attention-grabber in any photo which is perfect for making your Instagram shot stand out.
The panoramic views of the Manhattan skyline and harbour offer a unique backdrop for your pictures. Capture photos from the boat ride to the island, in front of the Statue or from the top of her crown.
Plus, by sharing your photo on Instagram, you can connect with millions of travellers from around the world who share your love for adventure and cultural experiences.
Whether you're a professional photographer or just new to Instagram, a visit to the Statue of Liberty is a must-do. So grab your camera and get ready to capture some amazing NYC Instagram shots!
Summer has the best weather but plan your visit in the morning for fewer crowds. Make sure you book your ticket in advance if you want to climb up to the top and visit the crown, not just Liberty Island.
Recommended by Melissa of My Beautiful Passport
17. The High Line
New York's High Line is an iconic photography destination of the city that never sleeps!
It is different from other Instagram places in NYC because it's not just a quick landmark, rather it provides visitors the choice of adventure; running, cycling, or just taking a leisurely stroll. Watch out, Central Park – the High Line has got a lot to offer!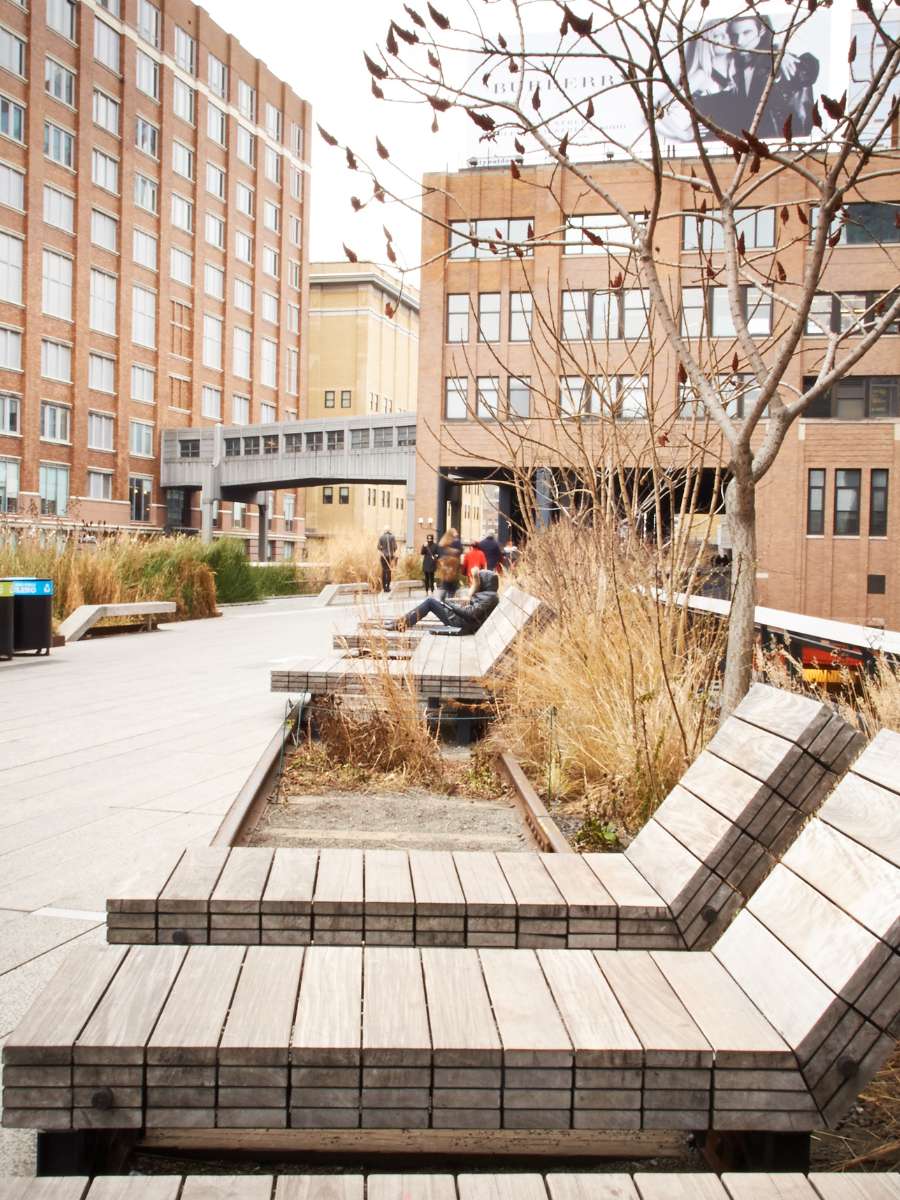 Located high atop Manhattan over abandoned railroad tracks, New York City's High Line has a plethora of photogenic locations- you won't need to choose just one! It came to life after city residents fought to save the tracks from demolition in 1999.
Along the 1.45 mile long park, visitors are treated to city views from up above, unique architecture, contemporary art, and more. Consider stopping off at the Chelsea Market for your choice of a delicious bite to eat, or getting your food to go and stopping off at a bench for a relaxing meal.
Photographers can snap a photo from a low angle, highlighting the High Line's dramatic length surrounded by beautiful architecture.
Night photos provide dazzling city lights in the distance, while afternoon photos can welcome bright and lively days. Switch your exposure up for spring's colorful flowers or accentuate New York's architecture during rain.
Recommended by Alyssa of An Apple a Plane
18. The Metropolitan Museum of Art
The Metropolitan Museum of Art, also known as the Met, is a world-renowned museum on the eastern edge of Central Park in New York City. With its impressive collections, stunning architecture, and beautiful grounds, the Met provides numerous opportunities for capturing Instagram-worthy photos.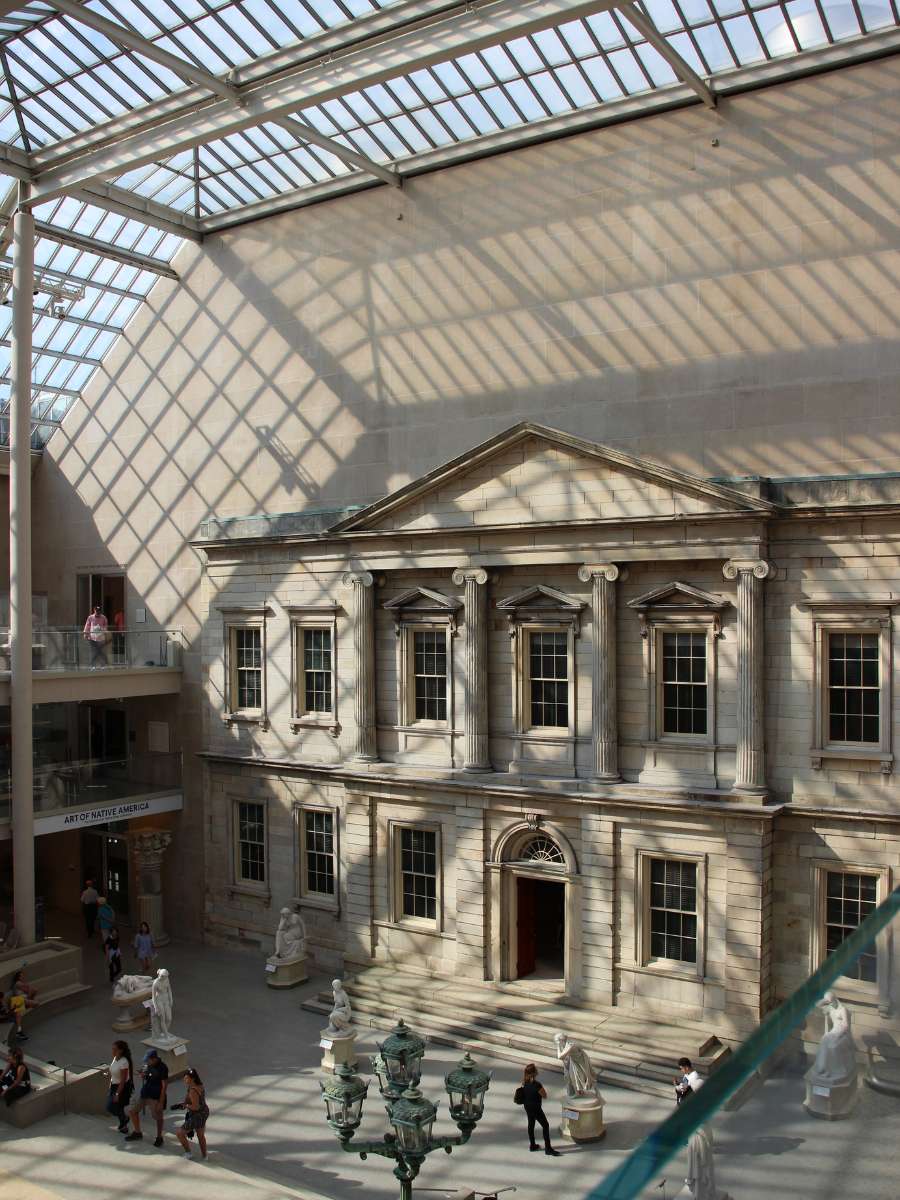 The museum is part of the laundry list of New York City's fantastic museums. Its extensive collection encompasses over two million works of art from around the world, from ancient to contemporary. The collections include art from all regions of the globe, as well as artifacts from a range of cultures and historical periods. With so much to explore and appreciate, visitors will indeed find many inspiring photo opportunities.
Beyond its collections, the Met is also a visual feast in terms of its architecture and interior design. The museum's main building features a grand facade with iconic steps leading up to its entrance.
Once inside, visitors can explore stunning galleries, including the majestic Great Hall and the stunning Medieval Sculpture Hall. During the summer, the Met's rooftop garden is where visitors can capture stunning sunset photos of the city skyline while enjoying a peaceful respite from the bustling city below.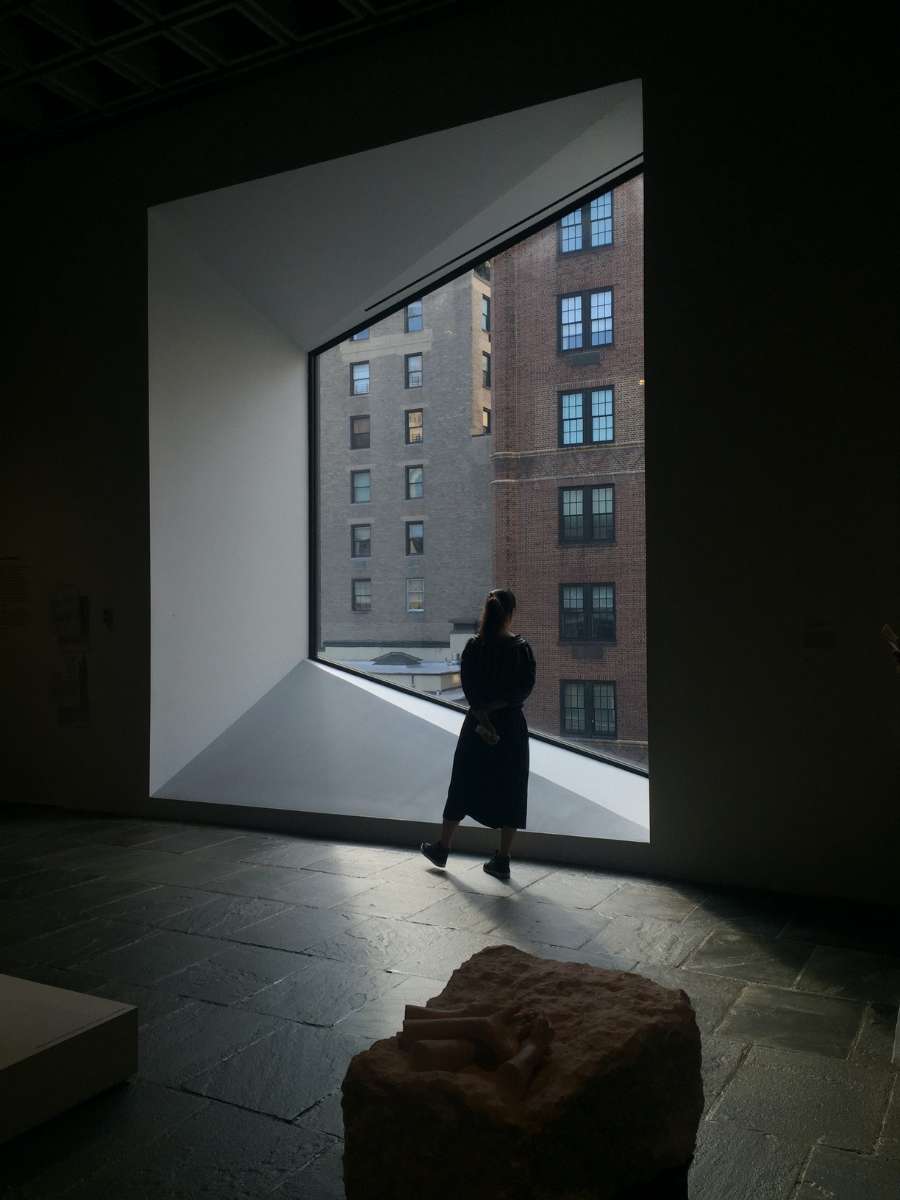 Some of the most significant art collections in the entire world may be found in this remarkable museum, which is housed inside a magnificent structure.
The museum, which is the fourth largest in the world and spans four entire blocks, is somewhere you might want to spend at least half a day.
Over two million works of art from various historical periods and modern movements are present here. You may find here Renaissance artwork, genuine Egyptian temples, medieval armor, and a ton of other famous works! Aside from that, you'll also find a plethora of cool photo spots to get creative with!
Recommended by Bernadette of Live a Relaxed Life
19. The Harry Potter Store
Calling all Harry Potter fans! If you are looking for a fun Instagramable place in New York City the Harry Potter Store is a must! The detail in the store is incredible.
Any Harry Potter fan will love all of the classic photo opportunities such as an image of your delicious butter beer or going down Dumbledoors staircase. You can also grab some delicious treats from HoneyDukes and capture the pure joy a chocolate frog or exploding bonbon brings.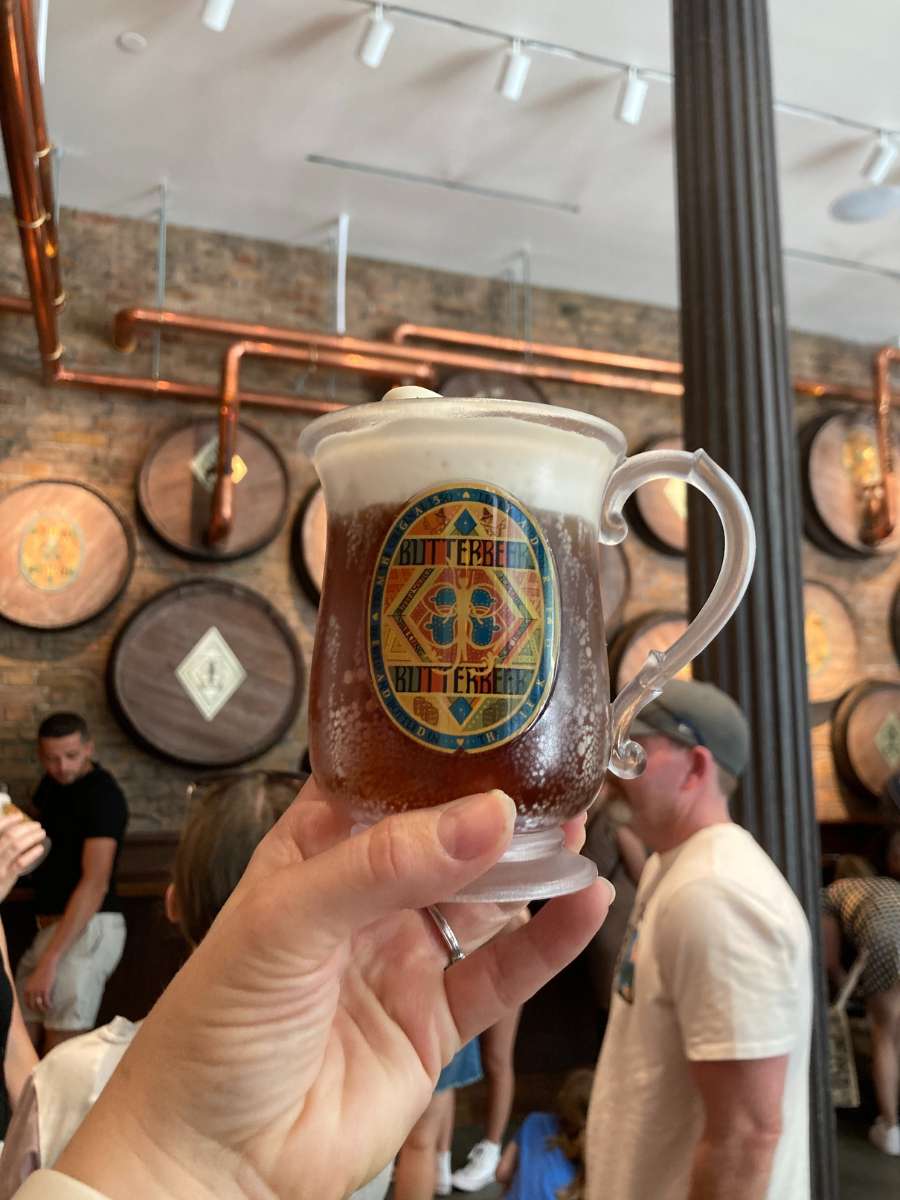 Instagram stories are so popular, so filming yourself stepping into the floo powder network and arriving at the minister of magic by fireplace is a must! This is done by stepping on the elevator. All of your Instagram followers will love it.
You can also step into a classic UK phone booth and pretend to transport yourself from the muggle world to the wizarding world.
One of the best things about the Harry Potter Store is shopping! All of your followers will love seeing what cool merchandise is available. Dress up like a wizard or enjoy an iconic Harry Potter New York mug!
You will not be disappointed with a stop at the Harry Potter Store in New York!
Recommended by Lisa of PlanningAway
20. Coney Island
Coney Island is one of the most popular and iconic destinations in New York City. Located in the southernmost part of Brooklyn, it is nestled in a seaside community that offers many opportunities to capture stunning photos.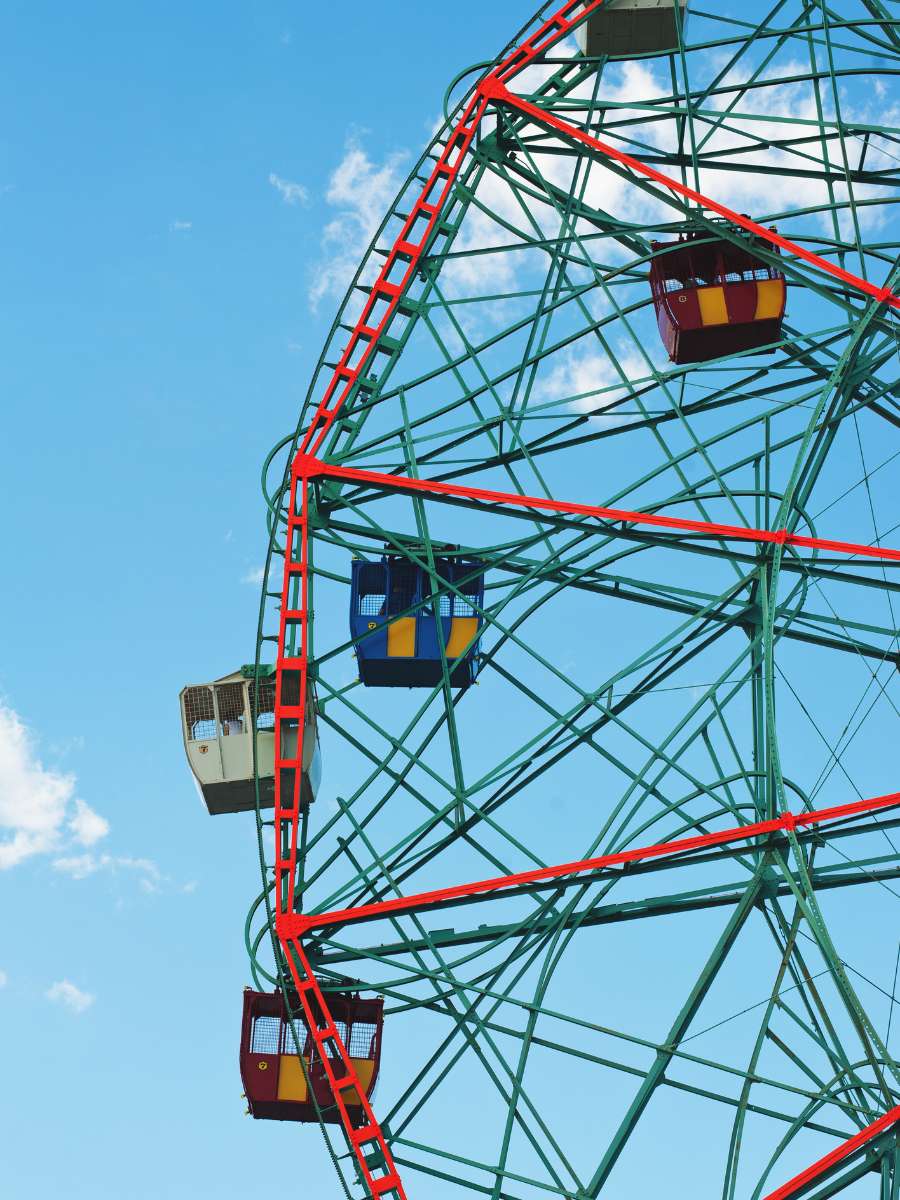 The boardwalk is where famous landmarks like the Cyclone Roller Coaster, the Wonder Wheel Ferris Wheel, and the Parachute Jump are located. But that's not all – Coney Island boasts a stunning beach overlooking the Atlantic Ocean.
Stroll along the boardwalk and snap photos of the sand, sea, and surrounding scenery. The vibrant street art and graffiti throughout the neighborhood make for eye-catching images.
And, of course, no trip to Coney Island is complete without indulging in some delicious treats. The original Nathan's hot dog stand is a short walk away, and they offer more than just hotdogs but all kinds of fried goodies and cold drinks. Capture photos of your favorite snacks while enjoying the beach and boardwalk.
These are just a few reasons Coney Island is the perfect backdrop for Instagram-worthy photos for those summer feels.
Recommended by Bernadette of Explorer Chick
21. Lincoln Center
Lincoln Center is a world-renowned performing arts complex full of impressive architecture, beautiful landscaping, and cultural events that makes it a top spot for Instagram photos.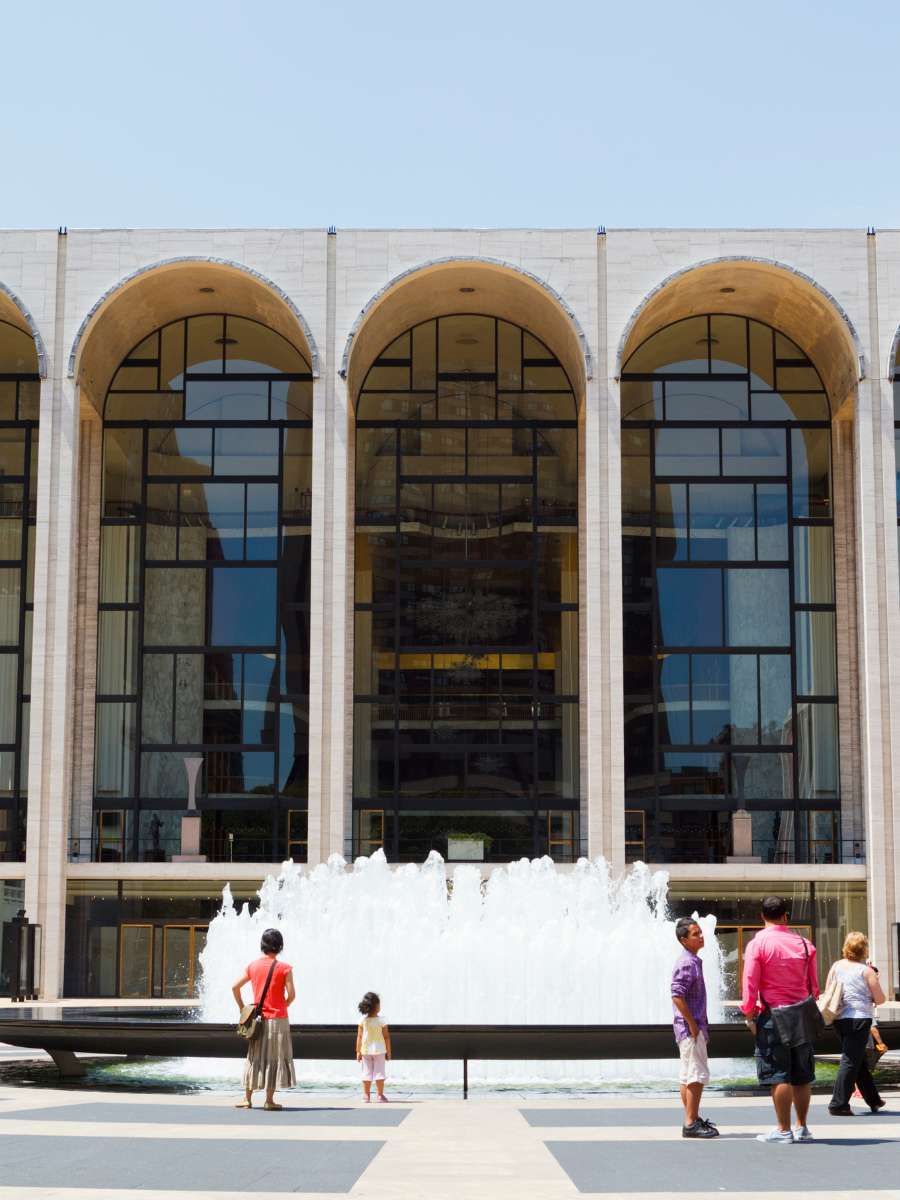 It is in the Upper West Side of Manhattan in New York City and is the place to catch a world-class performance of the Metropolitan Opera, the New York City Ballet, and the New York Philharmonic.
Many other types of performances can be enjoyed there, like musicals, outdoor performances, and other theater productions. These events provide a perfect opportunity to capture photos of performers, crowds, and the bustling energy of the complex.
The complex's iconic architecture, featuring grand staircases, sleek modern designs, and impressive facades, provides an excellent backdrop for capturing stunning photos.
In addition to its stunning architecture, Lincoln Center is surrounded by beautiful landscaping, with the famous Josie Robertson Plaza being a highlight. The plaza features a spectacular fountain and reflecting pool that provides excellent opportunities to capture iconic building photos.
Lincoln Center looks particularly stunning at night when the lights of the buildings and fountains create a magical atmosphere. Watch out for opera performances when the art and chandeliers of the opera house lobby are on full display. This is a great time to capture photos of the complex's iconic architecture illuminated in all its glory.
Recommended by Marquis of Kiki La Gringa
22. Central Park
When it comes to Instagram-worthy spots in New York City, it's hard to beat Central Park. This sprawling oasis in the midst of a bustling metropolis offers endless opportunities for capturing that perfect shot.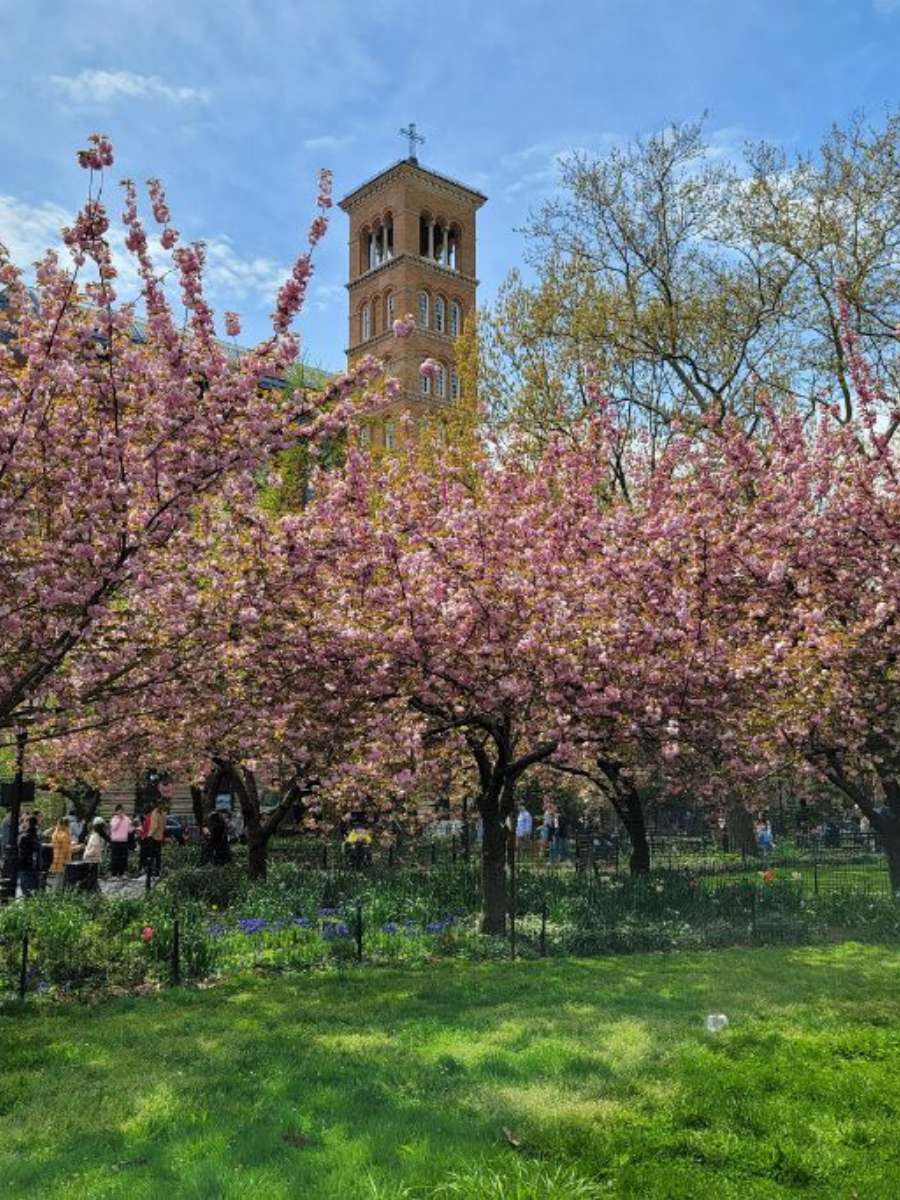 Whether you're after natural beauty, architectural gems, or iconic landmarks, Central Park has it all. From the picturesque Bow Bridge to the stunning Bethesda Fountain, there's no shortage of stunning backdrops for your photos.
Plus, with over 800 acres to explore and dozens of Yoshino cherry trees lining the walkways, you're sure to find a hidden gem or two that will make your followers green with envy. But Central Park isn't just a pretty face – it's steeped in history and culture too.
From the John Lennon memorial at Strawberry Fields to the sculptures and statues throughout the park, there's plenty of depth to explore. And with plenty of natural lighting and a good balance of trees and open areas creating the ideal composition for your photos, you're sure to find a plethora of great spots to capture some epic shots.
So next time you're planning your social media feed, don't forget to set aside some time to explore Central Park as it's easily one of the best Instagram spots in New York City!
Recommended by Emily Concannon of Emily Embarks
23. The Met Cloisters
The Met Cloisters is one of New York City's most unique museums and a hidden gem. Located in upper Manhattan, this museum is a safe haven from the bustling city. The Met Cloisters boasts an extensive European medieval art and architecture collection, with exhibits ranging from illuminated manuscripts to sculptures and tapestries.
The museum is open every day (except for Wednesdays) from 10 am – 5 pm. It is located in Fort Tyron Park and requires a short but upwards hike to the building.
Visitors can take gorgeous pictures during this walk, but the most Instagrammable spots are actually located within the museum's tranquil gardens. The pillars surrounding the gardens allow visitors to frame a perfect photo.
The gardens also feature various plants, flowers, and herbs, which are quite beautiful. There are also various sculptures and fountains that can provide more interesting shots.
The museum itself is designed to resemble a medieval monastery, complete with arched doorways, stone walls, and a beautiful courtyard.
The building's intricate details and unique design make it an excellent backdrop for any photo. Visitors can take pictures in front of the stone arches or the impressive towers, making for some stunning photos.
Overall, this escape from the city provides the perfect next Instagram backdrop while showcasing stunning artwork that will intrigue any history or art lover!
Recommended by Shar of Sightseeing Shar
Instagram Spots Near NYC
24. Woodstock
Looking for a perfect Instagramable weekend outside of New York City while craving some peace and relaxation? Look no further than the iconic music and art haven of Woodstock.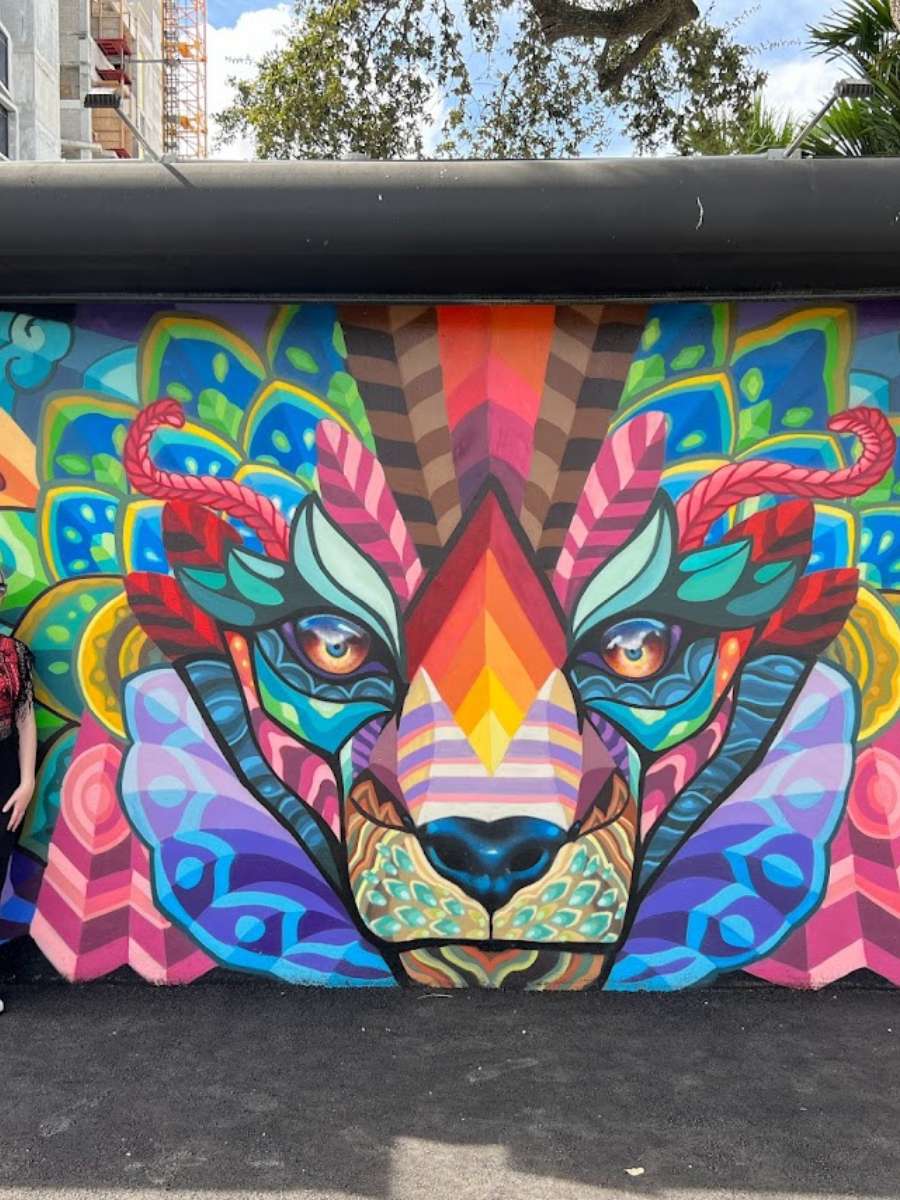 Woodstock is a small town at the foot of the Catskills and is best known for its 1969 music festival featuring huge artists like Jimi Hendrix and The Who.
The festival is famous for highlighting the hippie counterculture to the public for the first time.
Woodstock still attracts visitors for its prominent art and music scene. Catch a live performance, eat some delicious farm-to-table food, and of course – grab some photos!
There are countless Instagram opportunities with the constantly changing local murals and art shows.
Stroll down the main strip Tinker Street to see quirky boutiques and great murals. Keep in mind that the art is constantly changing so a mural you see on the internet may be gone by the time you arrive.
The constantly changing art is a testament to the active art community at Woodstock and leaves you with a unique one of the kind photo!
Much like the message of the 1969 festival, the majority of the art has messages of peace and love. Wear your best hippie-inspired clothing, and snap a pic!
Recommended by Sierra of Your Guide To Wandering
25. Beacon, NY
Beacon, New York is synonymous with a fantastic restaurant scene, mouthwatering cocktails, and gorgeous art.
This charming city, which is only two hours from Manhattan and is situated in the verdant Hudson countryside, is a great day trip destination for anyone looking to get away from the hustle and bustle of the city.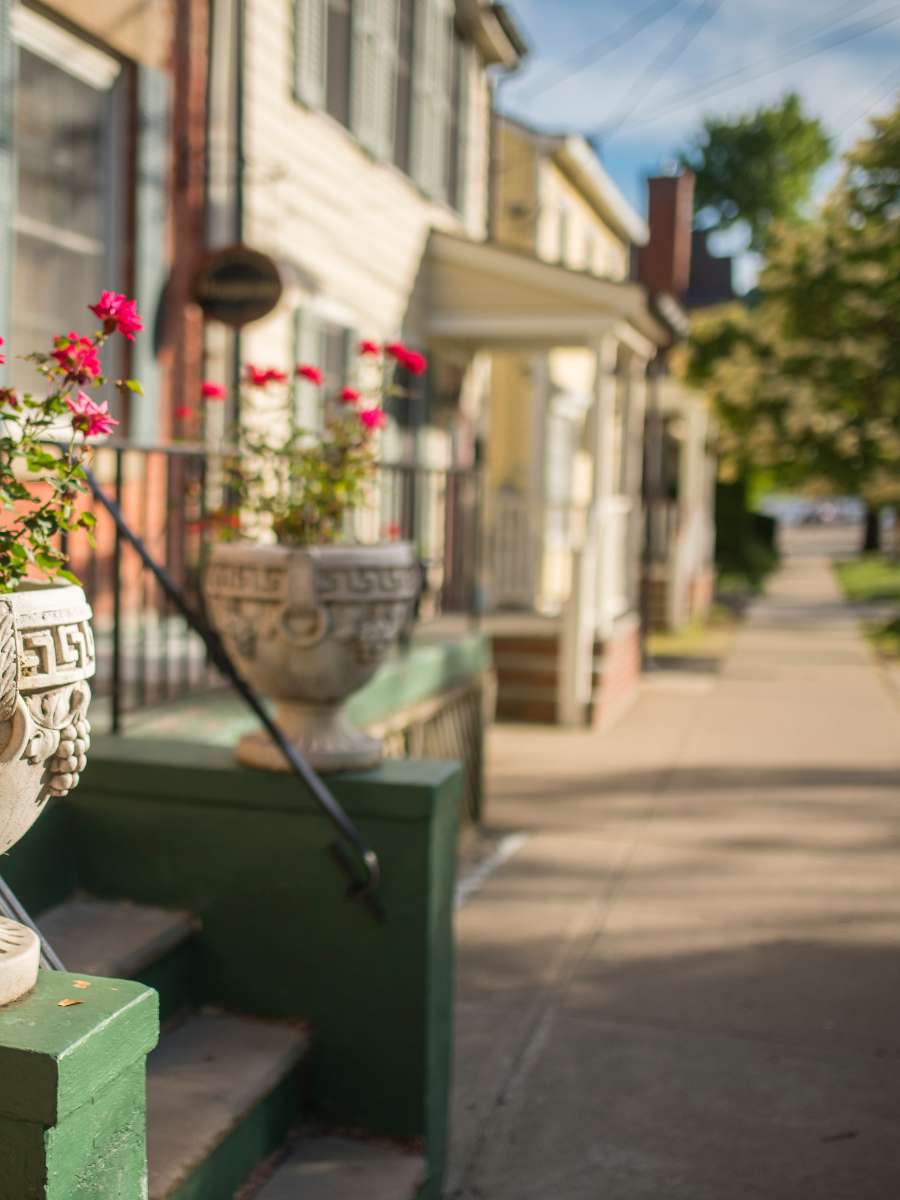 The primary activity in Beacon is strolling around its Victorian-era structures, the majority of which have been upgraded into neighborhood art galleries, hip eateries, and charming coffee shops and now make for fabulous photo spots!
26. Cold Spring, NY
Dreaming about charming riverside cafes, sidewalk eateries, and old-world allure? Cold Spring is there for you!
If picture-perfect scenery is what you're after, Cold Spring, considered the best-preserved 19th-century village in the Hudson Valley, is a wonderful escape from the city.
You'll come across antique stores, quaint sidewalk coffee shops, riverfront eateries, and boutique shops selling a variety of regional goods while strolling through its vibrant downtown.
There are numerous hiking and bike routes in the surrounding areas of Cold Spring if you'd also like to spend time engaging in outdoor activities.
Watersports are also very popular here; canoeing, boating, paddleboarding, and kayaking on the river are popular pastimes for both locals and visitors.
FAQs: NYC Instagram Spots
What is the most Instagrammed street in Brooklyn?
Washington Street in Dumbo is easily one of the most recognizable NYC Instagram spots and the most Instagrammed street in Brooklyn. There is a reason why this simple road in Dumbo is such a popular photo spot—the icy blues of the Brooklyn Bridge perfectly complement the charming red brick buildings that line the street.
You can find this photo spot in the heart of Dumbo (which stands for Down Under the Manhattan Bridge Overpass) at the intersection of Washington St. and Water St.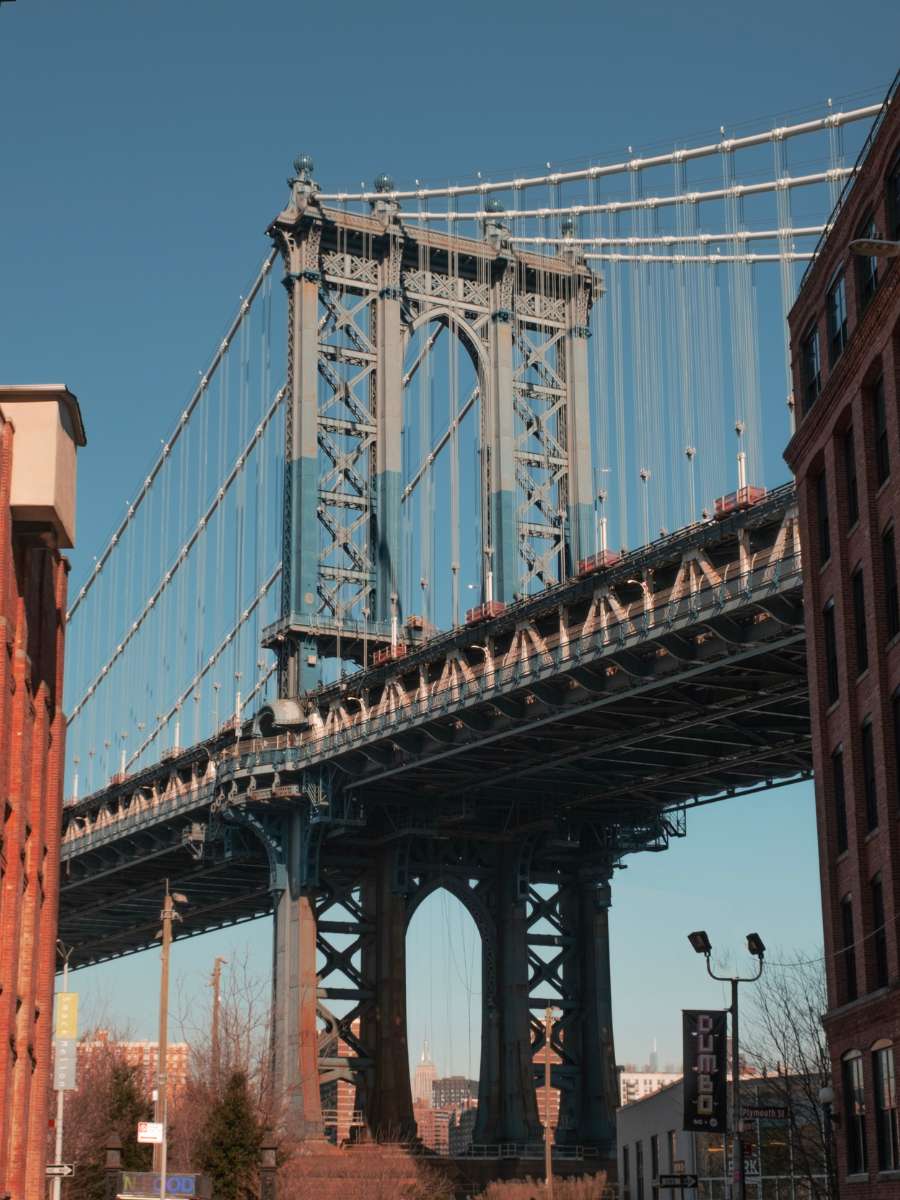 Thankfully, most drivers familiar with the area know that this is a popular photo spot, so you won't have to deal with much traffic, but still be careful as you can only get the ionic shot from the middle of the road. Look both ways, then run directly in the middle of Washington Street and strike a pose.
Make sure your photographer also stands in the middle of the road and centers you in the middle of the frame.
Pro tip: Experiment with angles. The vibe of the photo is completely different if your photographer crouches down vs. shoots from eye level.
Depending on the time of day, the road fills up with photographers, tourists, and NYC locals trying to get the perfect shot. To avoid crowds, visit during a weekday or in the early morning.
What are the best NYC Instagram spots?
This totally depends on your interests and photography styles, but some of the best NYC Instagram spots include Manhattan Bridge, The Vessel, the MET, Central Park, and the High Line, to name just a few!
With that said, however, almost every corner in NYC is highly Instagrammable if you get creative, so always walk with an open mind as some of the best photo spots in the city aren't at all popular.
Final Thoughts: NYC Instagram Spots
New York City is one giant photography set.
All over the city, you'll find incredible corners and quaint little locations to take pictures at.
While there are plenty of them that are must-dos already and you should definitely tick off your list, make sure you always walk around with a camera in hand and your eyes wide open as some of the best NYC Instagram spots are found serendipitously.