Street Food in New York City
New York, "The Big Apple", is one of the most happening cities in the world. The city has many iconic attractions to see.
It is on the wish list of many tourists. Most people who have been to NYC want to return to the city. With the Statue of Liberty, Central Park, Times Square, Empire State Building, Brooklyn Bridge, Fifth Avenue, Metropolitan Museum of Art, and more, there is plenty to see in New York City.
While visiting, don't miss the amazing street food in New York.
Your trip to NYC is never complete unless you try its street food. From waffles to smoothies, nuchas, barbeques, steak, bacon, grilled cheese, and more, you will always have a lot of New York City street food options to try. You will find food trucks and street vendors throughout the city.
France has the bread, Italy has the pasta. However, NYC is not known for any particular food. It is a melting pot.
People from different backgrounds and cultures have come here to stay, and they have influenced the food scene of New York. You will find Korean, Chinese, Indian, French, Italian, Malaysian, African and Thai dishes to try.
Top 10 Street Food In New York City
1. Ice Cream Sandwiches
You will find many moving trucks selling them. Available in many flavors. Select from 1-story, 2 storied, or skyscraper that has 5 scoops and 6 cookies. These sandwiches are also popular in Los Angeles.
2. BEC
Short for 'bacon, egg, and cheese sandwich'. Many locals will have this in the morning. You will find this in many places, and also at restaurants.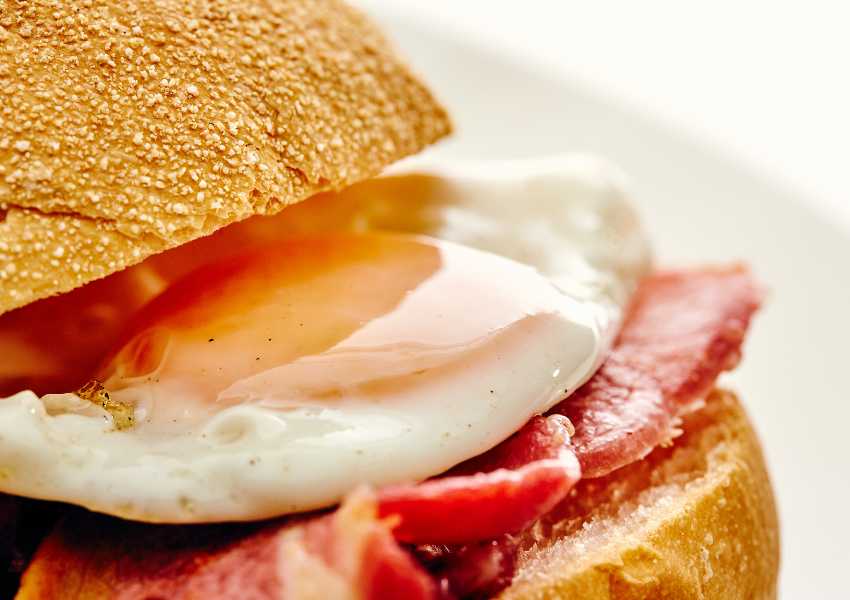 3. Hot Dog
Always popular. It has an extremely crispy exterior and a juicy interior. Gray's Papaya has become an institution selling these hot dogs. It is often served with a soda.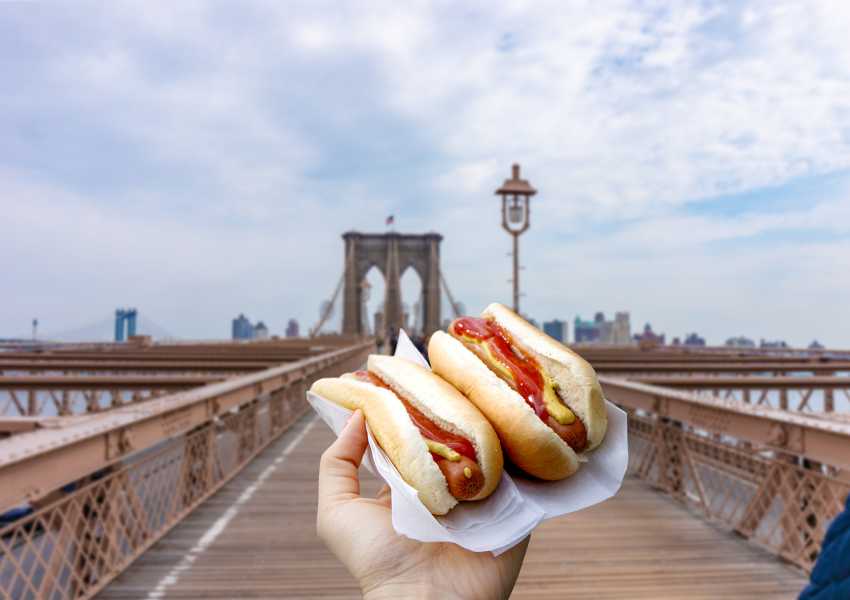 4. Eggstravaganza
Sandwiches on eggs are a rage now in NYC. It's a staple breakfast food for the New Yorkers. Typically from the street, many restaurants now also serve egg sandwiches. Many come with a Mexican flavor with homemade chorizo.
5. Falafel
Fried chickpea fritters, a local favorite once again. This food from the Middle East is served with pita, fresh veggies, and tahini. Mamoun's Falafel is the oldest place in the city serving falafel.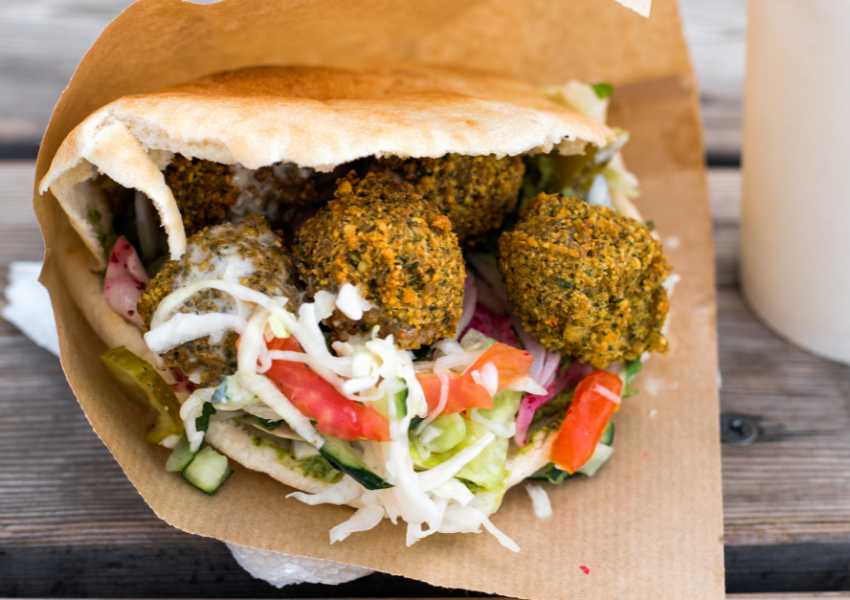 6. Meat Over Rice
It is colloquially called 'street meat' and available in many sidewalk carts. Simple but very tasty. Try this at The Halal Guys, an extremely famous sidewalk stand. Served with hot and white sauce.
7. Lamb Over Rice
Once again at The Halal Guys. Roasted lamb on basmati rice with white sauce. It is so popular that sometimes the line can be a hour long for your turn.
8. Braised Pork Shoulder
Local meat in big cuts. Sometimes served with roasted mashed potatoes.
9. Pork Bun
You will find them everywhere now, but it's the best at OG Bun. Made with roasted pork belly, steamed bao, scallions, and cucumbers. It is sweet and very tasty.
10. Cheesecake
The New York cheesecake is a classic that has spurred many imitations throughout the world. Try it at Junior's. They serve with homemade purees and fresh fruit. You will love the creamy slices. The cake bottoms are spongy.
Many street food festivals are held in the city as well. For instance, the Feast of San Gennaro in September. Find a wide array of food on display, ranging from desserts, arepas, sausages, to cheese.
You may also like:
Top Alfresco Restaurants
Narcissa
Open-air restaurant serving good brunch. Narcissa is a cozy and elegant restaurant that offers seasonal and vegetable-focused dishes, such as carrots Wellington and rotisserie beets, sourced from a nearby farm.
Mission Cantina
For Mexican food. Very good tacos. Mission Cantina is a vibrant and eclectic spot that serves authentic Mexican cuisine, such as fish tacos, enchiladas verdes, and fried fish, along with a variety of tequila and mezcal cocktails.
Vinegar Hill House
A top-rated Alfresco-style dining place in NYC. It is a charming and rustic eatery that features upscale modern American fare, such as cast iron chicken, gnocchi with ramps and bacon, and curry and mint scallops.
Shake Shack
Popular for milkshakes and hot dogs. It is a popular and casual chain that specializes in burgers, hot dogs, fries, and milkshakes, made with fresh and high-quality ingredients.
Whether you are in the mood for a hearty brunch, a spicy lunch, or a sweet treat, these restaurants will satisfy your appetite and let you enjoy the outdoor ambiance.
New York City Top Breweries – A Guide to the Best Spots for Beer Lovers
With so many alternatives, New York City is a beer lover's utopia. You can discover something to fit your taste whether you prefer something hoppy or malty, light or dark, traditional or experimental. Here are a few of the top bars in New York City where you can get beer.
Gun Hill Brewing Company
Gun Hill Brewing Company is quaint and classy and serves seasonal and vegetable-centric dishes made with ingredients from a nearby farm, like carrot Wellington and roasted beets.
Additionally, they provide a wide selection of beers that have won awards, such as the Spirit 76 pilsner and the Void of Light heavy, as well as more daring beverages like Henny Colada sour IPAs and (Benedict) Arnold Palmer Berliner Weisse-style beers with lemonade and tea. Crisp and tasty beers, hearty fare, and a laid-back, welcoming ambiance all contribute to the establishment's excellent overall quality.
The Bronx Brewery
The Bronx Brewery is a dope spot for chillin' and drinkin' some bomb pale ales like the No Resolutions IPA, Summer Pale Ale, and the Up & Comers series that's always droppin' new and innovative recipes.
Plus, they got other types of beer like lagers, porters, and sours.
The brews are hella balanced and refreshing, the food trucks are fire and got a variety of options, and the backyard is huge and always lit. You gotta hit it up!
Single Cut Beer Smiths
Single Cut Beer Smiths is a dynamic and diverse brewery that pays homage to both music and beer through its rock-inspired nomenclature and branding, exemplified by the 18-Watt IPA, the Heavy Boots of Lead imperial stout, and the Softly Spoken Magic Spells double IPA.
Additionally, the brewery offers a range of other beer styles, including pilsners, saisons, and lagers.
The beers themselves are characterized by their bold and intricate flavors, while the taproom exudes a cozy and eclectic ambiance. Furthermore, the live music performances are both entertaining and engaging.
Fifth Hammer Brewing Company
Fifth Hammer Brewing Company is a captivating and bucolic brewery that showcases an extensive assortment of beers, encompassing traditional styles such as IPAs, stouts, and hefeweizens, as well as innovative ones like sours, fruit beers, and barrel-aged beers.
Additionally, they offer a rotating array of guest taps from neighboring breweries.
The beers are multifarious and delectable, the taproom exudes a welcoming ambiance, and the games provide enjoyable and stimulating pastime.
These are a few of the incredible breweries in NYC that provide a huge selection of beers for every occasion and inclination.
You'll find something at these breweries to sate your needs, whether you want to indulge in a hoppy IPA or appreciate a silky stout.
NYC Bakeries
With so many alternatives, New York City is a bakery lover's utopia. You can satisfy your taste buds whether you choose something salty or sweet, traditional or exotic.
The following are some of the top bakeries in New York City that you should not miss.
Sullivan Street Bakery
Sullivan Street Bakery is a charming and classy bakery that serves food that is in season and focuses on vegetables, like carrot Wellington and roasted beets, which are obtained from a neighboring farm.
They also provide a range of artisan breads, pastries, and pizzas that are baked using Italian dough and natural ingredients.
The pastries are buttery and flaky, the breads are chewy and crusty, and the pizzas are thin and crispy. A straightforward but excellent flatbread covered with olive oil, salt, and rosemary is their classic pizza bianca.
Leavin Bakery
Leavin Bakery is a highly regarded establishment that specializes in cookies, with a particular focus on their signature six-ounce chocolate chip walnut cookie.
This delectable treat boasts a crispy exterior and a gooey interior, making it a customer favorite. The bakery also offers a range of other cookie flavors, including oatmeal raisin, dark chocolate peanut butter chip, and gluten-free chocolate chip.
Alongside their cookies, Leavin Bakery produces exceptional bagels and doughnuts with jam. The cookies are generously sized and satisfying; the bagels are soft and chewy; and the doughnuts are moist and fluffy.
Due to its popularity among both locals and tourists, it is advisable to expect a wait when visiting this bustling bakery.
Bourke Street Bakery
Bourke Street Bakery This organic sourdough bakery that started in Australia but now has a spot in NYC.
They've got all the classics like meat pies and sausage rolls, plus artisan breads, cookies, cakes, fresh sandwiches, and specialty coffee. The vibe inside is super cozy and chill, perfect for sipping on a cup of joe and munching on something delicious.
Trust me, the meat pies are so savory and filling, and the sausage rolls are flaky and spicy. And the breads? So crusty and tangy, you'll be hooked. Oh, and you gotta try their ginger brulee tart.
It's this creamy custard with caramelized sugar and candied ginger on top. So good!
Magnolia Bakery
Magnolia Bakery is a chain of bakeries that started in NYC and they're famous for their desserts, especially their cupcakes and banana pudding.
They've got all sorts of flavors like vanilla, chocolate, red velvet, carrot, hummingbird, and more.
Plus, they've got other baked goods like brownies, bars, pies, cheesecakes, and cakes. Trust me, their cupcakes are so moist and fluffy, the banana pudding is creamy and rich, and the brownies are fudgy and decadent.
If you've got a sweet tooth, you gotta check this place out!
Street Food in New York City: Conclusion
The city of New York boasts an impressive array of bakeries that offer an extensive range of baked goods to cater to diverse preferences and occasions.
These establishments provide an opportunity to indulge in delectable desserts or relish a hearty breakfast or lunch.
With such a diverse selection, one is sure to find something to satiate their cravings. We highly recommend treating oneself to the finest baked delights that the city has to offer.