The 17 Best Bangkok Instagram Spots
Bangkok is a vibrant city that effortlessly combines ancient traditions with modern innovation, making it a photographer's playground.
From ornately detailed temples, bustling markets, and stunning skyline views, there are many places that create the perfect backdrop for Instagram-worthy photos.
Whether you're looking to discover the ultimate Bangkok Instagram spots or you want to uncover the hidden gems to add to your feed, you've come to the right place.
From the majestic Wat Arun and Wat Pho temples to the trendy Lebua State Tower and the colorful streets of Chinatown, there is no shortage of picture-perfect Instagrammable spots in Bangkok waiting to be discovered.
Bangkok Instagram Spots
1. Wat Arun
Nestled along the Chao Phraya River, Wat Arun, also known as the Temple of Dawn, is undeniably one of the most Instagrammable places in the city.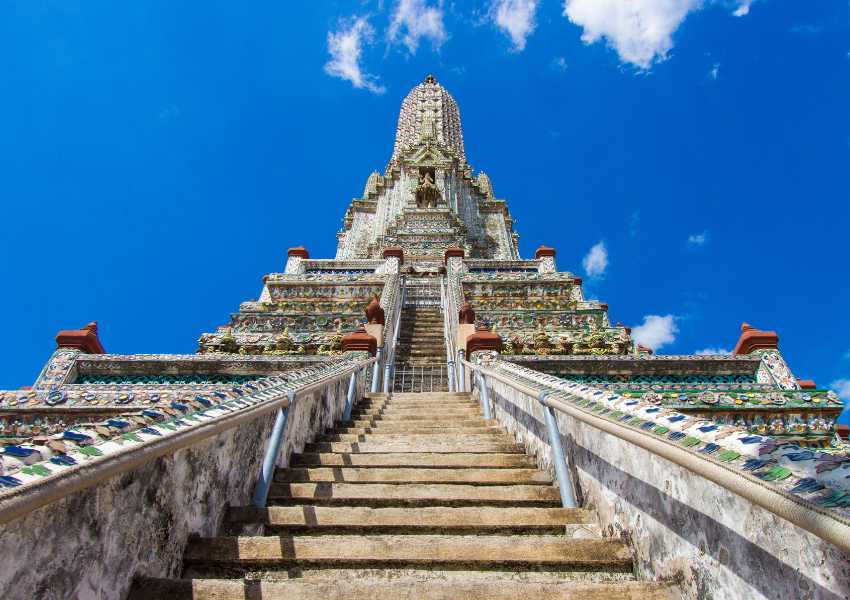 Its unique architectural beauty made up of different colors and designs make it a captivating subject for photographers.
The temple's intricate spires adorned with colorful porcelain tiles create a mesmerizing sight, especially during sunrise or sunset when the golden light casts a magical glow over the temple.
If you're dedicated enough to get up at sunrise, this is the best time to visit for photos since it's quiet. However, sunset is also a great time for Instagram shots as the sun sets behind the spires.
If you want to find that iconic photo of Wat Arun across the Chao Phraya River, head to the aptly named View ARUN Restaurant & Bar. You will need to order an expensive drink to get the view, though.
2. Reclining Buddha at Wat Pho
Perhaps one of the most famous landmarks in Thailand is the Wat Pho Temple, home to the Reclining Buddha.
The 46 meter long statue is a remarkable sight that is undeniably one of the most Instagrammable places in Bangkok.
This iconic statue is covered from head to foot in shimmering gold leaf, creating a mesmerizing visual spectacle. The intricate details and serene expression of the Buddha's face not only create a beautiful backdrop, but also capture the essence of Thailand's spiritual culture.
If you're looking for an Instagram spot that screams "I'm in Bangkok" then this is the perfect spot.
You may also like:
3. Golden Mountain
The Golden Mountain, also known as Wat Saket, is one of the many hidden gems in Bangkok that makes a captivating and Instagrammable backdrop.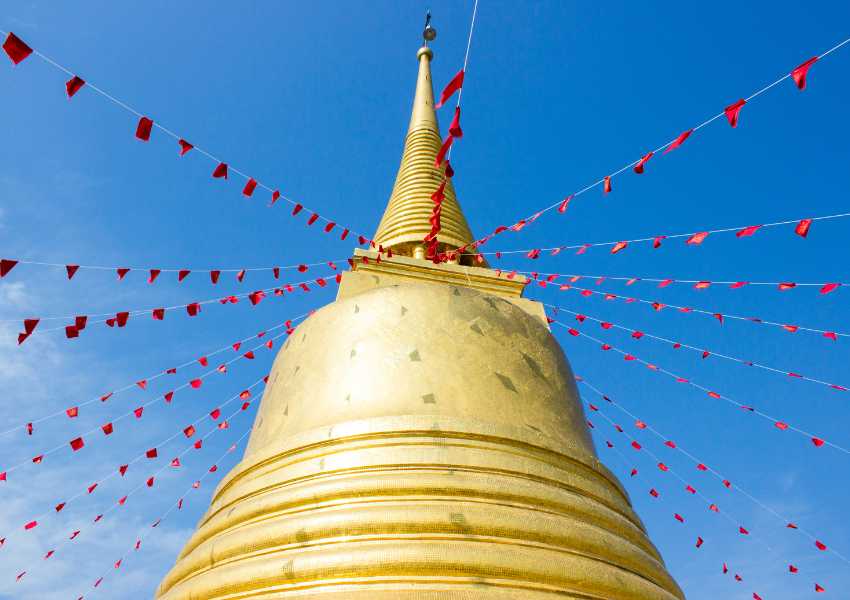 This temple, situated on an artificial hill, offers breathtaking panoramic views of Old Town Bangkok.
But it's not the top of the 320 stairs to the summit that makes the most instagram-worthy shots, it's the beautiful waterfall that you find on the way up.
Nestled amongst lush greenery and shaded by ancient trees, there is an ethereal charm that showcases the tranquility you can find in Bangkok.
Whether capturing the panoramic views from the top or documenting the journey up the winding steps, the Golden Mountain has many great spots for photography enthusiasts to play around with.
4. Golden Chedi at The Grand Palace
Another popular destination in Bangkok, and arguably one of the most unmissable places for first timers to Thailand, is the majestic grounds of the Grand Palace.
Within the grounds is a gorgeous Golden Chedi, which stands as a captivating and Instagrammable masterpiece.
This bell-shaped stupa, also known as Phra Siratana Chedi, is a symbol of Thai architectural grandeur and spiritual significance.
Its glistening golden exterior and intricate details make it a photographer's dream. As the tallest structure in the complex, it offers a mesmerizing sight from every angle, showcasing its magnificence against the backdrop of the palace's ornate buildings.
5. Wat Samphran (Pink Dragon Temple)
If you're looking for some seriously cool and unique places in Bangkok to create backdrops for your feed, then head just outside of Bangkok to Wat Samphran, also known as the Dragon Temple.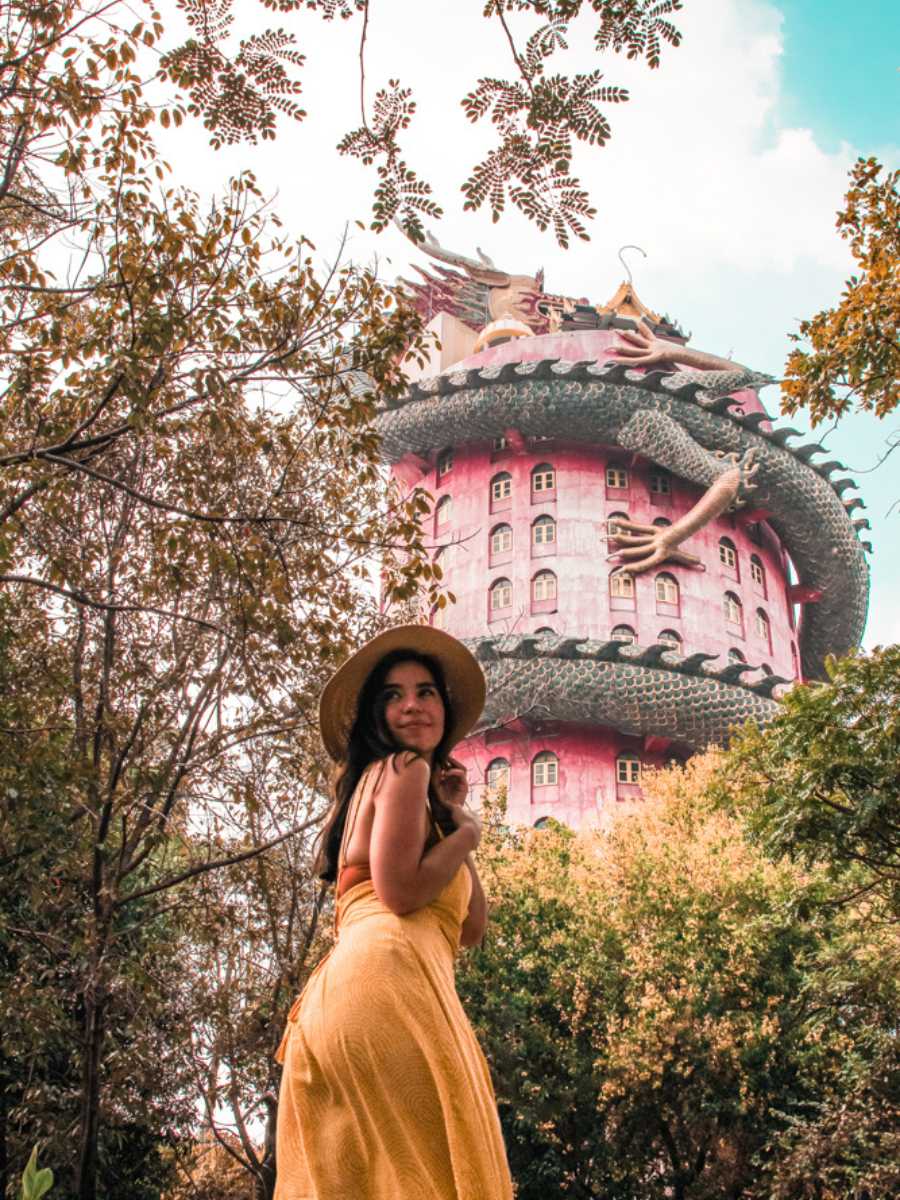 Standing at an impressive 80 meters tall, this pink tower wrapped in the form of a dragon is a sight to behold.
Its pastel pink color and intricate design will surely stand out in any feed.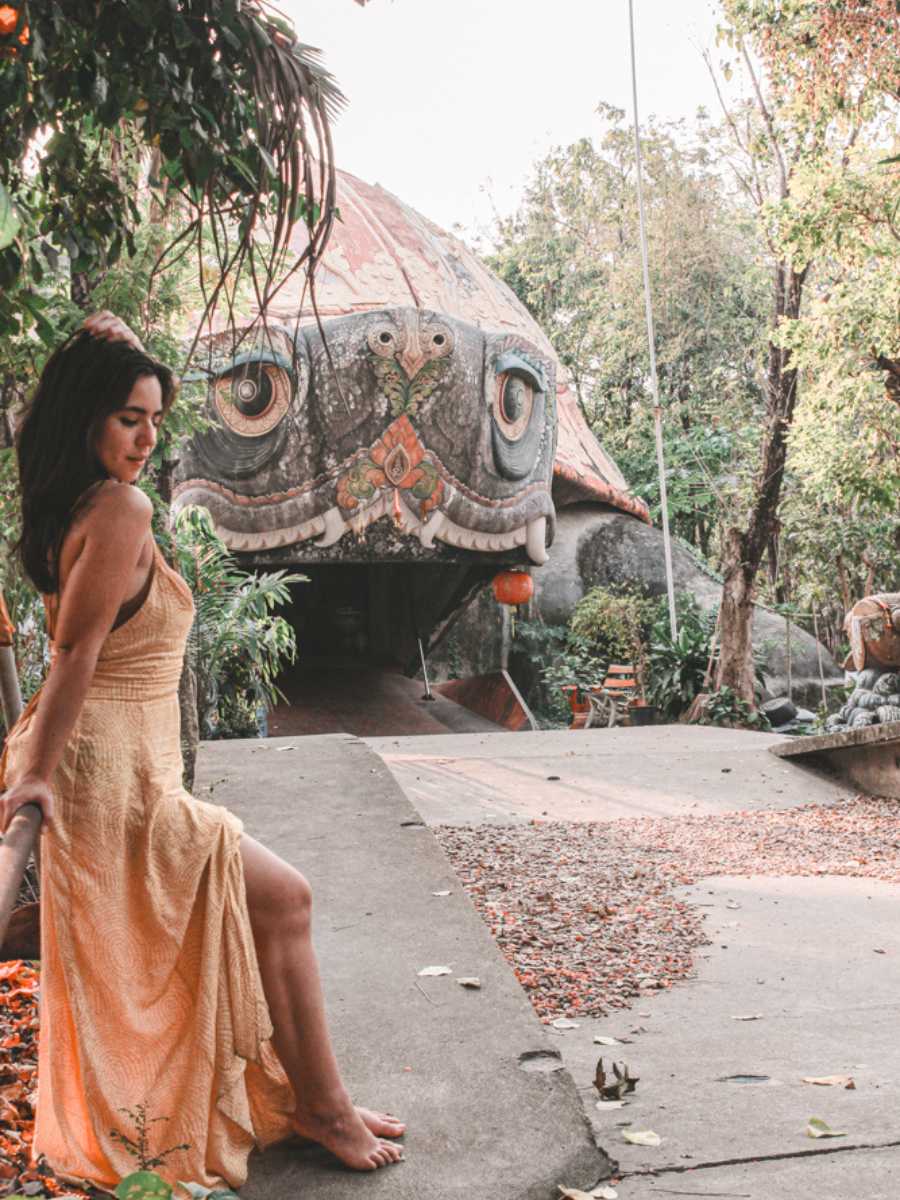 Although this is an off-the-beaten-path temple, it's worth it for the stunning shots of the dragon scales and spiral staircase – plus exploring it is an adventure in its own right.
6. Benchakitti Park
For a different perspective of the bustling cityscape of Bangkok, head to Benchakitti Park, a green oasis that offers a serene escape from the honking and polluted traffic.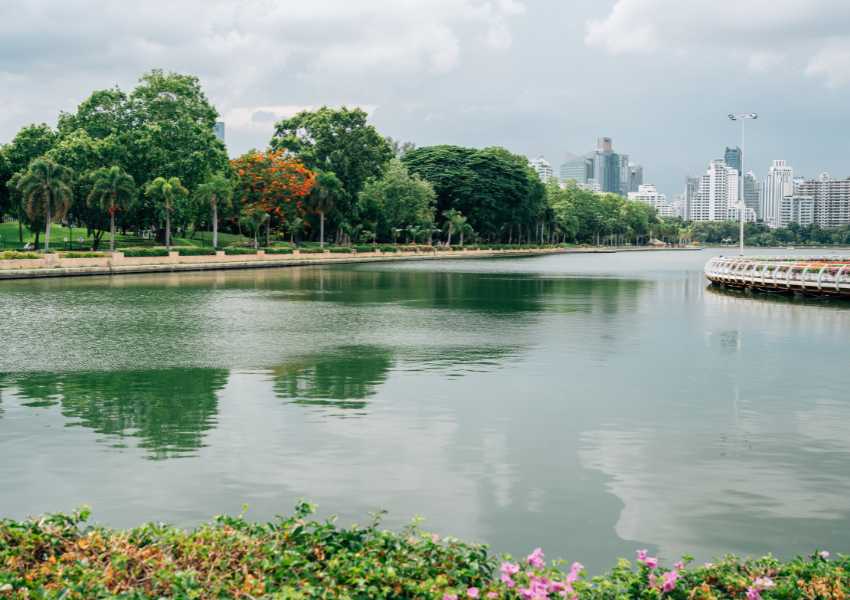 This picturesque park spans over 180 acres, with lush landscapes, tranquil lake, and meandering pathways over the lily ponds, which during the right season (January and February) is the most Instagrammable place in the park.
What makes the park unique is that while it's green and expansive, you are surrounded by skyscrapers from all sides, ensuring that you and your followers know you are still in the beating heart of Bangkok.
You can also walk over to the nearby Lumpini Park which is another urban park in Bangkok, though arguably a more more well known attraction. Here you can find locals practicing tai chi, joggers out for a run, and if you're lucky, the resident monitor lizards may be sunning themselves on the banks.
7. Airplane Graveyard
Another gem in the outskirts of Bangkok is a site known as the Airplane Graveyard.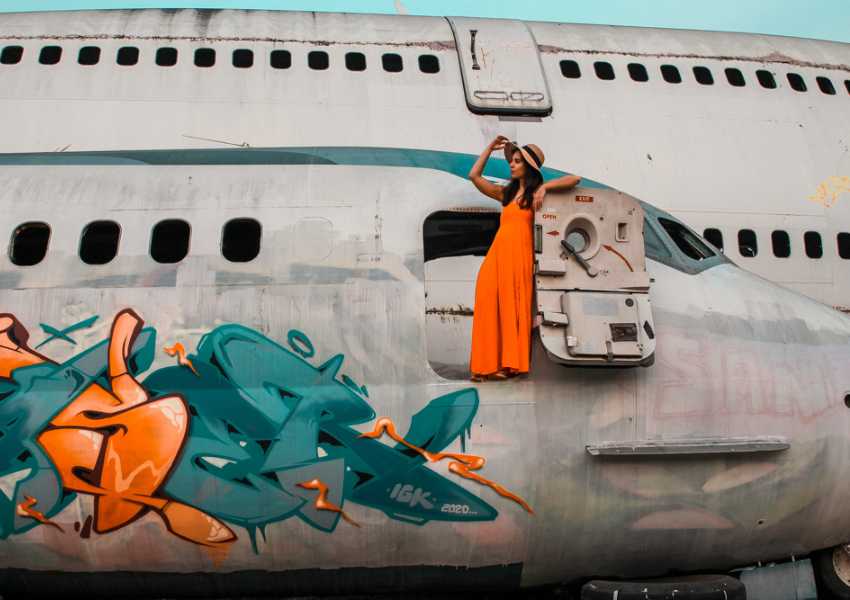 This unconventional location showcases the remnants of abandoned jets, creating a captivating blend of decay and artistry.
As you wander through the graveyard, you will find ample opportunities to capture striking images of weathered wings, empty fuselages, and other pieces of debris, each telling a story of aviation's past.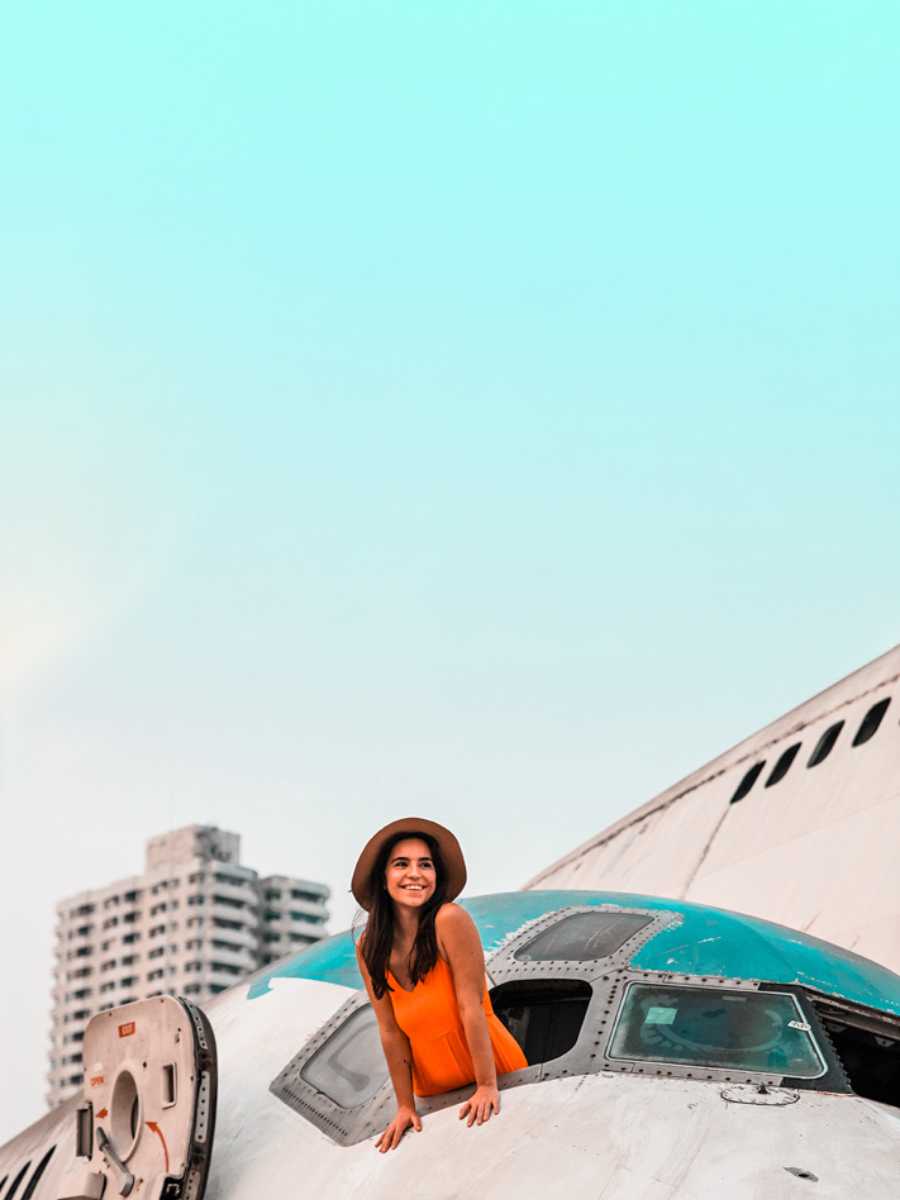 The airplane graveyard also has scenes of nature reclaiming these mechanical giants, which adds an eerie beauty to the setting.
The Airplane Graveyard is a one-of-a-kind Instagram photo location in Bangkok, and perhaps all of Southeast Asia, and should be a site added to anyone's Thailand bucket list.
8. Railway Market
Once a hidden gem and now a popular tourist destination, the Railway Market (Mae Klong Railway Market) is a truly unique and Instagrammable experience.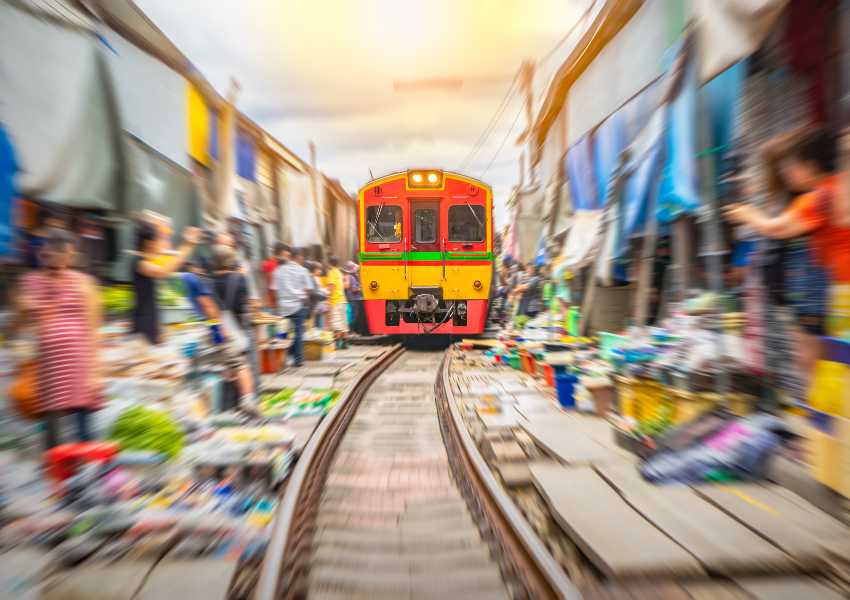 What sets this market apart is the fact that it operates right on the train tracks, creating an interesting backdrop for photographs, as well as igniting your sense of adventure.
As the train approaches, vendors swiftly retract their awnings and merchandise, and customers must step aside, making way for the passing train.
This unique scene of humans, vibrant colors of fresh produce, the smoke of BBQ'd street food, and the machinery of the train, all so close together creates a perfect photo opportunity.
Make sure you time your visit accordingly though, as there are only six trains a day (8:30 am, 9.00 am, 11:15 am, 11:30 am, 2:30 pm and 3:30 pm).
9. Yaowarat Road (Chinatown)
Another iconic scene in Bangkok is Yaowarat Road, also known as Chinatown.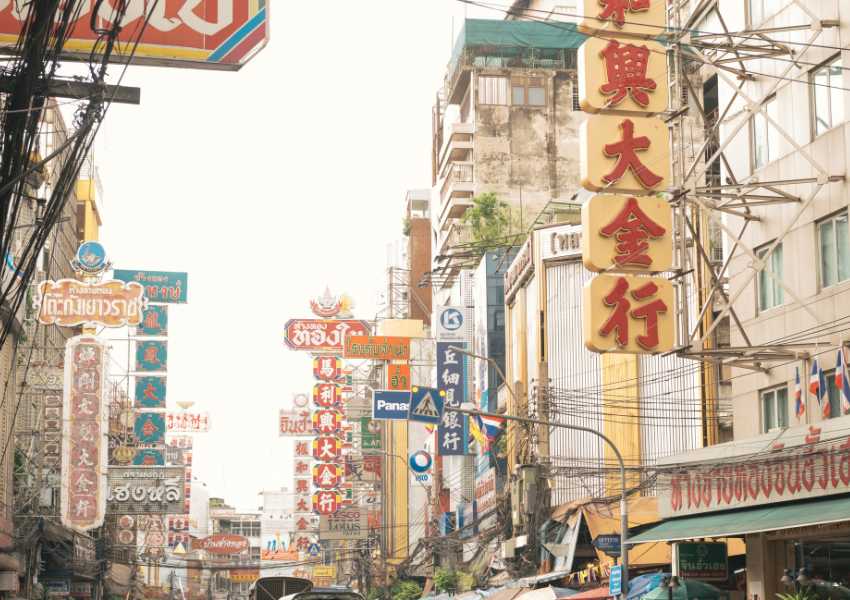 This neighborhood, brimming with Chinese culture and heritage, offers a treasure trove of photogenic spots waiting to be captured.
As you wander through the bustling Yaowarat Road, you'll be illuminated by neon signs, bright lights, colorful buildings, and authentic charm.
Wander down the side alleys, visit the revered Wat Mangkon Kamalawat, the largest Chinese temple in Bangkok, and be sure to capture the scenes of street food vendors lining the streets.
It will not only make your followers drool, but offer the perfect setting to capture vibrant visuals of Bangkok's bustling lifestyle.
10. The Dome at Lebua State Tower
Perched atop the iconic Lebua State Tower, The Dome is a more luxurious location that screams of decadence and finery.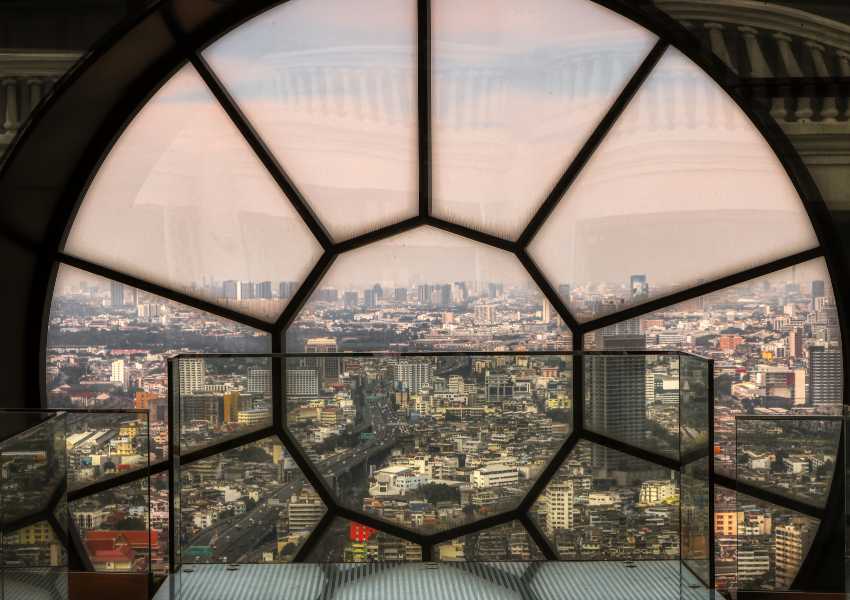 Here you will find a collection of rooftop restaurants and bars, each offering breathtaking views of Bangkok's skyline that are sure to leave your followers in awe.
But it's not just the panoramic views you can see from up here, but the golden dome adorning the roof, which becomes illuminated at night.
If you're looking for a place to capture Instagram photos in Bangkok at night, then The Dome at Lebua State Tower is the perfect place to capture a decadent oasis whilst also sipping on cocktails and indulging in delectable cuisine.
11. Jodd Fairs Night Market
Another iconic scene in Bangkok is the bustling night markets, which come alive with a kaleidoscope of colors, enticing aromas, and lively atmosphere.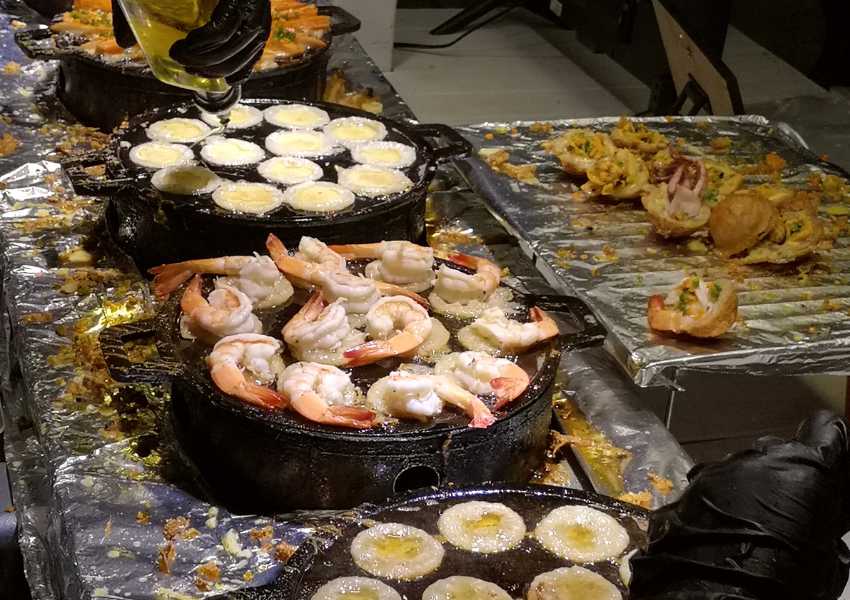 The Jodd Fairs Night Market is the perfect place to capture the vibrant energy as you explore rows of stalls offering delectable street food, trendy fashion, and unique crafts.
The neon lights and artistic murals create a captivating backdrop for your Instagram shots. Don't miss the opportunity to snap a shot of the bustling crowds, live music performances, and the vibrant mix of locals and tourists immersing themselves in this cultural haven
Instagrammable Cafes in Bangkok
12. Ittha Boutique Cafe
Nestled in a quiet Sukhumvit alley, Ittha Boutique Cafe is a cute European-style cafe that boasts a fairytale-like entrance, transporting visitors to a charming world of Roman pillars and arched windows.
The cozy ambiance and unique concept make for truly captivating photographs. Capture the intricate details of the cafe's interior, from the rustic furnishings to the artfully presented dishes.
It's not only a great photo spot, but it also has excellent coffee and serves organic food. Ittha Boutique Cafe not only provides a picturesque backdrop for your Instagram feed but pleases the taste buds too.
13. Misstar Café
Another cute cafe in Bangkok that guarantees an Instagrammable experience like no other is Misstar Cafe.
Step into a whimsical wonderland where fairytale-like vintage aesthetics collide, with floor to ceiling arched windows, tranquil Roman water fountains, overgrown gardens, and antique furniture.
Capture the perfect shot against the backdrop of their hedge-lined main entrance or indulge in their delectable desserts, artfully presented and designed to be camera-ready.
With its dreamy ambiance and attention to detail, Misstar Café is a hidden paradise for Instagrammers seeking to add a touch of magical quality to their feed.
14. B-STORY Café
Another artsy cafe in Bangkok is B-STORY Café, which is easily recognized by its cherry blossom trees adorning its entrance.
The cafe's enchanting greenhouse-style setting, adorned with beautiful decor and captivating church-like stained-glass windows, creates stunning photo opportunities.
Capture the unique fusion of Thai-Western cuisine as you indulge in their delectable dishes, expertly crafted to be both visually appealing and delicious.
Don't miss out on a chance to get a cappuccino with a cute foam bear sitting on the top of your cup!
15. Daydream Believer
Daydream Believer Café is another greenhouse inspired Instagram cafe in Bangkok. As you step into this enchanting glasshouse café, its whimsical ambiance and lush plants transport you a new world.
Capture shots with hanging ferns behind you, or step outside to the overgrown and still picturesque garden – every corner of Daydream Believer Café offers an opportunity for an Instagram-worthy shot.
16. Floral Cafe' at Napasorn
Don't let the name fool you, Floral Cafe at Napasorn is an antique treasure trove that looks as though you've stepped into a bohemian era, with chandeliers, candelabras, and dried flowers adorning the walls.
Every nook and cranny of this cafe offers something photogenic to capture, from the hundreds of mugs hanging beneath the stairs to the wheatsheafs covering the arches,
It's a small cafe, but has ample opportunities to create magical photographs. Be sure to indulge in their delectable treats, including mouthwatering ice cream and refreshing iced coffee.
17. Hong Sieng Kong
Located in Chinatown is Hong Sieng Kong, an abandoned warehouse turned into a cafe, which features traditional Chinese antiques and furnishings, as well as captivating floral displays.
Capture yourself with a coffee as an overgrown tree looms behind you, bursting through the glass roof ceiling, or find a cozy spot by the Roman arch and decaying wall.
If you time your visit right, you may also be graced with live music, or if you want a quieter atmosphere, head to the outside terrace that overlooks the Chao Phraya River.
Instagram Spots in Bangkok: Final Thoughts
These are just a few of the many beautiful and photogenic spots in Bangkok that are perfect for capturing stunning Instagram photos.
Whether you're growing your social media or just want to capture memorable moments, don't miss these Instagrammable places in Bangkok that will leave your followers in awe.
Hopefully you were able to find a few places on this list to add to your photo list!