Wondering what the most unusual places in Bangkok are? Here's a list of some of them!
Back when I started traveling, Bangkok became a city I came to know well. Even though I technically didn't live there, I did work in a tiny village a couple of hours north of the city, so I frequented the city pretty regularly.
Ever since then, I've returned to Bangkok as a visitor plenty of times, and my love for it only keeps growing.
If you're visiting, chances are you're wondering what the best things to do in Bangkok are, and while I highly recommend checking out the highlights (they're popular for good reason!), there are also plenty of hidden gems and unusual places in Bangkok that are also worth checking out.
These are them.
List of Unusual Places in Bangkok
1. Wat Sam Phran aka Dragon Temple
Wat Sam Phran is an enormous pink structure wrapped by a dragon on the outskirts of the city. This is easily one of the most unusual places in Bangkok and also one of the most beautiful temples in the country, so it still remains a mystery why no one is talking about it!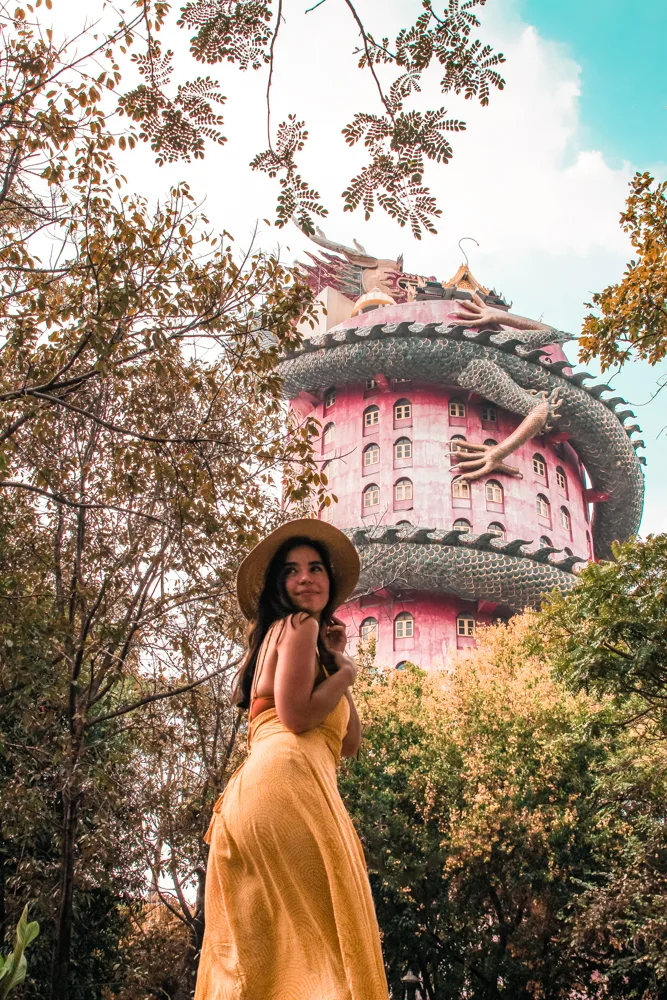 Aside from the main pink structure that shines bright above, the rest of the temple's grounds around it are filled with interesting spots that will make you feel as though you were transported into a Thai version of Alice in Wonderland!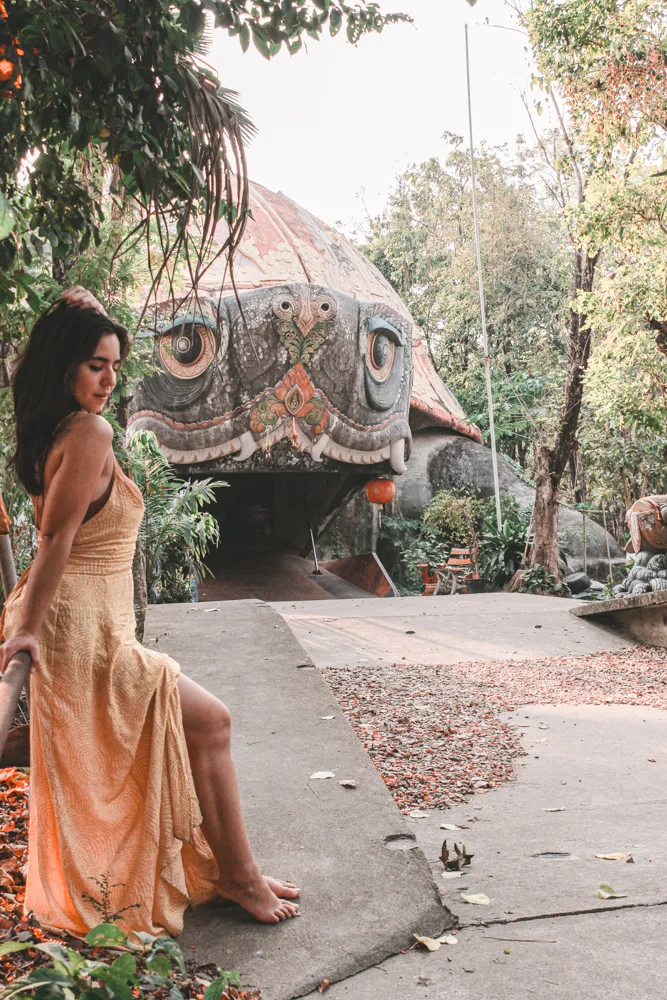 Wat Sam Phran is located on the outskirts of Bangkok, but it's definitely worth the taxi ride. So far, it still remains one of the biggest hidden gems in Bangkok, so expect all sorts of local experiences here. They also sell food just outside!
YOU MAY ALSO LIKE:
2. Airplane Graveyard
Ever wondered where old airplanes go to? This incredibly unique spot is located just a bit outside the airport and it homes a humongous collection of abandoned planes!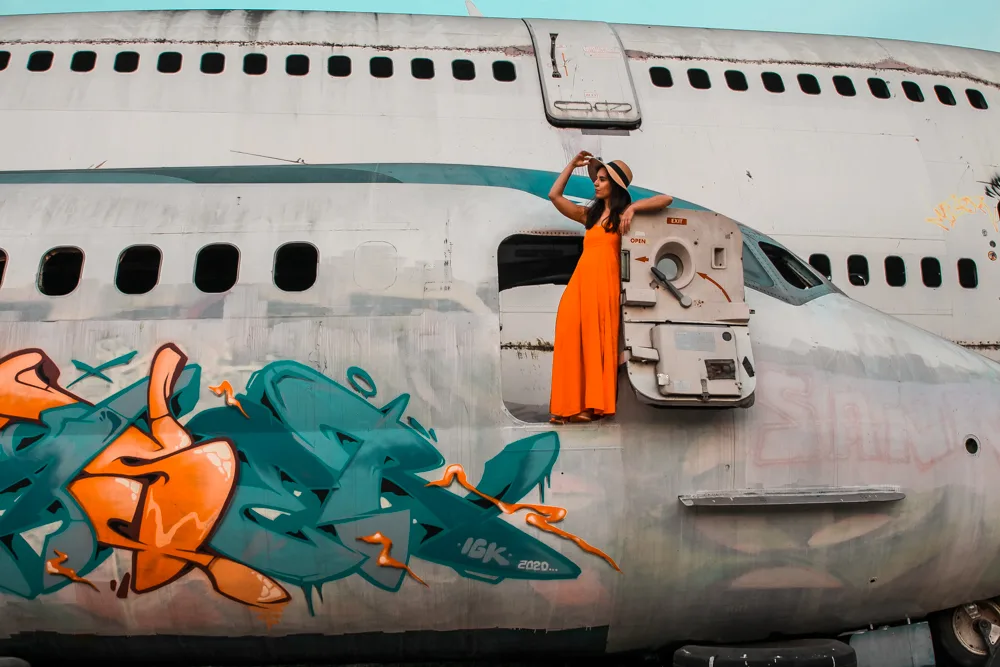 This is not really a tourist attraction in Bangkok at all. In fact, a few families have made the graveyard their home and charge a small fee to let curious visitors in.
You can actually climb the airplanes, explore them from the inside, and take lots of cool pictures without anyone around. This is definitely one of the coolest and most unusual places in Bangkok!
3. Wat Chakrawat – Crocodile Temple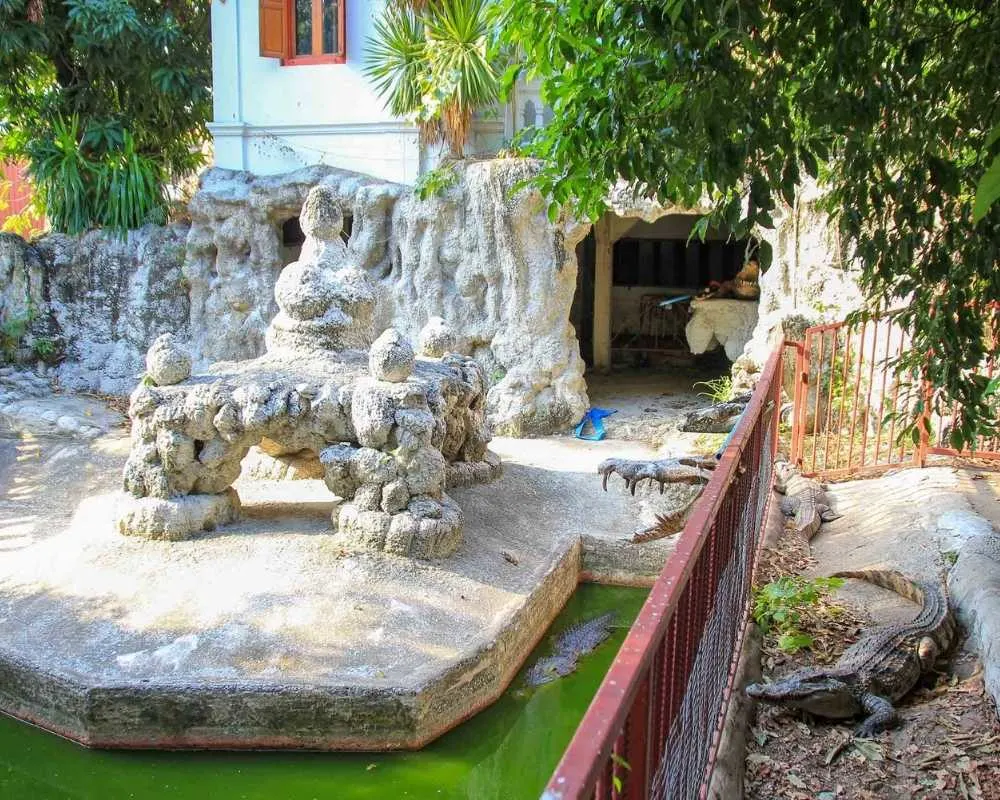 Wat Chakrawat, also known as the Crocodile Temple, is a real hidden highlight in Bangkok. This temple is located in the lively Chinatown district and there are indeed some huge crocodiles to be discovered.
This attraction is surrounded by numerous legends about the one-eyed crocodile, a man-eating beast that made its home in the river.
The crocodile was hunted, but thanks to the merciful monks it found shelter in Wat Chakrawat. A fence was erected to ensure that the crocodile would never harm anyone again.
Today, several crocodiles live in the temple complex. But don't worry, the animals are housed in small enclosures and can be admired as you walk around the grounds.
But not only the huge crocodiles are interesting, but also the whole complex is really pretty to look at and definitely worth a visit. The entrance is free of charge.
Recommended by PlacesofJuma
4. Caturday Café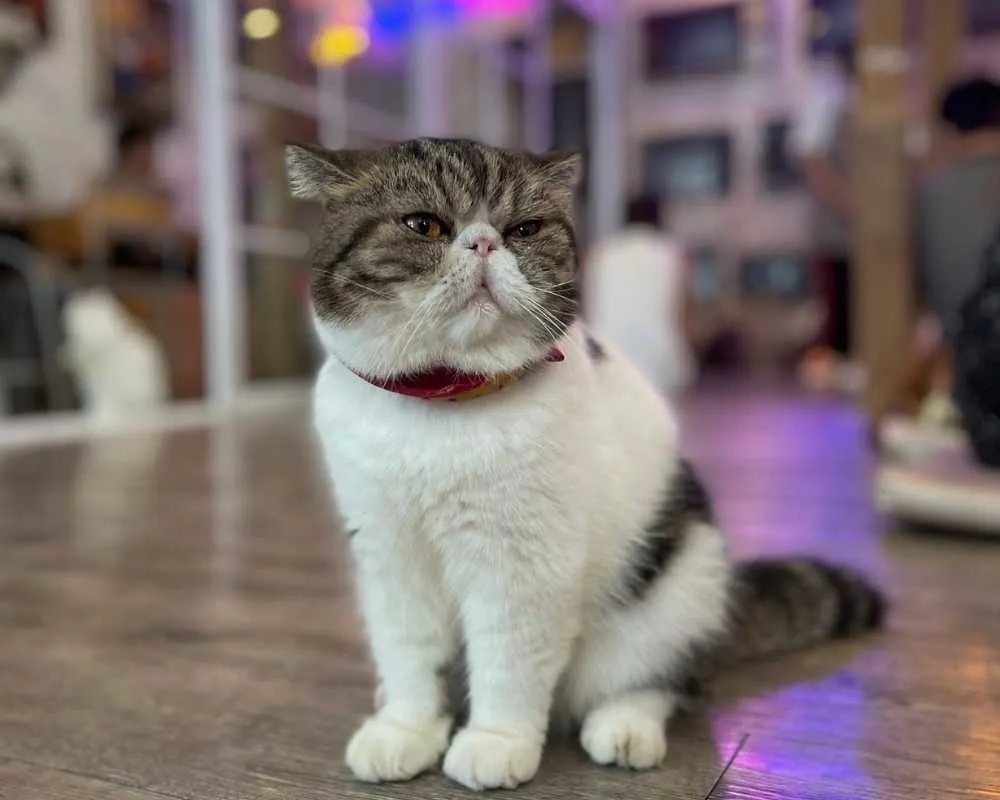 If you're searching for a hidden gem, there is no better place than The Caturday Cat Cafe. What is there not to like about enjoying a little bit to eat, some lunch, or just a coffee surrounded by furry felines?!
Situated opposite the Ratchatewi Skytrain Station, the Cafe is easily accessible and (just) within walking distance of the nearby shopping malls of Siam Paragon, Centralworld, and Central Embassy.
When you arrive, you may be asked to wait outside for a short time as the Cafe is incredibly popular. Once you finally enter you'll need to wash your hands and take off your shoes.
Apart from the Cats, there is one other uniqueness to this place. You have to pay using a pre-paid card which you pay for immediately at the entrance.
From here all your purchases are made by your card which you can continuously pay onto throughout your stay.
And now, you get to enjoy the cats. The majority are very friendly and love being stroked. We particularly enjoyed the big ginger fluffball that normally sleeps in a poke bowl!
Cats will literally be anywhere and everywhere. You'll be able to see that there's some cat apparatus for the cats to enjoy and there are little beds which are always taken up.
Ultimately, if you're a cat lover, there literally is no better place to spend the afternoon than this unusual place in Bangkok!
Recommended by Alex and Leah of Alex and Leah on Tour
Maeklong Railway Market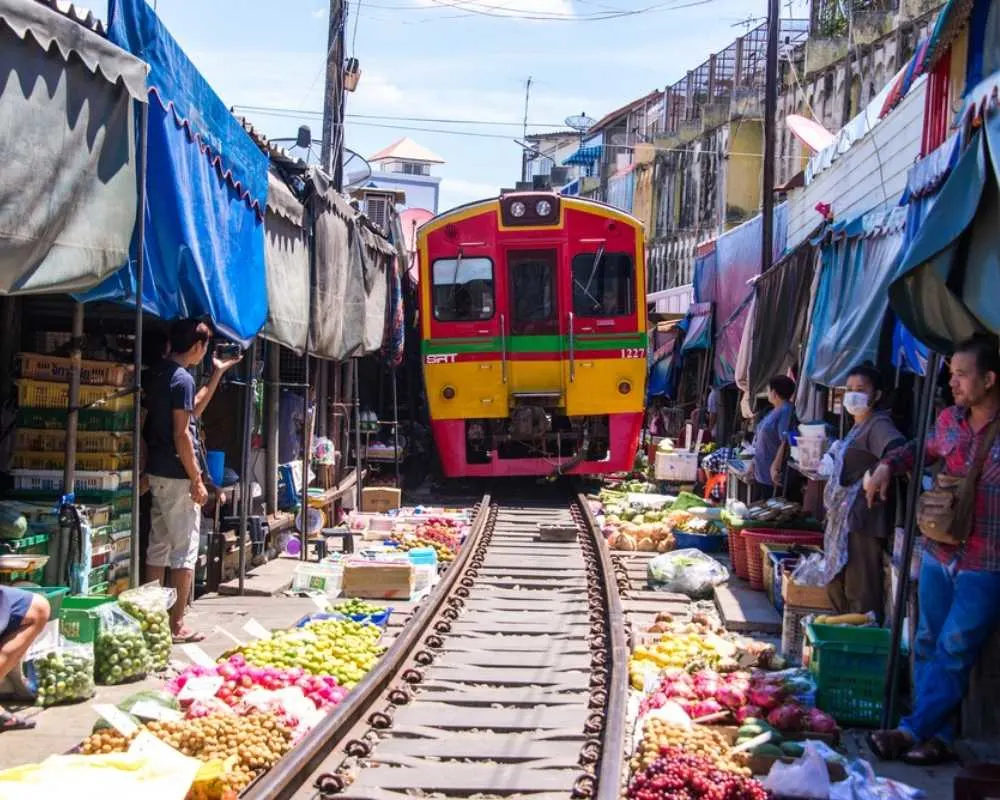 The Maeklong Railway Market is a great day trip from Bangkok that offers a unique shopping experience.
Located in the Southwest of Bangkok, in the province of Samut Songkhram, the Maeklong Railway Market is a traditional Thai market that sells fresh produce. It is one of Thailand's biggest markets for fresh seafood, as well as Thai drinks, meat, veggies, fruits, and desserts.
What makes this market a must-visit is its location beside a train line. A train passes directly past the market a couple of times each day.
Vendors shift some of their produce away from the train tracks and lower their umbrellas a few minutes before the train arrives.
As the train smashes along, occasionally blasting its horn to warn people of its approach, the sellers and merchants calmly start to relocate their items and umbrellas away from the tracks.
The market is sometimes referred to as the "umbrella pulldown market" because of this.
Remember to move aside or enter the closest shop to prepare your camera if you hear the train horn. Although the train passes slowly, it is still dangerous, so be extra careful.
Maeklong Railway Market is easily reached from Bangkok's Wongwian Yai Station. Get on the train departing at 6.45 a.m. which will take you to the area. You can travel directly through the market on the Maeklong Railway Line.
Recommended by Imee Magbag of Guide To Day Trips
Amulet Market Bangkok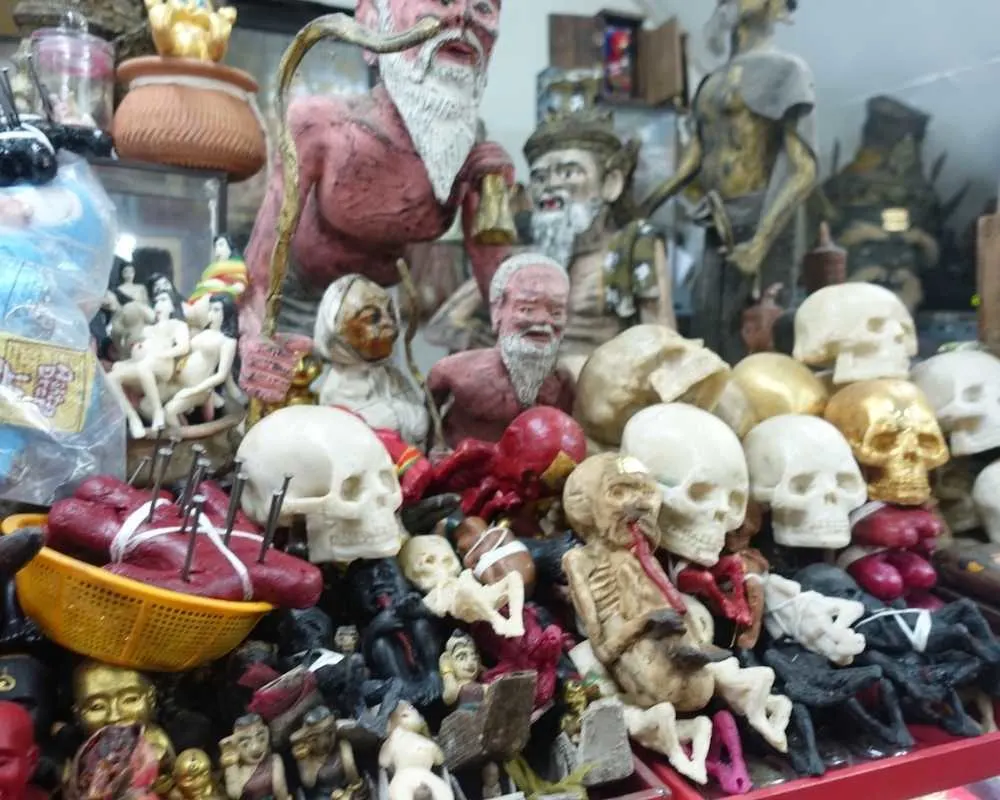 Thailand is a fascinating country and when visiting its capital, Bangkok, you should get a taste of the local culture.
Thailand is the second country in the world with the highest percentage of Buddhist practitioners and the "Amulet Market " in Bangkok is where some of the Thai people go to get their blessed protection amulets.
Buddhist people use amulets for protection against evil spirits, accidents, and misfortune and to attract abundance, love, success, and all sorts of other things.
Amulets must be blessed by a Buddhist monk through a ritual and the best place to get them is in a temple. However, there is a place in Bangkok where many Thai people go to get their blessed amulets and that is the "Amulet Market".
The "Amulet Market" is located in an alley next to the Thammasat university and within walking distance from the epic "Kao Shan road", the "Bangkok Grand Palace", and Wat Pho temple so you can easily combine a visit to the market with some other of Bangkok's landmarks.
Don't forget to get travel insurance for your trip! As always, I recommend HeyMondo for great prices and coverage abroad. Check them out here. You can also get 5% off if you book via this link!
The Bangkok "Amulet market" is the biggest in South East Asia and consists of several stalls that sell all kinds of amulets.
You can just walk through the stalls and observe the Thai people and some Buddhist monks who frequent the market. This captivating market runs parallel to the Chao Praya river, Pier 9 to the Maharajah Pier shopping complex.
Recommended by Pilar of Travel the World Pages
5. Lumphini Park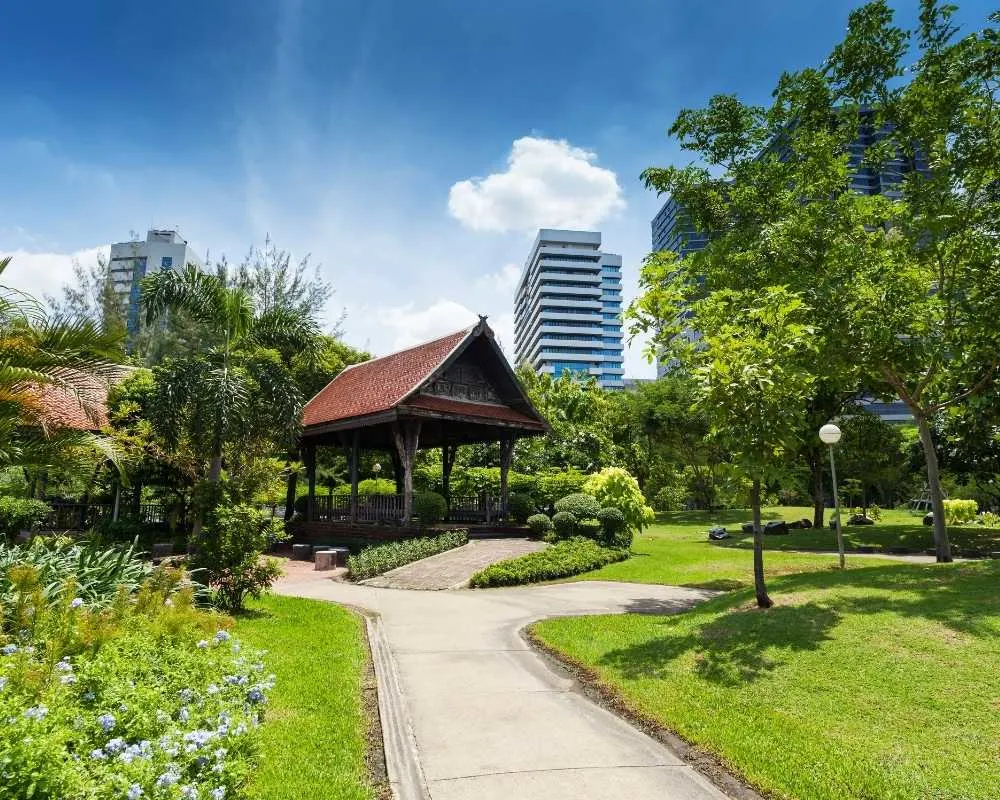 Lumphini Park is one of the must-visit destinations in Bangkok. It's such a retreat from the hustle and bustle of this otherwise very busy capital city. The park is large, at over 130 acres and complete with a big lake.
Set in the business district of Bangkok it is also within walking distance of some of the best family-friendly resorts in Thailand.
You can rent boats, play tennis, go for a jog around the track or if you're visiting with kids then there are plenty of playgrounds too.
One of the highlights of this park is the numerous Monitor Lizards that roam the grounds. Looking like something out of a prehistoric scene these protected creatures can be very large, up to six feet long so are quite the spectacle.
They tend not to bother people though and watching them swimming in the water is really special. This is a peaceful park to enjoy some calm within the city.
Recommended by Nichola of Family Hotel Expert
6. Chatuchak Weekend Market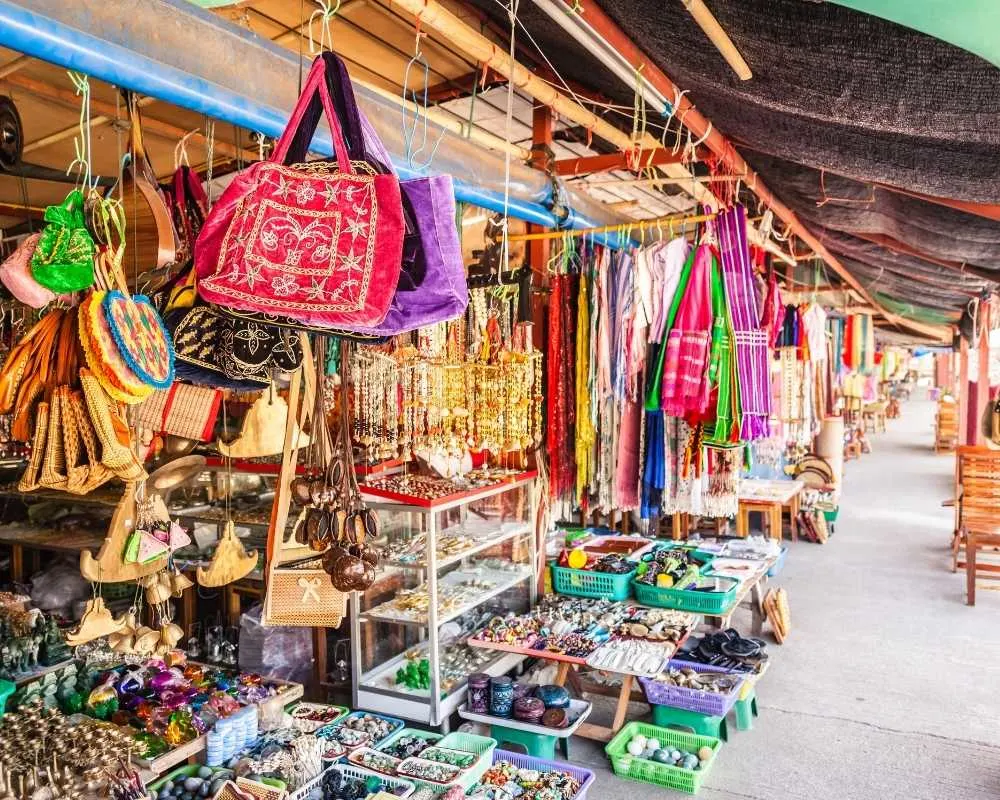 The Chatuchak Weekend Market in Bangkok (also known as Jatujak Market) has over 15,000 stalls across 35 acres and attracts over 200,000 people every weekend, making it the largest outdoor market in Thailand, and the world's largest weekend market.
It is recommended that you spend at least half a day wandering around the 26 sections of the market, as you'll be able to find everything you could possibly imagine, from furniture to art to unique clothing to traditional Thai massages.
If you're looking for something unique to do in Bangkok, you won't find anywhere else like Chatuchak.
You can reach the market by numerous modes of transport – Skytrain, bus, taxi, tuk-tuk, and MRT (Mass Rapid Transit Network).
However, Bangkok's traffic can make any short journey feel like forever, so try to avoid the roads if you can. Skytrain is the most convenient way to get there – take the train to Mo Chit BTS Station, use Exit 1 and walk for around 5 minutes.
You will soon come across Entrance 3 – make sure to pick up a free map from the information counter! There are bathrooms (5 baht), ATMs, and free Wi-Fi are available.
I would recommend skipping the pet section as the conditions the animals are kept in aren't the best.
Opening times:
• Wednesday and Thursday: 7am-6pm (Plant section only)
• Friday 6pm-12pm (Wholesale only)
• Saturday and Sunday 9am-6pm
Chatuchak Weekend Market address: 587/10 Kamphaeng Phet 2 Road, Chatuchak, Bangkok 10900
TIP: Arrive at the market early to avoid the brunt of the crowds and avoid Bangkok's blazing heat. Keep an eye on your belongings and double-check your change after purchases.
Recommended by Lana of Wallflower in Wanderland
7. Museum of Contemporary Art Bangkok
Museum of Contemporary Art (MOCA) in Bangkok is a magnificent spot that looms over the city. There is a well-curated collection of artworks fusing traditional
Thai art and modern art. The collection housing paintings and sculptures from both local and foreign artists representing several generations of Thai culture.
The MOCA has five sections displayed on five different floors. The ground floor houses four halls, two halls for temporary displays and two halls for Thai national artists.
The first floor has two halls in which the works of Prof. Chalood Nimsamer and Paitun Muangsomboon are displayed respectively. Both are National Artists of Sculpture.
On the second floor, you find contemporary art of different themes and concepts such as social knowledge and Buddhism while on the third floor there are creations displaying imagination in Thai contemporary art.
The entry prices are very affordable: Adults: 250 Baht (6.7 $) Students (with ID): 100 Baht (2.7$), for children and seniors over 60 is free.
As a lover of art, it's mandatory to visit this museum because it's truly a gem. I spent 2 or 3 hours enjoying art. One of the most eye-catching temporary exhibitions was the Raining.
This is a dark room filled with thousands of raining porcelain hearts shining in blue light. It describes Thai farmers' reaction to the 'Royal Rain' when His Majesty's initiative to reduce drought and develop natural water systems in rural areas led to rain.
Recommended by Lukács Szabolcs
Final Thoughts: The Most Unusual Places in Bangkok
Bangkok in itself if a city as unique as it gets, even if you only wind up going to the most touristy attractions!
With that said, there are plenty of hidden spots and secret gems worth checking out during your time there as well, so I hope this list of the most unusual places in Bangkok was useful and helped you plan an itinerary that feels a little different from the rest.